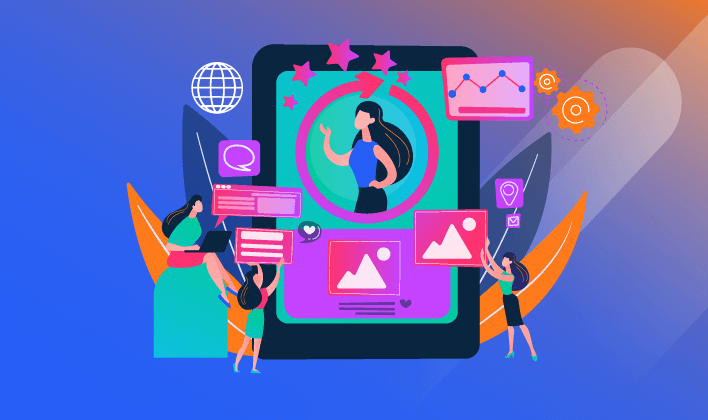 Marketing Intelligence
9 Tried and Tested Ways to Find YouTube Influencers
September 10, 2022
| Updated September 11, 2022
There are an estimated 3.2 million to 37.8 million influencers in the world. The top estimate is around the same size as Canada's population. Mind-blowing.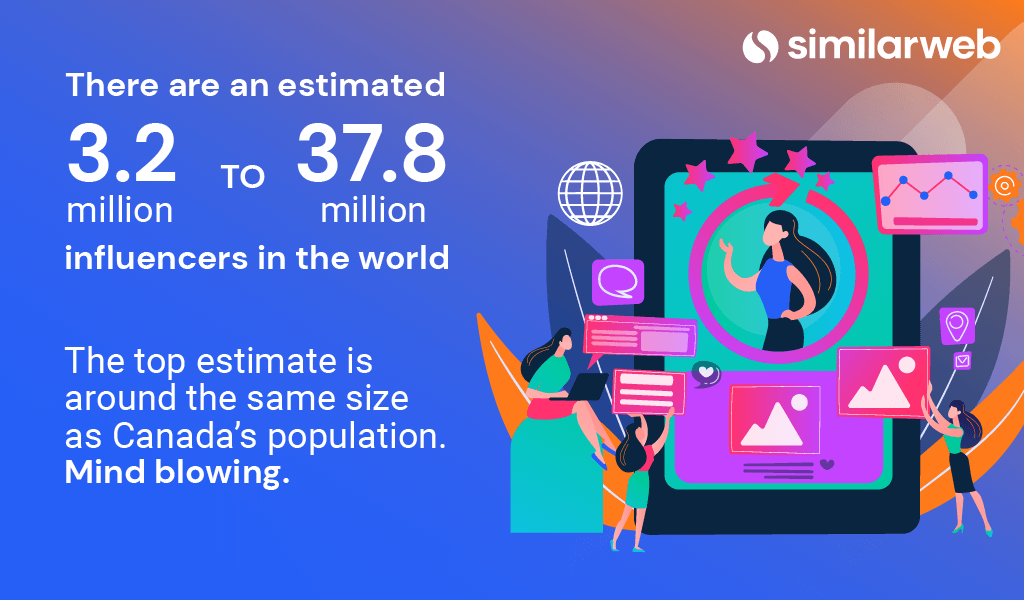 So, we know there are plenty of influencers out there, but how do you find them? And more importantly, how do you find the ones that will add value to your business?
YouTube influences – or YouTubers – are the hottest thing right now. As a platform, YouTube gets 1.7 billion unique monthly visitors and gets more than 14.3 billion visits each month. 
Competition for eyeballs is fierce and hard. Influencers can help you get your share of that audience pie.
In this post, we'll walk you through 9 of the best ways to find the perfect YouTube influencers to work with.
Let's dive in. 
9 Ways to Find YouTube Influencers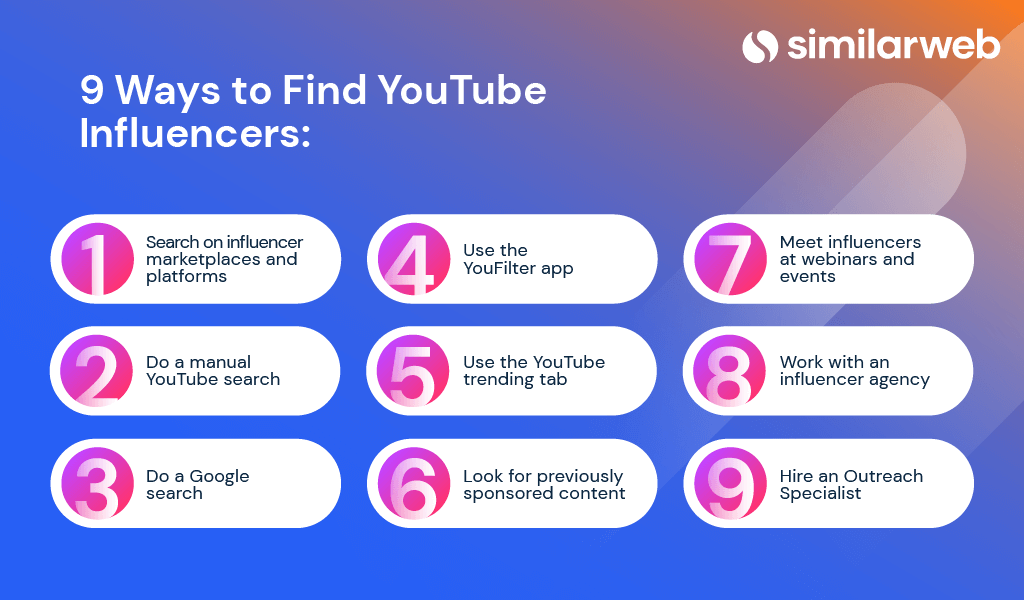 1. Search on influencer marketplaces and platforms
One of the best places to discover YouTube influencers is influencer marketing platforms. Most of these platforms allow you to search for YouTube influencers based on category, metrics, or specific keywords.
Platforms like Intellifluence and Heepsy let you search for YouTube influencers that match your brand to create ideal partnerships for the both of you. These apps have a variety of filters so you can get super granular with your search, including specific location, number of followers, topics they discuss, their engagement rate.
2. Do a manual YouTube search
Your search for a YouTube micro-influencer or macro-influencer to work with can also be as simple as plugging keywords in the YouTube search bar. Simply search for keywords in your niche, like 'writing tool reviews' to see influencers promoting these tools. 
Pro tip: use a keyword research tool to help you find relevant keywords. It may sound obvious, but these tools can help you find gaps in your searches, and see which terms have high and low search volume, helping you hone your strategy further.
Another top tip is to spy on your competitors to see which keywords and influencers they are using. SimilarWeb has a great YouTube competitive analysis tool that helps brands see what their competitors are doing on YouTube and what kind of influencers they use.
Screenshot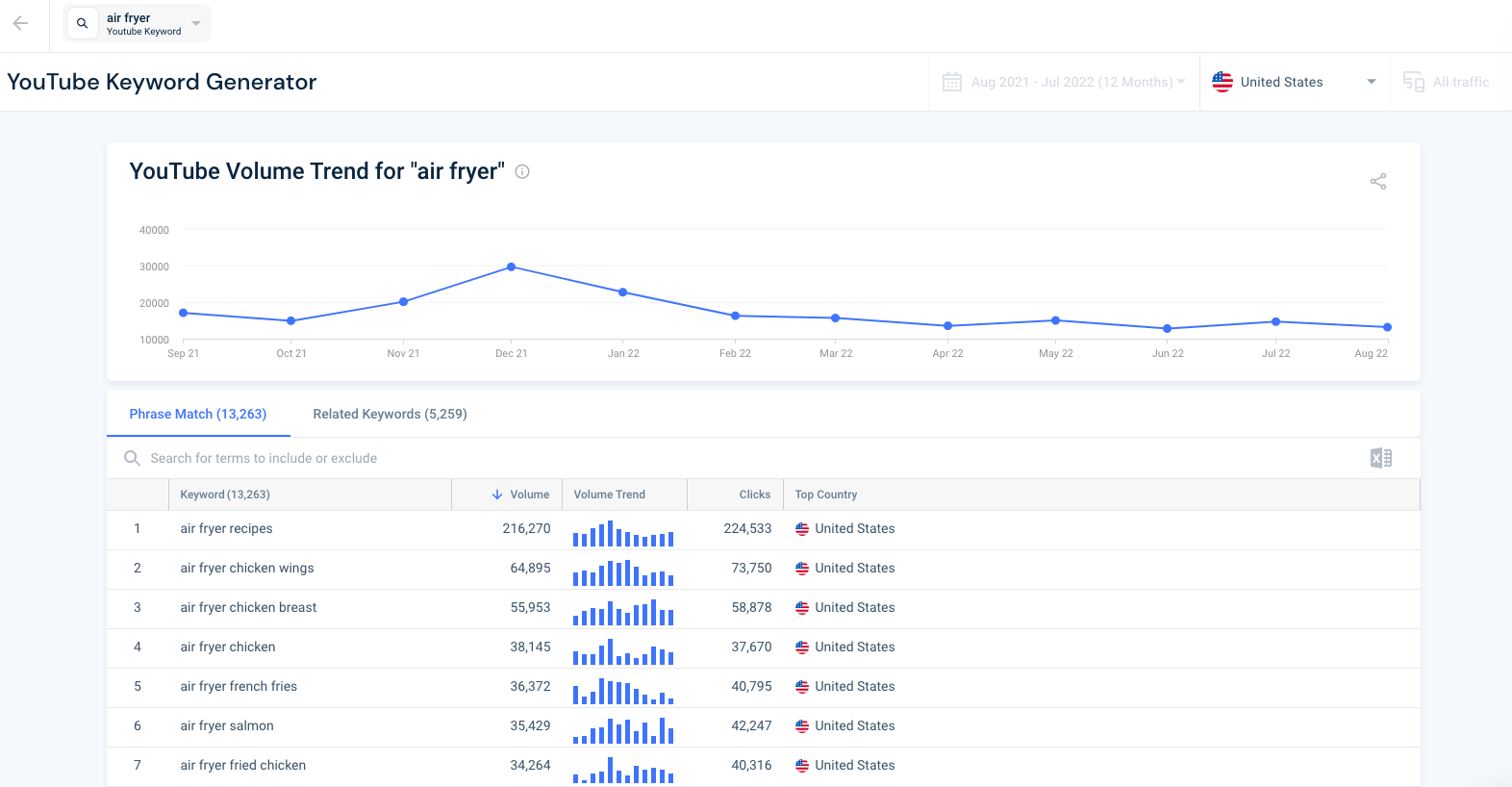 If you're looking for micro-influencers on YouTube, you'll want to focus on channels with 10,000 to 50,000 followers for the best results. These creators are often the most receptive to partnering with brands as they are in one of the most critical stages of growing their audience.
These audiences are large enough to promote your offerings but are still very engaged, so you have a better chance of getting more sales. 
It's also worth noting that these creators often want more than just the product to promote, so having a robust affiliate program helps. You may even consider increasing the percentage they make from sales or offering bonuses that motivate them. 
3. Do a Google search
Another way to find YouTube influencers is through Google search. The internet is a big place, so how do you refine your search? Well, simply do a Google search like this: your niche + YouTuber. Then, choose the video tab to see videos and written articles featuring the best YouTube influencers. 
You could also read through the top YouTube influencer lists in your niche. Those usually mention some of the biggest names in each industry and are a great place for finding macro-influencers to work with. The drawback is that they usually have 500K+ followers and tend to be over the budget of small to midsize companies.
4. Use the YouFilter app
Your next method to finding YouTube influencers: the YouFilter Chrome extension. It works in tandem with the YouTube search bar. The way you use it is by starting a search on YouTube and then clicking on this chrome extension to see all the data on each influencer. It displays things like the number of likes, subscribers, and the specific video keywords for each channel.
5. Use the YouTube trending tab
The YouTube Trending tab is another yet another way to find the top content creators on YouTube. Once you click on the trending tab on the left, you'll see the most-watched and most popular videos at that time. Dig a little deeper by using the search bar to refine your search. 
But remember, YouTube is a search engine that works on an algorithm – the influencers trending now might not be trending next week. Also, one viral video doesn't make an influencer. Engagement and creating consistent content are vital, so use the trending tab as a rough benchmark of the type of content that goes viral, but take it with a grain of salt.
6. Look for previously sponsored content
Not every creator on YouTube is looking to make money with sponsorships. So, when you're looking for YouTube influencers, you want to see which ones have worked with brands or are currently collaborating with brands. 
Search for hashtags like "ad" or "sponsored" + your niche to find YouTubers that work with brands. You'll likely find a lot of paid ads where influencers are advertising a service or product for businesses similar to yours.
Note the ones you discover that are selling products and services similar to yours, as they will likely have success promoting your offerings too. Although you shouldn't necessarily work with the influencers that have collaborated with your competitors, you can use some of these ideas and influencer metrics to find similar influencers that might also do really well.
7. Meet influencers at webinars and events
Many businesses look for influencers online, but there are many live webinars and events where influencers meet. Taking part in these events can help you get involved with influencers, meeting them face-to-face and giving you the chance to learn more about them directly.
And many of them are looking to collaborate with brands, so there's a good chance you'll find the ideal YouTube partnership for your business. 
Here's a list of influencer webinars and marketing events for 2022 that you should check out.
8. Work with an influencer agency
If you don't have the time or resources to do the research yourself, you can use a YouTube influencer agency like Viral Nation or Fanbytes. They can help you with ROI tracking, identifying your target audience, influencer matching, content creation, and managing every aspect of your influencer campaign. 
The advantage here is that they already have an existing network of influencers that they've worked with in the past and have proven themselves to be effective. So if you can afford them, it will save you many weeks of trial and error. 
9. Hire an Outreach Specialist
Don't have the budget to hire an influencer marketing agency? You can hire an outreach specialist to do the work for you – for a lot cheaper too. They research YouTube influencers, reach out to them, and set up the initial call, so you don't have to do a thing. Be sure to make your preferences and needs clear to them so they can find the right influencers for your business.
You can use a platform like UpWork to find a virtual assistant or a junior marketer to help you filter through influencer lists and reach out to the most qualified candidates. You can also use an email outreach tool like MailShake or Woodpecker to send email sequences and automatic reminders to every prospect and automate the entire outreach process. 
Recap
YouTube as a platform is a hard one to succeed on. Using influencers is a quick-win method for reaching a larger, but relevant audience.
So, whether you choose to work with an influencer agency, or search for influencers yourself, our first advice is to always check what your competitors are doing.
Check out their content, and use analysis tools like Similarweb Competitive Intelligence to see where their referral traffic comes from. Use this intel to influence (ahem… pardon the pun) your strategy before reaching out to YouTubers.
Good luck, and happy influencing!
This post is subject to Similarweb legal notices and
disclaimers
.
Wondering what Similarweb can do for you?
Here are two ways you can get started with Similarweb today!