Affiliate marketing is a multi-billion-dollar industry that offers exceptional income potential – but only if you do it right. The concept of affiliate marketing seems quite simple: you refer your audience to a product or service and receive a commission when they make a purchase. Pretty easy, right? Well…
There's a bit more to it than that.
If you really want to achieve affiliate marketing success, there are a few important steps you'll need to take. It starts with understanding why affiliate marketers succeed and taking the time to implement some of the top tips.
The good news is, learning how to succeed in affiliate marketing doesn't have to be a mystery. In this post, we gathered some of the best tips on creating a successful affiliate marketing program.
 Let's dive right in.
How to succeed in affiliate marketing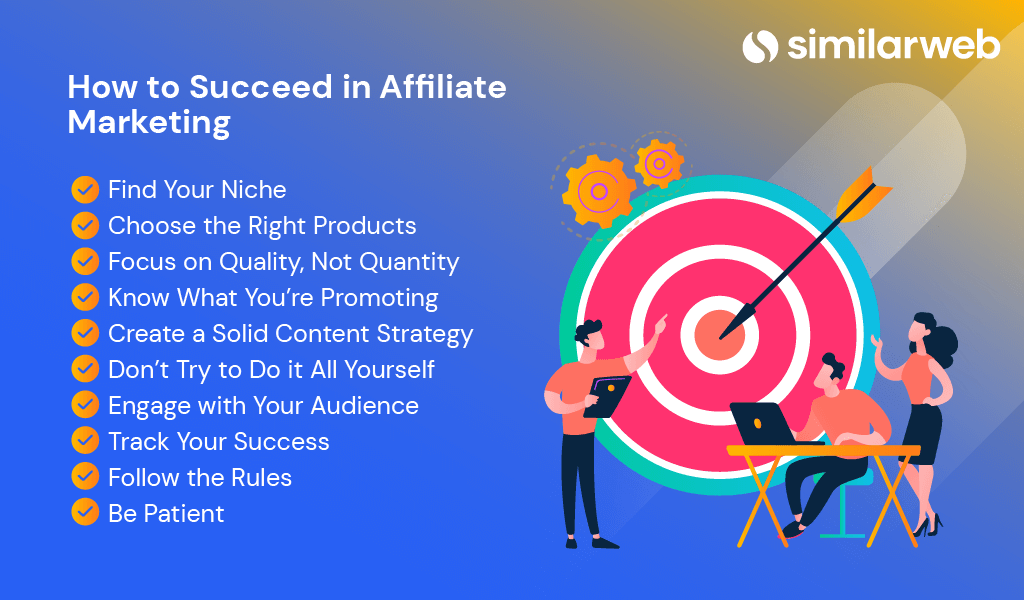 If you want to get on the  right track toward creating an affiliate marketing business that will continue to bring you revenue and growth for years to come (we see your heads nodding), check out the following ten tips:
1. Find your niche
There are so many different affiliate marketing opportunities out there, that it's common for new marketers to take the approach of promoting as many products and services as possible. But the thing is, this is probably a mistake.  You'll have a lot more success if you focus on a niche you're truly passionate about, and promote related products and services instead.
Not only will this make everything you do more authentic, but finding a niche also allows you to narrow your focus, build a targeted audience, and establish yourself as an expert in your field.
2. Choose the right products
While you definitely want to choose products you believe in and that are relevant to your niche, it's also important to do a bit of math. Most successful affiliate marketers know better than to choose products based solely on high commission rates. Instead, you'll want to think about selecting a product with a decent commission and a high conversion rate.
For example, if you choose a program that pays $500 per purchase but only converts at 0.02%, you would need a huge number of clicks to earn any money at all. On the other hand, a program that pays $2 per conversion and converts at $25% is far more likely to bring you a steady revenue stream. If you pair this with a consistent strategy to grow your business, you'll set yourself up for excellent long-term income – something we all like to see, right?
3. Focus on quality, not quantity
It's easy to get caught up in what's known as "vanity metrics." This happens when, for example, you focus on the number of leads (or clicks) you get without considering whether they're actually converting. While it may feel good to see that you've got tons of traffic, remember that brands only pay affiliates based on the percentage of traffic that actually converts to a sale.
To find the audience that's most likely to convert, start paying attention to the communities and platforms where people with similar interests are most likely to spend their time. Once you find your target audience, listen to what they're saying. What questions do they have and what problems are they trying to solve? 
By taking the time to get inside their heads, you'll quickly figure out how to provide them with true value. Then, respond to their posts with a thoughtful answer and point them towards an affiliate link that can help them accomplish their goals. Instead of pushing a product, approach the conversation with something like, "I had the same problem, and this is what worked for me!". 
4. Know what you're promoting
Many of the steps to help you succeed in affiliate marketing are focused on product promotion, but before you can promote a product, it's important to really, truly understand it. This is one of the best ways to separate yourself from your competition and build trust with your audience.
Even if you're not doing product reviews, you need to understand how the product works, as well as the benefits and value it offers. Don't make the mistake of choosing a product just because you think it fits into your niche. Also, remember that your reputation is tied to the products you promote, so it's important to take the time to learn about the company, its values, and the quality of the product before you put your personal brand behind it.
5. Create a solid content strategy
If you want people to buy the products and services you're promoting, you'll need to create quality content that is relevant to your audience. This can look like anything from  product reviews, case studies, and how-to blogs to social media posts, infographics, and video Q&A sessions.
Start by looking at the types of content you enjoy creating and the formats that are most likely to engage your target audience. Checking out what your competitors are doing through some healthy  competitor research can also give you some inspiration for marketing strategies and acquisition tactics too. 
One simple way to find new opportunities to reach your target audience and maximize the return on any investments you make into your affiliate marketing business is with Similarweb Digital Marketing Intelligence.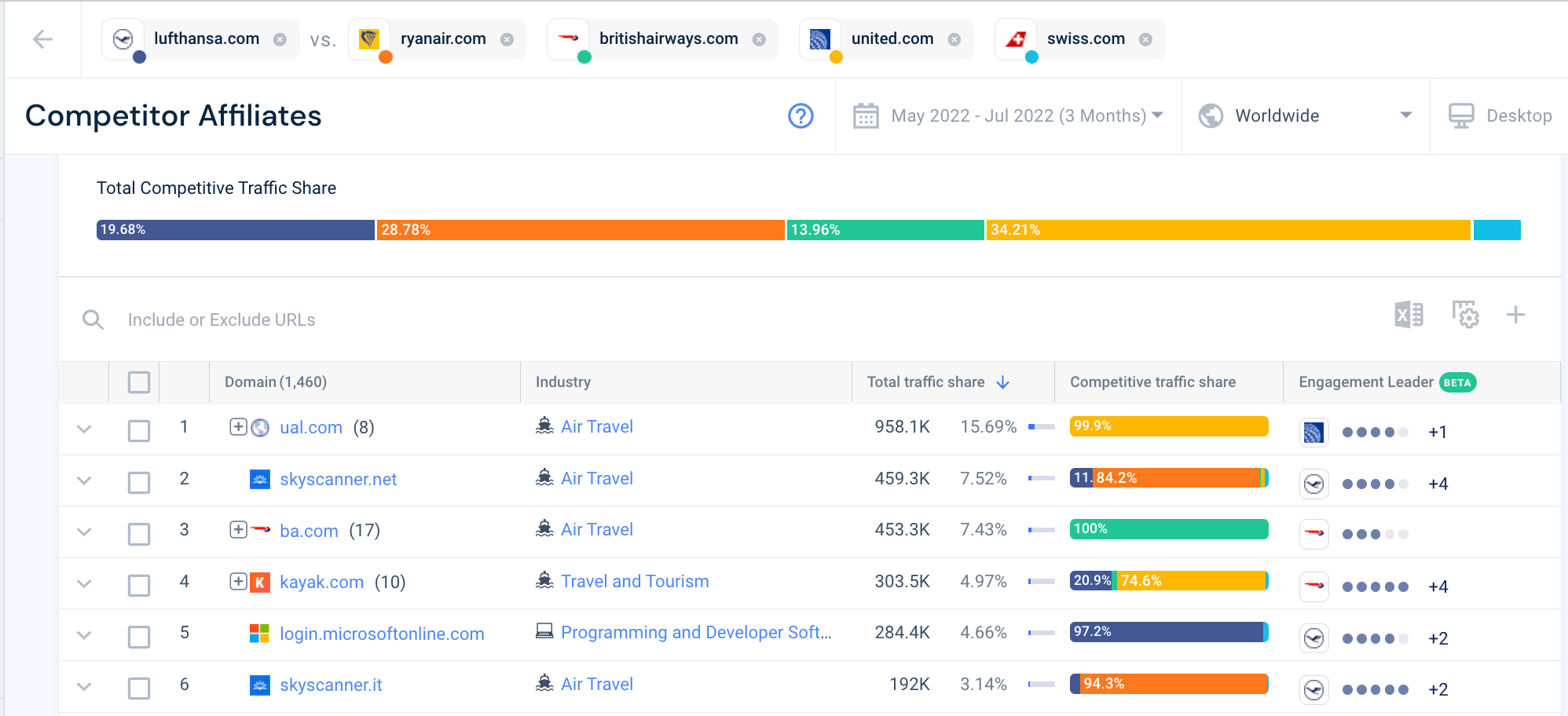 6. Don't try to do it all yourself
Learning how to be a successful affiliate marketer takes time, and implementing everything you learned can feel overwhelming. You can relieve some of this stress by outsourcing at least a few tasks. 
Depending on your strengths, you may decide to hire a web designer, purchase a program to bulk schedule your social media posts, or engage in a blogger outreach campaign to help leverage some of the work you're already doing.
It's also well worth your time looking into  your referral traffic. This can help you uncover new opportunities, qualify potential partners, and optimize your existing affiliate partnership relationships. 
We can help here too by giving you three paths to monitor and analyze affiliate partners: 
Keyword affiliates

Industry affiliate

Competitor affiliates 
The tool also lets you deep-dive into every individual affiliate site and you can keep tabs on their performance.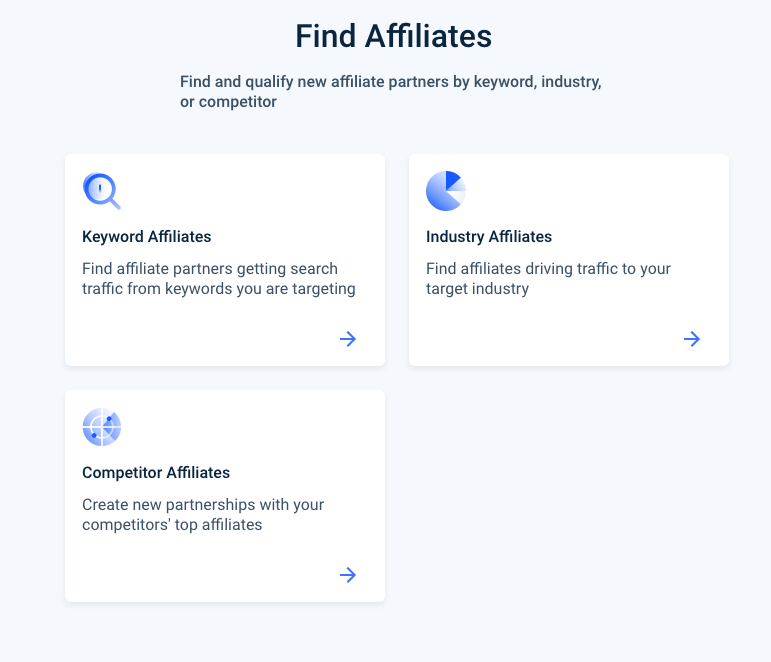 7. Engage with your audience
When learning how to be successful at affiliate marketing, you need  to remember that connecting with people is a huge part of your business. This makes it important to create opportunities to continually engage with your audience. 
Here's an example: If you write blogs, make sure they allow for reader comments. Include questions and calls to action in your blogs, videos, and social media posts, and don't forget to  actively respond to the feedback you get too.
As you're engaging, always approach your audience from a place of providing information and support for any problems they need solving. Remember that you're trying to build a community of like-minded people. The more effort you put into engagement, the more trust you'll build, and this will ultimately translate into higher sales over the long term.
8. Track your success
We've spent a lot of time so far talking about how to be successful at affiliate marketing – but how do you know that what you're doing is working? The only way to keep improving is to track your efforts. 
Luckily, there are some great marketing analysis tools that can remove the guesswork and give you solid insight into what strategies are doing well and where there's room to improve. No surprise, but our favorite tool is… you guessed it, Similarweb. 
By staying on top of your numbers, you'll also be able to quickly see any significant shifts in your engagement activity and channel traffic. This will allow you to proactively adapt your strategy as needed. 
9. Follow the rules
When you sign up to be an affiliate, you'll receive a list of rules for how the company wants you to promote their brand. Typically, this includes things like not making false claims about the product or services and avoiding tactics such as paid search advertising. If you're promoting brands via email, on websites, or on social media platforms, there may also be additional guidelines you need to follow.
Do yourself a favor and make sure to abide by all of the rules included in your agreement. Otherwise, you could lose the relationship and damage your reputation.  
10. Be patient
And our last tip for success is perhaps the most often overlooked: patience. 
Affiliate marketing is a low-cost, low-risk business venture, but it's not a get-rich-quick scheme. Building an audience and earning their trust requires commitment and consistency. But if you keep at it, your income can grow exponentially as time goes on.
If you're just getting started with learning how to succeed in affiliate marketing, don't be afraid to start small. This will give you the chance to build a real relationship with a core group of followers. If you nurture this, you'll have a loyal following for the long haul. Eventually, your revenue will grow and you'll have created a thriving affiliate marketing business that is positioned for long-term success. 
This post is subject to Similarweb legal notices and
disclaimers
.
Wondering what Similarweb can do for you?
Here are two ways you can get started with Similarweb today!