Content marketing is one of today's most important digital promotional strategies. I know I might be biased, but I promise, objectively, it's true. So, let's talk about how to do content marketing properly. 
You can find lots of sites that list tactics, so I won't waste your time with that –  I'll focus on 10 actionable tips and real-world examples to put learning into practice.
Here's how to get your brand's message to your target audience and winning the market in your niche. These work equally well for companies of all sizes and stages, whether you're looking for content marketing tips for small businesses, content marketing tips for startups, or strategies suitable for enterprise applications. 
Let's dive in.
1. Set clear, measurable goals
Start with clear, measurable goals. When your marketing goals are specific and quantifiable, you can evaluate your performance objectively. This empowers you to make data-driven adjustments and steer a course toward your objectives. It also warns you when you're off course.
How to do it
Select key performance indicators (KPIs) for measuring the marketing activities you want to track. Then, measure your current numbers to establish a baseline and set benchmarks. 
Similarweb makes setting measurable goals easy by providing you with not only KPI dashboard tracking tools but also competitive research, which lets you compare your performance against other companies in your industry. For example, you can tap into industry-specific benchmarking data for web traffic giving you information about average monthly visits, visit durations, bounce rate, and device usage.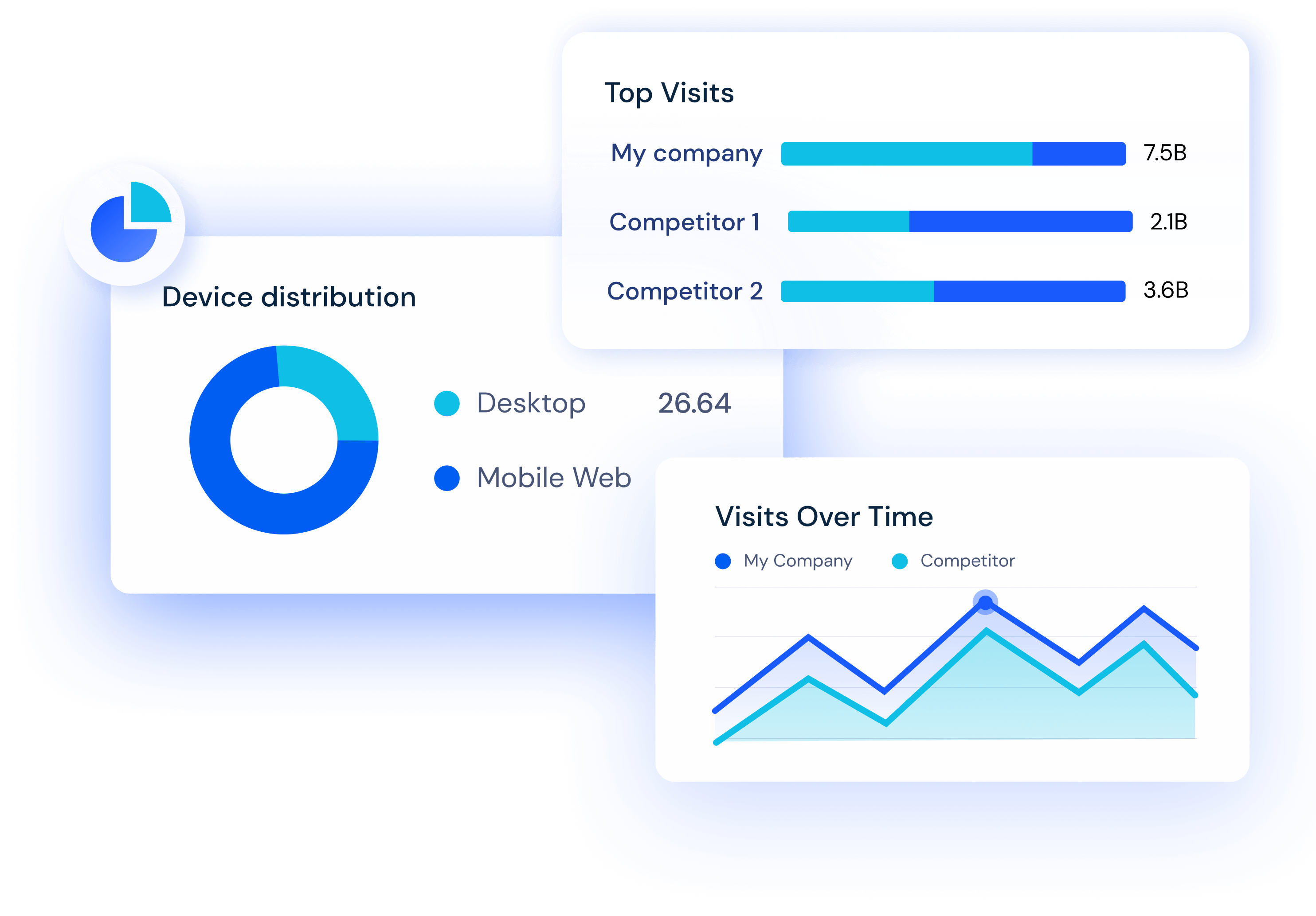 Example
Some of the most important digital marketing metrics you can use, include:
Website traffic: This can be measured for your whole site or segmented by channel
Exit rate: How often visitors leave your site from a given page
Engagement rate:

How often followers take actions, such as liking or sharing content

Average time on page
Bounce rate: How often visitors leave a page without taking the desired action)
Customer acquisition cost (CAC)
Return on investment (ROI)
These are just some of the most common marketing KPIs. Which metrics you should track depends on your content marketing objectives.
2. Know your target audience
Identify your audience to make it easier to reach them.  When you define who your audience is, you can determine which channels they're using. This also helps you identify what they need. And that's when you craft content tailored to appeal to their interests – smart.
How to do it
To define your target market, start by building buyer personas representing the main segments of your audience. Buyer personas categorize audience segments by demographics, communication preferences, buying goals, and needs. You can download a buyer persona template to help you set up your own personas. 
Fill out your template categories with information based on market research into your own customers, your industry, and competitor analysis. You can also find influencers who can promote your content on specific platforms your audience uses.
Example
Imagine you're an eCommerce retailer seeking to develop content for your audience. You might use Similarweb's behavioral analysis and audience insights tools to analyze where your website visitors spend time online, where they're located, their demographic characteristics, and what their interests are.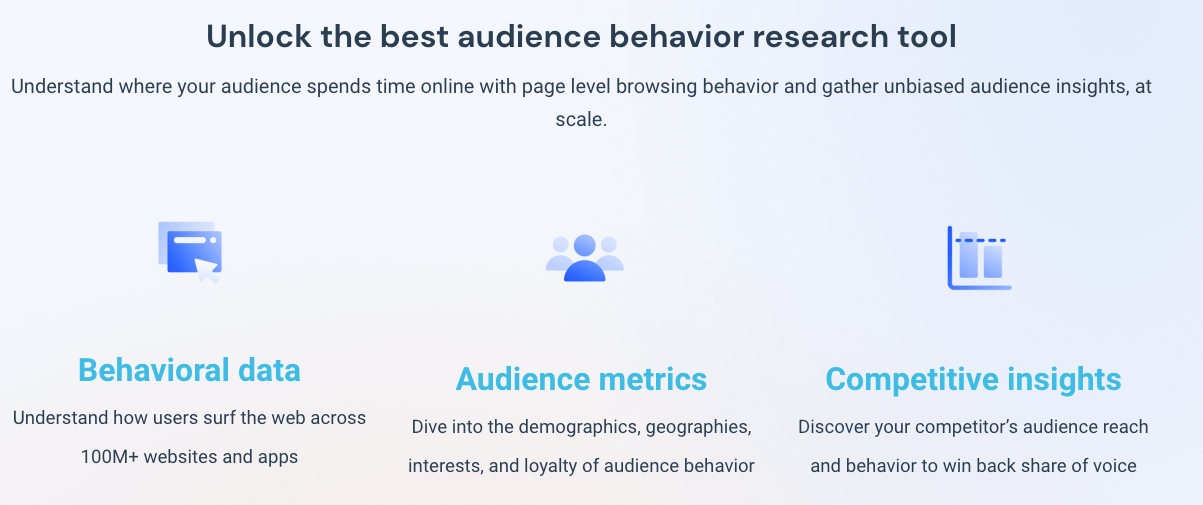 3. Prioritize the reader's experience
Web developers strive to make websites user-friendly so that visitors enjoy browsing and are more likely to convert. The same principle applies to prioritizing reader experience in content marketing. To achieve the desired effect, your content should elicit the intended emotional and cognitive response, and lead to a follow-up action from the reader.
How to do it
Shaping reader experience depends both on your content itself as well as its design. Use your market research to make sure you're addressing topics and keywords which connect with your audience's interests. Present information which addresses their needs and offers solutions. Include a call to action to elicit the desired follow-up response. On the design side, prioritize readability by using elements such as headings and lists to make content easier to digest.
Example
A great format for prioritizing reader experience is a how-to article. A how-to format lets you tell your reader directly in your title what your content is about. This makes it relevant to readers and friendly to search engines. 
You can structure a how-to article in the form of a list or series of step-by-step instructions, making it easy to read. Note, that this works equally well as a video marketing strategy as well as for written content.
4. Follow the HHH model with pillars and clusters
"HHH" stands for the "hero, hub, hygiene" model of content marketing, a content creation process originally developed by Google as a video marketing strategy for YouTubeand later adapted for other promotional channels. This model divides content into three categories:
Hygiene content

:

evergreen content

that pulls new readers in with keywords and topics addressing popular interests, typically through formats such as how-to guides and FAQ lists

Hub content

: content, which tends to be more focused on outbound channels. Hub content is to primarily showcase your authority in a topic and engage your audience.

Hero content

: exceptional content intended to raise your brand awareness with mass audiences
With the HHH strategy, the majority of your content falls into the hygiene category, with hub content comprising the next largest segment of your content, and hero content making up the smallest segment. Within this model, content can be organized into pillar page guides each with its own topic clusters that consist of content related to an overarching theme. This strategy lets you create Google-friendly content designed to appeal to all segments of your target market in all stages of your marketing funnel.
How to do it
To apply the HHH strategy, create a content calendar for each of the three major categories. Start by creating hygiene content, the workhorse of the HHH strategy. Expand into hub content to develop some topic clusters of interest to your social followers and email subscribers. Develop some hero content geared toward mass audiences, such as seasonal holiday content.
Example
We've put together a number of pillar page examples that illustrate the HHH strategy in action. For example, one of our own pillar pages explains how to build a content marketing strategy. It provides a clear list of guidelines. It uses a readable format that is easy to navigate, and includes keywords and internal links to promote SEO.
Within the content marketing area of our blog, we show how to write an SEO-friendly article. This piece illustrates how to flesh out a topic cluster. 
Take the template below and start working our your HHH strategy.
5. Have a strong brand voice
Your brand voice is the personality and values expressed through your content. A strong brand voice creates a distinct persona that shapes the way your audience perceives your company. It helps position you as an authority and builds trust with your audience.
How to do it
Start by reviewing your current brand voice. This should include a review of your company's mission statement and values. Create a chart that lists the most important characteristics of your voice. For example, are you helpful, knowledgeable, or practical? 
List some keywords summarizing the characteristics of your voice, describe what each one means, and create some do's and don'ts for your content creators to follow. After reviewing your current brand voice, decide whether anything needs to be changed, and update your chart accordingly.
Example
Office messaging provider Slack uses a friendly, helpful brand voice. Slack provides constant assistance to users, conveyed through everything from in-app communications to blog posts. Slack's tone strikes a balance between professionalism and fun. 
6. Make your content personal and actionable
Your content needs to be engaging, it needs to really speak to your audience and invite them to take the next steps. A key to making your content engaging is to make it personal and actionable.
How to do it
Speak to your audience, using second-person language such as "you" and "your", and address keywords and topics of interest to your market. To make content actionable, give practical tips and include calls to action which invite your audience to take specific steps.
Example
Our article on non-obvious copywriting tips uses a personal tone to walk you through short, practical tips on how to improve your written content. The tips are easy to read and implement and make the article actionable, as well as engaging.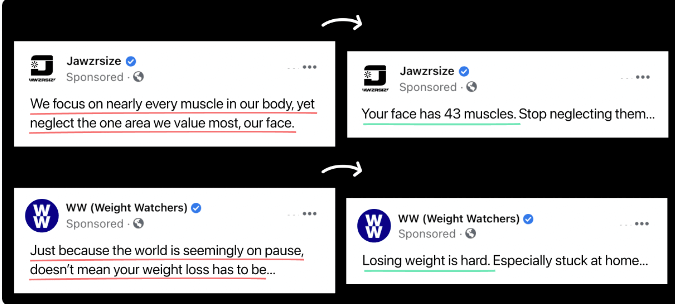 7. Use different types of content (not only written)
Think about how you consume content. Do you only read blogs? Probably not. You probably have a favorite podcast or youtube video channel you follow. It's safe to assume the same is true for your target audience. 
To maximize the impact of your marketing, create multiple types of content to reach the various channels your audience uses, including blogs, videos, podcasts, infographics and social media posts. 
How to do it
Your first step is to find out what types of media your audience uses to interact with your brand and your competitors. Then, create your content marketing strategy and plan accordingly. 
When creating non-written content, be sure to include appropriate elements for SEO, such as hashtags on social media or YouTube tags, which is one of the tricks for how to get more views on YouTube.
Example
We've put together a post explaining 15 different types of video content you can create. For example, you can use videos to promote a product or service, tell a brand story, or illustrate a case study.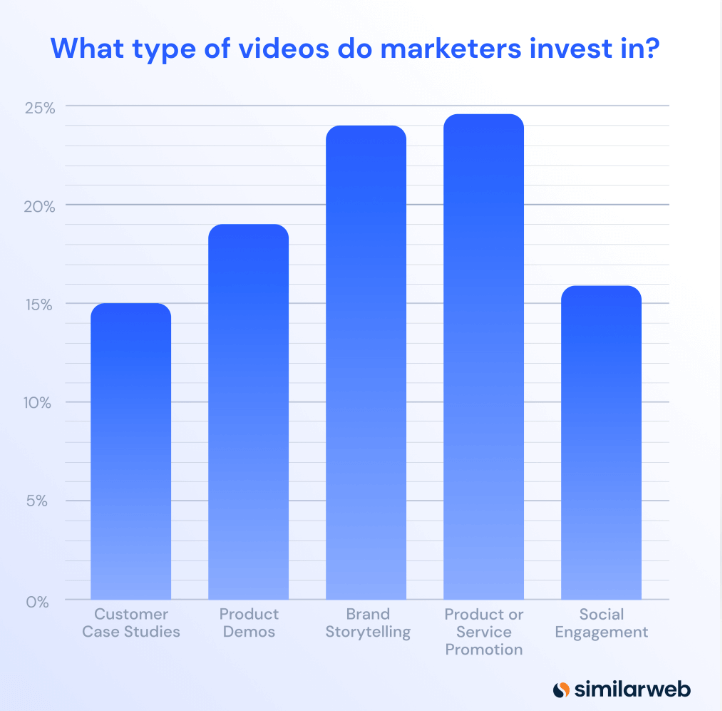 8. Show the reader the data
Data makes your content more persuasive, and a great way to display data is to use infographics. This makes your data easy to digest, and as easy to share on social media.
How to do it
First, decide the purpose of your content and what type of data you want to display, then you need to collect the necessary data. Following this, select a suitable format for displaying your data that will provide your audience actionable, interesting, user friendly insights. Some of my favorites include a statistical list, bar charts, or pie charts. 
Example
Our state of content marketing infographic uses bar charts, customized circular pie charts, and other graphics to visually summarize key data. For other examples, see our social media marketing infographic and mobile marketing infographic.

9. Refresh your content regularly
Updating your content periodically helps keep it fresh and relevant to your audience. This can be a great way to extend the shelf life of older content you've already produced.
How to do it
Index your content in a format such as a spreadsheet where you can conduct a periodic review of what needs updating. Consider updating items such as content that is getting a lot of traffic but contains outdated information.
Example
In 2021, we published a piece on content marketing trends. We updated this article in 2022 to make sure it reflects current developments.
10. Track everything
Tracking your content campaigns helps ensure that your marketing efforts achieve the desired results and earn a return on investment. You can duplicate tactics that work and avoid the ones that don't.
How to do it
To implement tracking, monitor your marketing KPIs using a suitable dashboard and reporting tool. Schedule regular reviews to assess your performance and make adjustments.
Example
Similarweb Digital Marketing Intelligence tools let you analyze any website, including your competitors' as well as your own.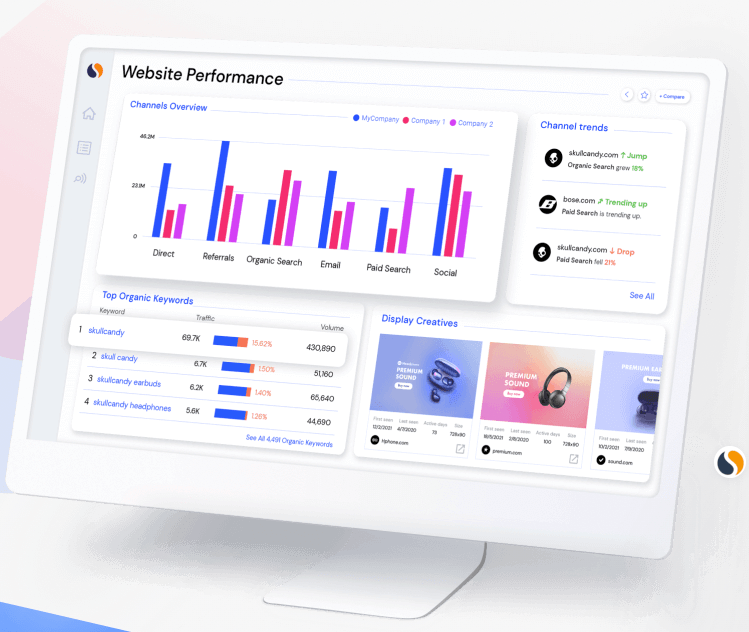 Maximize your results
The easy content marketing tips we've gone over are essential keys to unlocking your strategy's potential. To use these content marketing tips effectively, you need the right technology. Similarweb Digital Marketing Intelligence empowers your content marketing strategy by providing you with competitive intelligence to grow your traffic. Compare data on your performance with what your competitors are doing, what channels and keywords they're using, and what promotional partnership and advertising strategies are working for them which you can emulate. 
FAQs 
What is content marketing?
Content marketing is a promotional strategy that publishes digital media to reach target audiences and convert social media followers and website visitors into customers.
Why is content marketing important?
Content marketing is one of the most cost-effective ways to reach digital customers searching and shopping on smartphones, laptops, desktops, and other devices.
What are the goals of content marketing?
Goals of content marketing include building brand awareness, driving traffic, generating leads, and converting leads into customers.
What are the most important types of content?
Important content categories for marketing include blogs, ebooks, white papers, videos, podcasts, social media posts, and infographics.
What is a content calendar?
A content calendar is a document your marketing team uses to plan your creation and publication schedule. This helps you create content on a consistent basis, track your results, and plan your budget. You can create calendars for specific marketing channels, such as a social media calendar.
This post is subject to Similarweb legal notices and
disclaimers
.
Wondering what Similarweb can do for you?
Here are two ways you can get started with Similarweb today!