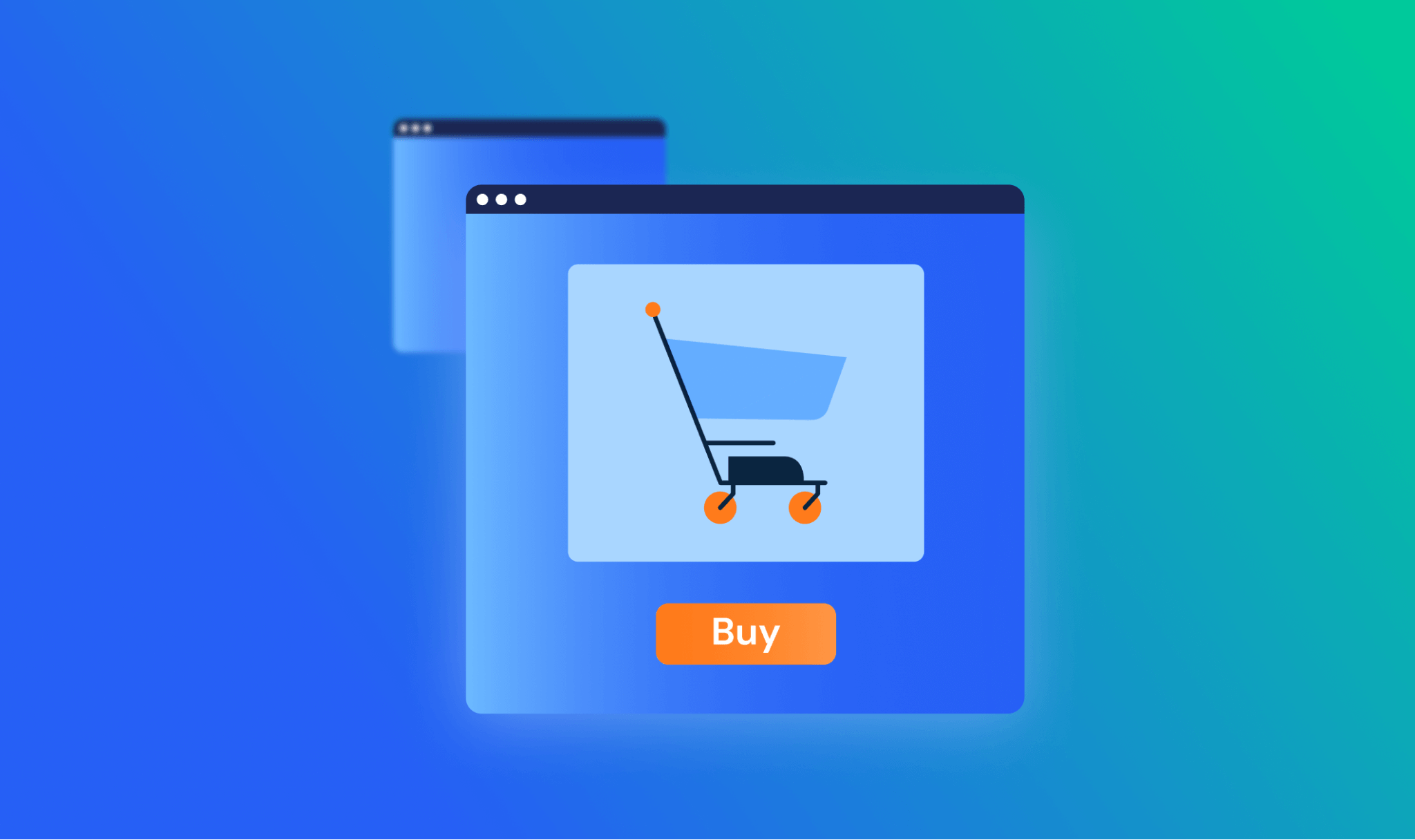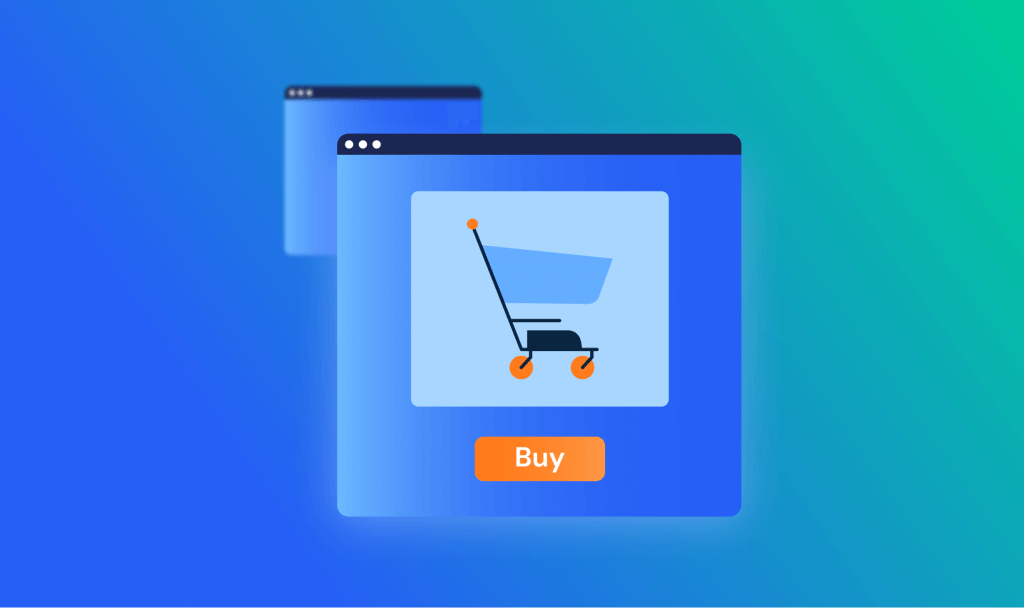 Marketing Intelligence
eCommerce Content Marketing: The Ultimate Guide
June 30, 2022
| Updated September 12, 2022
Product? Check. 
Online store? Check.
Then, it's time to spread the word and grow your business.
That's where your eCommerce content marketing comes in. When done correctly, this type of strategy boosts sales and opens up new audiences – and we're going to help you nail it.
In this guide, we'll explain how to understand your customer's pain points, how to reach them, and which types of content you should be creating. In other words, we've included everything you need.
Now, let's get started…
What is eCommerce content marketing?
eCommerce content marketing is the process of creating and distributing content to your audience, with the aim of growing your online retail business and brand awareness. However, for your content marketing strategy to get the best results, it's vital that you share valuable content that your specific audience will find appealing.
When creating content for eCommerce, there are many different types of content to choose from. The most common types include email, blogs, videos, and infographics (we'll discuss these in a minute, don't worry). But, no matter which type of content you share, it should always address the specific challenges of your target audience.
The importance of content marketing for eCommerce
When built thoughtfully to target your specific audience's needs, an eCommerce content strategy can help grow your business.
What are the main benefits of eCommerce content marketing? Let's look at the top five.
1. Improves SEO
You could have the best product in the world. But what's the point if your content doesn't appear in the 8.5 billion daily Google searches?
eCommerce content marketing focuses on improving your SEO, increasing your visibility online and helping to generate more organic traffic and conversions for your business.
How so? Well, in the same way you want the best for your customers, Google wants the best for its users.
Google will reward excellent content through improved positions on the SERPs (search engine results pages). By consistently sharing high-value content related to your target keywords, you'll likely see an improvement in your rankings, website traffic, and online reputation – all of which are ingredients for success on the SERPs.
In a nutshell – to create an effective eCommerce SEO strategy, you need to regularly distribute high-quality content that appeals to your audience and search engines.
2. Completes the customer journey
Growing your business isn't just about selling products. For long-term success, you need to reach new audiences, build trust, and increase your authority within your industry. That's where your content comes in.
Also known as a sales funnel, the customer journey is normally broken down into three stages:
Awareness – they're aware of a challenge or opportunity, but need more information.
Consideration – they're researching solutions to those challenges.
Decision – they're ready to decide which product or service to buy.
Why is it so important to complete the customer journey? It's about giving your audience everything they need.
Think about it like this, if your content is limited to top-level advice blogs, you'll likely miss out on sales from users who are ready to buy.
On the other hand, if you only write sales-focused blogs, you'll likely alienate potential customers who are only at the top of the funnel. Don't give your audience any reason to search for information elsewhere.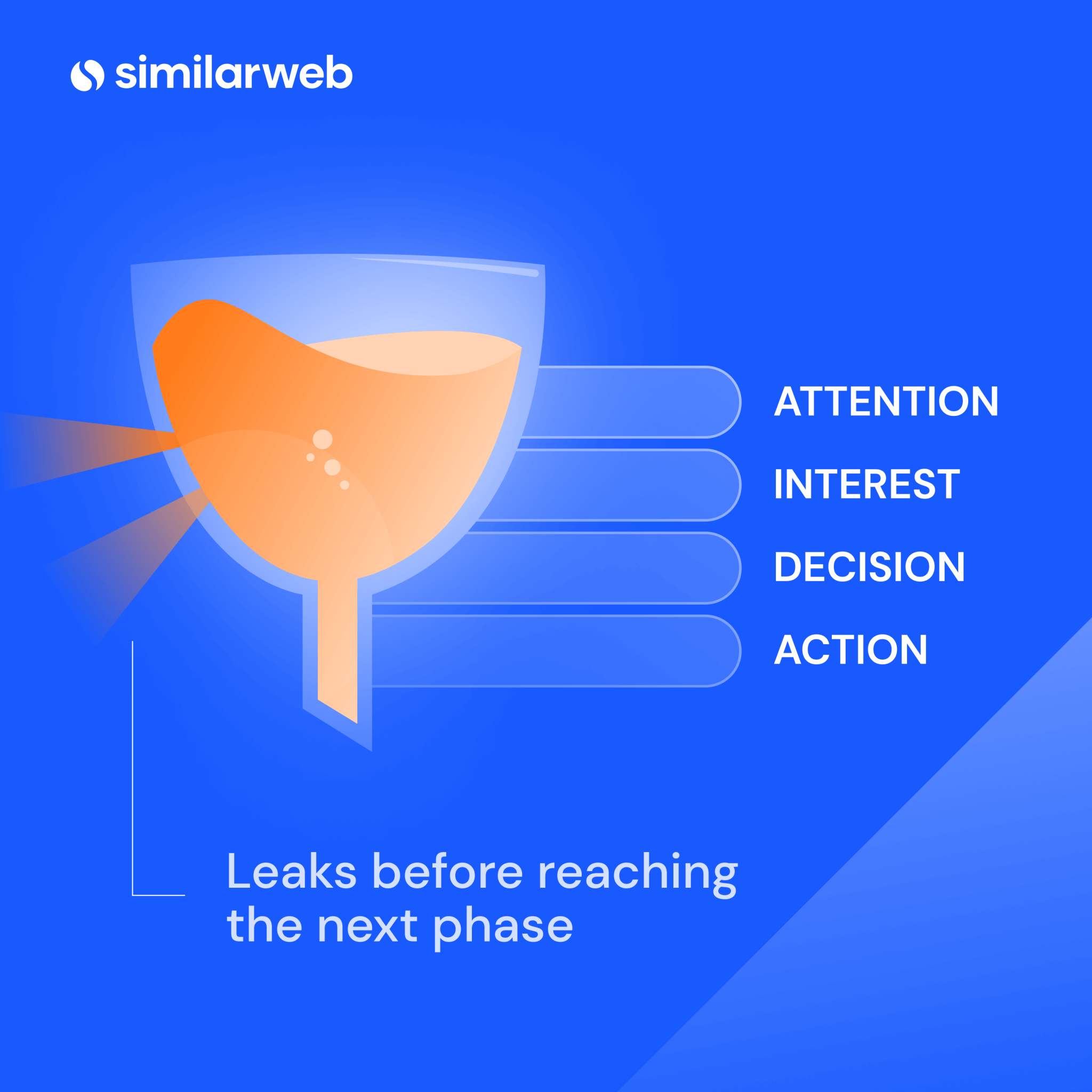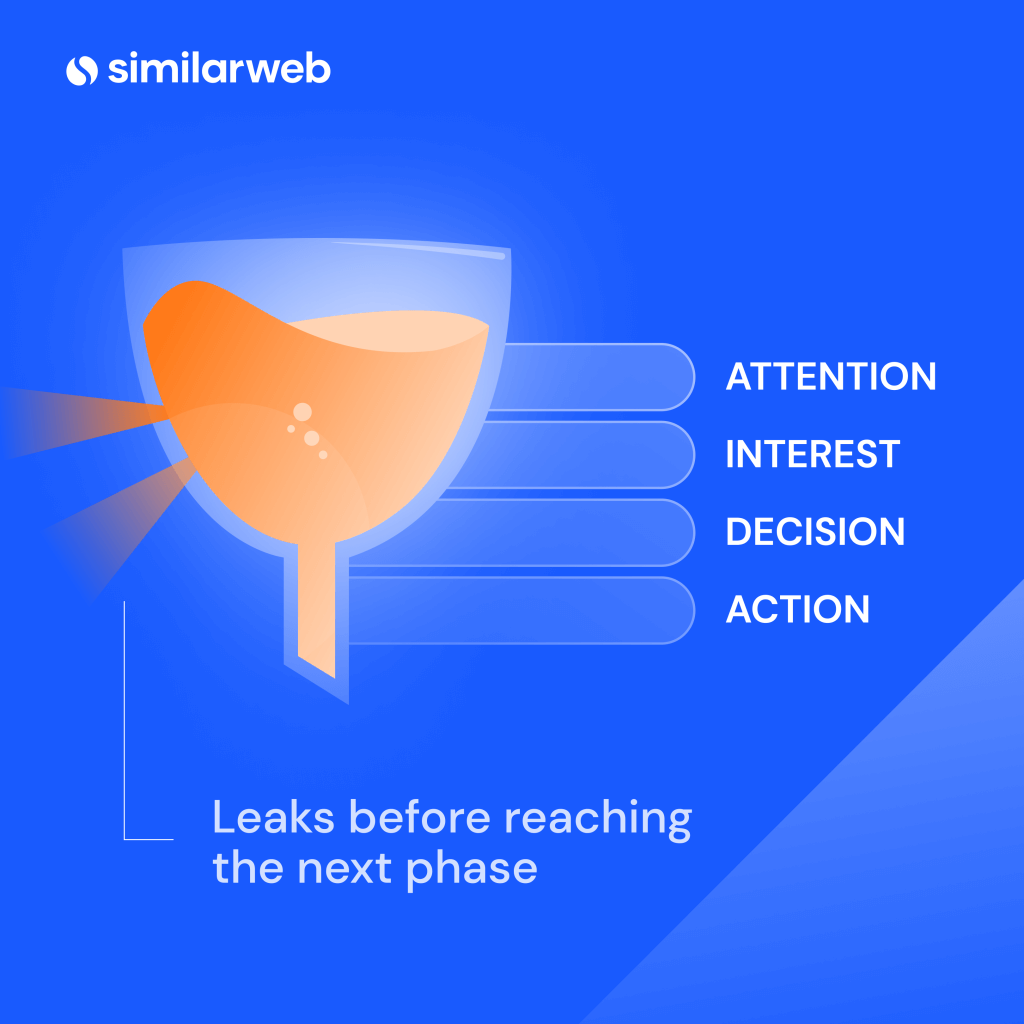 3. Brand differentiation
Standing out from the crowd can prove tricky, particularly when you're selling similar products to your competition.
That's why content marketing is more than just promoting your product – it's an opportunity to create a brand identity and show off your personality, demonstrating why customers should pick your brand over the others. Even if your product isn't the best on the market right now, you can still attract customers through engaging, high-quality content.
4. Increase brand loyalty
Brand loyalty: two of the most valuable words in eCommerce. It's what keeps your online traffic high and your checkout page busy. In fact, the probability of selling to an existing customer is 60% – 70%, while the probability of selling to a new customer is only 5 – 20%.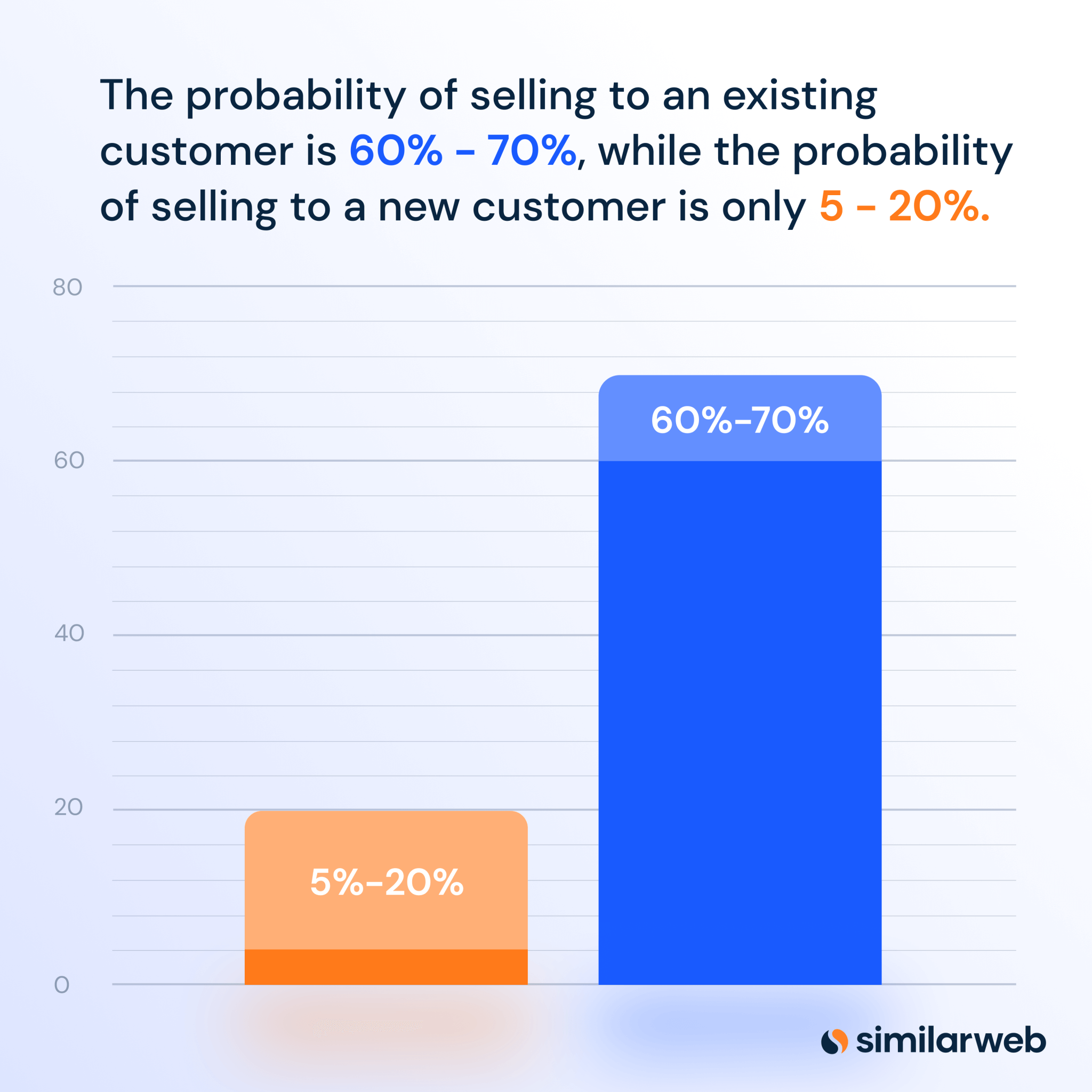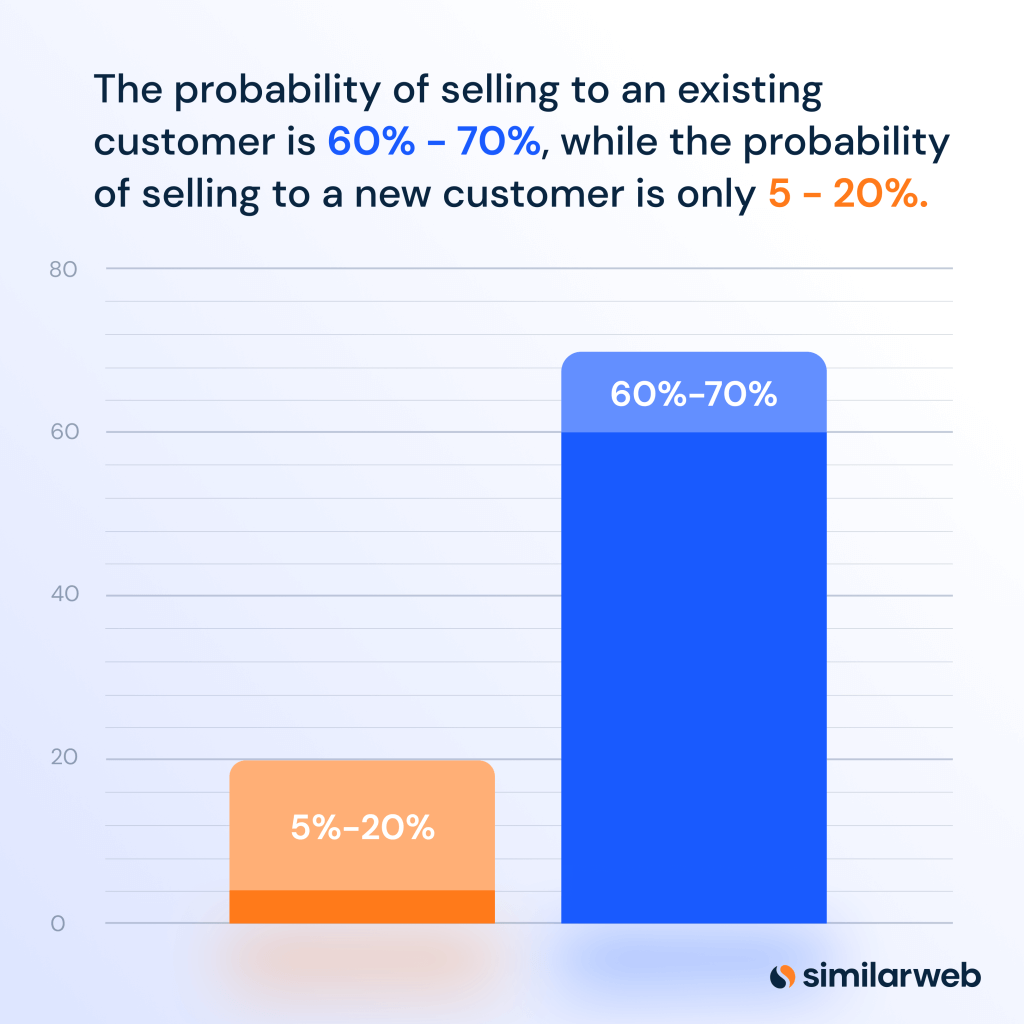 eCommerce content marketing allows you to build relationships. We know that. However, it also allows you to strengthen those relationships and retain customers. By consistently sharing interesting, valuable, or entertaining content, you're more likely to create a buzz around your brand and boost customer loyalty.
What should you focus on?
Providing valuable content to your specific audience.
After all, how can you engage customers with irrelevant content? It's almost impossible. But don't worry, we've explained how you can figure out what your audience wants to consume:
Identify your buyer personas
A buyer persona is a fictionalized version of your ideal customer. What are their pain points? Which content channels do they prefer? Ask yourself these types of questions to understand who your customers are.
The idea is to step into the shoes of your audience, asking yourself what they might want from your business. That way, you'll know how to address their specific needs.
Ask your audience
When creating an eCommerce content strategy, you want to remove any guesswork. So, rather than assuming what your audience wants, you can ask them directly.
Whether it's via questionnaire, online survey, or social media post, you should ask your audience about their biggest challenges, using those answers to direct your content marketing strategy.

After all, who knows what your customers want better than themselves? In the content marketing world, your audience's insight is like gold dust.
Competitor research
What are your competitors doing? Which format of content are they using? Which questions are they answering? Conduct the research, then identify where and how your eCommerce content marketing can stand out.
To make things easier, you can use the Similarweb Competitive Analysis Tool to see what your rivals are doing, and learn how you can outperform them. Dig into:
Video ad research
Display ad creatives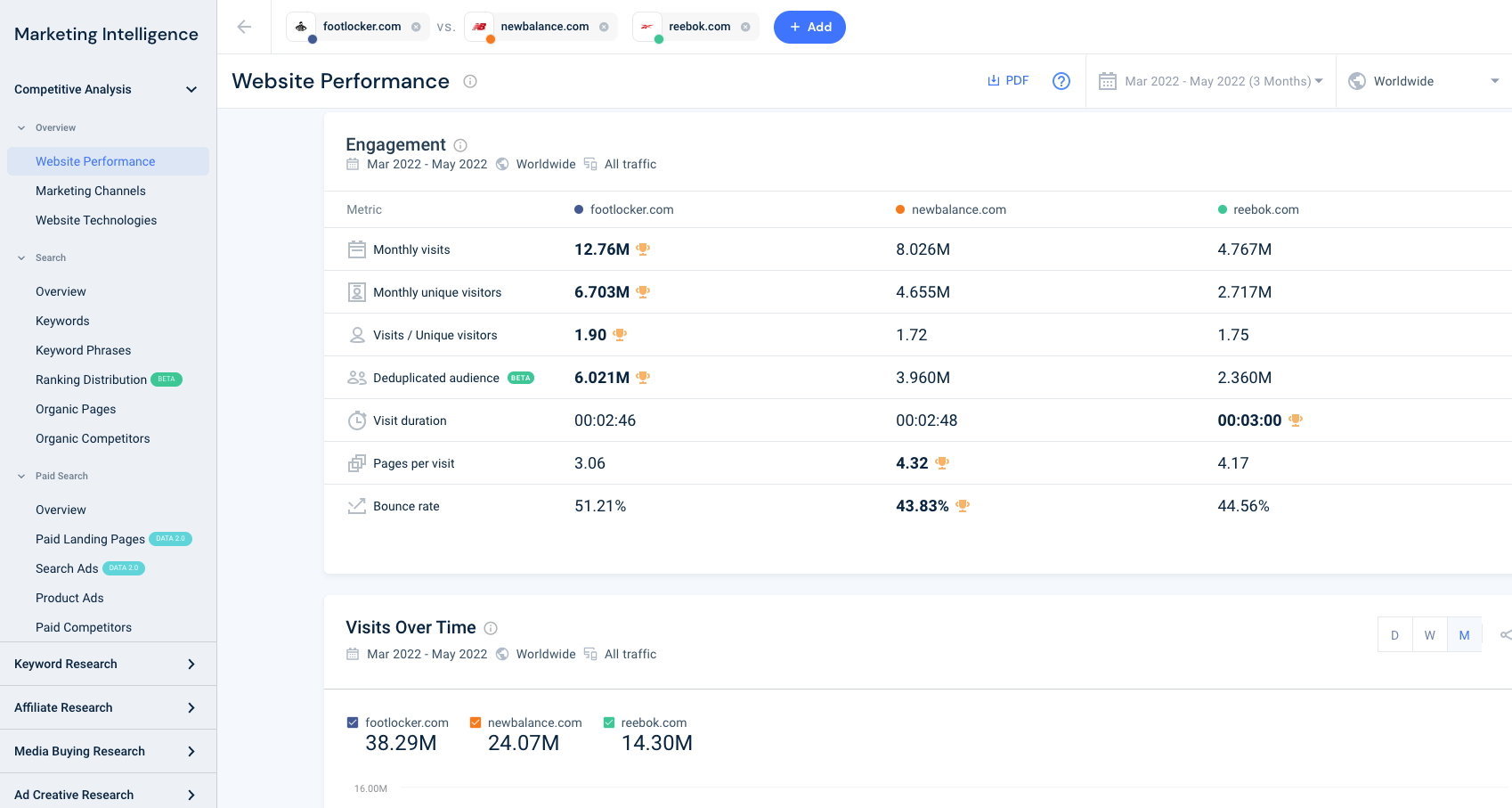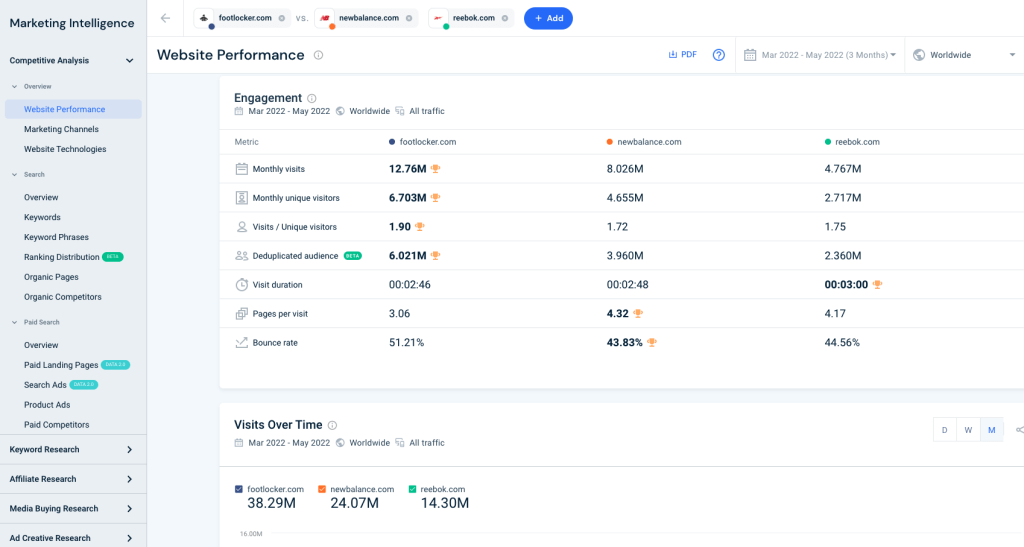 Use what you learned so far from your business experience
You can also rely on your own eCommerce experience to help guide your content marketing. Have you experienced any pitfalls? What have your customers responded well to? You've likely got unique insights into your own audience, which can prove invaluable when crafting targeted content.
eCommerce content marketing strategies examples
To give you some inspo, we'll walk you through various eCommerce content marketing examples.
Topic clusters for blog/SEO
These days, search engines favor content focused on core topics. With that in mind, you should consider building topic clusters to help improve your rankings, particularly if blogging is important to your content marketing. But what are topic clusters, exactly?
A topic cluster is a way to organize your site's structure, with a cluster of content that's organized around a core topic. In most cases, you'll have a pillar page that covers the core topic from a high-level perspective, which links out to in-depth blogs covering various subtopics – known as cluster content.
Those cluster content blogs will also include internal links to the pillar page and other articles, helping the user navigate your content more easily. And remember, if users enjoy your content, Google should reward you.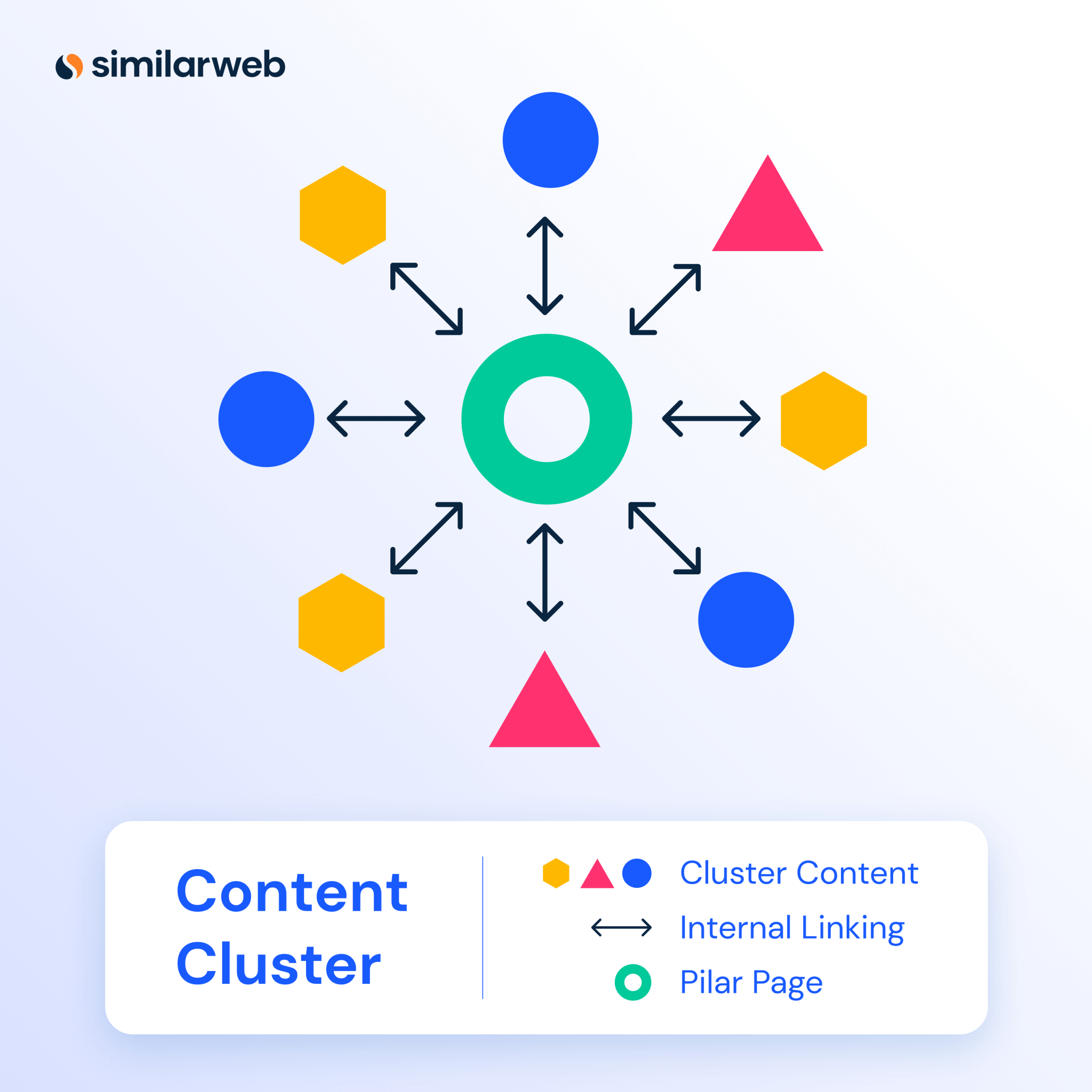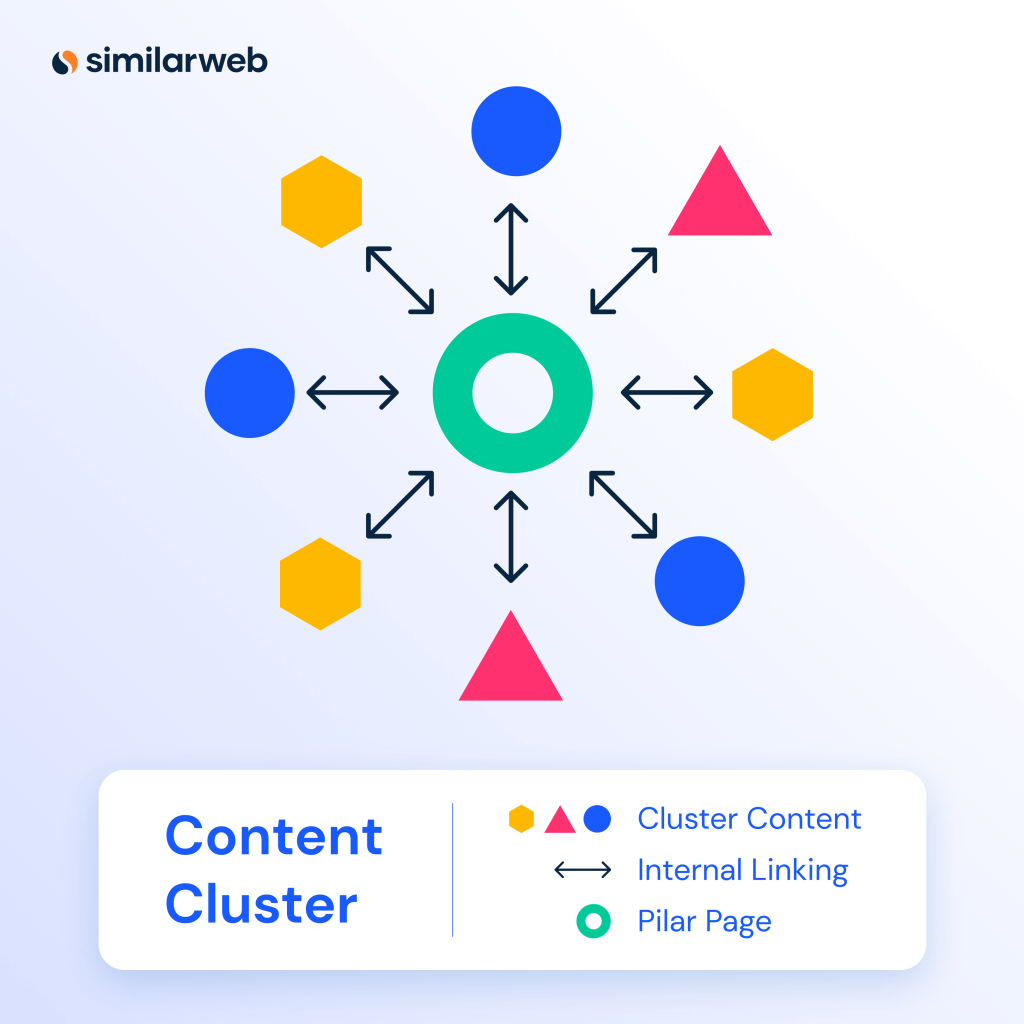 User-generated content – Reviews, social media hashtags
For eCommerce businesses, UGC (user-generated content) is one of the most persuasive formats out there. Why is it so effective?
It comes down to trust. UGC is similar to word-of-mouth marketing. Rather than preaching about your product to your audience, UGC involves real customers sharing real experiences about your product or service. Generally, customers are more likely to trust other customers over a corporate message.
One of the best ways to encourage UGC is by inviting customers to submit content for competitions. Or, you can ask them to leave reviews. Once you've gathered your UGC, be sure to consistently share it online to help build trust and gain new customers.
Glossaries
Jargon can be confusing. And the last thing you want to do with your eCommerce content marketing is alienate your readers. So, if your service involves specific terms, it's best to create a glossary that your audience can use in order to learn more about your business.
Glossaries can also prove useful for SEO. By attracting users who are searching for a specific term related to your business, your glossaries should – hopefully – encourage users to explore your products or services.
We practice what we preach, check out our eCommerce glossary here.
Infographics
Infographics are particularly useful in eCommerce content marketing, turning otherwise complicated data into digestible bites.
With infographics, you can convey data-driven messages about your products and how they can solve pain points. This makes them ideal content targeted at customers at the 'Consideration' stage of the purchasing funnel.
Moreover, with their eye-catching designs, infographics are easily shareable on social media, which can help increase brand awareness and drive traffic to your online store.
Tutorial videos, DIY
In a survey from Wyzowl, 88% of people said they'd been convinced to buy a product or service by watching a brand's video. That shows how useful video marketing can be.
Specifically, tutorial videos are particularly valuable to viewers because they explain how to use your products in order to overcome challenges.
With tutorial videos, you can educate your audience while demonstrating the value of your product or service. It's the ultimate combo.
What's more, you can also communicate directly with your audience in the comments section, helping to build trust even further.
Influencers
Working with influencers can boost your online reputation, with respected figures publicly endorsing your brand. Normally, the influencer will include a link to your products, which can drive traffic to your site and boost sales.
If your target audience uses video-based social channels – such as Instagram, TikTok, or Snapchat – then you should consider using influencers in your eCommerce content marketing strategy. That's because, typically, influencers regularly use video to communicate with their own followers.
Lastly, for your message to appear more authentic, it's best to work with influencers who are related to your industry. Otherwise, the influencer partnership might seem unnatural or untrustworthy.
Content partnerships
Similarly to influencer marketing, content partnerships allow you to join forces with other brands to create and share content across a variety of channels. When two brands collaborate, it normally creates a buzz online, making it one of the most engaging forms of eCommerce content marketing.


But who should you collaborate with? It can be tricky to decide. All you need to do is make a list of all your favorite brands and spend a few weeks reaching out to the right people. Remember, the best content partnerships will gain positive results for both brands – so be sure to include that pull in your pitch.
Product maintenance tips / product guides
Just like tutorial videos, product tips and guides are valuable pieces of content for your audience. From your customer's perspective, what's more useful than expert advice?
Use your industry expertise to write 'how to' guides, maintenance tips, and general guides about your products. This is an excellent way to prove your expertise on the subject, and to build trust.
Once you've built a trustworthy reputation, your audience should view your brand as the go-to brand to solve their issues.
FAQ pages
FAQ pages are particularly useful for eCommerce brands. In this industry, your current and potential customers may want answers about your products, delivery, and returns policies that they can't find on your landing page.
FAQ pages can help clear any potential roadblocks the customer may have on the journey to your checkout page. That is, FAQ pages can move customers down the purchasing funnel by quickly solving customer issues.
It's worth noting that, if you're getting lots of product-related questions, then you should include answers to those questions on your product pages – not just the FAQ page. You want your customers to find the right answers quickly and easily.
Reviews/comparison pages
Before making a purchase, most customers will want proof of your product's quality. The stats prove it, too. 93% of consumers say online reviews impact their purchasing decision.
Including reviews on your website provides social proof, which as the stat shows, is hugely persuasive when it comes to influencing a buying decision process.
Meanwhile, creating comparison pages allows you to show how and why your product is better than the competition. This type of content is ideal for customers at the final stage of the purchasing funnel who might be deciding between two products.
As long as your brand is genuinely superior (we're sure it is, don't worry), you'll likely see more conversions thanks to your comparison pages.
Guest Blogging
Guest blogging is an excellent way to get more traffic and build authority. What's guest blogging, you ask? It's simply writing articles on other relevant websites, while including a link back to your own website known as a 'backlink'.
The key here is to write for other publications that are relevant to your niche audience or industry. With relevant, respected websites linking to your website, Google should view your business as an authority in the subject area. The backlink can also help drive traffic from that publication to your business.
Get started
eCommerce content marketing is an effective way to grow your business. However, you can't just share any old content and see what sticks. That's a waste of your time and resources. To build trust, boost sales, and reach new customers, you need to create valuable content tailored to your specific audience.
Research goes a long way here. By understanding what your audience wants from your business, you can create an eCommerce content marketing strategy that keeps your customers coming back for more.
This post is subject to Similarweb legal notices and
disclaimers
.
Wondering what Similarweb can do for you?
Here are two ways you can get started with Similarweb today!