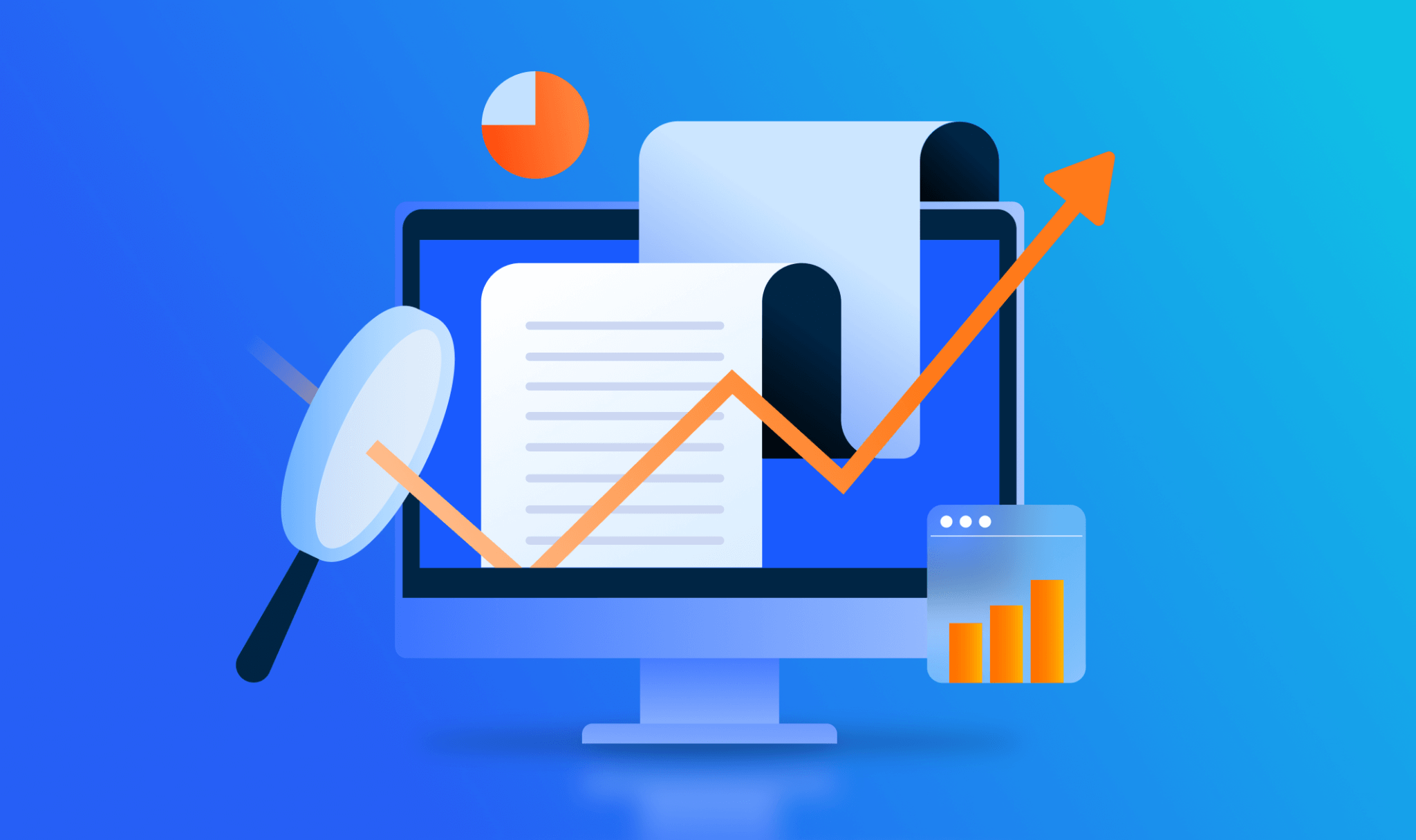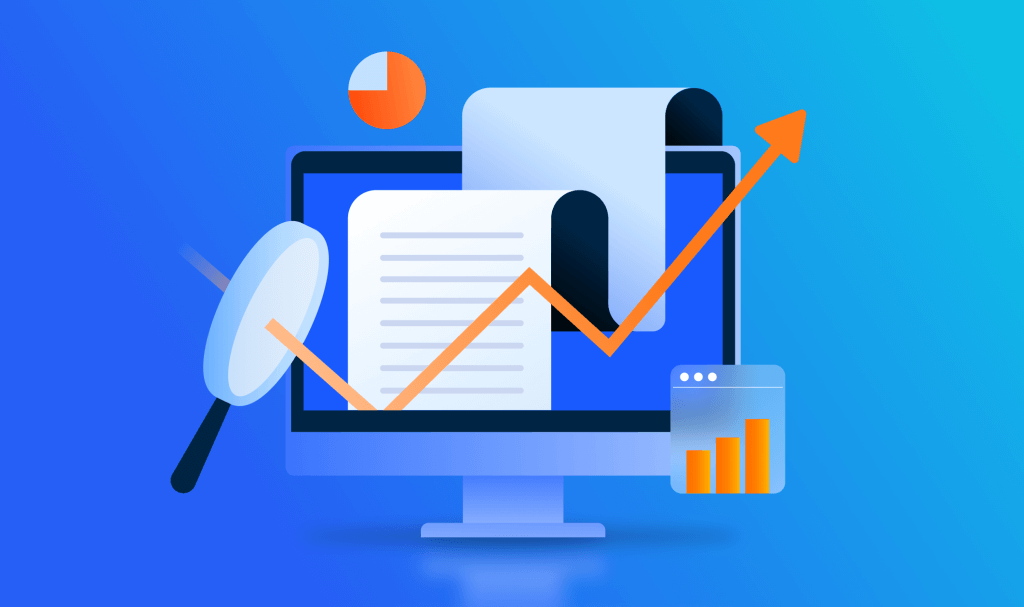 Marketing Intelligence
What Are Pillar Pages? (And How Can They Boost Your SEO?)
June 30, 2022
| Updated September 12, 2022
As the name suggests, strong pillar pages prop up your content and marketing strategy. But instead of supporting temples, they drive web traffic and boost user engagement.
Or at least they do when they're made correctly.
Here we'll teach you how to write pillar pages that help improve your SEO rankings, site traffic, and conversions. We'll also break down how to optimize your content performance, pairing pillar pages with topic clusters (more on that later).
But what is a pillar page, exactly?
Let's back up and start at the beginning. If you're already familiar with the basics feel free to skip ahead.
What is a pillar page?
A pillar page is a high-level piece of content that covers a core subject, linking out to in-depth articles about specific subtopics. They're comprehensive pages that usually have at least 2,000 words. Why? They're packed with helpful and actionable information that communicates to users (and search engines) that you're an authority on the topic. When people turn to your site for info on a specific topic, Google pays attention and will rank your content higher in its results.
Case in point: the Neilsen Norman Group, a UX, UI consulting firm founded in 1998.
The site is packed with pillar content and supporting articles, research, and videos on all things UX and UI. When you type in "Empathy mapping" on Google, the article and video from the site shows up in a top search positions.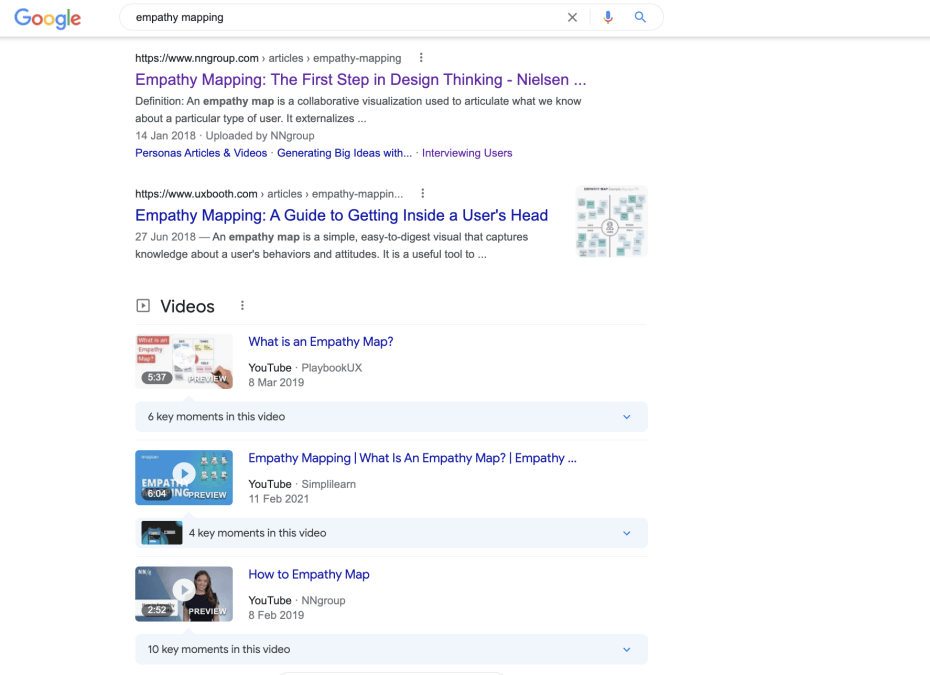 So you can see how pillar pieces are critical for setting up the success of your content marketing strategy and SEO performance.
Plus, the higher you rank on search engines, the more likely you are to have other sites link back to you, increasing the number of external links back to your site.
Secondly, pillar content makes it easy for your readers to navigate to more helpful and related information when you have supporting articles.
Let's say you write a 3,000-word pillar page about the topic of SEO. On that page, you'll touch briefly on the subtopic of backlinks or local SEO, but you'll link out to more detailed blog posts about those subtopics.
Those in-depth blog posts are known as cluster content (which we'll explain in more detail below) and nearly always link back to the pillar page.
Topic clusters and pillar pages
Topic clusters are groups of content related to one core subject. Designed in a hub-and-spoke format, each topic cluster centres on a pillar page (like a bike wheel hub) and is surrounded by cluster pages (the spokes). Generally, pillar pages cover broad topics, while cluster pages target specific, more focused subjects, related to that topic.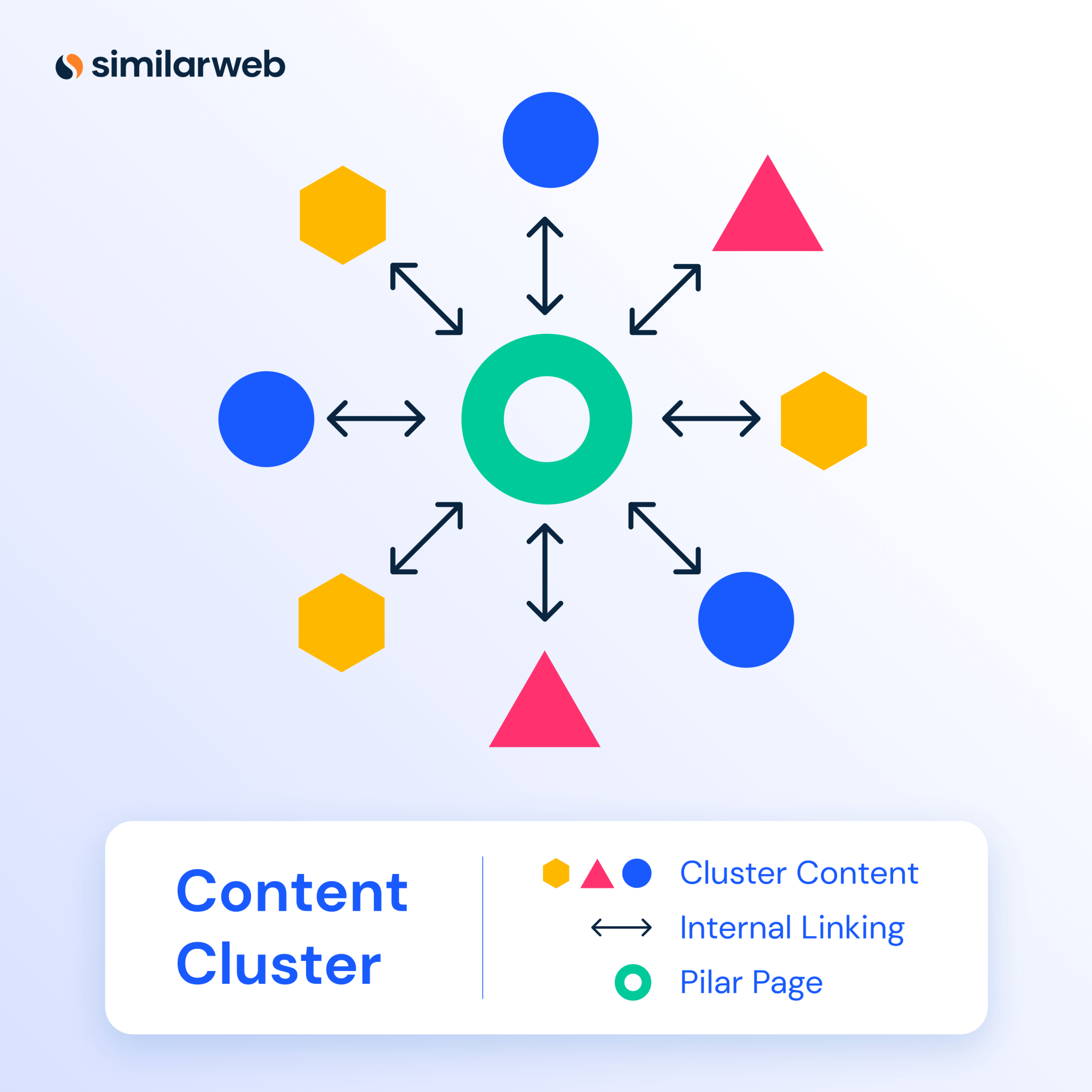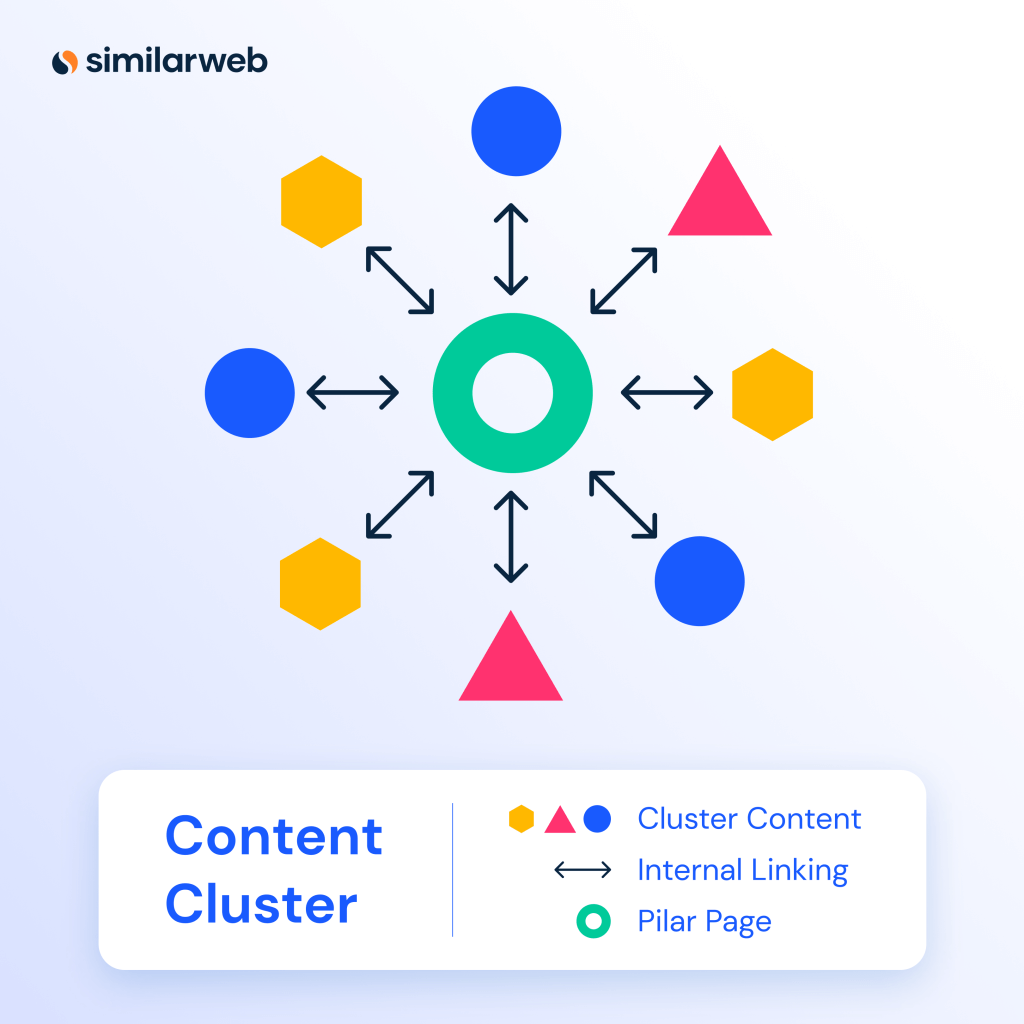 Let's say you want to build a pillar page about the topic of Content Marketing. On that page, you could cover a variety of subtopics, and link to articles that go even more in depth:
The Benefits of Content Marketing
Content Marketing Strategy Examples
Buyer Personas
Marketing Funnel Optimization
CTA Best Practice
What is a Content Calendar?
Competitive Content Analysis
Content Performance Tracking
The pillar page would provide a top-level view of content marketing, with each cluster page covering the above subtopics in greater detail. Remember, your cluster pages usually target specific long-tail keywords related to the pillar page's topic. You would also have links to and from the pillar page and cluster pages.
Why are topic clusters and pillar pages so effective?
Users want detailed and actionable information, right now.
Search engines are quickly evolving and getting smarter in understanding more complex queries.
Pillar content allows you to present a lot of valuable information to answer searchers questions. And your topic cluster pieces let readers go deeper. The more your content matches the search intent of your readers, the better user engagement and longer sessions on your web pages. That's because all the topics discussed are related and built off each other. Let's walk you through some more specific SEO pillar page examples.
Pillar pages and their impact on SEO
Ok, so, pillar pages can help organize your content into easily navigable topic clusters.
But did you know that pillar pages and topic clusters can boost your SEO efforts? Below, we've explained how they can impact your rankings, and why they must be part of your SEO strategy.
1. Improves site structure
Organizing your content into topic clusters doesn't just make your website look good. Doing so makes it easier for Google to crawl your site, indexing each page from blog to blog while calculating your level of expertise and authority.
Improving your site structure also means it's easier for search engines to find the most suitable page to show in the results for a certain search term. In contrast, on sites without strong topic clusters, Google might struggle to find the most accurate or useful link for the user amongst the poor site structure.
Overall, with a sleek site structure, you'll likely earn stronger rankings in the SERPs (search engine results pages). And that's the aim of SEO, right?
2. Helps you rank for high-volume keywords
Simply put, pillar pages are more likely to rank for high-volume keywords because they offer comprehensive information about core topics.
In most cases, when searching for a topic, users will want top-level information first. That's the pillar page's role.
Then, once they're interested, the user will want to learn about more specific sub-themes – AKA explore the cluster content. With this user-friendly site structure, what reason do users have to leave your website?
The message here is that Google understands users might have a wide interest in a topic that ultimately turns into a specific search intent. Pillar pages and topic clusters can help support that user journey.
3. Shows expertise, authority, and trust (EAT)
Pillar pages ooze authority. That's a big 'yes' in Google's eyes. Overall, pillar content helps your business build EAT (expertise, authority, and trust).
Think of your pillar page and topic cluster as an encyclopedia on your chosen subject. The pillar page is the 'contents' page, and the topic clusters are individual sections. As a whole, they have all the information the reader needs about that topic and its subtopics.
Remember, search engines want their users to find the most accurate information possible – as easily as possible. This means search engines will likely rank your comprehensive topic clusters over a competitor page that provides little detail.
The moral of the story here: please the user and Google should reward you.
Types of pillar pages
Generally, there are three main types of pillar page:
'What is' pillar pages – e.g. What is SEO?
'Guide' pillar pages – e.g. Our Guide to Hybrid Working
'How to' pillar pages – e.g. How to Write Blogs
These are broad content types. In some cases, your pillar page will crossover into different categories. For example, you could have a pillar page titled 'Our Guide to SEO Marketing' that links out to specific subtopics and tips about writing SEO-friendly content.
How to create a pillar page using best practices
With our step-by-step process, learning how to create a pillar page will feel like a breeze. Also, with the help of our online tools, executing your pillar page content will feel even easier.
1. Choose which topics you want to rank for
Every cluster needs a topic. However, you can't choose any old topic and expect to rank for it. The most effective topics lie somewhere in the middle of the broadness spectrum.
What do we mean by that? So, try to find a topic that's broad enough so that you can write multiple blog posts about its subtopics, but not too broad that it's impossible to write a comprehensive pillar page.
For instance, the topic of 'Money' would be far too broad for a pillar page. On the other hand, the topic of 'How to Earn Money Online' – while more niche – has scope for plenty of related blog posts.
You also need to ensure your chosen topic has enough search volume. Otherwise, what's the point? Writing about a topic that no one cares about will likely get zero results.
2. Research keywords
Keyword research is one of the most important parts of creating your topic clusters and pillar pages. In fact, it will dictate the content of your topic clusters.
Conducting keyword research shows you exactly what your customers are searching for. It reveals their questions, queries, and pain points about the chosen subject, making keyword research tools vital for your SEO content and topic clusters.
You also need to consider what your competitors are ranking for, and which keywords they're targeting. With this insight, you can get ahead of the curve and spot gaps in your rival's strategies. Better yet, you can use the Similarweb Competitive Analysis Tool to see which keywords are driving traffic to a rival's website.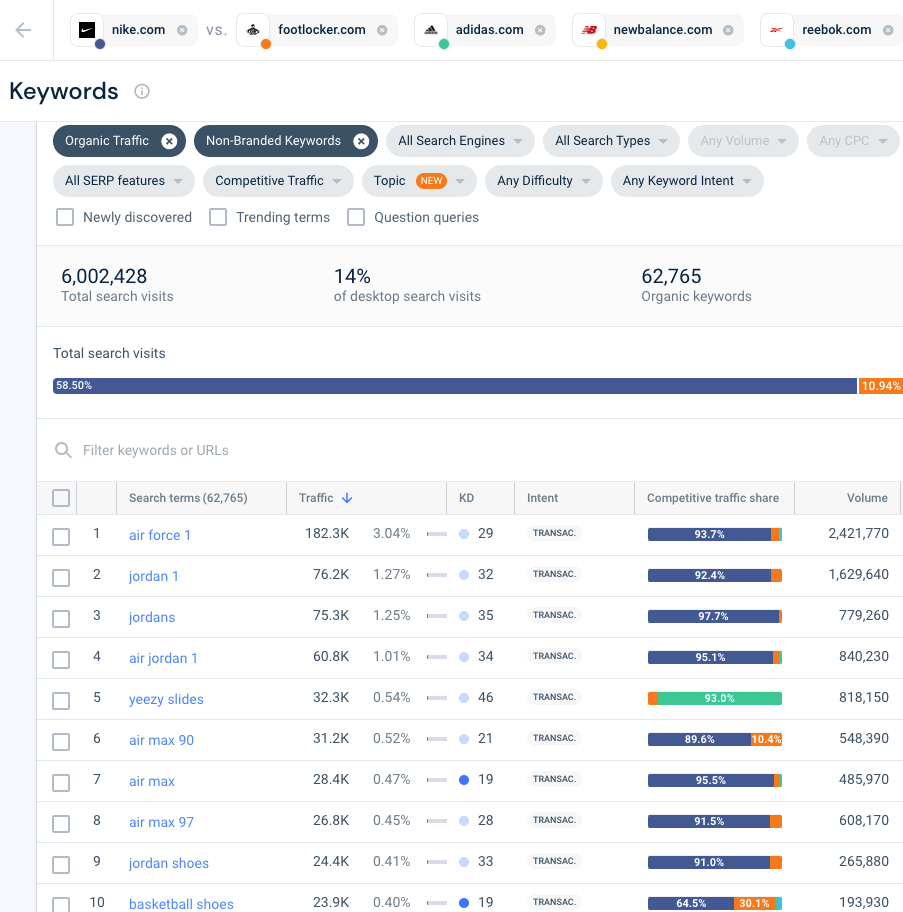 3. Group keywords and phrases into pillars and topic clusters
This is where things can get a little tricky. You need to group your keywords together in a way that your in-depth blog pages aren't too broad, or too similar. Otherwise, you'll struggle to rank for your target keywords. This time, it's about balance.
One of the best ways to see how you should group your keywords is by manually searching those terms yourself.
Let's say you want to target the keyword 'content marketing strategy'. Search engines will likely rank the same URLs for related keywords such as 'website content marketing strategy' and 'what is a content marketing strategy?'. If that's the case, you'll rank for both those search terms within the same blog.
In contrast, if you find different URLs ranking for certain keywords related to your topic, then you should target that keyword with a separate blog post. This method allows you to group your keywords to use under different blog titles within your topic cluster.
4. Write cluster pages
Writing the majority of your cluster pages first will make your pillar page creation much easier. If you don't, it would be like trying to summarize an article you haven't finished yet – you won't know how much, or how little, to include.
To nail your content creation process, we recommend building a content calendar if you haven't already got one, and analyzing your competition's content to see what you're up against. These tactics will help you identify content gaps to exploit.
5. Write the pillar page
Pillar pages are typically 2,000 words or more in length. They're comprehensive. Be warned, though – when summarising your subtopics, you want to keep it short so that you hook the reader into visiting your cluster pages via the internal link.
However, you also need to include enough information on your pillar page to ensure both Google and the user find it valuable and authoritative.
Pro tip: Make your page stand out and boost your UX by including video content, infographics, and other engaging forms of content.
6. Optimize your pillar page for SEO
Hooray! You've written your pillar page and topic clusters. Now, it's time to rank on search engines and drive organic traffic to your site.
To help you get started, you can use our step-by-step checklist for on-page SEO to see if your pillar page ticks all the right boxes.
Get building
If long-form articles play a big role in your content marketing strategy, pillar pages and topic clusters will help you build E.A.T. and improve rankings.
However, that's only if you build pillar pages and topic clusters correctly. You can't write about any topic and expect to rank – the topic must be broad enough to require numerous blogs, but niche enough that you can cover the most important subtopics on your pillar page.
Now, you should have all the pillar page information you need to pile on the pressure on your rivals in the SERPs. Good luck!
FAQs
What is a pillar page?
A pillar page is a high-level piece of content that comprehensively covers a main topic, linking out to blog posts about specific subtopics. The blogs are more in-depth and typically target keywords related to the pillar page's main topic.
How do you write a pillar page?
You can learn how to create a pillar page by following our steps:
Choose which topics you want to rank for, research keywords, group keywords and phrases into blog posts and topic clusters, write cluster pages, write the pillar page and optimize your pillar page for SEO.
How many words is a pillar page?
Pillar pages are comprehensive pieces of content that should be long enough to include all the relevant information, but not too long that you bore the reader. A general rule of thumb is that pillar pages should be between 2,000 and 5,000 words.
This post is subject to Similarweb legal notices and
disclaimers
.
Wondering what Similarweb can do for you?
Here are two ways you can get started with Similarweb today!