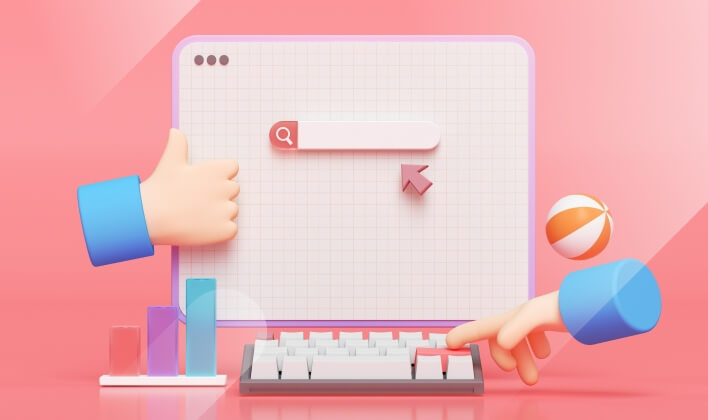 Marketing Intelligence
How to Create SEO Content That Speaks To Your Audience (and Google)
March 11, 2021
| Updated September 13, 2022
"If a tree falls in a forest and no one is around to hear it, does it make a sound?" Replace tree with content and replace woods with page one of search and that's your modern philosophical question. Except the answer is no, no it doesn't make a sound.  
But today is your lucky day. You are about to get an exclusive rundown of my most successful SEO content techniques that will actually allow your content to make noise on the internet. I am going to share marketing analysis tools and a step-by-step process of how we at Similarweb continuously create SEO content that genuinely works.
What is SEO content?
SEO content is online content created to generate organic traffic through high search engine rankings. If you understand what SEO content is, you can apply it anywhere you decide, whether to a blog, a landing page, or a product page. It's really a matter of where you want your content to live and what you want it to achieve.
Why is SEO content important?
There are many ways to drive traffic to your site. Search Engine Optimization aims exclusively at organic traffic, and that has enormous potential. 
You want to get anyone who could benefit from what you offer to your site. That includes people who aren't directly searching for your product or don't even know it exists. SEO content can achieve that. 
SEO is all about understanding what searchers are looking for, so you can plan content that provides those specific answers. But most importantly, you need to know how they search. Even the best content is useless if search engines can't find it for your target audience. If you know how to write SEO content, you'll help search engine crawlers get the job done. 
In the long run, you need high-value, reader-focused content that follows the principles of SEO for it to generate the desired results. Only SEO content creation feeds the search engines and satisfies your target audience's needs at the same time.
The intersection between SEO and content
"Oh, I get it, you're talking about content marketing!" Well, yes and no. SEO and content marketing go hand in hand. They are like two dancers tied together at the ankles. 
Search Engine Optimization refers

to the strategy and methods you implement to ensure search engines index your web pages properly to help relevant searchers find your content.

Content marketing

is a strategy based on creating and distributing relevant, helpful, and educational content to a specifically defined audience. The idea is to attract, engage, and retain that audience by providing a consistent flow of valuable information.
The two strategies overlap. Both create visibility and make you accessible to your audience. Both aim at reaching maximum relevant prospects, leads, and customers. For your content marketing to work, you need to build at least part of your content around keywords, which derive from your SEO strategy. 
Conversely, publishing relevant quality content, as you do in content marketing, will boost your SEO rankings. Search engines consider how your web pages are contextually related, what's the level of professionality, how often pages are updated, and other factors.  
Basically, you can't trick Google. If you're a true thought-leader, Google will know and it will amplify your authority and reach for all content. AKA the whole is greater than the sum of its parts. 
Differences between SEO and content marketing
Leading SEO specialist Neil Patel puts it this way: SEO makes demands. Content marketing fulfills those demands.
I don't know about you, but it took me a while to wrap my head around what he meant. SEO caters to search engine algorithms. You develop your strategy based on how crawlers technically interact with content. This SEO strategy sets the rules and states the requirements for creating your content. It includes specific keywords and how to implement them in your site content. 
One could say content marketing is an outcome of implementing a comprehensive SEO strategy over time. But there's more to it. Content marketing focuses on the target audience and the information they require. 
Content marketing does not aim at guiding search engine crawlers but at attracting prospects by providing a stream of valuable information. It doesn't take a technical approach but is primarily people-oriented, considering technical aspects as needed.  
For example, you will structure your site in a logical way that lets people easily find and navigate related topics and also enables easy crawling and indexing. The latter requires you to use technical SEO guidelines. 
SEO and content marketing – a reciprocal relationship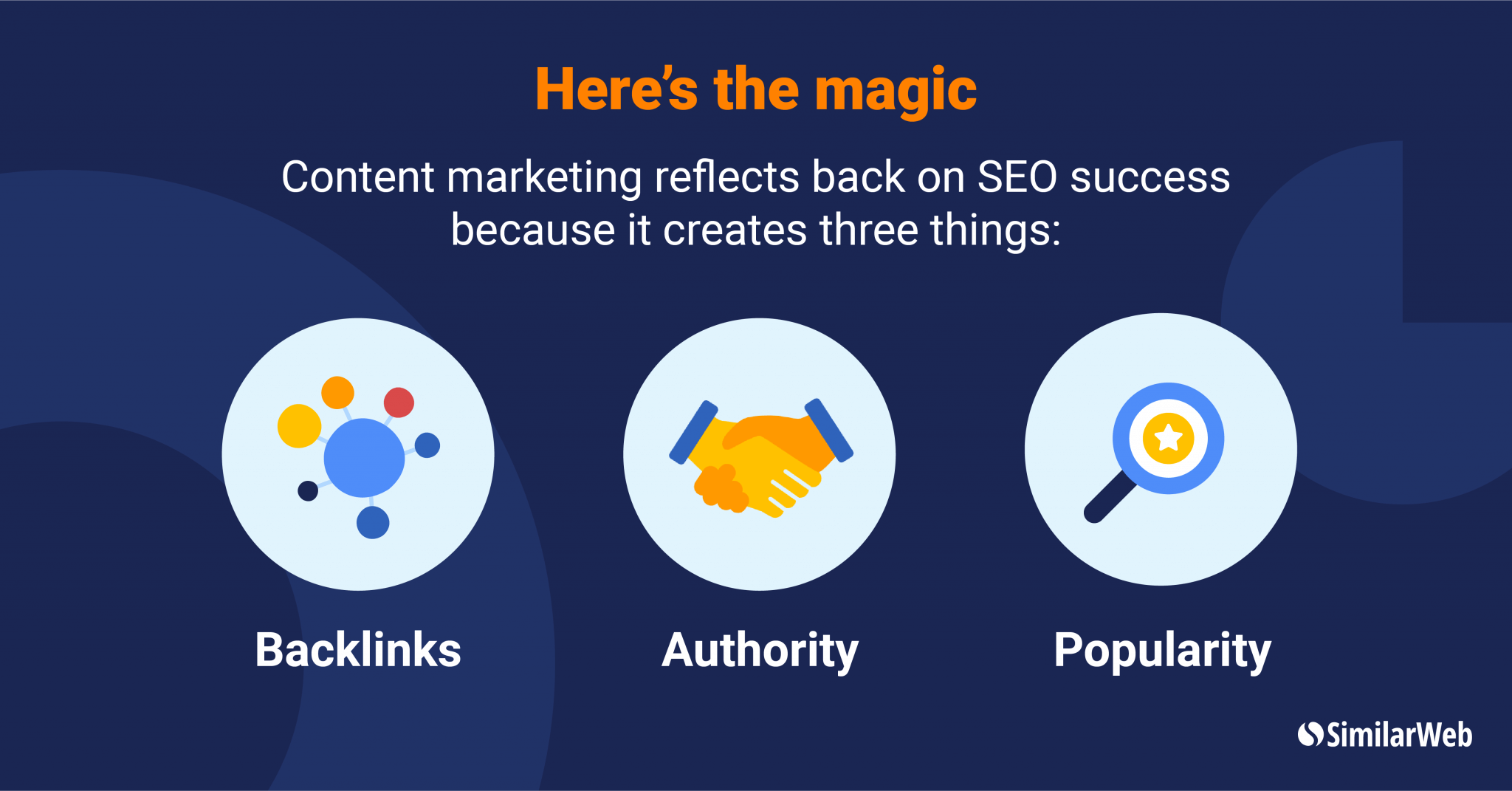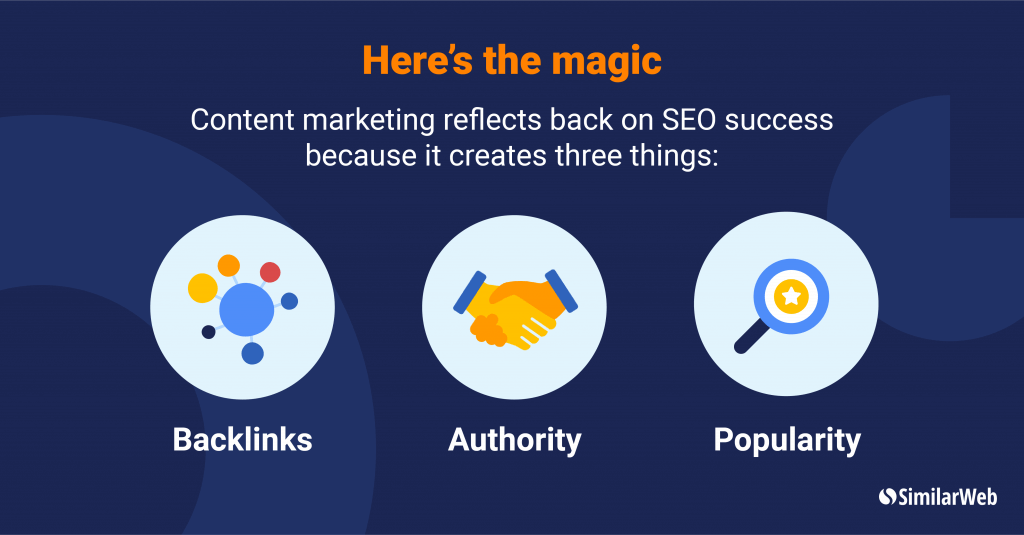 Backlinks, authority, and popularity are important ranking factors. Search engines no longer look at your page or content in a vacuum but in the broader context.
They want to know what others think of you and if they value your content. Backlinks indicate that other websites on the internet value your content. This requires high-quality content because both quantity and quality carry weight. 
Search engines will recognize your expertise in a specific field and view you as an authority if you publish in-depth information on various related topics. 
Finally, search engines analyze how visitors interact with your site. Do they spend much time reading your content? Do they engage in any way? If your audience likes what they find, you'll show up high on the SERP. 
SEO Content Strategic Planning Template 
How to bridge the gap
Now let me ask, would you prefer to be an SEO manager or content marketer? I think we can agree that you always need to be a bit of both. Your answer simply reflects which one carries more weight in how you strategize and where you tend to focus. Either way, you need to incorporate the other as your business BFF. How do you do this?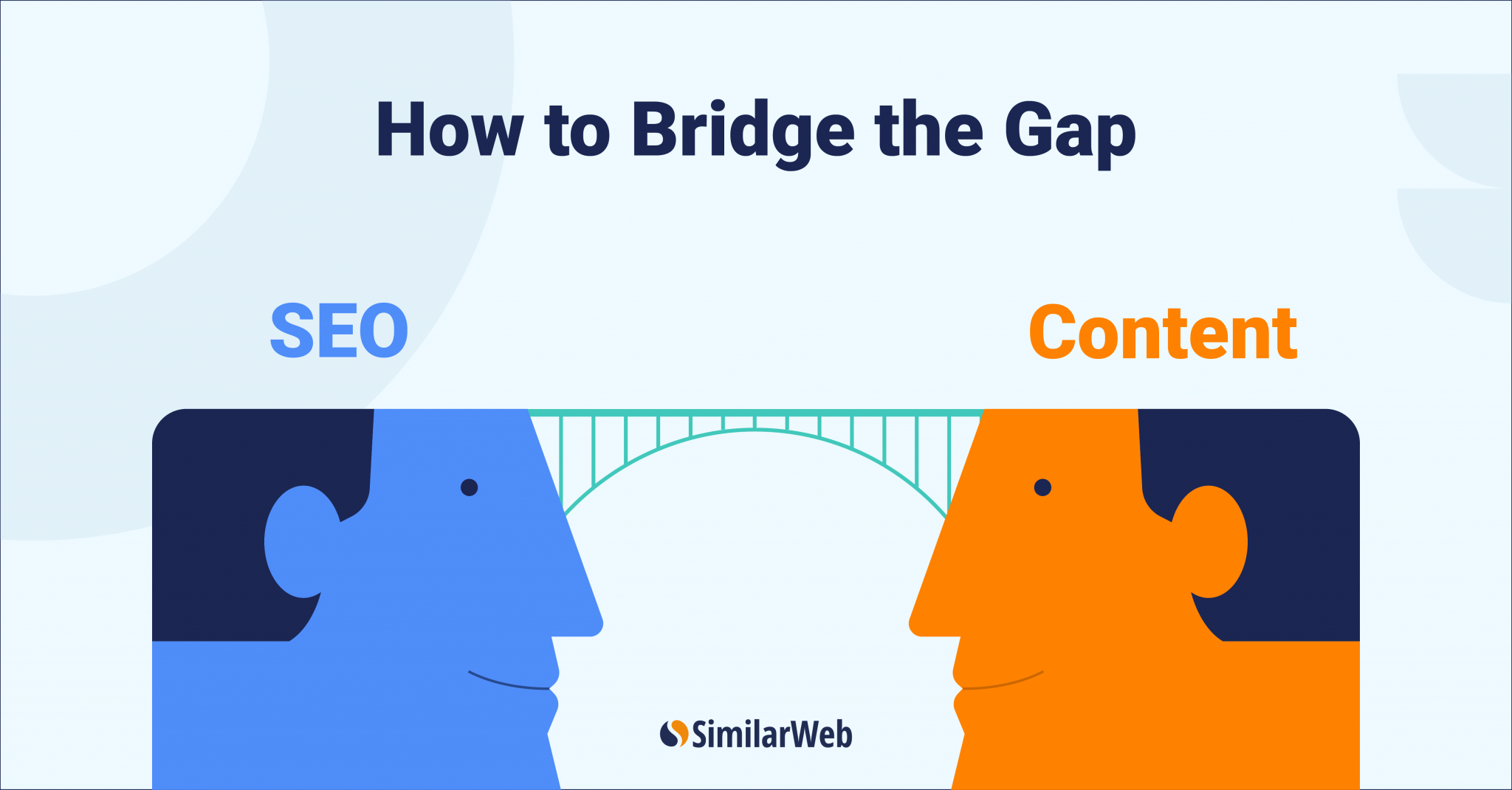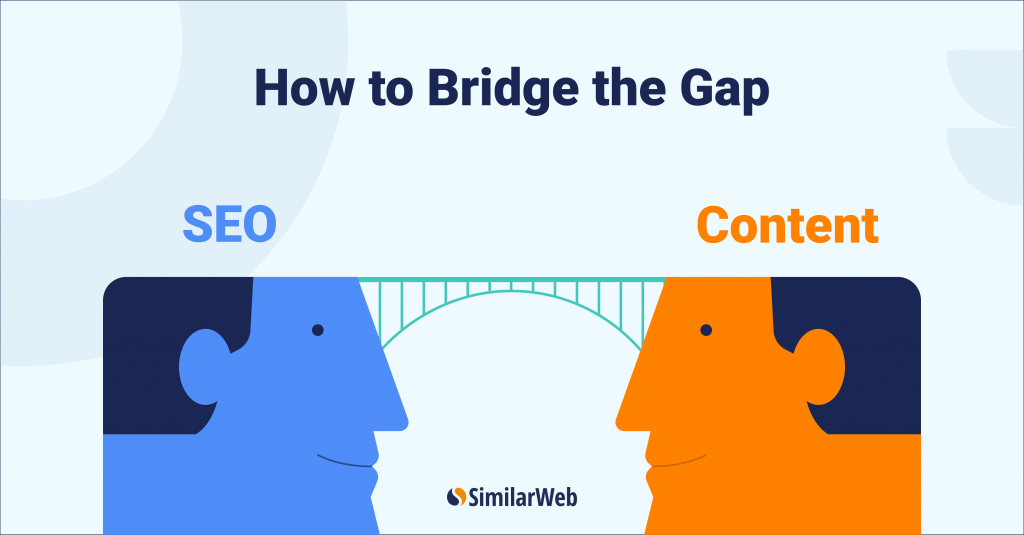 Here's my advice: Give each specialty the position they deserve. Clarify the role of each for your various content efforts and assess how one affects the other. 
What I mean is, separate them, but think of them in conjunction. Ask: What do I need from SEO to make my content marketing successful? And: How do I use content marketing to fulfil my SEO needs?
Create pages designed to appear high on the SERP and drive traffic. Also, create pages that primarily aim to educate and inform the reader. Then connect them through content marketing based on SEO guidelines.
Take your blog, for example. That's the perfect place for SEO content. It's a fantastic information source for your audience because you can publish a colorful array of topics related to your business or industry. A blog is also a powerful driver for organic traffic. To combine both, build the content around SEO. First, conduct extensive keyword research and use it as your foundation for your blog structure, categories, and topics. Then keep pumping out that high-quality content that people actually want to read top to bottom.
Other pages in your digital marketing set-up have different purposes. In the planning stage, define each page's significance for SEO and its role in content marketing. 
How to write SEO content strategically
As I promised, here's my step-by-step guide on creating consistently high-quality SEO content.
Step 1 – Topic
Decide on a topic based on audience characteristics and interests. Before you do anything, it's critical that you know who you are doing it for. Everything that follows depends on how well you understand who your audience is and what they are looking for. If you don't have a buyer persona, this is the time to create one. I recommend also doing a full audience analysis.
Buyer Persona Template: Download Now

 
To find topics worth discussing, discover what your specific audience is curious about. Which questions do they ask? What solutions do they seek? See what people say on social media, browse topics on Quora and Reddit, analyze competitors' content and check how professional blogs address the subjects. 
Step 2 – Keywords and user intent
Research which keywords and phrases your audience uses to find the products or services you offer. Start by determining user intent because that's what search engines do. There are four types of search intent: navigational, informational, commercial, and transactional. Your content needs to match the intent of searchers when they enter the keyword you are optimizing for.  
For example, people searching for "dog food" generally intend to inquire about buying dog food, whereas searchers typing "types of dog food" are interested in information about dog food variety. 
Use keyword research tools to find the terms with the highest search volume, competition, and what content ranks best. Identify what's trending and discover additional keywords that people use to find your competitors' content. It's critical to build on current, reliable data otherwise your entire SEO content structure will not stand. 
Pro Tip: Include both long-tail and short-tail keywords. They help build a logical structure, address different search intents, and create a variety of assets around the same topic. This has a positive impact on both your content marketing and SEO. 
Step 3 – Brief and outline
Use your research conclusions to determine the requirements that go into the content brief. Make sure to base your decisions on actual data, not guesses.
When you outline the page structure, such as headlines, paragraph length, and listings, make sure they meet SEO requirements. Integrate this with your overall site structure, meaning choose which pages to link to and how to define URLs and page titles according to the website's concept. This is often done in conjunction with an SEO specialist but it's your job to always have the user experience and story in mind. 
The brief should also include guidelines regarding the information the article should provide, its purpose, and the message to the reader. List the keywords and define the target audience. 
Pro Tip: A few words regarding the much-debated question: How long should my content be? One approach claims people don't read, have no time, get bored quickly, so you need to keep it short. But short isn't the right answer for in-depth content and certainly not for SEO. If you've read this far, boom, that's your proof.
In my experience, search engines prefer texts longer than 1200 words. Your audience will read it if they get relevant, useful information wrapped in engaging language. But you don't have to take my word for it. Check how long your competitors' top blog posts are and plan yours with that in mind.   
Step 4 – Draft
Now let's look at how to write SEO content. What's important? Provide something unique, for starters, even if you just present a fresh angle on a much-discussed subject, or introduce one new idea. 
Let's say your topic deals with the security of online payments and your competitors all list suggestions of the most secure payment methods. You could find relevant statistical data to support various claims or add quotes from security experts. You could showcase the issue in a historical context or produce predictions of anticipated future threats. Be creative, the possibilities are endless. But don't copy. Copycats never win the long game. 
For the first draft, simply let the words flow without paying attention to grammar or spelling mistakes. Some writers even ignore the structure at the beginning and reorganize their content after they've gotten everything down on (digital) paper.
In the next round, you craft it into a well-written piece of content. Use engaging and concise language that will hold the reader's attention. Be mindful of the flow and don't overwhelm the reader with convoluted, jargon-filled sentences. The trick is to use simple language to provide high-level insights. Or as I tell my team: we may be smart but never snobby. 
Be sure to avoid keyword stuffing, but use synonyms and contextually related terms instead. For better readability, your paragraphs should be short and include subheadings, bullet points, and other elements that make it easy for readers to skim your content. 
 Step 5 – Visuals
Once you've nailed the text, give the reader's eyes something to feast on. Add images, screenshots, infographics, or other visual elements that bring the story to life. Any graphic element or media should support or further explain what you are saying in the text.  
Use graphs and tables to visualize data. Sometimes it can be refreshing to incorporate a quote or a meme that adds some spice. This is a new(ish) era, content isn't just copy anymore it's the whole story bundle, visuals included. 
For SEO, it's important to remember to tag the images with relevant keywords and add accurate alt text. Crawlers don't view graphics, but titles and alt texts play an essential role in your ranking.  
Remember, if readers like your content, so do search engines. Google will reward you with a better rank when you give your readers a great user experience. It will show in the time spent on page and in level of engagement.
Step 6 – Publish
Wait! Don't hit the "publish" button just yet. Before your content goes live, do one last quality check for sanity. Sometimes a page goes through several revisions and switches hands a couple of times. I've learned that it's surprisingly easy to miss something critical that somehow slipped through the cracks or got lost on the way. At this point, it's super helpful to have a checklist of everything you need to confirm. 
Start with a final spell check and make sure the page corresponds to the original brief. Then confirm all initial SEO requirements, such as keyword usage, title tags, meta description, alt texts, links, and CTA. Sure everything is spotless? Now publish.
Pro Tip: There are some handy online tools to help you check the content, such as Clearscope for SEO, and Grammarly or Hemingway Editor for language, grammar, and spelling. Use them, but don't rely entirely on them. When it comes to language, algorithms still can't replace humans because language is a lot about associations and emotions. Always have a person be the last to check.
Step 7 – Distribution
You've done everything you can to ensure a good google search ranking. Nevertheless, you shouldn't rely on organic traffic alone.  
Find out which additional channels are valuable for this type of content with your audience and leverage them for distribution. Copywriting teasers and social media posts using the relevant keywords. Create and A/B test emails. Oh, and make sure all the links in your content are working.
Step 8 – Link building 
External linking is a powerful factor for your SEO ranking, and there are several techniques to get them. This may require some effort because you need to actively reach out. 
Ask business partners or associates to mention your content and provide a link. Find industry-related sites that offer link roundups or suggested reading. Proactively offer professional or educational sites to link to your great content.  
Native advertising and guest posting are also useful but require you to create additional content specifically for this purpose.  
Step 9 – Track, measure, optimize
Nope, you're still not done. In fact, you are never really done. We could call this final step 'the never-ending' step. Thrilling, I know. 
You create your SEO content with a goal in mind, and you want to be sure you achieve it. Once your content is out there, start tracking and measuring performance: Monitor SERP ranking and traffic metrics.  
People often expect immediate results, and if that doesn't happen, they start looking for mistakes or holes in their SEO content strategy or keyword research. As a content master once told me, chill. It takes some time to rank your page properly for search engine results. It's better to let it sit for a while before you start making changes. Schedule periodic analysis of the data and content optimizations. Only after time and analysis can you discover what works and what doesn't, this is the long-game.
But here's the good news: rank tracking is simple when you use a rank tracker. The tool practically does the work for you. All you do is set up your rank tracking dashboard where you define the keywords you want to monitor and specify the metrics you want to see. Then routinely check the rank tracker dashboards and see how your pages are performing against the competition, what's changed on the SERP, how stable your ranking is, what SERP features have popped up and more.
Pro Tip: Update your content frequently. Search engines like to see content that is "active." Pages that are left untouched for a long time will have outdated content and may provide readers with irrelevant or even inaccurate information. Repurposing or revising existing content rather than constantly creating new is often easier, more effective, and helps your SEO. You can quote me on that to your CMOs if you'd like. 

My bonus advice and template
That's a lot to take in and remember, right? And it's still only the tip of the SEO-berg. I could go on and elaborate on every small detail, but, this may have taken more than a cup of coffee to get through already. So, I think it's best you try it for yourself and keep polishing your SEO content as you go. As I said, optimization never ends. 
There's one little secret that I haven't revealed to you yet. What we do and all the above steps would not yield results if it weren't for the accurate data we base all our decisions on. None of this works if you don't get reliable, actionable insights. Our data comes from Similarweb's Digital Marketing Intelligence, and we supplement it with other tools. 
So, I invite you to check out what our tool can do for you. Download the template we use for our strategic SEO content planning to really get your hands dirty.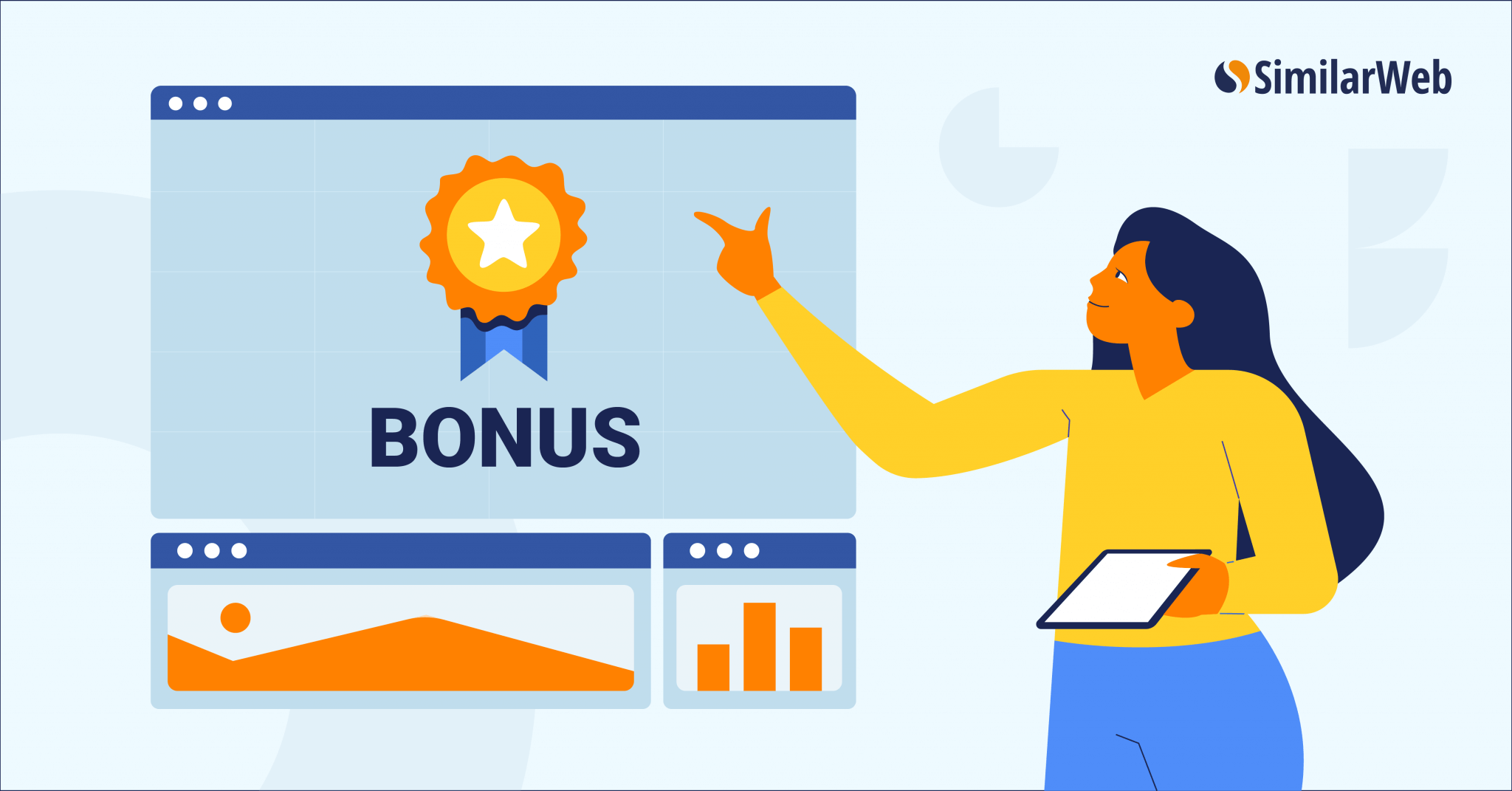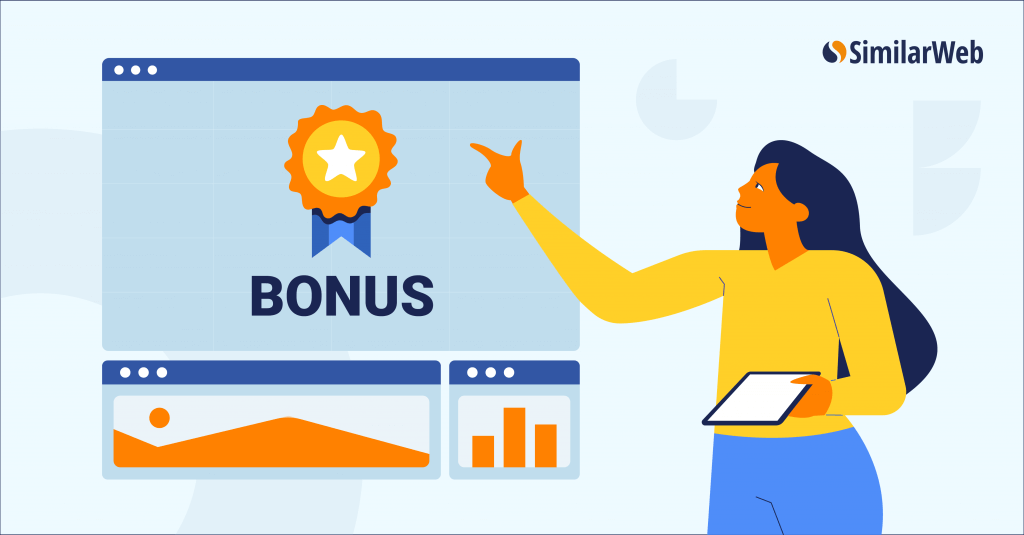 Free Download: SEO Content Strategic Planning Template 
This post is subject to Similarweb legal notices and disclaimers.
FAQs
What is SEO content?
SEO content is digital content created to drive organic traffic through high search engine rankings.
Why is SEO content important?
SEO content is important as it drives organic traffic to your website.
How do you write SEO content?
There are several steps to consider when writing SEO content, such as including your target keywords and determining your user intent. Also, when you add images be sure to remember to tag the visuals with relevant keywords and alt text.
This post is subject to Similarweb legal notices and
disclaimers
.
Wondering what Similarweb can do for you?
Here are two ways you can get started with Similarweb today!