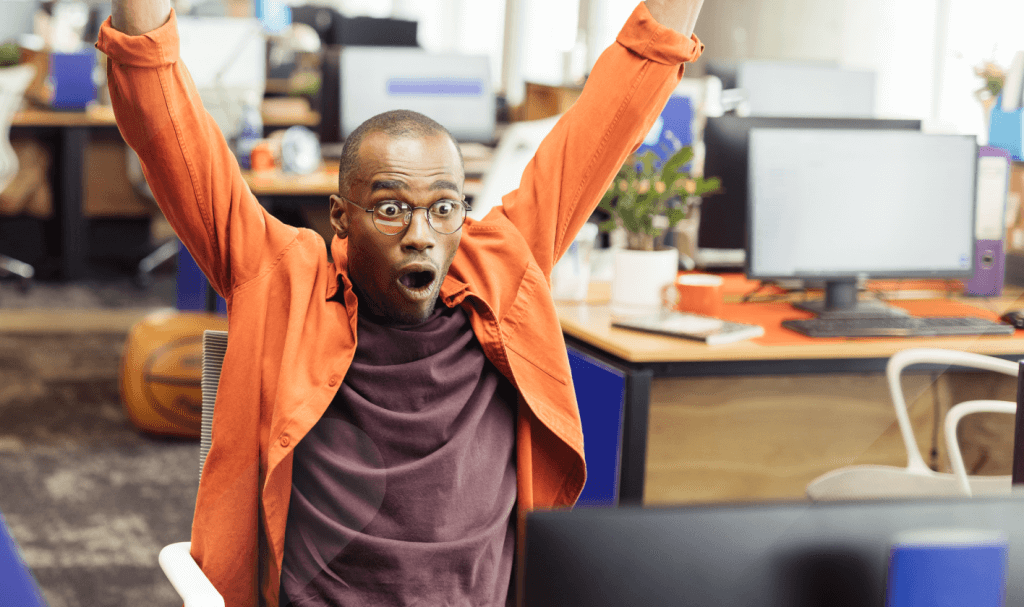 Marketing Intelligence
The Winning Moments That Turn Marketers Into Growth Gurus
May 2, 2022
| Updated August 9, 2022
It's a marketer's winning moments that drive a company forward. Can you imagine what they would look like if you were an athlete? You and your team would celebrate.
But why compare digital marketing to sports? Simple. They're both highly competitive and you need to beat the competition to win.
The difference: as a digital marketer, you don't get a medal for your achievements, even though your success is vital for business profitability and growth.
So today we celebrate marketers' victories by bringing you an exclusive news flash from the daily competitions in the office and on the digital marketing fields. Witness how successful marketers generate winning moments to become growth gurus.
Beat the buzzer with efficient keyword research
Picture this: on the basketball court, Tim fights for the marketers. His team is in the final quarter of the SEO game. The competition is tough. Contestants are ramping up keyword research and analysis to drive more quality traffic faster.
With Similarweb Digital Marketing Intelligence, Tim manages a quick rebound using the advanced keyword research functions. Much like on the court, he searches for opportunities for his team to move forward and grab the business ball from rivaling players.
Lucky for Tim, the keyword gap function is easily accessible from the keyword research tool. It displays the top keywords that drive traffic to sites in Tim's industry. A graph shows how they overlap per site, while a list provides details on the amount of traffic coming from each term.
To find openings, Tim jumps to "opportunities" and receives a list of the keywords that generate traffic only to his competitors, but not to his business. If he includes these in his SEO strategy, more visitors will reach his site, and he can snag traffic from other players in the market.
The marketer exports and shares the list with his content team members so they can produce content based on unutilized keyword opportunities. He shoots, he scores!
Maybe that's not the buzzer-beater yet. But when Tim's team generates significantly more traffic based on these keywords and snatches the organic traffic trophy from the winning team, it's because of his gold-medal game plan and execution.
Competitive analysis to win game, set, and match
Now over to the tennis court. Sophie is an agency player that's been bouncing emails back and forth with a demanding client all day. The client serves aggressively, and Sophie needs to be in the right spot to answer every inquiry. Reports and insights have to be both accurate and timely. The pressure is on.
The experienced player, who's currently ranked number one in her agency, relies on Similarweb Digital Marketing Intelligence for accurate data. The platform measures actual web data from multiple sources, providing higher quality data than any other source.
With Similarweb in her back pocket, it's no surprise that the client's backhand request for an update on their digital marketing performance doesn't catch Sophie off guard. In the competitive analysis tab, she finds all her client's data compared to the competition and industry average at a glance.
How Sophie finds weak spots to her advantage
The dashboard displays an overview of channel performance from where Sophie can dive deeper into specific areas and receive relevant details.
To give her report the right angle and spin, she separately analyzes organic and paid traffic. This allows her to identify the client's weaknesses and strengths in the search traffic game.
For the agent to win her game, she must provide the client with insights they can act and decide upon. For example, companies always want to know the bottom line: How much did they spend and how much did they earn? Sophie presents the figures in the market context, providing industry averages and competitors' figures as benchmarks.
These help to avoid overspending. At the same time, her counterpart in the client's camp is happy to discover how to shift investment to improve ROI based on where others generate high ROI. Sophie used her advantage and won this set.
The game isn't over, but when her client wins over the market, it'll be the result of the agent's clever game plan. As for Sophie? She's one step closer to becoming a growth guru.
What does it take to be a winner in marketing?
First and foremost, Tim and Sophie both needed the muscle and motivation to win. But that alone isn't enough. They both had a well-thought-out strategy that built on knowledge and insights. They knew the game, and they knew who they were up against.
Let's switch back to our coverage of Tim and Sophie's respective games to get in on all the action and see if and how they triumph in the marketing arena.
Tim's marketing team spirit
1. Build a data-based game plan
Tim's excellent groundwork enables the team to bounce back from the low-running organic traffic. He captures highly valuable data and throws a quick pass to Andy, the content marketer.
Andy makes the next move with the list of potential keywords and the sites they drive traffic to. He wants to know if his competitors focus on SEO or if they also invest in paid search.
2. Study the competition
Andy scans website performance to evaluate audience engagement rate. Again, Similarweb delivers answers in a snap. The content manager benchmarks audience engagement metrics such as visit duration, number of pages per visit, and monthly unique visitors against the relevant competitors.
But Andy faces another challenge. Competitors' sites are widely spread out over many topics. He needs to pinpoint the pages that relate to the keywords on his list so he can investigate them for content.
3. Spot the opportunity
The opportunity is there, but will Andy see it? Organic Pages offers the top-performing URLs for organic traffic. All he needs is to call on that list and open the dropdown to find all organic keywords, including traffic share and trends.
And he's done it! The content manager dribbles through the strongest pages and analyzes their content – followed by a quick pass to the writer, who sinks the ball in the basket – marketing glory galore!
Sophie's determination
1. Benchmark the competition
Back to Sophie, who presented her digital marketing performance report in a competitive context. She knows that measuring your own performance to see it grow is great for the ego. However, in any competitive environment, that's not enough. To be a winner, you need to beat the competition, not your own data.
2. Stay alert and flexible
As the game heads into another set, Sophie doesn't show any signs of fatigue. On the contrary, it seems the marketing athlete is just getting started. The player moves on to examine how other traffic channels performed and how the client matches up to the competition. She shows the client's top channels and points out opportunities to generate more or higher quality traffic.
Whether a high lob of keyword difficulty or a short drop shot of PPC spend, Sophie has a strong return for every ball the client flings at her. Her report includes traffic share per channel and details on audience demographics and behavior. Talk about staying on your toes!
3. Go above and beyond
Sophie's report is more than a generic datasheet. In addition to identifying weaknesses, strengths, opportunities, and threats, it evaluates the company's position in the market, shows trends, and points at growth possibilities. Ace!
Your game
1. Collect competitors' data
There are many ways to use competitor data to your advantage. In sports, it means analyzing gaming strategies, training routines, and priorities. Everyone sneaks behind the scenes to learn from others' successes and turn others' weaknesses into an advantage.
It's no different in business.
You collect competitor data to evaluate activity, performance, and trends quantitatively. Based on the metrics, you pinpoint specific websites to examine quality.
2. Understand competitors' strategies
Visit competitor sites to find out which technologies they employ, how they display offers, what type of content they use, etc. For example, if you discover that all competitor pages with a high engagement rate have videos, it's safe to assume videos function as an engagement magnet. You'll develop your own video marketing strategy with something slightly different and better.
3. Adapt your strategy
Find the keywords that drive organic or paid traffic to your competitors and target them with your content. A qualitative examination of keyword-based content helps you build your own voice and content plan. Find your uniqueness and express it in your brand identity.
Identify how competitors use traffic channels and learn what works best with your target audience.
Celebrate your winning moments
When was the last time you felt the joy of winning?
Do yourself a favor and pay attention to every minor achievement on the way to the big win of new customers and more business. Round up and escalate the seemingly insignificant winning moments and you'll make it to the growth guru league in no time.
Want to get more winning chances over your competition? Check out what Similarweb offers for your marketing game. Schedule a free demo now.
This post is subject to Similarweb legal notices and
disclaimers
.
Wondering what Similarweb can do for you?
Here are two ways you can get started with Similarweb today!