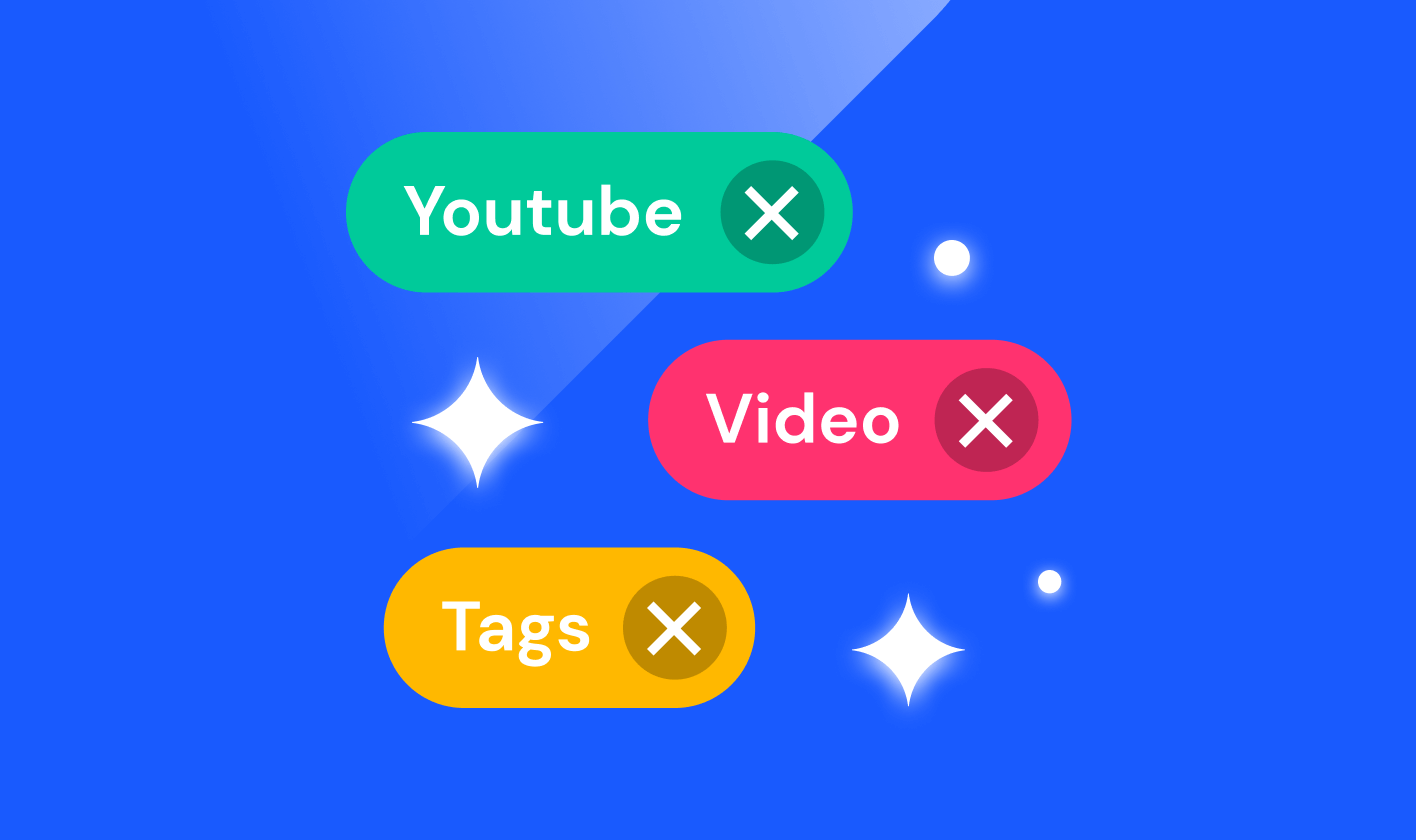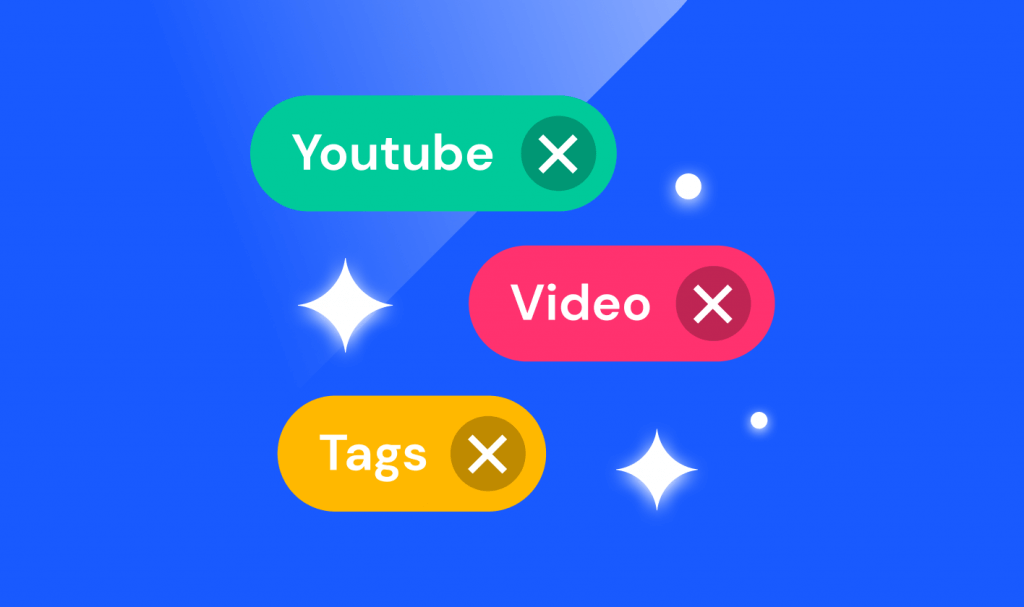 Marketing Intelligence
What Are YouTube Tags? Here's Everything You Need to Know
May 15, 2022
| Updated September 11, 2022
There's a good reason why 62% of businesses already use a YouTube channel. The video platform has grown into the second most popular search engine, right after Google.
If you offer a product or service online, the following statistic should get your adrenalin bubbling: According to Oberlo, 90% of people say they discover new products on YouTube.
Then how is it that most videos aren't properly optimized for search? Many are still missing YouTube tags or video tags. One possible explanation is that channel owners don't know what tags do on YouTube. Other video creators aren't aware of them or the tags' significance for Search Engine Optimization (SEO).
This article answers your questions and also gives you the tactics and tools so you can immediately set things straight for your YouTube videos.
What are YouTube tags?
YouTube tags or video tags are words or phrases you can use to describe your video content to help you get found by the right audience. They are a kind of meta description to help YouTube's algorithms categorize your video and understand what it's all about.
If you're SEO savvy, you immediately understand that this means optimizing your videos with keywords.
To be clear, we are not talking about hashtags. You can place hashtags in your video description to help viewers find relevant content. However, hashtags don't help with SEO.
We are talking about video tags, and they have their own dedicated space. How come you've never seen it? Well, the option isn't immediately visible when you upload your video.
So let's get that out of the way first. We'll give you a quick explanation of how and where to add tags. If you know this, skip the following paragraph and jump to the next section.
How to add tags to a YouTube video in three steps
In the YouTube studio, the tagging option is hidden behind the words "show more". Once you click there, some advanced settings, including 'adding tags', open up. You can enter as many tags as you like as long as you don't exceed 500 characters – and that's a lot. For comparison, you have read 284 characters in this paragraph so far. Tags can be entire phrases, and you divide them using commas without a hashtag or any other symbol.
Step 1 – Upload your video to the YouTube studio.
Step 2 – Scroll down and click on "show more".
Step 3 – Add as many tags as you like in the tags field.
Now you know the how – that was simple. Let's move on to what and why.
How important are YouTube tags in videos?
To grasp the significance of tags for YouTube SEO, we need to glance at YouTube's ranking factors. And that's quite a list.
It includes technical parameters such as video quality and length of the video. Audience behavior factors such as the number of channel subscribers, actual views, engagement metrics, and so on also enter the calculation.
However, before your video can be ranked, YouTube needs to determine what your video is about. Since it can't access the video content itself, YouTube needs text that the algorithms can crawl. You see where this leads: where there's text on the web, there are keywords. YouTube looks at title, description, and – you guessed it – video tags.
An in-depth study conducted by Briggsby found the following four to be the most relevant factors for ranking
Watch time
Channel authority
Positive sentiment & engagement
Broad match keyword targeting across title, description, and keyword tags
To sum this up: keywords are essential to your video SEO strategy. Even though tags aren't the primary focus, they support the keywords in your title and description, so YouTube can identify the content more accurately and send you relevant quality traffic.
What tags should you use?
YouTube has over two billion users. To reach your target audience, the spray technique, where you distribute your content as widely as possible until it gets to the right audience, is entirely inefficient. Audience targeting requires laser-sharp focus on your potential customers. Tags help YouTube match search intent and pick the exact queries for which your video provides answers.
Follow these five guiding concepts to help YouTube accomplish that:
1. It's all in the relationships
The first rule is to align keywords in the tags with the keywords in the title and description. YouTube recognizes related keywords in the different places they appear. When you feed it multi-topic terms, you'll cause confusion.
So, don't try to cover every aspect the video touches. Build the tags around the main keyword. Keep them centered around the intended message of the video and provide context.
2. Focus keyword comes first
The first tag is reserved for your focus keyword that also appears in the title and description. This way, you ensure the keyword gets the required attention from YouTube. Video tags are like little pieces of meta descriptions. In written content, you'd place your focus keyword in the main title, the subtitles, the meta title, and possibly the description.
3. The more tags, the merrier
There's no limit to the number of tags you can use on a video. The Briggsby study suggests that keywords with two to three words are your best choice. It also indicates that the total optimal number of characters is between 200 and 300 and that using 31 to 40 tags performs best.
These numbers don't quite add up, so you best use common sense when it comes to the amount and length of tags. Do what is right for your video. Give YouTube what it needs to understand the video's content and be generous.
4. Tags explain and specify
In your tags, use keywords that explain, clarify or specify what the title implies. Provide clues to the message or the purpose of your video. Is it a commercial or an informative video? Which questions does it answer? Which user intent do you target?
Think of ways to guide the YouTube algorithms in the right direction. Use phrases to clarify the relationship. For example, instead of separated, short tags like "tags, video, SEO," put the terms in context "using video tags in SEO strategy" and "tagging videos to improve SEO."
You can use different phrasing with the same or similar meaning. For example, if you post a video tutorial, use keywords such as "How to upload videos to YouTube?" in different variations, such as " How can you publish on YouTube?" and so on.
5. Broad keywords strengthen channel authority
Add broad keywords in your tags to describe the overarching theme of the video. Let's say you are an affiliate for an electronics brand and review devices in your YouTube videos. The product category or brand name would be a broad keyword.
It's a good idea also to add keywords that are relevant to your entire channel. These have less impact but can strengthen your channel authority, and you'll benefit in the long run. A keyword that repeatedly appears in many of your videos tells YouTube that it's your channel's expertise.
Let's say you deal in sportswear and post a video about the new 2022 collection of women's bathing suits, one for kids' swimsuits and another one on the advantages of dry-fit t-shirts. You can tag all videos with "sportswear" or "sports clothing".
How to find the right keywords?
Now we are getting to the practical part. Imagine your task is to write content that is optimized for organic search. Where do you start? Right answer: keyword research. You'd investigate which terms drive the most valuable traffic and then create a list of relevant keywords.
Do the same when you create content for your video marketing. Enter the list of keywords into the tags section. If there are too many duplicates, remove a few. Then expand the scope of keywords to provide more precise guidance for the YouTube algorithm and put them in the right context.
YouTube keyword research
Use a keyword research tool to find the most relevant keywords with the highest potential to drive traffic. Similarweb digital intelligence platform offers a keyword generator specifically for YouTube keyword research.
Simply enter your main keyword into the keyword generator and choose the YouTube option. The tool generates a list of related keywords that drive the most traffic on YouTube. Refine the search by excluding irrelevant search terms. From the list, you can select the terms closest related to your keyword and your video content.
You also want to find out which terms generate traffic to your competitors and correlate with the generated keywords. Identify your top YouTube competitors. You can read here how to conduct a competitive analysis on YouTube. Then check their video channel to see what kind of videos they post and how they craft titles and descriptions.
Unfortunately, tags are not visible to visitors. However, it's pretty simple to discover the tags using tools like TubeBuddy and vidiQ's Extension for YouTube Chrome & Firefox. Check the tags on competitors' popular videos and videos with content similar to yours.
Start with your existing videos
If you haven't tagged your videos until now, you can still add them. In the YouTube studio, click on edit details for the relevant video, and scroll till you get to "show more". You already know what to do next.
No need to start from scratch. When you build your video marketing strategy on video SEO, you can incorporate your existing videos into the plan. Match the appropriate keywords you discover in your research to existing video content and tag them accordingly.
You can even do that right now. Use Similarweb to generate the best keywords for your video tags and start tagging.
FAQ
What are video tags?
Video tags are keywords to describe your video content. You can add tags to help YouTube understand what your video is about and display it to the relevant search queries.
What tags are best for YouTube?
Descriptive tags are the best for YouTube. Tags should provide additional explanation or specifications to the title and description of your video.
Do YouTube tags really matter for SEO?
Yes. YouTube considers tags, however, they are not a primary ranking factor. Title, description, and thumbnails are significantly more important.
This post is subject to Similarweb legal notices and
disclaimers
.
Wondering what Similarweb can do for you?
Here are two ways you can get started with Similarweb today!