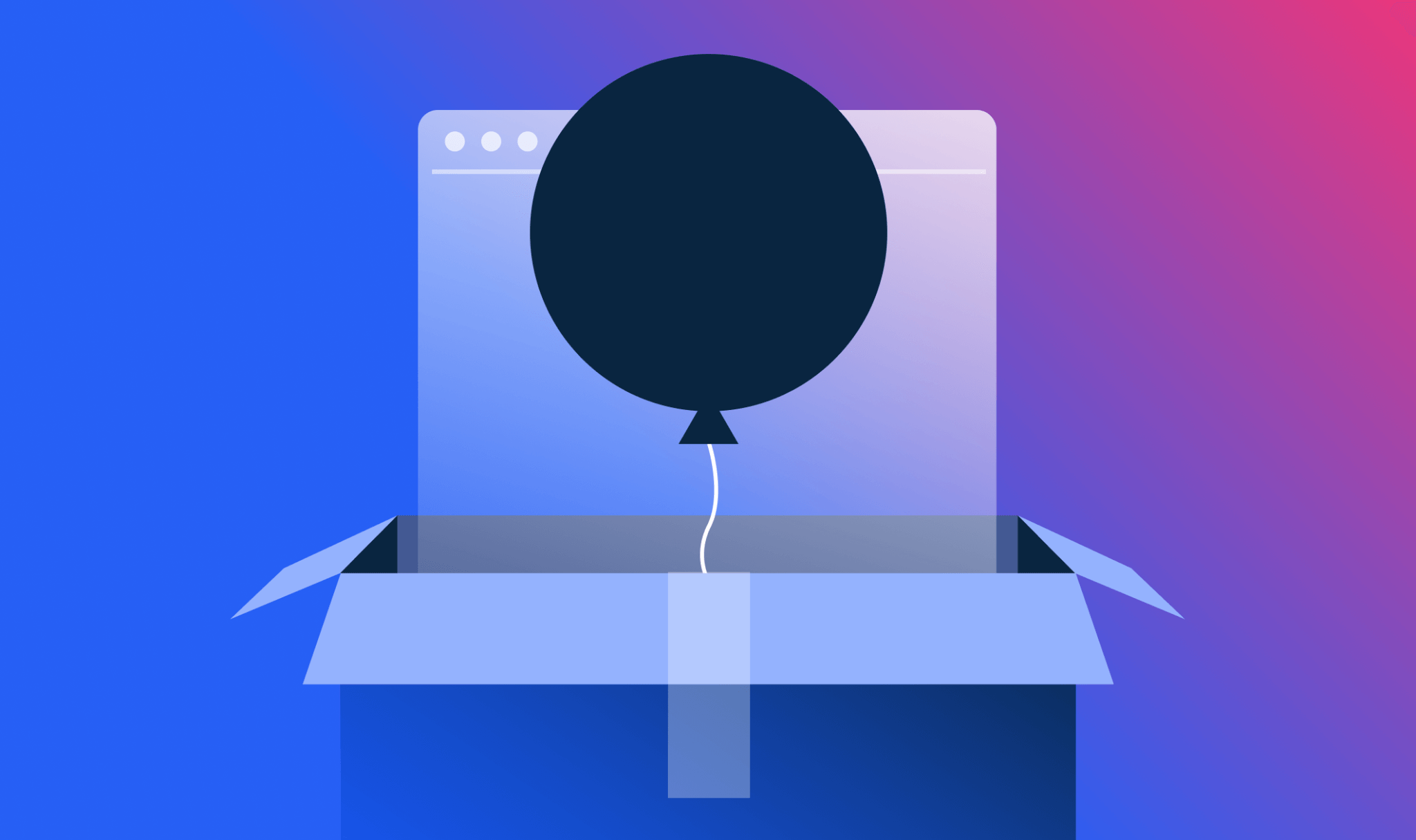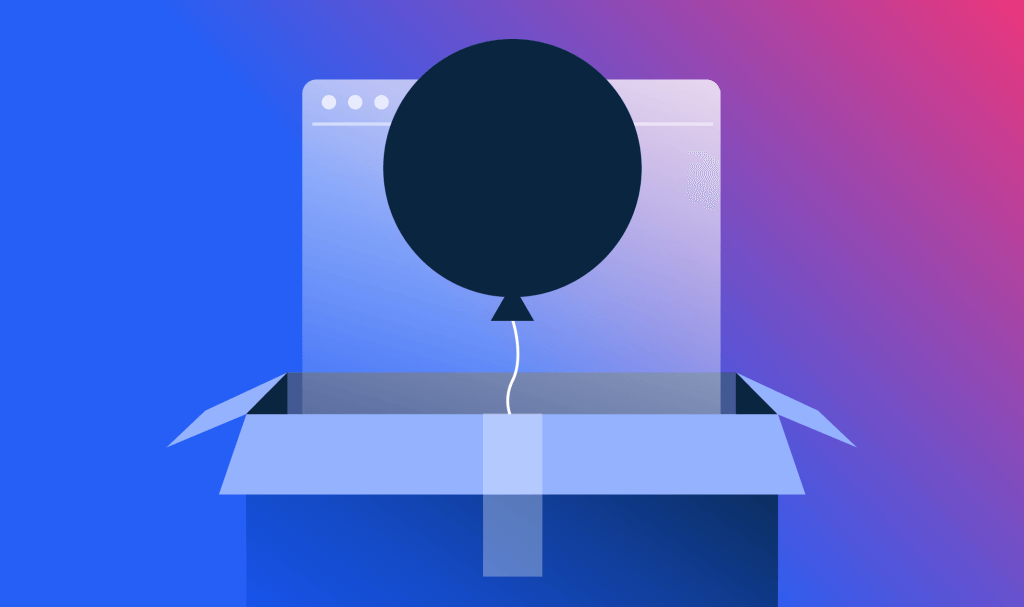 Marketing Intelligence
10 Best Black Friday Marketing Tips: An Expert Round-Up
October 31, 2022
| Updated November 14, 2022
Wondering how to prepare for Black Friday? It is that time of the year again, so we've rounded up some of the best Black Friday marketing tips – straight from the experts – to help you with some inspiration. 
With an impending recession, interest rates hiking up, and whatever else this time has to throw at us, spending is predicted to be down for 2022, and competition more fierce than ever.
Blackfriday.com shares its predictions on the reg – take a look:
10 best Black Friday marketing strategies and ideas
The difficult bit about launching a Black Friday campaign is – almost definitely – deciding what campaigns work best for your business and your target audience, and how to push them.
That's why we brought some experts in; those that have been there, done that, and maybe even got the (really well discounted) t-shirt. 👕
So, what tips and tricks did they have to share?
1) Create landing pages for promotional offers and coupons


"If you sell product(s) online, you can almost guarantee that your customers are searching for coupons or promo codes to save money. My tip is to create a page on your own website for Black Friday, or promotional offers and coupons, so your affiliate or coupon websites aren't cannibalizing your own search traffic – or, even worse, making commission off sales that aren't truly incremental. 
"How can you do this? Create a URL on your own website, and add all the details to your promotions or coupons. Make sure the title tag, meta description, and the on-page content specifically mention Black Friday/Cyber Monday + [brand name] + coupons/promos. 
"Last but not least, I'd also recommend creating this page at least 3 months in advance of Cyber Weekend. It's going to take time for Google to discover your content and rank it for your 'brand/site name + coupon/promo' keyword variations".
2) Keep the same URL year in, year out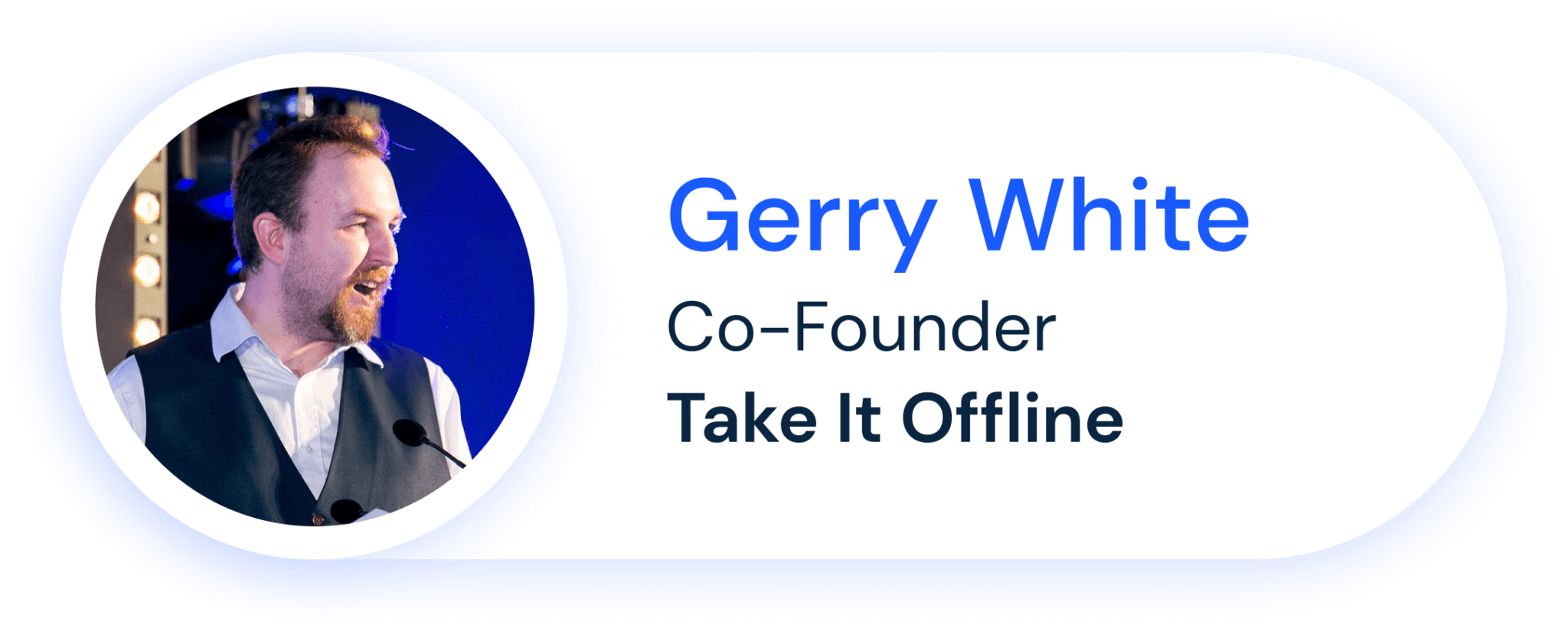 "One massive thing that gets neglected in SEO is consistent – or evergreen – URLs. For example, if you have the year in your Black Friday URL (eg. /blackfriday2022), then it quickly loses relevance and power. By keeping a set of evergreen URLs for sales helps to avoid any issues like this, and it means your landing page just needs a few updates scheduled for next year.
"Changing URLS is one bad habit in ecommerce, and it can infuriate SEO folk, like me. When the ecommerce team set up the Black Friday page at /blackfriday2022, you risk someone searching for your brand + Black Friday, and a dozen old versions cropping up – potentially outranking the new one. That means potential customers land on a page with no or incorrect products, and you lose the power of any links that have been attained previously. 
"The conclusion? Have one static URL for Black Friday – as well as for any additional surrounding pages – and things should perform better year on year".
3) Paid advertising will pay off


"From beginning to end, your customer, how they value your product, and their user experience needs to be at the forefront of your mind and Black Friday strategy. This will help you win big.
"Start by optimizing all relevant content, whether you have a focus Black Friday product selection or specific landing pages. Consider investing in paid media to boost the visibility of those pages in the lead-up phase – which should be around 2 to 3 weeks before the actual event week. 
"Whilst the cost-per-clicks (CPCs) might be higher on generic keywords during the event days and weeks, pushing with paid ads in the lead-up phase will improve visibility with less investment. And more visibility helps you to be top-of-mind with shoppers when the big day (or days) come round. 
"You can also use data analytics to optimize your spends, by pausing ads when certain products are out of stock, or day-parting when CPCs are high".
4) Bundle up your products 


"My best recommendation for ecommerce sellers is to consider 'Product Bundling' in their Black Friday 2022 plans. 
"This offer is perfect for an event like Black Friday as it benefits both shoppers and sellers alike. Customers get multiple items at a reduced price, while sellers gain exposure for their products – and increase their average order value for the event. Not to mention decrease their marketing and distribution costs. 
"If you're looking to get ahead of the competition this holiday season (and let's be honest, who doesn't?), Similarweb Shopper Intelligence provides you with all the information you need. Our premier platform uncovers what people are buying and how your competitors are selling across popular online marketplaces, like Amazon. Below, you'll find a particularly popular product from the Toys and Games section that shot up during Black Friday 2021″.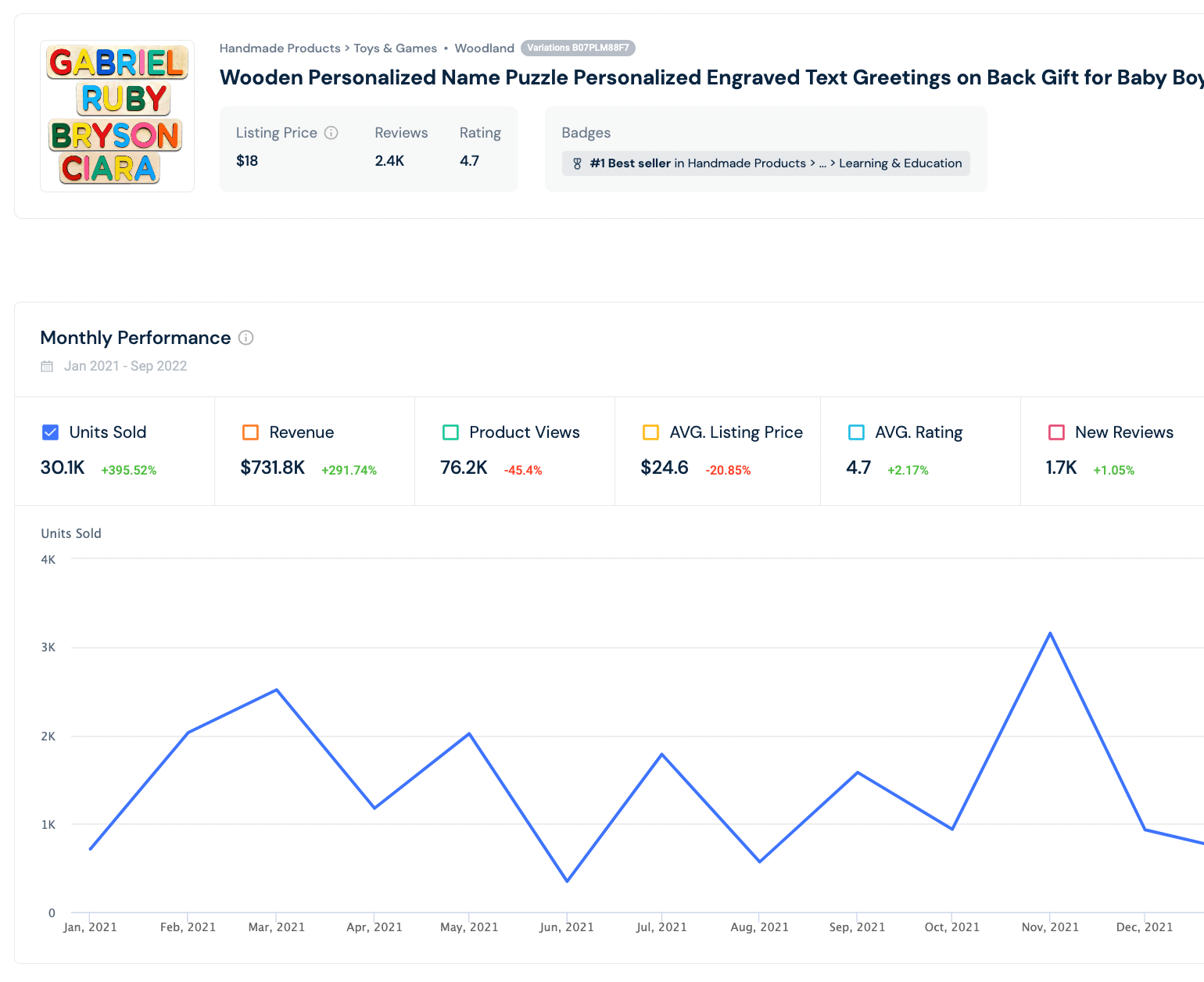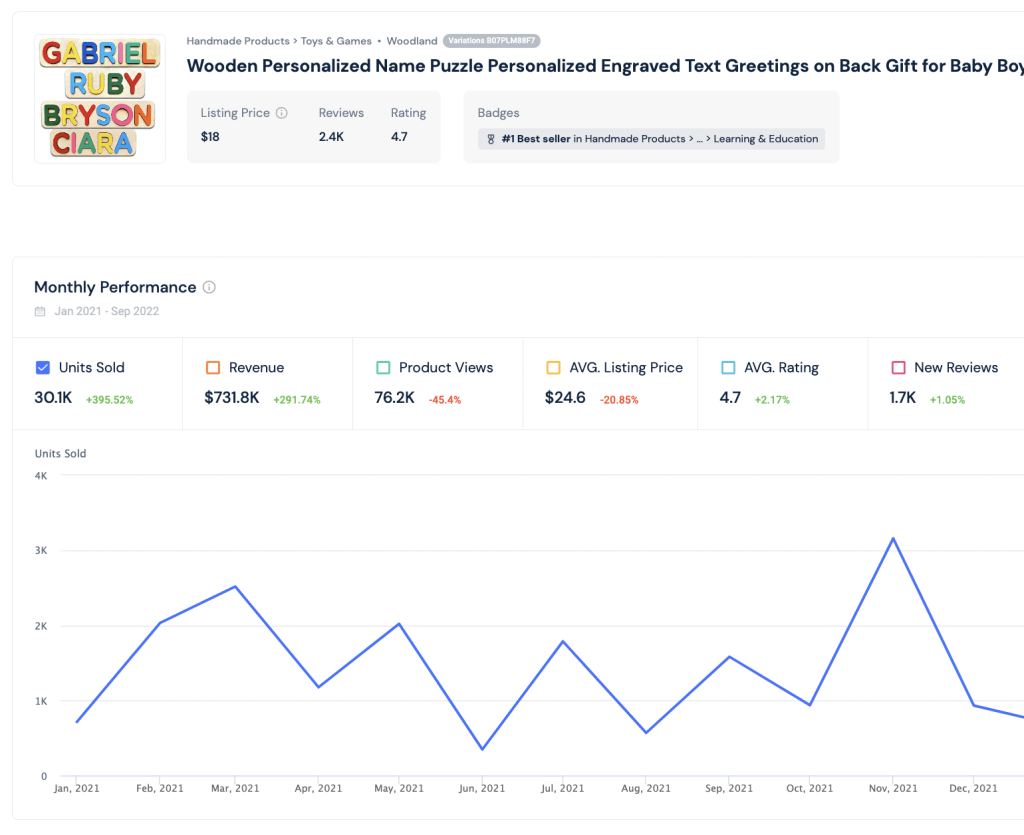 5) Marie Kondo your Black Friday social media 


"Preparing your marketing for events like Black Friday is the time to rethink your social media – done right, and it's an easy way to increase your brand exposure and get a sweet revenue boost, too.
"For me, organization is key. Let's start with social listening data. Twitter can be used before you even start the promotion of your deal. Using platforms like TweetDeck, you can track and monitor a ton of things, including:
Mentions

What people are saying about your product, your brand, trends in the space

The content you wouldn't pick up if you're not directly tagged
"You can even create lists of your customers' tweets to have as a stream so you can see what they're talking about. All this information will help you tweak – or even personalize – your offers to fit your audience.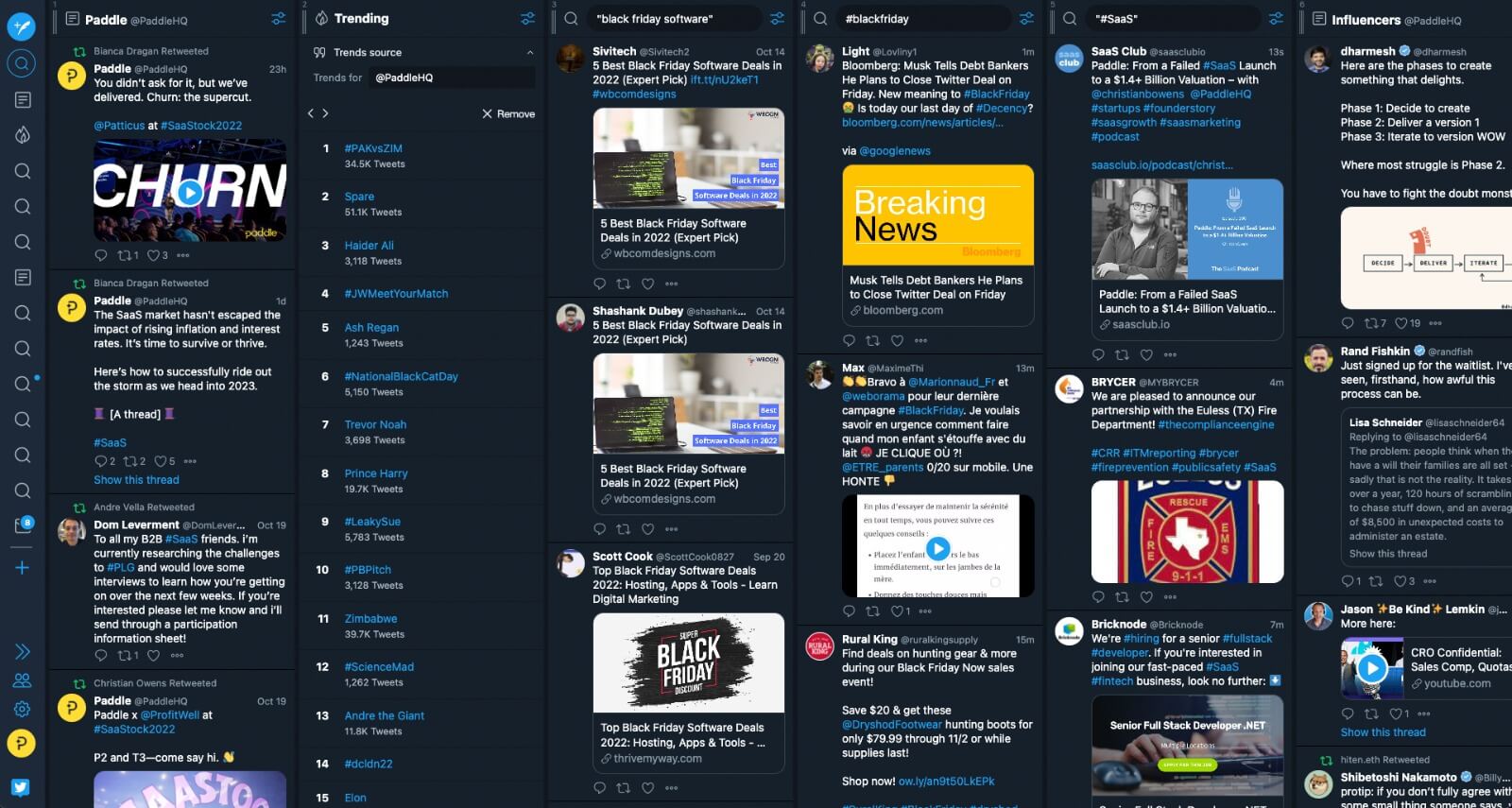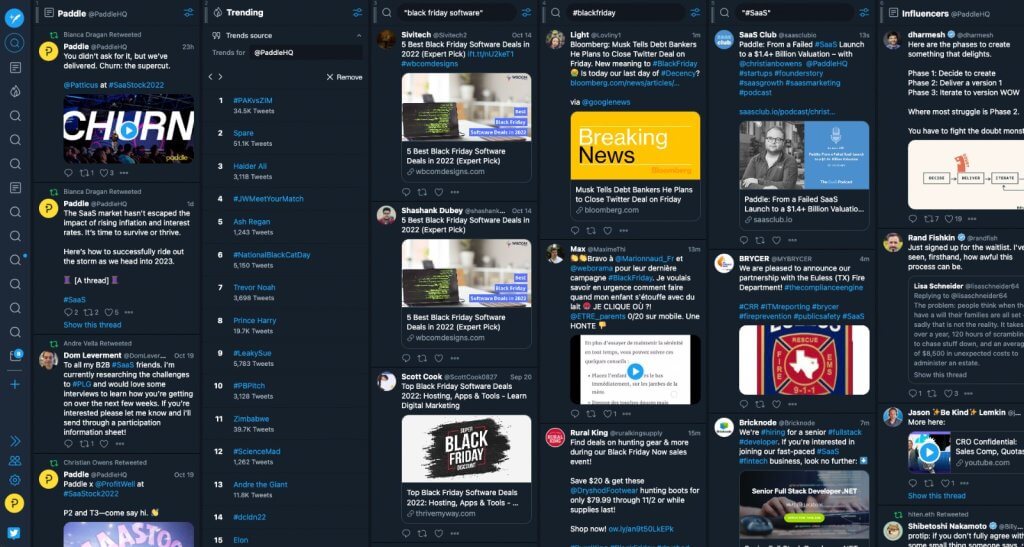 "But I'm not only talking about tidying up what your followers or users are saying, keep what you're publishing around and on Black Friday clear and decluttered, too.
"At Paddle, our customers send us their Black Friday deals every year to promote. I create a Twitter thread to put them all in one place, helping our customers get that extra exposure for their deals, and avoiding overwhelming (or spamming) our followers".
6) Streamline your Black Friday offers by working more in the big-picture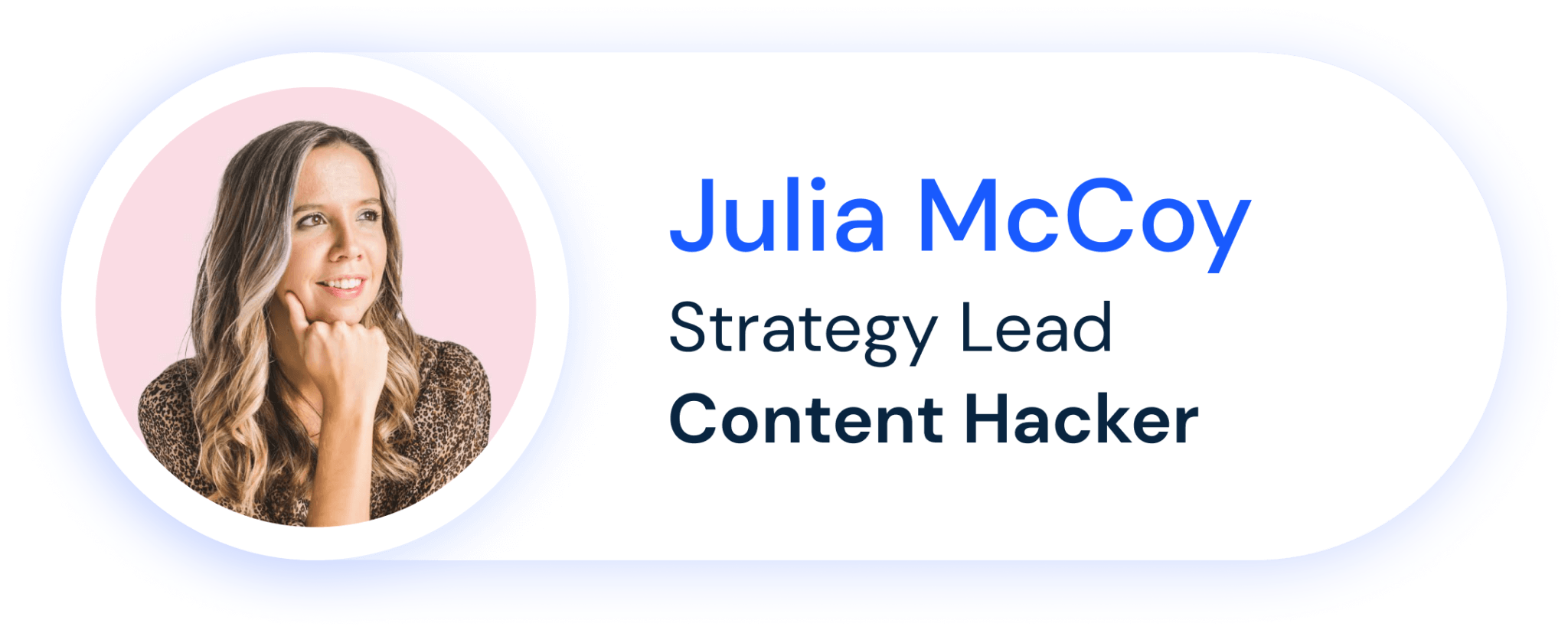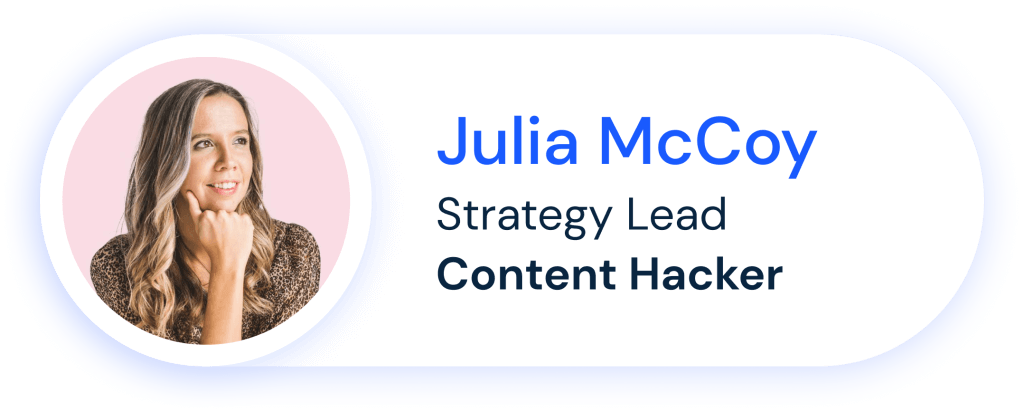 "On average, one Black Friday weekend can net me $18,000+ in new sales.
"But it's always been a challenge (read: nightmare) to manage as a small company of five people, until I switched up how I approach it in my pipeline.
"What do I mean? It can be SO easy to get lost in the 'doing' of everything, that big things get mixed up or messed up. Work in one project management software to collaboratively bring your team together on a single offer. Have the offer mapped out first; then from that, assign the copy to your writer, and promo images to the designer. 
"I use Clickup to map out my monthly offers on a single board, and from there, am able to collaboratively tag everyone with the assignment (i.e. 5 email sequences, 5-day promo image pack), and track in one place.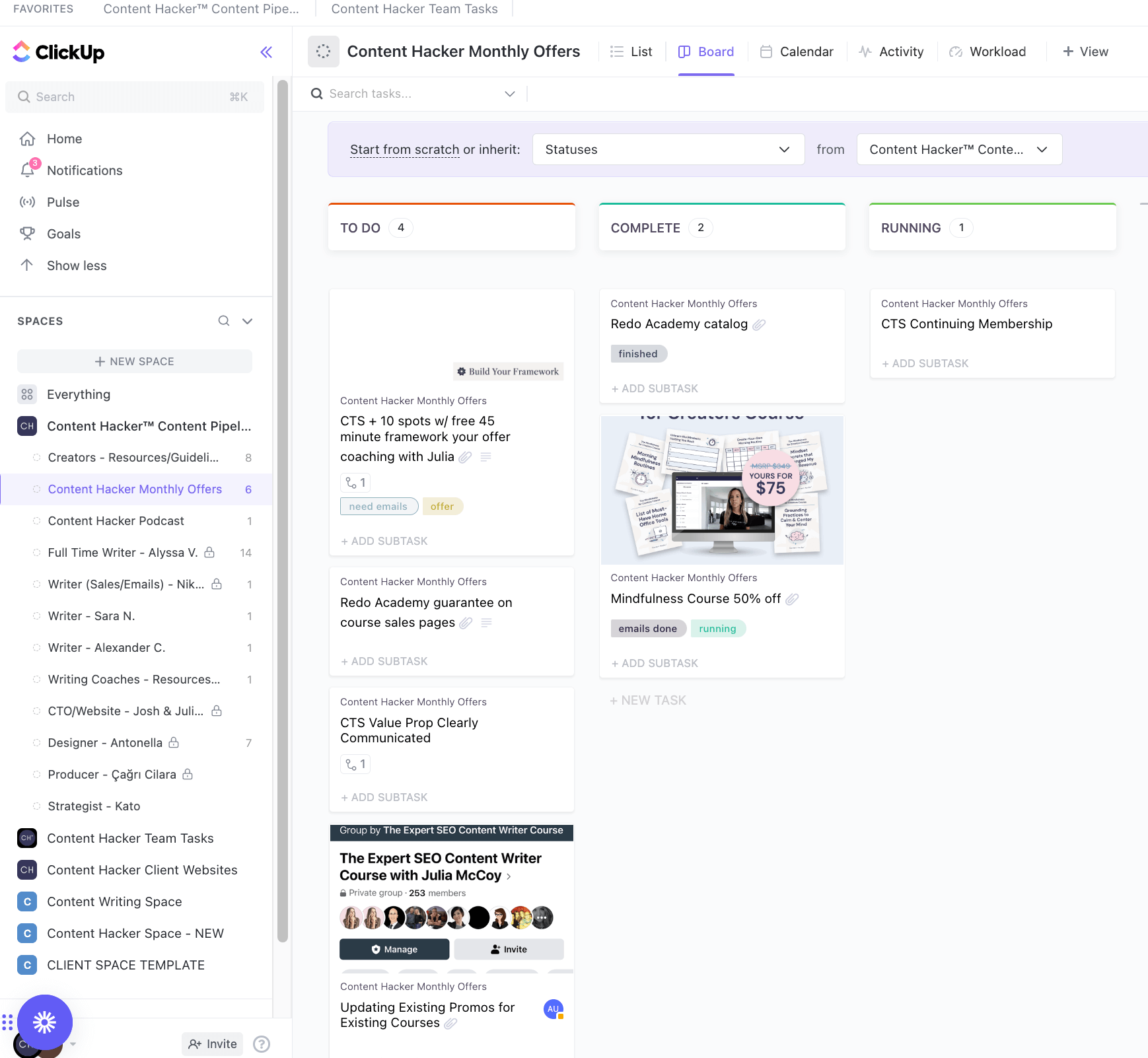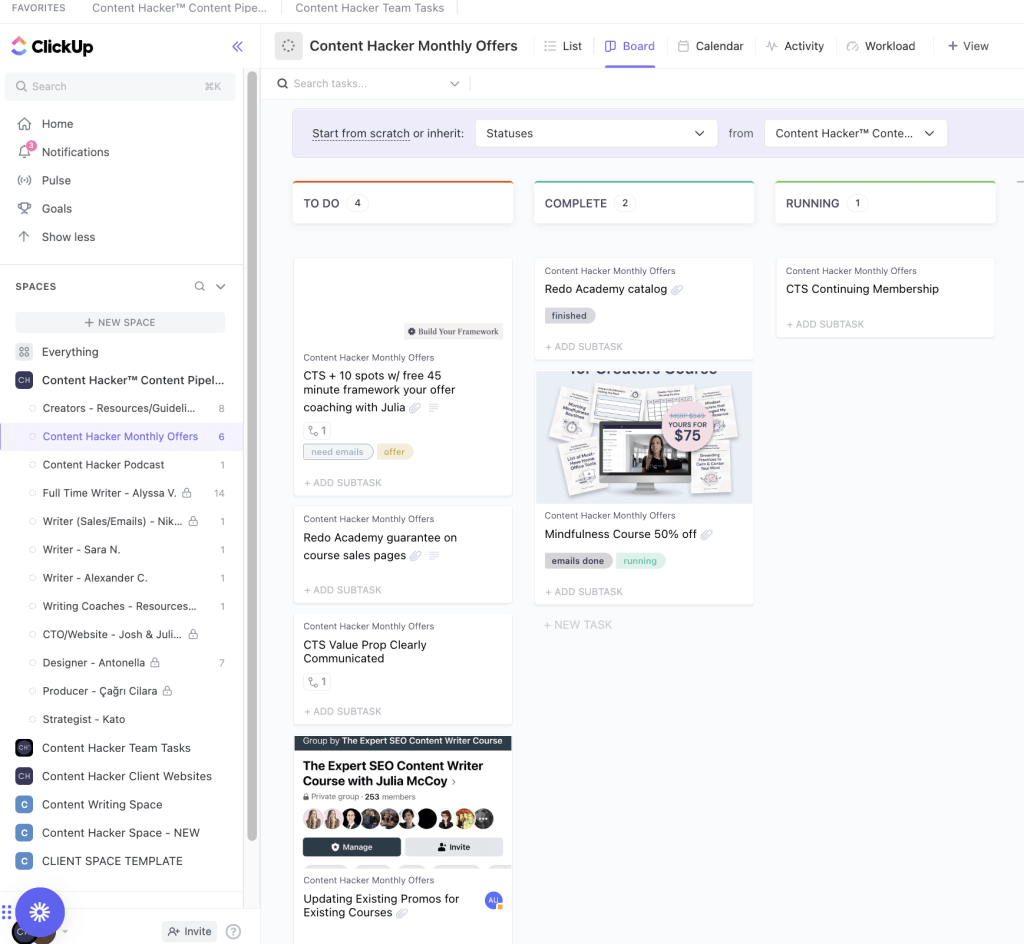 "I used to piece-meal or email the pieces out, and it was mayhem. Now, one single source of truth and working big-picture from the inside out to manage the Black Friday offer has changed the game for me".
7) Drive traffic through product category optimization


"One of the most powerful ways to drive organic traffic for ecommerce businesses is through product category optimization. 
"Let's take a look at Bob's Watches, for example – the Used Rolex Submariner category, to be precise. You can see that this is optimized in a number of ways, including:
A short summary for Featured Answer-readiness

Proper hierarchy of H1, H2 tags

Faceted navigation limited in refinement parameters

Tables of contents

(below the products) with supportive topics 

Tables, charts and unique images are used – not just paragraphs of content 

High definition images that aren't already in Google's image database

Maximized use of markup, such as FAQ page, Product, and ImageObject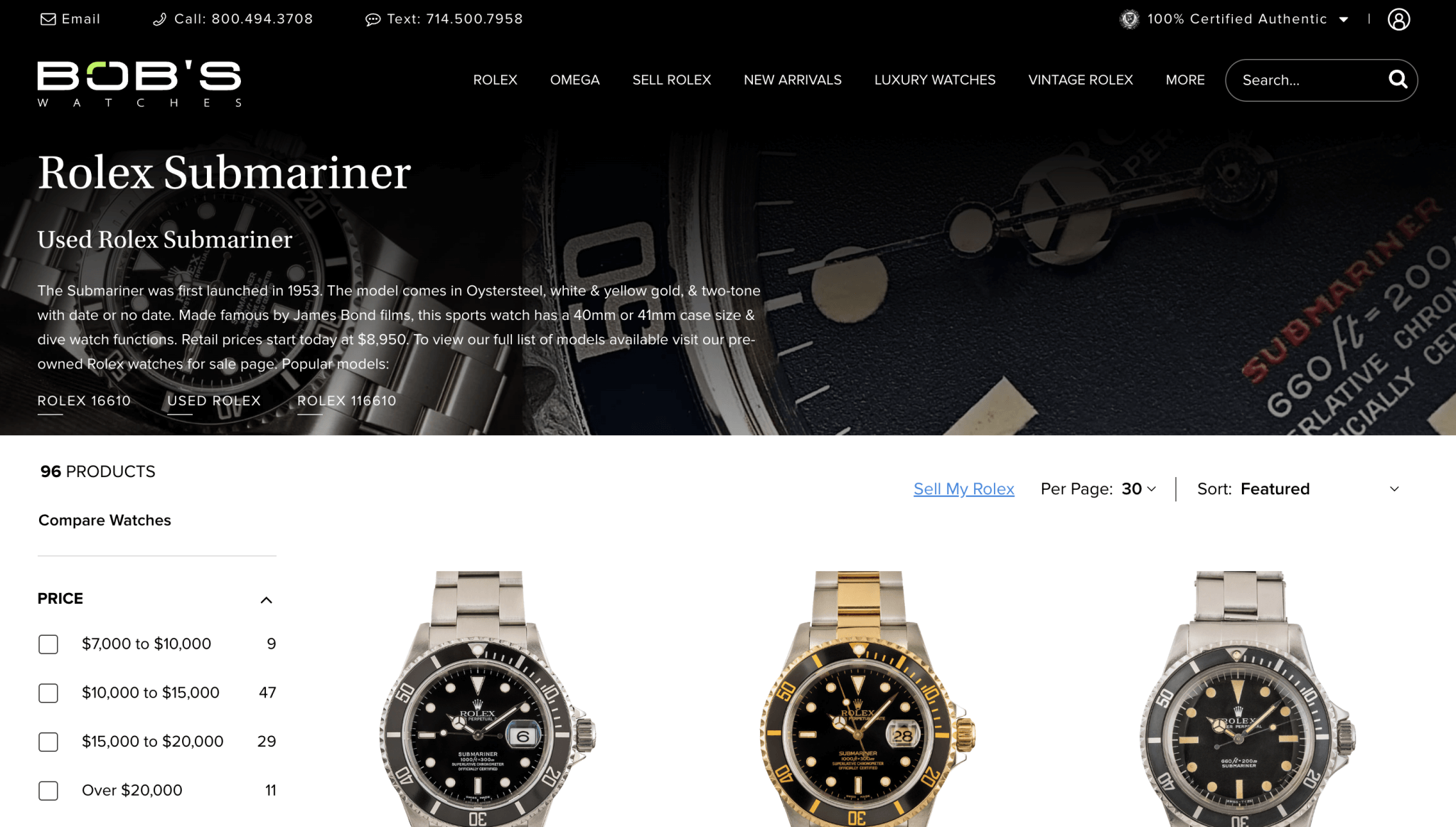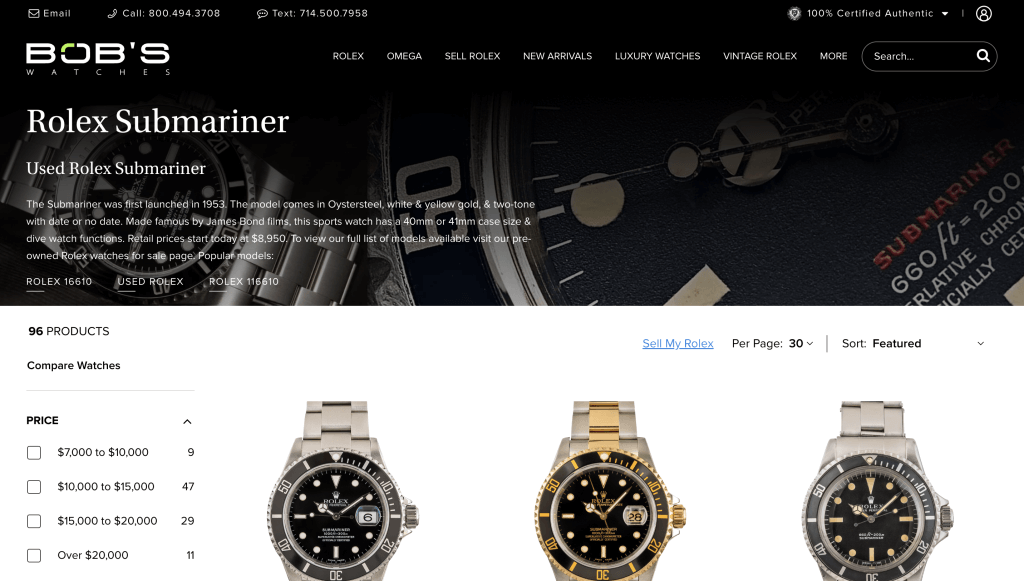 8) Improve the performance of your website


"Make sure your website is performing its best for the Black Friday event. A swift load time is something your customers would anticipate, but not just that – they could even rely on it to find a deal and make the purchase. 
"With a conversion rate of 12% to 30%, the ideal loading time for ecommerce websites is zero to four seconds. If the user is waiting any longer than that, they might start to back out of their purchases – meaning your number of transactions and your conversion rate will go down. 📉
"Test your site speed and make sure it's up to scratch for the big day or days; the amount of content and size of images can have something to say for this, so make sure it's all optimized. Streamline that checkout to make it as easy-to-use and smooth as possible for users to move through, and complete purchase. That includes minimizing the amount of clicks, removing any distractions, keeping it clear and consistent, and using true localization to help make sure no one is dropping out where you don't want them to".
9) Partner up with another brand and reap the benefits


"There are a bunch of benefits to brand partnerships – namely for the data acquisition of a wider audience. 
"A brand partnership can look like anything, from simple collaboration through to competitions. And let me tell you, brand partnered competitions just work – particularly for a specific event like Black Friday. Launch yours with a twist, and enjoy campaign ROI via the inevitable extra sales boost from website referrals and incentive. 
"Using Zapier for an API sync between both partners' CRMs means you can share opt-in data in realtime, enabling automation of conversion comms straight off the bat. If you choose to go ahead with this strategy, consider a few things:
Using coupons for opt-ins to drive higher entry

Staying wary of false opt-outs (GDPR doesn't require a re-opt-out from existing customers) 

Linking to a 'Brand Experience' landing page with products that you know convert well 

Excluding 'prizefinder' website referrals via T&C – segment these referrals post-campaign and purge
"So, go and review those partner pending applications or reach out to some options, and see what they've got to offer for Black Friday and Cyber Monday." 
10) Adapt your messaging this year


"2022 isn't the year of frivolous spending. In fact, it's the year of rising interest, rising inflation, and a cost of living crisis. 
"So, while spending is predicted to be down this holiday season, there is a real desire among consumers for bargains, with many people (im)patiently waiting for Black Friday to roll around. 
"Standard messaging around "shop till you drop" just isn't appropriate this year, neither is trying to persuade customers into purchases they don't need. 
"Be sensitive, be thoughtful, and most of all, be honest about your products, your deals, and your offering. Highlight all the good stuff: sustainability, ethical criteria, and the value your product will add. 2022 is hard enough on business and consumers without a mad rush on returns the next week". 
How to prepare your business for Black Friday 2022
So, now you've soaked up all those expert tips, how do you prepare your business for Black Friday and its potential for greater revenue, publicity, exposure, and value for your audience? Quick fire round:
Step 1:

Start early

Step 2:

Segment your audience for relevant content

Step 3:

Consider different Black Friday campaign ideas

Step 4:

Brace yourself and your website for Cyber Weekend

Step 5:

Track, track, track
And when it's over, report, reassess… and repeat next November. 
Stay strategic, all year long
So there we have it, some expert tips to make the most of the biggest shopping days of the year: Black Friday and the rest of the holiday season. While some of you might enjoy a spot of last-minute shopping around this time, last-minute marketing ain't gonna cut it. 
You want to think about that strategy all year round if you really want to make the most out of these profitable couple of months. Use data to build your Black Friday marketing strategy, and use data to analyze and optimize the next time round. 
Similarweb gives you the understanding and insight you need to judge how different channels work, which will drive success for you, and how you can make consumer behavior work in your favor. 
Ready to get the most up-to-date insights to blow away the competition this holiday season and onwards? You got it, with Similarweb Digital Marketing Intelligence. 
Further Reading
Black Friday Predictions for 2022
Black Friday Statistics You Need to Know (2022)
FAQs
How do you market on Black Friday? 
By following some of these expert marketing tips for Black Friday, you can increase revenue for your business and make a real difference to your ARR overall. 
How do you attract customers on Black Friday? 
By marketing your Black Friday campaigns and offers in advance of the event itself, you can help build awareness and interest – and gauge what works and what doesn't for your customers to make changes where possible. 
What makes a good Black Friday campaign?
By listening to your customers and learning from data and insights, companies can boost their Black Friday campaigns and make them appeal to all their audiences.
This post is subject to Similarweb legal notices and
disclaimers
.
Wondering what Similarweb can do for you?
Here are two ways you can get started with Similarweb today!