 Marketing Intelligence
How to Start Your Competitor Research and Focus Your Marketing Efforts: 4 Easy Tips
January 4, 2021
| Updated July 11, 2022
It's hard to build a marketing strategy in the dark as you can't really assess your strong or weak points without understanding your competitive environment. Honestly, you can't even really identify yourself as special or "the best" if you don't know what else is out there. In other words, you can't beat your competitors without being aware of them. Makes sense, right?
This is why competitor research is such an important part of building your marketing strategy. It helps you make smart and informed decisions about your next steps, your market positioning, and where you should focus your attention. Knowledge is power and the more you know about your competitors, the better impact your marketing makes. But how do you collect competitive data or better yet, what should you be looking at?
Remember, conducting an effective competitor analysis is about getting the right in-depth data about your competitors and knowing how to translate it into actionable items. Below are the first four steps you should start with. 
The 4 Steps to Jump-Start Your Website Competitors Analysis:
1) Understanding Product Features and Pricing
One of the first things you need to understand about your competitor landscape is the 2 Ps – Product and Pricing. Both are very easy to find out.
I'm guessing you already have a list of competitors in mind. Just visit their website and check what products they're selling or promoting at the moment. If you want to go the extra mile, just schedule a sales call with one of their representatives and listen to their marketing pitch and product prices. You should also sign up for all available trial versions they offer just to see how their product really works. Analyze and document your findings, this will help you get a 360-degree perspective of their product.
2. What are their display ads saying 
You can learn a lot about your competitors by seeing their ads and messaging, but you can learn even more by knowing where they spend their display ad budgets. By looking at the 'Display Traffic' section on Similarweb Pro you can see where your competitor buys ads, which ad networks perform best for them, and even see the actual ads they use.
Knowing which ad networks they work with or what sites their ads perform best on can really help you focus your budget and paid media efforts. You can actually save money by either targeting only the best ad spots they use or going for the long tail which may bring less volume but will also reduce the costs. Let's remember that ads don't perform only on their cost per thousand (CPM), but also on the actual creative which includes design, copywriting, and relevance. You should really review the actual ads to better understand their strategy.
3) Social media can help you uncover deeper insights
Social media analysis is tricky because you can't get the insight that you typically gain from your competitor's website. It's hard to tell where they spend their money, what their ads look like, or what is the exact content that brings them the most traffic. Still, there are a few basic things you can do to measure competitors' social media efforts and success. First of all, start by checking what social platforms they are active on. Is it just Facebook? Is it Facebook and LinkedIn? Find out. After mapping which social channels, start looking at measurable metrics.
For example, if your competitors are using Pinterest check how many boards they manage, how often they post on the platform, how many Like / Comments / Responses they receive, and what type of boards do they run, etc. If they're on Twitter just check out how many people they follow, who follows them, how many tweets they post per day, the content of their tweets, are they getting retweeted, do they engage with their followers? Well, you get the point. For each platform look for the relevant metrics.
Another way to measure your competitor's engagement on social media is by using a tool like hootsuite.com. By adding a "search by keyword" tab you can track your competitor's brand name and see how many people mention it on Twitter or Facebook per day and how they respond to the mentions.
4) Figure out where else their traffic is coming from
Knowing where your competitor's traffic comes from is like striking gold. Your competitors compete for the same audience as you which means that their best traffic sources are very likely to be your best traffic sources as well. Knowing which sites and marketing channels are effective at bringing them the most traffic enables you to target the same sites. You can pick the top sites driving traffic to your competitors (Referrals) and buy ads there, form a traffic-sharing partnership, offer to do a guest post on a subject that is relevant to both your readers or whatever you can do to interest them.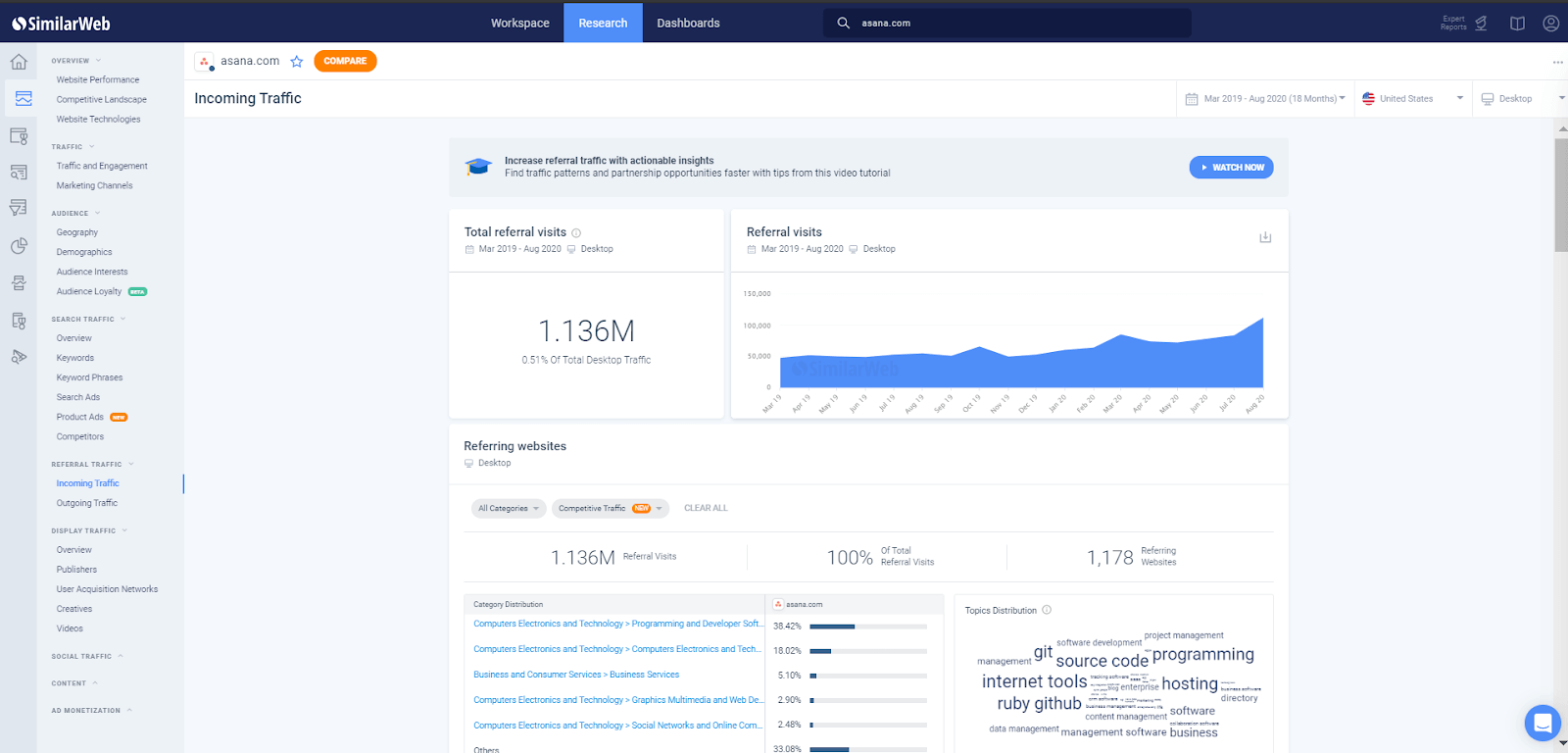 For example, let's say you're Asana, a popular SaaS collaboration platform that helps teams manage all kinds of tasks. The first thing you'd want to do is see where your key competitors get most of their traffic from. If we take Monday as an example, we can see that their top referrals come from getapp.com (over 34% in the last 3 months). If you're not familiar with it, getapp.com is a website that offers reviews and comparisons on business software. We can assume that Monday has a deal with getapp.com that is going pretty well (since it generates the largest amount of incoming traffic to its site). As a result, Asana can try to break an advertising deal or content partnership with getapp.com as well.
Take your competitive strategy analysis to the next level
Knowing where your competitors' traffic is coming from will help you better target your online efforts but will also help you unveil their 'hidden' online story and give you the advantage of seeing the full picture while composing your market research and marketing strategy.
Find out how to use Similarweb metrics to help you understand your website traffic and build an effective strategy for your business. Download our latest eBook, including a report on building and optimizing the perfect marketing strategy.
Further reading
Check out some of our other blogs on competitive analysis to learn more:
To learn how Similarweb's Research Intelligence solutions can help you track, measure, and improve your competitive research, request a live demo today!
FAQs
What is competitor research?
Competitor research is the process of finding your competitors and researching their marketing strategies.
Why is competitor research important?
Competitor research is important in building your marketing strategy. The more you know about your competitors, the better impact your business can make. 
How can I conduct competitive research?
To conduct competitive research, there are several steps you should include. Start by understanding your competitors' product features and pricing, and utilize social media to uncover insights on your competitors. 
This post is subject to Similarweb legal notices and
disclaimers
.
Wondering what Similarweb can do for you?
Here are two ways you can get started with Similarweb today!