Having access to your competitors and industry organic search trends, as well as audience search behavior is critical to establishing a winning SEO strategy. Similarweb offers a wealth of data and functionality that can be used to gain insights to accelerate your SEO process.
Check out my webinar, 5 SEO Hacks to Identify Trends & Opportunities with Similarweb, with two Similarweb SEO specialists in which I'll show top ways to leverage Similarweb for SEO. But, for those of you who can't wait to get started, here are a few quick tips to point you in the right direction.

1. How to find Keyword Gaps and Opportunities
Similarweb offers features that allow you to easily perform comprehensive keyword research, and identify top, worthy-to-be-ranked queries from which your competitors are already profiting, attracting a higher share of organic search traffic from any given country. This is true across desktop or mobile devices for any period of time and gives you options to only show non-branded keywords of any length, two or three words, for which your own analyzed website has a low traffic share vs. the selected competitors' sites.
For example, when doing this for The North Face vs. Under Armour, Patagonia and Marmot in the US for desktop devices in the last 6 months, it can be seen that the first is attracting a lower traffic share vs. the others for top relevant non-branded terms, like "long sleeve", "running shoes" or "sports bra", and it can be seen right away that the player that is attracting the highest traffic share for all of these terms is Under Armour, which in this case you would go and check how they're targeting these terms vs. the rest (the relevant sub-categories or faceted navigation).
By clicking on any of these terms we can also directly see the traffic share evolution over time, which we can use to check if this is a situation that has recently started or is in a process to increase or decrease.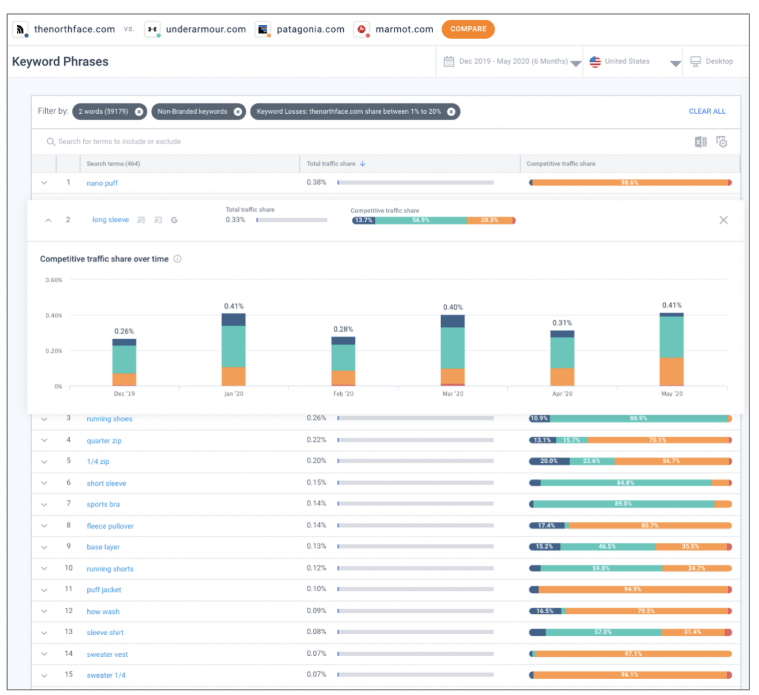 2. Understand Which Content Format Best Matches Your Customer Intent
To develop an SEO strategy it's critical to understand not just what potential customers are searching, but the intent behind their searches. Search intent can help you understand what people are looking to find with any search query, and can also reveal the best type and format of the content to address and fulfill the intent. This information will help you establish how to better optimize your content.
Similarweb facilitates you to identify the intent of a given query or group of queries by showing the percentage of clicked vs. non-clicked searches, to see the percentage that tends to be fulfilled by the information provided directly in the search result pages and doesn't refer traffic, as well as by showing the website categories (vertical) and types (transactional or content focused websites) of those attracting a higher traffic share for the given query or group of queries.
For example, for a group of top 50 queries related to "headphones" in the US, it can be seen how there's a mix of e-commerce/transactional oriented websites as well as electronic focused media websites, with half of the searches resulting in non-clicks.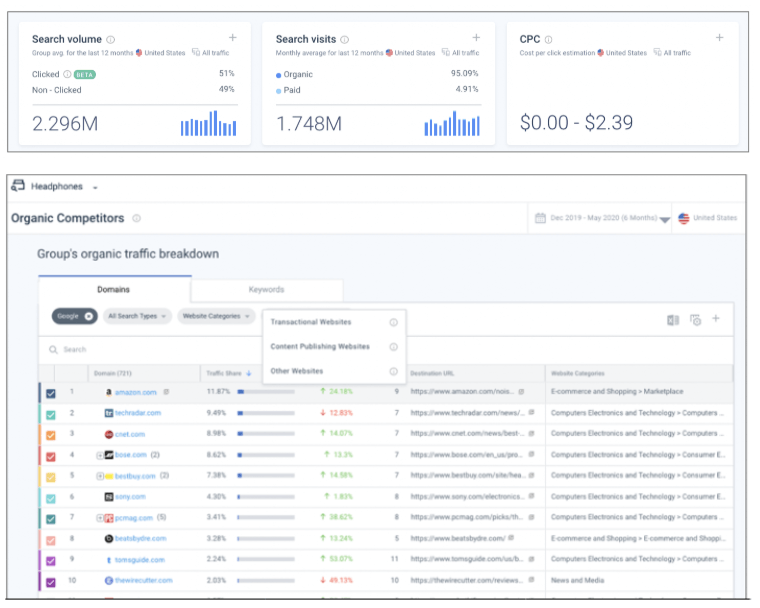 3. Discover Keyword Trends Worth Targeting
People's needs and interests are constantly changing, many times influenced by events or context that is completely new, which is fundamental to identify as quickly as possible to target and fulfill.
Similarweb makes it easy to identify the "trending terms" as well as "newly discovered" ones in any industry directly with filters in the Top Keywords report, where there are also filters to only see a particular search type, non-branded terms, or only see question queries.
For example, "dumbbells", "gaming chair" and "hair clippers" have been the top non-branded terms that have grown the most in the last month in the US marketplace sector and that have also driven the highest organic search traffic share to it.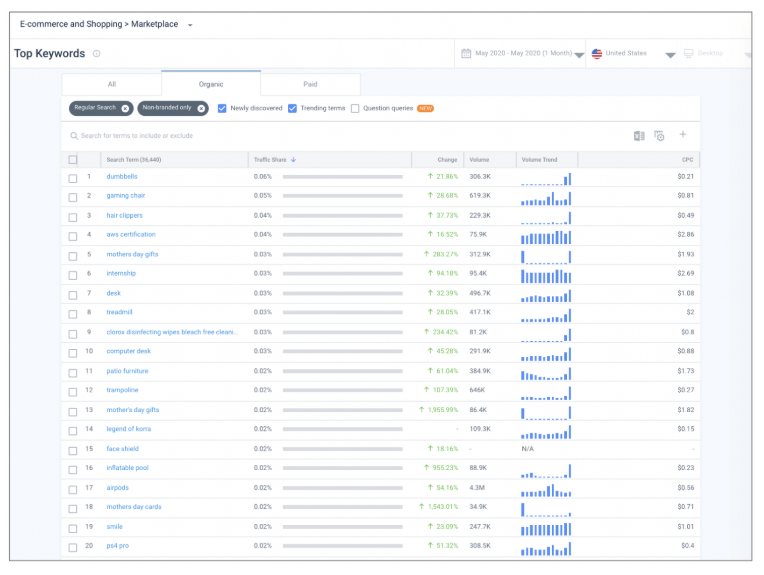 4. Find Differences Between Desktop and Mobile Search Behavior
Users' search behavior varies between desktop and mobile searches, which should also be taken into consideration in your website optimization efforts. Knowing which device your target audience primarily uses to search for certain types of products or services is crucial to offer the best search experience.
Similarweb offers a device segmentation across the different reports, allowing you to easily see, for example, the gap between the mobile vs. desktop top keywords.
Additionally, it offers a mobile report that shows for any given keyword or group of keywords the traffic trend of the top-ranked websites, as well as a list of the top websites attracting more search traffic from them and the popularity and trend of the different validated keyword variations. This is shown in the example below for the top headphones-related queries in the US, for which it was identified that Amazon, followed by Best Buy, TechRadar and Bose are the top mobile search players, with the top terms from the group being "headphones", "bose headphones" and "noise cancelling headphones".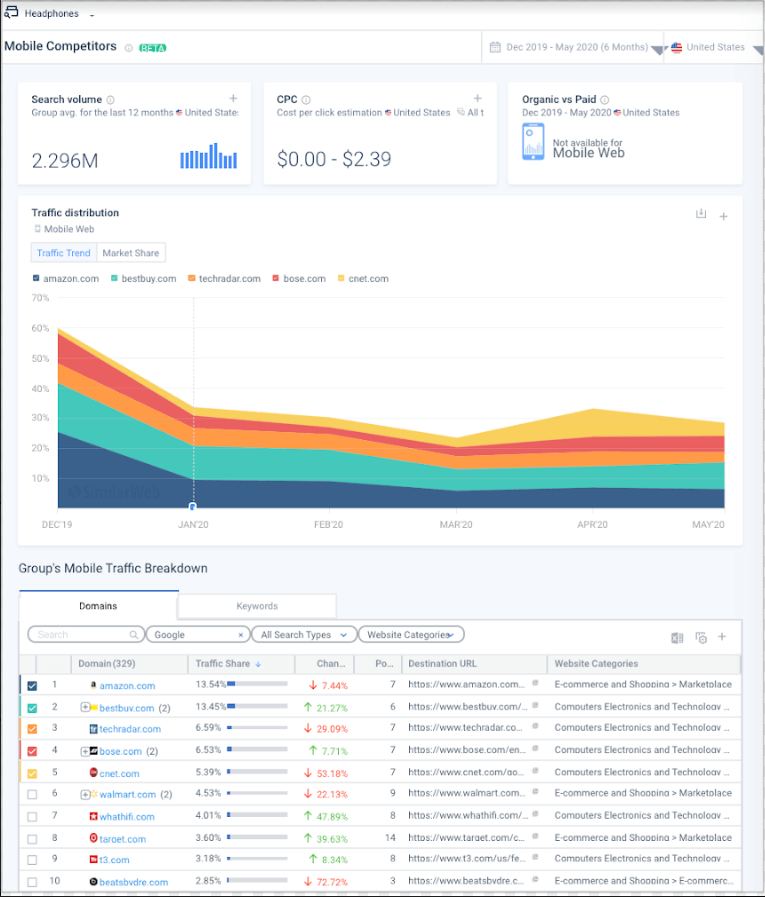 5. Biggest Growth Opportunity for Your Industry in International Markets
When looking to start expanding globally and setting an international SEO process the first question that is asked is: Which should be the markets to prioritize?
Similarweb facilitates this with the "cross-country category analysis" by showing which are the top countries in that vertical, as well as the traffic trend and behavior across them, the growth, change over time, and engagement.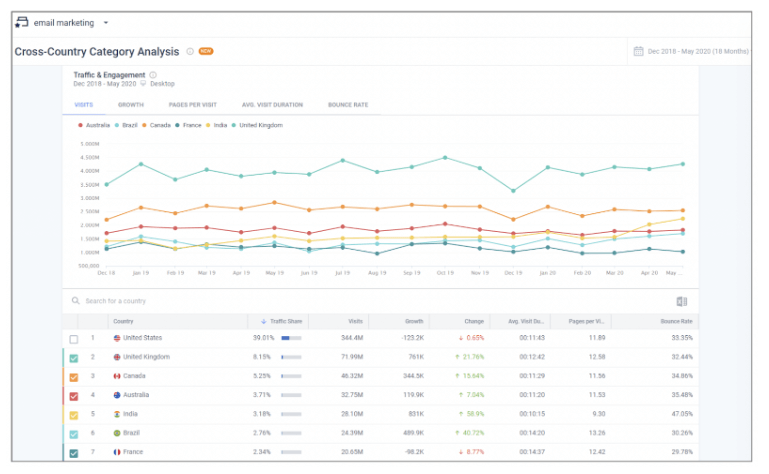 Besides the traffic and growth potential, you will also want to take into consideration each country's level of competition, which can be assessed with the help of the "search leaders" per country report.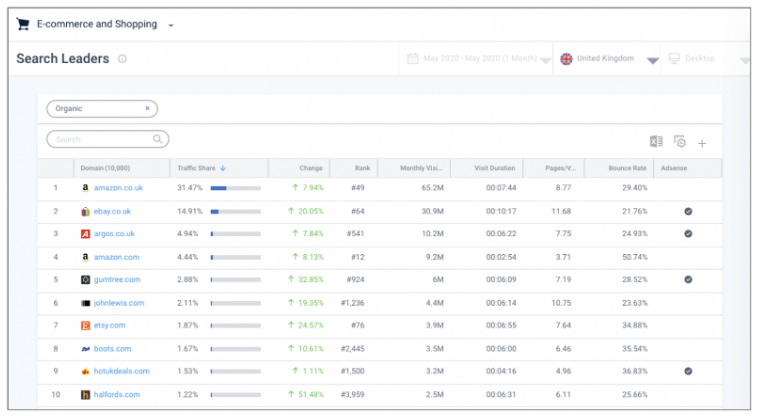 Your Next Steps
Anxious to get started? Check out Similarweb's detailed report, How to Create a Winning Content and SEO Strategy, and start improving your website's SEO today.
This post is subject to Similarweb legal notices and
disclaimers
.
Wondering what Similarweb can do for you?
Here are two ways you can get started with Similarweb today!