 Marketing Intelligence
How to Conduct Competitive Keyword Research in Under 5 Minutes Using Similarweb
February 2, 2021
| Updated July 17, 2022
Ever been down a YouTube wormhole? One moment, you're watching a video to learn how to roast vegetables, then suddenly, four hours disappear, and now you're somehow watching UFO sighting videos? 
Competitive keyword research can often feel the exact same way.
One moment, you're analyzing a specific keyword, and the next, you're freefalling in a wormhole, totally forgetting your initial train of thought and how any of this data is going to translate into an actionable SEO strategy. The reality is this:
Every minute wasted during SEO competitor research translates to less time actually executing your strategy and driving results. 
So, let's sharpen your competitive keyword research flow using Similarweb, shall we? 
Here's a three-step flow to conduct competitive keyword research in just under five minutes:
1.  Identify your search competitors
You probably already know your business competitors. However, just because you're competing with another company from a business perspective doesn't necessarily mean you compete for the same search terms or organic search traffic. Also, your search competitors can change depending on which time period or country you're zeroing in on.
All that to say, you may be surprised at what you find. 
Let's say you work for popular lyrics and music culture site Genius. You're an SEO manager and you need to generate some blog ideas for your content team. 
For this, you're going to use our Search Competitors Tool, which is available both for organic competitors and paid competitors. This tool uses actual traffic data (not just Google ranking) to understand who your true search competitors are. Here's how to conduct your SEO competitor research, simply:
Navigate to "Competitive Analysis" 

Enter a website 

Click "Organic Competitors"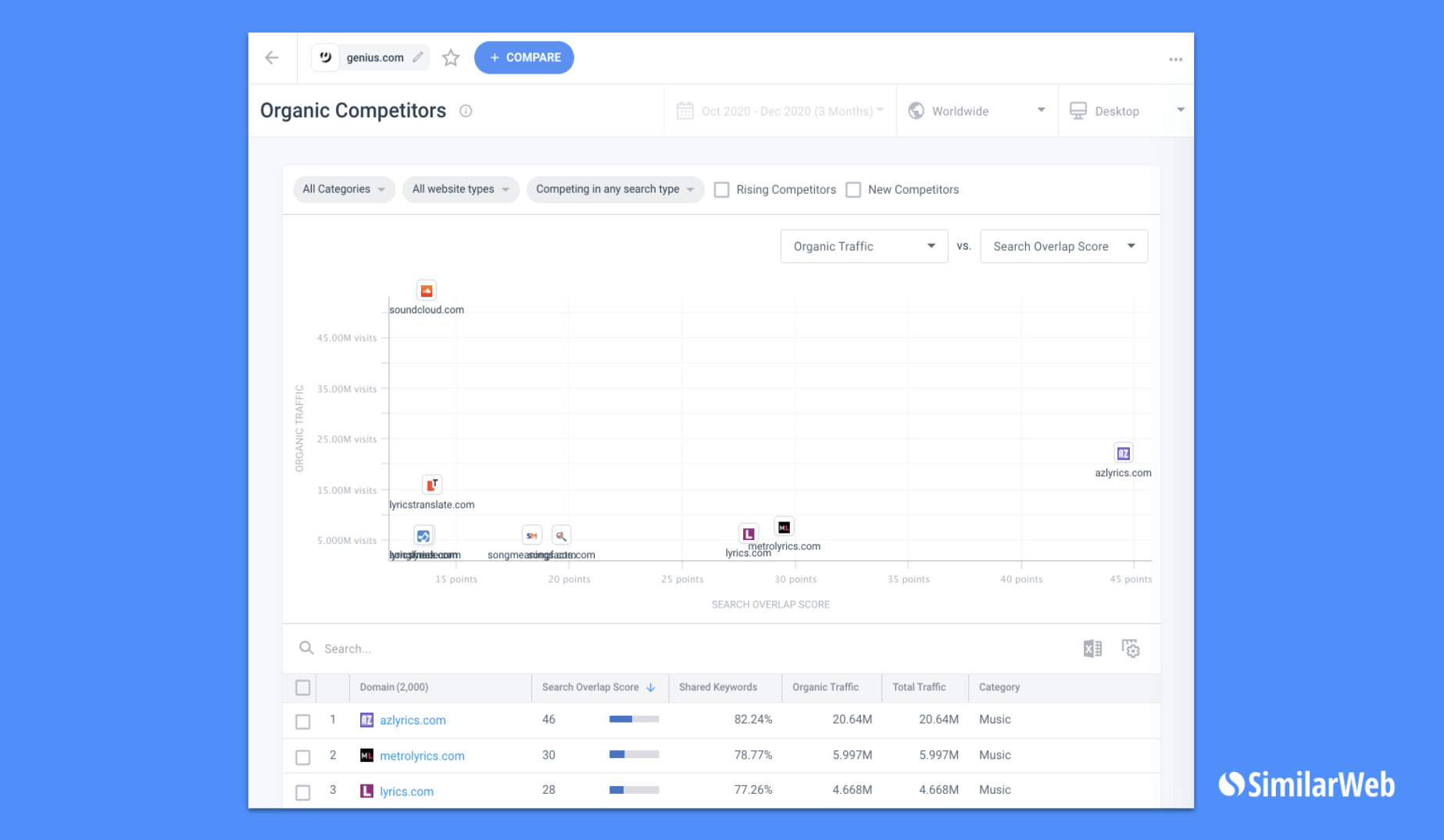 From this view, we can see that AZLyrics has the highest Search Overlap Score, which is a 0-100 metric calculated based on both the number of overlapping keywords and how closely they rank.
Again, you can adjust the time period and country filters to see how this changes the results. Or you can try entering a competitor's website instead of your own. Also, the "Rising Competitors" and "New Competitors" filters often reveal key insights on companies you need to keep an eye out for.  
Choose two to four search competitors to focus on for now, and move to the next step.
2. Discover your keyword opportunities vs. a search competitor 
Now we'll enter these search competitors into the Keyword Gap Tool (Find Keywords > By Competition), which generates a beautiful Venn diagram. Then, click on "Opportunities" to see only the keywords which competitors are getting traffic from, but Genius is not currently: 
Use the table at the bottom to select high traffic keywords of interest, such as "marikit lyrics," which is driving 20.6K monthly visits to AZ Lyrics. Then click "Create New List" to add these keywords to a Keyword List so you can analyze and monitor them further. At this point, you can also change the time period and country filters again to discover even more opportunities.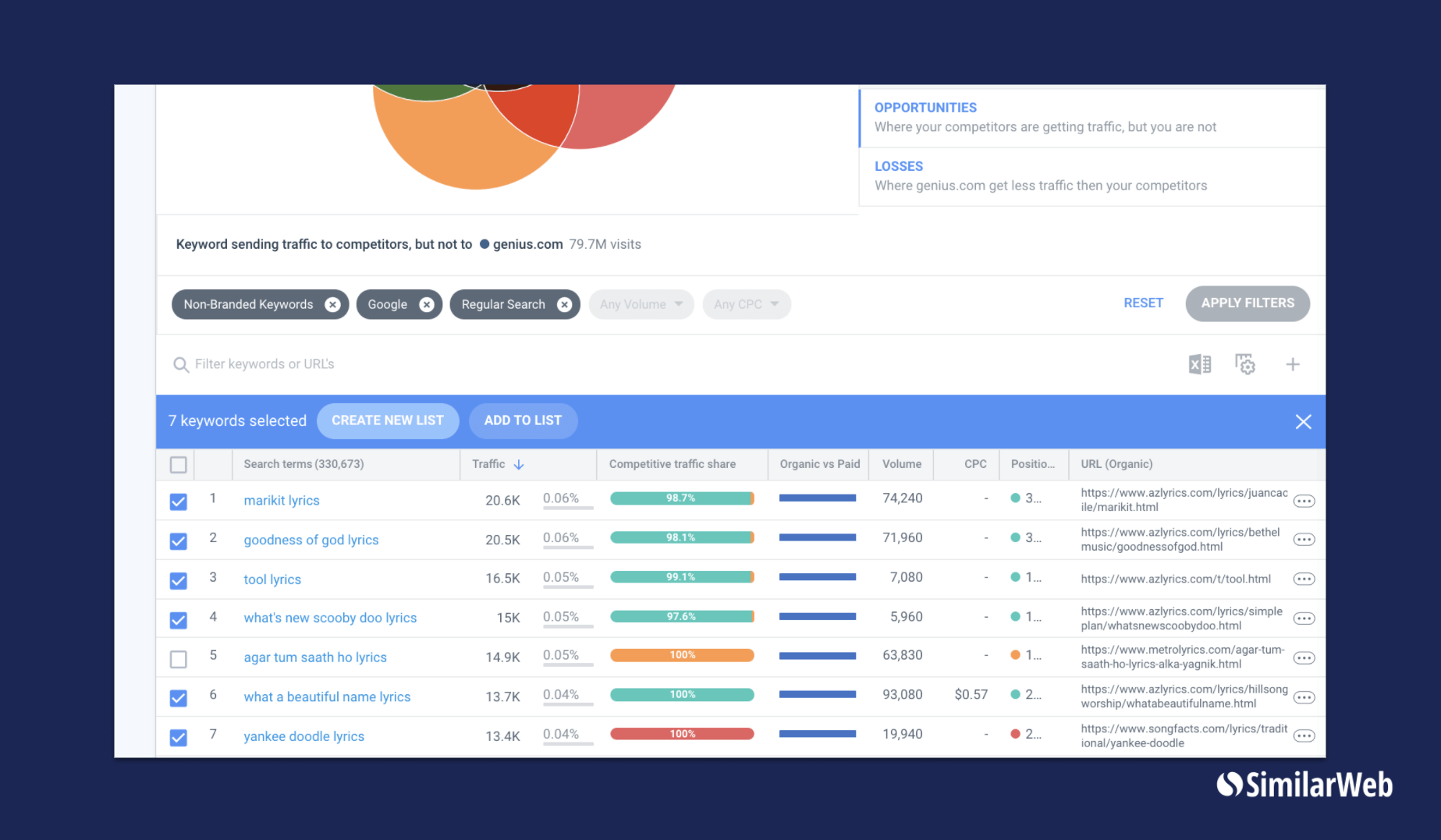 3. Uncover top keywords for your competitors' high-ranking pages 
We'll also want to take a page-level approach to understand these competitors' top keywords. For this, we'll use our Top Organic Pages Tool (Competitive Analysis > Top Organic Pages). 
Simply pick a competitor, and get the full list of pages that they receive traffic from over the given time period. Let's look at AZ Lyrics in December 2020, filtering on "Newly discovered" – pages that started bringing them traffic during the last month: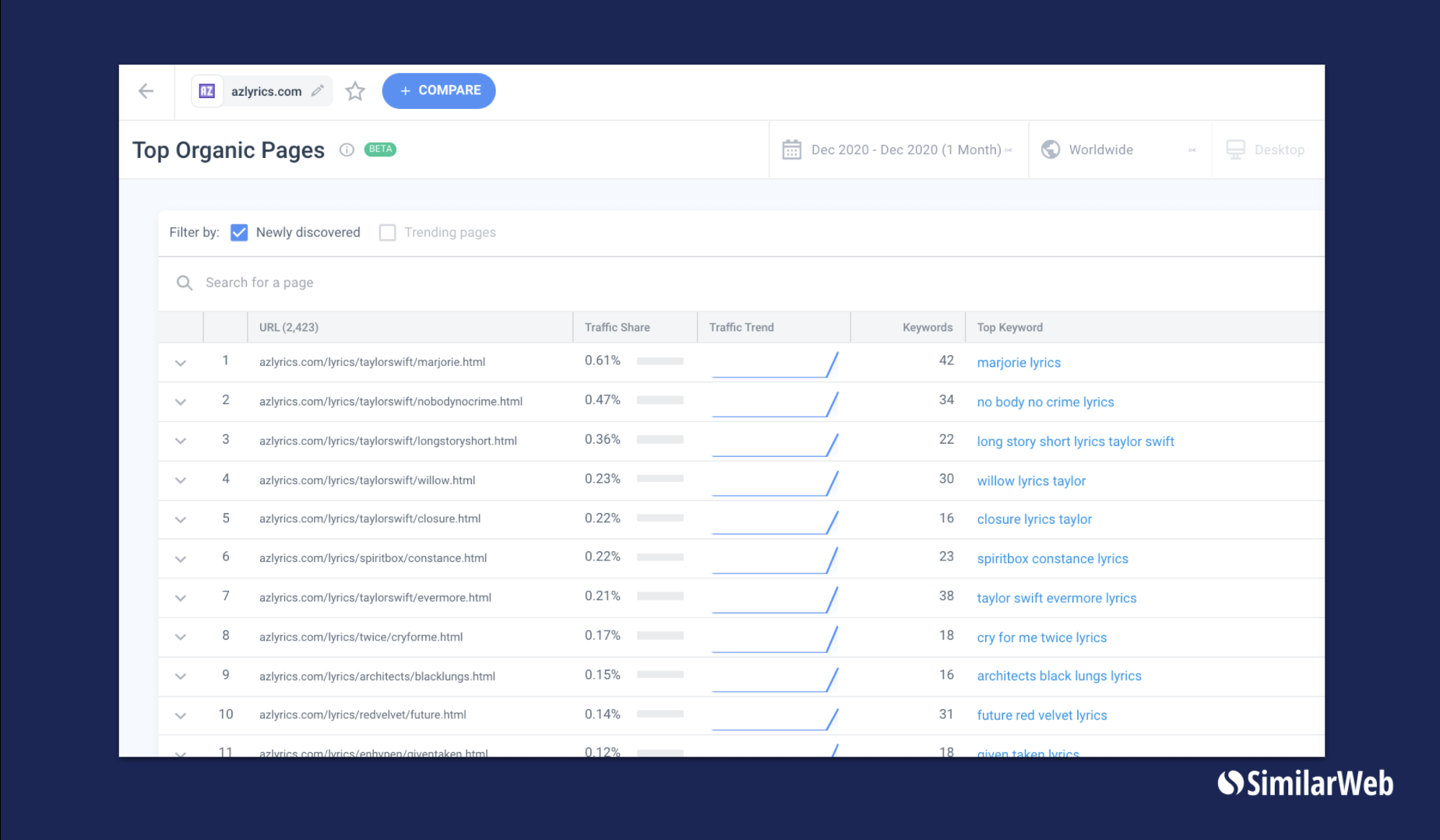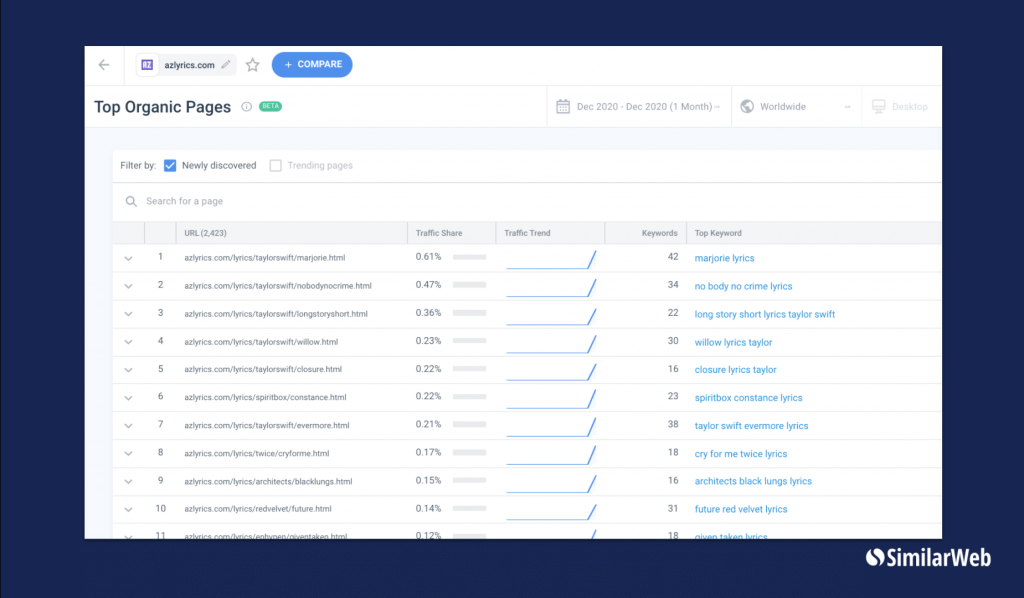 You'll notice Taylor Swift's new album, "evermore," released on Dec. 11 accounts for six of the top ten newly-discovered pages on AZ Lyrics. Hopefully, the Genius content team already has those songs covered, but you can also spot a couple of songs Genius doesn't cover at the moment that are worth passing along to the team: Spiritbox's "Constance" (number six on the list by traffic) and TWICE's "Cry For Me" (number eight). 
You can even click the down arrow to see the full list of keywords driving traffic to a particular page, and then select them to add to a keyword list:
Once you've completed these three steps, you will have lots of juicy new keywords saved to your keyword list. You can click on the keyword list to compare key metrics at a glance:
Then, click on each keyword for a full analysis to qualify them further: 
You'll love this upgrade to your keyword research process. By combining competitor research and keyword research into one unified flow, you're much more likely to drive big results and win greater traffic share.
Curious, how much traffic and conversion look in your industry and wondering how you can optimize your SEO strategy?
Check out our in-depth report to discover who's scoring the best traffic and conversion rates.
FAQs
How long does keyword research take?
As you can see from our article, keyword research can take as little as five minutes.
What is competitive keyword research?
Competitive keyword research is the process of finding the keywords your competitors are using to drive traffic to their websites and ranking for in SERPs.
Should I do competitive keyword research?
You should do competitive keyword research because it helps you understand why your competition is performing well, and how you can improve traffic to your website.
This post is subject to Similarweb legal notices and
disclaimers
.
Wondering what Similarweb can do for you?
Here are two ways you can get started with Similarweb today!