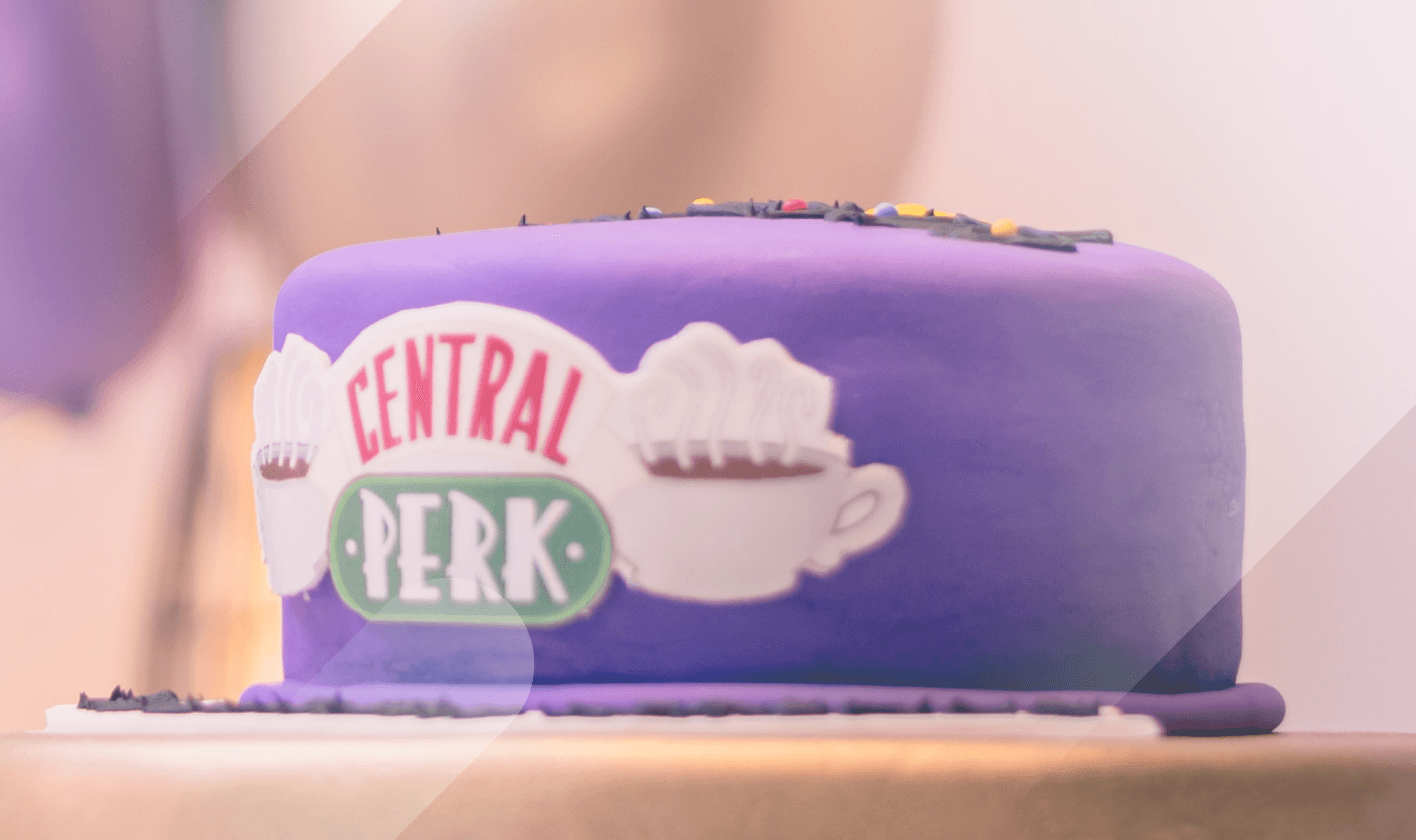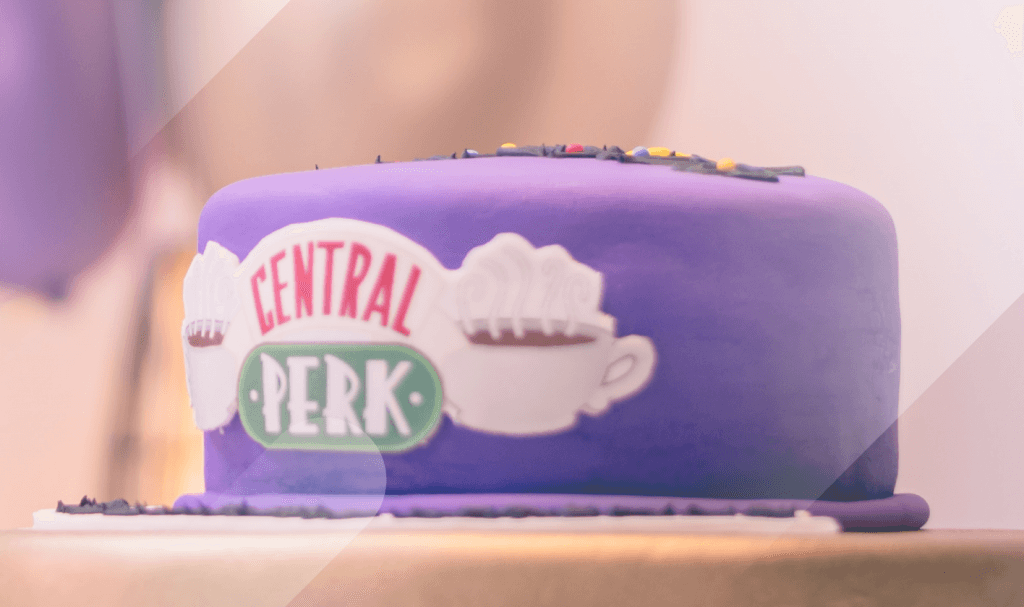 Marketing Intelligence
The One About the Friends Reunion and SEO Trends
June 3, 2021
| Updated August 24, 2022
If you keep up with pop culture, then you know that Ross and Rachel are no longer on a break. After seventeen years the wait is finally over, the fab 6 of Friends reunited for a one-night reunion on HBO Max last Thursday, May 27th. The reunion has been a trending SEO keyword since it aired in the United States, with more and more audiences scouring the internet to watch, read and find out what happened over at Central Perk.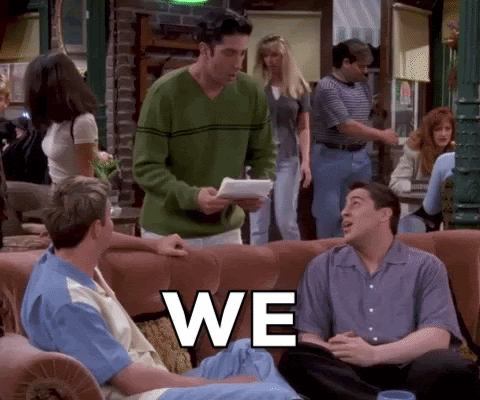 The Content Marketer and SEO enthusiast in me was curious as to how such a strong fan base would react to the newest episode. So I used Similarweb's real-time data to dig into keyword research. Using 'friends reunion' as a keyword, I looked into which countries had the most searches geographically and how the term was trending in each. Just for fun, I did a little research into which character has the highest search volume to coin them the 'Fan Fav of Search'. 
Top 5 geos searching for the Friend Reunion
I started my search into the latest trending topic by looking into where exactly people were searching for 'friends reunion' over the last three months. The U.S. obviously came in first, followed by India, the U.K., Canada, and Italy. I didn't know Friends had such a strong following in India, but it makes sense as one of the world's most-watched and loved sitcoms. 
Organic competitors fighting for traffic share 
Looking at the same keyword, we can see that the search volume and search visits jumped in the last month. The monthly average for search volume in May is 162K and in April it was 579K, a 357% month-over-month (MoM) increase.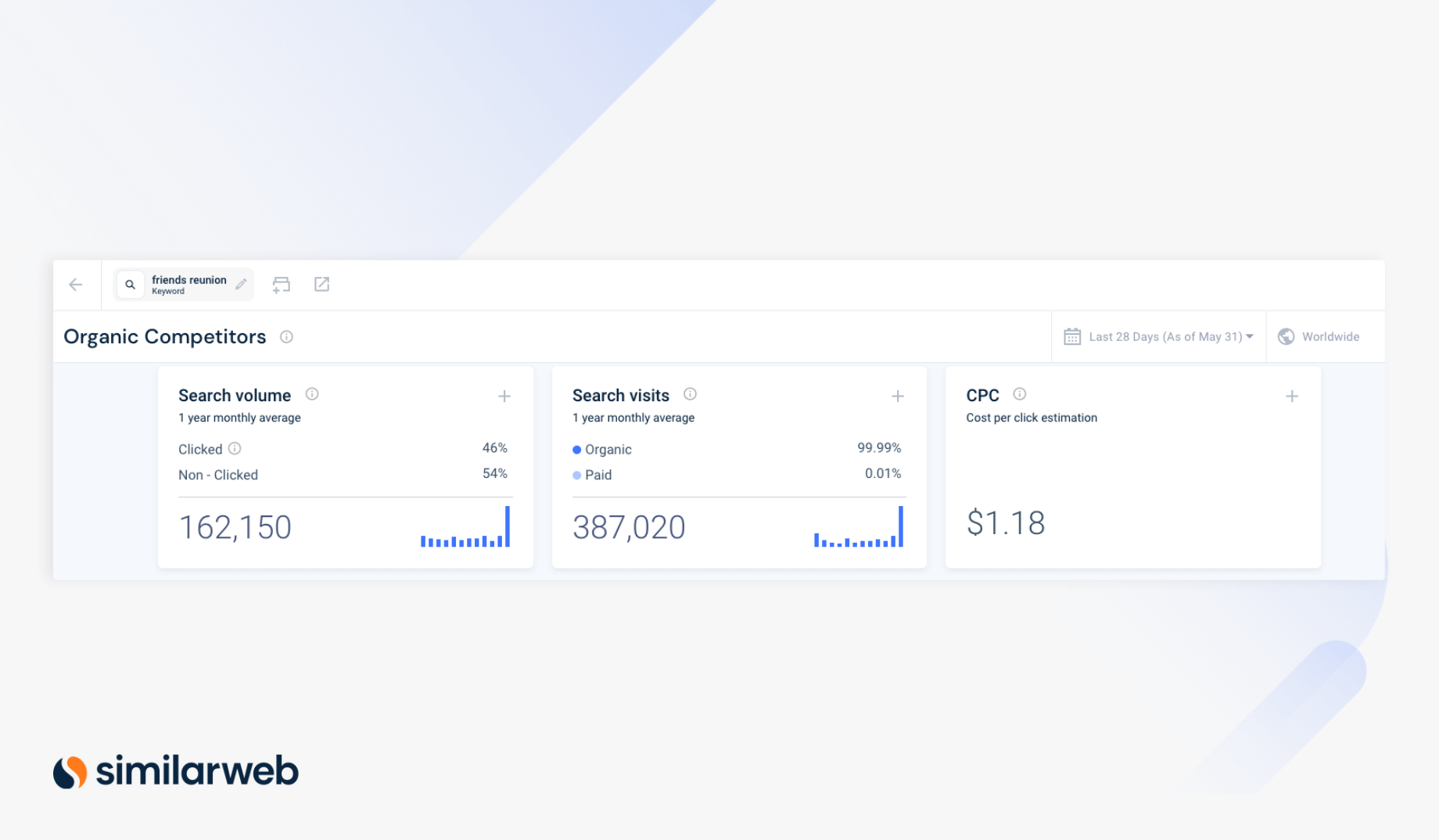 Unsurprisingly, we can also see a huge increase in traffic on May 27th, the day of the release. And we can see which sites are gaining the most traffic: YouTube (18.9%), Wikipedia (7.4%), Harpers Bazaar (6.9%), and IMDB (3.9%). 

I used this traffic breakdown to check out how 'friends reunion' was ranked in terms of trending keywords, mirroring the sites that topped the ranks and breaking them down by geo, so yahoo.com for the U.S., news.sky.com for the U.K., and so on. The surprising results are below. 
Friends Reunion gets more traffic than the AMC craze in the U.S.
Here, we are looking at the freshest data (something only Similarweb can provide) over the last week (as of June 2) for organic, non-branded, trending keywords on top news and media sites in the U.S., U.K., and India. In the U.S., we see 'friends reunion' in the second spot with 146.7K searches with yahoo.com and usmagazine.com taking featured SERP spots for news and harpersbazaar.com ranking for a related question.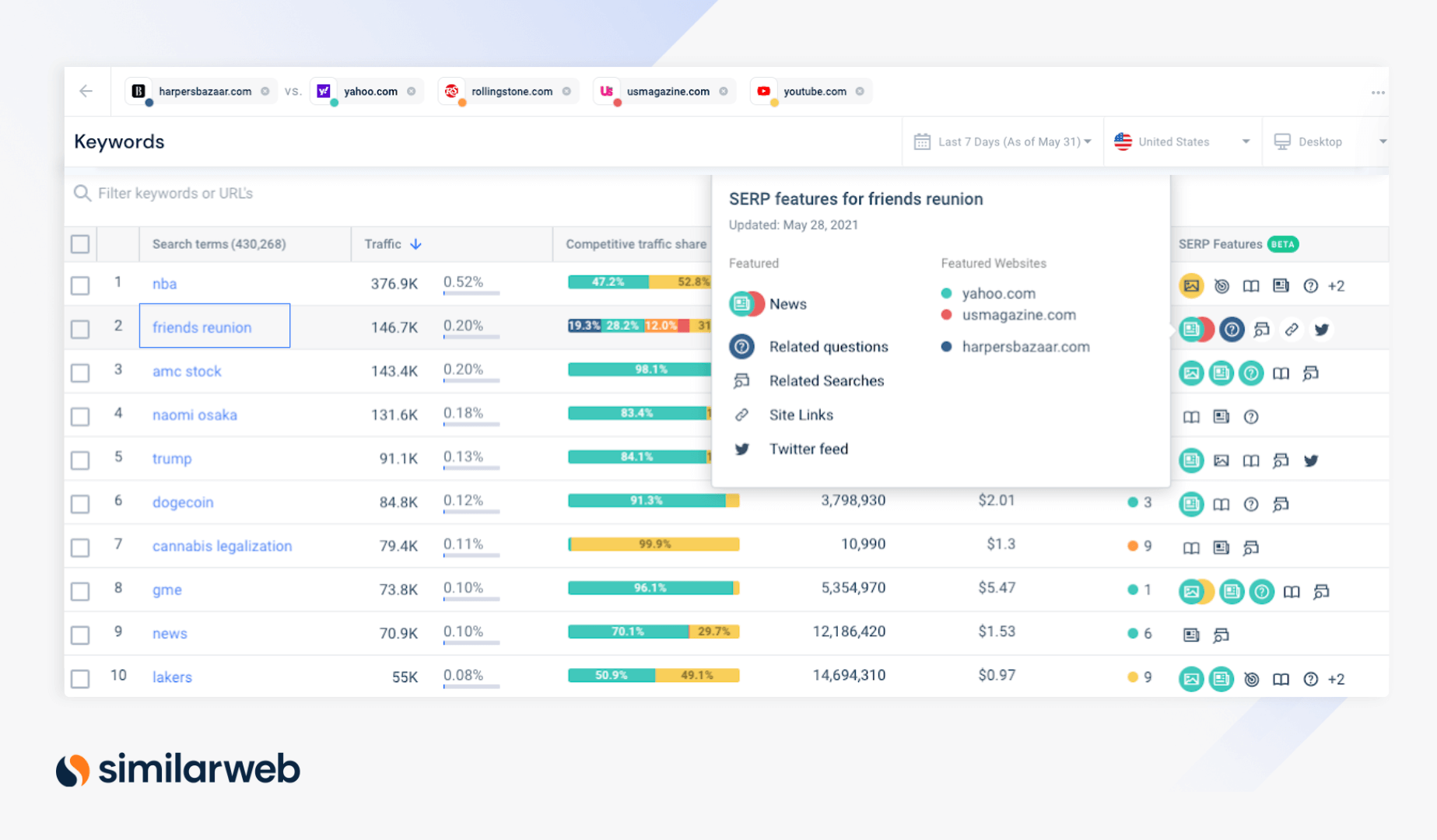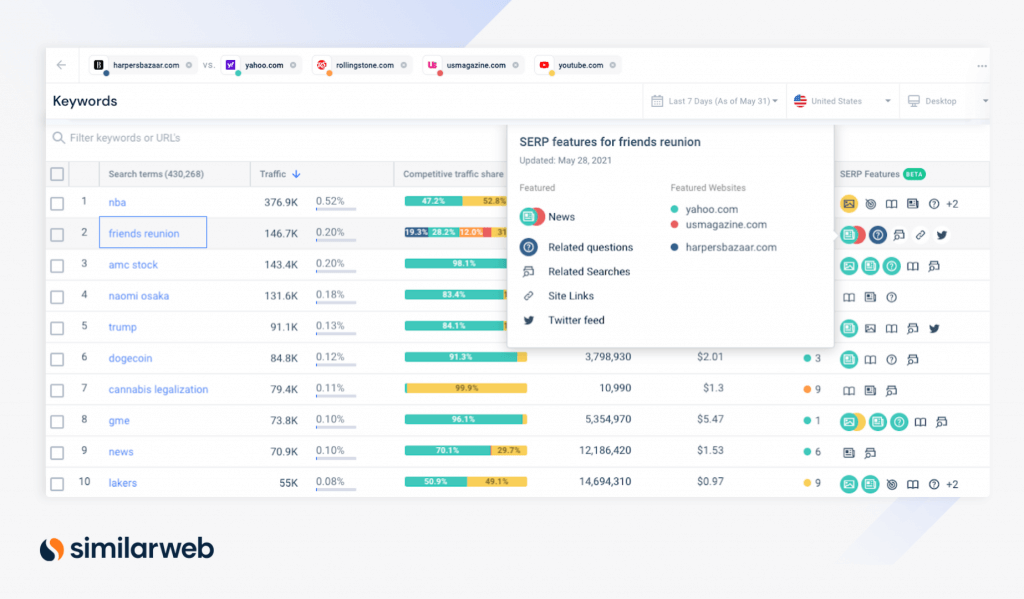 The reunion show pulls in more traffic than Chelsea and the Champions League in the U.K.
In the U.K. the reunion pulled in 88.1K searches over the last week and news.sky.com, independent.co.uk, bbc.co.uk, and theguardian.com have featured news and image SERP spots plus news.sky.com ranked for the related question, "When can we see friends reunion in the U.K.?"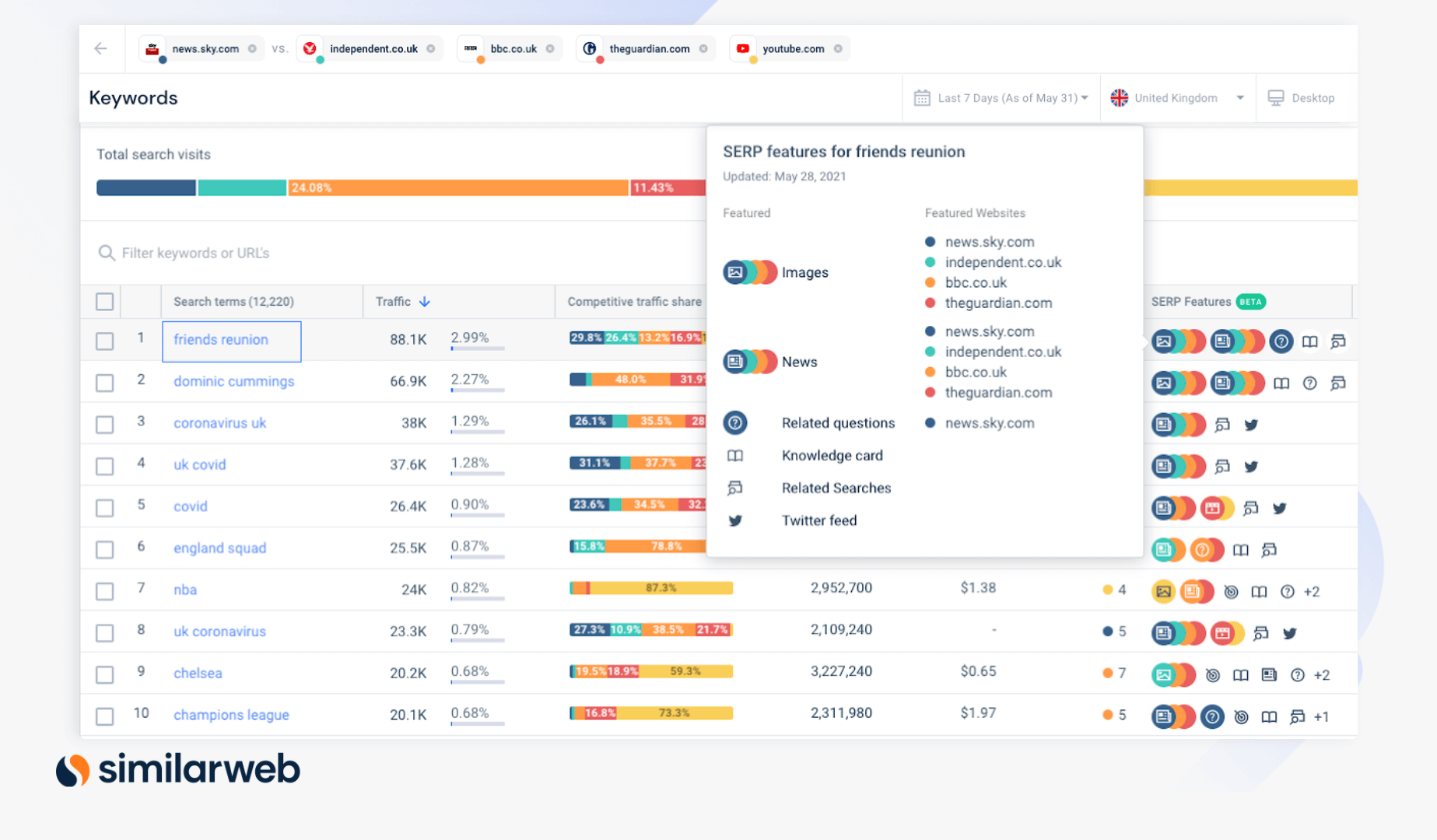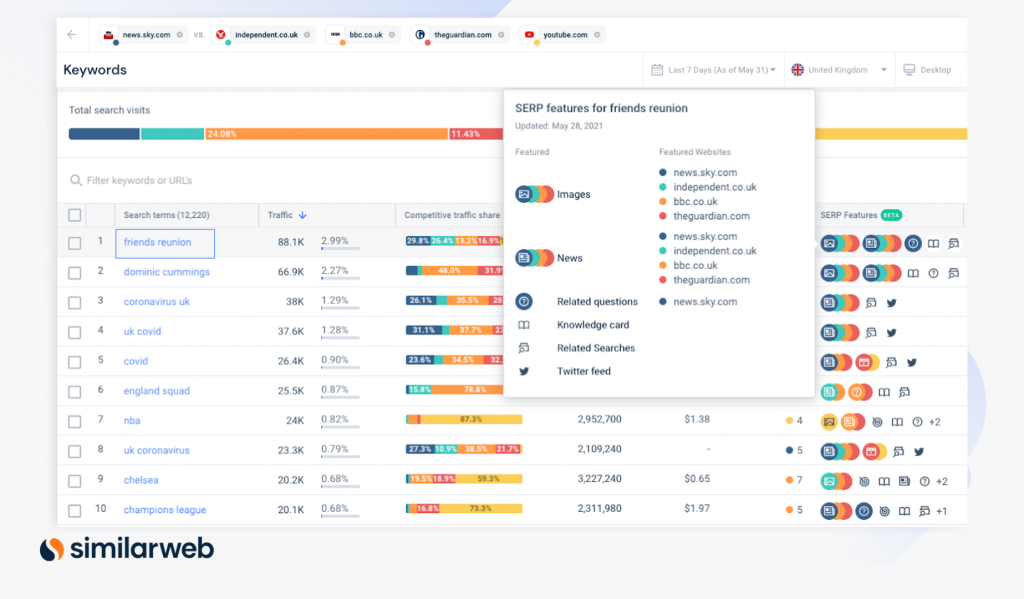 India proves to be proud Friends fans
Last for India, 'friends reunion' is the number one most searched term with 86.4K in traffic and all top five local media and news sources ranking for either image or news SERP features. Youtube.com still wins in this region with 65.96% of organic search traffic, followed by ndtv.com, one of the most widely used TV and website news sites in India, with 13.55%, indiaexpress.com – a popular English-language Indian news outlet – with 10.96%, hindustantimes.com with 7.34% and thehindu.com 2.19%.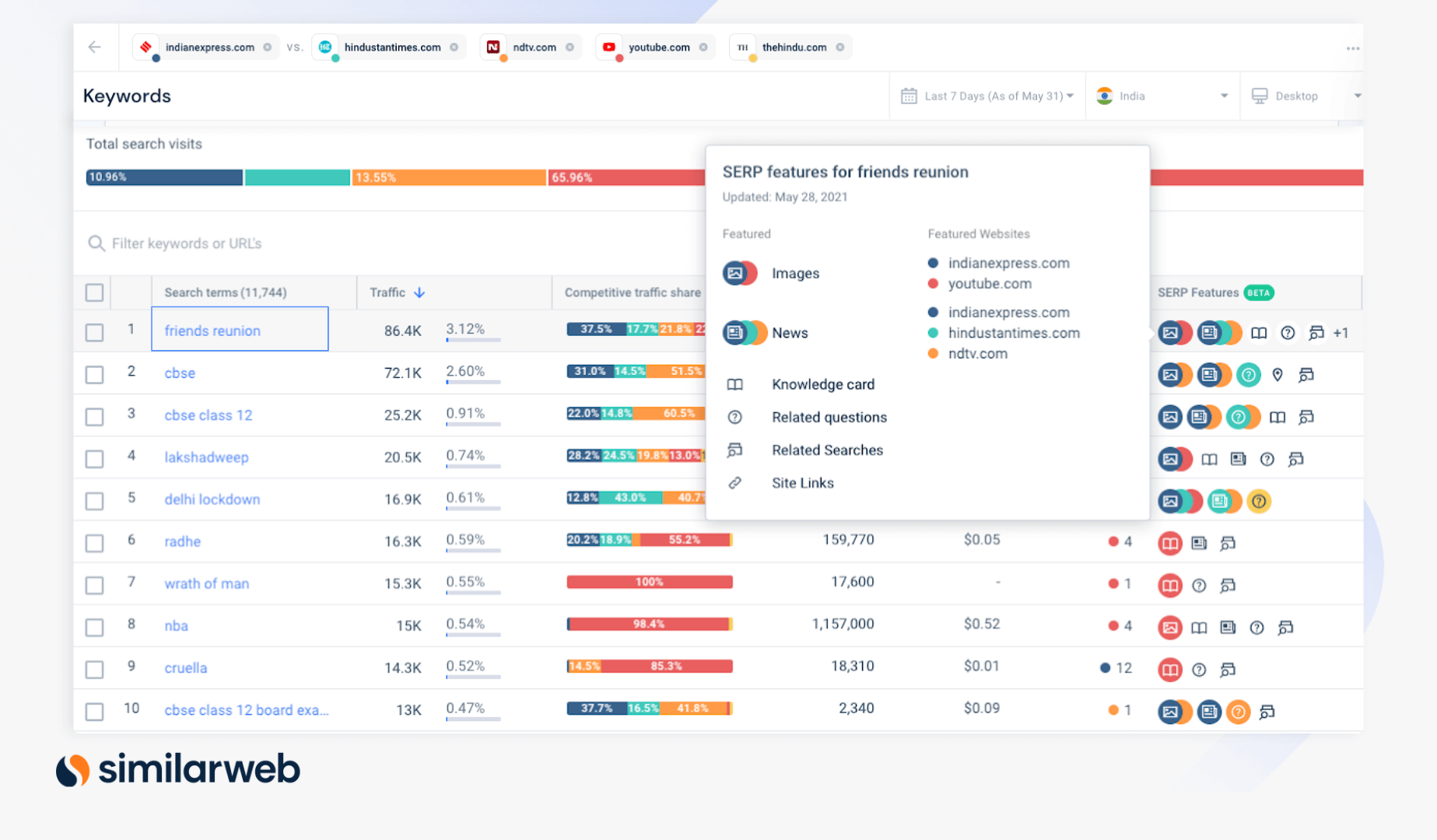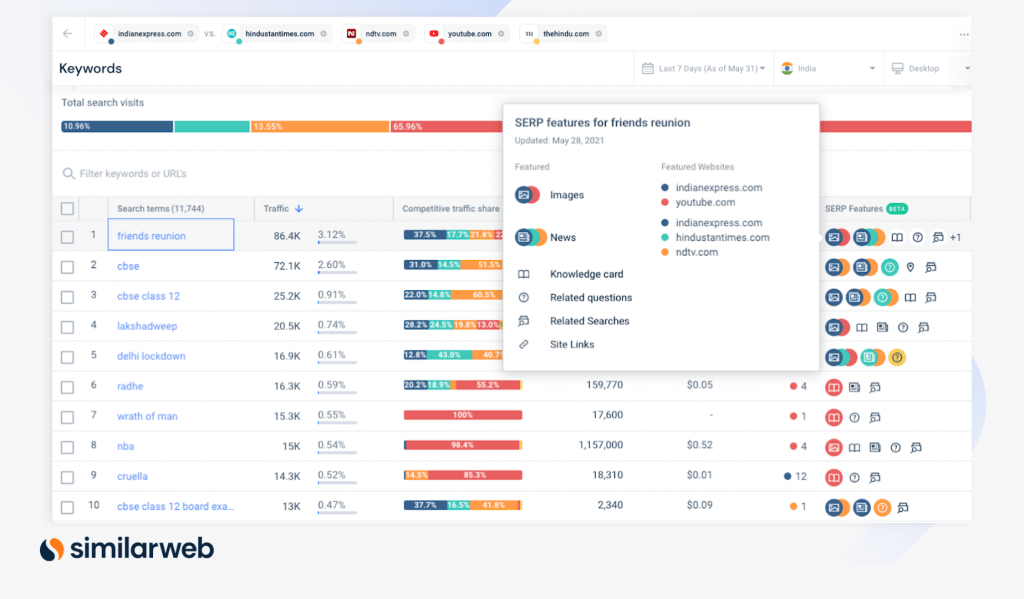 Friends Reunion takes top spots in all 3 geos 
We can dig a little deeper and see that for Keywords by Industry 'friends reunion' and related terms also ranked in top spots for the U.S. (#11 and HBO #12), the U.K.(#1 and Matthew Perry #9), and India (#1 and Friends #9) over the last month.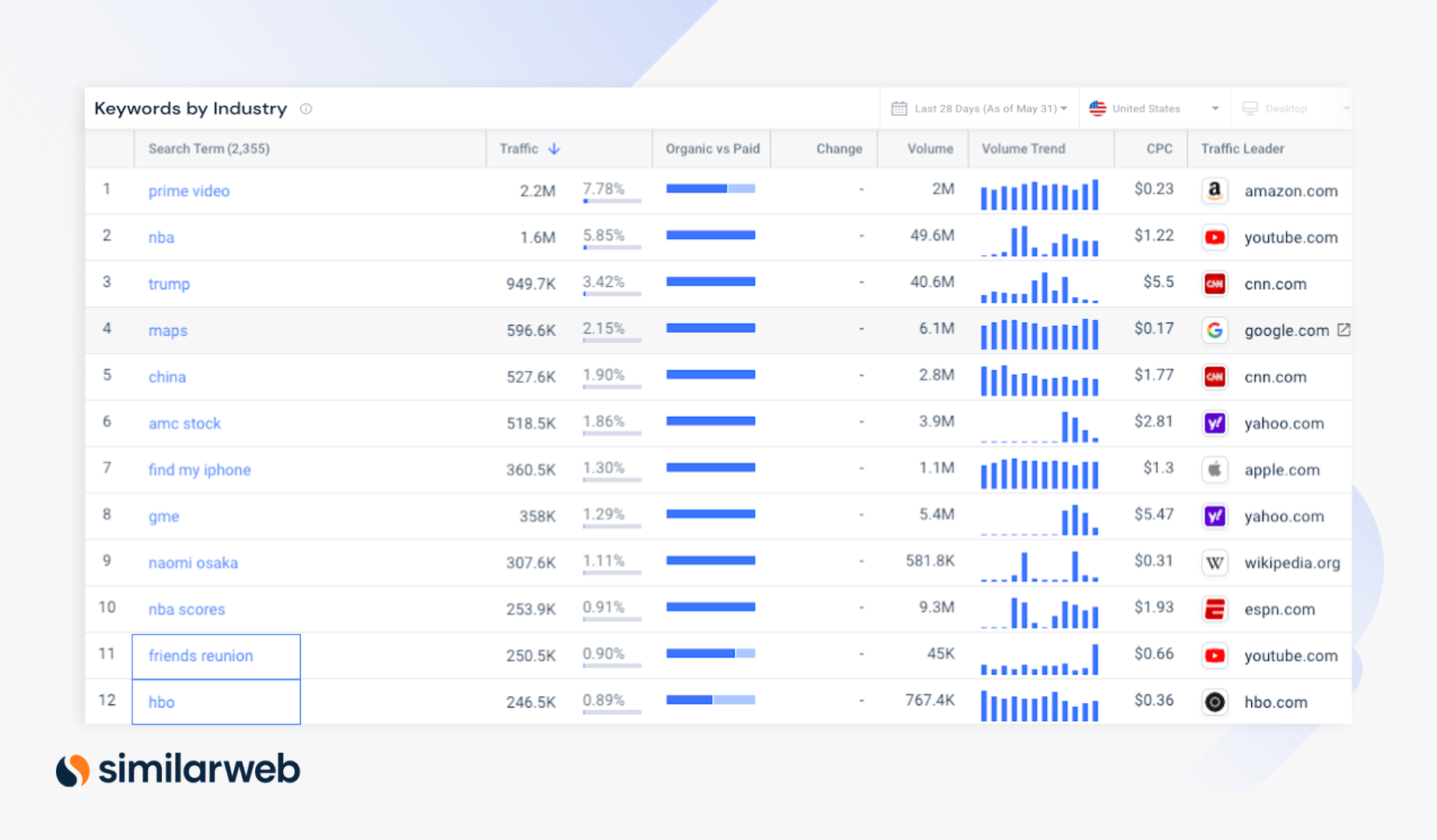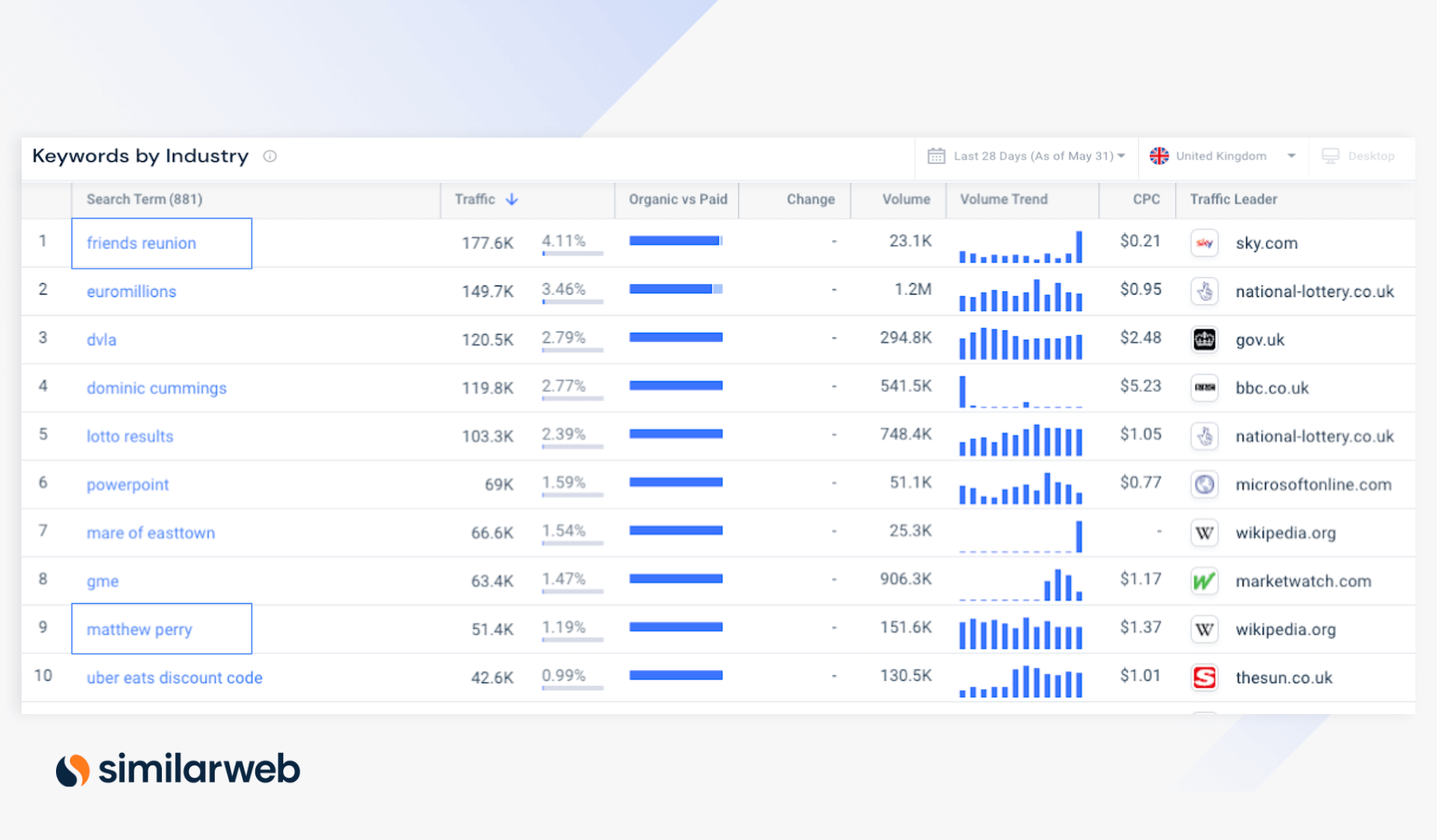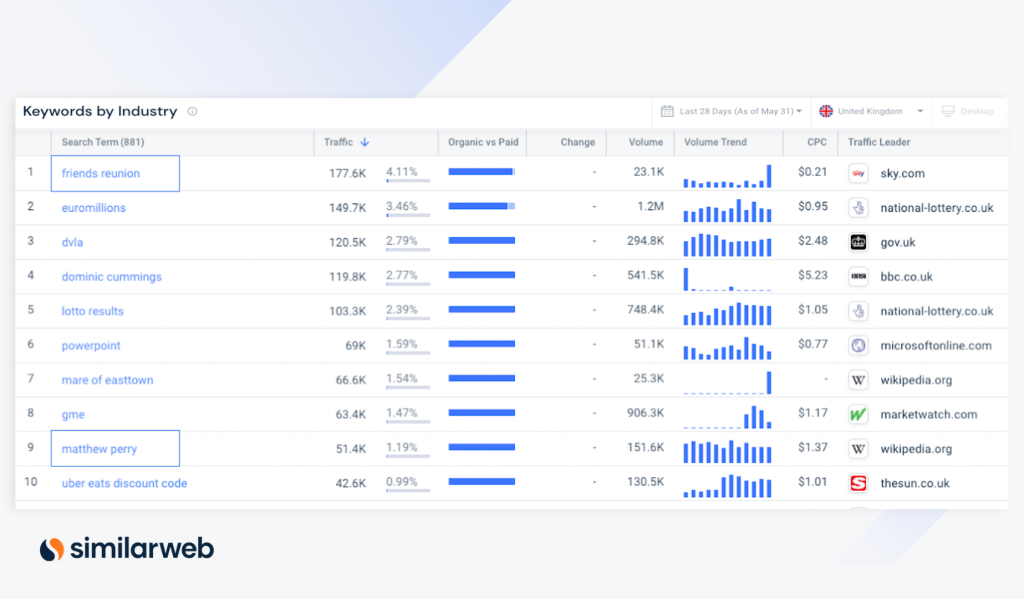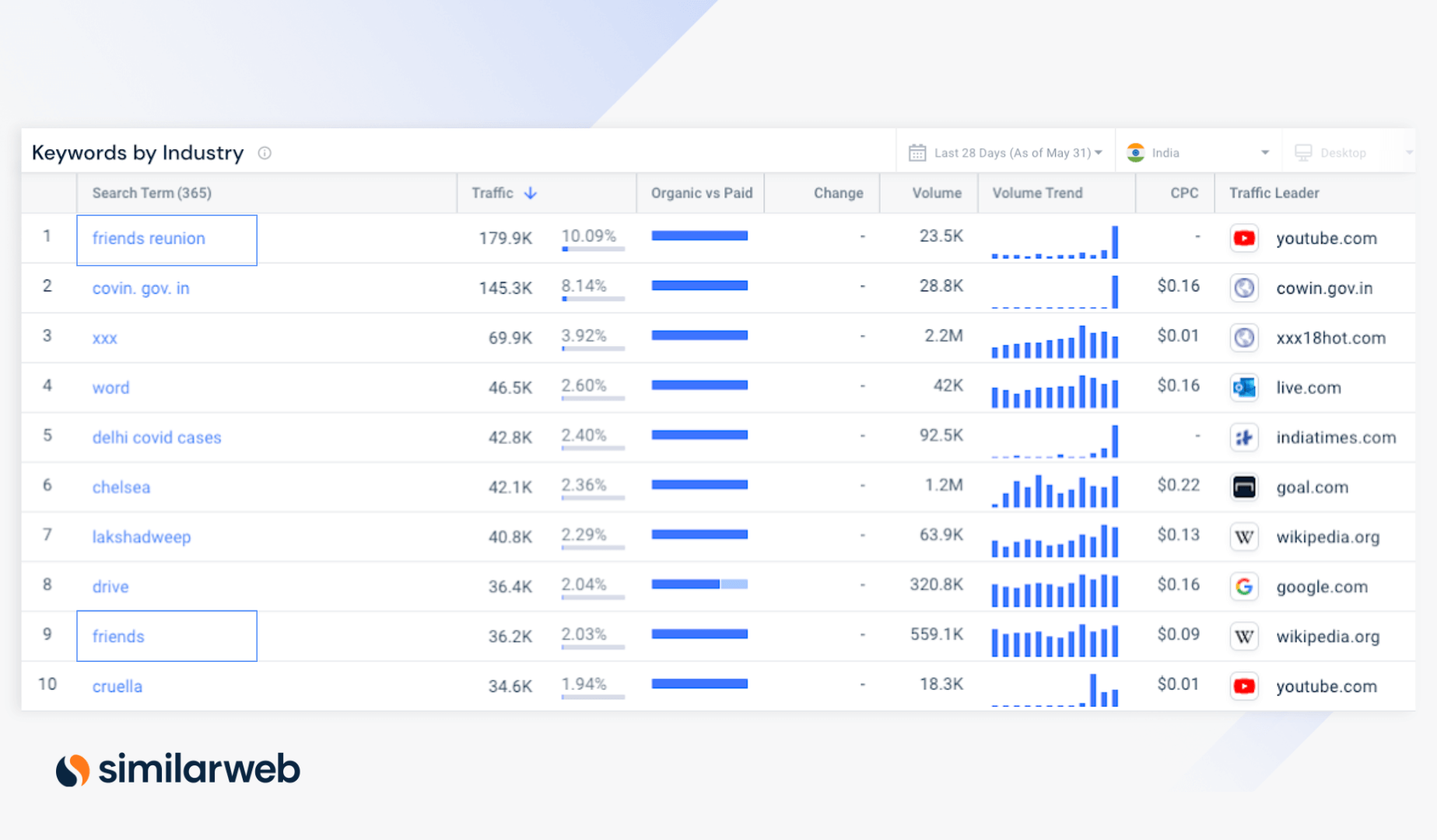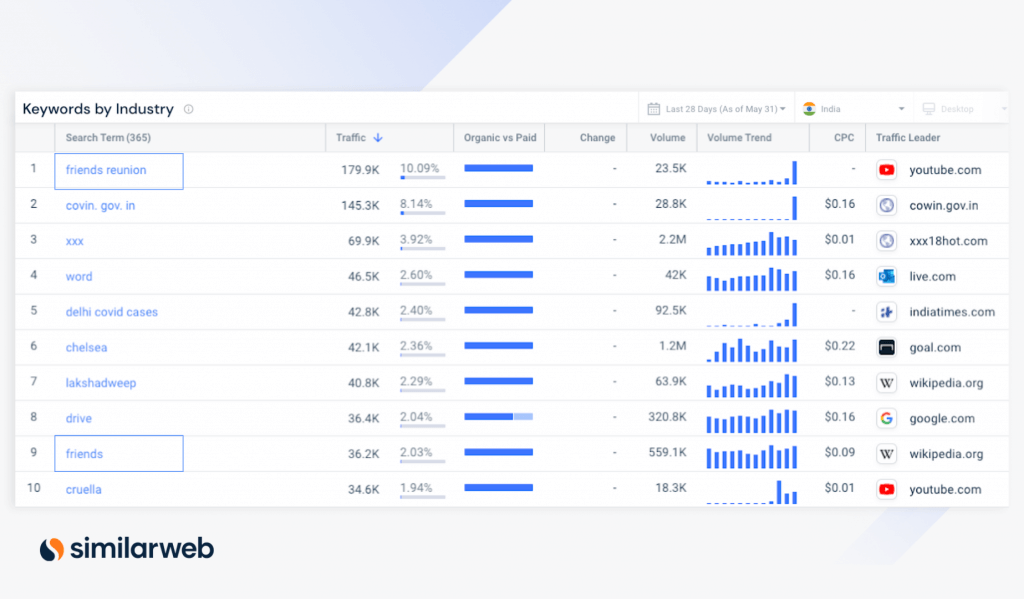 Bonus: Who's your favorite Friends character?
For me, it's Joey, hands down. I love his easy-going spirit, his love for food and I use the How you doin' meme on a regular basis so yea my vote goes to Joey. 
But who do you think ranks the highest based on keyword search volume globally? It's the one and only Monica Geller, with almost 397K in search volume for the last year globally, proving there are many people who connect with her OCD and meticulous nature, like David Beckham. Joey did take a close second with almost 388K in search volume and Chander takes third with 351K.


Your next steps: Use Similarweb to find topical keywords 
Similarweb marketing intelligence solution is your go-to SEO tool for real-time data, SERP features, and topical keywords. With it you can discover fresh search queries as they happen at the competitor and industry level. 
You can pull data from as recent as the last seven days and up to the past two years to help your brand stay ahead with a data-driven marketing strategy. The platform also helps you gain more market share by finding competitor keyword gaps. With an all-in-one dashboard, you can instantly add value to your current content strategy and ultimately, increase traffic while keeping up with trending topics
In the words of Chandler Bing, "So it seems like this Internet thing is here to stay?." Check out Similarweb to own your content strategy and top the charts with keywords like the 'friends reunion'.
This post is subject to Similarweb legal notices and
disclaimers
.
Wondering what Similarweb can do for you?
Here are two ways you can get started with Similarweb today!