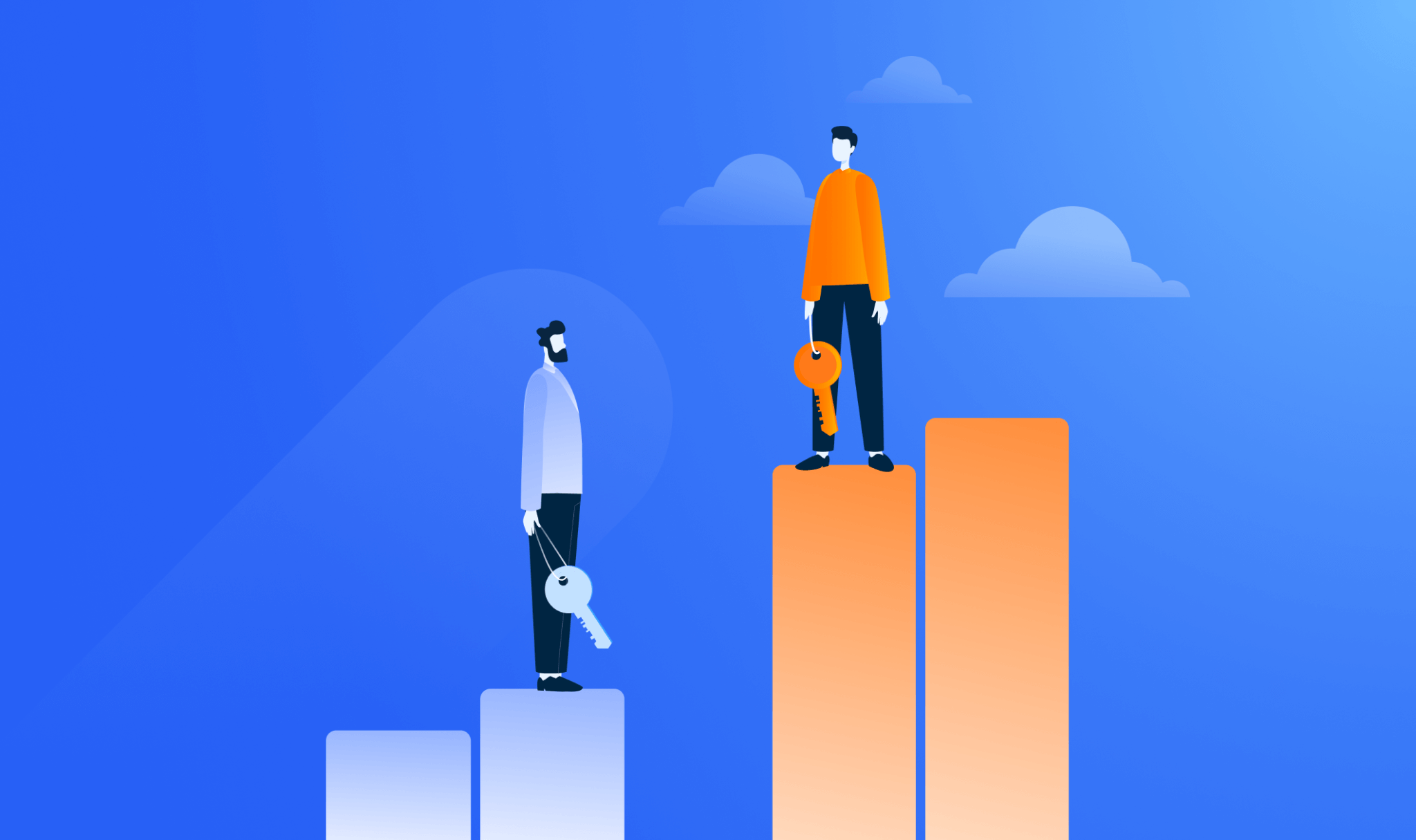 Marketing Intelligence
Why and How to Do Keyword Gap Analysis with Similarweb
June 21, 2022
| Updated July 21, 2022
When I first started using keyword gap analysis, I thought I had discovered the holy grail – or at least a precious treasure box.
I would never miss another high-ranking keyword, and I could beat the competition at their own game. What more could I want?
That was many years ago and keyword gap analysis has come a long way since. Where are we today?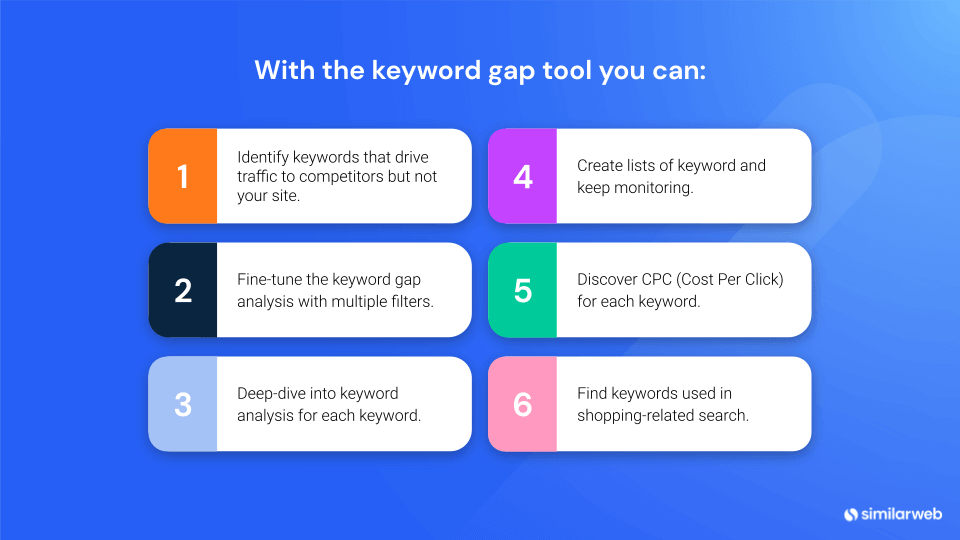 With keyword gap analysis, you can:
Identify keywords that drive traffic to competitors but not your site.
Fine-tune the keyword gap analysis with multiple filters.
Deep-dive into keyword analysis for both SEO, leverage ad analytics for PPC and sync them.
Create keyword lists and keep monitoring.
Discover Cost Per Click for each keyword.
Find keywords with different intents.
See how keywords overlap between competitors' sites.
Differentiate between traffic coming from mobile and desktop.
Discover trends per site, see which sites are gaining or losing traffic from a keyword.
In this post, I'll explain how to do all of the above with the Similarweb keyword gap analysis tool. I'll show you a real example with actual data. You'll get a peek into the depth of research possible with the tool and the granularity the data provides.
How to find keyword gaps with Similarweb
We're almost ready to jump on the platform. For you to quickly grasp what you can accomplish, I want you to understand precisely how Similarweb measures keyword gap beforehand.
The Similarweb platform measures actual traffic sites receive and identifies how the traffic reaches them. Keyword gap measures the traffic volume a keyword generates for a site, not a calculation based on its SERP rank position.
In other words, we evaluate keywords according to how effectively they drive traffic to a site. This demonstrates a keyword's value for a site better than the mere ranking, which could or could not bring visitors. What if it ends in a zero-click search, for example?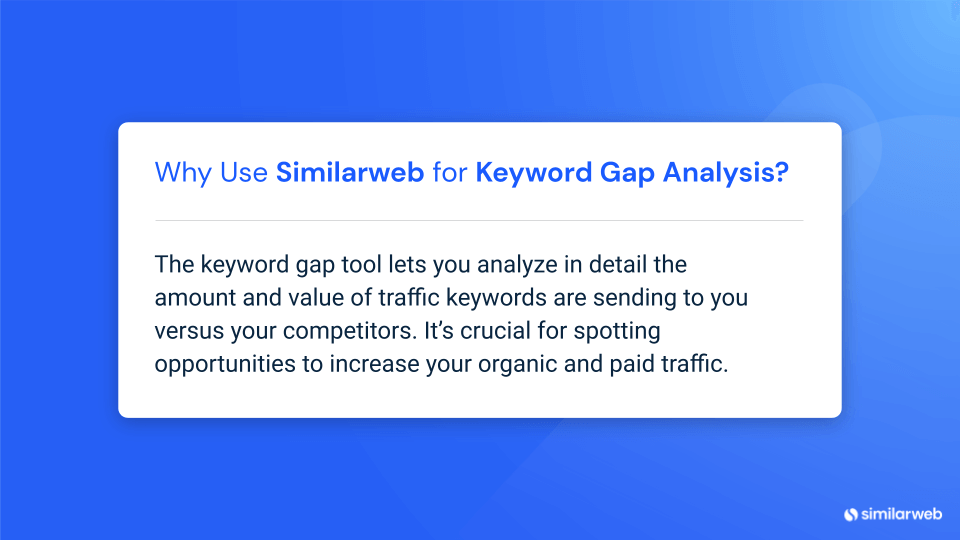 How do you find keywords you're missing out on?
On the Acquisition Homepage of the Similarweb Digital Marketing Intelligence platform, you see the six most popular features marketers use. All are designed to discover and analyze the most successful channels in visitor and customer acquisition. Keyword gap is one of them.
Next, you'll enter the relevant domains to compare. In the field marked Find Keywords for, you enter your domain name. In the second field, you enter the competitors you want to compare against.
Click enter, and you receive a visualization of how keywords you receive traffic for overlap with the selected competitors. Below the graph, you get a list with all keywords generating traffic to these sites, including additional, valuable data for your analysis, like KD (keyword difficulty), ranking, and volume.
But we're not looking at that yet. We're here to find keywords that you're missing out on. Click on opportunities on the right of the diagram. The diagram now includes only keywords for which your competitors receive traffic but you don't.
This is the keyword gap analysis you know and use – well, almost. You can now see how sites rank for keywords, how much traffic they generate, and to which sites.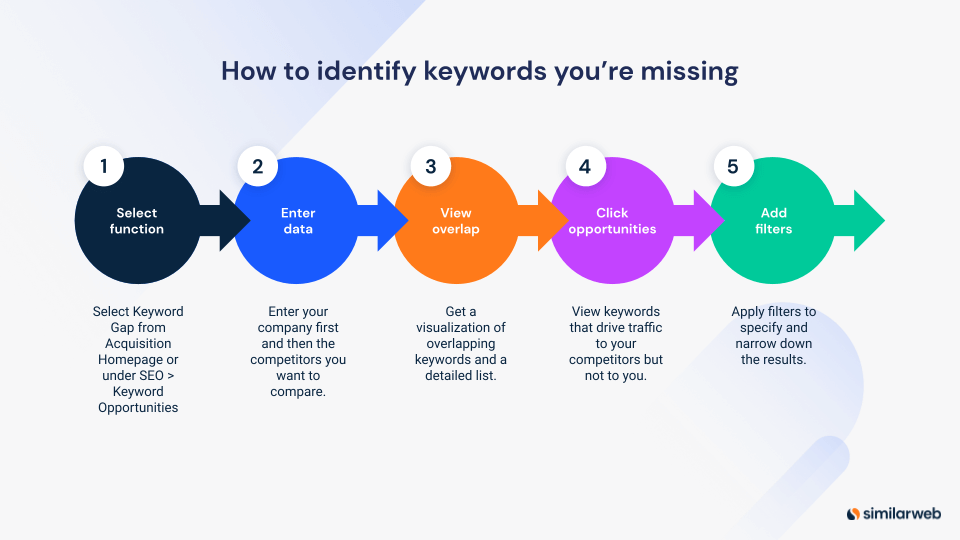 That was the easy part – just kidding, the rest is easy, too. The keyword gap tool can help you build your SEO strategy, manage your PPC spend, and conduct competitive research and analysis.
Using keyword gap analysis to build your SEO strategy
For the purpose of creating an example, let's say you own a site that sells swimwear, like swimwear365. Summer is around the corner; your most profitable time of the year has started – it's time for summer sale campaigns.
Selling online, you compete against the biggest eCommerce sites and retailers, so you want to be sure your SEO strategy isn't missing any keywords that the big sites are targeting.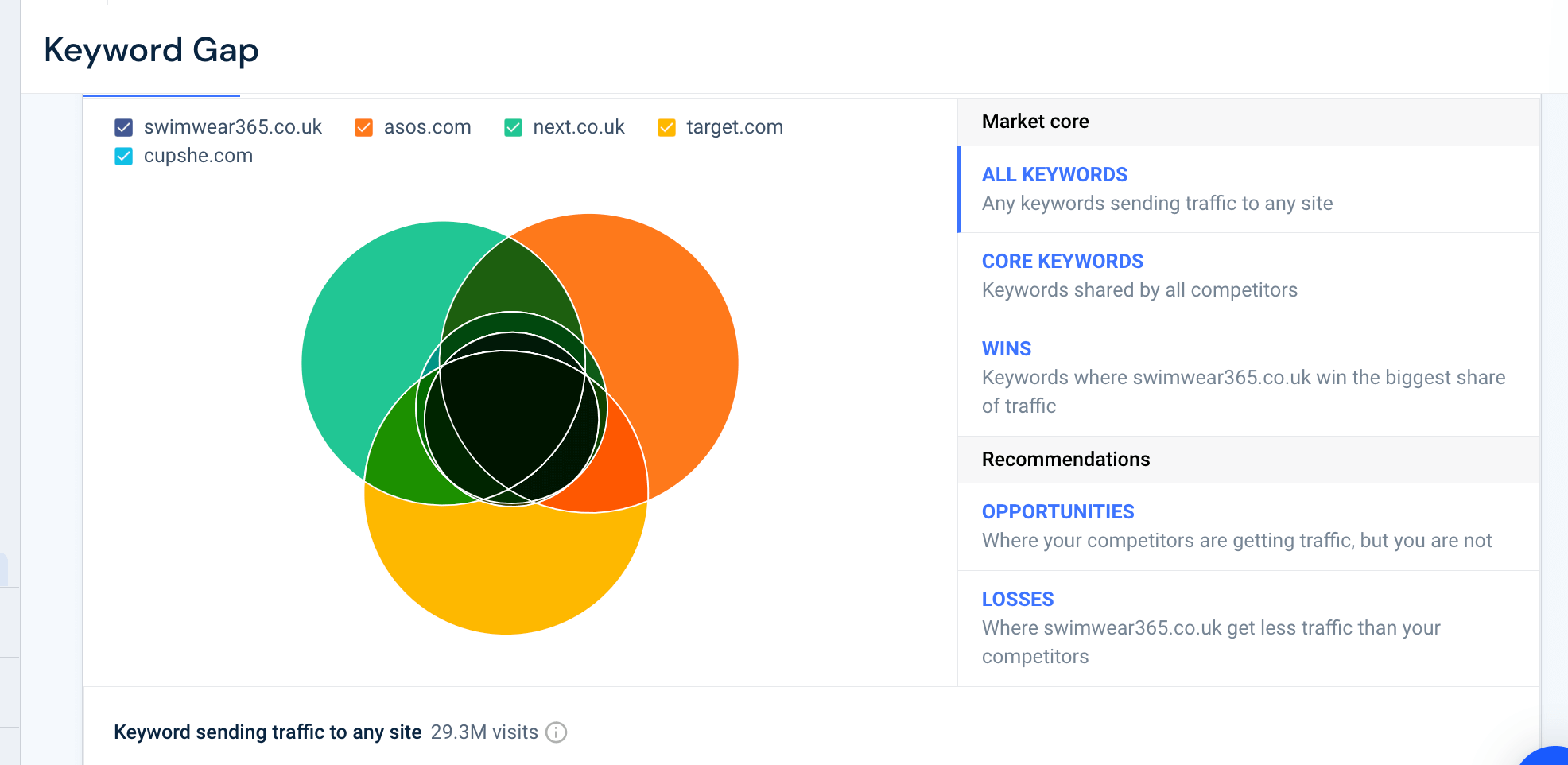 In the keyword gap view, you will likely see plenty of irrelevant keywords because these giants offer anything from ear pods to disposable dishes and stuff for the beach. There are a few ways you can narrow your selection and focus your keyword gap analysis to make it effective.
Organic or Paid?
Since you are doing this for SEO planning, you might want to look at organic traffic only and leave the paid searches to your PPC manager – we'll get to them later.
Global or specific region?
Instead of worldwide, you can view only searches from the country you are targeting. Audiences in different locations have preferences on how to search and which sites to buy from. For example, asos.com receives the highest traffic percentage in the UK from a list of swimsuit-related keywords, whereas in the USA, the number one traffic receiver is target.com.
Desktop or mobile?
Another variant is desktop vs. mobile traffic. Interestingly, the top traffic-receiving sites for mobile traffic in the UK are UK companies, but not so for desktop searches. Could it be that people searching on the go are interested in stores where they can try on before buying?
Narrowing down the keyword selection
You've selected organic and specified the region but decided to keep both desktop and mobile searches. Let's see what you get and how you can narrow down the results further.
You still have keywords representing searches that have nothing to do with your campaign. Victoria's Secret, for example, is a popular destination for women looking for bikinis but also for lingerie. On top of that, the list is filled with the term Victoria secret, which is annoying and irrelevant.
Here's how you can remove unwanted searches:
1. Branded searches
You don't need to remove brand names manually, eliminate them from the results. Doing that usually leads to a lot of false positives. Similarweb automated non-branded filter does it for you and helps overcome the errors.
For example, if you were doing a keyword gap analysis for Fox News, you would not see keyword that explicitly include Fox News. However, the tool would still pick up fox nation and even the celebrity Megan Fox. You can see positions 6 and 16 in the screenshot below.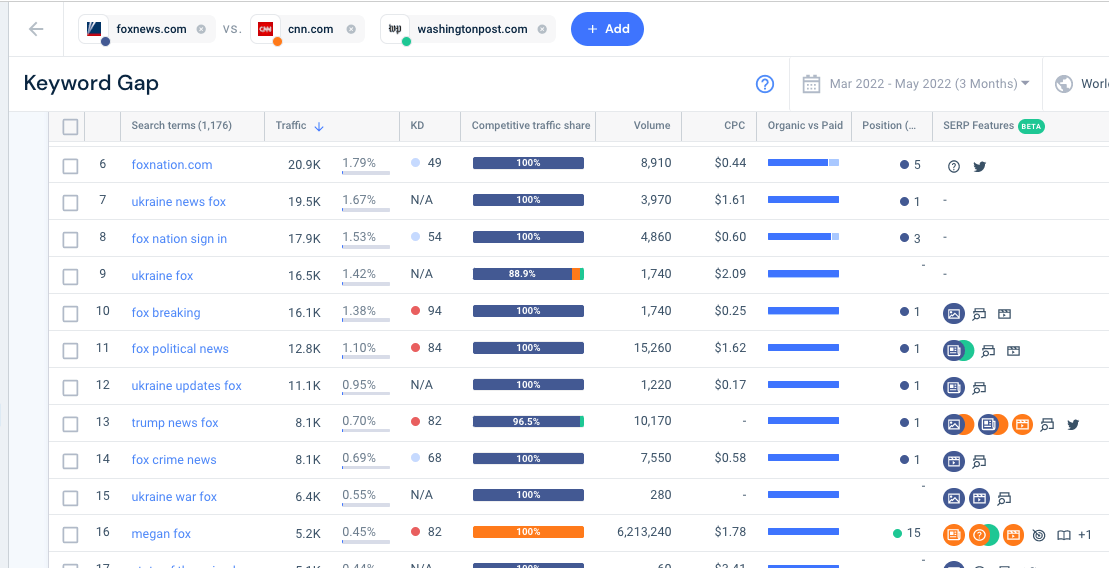 What does that mean for the summer sale example? As you can see in the next screenshot. Some brand names are challenging when it comes to spelling, and searchers type similar sounding words that can clog up your keyword gap list.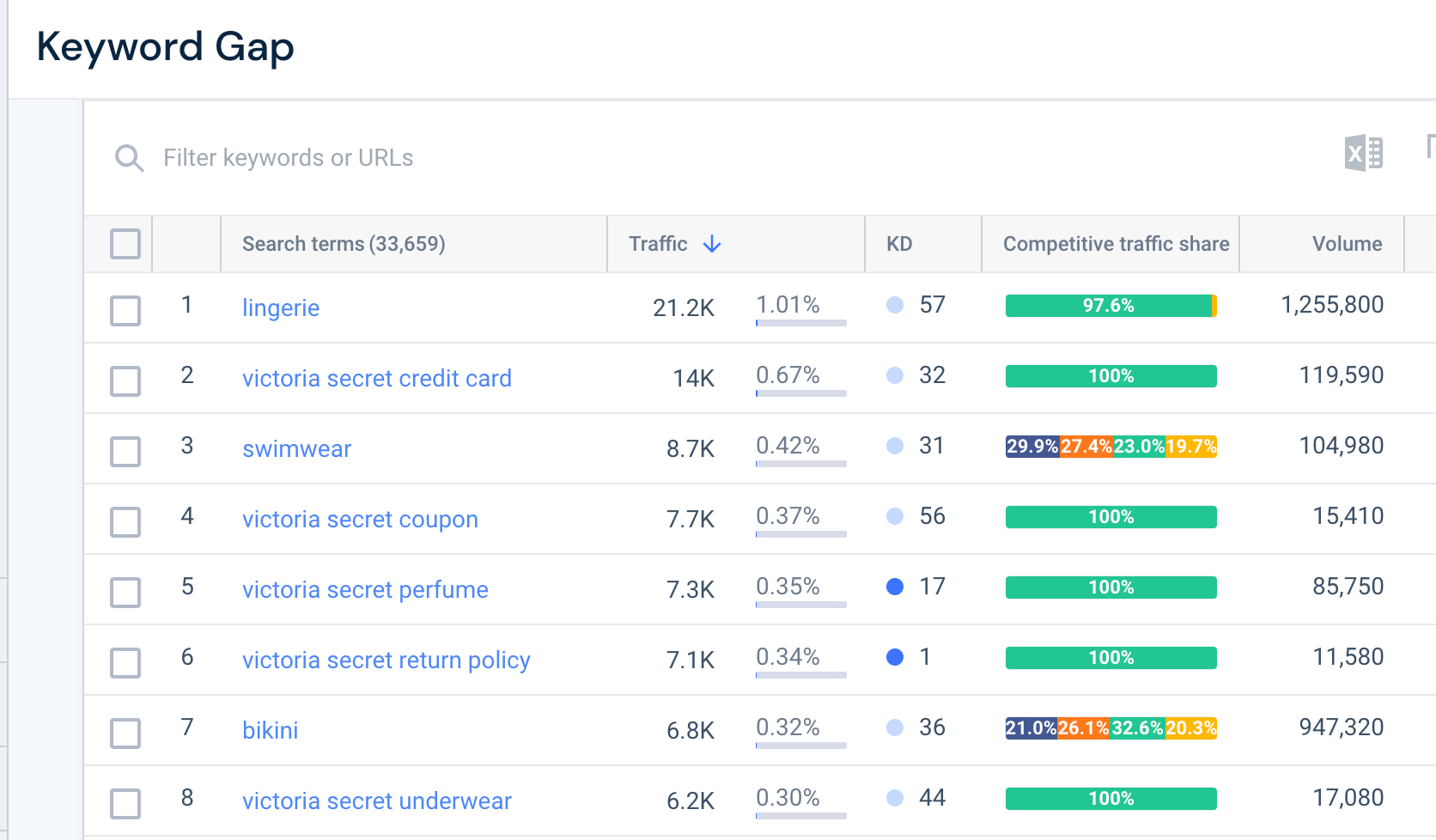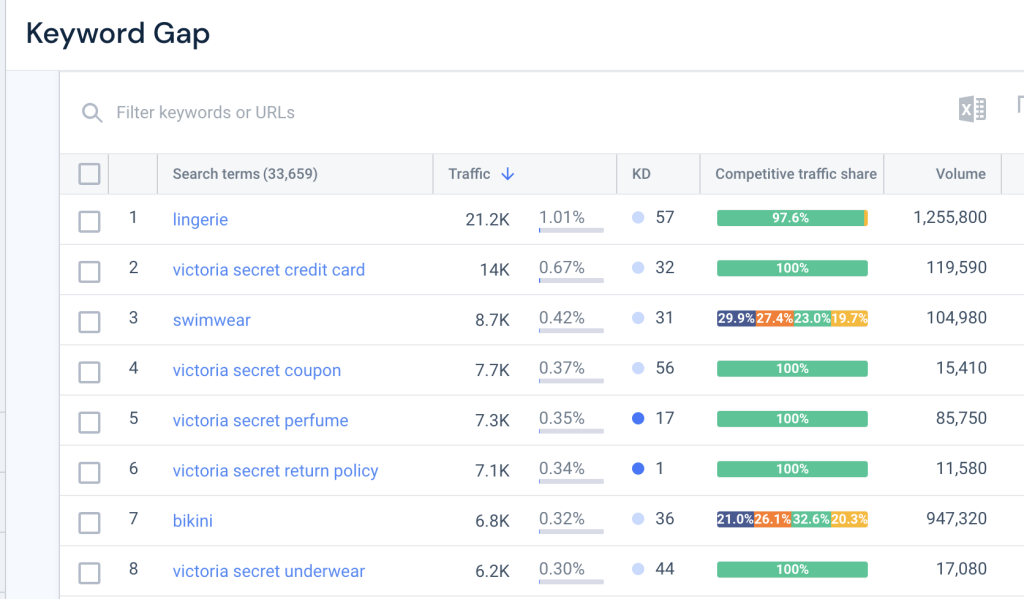 To remove them, simply enter these misspelled brand names into filter keywords or URLs and exclude them.
2. Irrelevant keywords or keyword groups
If there are similar keywords or groups of keywords that don't add value to your analysis, remove them in the same way. In the field with the little magnifying glass, enter any other words that you do not want to see, such as lingerie or underwear. Next, select exclude keywords containing.
3. Specific page URLs
Using the same function, you can exclude entire URLs. This lets you narrow down the pages that receive traffic. Take a site that has a section for swimwear and another section for beach furniture as an example. Enter the URL of the beach furniture section here and exclude it from the list by selecting exclude URLs containing.
4. Inclusion
This section works both ways, meaning you can also add keywords or URLs that you want to include in the list. For example, you could add the URL of a website section on a fashion site that offers swimwear but isn't part of the competitors you selected for the keyword gap analysis. Then hit include keywords containing or include URLs containing.
With every step, the list is getting smaller and more focused, and you are arriving at a concise collection of keywords to work with. You can now start examining additional information that helps you decide which keywords to target and how.
You found a gap – what now?
Take a look at the second and fifth keywords on the list in the following screenshot: Bathing suits and bathing suits for women. First off, it's surprising that these keywords appear here because that's your core business, so why aren't you receiving traffic for them?
Check keyword difficulty and volume to assess your chances of getting your foot in the door for this keyword this season. It's already mid-June, and you may not have enough time to create content for high-difficulty keywords and get it to rank.
So, check the numbers in the columns to better understand the potential:
In the KD column, you get the keyword difficulty score for the keyword. Bathing suits has a medium score of 49. Use the KD score to help plan short-, medium-, and long-term and decide on terms to target with PPC.
The volume column shows you the average monthly search volume measured over the past 12 months. You can see that over the past year bathing suits generated 57,720 searches on average per month.
The traffic column displays the total actual traffic the keyword generated in the selected time. In this case, we are looking at three months, from March to May 2022. Bathing suits generated 9.5K visits despite the much higher average volume. The reason for this is zero-click searches.
Bathing suits has medium difficulty and medium volume and traffic. I think we can agree that it's a keyword you should add to your SEO plan. You may even want to run some PPC ads immediately till you grow your SEO domain authority.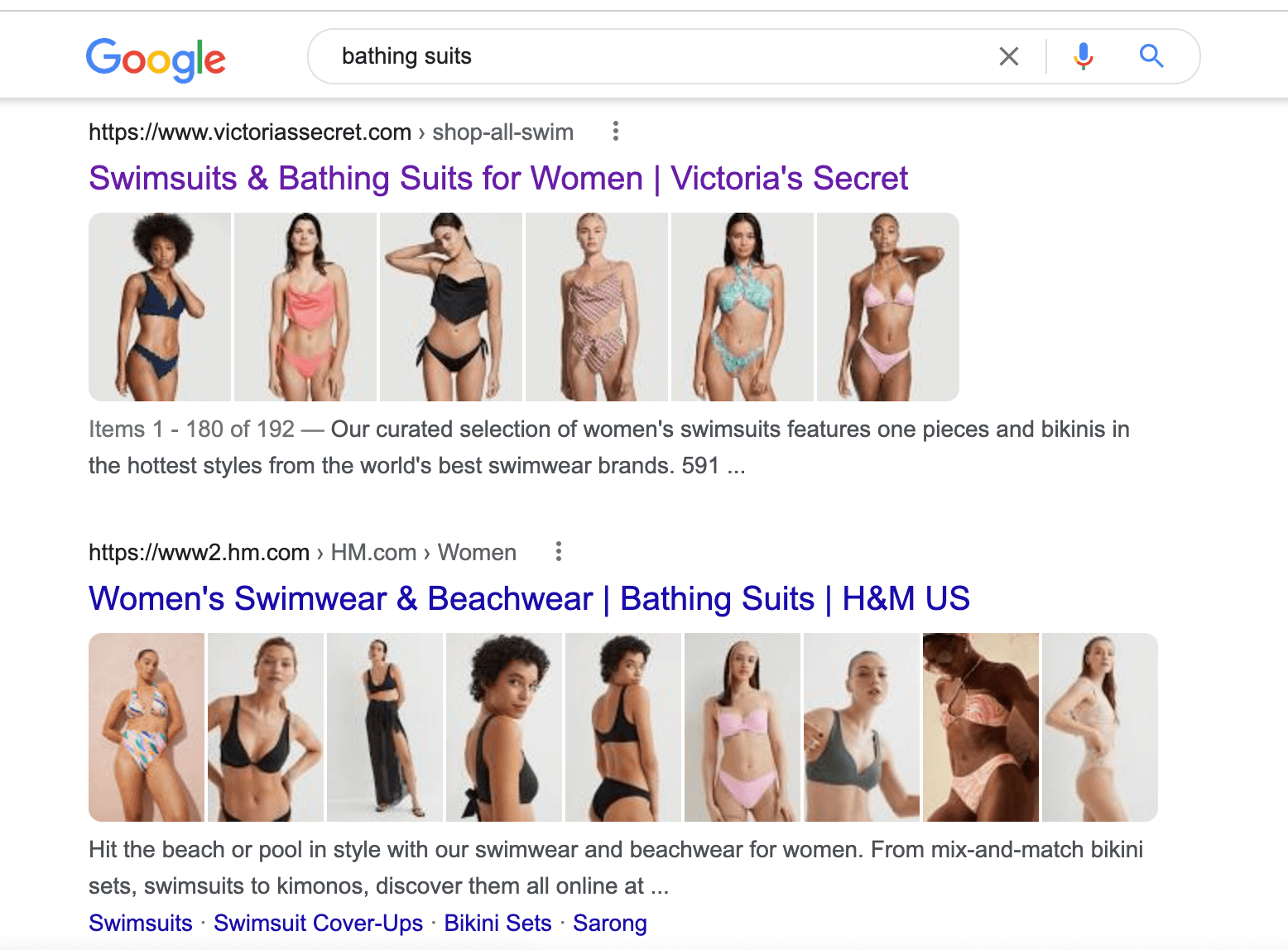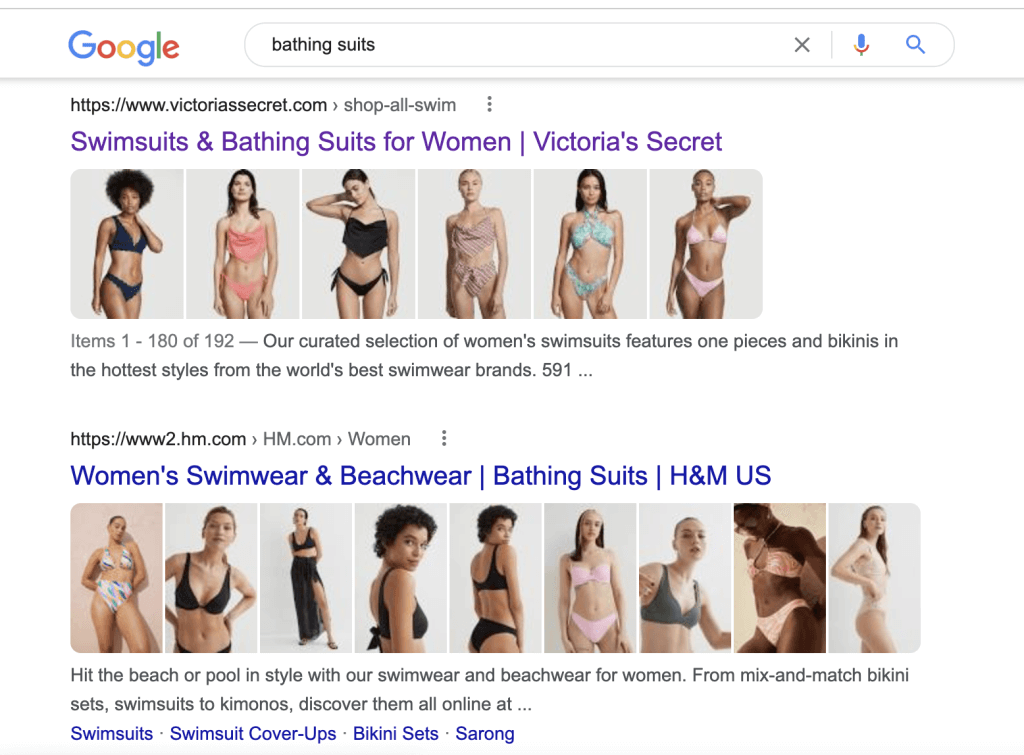 Not convinced? O.k., let's keep digging. Click on the keyword to open the keyword analysis function. You'll get an overview of the traffic stats for bathing suits, and from there, you can launch full-scale keyword research and analysis.
On the sidebar in the screenshot below you can view the various features that give you a complete and detailed picture of every keyword, including trends and keyword seasonality.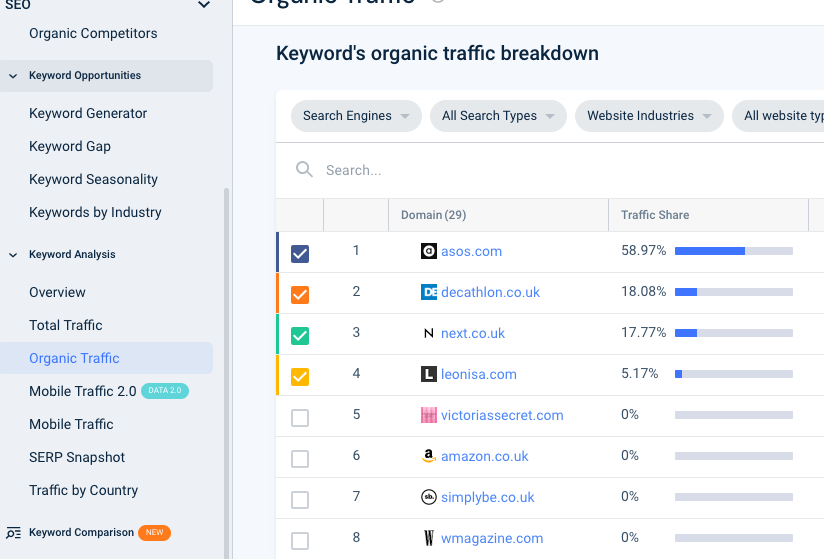 You get the idea. But you're still not sure this keyword is worth anyone's effort? Download a PDF report and share it with others in your team or your superiors. Attach it to a slack message in the SEO channel to consult with peers or make your suggestion. Whatever works for you.
And, when you've reached a decision, a proper report can help you present your case in meetings and get buy-in if needed.
Creating and monitoring keyword lists
Keyword optimization is an ongoing process, and you don't want to start from scratch each time.
Similarweb lets you create lists of keywords that you can analyze in correlation and keep on your radar. In the keyword gap view, simply check the little box next to the keyword at the beginning of the row. You'll see a blue bar; from there, you can create a new keyword list or add terms to an existing list. Check all keywords you want to monitor for this campaign or in general.
Choose a name that is easy to remember and implies the list's purpose.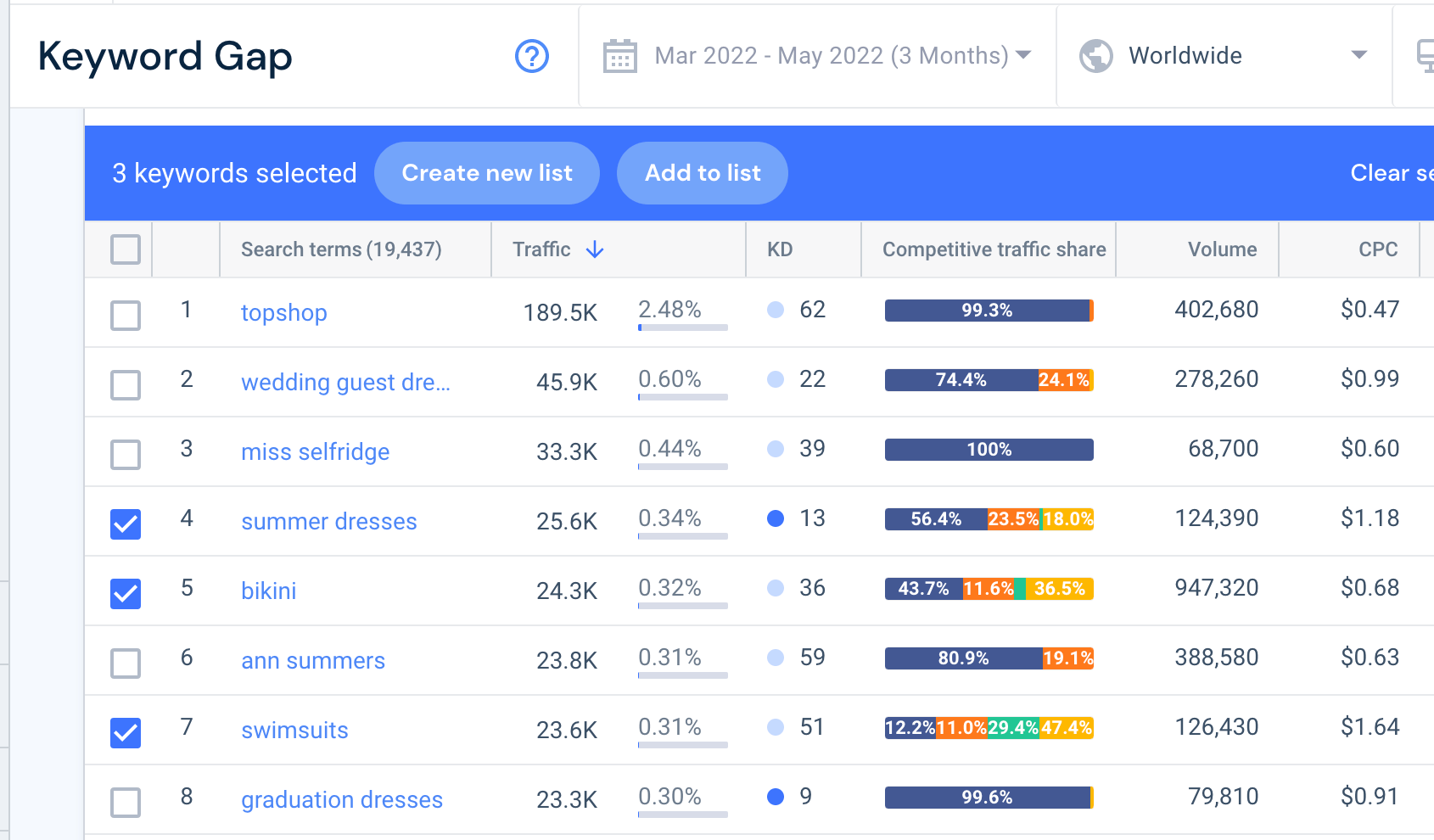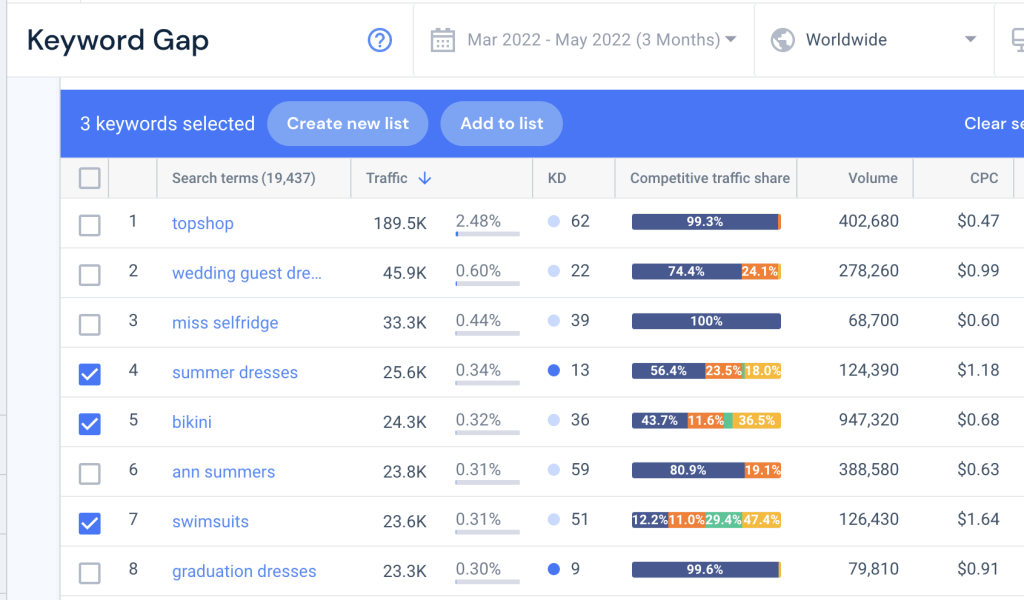 You can access the list and run an analysis at any time in various features of the Similarweb platform. This lets you quickly identify changes, detect trends and always stay on top of the latest data.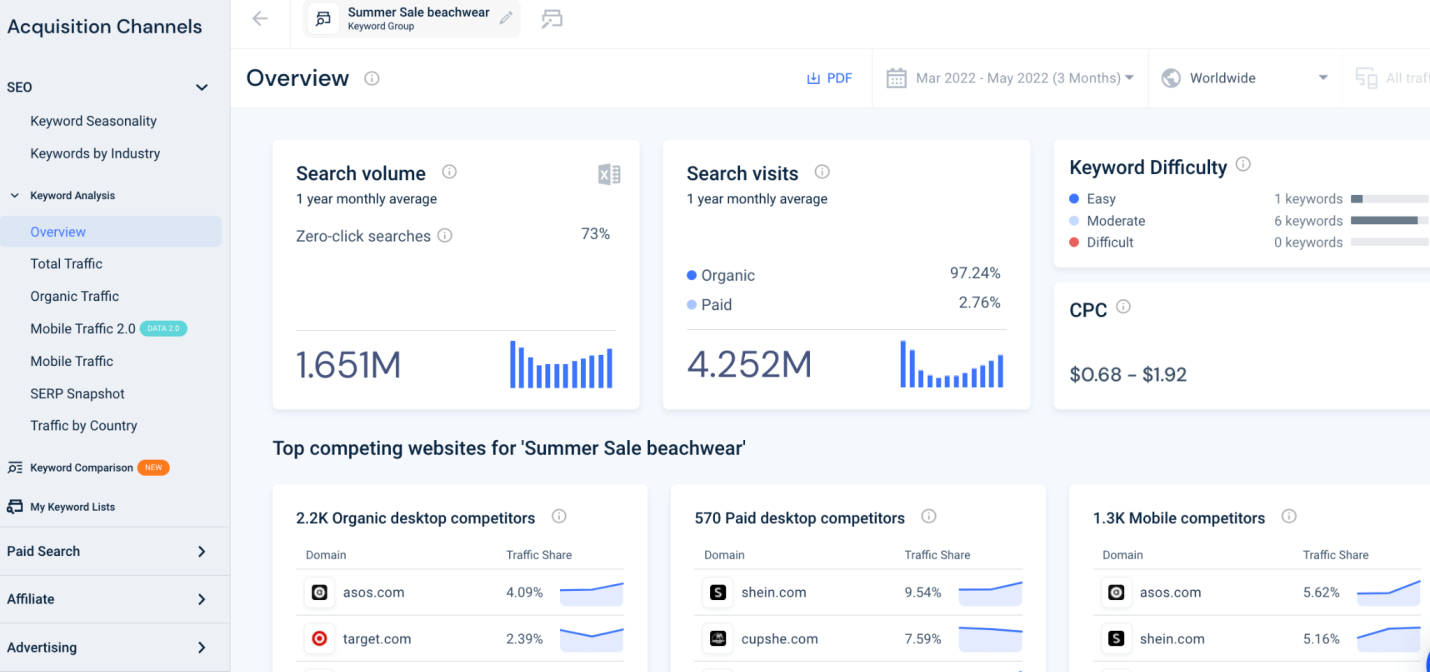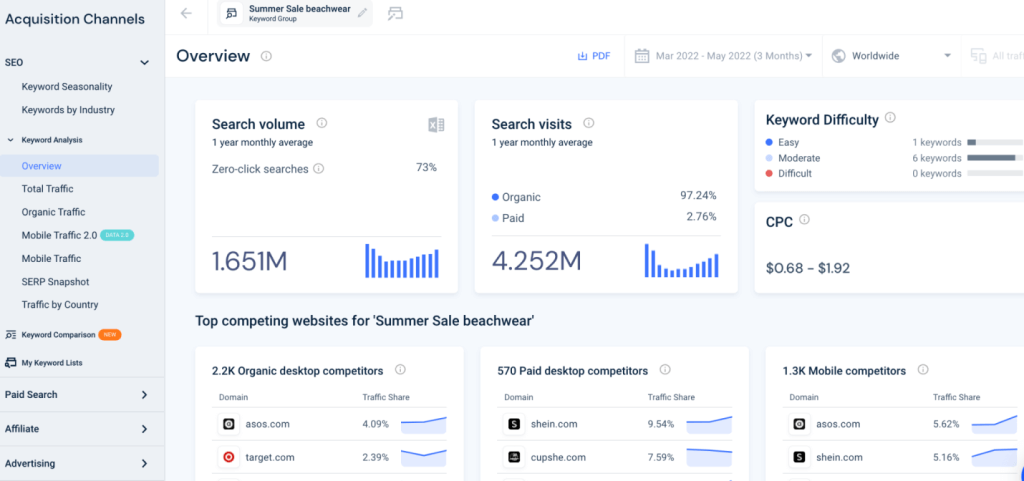 Three tips to elevate your keyword gap analysis
Back to keyword gap analysis. Here are a few tricks to maximize the keyword gap tool's value.
1. Find the most relevant keywords – core keywords
I will show you how to find the most relevant keywords to create a list and hone in on areas shared by all competitors. This is one idea; you can build your lists according to entirely different parameters.
Let's reverse our bathing suits example and assume you are a large retailer or eCommerce site. You want to find keywords to target for your summer sale of bathing suits.
In keyword gap analysis, you'll select competitors specializing in this type of goods. Now select Core Keywords and see the keywords that send traffic to all sites. This section shows you the keywords that all competitors share. Obviously, swimwear brands do not receive traffic for any keywords outside of this category, bathing fashion, so this section shows the strongest keywords for this category.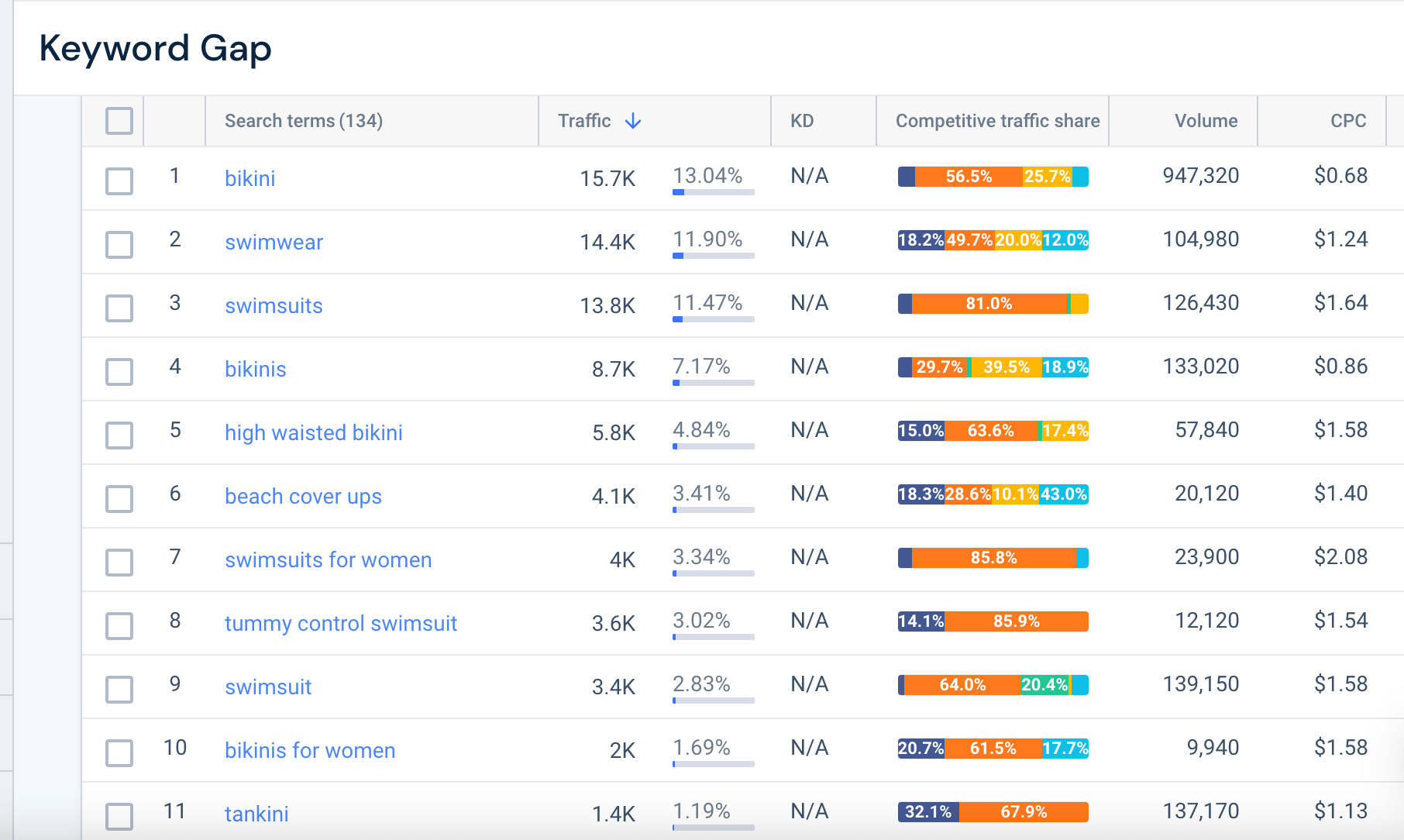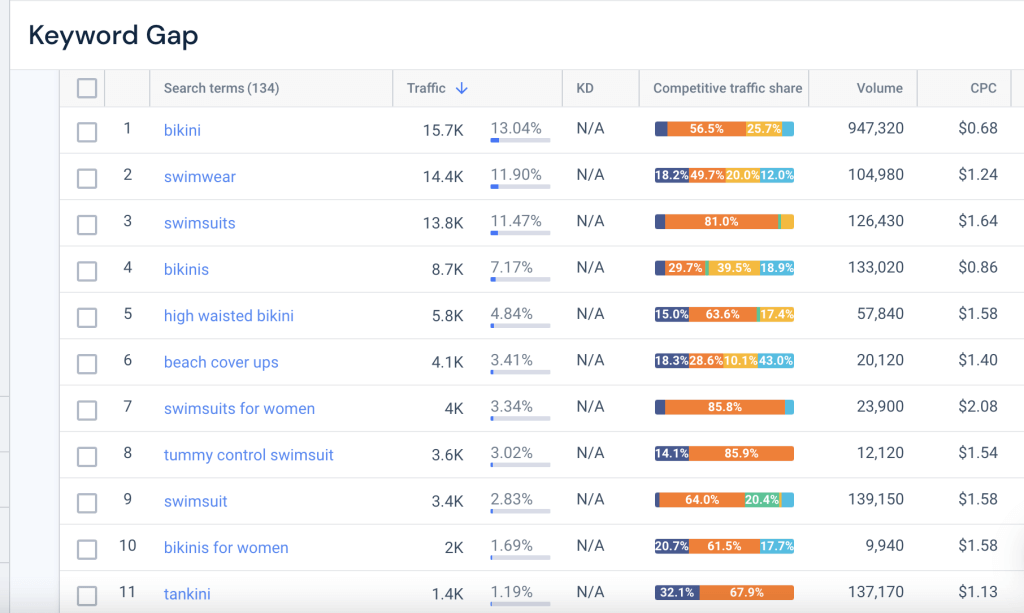 2. Hone in on shared topics – core keywords
You can also use this to identify topics all your direct competitors target. Discover the keywords shared by all sites offering the same range of niche products and targeting the same audience. Remember, the tool shows who gets traffic for them, so these are definitely keywords you should take a closer look at. Maybe see how the preferences changed over time and what's trending and see who's gaining and who's losing.
Pro-Tip: Core keywords in paid traffic shows you the keywords all competitors target in their PPC strategy. Use these insights to calculate where to put your PPC efforts.
3. Identify traffic winners and losers – wins and losses
Under wins, you will receive the keywords your site is winning traffic for compared to your competitors, and under losses, you get the keywords that your site is losing compared to your competitors.
You can click on the URL in the list and hop over to see the winning (or losing) site and investigate why. Before that, take a look at the SERP features for the specific keywords. You may find clues there.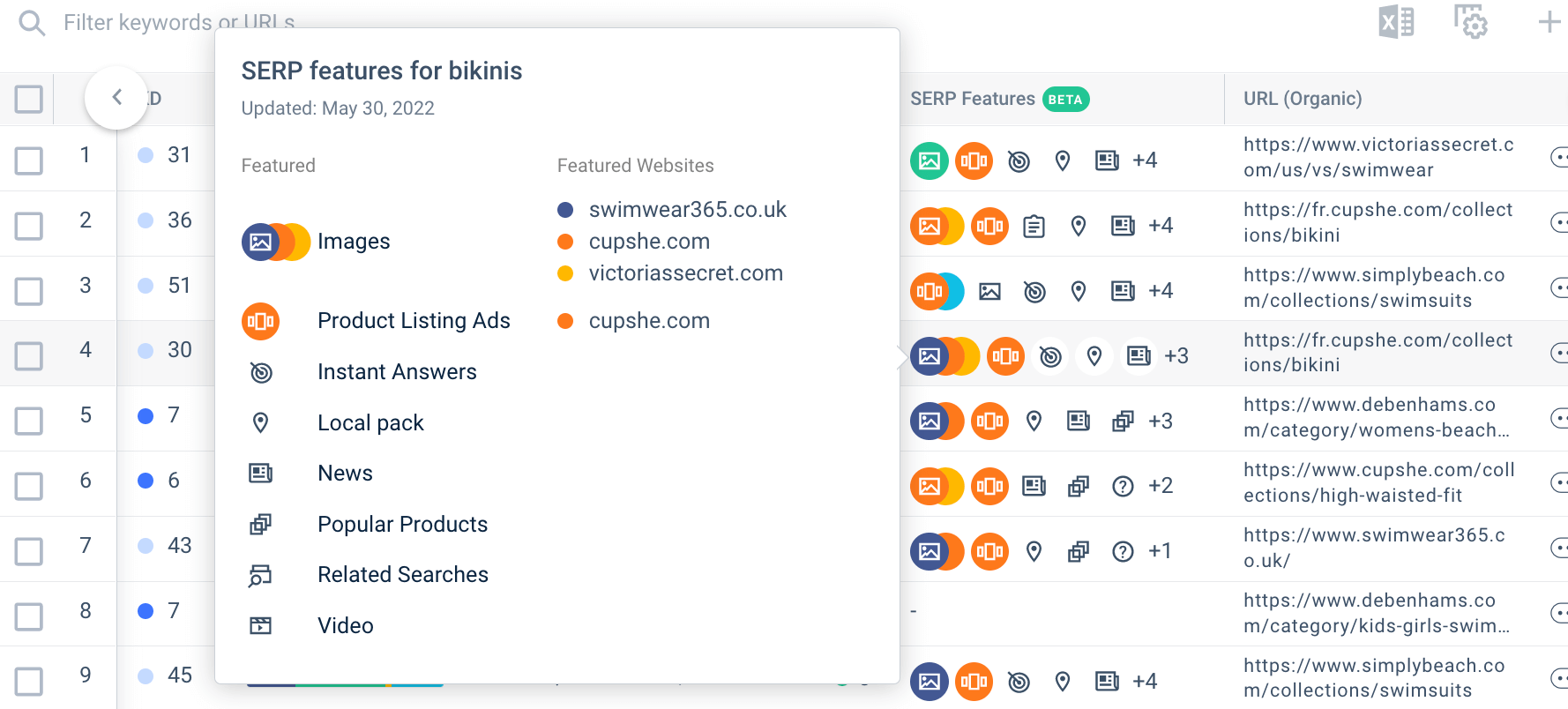 For our original example –  you represent swimwear365 and compare your site to larger retail and eCommerce brands – we received a list of 100 wins and only 10 losses. It means the site is winning traffic for a wide range of keywords and losing traffic to others for only a small selection of keywords. I'd say that's expected at this time of the year. But do check the keywords you're losing traffic for.
How filters help optimize PPC spend
To find paid keywords you're missing out on, you'll choose to view paid traffic instead of the default all traffic or organic traffic. This shows the keywords used in PPC to drive traffic to a site.
All the functions and features remain the same, but you may use them differently. I think the various filters are useful for analyzing any search type, particularly PPC. The most significant for PPC is the CPC filter. You can evaluate keywords according to their cost in addition to the other parameters.
But let's first look at the results we receive for paid traffic. What we see at first glance is that your site, swimwear365, isn't doing any PPC. How do we know? There's no circle in the keyword overlap view. But then, that's precisely why you're here. You want to evaluate if you should invest in paid search.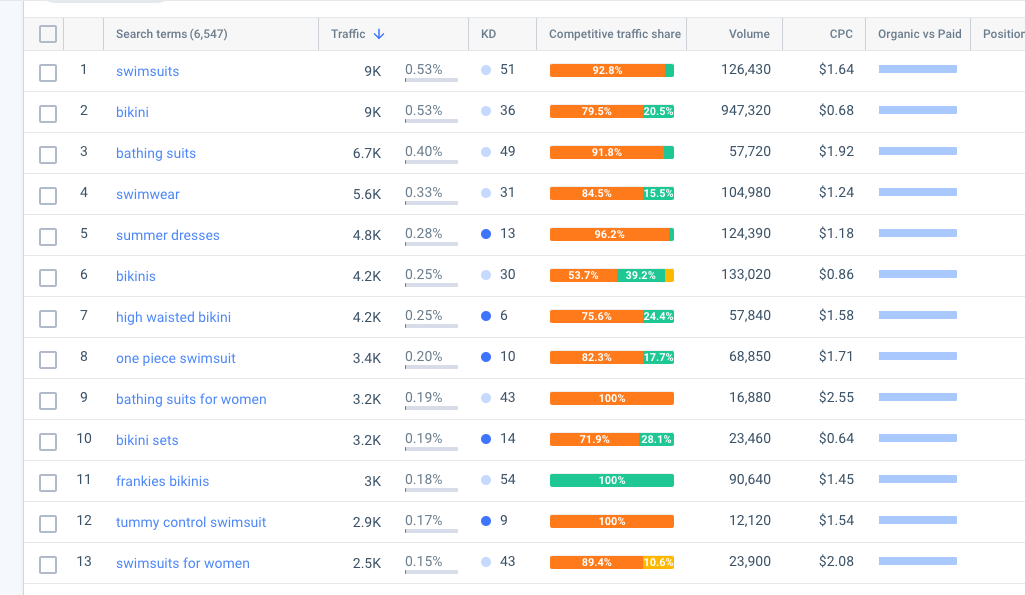 The keyword list is quite extensive, and you may get a wide range of prices. Paying $2 per click on a keyword for which you get extensive organic traffic may not be your best bet, especially when the chances of actually turning it into a sale are low.
That's what the CPC filter is there for. You can select the range that is reasonable for your PPC spend. In the CPC filter, you get to enter the low limit and a high limit that price should not exceed. We'll set $0.50 for the lower limit and $1.00 for the upper limit.

If you add a range of search volume, you get a usable list of possible keywords for PPC without manually clicking through many reports and metrics.
But wait, you are evaluating keywords for your summer sale, which means you're interested in a specific search type, right? You should add another filter. Under search type, you have the following option: Regular search, shopping search, image search, video search, and maps search.
Select shopping search to further refine the keyword selection for your PPC planning. You can see the list in the screenshot below. The two keywords relevant to your campaign are bikini and bikinis.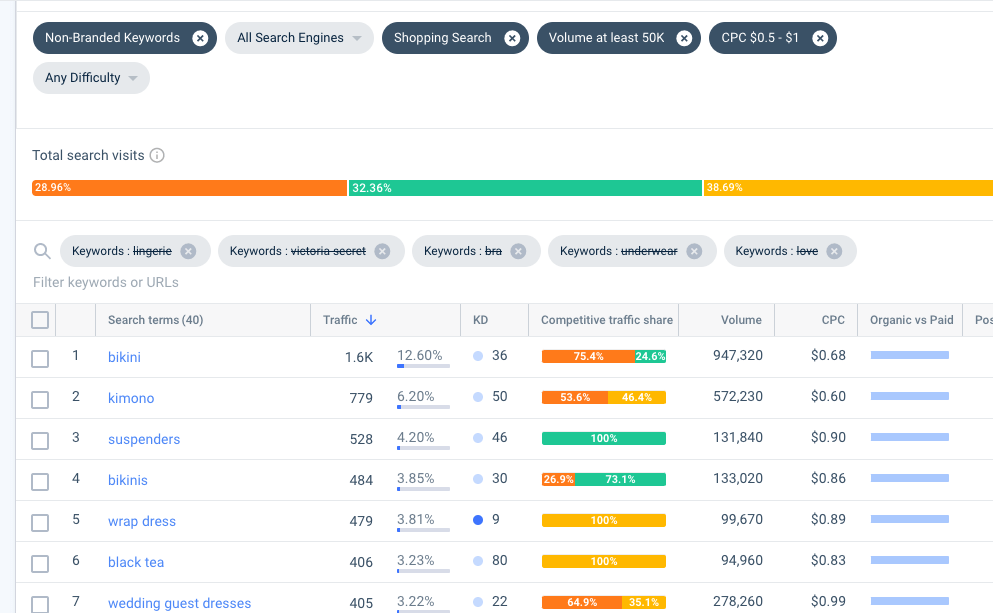 I'll leave it to you to do your calculation and decide if you should start a PPC campaign to support your summer sales. You know you can go into a complete keyword analysis by clicking on the keyword. It offers functions for paid search as well. You can easily find the actual PPC ads, related landing pages, and relevant data.
Try it yourself and ask
I think you have enough ideas on how to make the most out of Similarweb's keyword gap analysis tool to get started. You know how to focus your research on specific areas or traffic types, and accurately filter out irrelevant keywords. You are now able to create customized lists and monitor them, identify trends, and shared topics. You also know how to optimize your PPC spend.
There's still a lot more to show and tell, but I hope I've given you a feeling of the tool's value. If you have any questions you want to ask, or a specific use case that you want to explore, please get in touch. Just click on the button below and get a personal demo.
This post is subject to Similarweb legal notices and
disclaimers
.
Wondering what Similarweb can do for you?
Here are two ways you can get started with Similarweb today!