 Marketing Intelligence
Climb the Ranks: How to Do a Competitive SEO Analysis in 5 Steps
July 22, 2021
| Updated September 12, 2022
Maybe you've heard the saying, the best competition is yourself. Well for SEO, this doesn't apply – at all. Channeling your competitive spirit and using it to analyze your market will allow you to create an effective digital marketing strategy. High-quality competitor research for SEO makes it easier to drive organic traffic from Google search, and pretty much all search engines.
You should be analyzing your competitors' SEO strategies periodically to find fresh opportunities.
If you're wondering how to perform an effective competitive SEO analysis, that's what we'll walk you through here.
Competitive SEO analysis – the ultimate time saver
So, what is a competitive SEO analysis? It is a detailed examination of your competitors' backlinks, keywords, traffic, and SEO metrics. A look at the competitive landscape highlights your strengths and weaknesses and gives you the information to efficiently identify opportunities to improve your strategy. This will save you time and energy. Let's be honest, who doesn't want that?
Like in most things, it's not what you're doing but what you're not doing that makes the difference. Spotting these content gaps shows you specific areas to focus your optimization efforts, so you can target your audience with greater precision.
When it comes to how to do SEO competitor analysis right, having accurate tools can make a huge difference. 
Whether you are doing  keyword research, deciding which keywords to rank for, building your editorial calendar, listing backlink opportunities, improving user experience, or rethinking your overall SEO strategy, you need accurate and real-time SEO tools. 
Here are six steps for competitive SEO analysis plus tools that can help: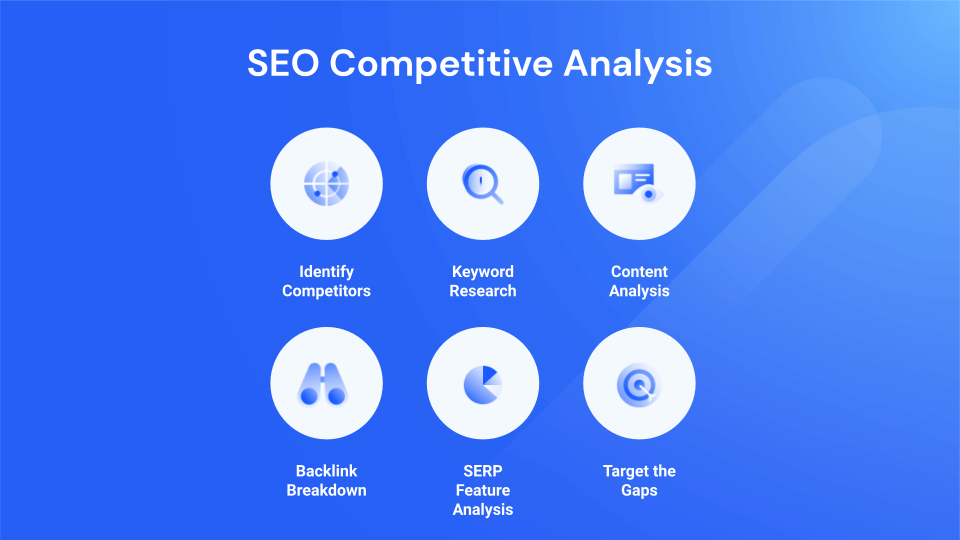 5 steps to run a competitive analysis for SEO 
1. All eyes on the competition
One of the most common mistakes you can make when doing competitive SEO analysis is not listing all of your competitors.
Sometimes the smallest competitors have the best content strategies. That's why after analyzing your first five competitors you'll notice that they tend to target different keywords, get links from distinct websites, and even focus on different promotion channels. You could mistakenly leave companies out just because they aren't your typical competitors or primarily cover long-tail keywords.
There are several strategies to find all of the right sites. Start by searching companies related to your top competitors. (They are probably already on your radar). You should categorize these new competitors depending on the number of similarities their products or services have with your own.
Next, you should zero in on your high-level organic competitors with the organic competitor's page. The image below shows how you can do this easily with Similarweb's Organic Competitors page: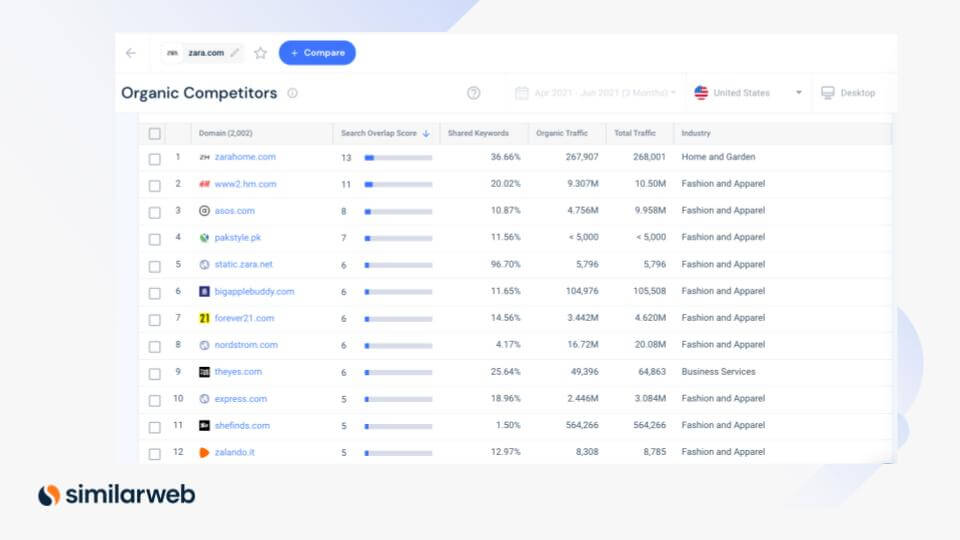 Here you will find your main competitors for organic overall.
You can also focus on specific keywords and your top competitors for your important keywords. With Similarweb there are a few ways to view this information. Below is one view showing zara.com sites competing for the keyword "zara."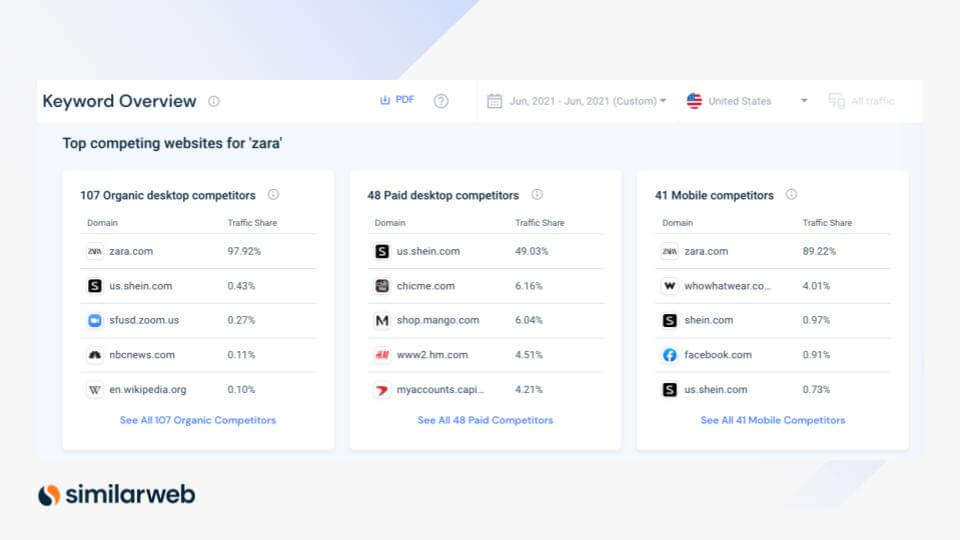 During this phase, you may discover that the ranking pages on search engine results pages (SERP) are not always populated by your business competitors. The websites that spend their time optimizing their pages for these keywords and rank higher on organic search are your true search competitors.
Note: Your business competitors are likely going to target these as well, so keep track of new results for those keywords too beyond just the top 10. 
This research also alerts you to new brands or disrupters. You can even spot these as you're scrolling through social media, Reddit, YouTube comments, or customer feedback and comments. For the SaaS industry as an example, Capterra, G2, and Trustpilot are just three examples of websites where you'll find new tools listed with extra information on their audience. 
Engaging in online communities and keeping up with new trends helps you monitor campaigns, and product launches on ProductHunt or new companies on Crunchbase.
2. Dive deep – keyword research
After defining your main search competitors, the next step of your competitive SEO analysis is to deep dive into keyword research. Start by listing the keywords that define your product and brand as well as long-tail keywords you want to rank for.
Pro tip: At this stage, you can look at your website, the navigation bar, and the main words that appear again and again. 
These keywords should be relevant for your audience while helping you reach your general marketing goals. Let's say you sell email marketing software. A keyword like "email marketing jobs" won't be a good fit if your main goal is to bring more leads and sales as the user's intent is for people searching for a new job. This keyword, however, can be added to your list when you're looking to create topic clusters and help Google's algorithm associate your brand with more relevant keywords.
But where do you start with building an editorial calendar that's better than that of your competitors? This is where finding keyword gaps is crucial.
Check the keywords and see which competitors are ranking for that you aren't. Using analysis tools like Similarweb's Keyword Gap Analysis tool, you can see the big picture and breakdown of specific terms to tackle.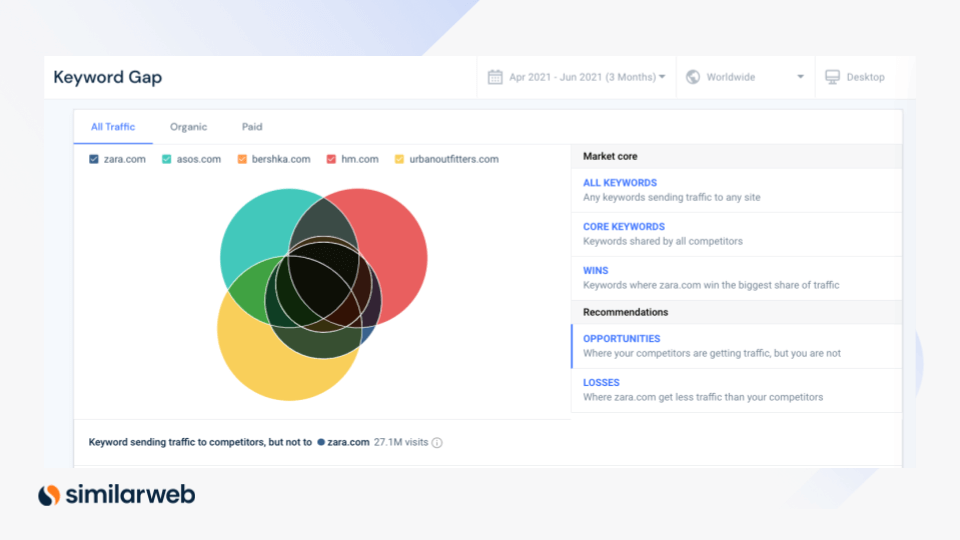 Real-time data on search volume and click rates help you set your priorities based on your overall SEO strategy. Have a look at medium-volume keywords (1000-3000 average monthly searches) with a low keyword difficulty that they're not targeting or have targeted through a post that's not bringing traffic any more. However, you'll also need to check that declining search rankings and views are not the result of less interest in that keyword.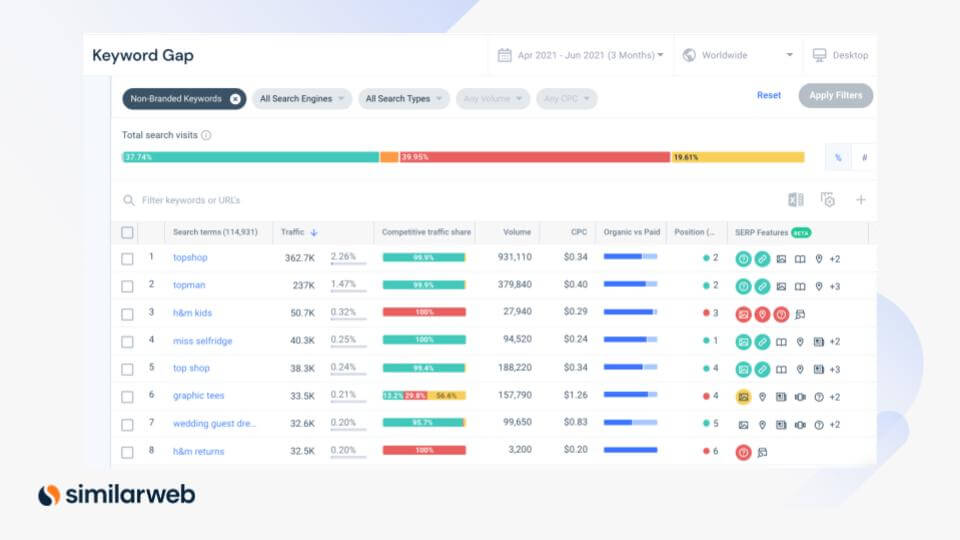 Don't omit low-volume keywords. A keyword that a competitor hasn't yet used or is merely mentioned in an article centered around a high-volume keyword can still be added to your editorial calendar.
Take the "email marketing campaign" and "email marketing campaign examples" for instance. You may assume the latter naturally falls as a section within a large guide to creating email marketing campaigns. The reader's intent though shows interest in the "email marketing campaign examples" keyword as an independent article.
Pro tip: strategically go after keywords your competitors rank first for. To do this, you need web traffic that gives you a view of your competitors' rankings.
3. Content analysis – a peek behind the performance
Once you've got an initial list of keywords, it's time to see what posts perform best and what formats your audience prefers.
Simply having a look at the overall traffic won't be enough when analyzing the content. Competitors could have just three or five articles responsible for the majority of traffic while the others underperform.
Here are the key points to look at if you want to get an accurate representation of content analysis.
Keyword analysis:

Investigate what keywords your competitors are ranking for, focusing on their top three keywords.  

Traffic analysis:

Conduct competitive research to find out the top pages your competitors are receiving traffic to, where they are receiving that traffic from, and which pages get the most traffic in your competitive landscape as a whole. You should also check low-traffic pages competitors may be using to support their high priority pages.

Content analysis: Analyze your competitors' sites to spot their weaknesses. Perform competitors' content analysis and c

heck w

hat types of content competing websites use to target keywords (blog posts, ebooks, videos, infographics, podcasts, webinars, etc)?

Backlink analysis:

Conduct a thorough backlink analysis. Look into the backlink profile of your competitors. Check their anchor profile, how natural their links are, the number of links, and the quality of their links.
We will explore these points further in this article.
4. Backlink breakdown – time to spy
Link building is often left behind when it comes to building and maintaining an SEO strategy. 
But now and then you'll stumble upon that one competitor that's actively doing outreach. At this point, you've hit the jackpot: a full list of backlink opportunities to start with. When comparing these to your backlinks, find the ones that are located in highly relevant and preferably published in authoritative sites (that also brings traffic to your competitors), and there you have your first outreach targets. 
You can get the referral websites from the incoming traffic feature under Referrals on Similarweb. Once you identify the top referring sites, you can even click on the sites to get a more detailed picture of the domains sending traffic. From there you can conduct in-depth research.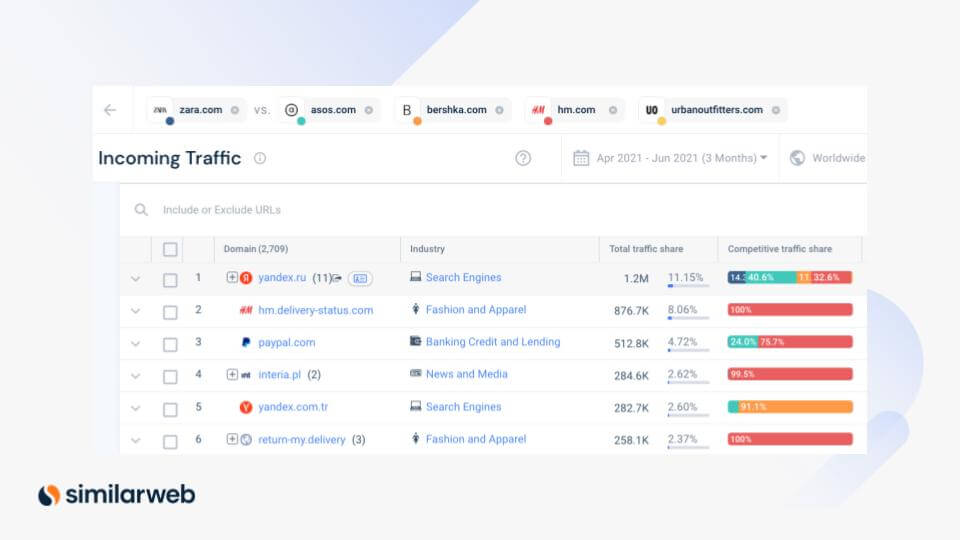 Additionally, you can look at competing posts to compare the number of backlinks they've received (and their quality) with those on your articles targeting the same keyword. Pay close attention to the domain authority (DA) of the websites giving a backlink as well as the .edu or .gov backlink presence. Just because a competing post has 50 inbound links doesn't mean they're high-value ones from dependable domains.
Here's the nitty-gritty to consider when running through your competitors' backlinks:
See who is mentioning competing products or writing a guest post that includes a link to the competitor.

Some brands have their team put these together while others get mentions organically. The latter situation indicates a strong brand authority that doesn't require as much internal effort.

Make sure the websites you're choosing are relevant to your audience and product too.

A link opportunity is only valuable if you can reach your prospects and provide content in the places where they spend most of their time.

Check the authority of the websites that provide the backlinks. Low-authority domains can provide spam links or no real value for your content. Look to get backlinks from websites with a DA over 70 to maximize the positive effects of your link-building strategy. 
Read through the website's policies to see if there's a potential for the backlinks to be sponsored.

Despite all of Google's attempts to penalize paid links, many media outlets still offer sponsored posts. If you opt for a sponsored post too, Google's own

best practices

recommend getting a

rel="sponsored"

value next to the link or at least a

nofollow

attribute.
5. SERP feature analysis – the fast-growing opportunity
Landing a place in one of the search engine results pages (SERP) features can help you bring in more traffic. These features are taking up more prime real estate on Google. As of January 2021, almost 20% of keyword searches resulted in a SERP feature on the results page.
Here's an example of the SERP features that appear for the simple search "what is bread." The sites that are listed for the definition, images, and in the people also ask section are at the top of the page. Including SERP feature analysis provides powerful information.
With Similarweb, you can look at the keywords your competitors are winning for and see the SERP features they are ranking for at a glance. This can help you aim your content optimization efforts more effectively.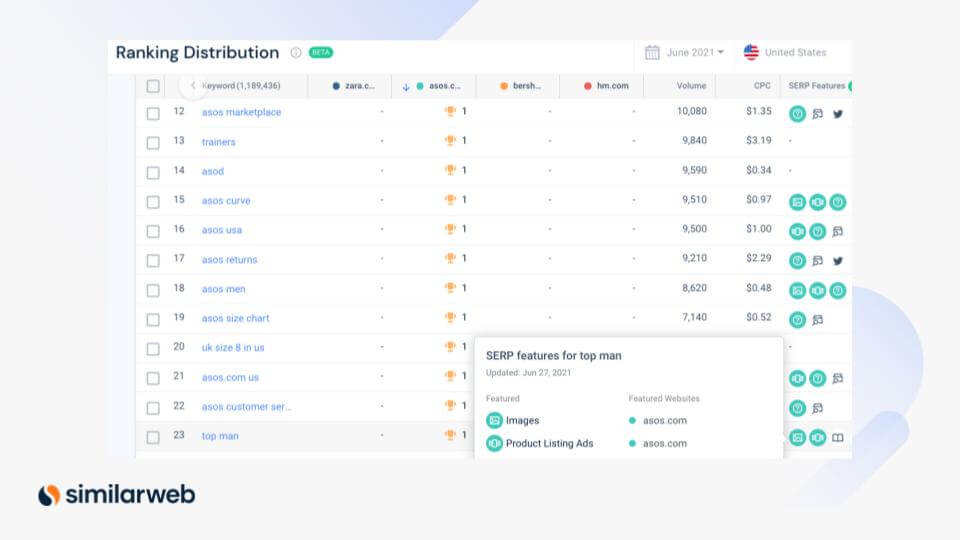 Competitive SEO analysis – always get it right
Competitive SEO analysis is most effective when performed regularly – aim for at least once every six months. Similarweb lets you keep track of these changes in real-time. This way, you'll see when a competitor has been impacted by an algorithm change if they're updating their content and gaining back SERP positions, or what websites have offered them a new backlink.
You can use Similarweb to go through the entire six-step process and have a complete look at what your competitors are doing and where you can move up a position or two.

This blog post was written with Alexandra Cote.
This post is subject to Similarweb legal notices and
disclaimers
.
Wondering what Similarweb can do for you?
Here are two ways you can get started with Similarweb today!