Imagine you're in the supermarket, trying to decide which shampoo to buy. What do you do? You hold one bottle in the left and the other in the right hand and compare prices. You place them side by side to check ingredients or anything else that helps you reach an educated decision.
Sometimes that's what you need to do for SEO or PPC: Compare keywords side-by-side. Place the search metrics opposite each other and weigh them against each other. Often you'll want to do it with more than two keywords.
In this post, we'll show you an effective way to compare search terms with a keyword research tool. You'll get plenty of use case examples in this article to demonstrate when comparing keyword search volume and visits is beneficial.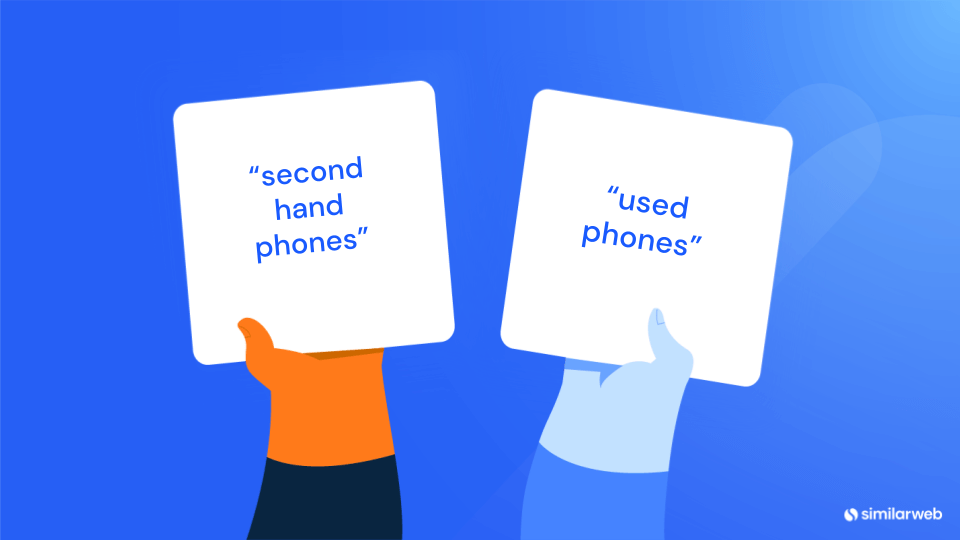 What is keyword comparison?
Keyword comparison means setting keywords or keyword groups against each other to easily compare main metrics such as search volume, search visits, etc. The goal is to fine-tune keyword research and pinpoint the best keywords for your PPC, content, and SEO strategies.
The comparison process is part of any keyword analysis. Currently, most SEOs use Google trends to get the data they need to compare. If you want to see keyword stats side-by-side, you need to export the data and feed it into a spreadsheet where you can create a graph. With a keyword comparison function like Similarweb's, you eliminate the manual work.
Why do you need search term comparison?
To optimize your site content with the exact keywords that drive the highest traffic volume.
To determine the most cost-effective keyword for your PPC campaign.
To identify the keyword that works best for your offering.
To gauge brand awareness against competitors.
To support content decisions.
To prioritize offering and promotion of specific content or products.
What's the challenge when comparing keywords?
There are two crucial points in the keyword research process, where most analytics tools can't help much.
The first hurdle is at the very beginning. How do you even know which keyword to research and analyze?
For example, should you write about Beyonce, Rihanna, Cardi B., or Lady Gaga to create content that will be popular with music fans?
You dive into keyword research only after this initial decision. So, if you got that first bit wrong and your chosen celeb's popularity recently dropped drastically, your research builds on a false assumption. When comparing metrics side-by-side, you build your content strategy on data.
And then, there are the critical decisions towards the end of your in-depth keyword research. It often boils down to a handful of very similar keywords. Sometimes it's a head-to-head between two seemingly equally popular terms, but Google puts them in the same bucket. How do you decide?
How to compare keywords with a keyword comparison tool?
Similarweb Digital Marketing Intelligence Platform removes the tedious manual work from the process and adds the granularity of data needed to make your final choice.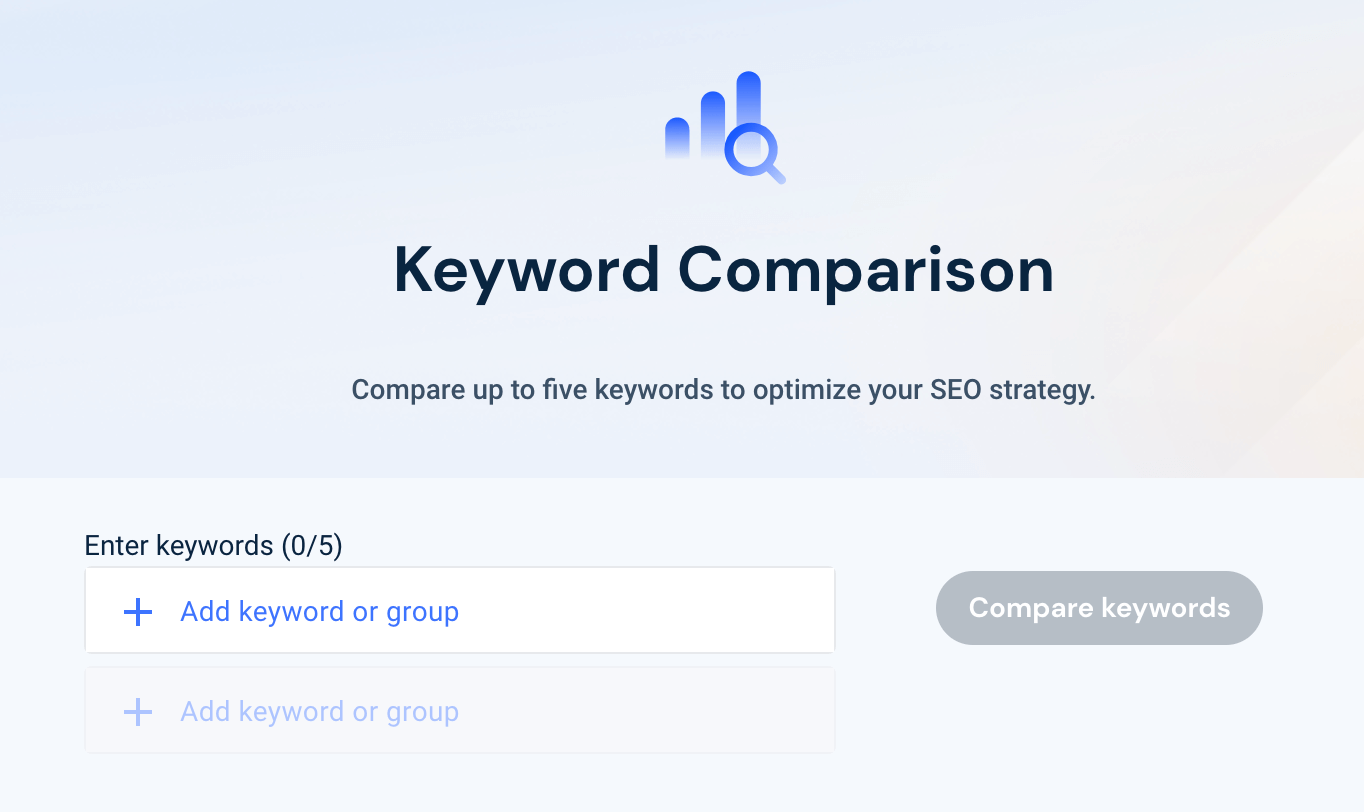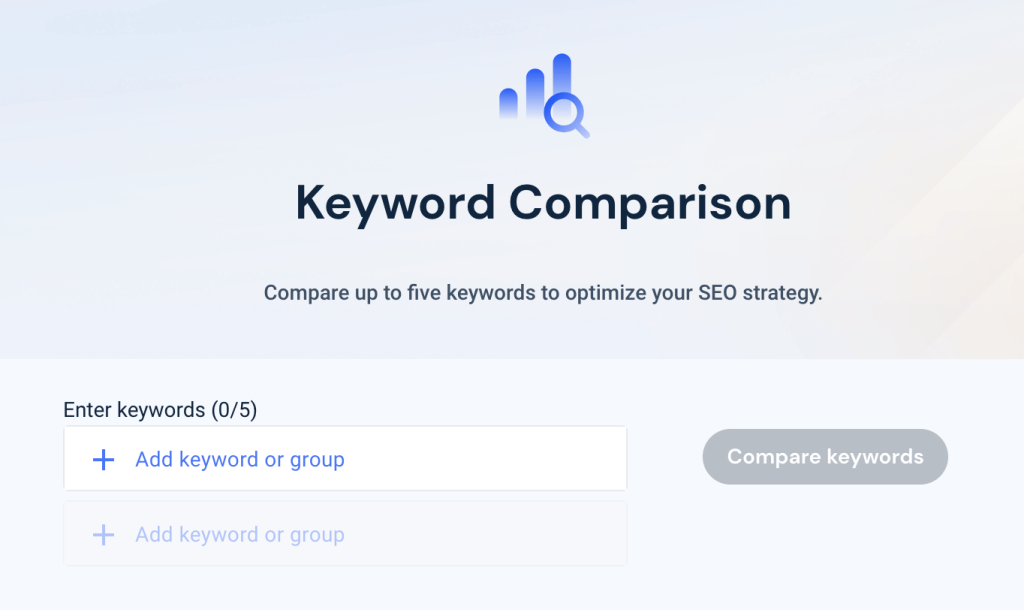 Similarweb keyword comparison tool to compare search terms fast.
You can compare up to five individual keywords or entire keyword groups and quickly size up essential metrics and trends. Weigh volume, visits, keyword difficulty, zero clicks, and CPC of specific keywords against each other. Then measure and compare trends over time for each metric.
Let's see where that comes in handy and how it lets you achieve your keyword research goals.
1. Gauge brand awareness:
When it comes to mobile phones, the world is divided into two groups: Those who use Apple and those who swear on Android. These must be among the most compared brands in the world. Comparing search traffic volume indicates the level of brand awareness.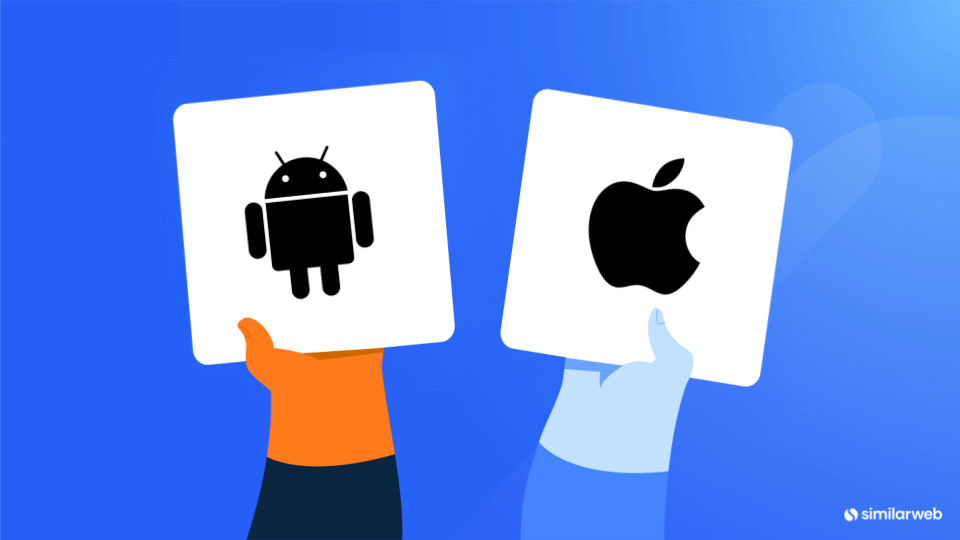 For our example, let's take something a little less boring: News sites. They are brands in every sense of the word, including recognizable brand indicators, brand voice, brand values, and a loyal readership.
We entered the brand names Fox News, CNN, and NYT into our keyword comparison tool. The volume of searches for CNN outweighs Fox News. The New York Times gets a surprisingly low search volume. It seems that CNN is doing a better job cultivating awareness and is more widely perceived as the go-to site for news.
When we switch to the visits view, the curves even out. CNN and Fox get a similar number of visits despite many more people searching for CNN.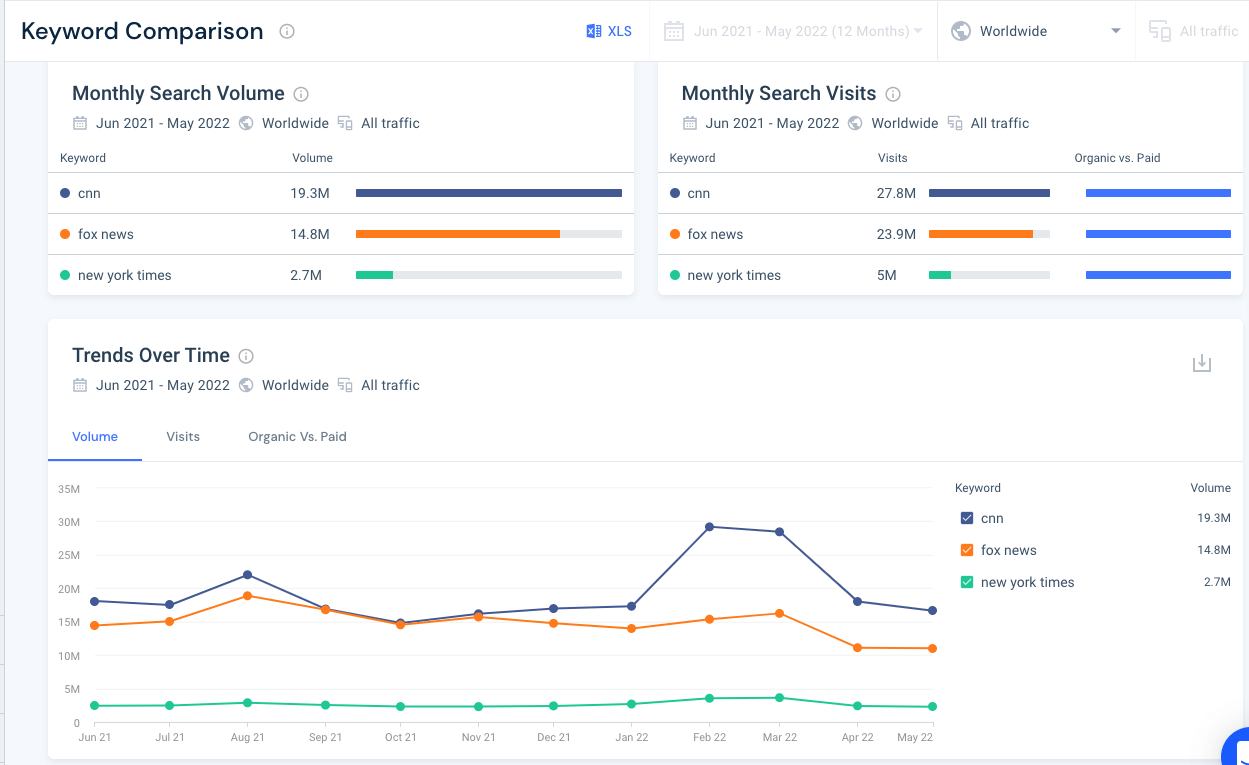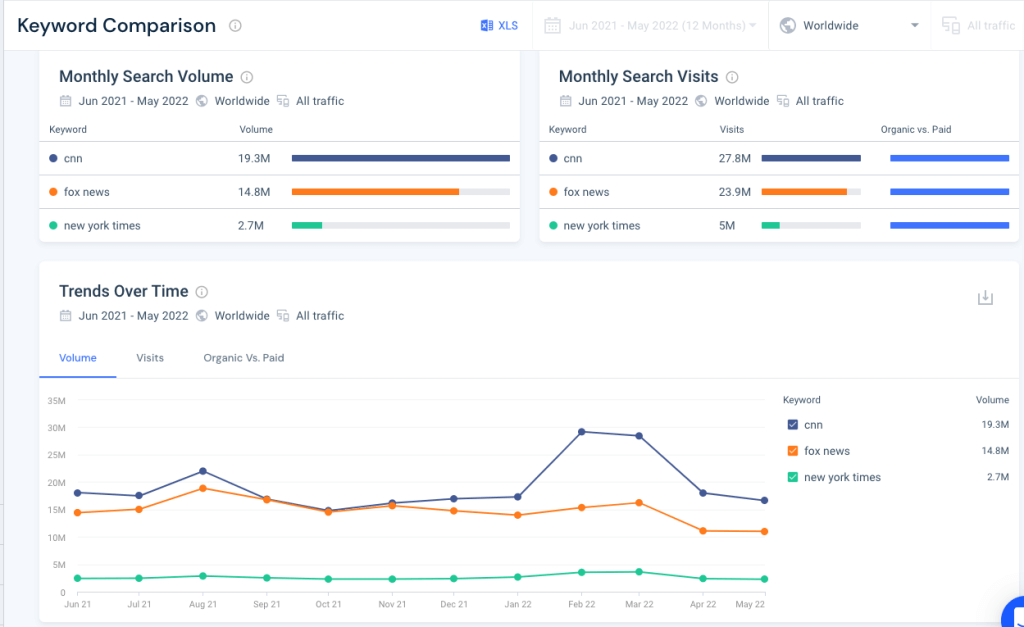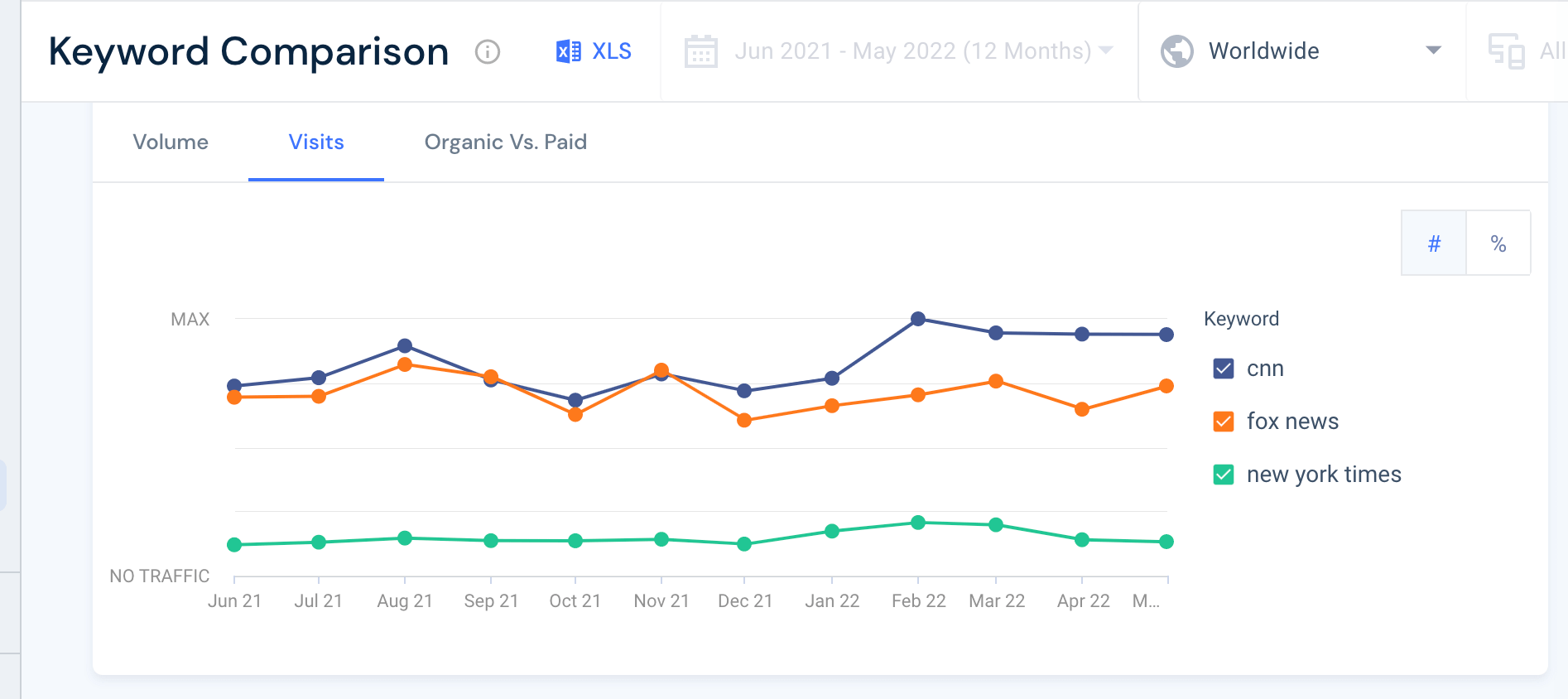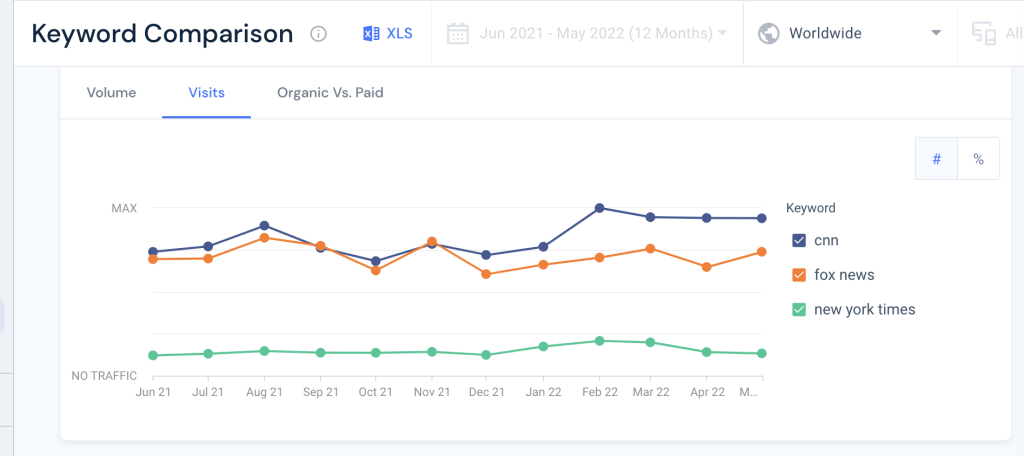 The top image shows traffic volume generated by the brand names while the bottom graph shows visits to the site.
Getting these insights for your brand helps focus your own digital marketing strategy. Do you need to focus on increasing awareness to raise traffic volume, or is it time to optimize conversion and engagement to increase visits?
2. Reach better content decisions
Before researching the keywords that bring visitors to your content, you need to decide what to write about. Sure, you can follow your hunch, write about what seems popular, and hope you get it right. A better way, of course, is to collect data to generate insights based on your digital marketing goals.
Identify seasonal trends to plan your content calendar
Many topics are related to seasons; some are more appealing in summer, others in winter. Some searches spike at specific times of the year, like travel-related searches around the holiday time.
Many content items can benefit from optimization at the right time for the relevant seasonal keywords. For that, you first need to identify trends or, in SEO terms, keyword seasonality. Pinpoint when search volume for specific search terms increases and decreases during the year.
Let's say you have a blog to increase traffic to a sports fashion site. Use the comparison tool to optimize the schedule in your content calendar.
Enter a keyword for each sport in the keyword comparison tool and see how the traffic volume fluctuates over time. In July and August 2021, soccer drove the most visits among your selection, while the rest of the year, the term brought significantly fewer visits. The stats were on the rise in May this year, so this may be an excellent time to catch the wave.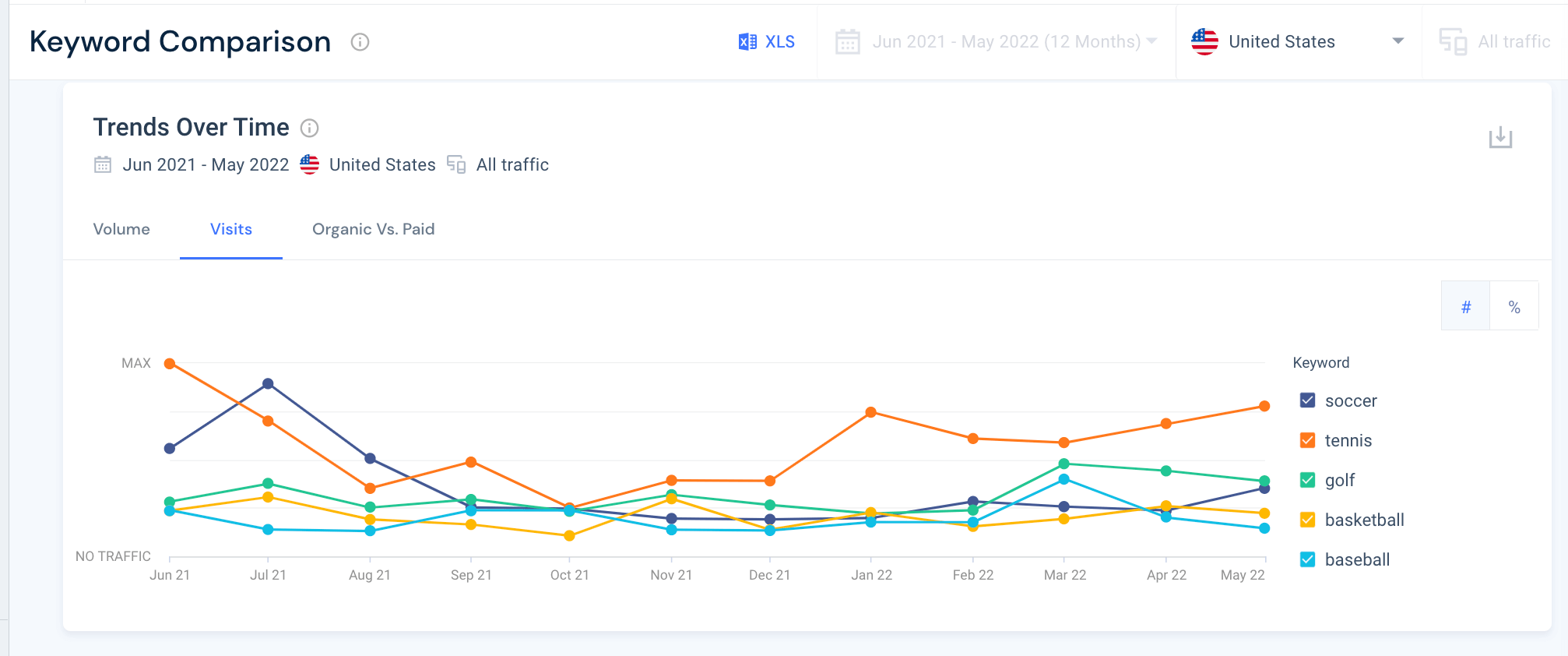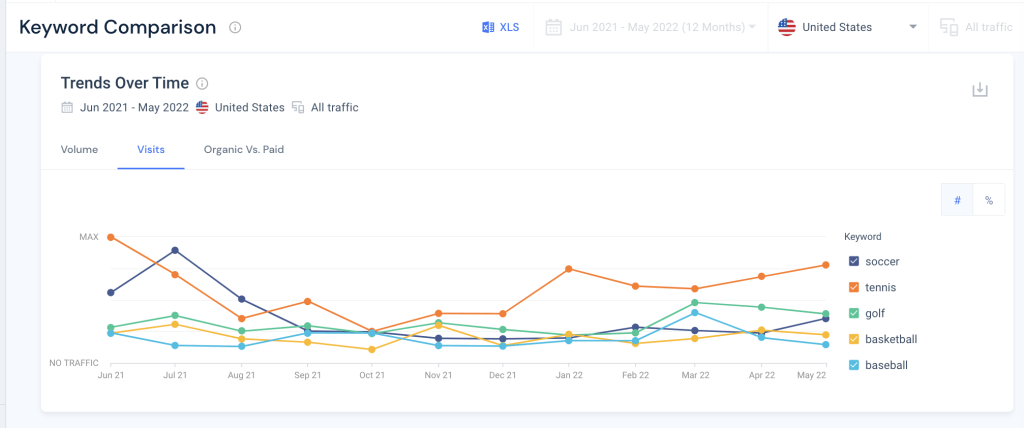 The graph visualizes when each keyword is trending. Similarweb's keyword comparison tool provides additional views and data.
Avoid temporarily popular keywords
If you keep up with the news, you know what's trending and which celebs are on everyone's radar. However, the world of glam is fast-moving and forgets quickly. A rockstar releases an album, and everyone wants to read about it. But the craze lasts only until the next album or a scandal rocks the music scene, and people's attention shifts.
If you want to avoid terms that temporarily spike traffic and won't be popular by the time your content ranks, compare the related celeb names as search terms. So, Lady Gaga, Beyonce, Cardi B, or Rihanna, which of the singers should get a background story that is continually interesting for fans? Check which celeb is less affected by trend spikes. Set them up against each other and run a keyword comparison.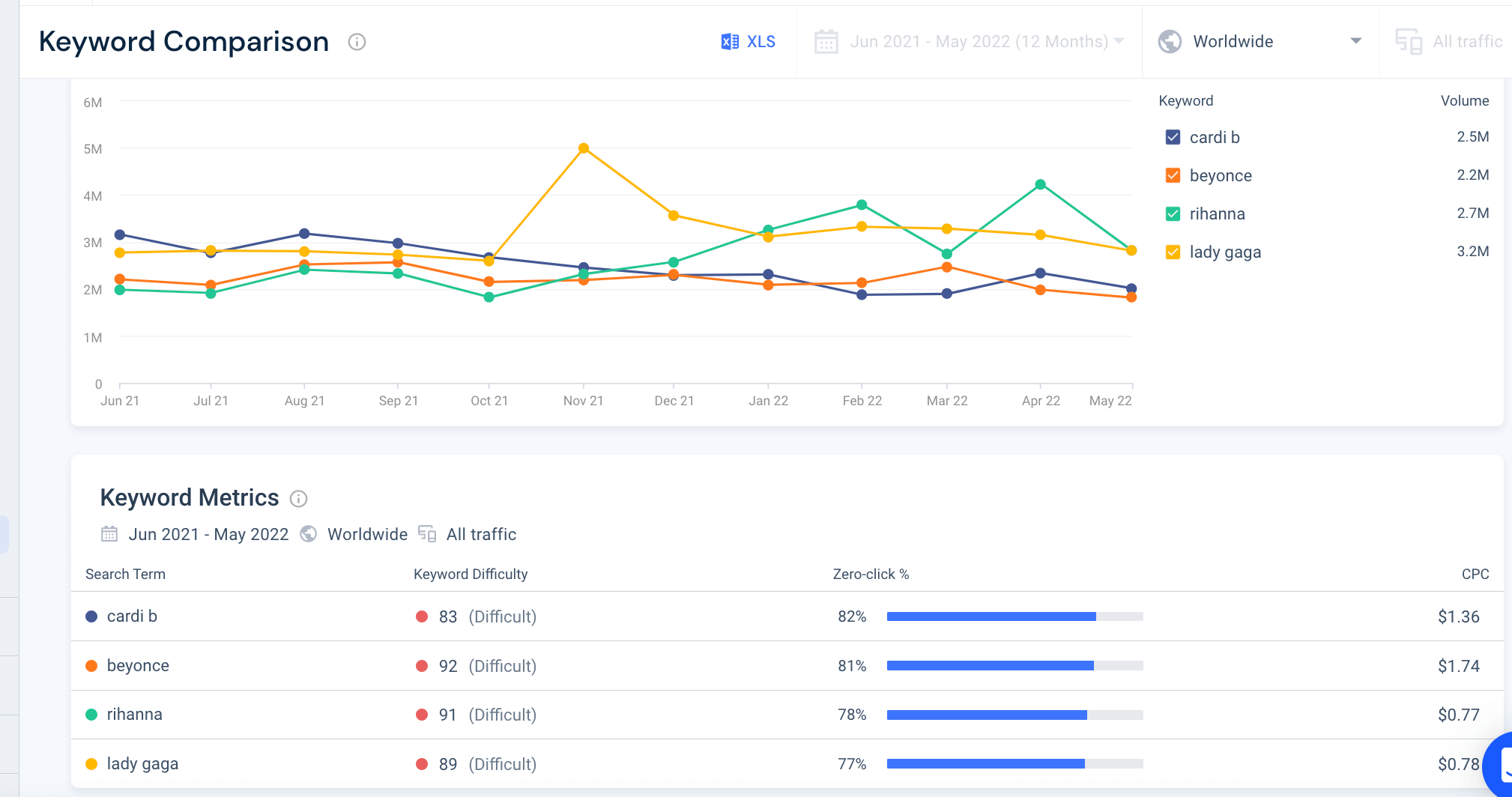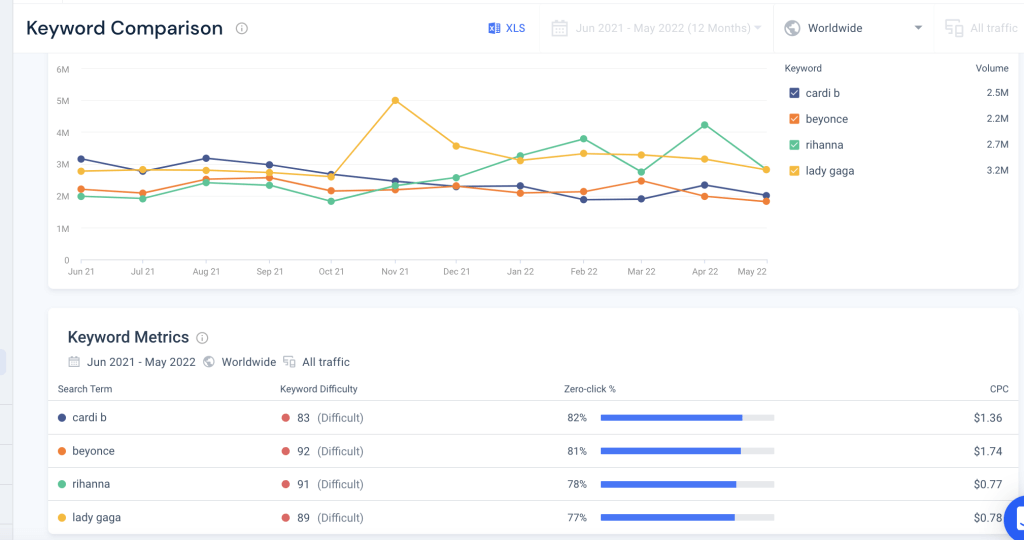 With the graph you can easily identify spikes in traffic per keyword. Keyword difficulty, zero-clicks, and CPC help reach decisions.
In this case, it's a tough choice, Cardi B. and Beyonce both generate a steady search volume, so that might be your first choice. On the other hand, Lady Gaga continuously has a higher search volume, so writing about her can't be all wrong.
Be aware that all four stars have a very high keyword difficulty (KD) score, and it will take time to rank. The KD metric could tip the scale if you identified a term with a significantly lower score.
Prioritize target keywords
A direct comparison of top keywords can help select the precise term as the target keyword for a content piece. When your research has limited your list to a few closely- related and often very similar keywords, it's challenging to make the final decision.
Should your product category page target bikini or bikinis? Do you optimize for sneakers, running shoes, or just shoes? Placing the shortlisted terms in the keyword comparison tool gives you a side-by-side view of their metrics.
If you are doing PPC, you know how critical this can turn out. The CPC (Cost Per Click) for each possible final choice can impact the cost, so it's useful to get information from your keyword comparison tool.
Keep in mind that people in different regions use different search terms for the same item. The country filter helps you fine-tune your selection to find the search term that will turn the dial.




The top image shows results for the USA while the second screenshot displays results for the UK, See the difference in traffic generated from "sneakers".
3. Compare focus keywords to optimize your offer
The demographic difference brings us to the next use case. The keyword comparison tool can help you frame your offering. Let's take travel destinations as an example.
The goal is to promote deals to the most popular holiday destinations. For a primarily American target audience countries like Mexico, the Dominican Republic, Aurora, Hawaii are most attractive. Comparing these search terms lets you discover which destination is most popular this year.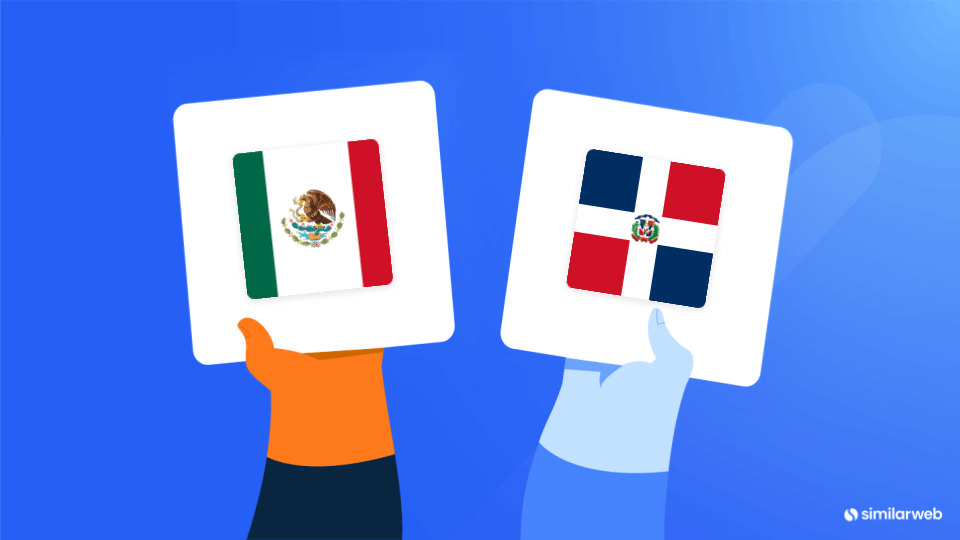 If you are selling to European travelers, the picture is completely different. Also, to hone in on the right search intent, you might compare keywords that include the words flight to … or holiday in or hotels in … and, of course, use the country filter to get a clear picture.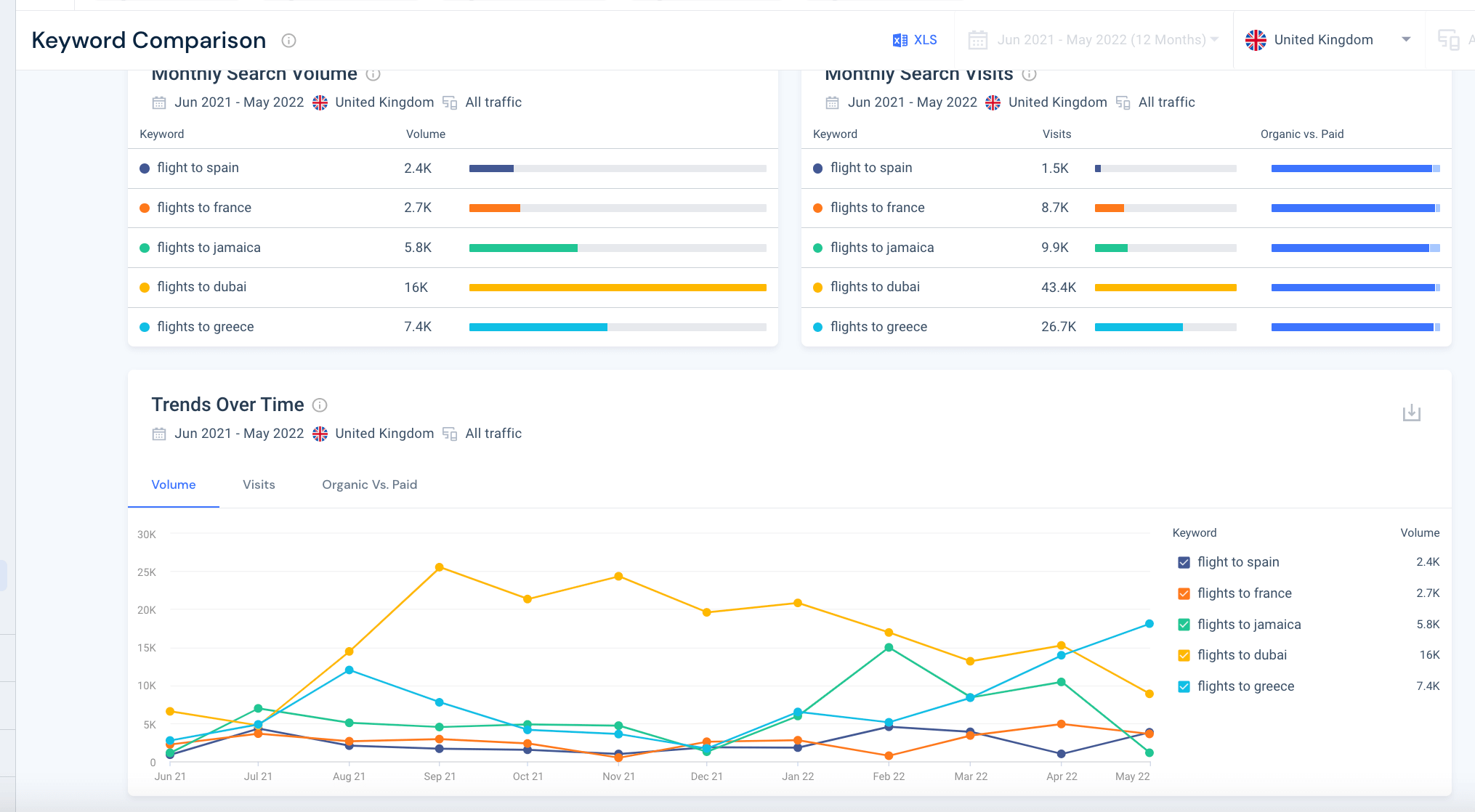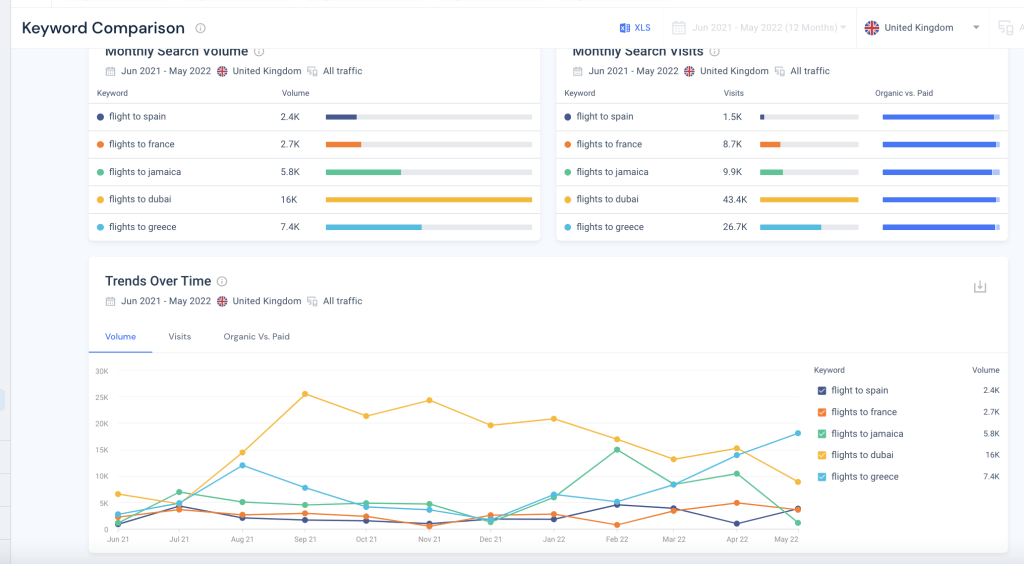 Traffic generated by keywords including "flights to.. " and a country. Spain has been the top destination for searchers from the UK, but Greece is gaining significantly.
4. Compare search volume for keyword groups to optimize site sections
Sometimes a single keyword isn't representative, and comparing them can't provide the insights you are looking for. If you plan to optimize your site for the most popular content or product categories, one overarching keyword per category isn't enough. People don't search for categories but for specific items or topics.
In this case, you'd want to create a list of keywords for each category and then compare the lists. Here's an example: Your online entertainment magazine reports on music, cinema, live shows, and talent shows. Create a list of keywords for each category and compare the search stats to see what's in higher demand. Based on the outcome decide where to expand to get more traffic.
Another example shows how the tool can even help optimize company operations. A grocery store that sells online, for example, could compare the fresh vegetable category to the frozen vegetable category. Analyzing the demand for each head-to-head helps decide where to increase variety or stock volume.
This is just the tip of the iceberg. Comparing entire keyword groups can open tremendous opportunities to optimize business units and efficiency in each industry or business type.
What do you want to compare?
Let's close with some trivia facts.
In your opinion, are people still interested in reading about Johnny Depp and Amber Heard? We wanted to find out. And we also wanted to see which of the two gets more searches.
So, we put their names in the keyword comparison tool, and here's what we found: In the US, significantly more people are interested in Amber than in Johnny. Moreover, we see that the interest in the actor is more rapidly declining than the curiosity about his ex-wife.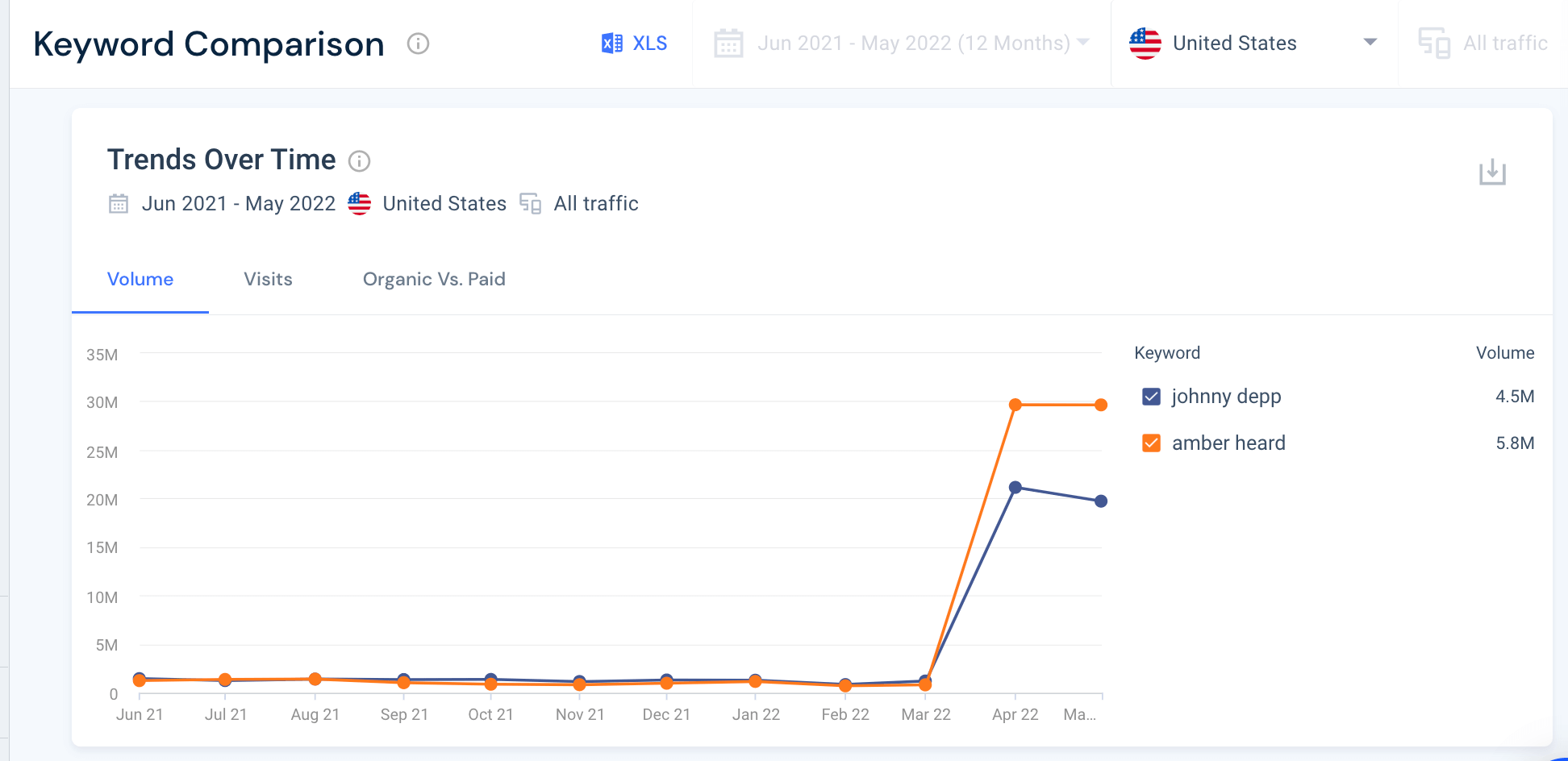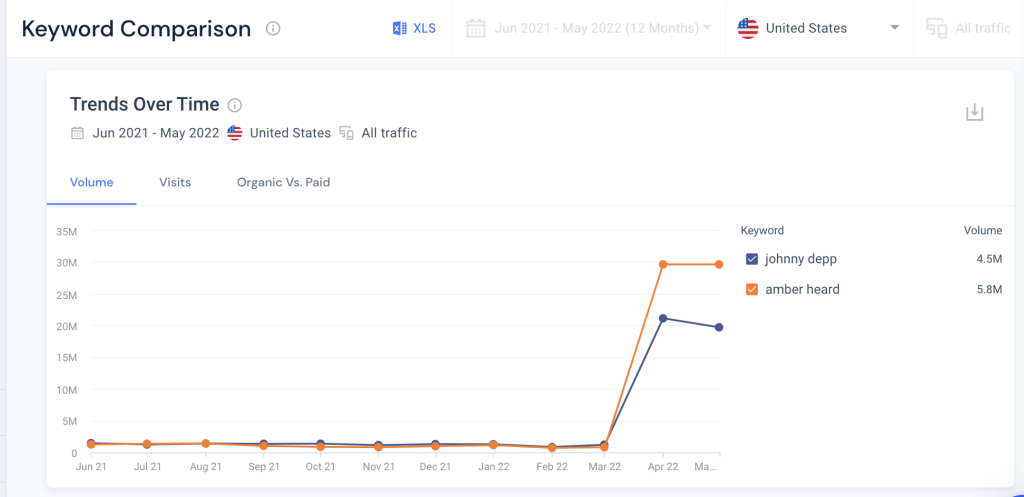 The curve displays how the trial coverage impacted search for the two celebs.
Here's something fun: We were shmoozing over our favorite Netflix series at lunch and tried to guess how our preferences pan out globally. So we checked Ozark, Bridgerton, The Witcher, and The Umbrella Academy in our keyword comparison tool. We could see how much curiosity the various series raised over time. See for yourself.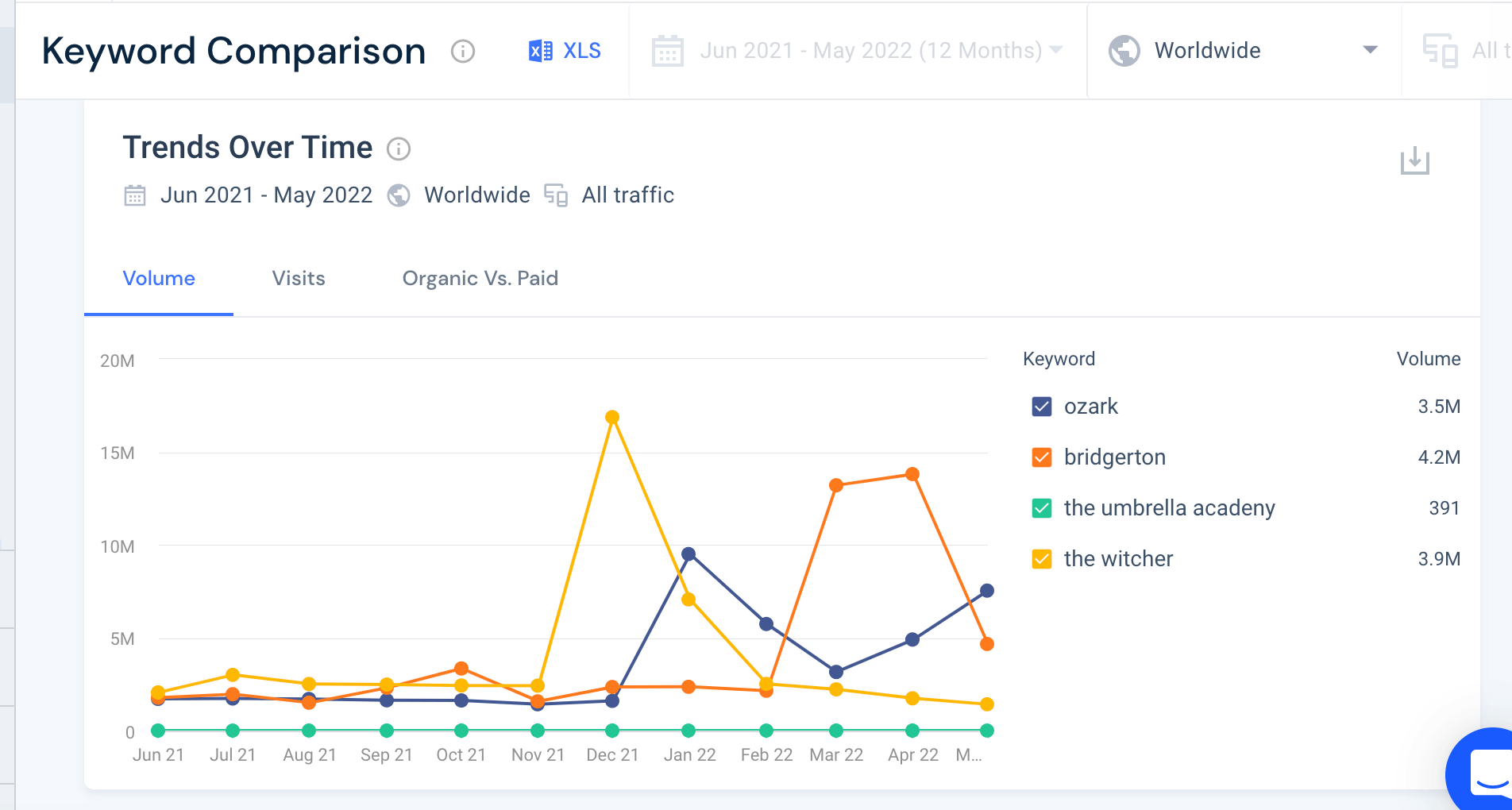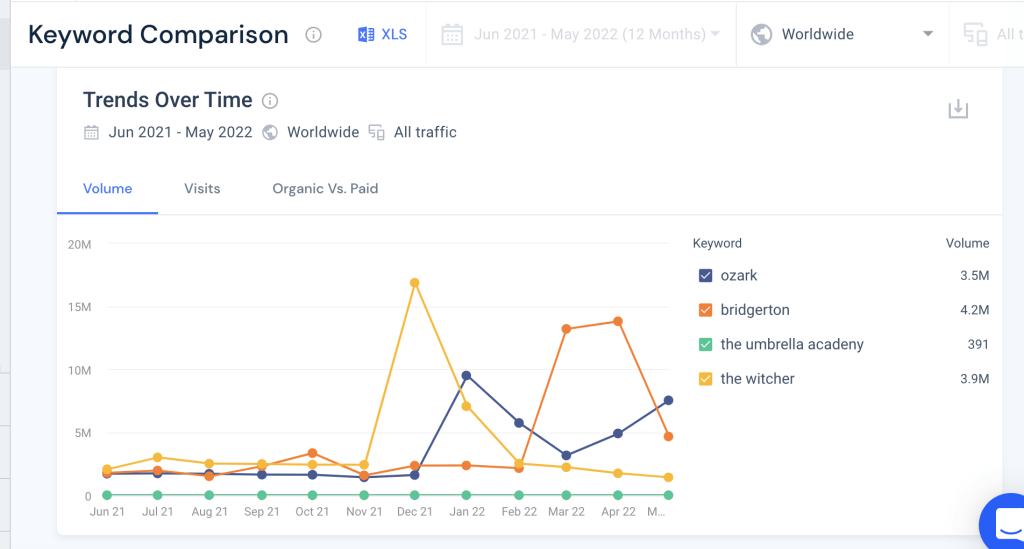 Spikes in traffic from popular Netflix shows as keywords show let you guess when new seasons were launched.
The Similarweb keyword comparison tool can make your keyword research more efficient and improve the quality and outcome of your research.
It can even be fun to play around with it. Maybe you will find some talking points for your lunch break. By the way, what's your favorite show?
This post is subject to Similarweb legal notices and
disclaimers
.
Wondering what Similarweb can do for you?
Here are two ways you can get started with Similarweb today!