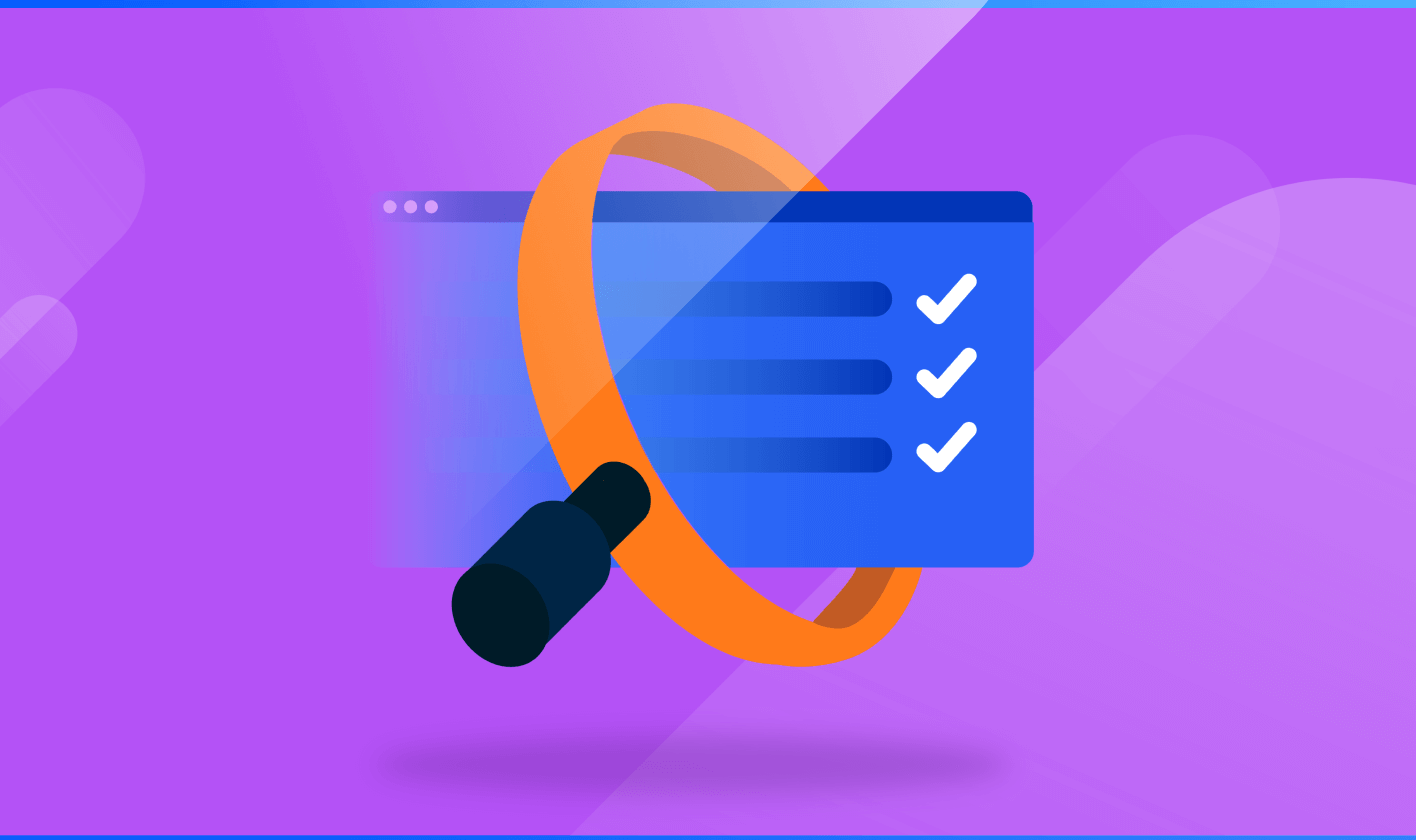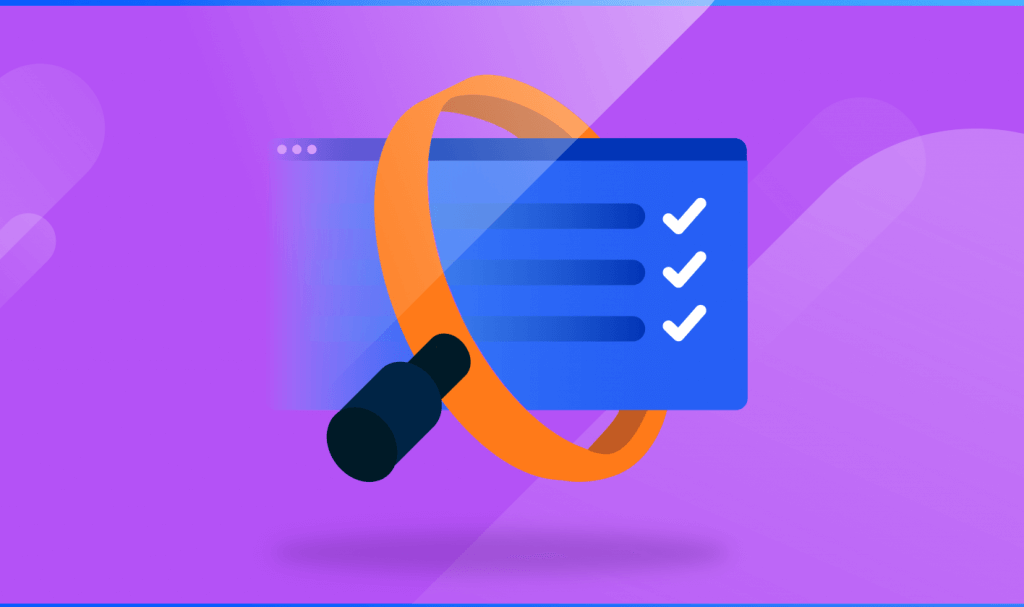 Marketing Intelligence
On-Page SEO: An In-Depth Checklist Every Brand Needs
December 29, 2021
| Updated July 21, 2022
If watching your web pages climb the ranks and drive more traffic makes you smile you're in good company.
On-page SEO can help you achieve these results as part of your overall SEO strategy. Here we'll break down what on-page SEO is and give you a checklist with 9 steps to take to improve yours.
What is on-page SEO?
On-page SEO is the process of making improvements to your web pages for searchers and search engines. The goal: better user experience for site visitors and higher rankings.
How's it done?
You dedicate resources to optimize your pages. This can include image optimization, faster page load time, improved title tags, and better alt text, to name a few. The key is to hone in on the big ranking factors and optimize strategically. The better your on-page SEO, the more you'll be rewarded with more visibility on search engine results pages (SERPs).
On the other hand, off-page SEO refers to page SEO factors outside of your site that help boost a page in the SERPs, such as backlinks from link building and social media marketing.
While Google doesn't share specific stats on daily searches, HubSpot estimates that the search engine giant processes around 63,000 search queries every second.
Now let's jump into the on-page SEO checklist.
9 Step on-page SEO checklist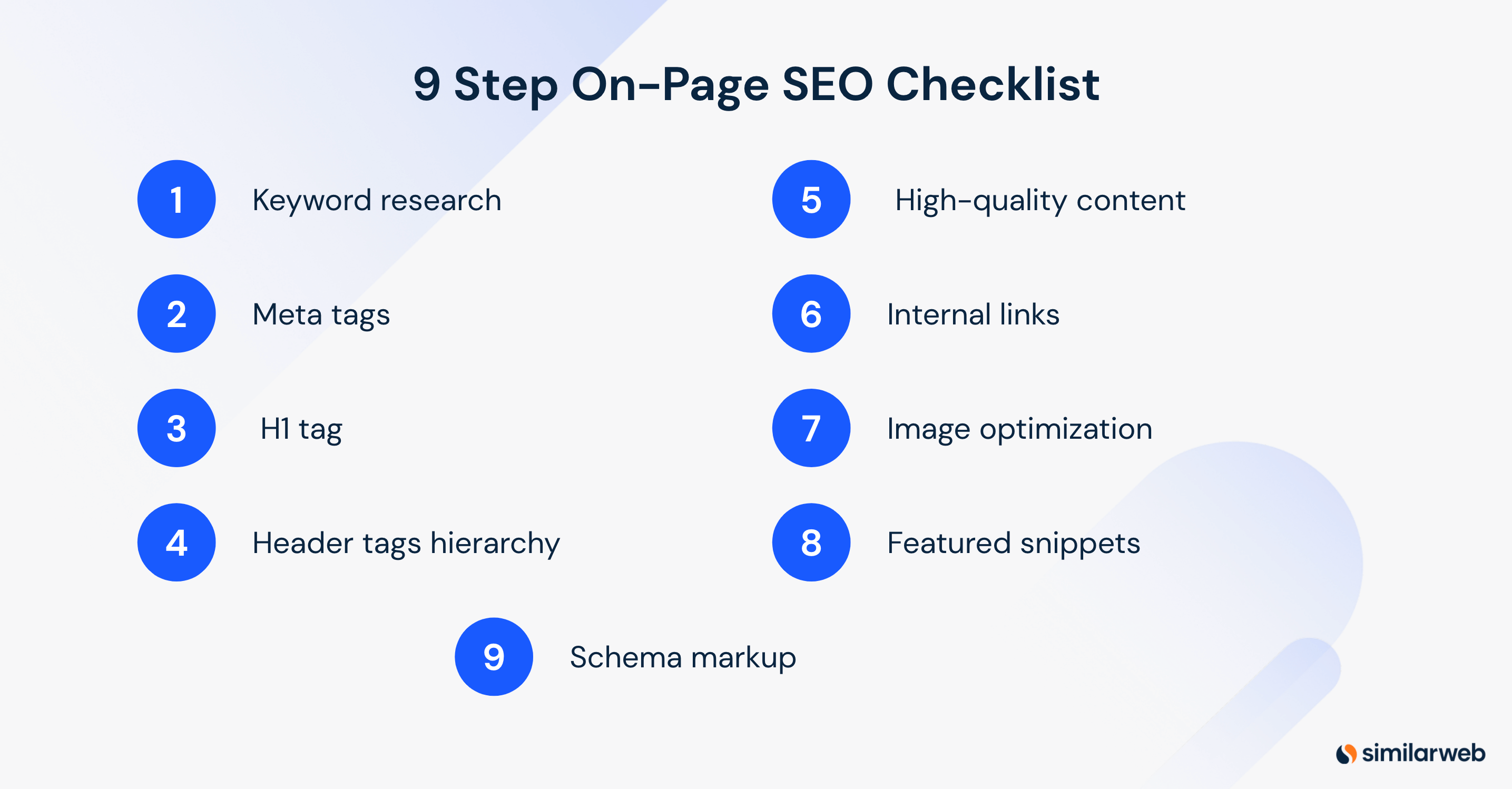 1. Keyword research
Keyword research entails finding search engine keywords and long-tail keywords. Let's say you're Warby Parker, a website that sells brand-name sunglasses. You will want to research related keywords and build web pages optimized accordingly.
For example, a keyword for this page is likely, "Women's eyeglasses" – which is in the title tag and the topic of this web page. We expect other keywords on this page to be related to women's eyeglasses.
When you have a web page optimized for that primary keyword, you want to include related keywords and be sure to give information in line with the search intent, i.e. they want to buy, they want information, or they want to find a website. For this website, many pages will be focused on visitors who come with the intent to make a transaction.
To research keywords to optimize your web pages, you can use Similarweb Competitive Analysis. Using the keyword tool you can write in your brand and your top four competitors to see which keywords you each are ranking for.
Here we can see the top 12 keywords for warbyparker.com and its competitors worldwide for the past six months.
You can dive a bit deeper with Keyword Gap in the Keyword Research Tool which gives you a nice Venn diagram of your keywords sending traffic to your website as well as your competitors.
Then check out the recommended opportunities and even which SERP features you're missing out on that you have a chance to capture.
Some general, effective on-page SEO requirements to keep in mind when you conduct your keyword research are to include:
One primary target keyword that's specific to your web page and relates to your audience's queries
Target keyword placement throughout the text, in the first and last paragraphs, in your H1 (title tag), and meta description
3 – 5 related keywords, each used once within the content
Be aware, though. On-page SEO demands thoughtful keyword research and placement across all your business's web pages.
Can you ever do too much keyword research? Sort of. Let's look at what you should avoid when it comes to keywords.
Keyword practices to avoid
Search engines are smarter than ever, and they see through any keyword practices that sacrifice the reader's experience.
You can't be lazy with your keyword placements. Make sure your keywords are integrated naturally in your old and new content. High keyword density can signal keyword stuffing to Google's algorithm and should be avoided, or you will face being penalized with low rankings. Plus, it creates a bad user experience for your website visitors.
Another common pitfall: Keyword cannibalization. This occurs when multiple web pages on your site rank for the same keywords. The result? You end up competing with yourself. Try to switch it up by making your keywords specific to each blog post or web page.
2. Meta tags
Meta tags help search engine's crawlers (a type of bot) understand your web pages.
Meta tags are in your website's HTML. It is important you set up your meta tags correctly and optimize to get the best results.
Some examples of meta tags include the <title> and <description> tags within your page's code – or your page title and meta description. These usually appear on Google's search results page to tell searchers what your page is all about, in addition to telling search engines:
And the meta description explains the content on the Google search page. For example, "Browse glasses for women online or stop into a LensCrafters for help finding the perfect pair of women's glasses."
Here's some best practices to keep in mind for meta descriptions:​​
Limit the character count to around 155 characters or less, otherwise your description may be cut off.
Include the page's focus keyword early on in the title.
Make it informative and actionable. You want it to be enticing enough for readers to click through to your page.
3. H1 tag
Your H1, Heading 1, is usually the page title. The H1 needs to describe the content on the webpage clearly and include the primary keyword. This is the title on the actual webpage itself, as opposed to the SERP. However, lately Google has been using H1 tags on their search results pages.
While your H1 should tell readers what the page is all about and make them want to keep reading. The other headings all support the main H1 tag in a clear hierarchy.
For example, in this post, the H1 is: "On-Page SEO: An In-Depth Checklist Every Brand Needs." All the other headers support this main topic. Effective on-page SEO always includes supporting headings — H2s and sometimes H3s and H4s, which brings us to the next section.
4. Header tags hierarchy
Whether it's on their computers or their phones, most internet users today skim content. Headings and subheadings help you break up your content into digestible sections, so your audience and search engines can instantly understand the overall logic and structure of your page.
Here's a quick breakdown and example:
H1 tag covers the main topic of the page
H2 tags cover the main points of the page, supporting the H1
H3s give you more information about H2s
H4s give you more information about H3s
It's important to note that not every page has H3s and H4s. Here's our very meta example:
H1: On-Page SEO: An In-Depth On-Page SEO Checklist
               H2: What is on-page SEO?
               H2: 9 Step on-page SEO checklist
                            H3: 1. Keyword research
                                         H4: Keyword practices to avoid
                            H3: 2. Meta tags
                            H3: 3. H1 tag
                            H3: 4. Header tag hierarchy
                            H3: 5. High-quality content
                            H3: 6. Internal links
                            H3: 7. Image optimization
                            H3: 8. Featured snippets
                            H3: 9. Schema markup
               H2: Final thoughts
Ensure each subsection only contains 300 words or less, and avoid lengthy sentences and paragraphs within each content block.
5. High-quality content
Despite the importance of search engine optimization, your reader is your top priority in writing your content. You want to inform, engage, and impress them with your copy.
Here's what high-quality content needs to be:
Accessible: Make the writing easy to understand, ideally at a grade 8 level reading score.
Researched: Use credible sources to back up your claims and information.
Clear and concise: Don't use fluff to satisfy word count requirements or keyword additions.
Valuable: Provide useful information to help answer your readers' questions.
Polished: Proofread your work to catch any grammar errors, ensure a consistent tone, and catch any factual mistakes from your research.
Keep on-page SEO principles in mind as you draft, but never at the expense of digestible, engaging, high-quality content.
There are plenty of useful tools out there if you need help crafting quality content, too. For instance, Hemingway Editor and Grammarly are both popular apps that highlight errors and provide useful suggestions for improving your writing. If you're looking for SEO suggestions, Clearscope can be especially helpful.
6. Internal links
If a potential customer or reader is already reading your content, why not lead them to more useful information? Your content might refer to relevant information that's hosted on other parts of your website.
Add internal links where relevant to help your audience supplement their knowledge! An important on-page SEO best practice is to use a keyword as anchor text for an internal link.
A word of caution – don't haphazardly plugin internal links where they're not relevant. Search engines and readers are smarter than that, and you'll quickly lose your page rankings and readers if you lead them to irrelevant content.
Prime example:
The women's eyeglasses page on Warby Parker's website links to a page for each model of women's eyeglasses they offer. There are also internal links to a "frames quiz" to help you find the best eyeglasses. All of these internal links are helpful and very clickable for someone browsing eyeglasses with the intention to buy.
7. Image optimization
Every SEO manager knows that a piece of content should have relevant images. Free photo libraries like Unsplash and Pexels make image sourcing easier than ever. But that's not enough, image optimization is crucial.
Image alt text helps search engines understand your image's relevance to your content. In your image alt text, make sure to include specific details of what is in the image for people using a screen reader as well as your primary keyword to enhance your on-page SEO. 8. Featured snippets
Featured snippets give you information to answer your search query directly at the top of the search engine results page. This can be a definition, list, table, or even video. Here's an example:
That little highlight is called a featured snippet, and it only appears for the top search result of your question. You can optimize your page and promote the SEO keywords for featured snippets.  
You can check how you're doing on the Keywords page on Similarweb under Competitive Analysis and find which keywords rank for featured snippets under the SERP features column.
The keyword "prescription sunglasses," for example, isn't associated with the featured snippet SERP feature.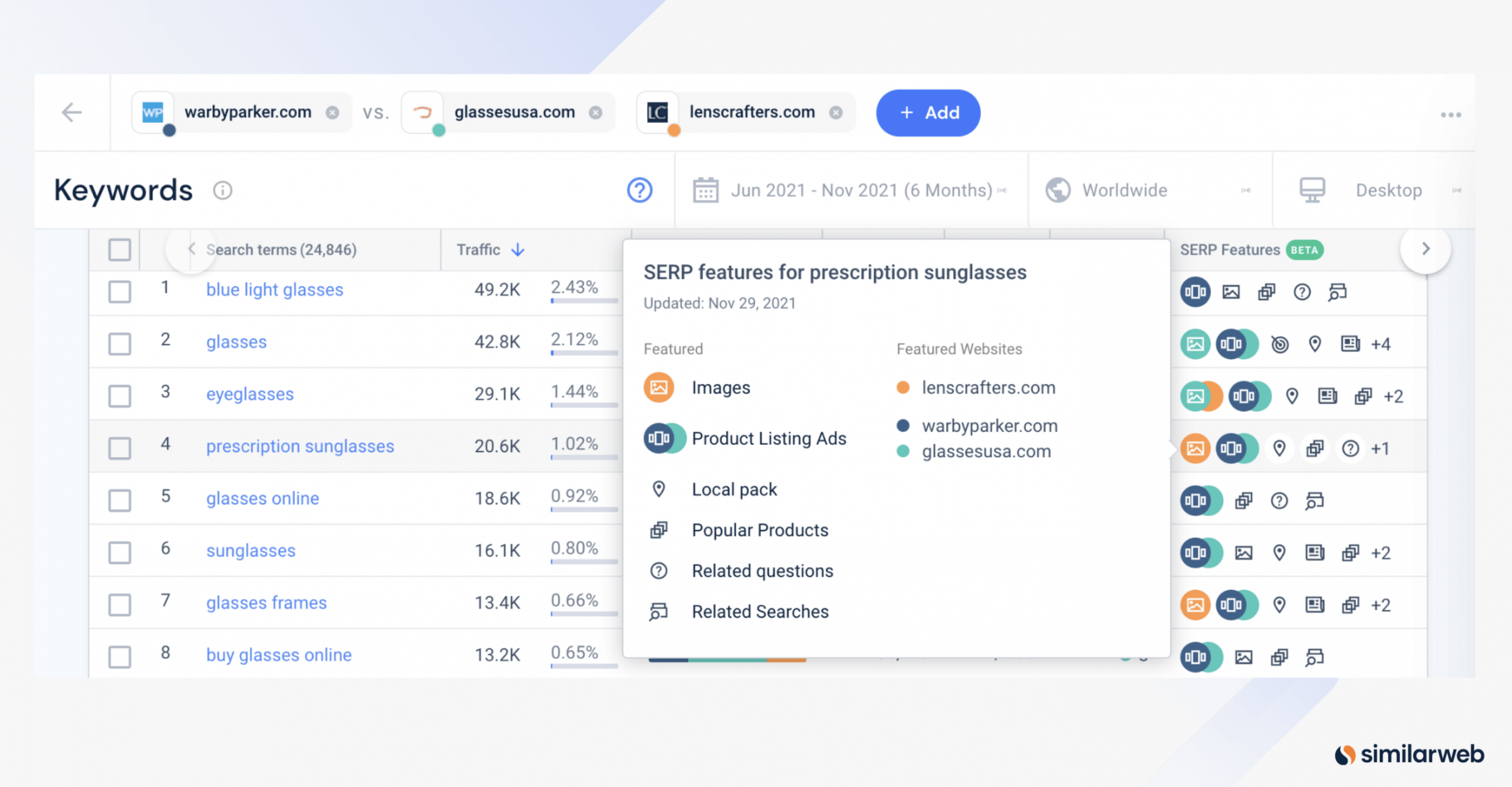 On the other hand, in the below example the keyword "why are graphics cards so expensive" can be optimized for a featured snippet.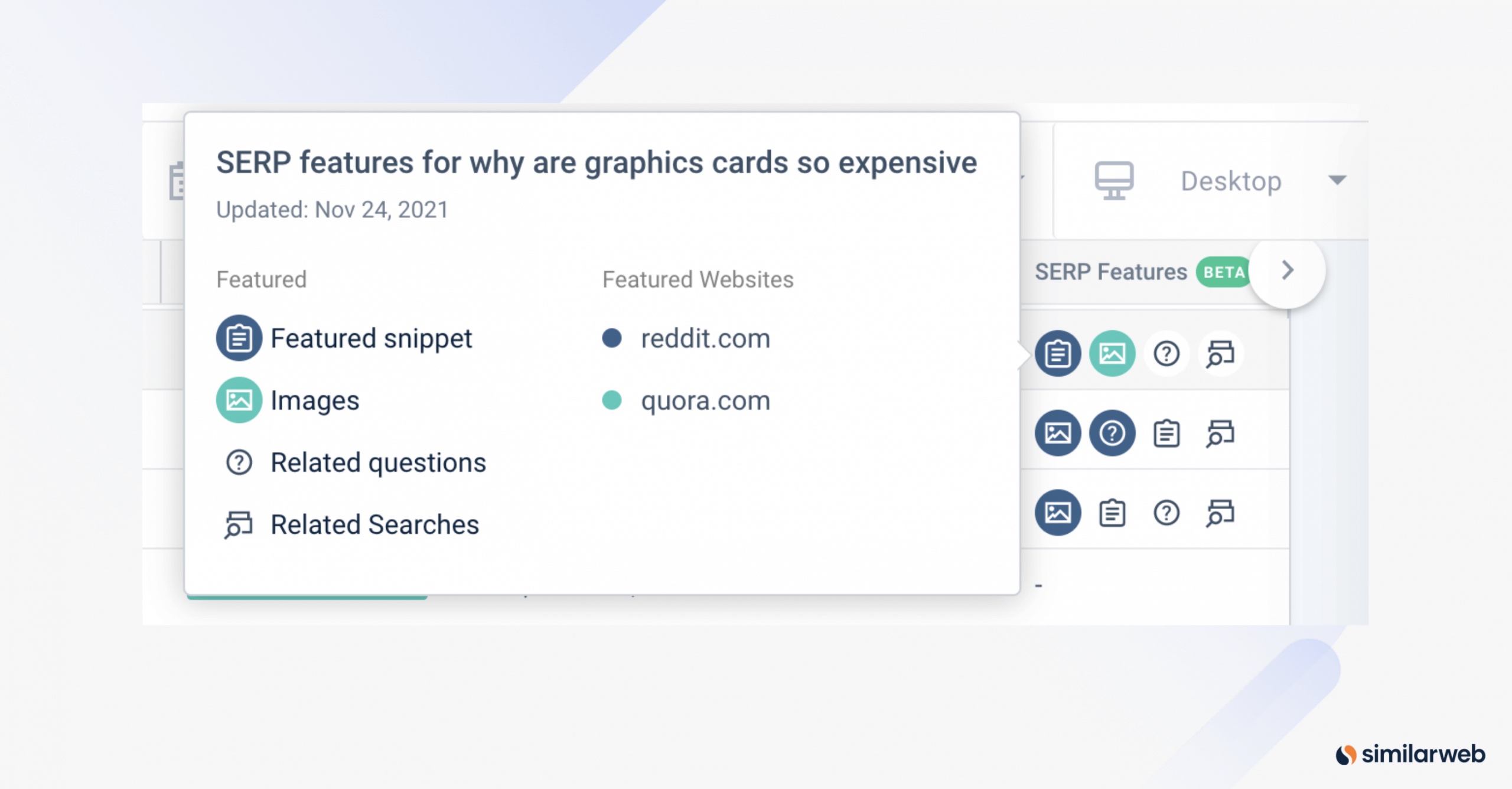 9. Schema markup
Schema markup helps you further categorize your content. It's yet another tool that helps search engines understand and rank your content. A form of structured data (SD), schema markup adds categories to information on your web page. 
A common example is recipe web pages. If you search for a recipe on Google, the schema markup provides you with cooking times and calories for the recipe before you even click the result. 
Structured data like schema markup can help you increase traffic to your website.
Final thoughts
On-page SEO is one of the most effective methods of ​content marketing. Keep this on-page SEO checklist on hand for a step-by-step page optimization guide as you optimize live web pages and create new high-quality content for your websites or clients.
With this checklist and SEO tools like Similarweb, you'll access the most accurate and comprehensive keyword and competitor web data to take advantage of all your on-page SEO opportunities. Start achieving higher SERP rankings and organic traffic now.
FAQs
What is on-page SEO?
On-page SEO is the process of making improvements to your web pages for searchers and search engines, with the goal of increasing your rankings.
What is off-page SEO?
Off-page SEO refers to factors outside of your website that help boost the ranking of a website in the SERPs (search engine results page). For example, backlinks from link building or social media marketing.
What are on-page SEO techniques?
There are several on-page SEO techniques you can use:
Keyword research

Meta tags

H1 tag

Header tags hierarchy 

High-quality content 

Internal links

Image optimization

Featured Snippets

Schema makeup
This post is subject to Similarweb legal notices and
disclaimers
.
Wondering what Similarweb can do for you?
Here are two ways you can get started with Similarweb today!