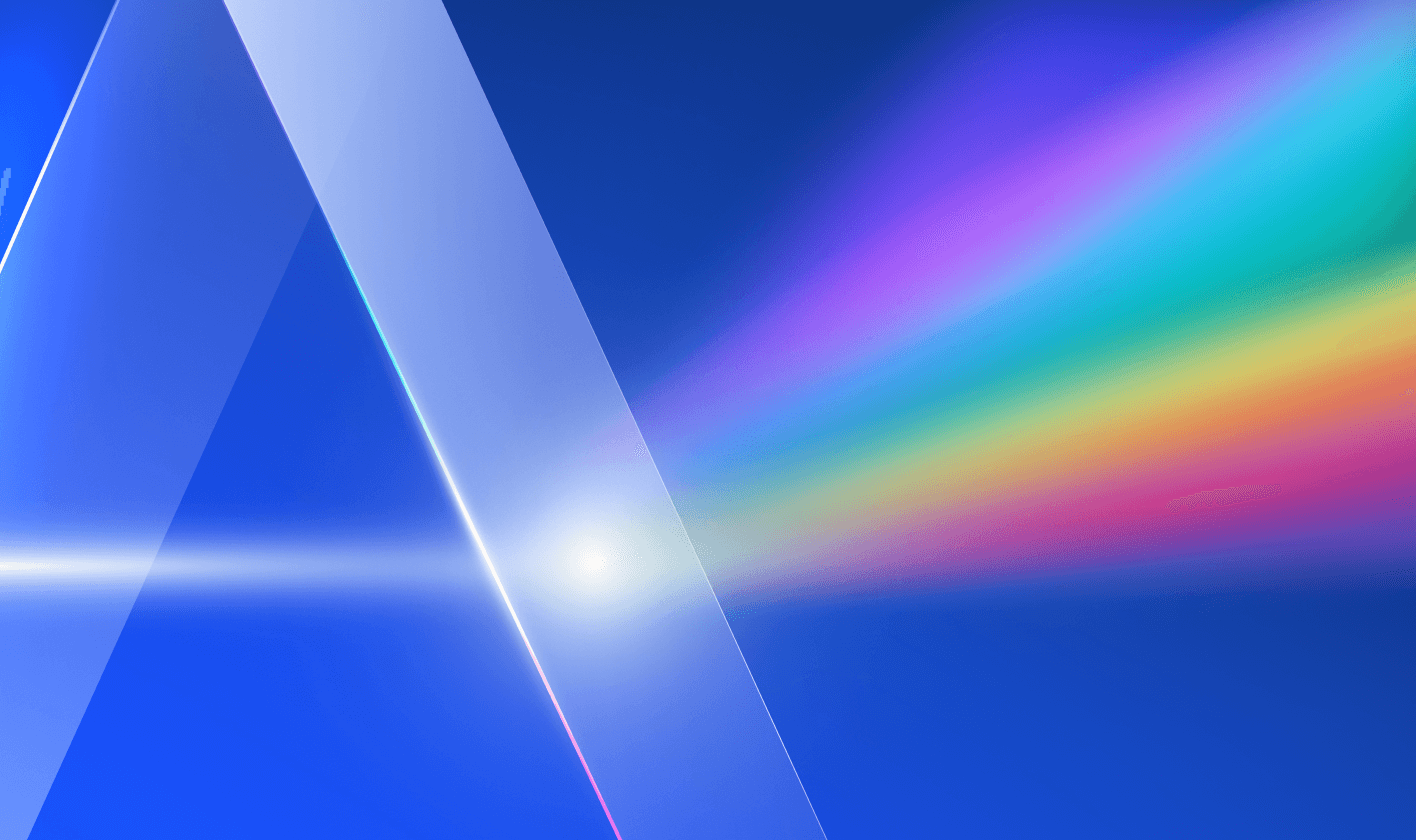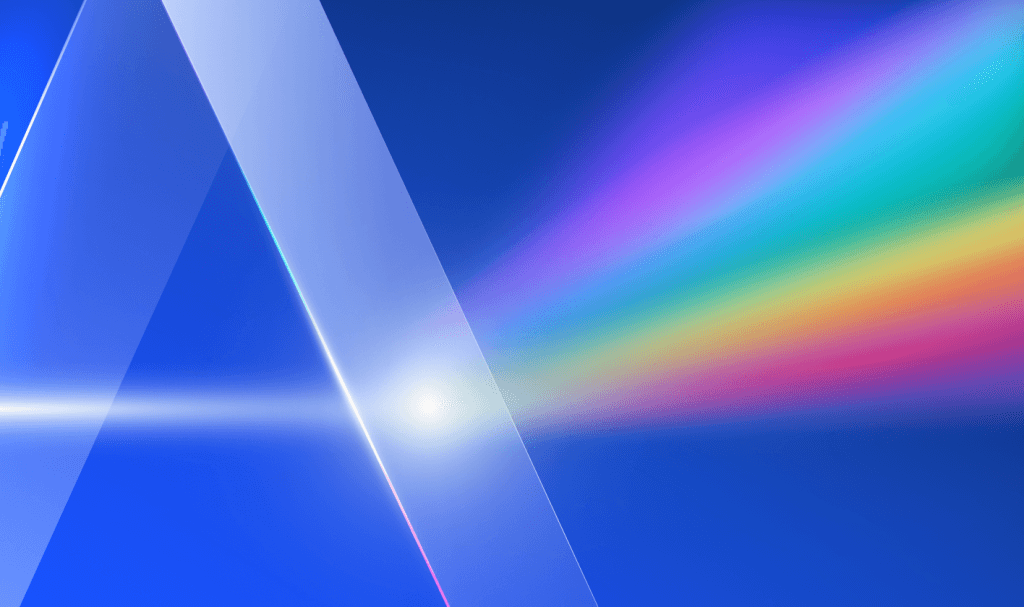 Marketing Intelligence
Facts and Stats about Pride Month that Will Make You Say "Huh"
June 15, 2022
| Updated June 19, 2022
The first Pride Parade was actually a riot. Yes, you read that right. While today Pride is perceived by many as a fun celebration of love, hashtags like #loveislove and parading out in the streets of San Francisco, the LGBTQ community isn't welcome everywhere, even today.
The Pride Parade was, and still is, a fight for recognition, which started after the events at Stonewall in 1969. Unsure what happened there? It's okay, I'll loop back to that in one second.
The internet is a reflection of what's happening in the world around us. We have the ability to literally watch and analyze the evolution of social and political events as they unfold. We can see the language people use via queries in search engines, how people are using language thanks to search intent, and even evaluate which websites are popular by watching traffic trends.
I know, I know. It's not shocking that an SEO Director believes in the power of analyzing searches, so I don't expect you to take my word for it. That's why I dove into Similarweb data to prove it to you.
But, before we see how the internet is celebrating Pride in 2022, let's quickly brush up on the event's history. After all, if we don't know how people used to discuss it, how can we properly understand today's trends?
Feel free to skip ahead if you already know this part.
Facts about Pride month: History and background
Gay activism – There were LGBTQ activists long before Pride, but Pride month was a marked change in modern history. It's the first time we've seen the movement for LGBTQ equality become almost mainstream.
Stonewall Inn – This is the first documented LGBTQ uprising in U.S. history. In 1969, the NYC police raided a well-known gay club, The Stonewall Inn. This led to a clash and protest and triggered a worldwide gay rights movement.
Brenda Howard – The "Mother of Pride", coordinated the Liberation March in 1970, exactly one year after the Stonewall Riots to commemorate the incident. She birthed the idea of a week-long festival with parades, rallies, and parties. Her idea has remained unchanged ever since.
The Rainbow flag – Designed in 1978 by Gilbert Baker, this quickly became the most recognized symbol of the LGBTQ community. The colors symbolize: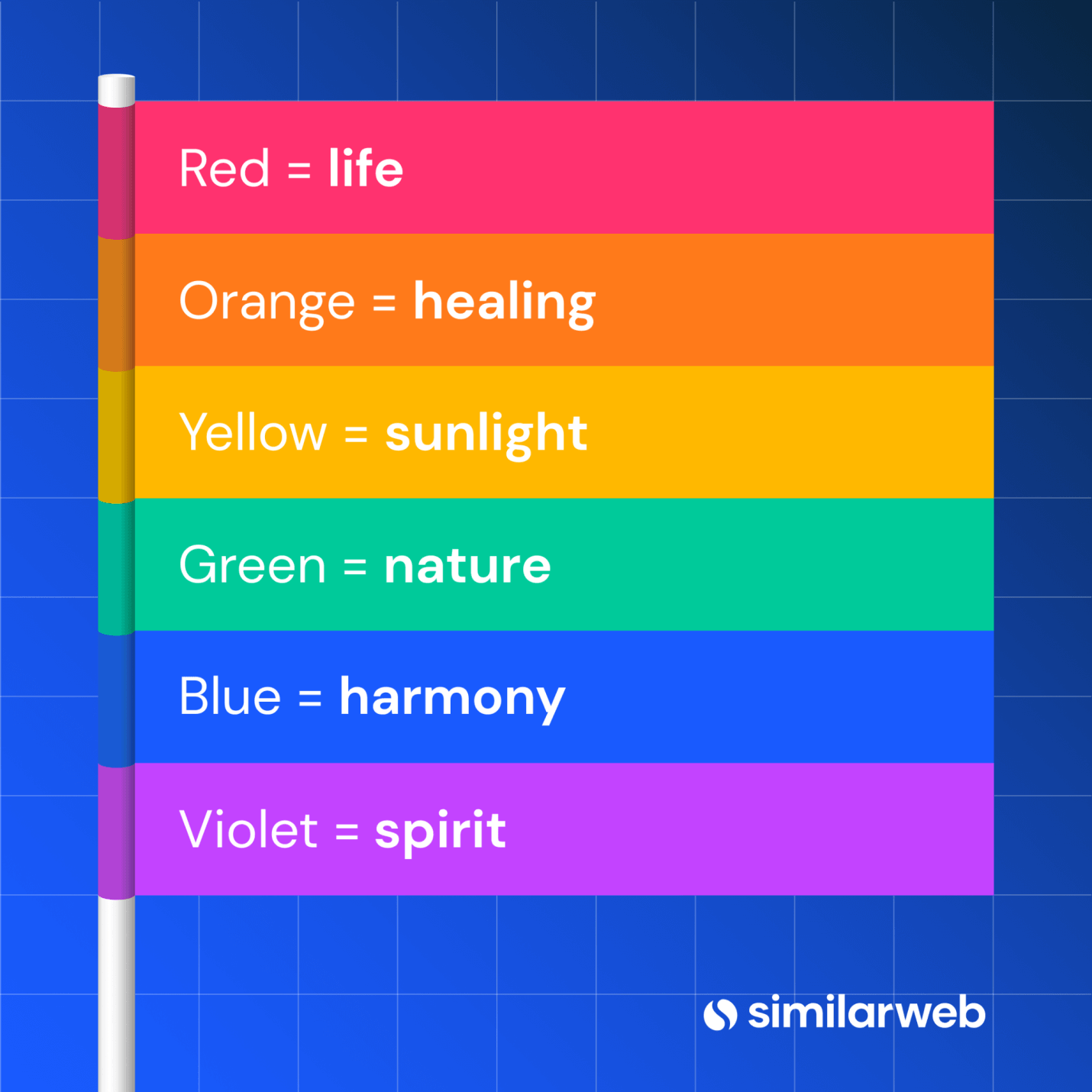 It's important to note that while the rainbow flag is meant to be the official symbol of Pride, there are many other flags that people use during Pride to represent the sub-orientations such as bi-sexual, pan-sexual, and others.
Pride month marketing: is rainbow marketing becoming mainstream?
I can almost hear some of you still thinking about my definition of "gay activism" and questioning why I would say Pride has become almost mainstream… First of all, I didn't say mainstream, I said almost. And, it almost has.
Let me explain.
Brands are purely for profit, and many have found it profitable to create specific Pride marketing campaigns. We can go back and forth on whether marketing for Pride furthers or hurts the cause, but the fact is, it's happening.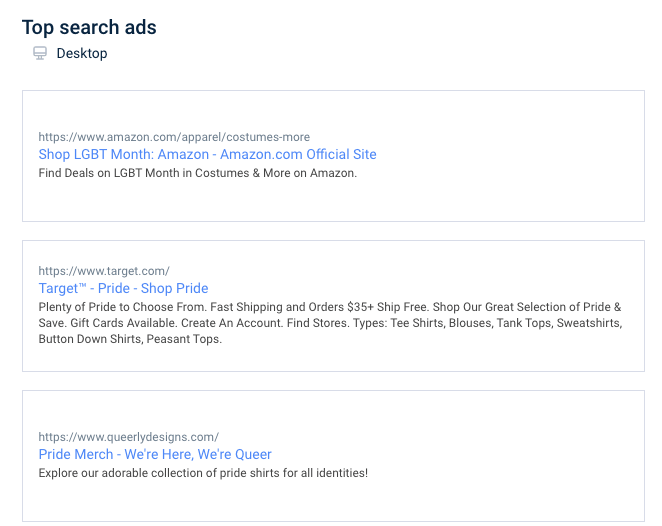 Examples of top Pride search ads found on Similarweb Digital Marketing Intelligence.
In fact, it's such a popular marketing tactic now that "Ikea pride couches" and "Target pride collection" are within the top 15 most searched terms related to Pride over the past 3 months.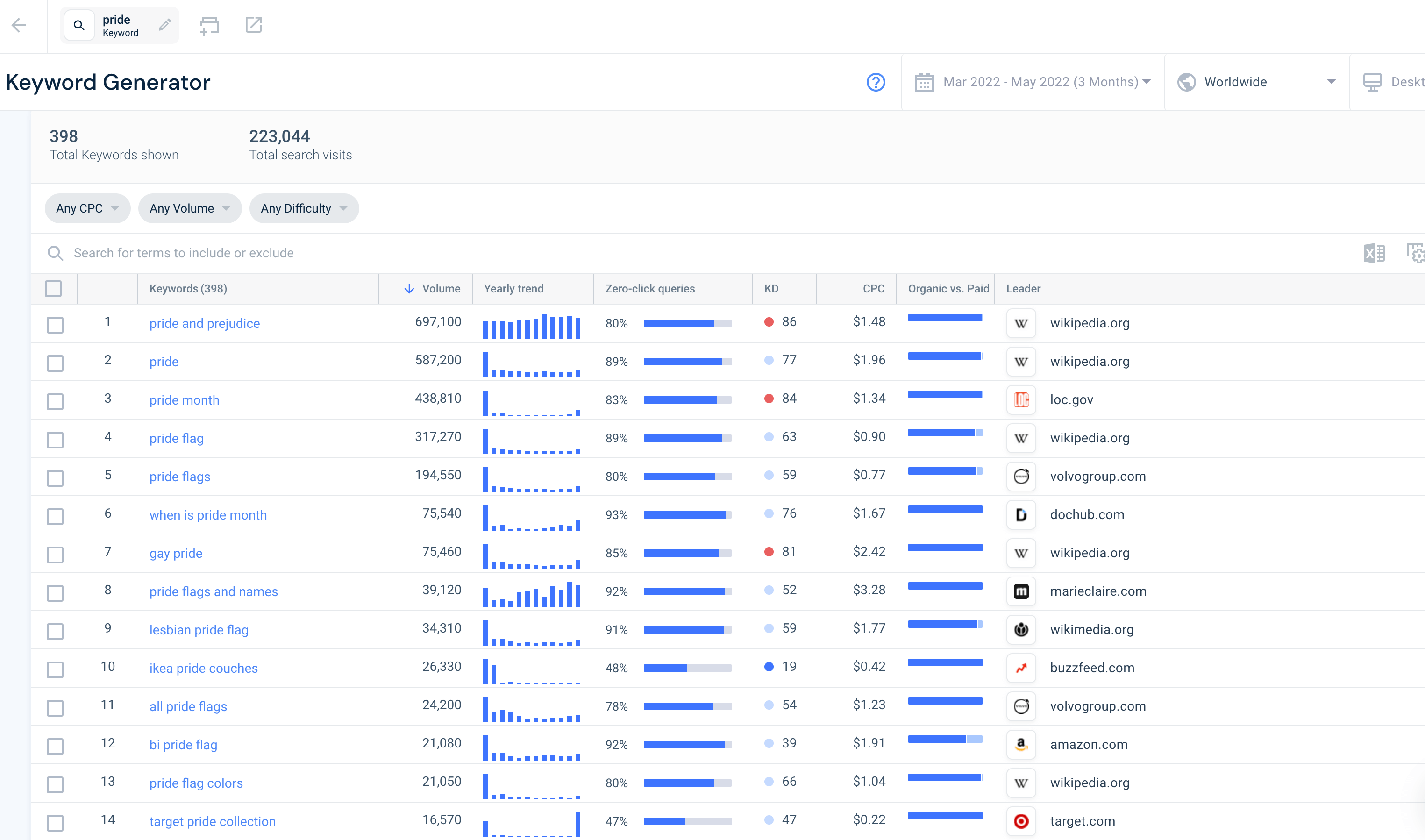 The top 15 Pride related search terms found on Similarweb.
Top pride events worldwide
Pride events in a city typically mean the city is supportive of its LGBTQ community, at least to a certain degree. Intuitively, cities that host Pride events see an influx of rainbow marketing and economic benefits.
As locals prepare for Pride they buy rainbow decorations, apparel, car accessories, in addition to party supplies like food and drinks. Not to mention, good Pride parades are internationally renowned so they attract loads of tourists, filling up hotels, restaurants, bars, and ultimately boosting the local economy.
Let's look at some of the best-known Pride Parades worldwide, in no particular order.
New York City – I'd be remiss if I didn't kick off this list with the home of Pride. The Stonewall Inn was a NYC bar afterall. With 50+ Pride events and over 3 million attendees, New York Pride is one of a kind.
San Francisco – Sticking to the U.S.A for now, I have to mention San Francisco, one of the oldest and largest pride events in the world. This party for equality goes on for 2-days straight (pun intended).
Tel Aviv – Tel Aviv is known as the gay capital of the Middle East and hosts a week of pride events. With over 170,000 Israelis participating in the parade alone, you can imagine how big this event is. As an Israeli, I have to say, this is one of my favorites.
Madrid – With about 2 million people expected to attend Madrid pride this year, the city plans to put on a week of colorful parties and attract tourists from around the world.
Copenhagen – One of the most loved pride parades worldwide, Copenhagen hosts a week of LGBTQ events, which attracts millions of attendees each year.
How the internet is talking about Pride
You remember I'm an SEO Director, right? So, you'll forgive me – I can't help myself but show you the power of internet search terms.
We can make assumptions about how people talk about any topic by how they search for that topic online and by what type of information they're looking for from that search. For example, for Mother's Day in the U.S. we can assume people will search for some variation of "gifts for mom" whereas in the U.K. we'd expect "gifts for mum". Get what I mean?
So, let's take a look at what we can learn from this year's Pride-related queries.
In general, the conversation online about Pride still seems to be aimed at the Ls and Gs in LGBTQ. However, with the diversity in flags and increased representation of smaller orientations, we may see these search trends change overtime to include more diverse language.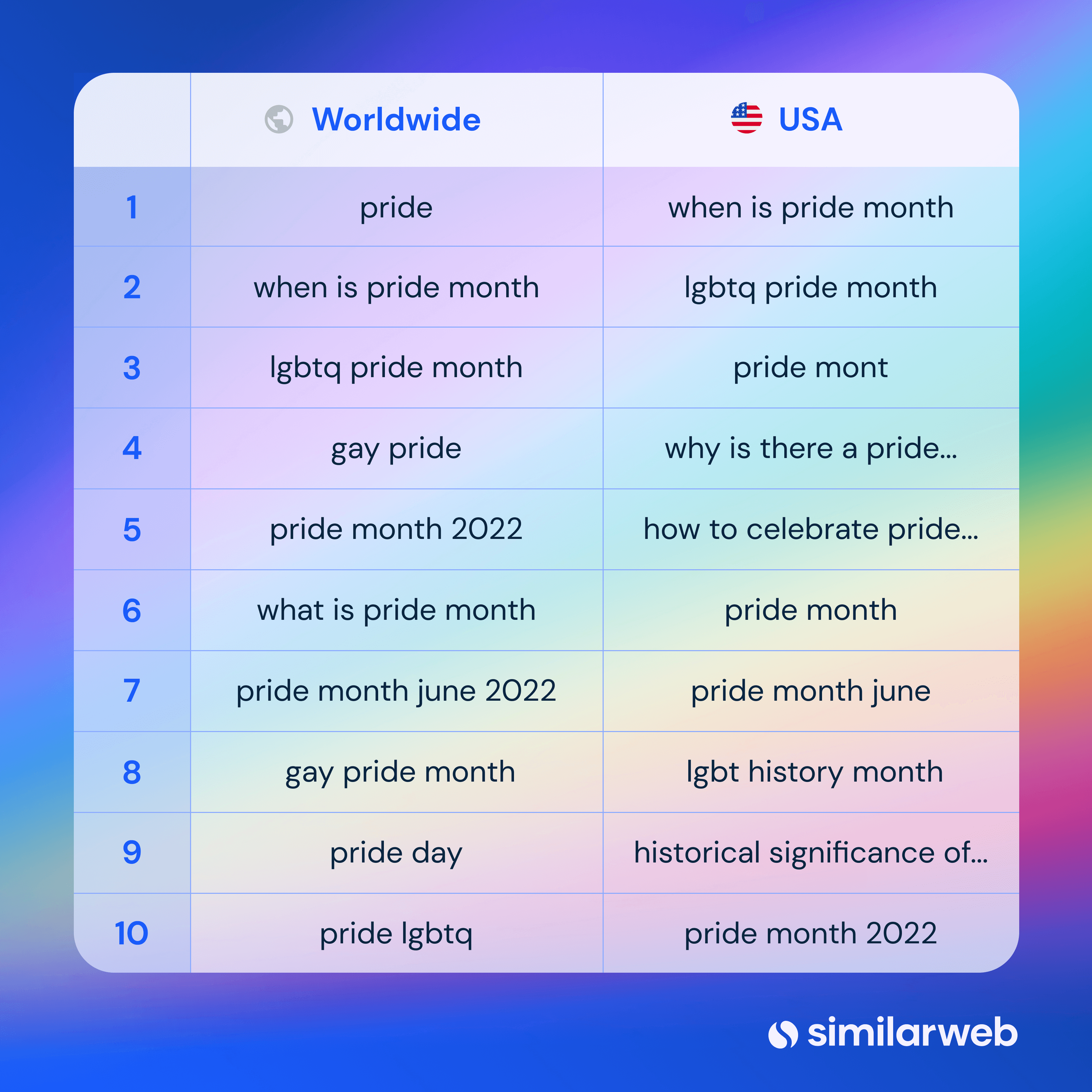 You are not alone: top pride searches and resources
Most popular searches about pride
Below are the top 50 searches people have Googled in relation to Pride from March – May 2022. As you can see, "Pride" has about 587,200 people searching for it alone. Next up, "pride month" can boast a whopping 438,810 searches. The terms "pride flag" and "pride flags" are not far behind at 317,270 searches and 194,550 searches, respectively.
The takeaway? There are a lot of people looking for more information about Pride month and LGBTQ topics. Even if you're the only one in your city looking for more info, there are literally hundreds of thousands of other people looking too.
You are not alone in your search.
| Keyword | Volume |
| --- | --- |
| pride | 587.2K |
| pride month | 438.8K |
| pride flag | 317.3K |
| pride flags | 194.6K |
| when is pride month | 75.5K |
| gay pride | 75.5K |
| pride flags and names | 39.1K |
| lesbian pride flag | 34.3K |
| ikea pride couches | 26.3K |
| all pride flags | 24.2K |
| bi pride flag | 21.1K |
| pride flag colors | 21.1K |
| target pride collection | 16.6K |
| pride colors | 13.1K |
| pride week | 11.7K |
| pride 2022 | 11.1K |
| lost ark forge of fallen pride | 8.1K |
| lgbt pride | 6.8K |
| bi pride | 6.7K |
| gaypride | 5.5K |
| pride pins | 5.2K |
| pink green blue pride flag | 5.K |
| queer pride flag | 4.3K |
| pride flagg | 4.K |
| pride flags chart | 3.9K |
| all pride flags and names | 3.6K |
| pride parade 2022 | 3.2K |
| all the pride flags | 3.K |
| gay men pride flag | 2.6K |
| pride car | 2.5K |
| pride audio | 2.5K |
| asexual pride | 2.4K |
| pride car audio | 2.3K |
| pride colors meaning | 2.3K |
| how many pride flags are there | 2.2K |
| pride. | 2.2K |
| pride flag chart | 2.K |
| pride online | 2.K |
| purple white green pride flag | 2.K |
| pride solo mini | 1.9K |
| pride banner | 1.9K |
| pride lgbt | 1.9K |
| oslo pride | 1.9K |
| disney pride collection | 1.8K |
| pride quattro xl | 1.7K |
| pride flag list | 1.7K |
| pastel pride flag | 1.7K |
| pride gifts | 1.7K |
| pride flags list | 1.6K |
| pride magazine | 1.6K |
| pride nutcracker | 1.5K |
| pride flag colours meaning | 1.5K |
| pride diamond 8 | 1.4K |
| pride gear | 1.4K |
| pride oslo | 1.3K |
| list of pride flags | 1.3K |
| pride mt 12 | 1.3K |
| pride flag colors meaning | 1.2K |
| pride ally flag | 1.2K |
| manchester pride 2021 spotify | 1.2K |
| pride rocx 8.1 | 1.2K |
| pride wiki | 1.2K |
| pride bikes | 1.1K |
| pride quattro | 1.1K |
| gay pride meme | 970 |
| pride rocx tour | 960 |
| green white blue orange flag pride | 940 |
| pride flag pastel | 880 |
| pride quattro plus | 820 |
| pride uno | 810 |
| anime pride | 810 |
| pride mt 15 | 770 |
| pride flag generator | 720 |
| pridebikes | 700 |
| pride junior pro 12 | 690 |
| pride lgbtq | 690 |
| pride w8 | 640 |
| pride uno plus | 590 |
| pride rocx | 580 |
| pride t15v3 | 570 |
| велосипед pride | 520 |
| pride harmony 6.5 | 520 |
| pride news | 520 |
| велосипеды pride | 510 |
| pride onyx 12 | 500 |
| pride.com | 490 |
| pride car audio russia | 490 |
| pride solo evo | 480 |
| pride lp 12 | 480 |
| pride oslo 2022 | 470 |
| oslo pride 2022 | 460 |
| gaypride flag | 460 |
| green and purple pride flag | 450 |
| pride ruby voice 6.5 | 440 |
| pride easy 6.5 | 420 |
Resources for youth
Youth.gov is a website that provides information and support to LGBTQ youth in the United States. Over the past month, youth.gov's website had over 100,000 people visit it and 18% more people visited in May than did in April. And, this is not the only website that serves this community, so you can imagine how many kids are Googling and searching for these services.
Even if you're the only kid in your town looking for LGBTQ resources there are at least 100,000 other people looking too.
You are not alone in your search.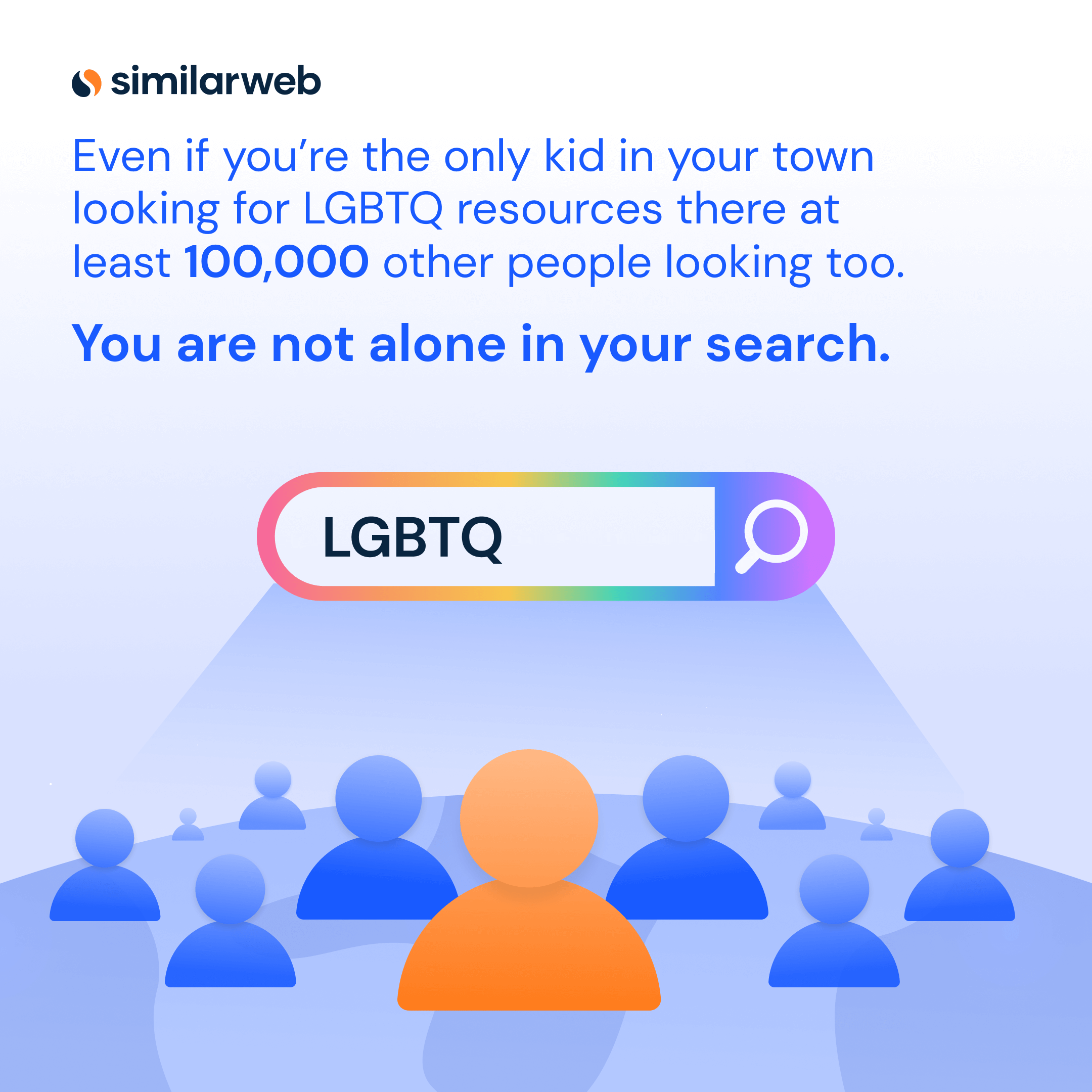 Resources for marriage & divorce
The "question" of legality of gay marriage, naturally brings up the topic of gay divorce. It's not romantic to bring up marriage and divorce in the same breath. It's also counter-intuitive for people to discuss gay divorce since the LGBTQ people are fighting so hard for the right to get married to begin with. But, just as love does not discriminate, neither do breakups.
This leads to a few things:
In places where LGBTQ couples can't legally get married, but have built a life together, the couple has all the same complications as a hetero divorce without the legal clarity. Who gets the house? How do you divide time with kids?
As little representation as same-sex couples get in Hollywood, same-sex breakups get even less. This leads to it feeling taboo.
The search term "gay marriage" had upwards of 35,000 monthly searches, "same-sex marriage" had about 27,000 people searching it too. In contrast, the term "gay divorce" had 850 searches.
When I combined all the keywords related to LGBTQ marriage and divorce over the last three months, there are over 76,000.
Even if you're the only one in your area looking for resources about LGBTQ marriage or divorce there are at least 76,000 other people looking too.
You are not alone in your search.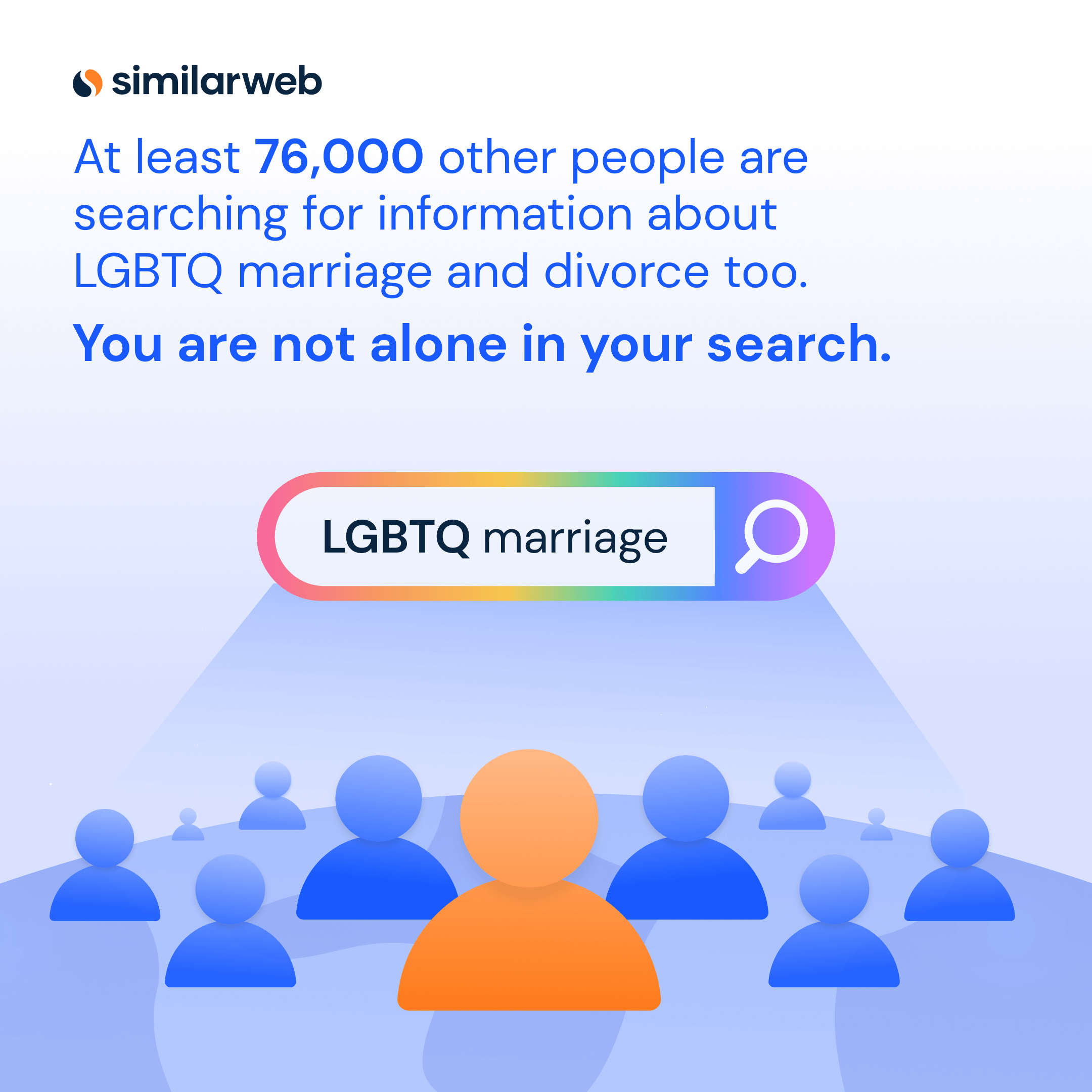 What did I learn from Pride 2022?
What began as a riot has turned into an internationally recognized movement. It's important to remember how Pride has developed over the years in order to help us guide it forward.
So, I'll end similarly to how I began: the internet is a reflection of what's happening in the world around us. And the world is changing, but there is still more change needed. I hope I've shown you the data behind the online trends and behavior surrounding Pride- and my key message is this: even if you're in a town that doesn't have an LGBTQ community, Similarweb data proves that trends are evolving and you are not alone.
This post is subject to Similarweb legal notices and
disclaimers
.
Wondering what Similarweb can do for you?
Here are two ways you can get started with Similarweb today!