Keywords are the building blocks in your SEO strategy. To build a robust framework, you need to make sure you're not missing vital elements – in other words, find if there are gaps in your keyword lists.
With a keyword gap analysis tool, you discover the keywords others use in their SEO architecture and find what you are missing.
In this post, we'll explain what keyword gap means, and how to solidify your keyword targeting strategy. 
What is keyword gap analysis?
To describe keyword gap analysis, we first need to clarify what a keyword gap is. 
'Keyword gap' is a metric that measures keyword discrepancies between you and your competition. Most keyword research tools compare the keywords your site ranks for with the keywords your competitors rank for. 
Similarweb keyword gap feature goes a step further and compares the traffic generated by these keywords. 
It can seem a bit complicated at first. But, don't worry, we're here to explain how keyword gap works on other tools and with Similarweb. At this point, it's important to understand that a keyword gap analysis aims to find keywords you're missing out on and evaluate their potential for your business.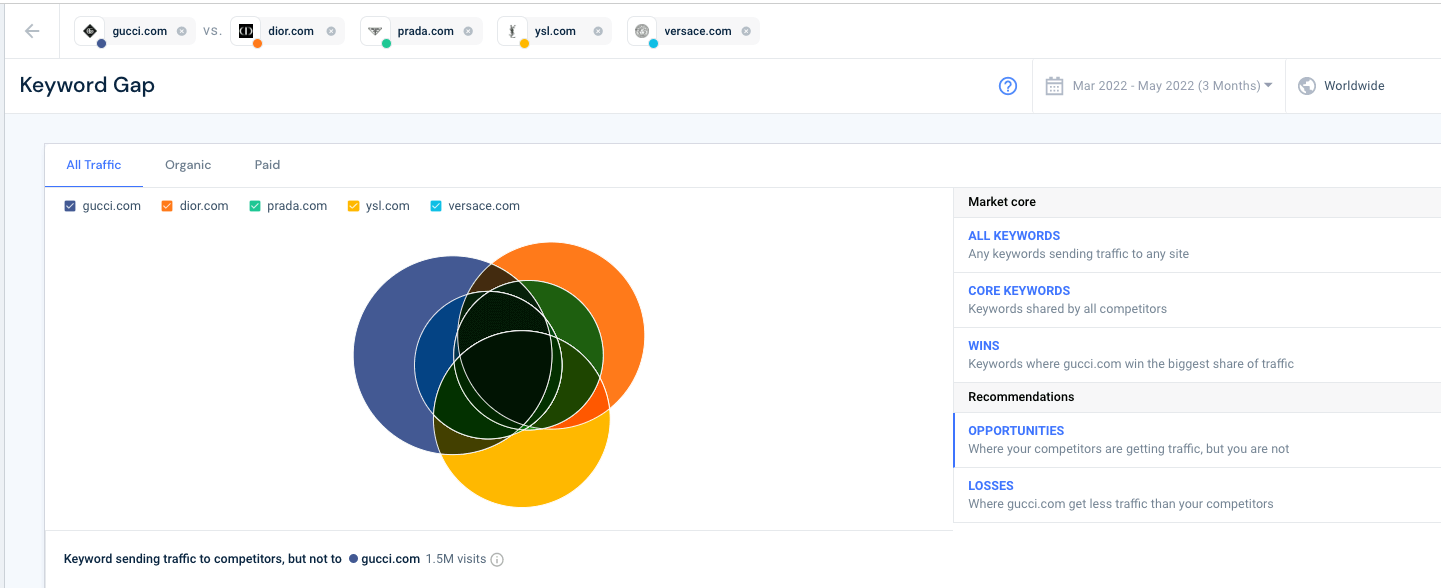 Caption: The keyword gap tool shows how keywords overlap and what percentage you aren't getting traffic. Next, you'll dive into the keyword data that follows.
What are the benefits of Keyword gap analysis?
This method of analysis finds the gaps in your SEO strategy so you can close them.  
It lets you: 
Uncover

keyword opportunities

that you are missing out on. 

Optimize your content

with additional keywords to target.

Generate new content ideas.

Understand your audience and how they search.
A keyword gap analysis is a significant part of keyword research, which is also competitive research in many ways. You compete on Google for attention, traffic, and visitors. 
Through keyword research, you learn about audience preferences and behavior to make intelligent keyword choices. You also learn about your competitors' choices and how good they are. 
If search terms are valuable to your competitors, they could be just as useful to you. This is what you need to figure out. 
How to do an effective keyword gap analysis?
Of course, not all competitors target the same audience or offer the same product range. Scores of keywords could be beneficial for them but not for you. So the first step is to narrow down your keyword list by removing branded keywords and unrelated search terms.
For detailed guidance read our how to do a keyword gap analysis article.
Once you've got a focused keyword list, it's time to start digging into the data.
You want to find the keywords your competitors target successfully – now draw a fat line under successfully.
Why the emphasis on that word? Most keyword gap tools go by ranking. They find the keywords your competitors rank for, but you don't. That's critical for the ranking competition, but it doesn't tell you if the keyword generates traffic to the competitor's site. 
Let's put that in clearer terms: If a site ranks high for a keyword that doesn't drive traffic, the site doesn't benefit. What's the point in ranking first if it doesn't result in visits? To determine whether the keyword is beneficial to the site, you need to know if it drives traffic. 
The next step is to weigh all the opportunities the keywords reveal. Integrate valuable terms into your content plan and optimize your content. 

Caption: This is an example of a keyword list generated through the Similarweb keyword gap tool.
Significant metrics for keyword gap analysis:
Search volume

– how many people are searching the term, and is the volume high enough to make it worth your while creating content or investing resources?

Keyword difficulty

– how hard will it be to rank for this keyword, and what should be your targeting strategy?

Search intent

– what's the intent behind the searches, and does it match your site purpose?

Traffic generated

– how much traffic did the competitor get through the keyword, and what is the potential for your site to receive traffic?

Type of traffic

– did the site receive organic or paid traffic, and is this relevant to your strategy?

Traffic channel

– which channel did the traffic come through, and how does it fit in with your digital marketing priorities?
How is Similarweb keyword gap analysis unique?
The Similarweb keyword gap feature is evaluated by the volume of traffic generated from a keyword. The results are based on how well the keyword performs for your competitors' sites.
This allows you to evaluate more accurately if a missing keyword is potentially valuable for your site or not. 
For example, let's say you discover a keyword your top competitor ranks for in first place. It's got high traffic volume and medium keyword difficulty, so you start creating content right away. 
If you knew at this stage that the competitor receives no traffic from organic search due to zero clicks, you'd reconsider investing time and energy.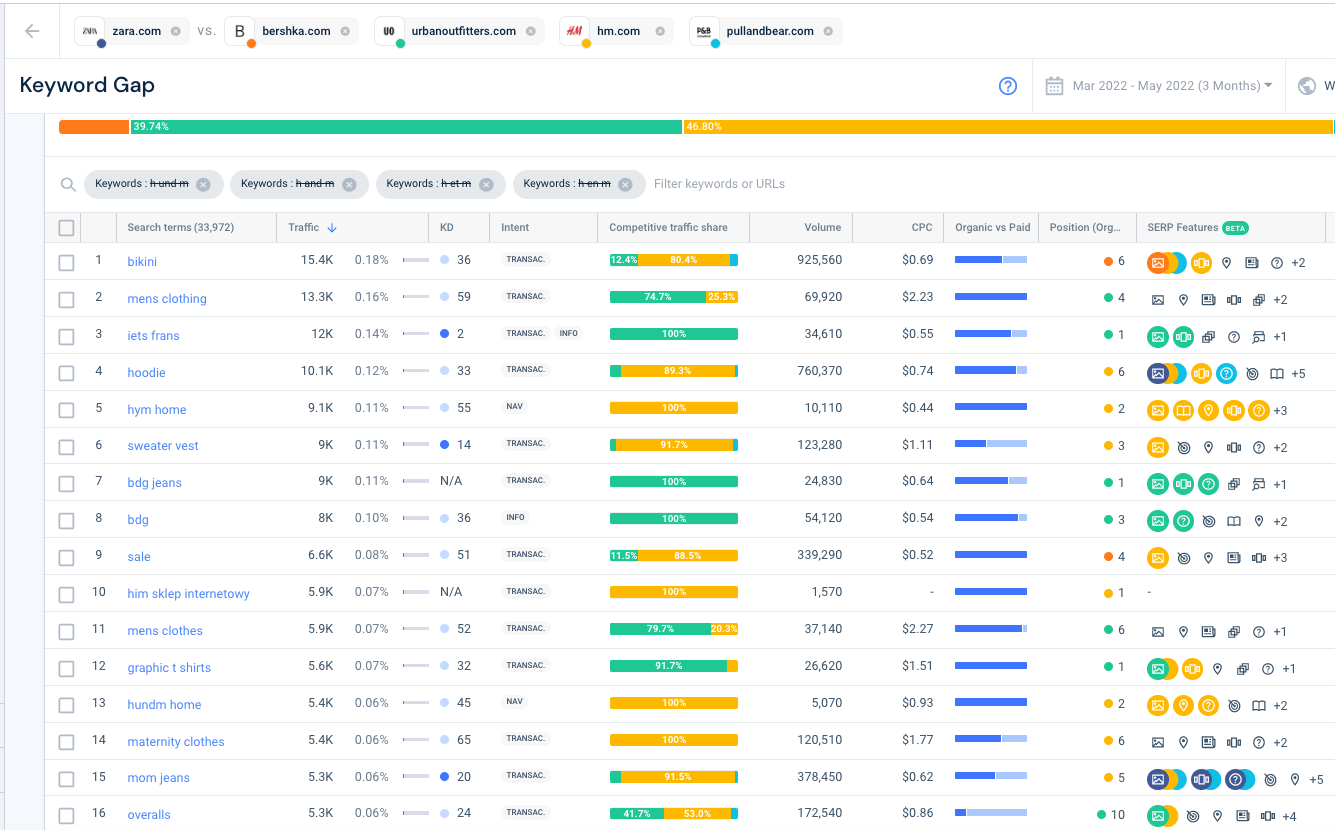 Caption: As an example, see the list of keywords Zara's competitors get traffic for, but Zara doesn't. 
Here's another example: You identify a keyword you have been trying to get organic traffic for, and your competitors are using it in a PPC campaign, grabbing the searchers' attention on the SERP. You start calculating how much you'd have to invest in a paid campaign of your own. 
With a keyword gap display that's based on the traffic generated, you can better assess your financial risks before betting money on the keyword. 
Find high-potential keywords you're missing out on
For most SEOs keyword gap analysis is an ongoing routine part of the optimization process. You'll find keyword gap integrated in all major keyword research tools. Make sure you get maximum insights and value from your tool and identify the keywords that truly matter.
FAQ
How to determine keyword gaps?
To determine keyword gaps, you need to compare your keywords to the competition and see what you're missing. You want to find search terms that generate traffic to your rivals but not your site. Keyword research tools include this as a standard metric; however, most only measure ranking, not actual website traffic.  
How to conduct a keyword gap analysis?
Use a keyword gap tool to identify relevant keywords. Examine search volume, keyword difficulty, traffic and engagement, search intent, marketing channels, traffic source, and CPC to evaluate. 
How to fix keyword gaps?
Select keywords in the gap that are relevant and have value for your site. Then implement them into your SEO and PPC strategies and optimize your content to target the newly found search terms. 
This post is subject to Similarweb legal notices and
disclaimers
.
Wondering what Similarweb can do for you?
Here are two ways you can get started with Similarweb today!