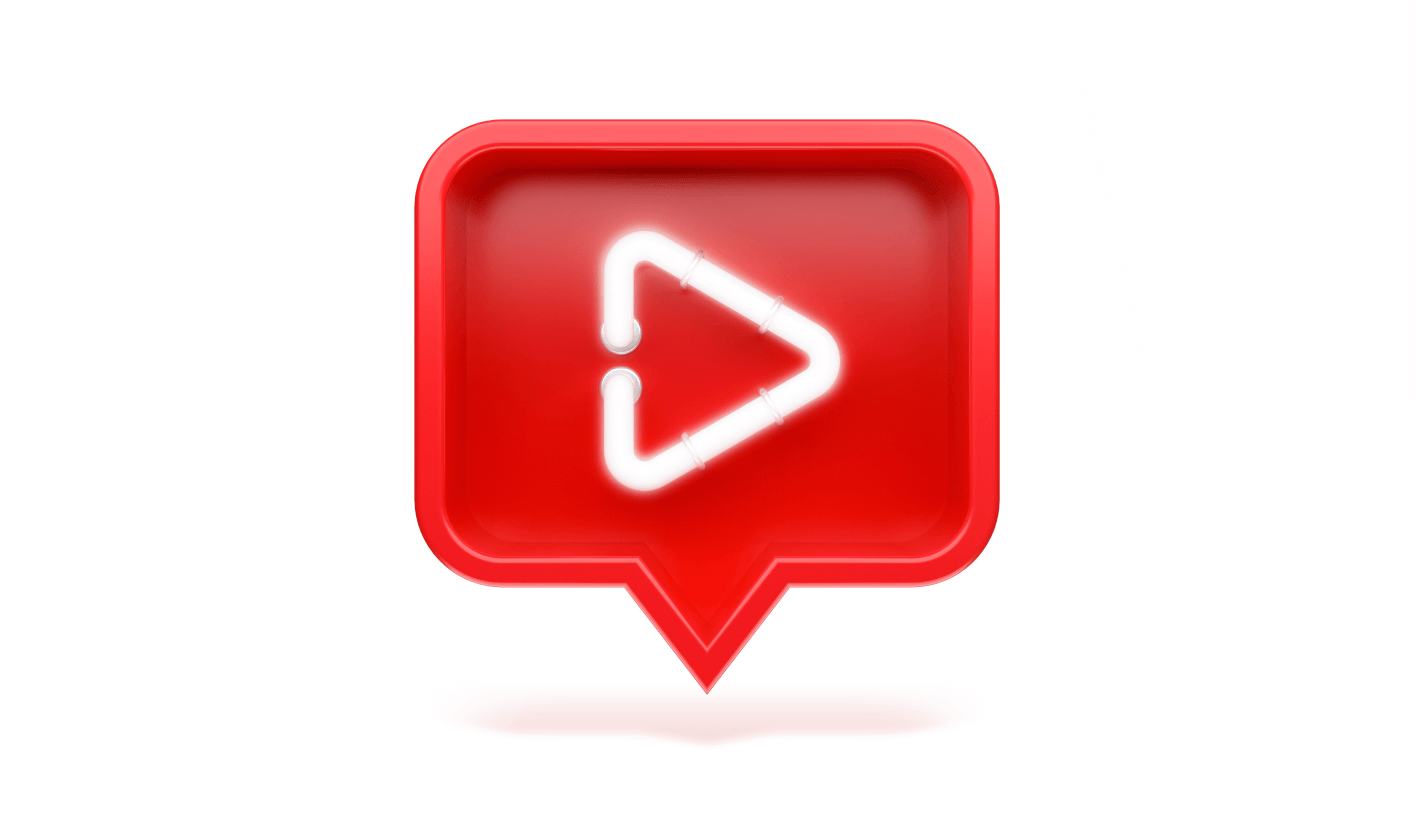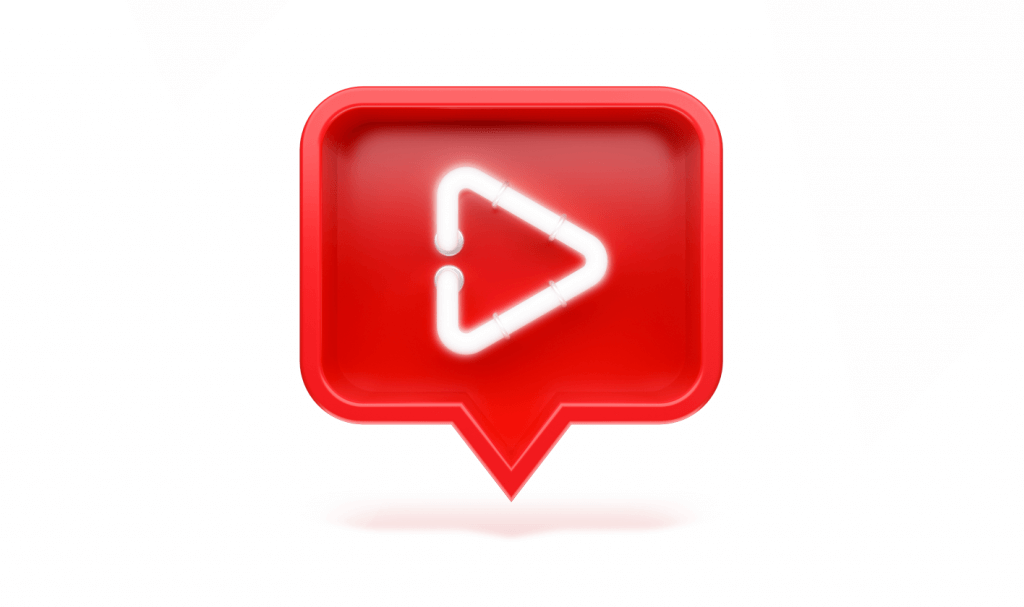 Marketing Intelligence
YouTube Keyword Research and Optimization
September 1, 2021
| Updated September 11, 2022
When it comes to video content, YouTube is the biggest name in town.
According to statistics from Oberlo, 79% of internet users say they have a YouTube account. The platform had 2.3 billion active users in July 2021 (according to Statista), while each day, viewers watch over one billion hours of YouTube video.
But as well as being a video content giant, YouTube is also the second-most popular search engine after Google. 
That's right. YouTube receives more searches per month than Bing, Yahoo, AOL and Ask.com combined, and for today's marketers, it's quickly become an important component of their overall digital strategy.
Why? Well, because people love to watch videos. 
For the digitally savvy generations of today, videos are one of the most accessible content formats available, and research from Cisco states that in 2022, global consumer internet video traffic will reach 240.2 exabytes (EB) per month, the equivalent of 60 billion DVDs per month, or 82 million DVDs per hour.
But with so many content creators creating and publishing videos, not only on YouTube, the challenge is standing out — optimizing content so that it can be found by the right people at the right time, increasing your visibility and (hopefully) subscribers.
All of this means knowing what topics and keywords to build your video content around and where to include them in your video meta description, heading, and more. 
Which is why in this article, we're going to discuss how you can optimize your YouTube videos, from keyword research to meta tag best practices. 
How to optimize for YouTube SEO — identifying the best keywords
As with Google's algorithm, YouTube SEO uses your keywords, content, and metadata (your video's title, tags, and description), to index your video correctly. To maximize your presence in search, promotions, suggested videos, and ads — and to ensure your videos reach the right people — there are a few things you can do. 
YouTube keyword research tool
What do you want your video to be found for? Just like you'd optimize your blog content or web pages for specific keywords or keyword ideas related to what you want to solve or offer (be it a product or service), the same needs to be done with your videos. 
That's where Similarweb's new YouTube Keyword Generator tool comes in. It's how to find keywords for YouTube videos.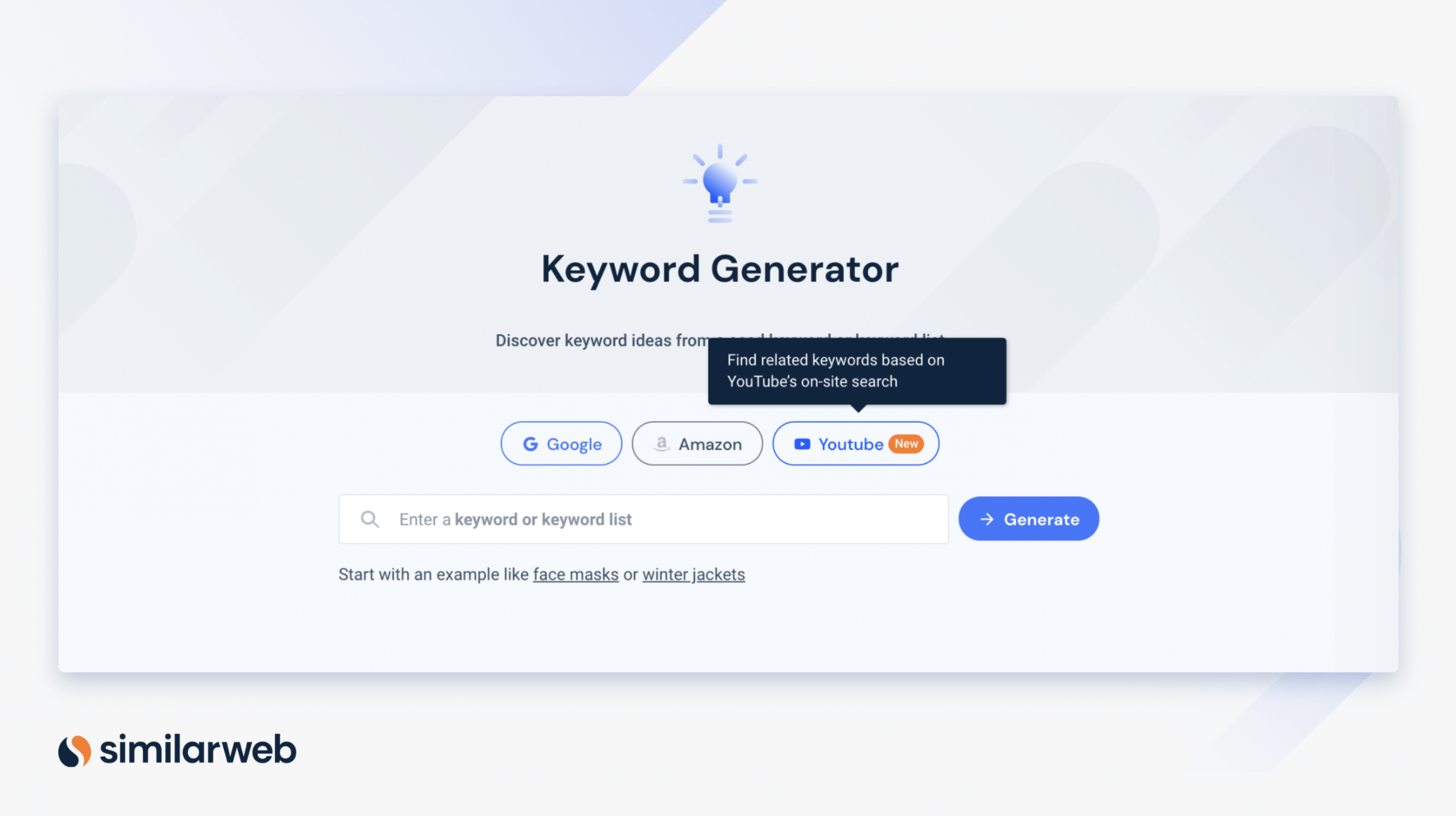 Here we can discover short-tail and long-tail keywords and get an idea of what the search volume, volume trend, actual clicks, and top country searchers are coming from.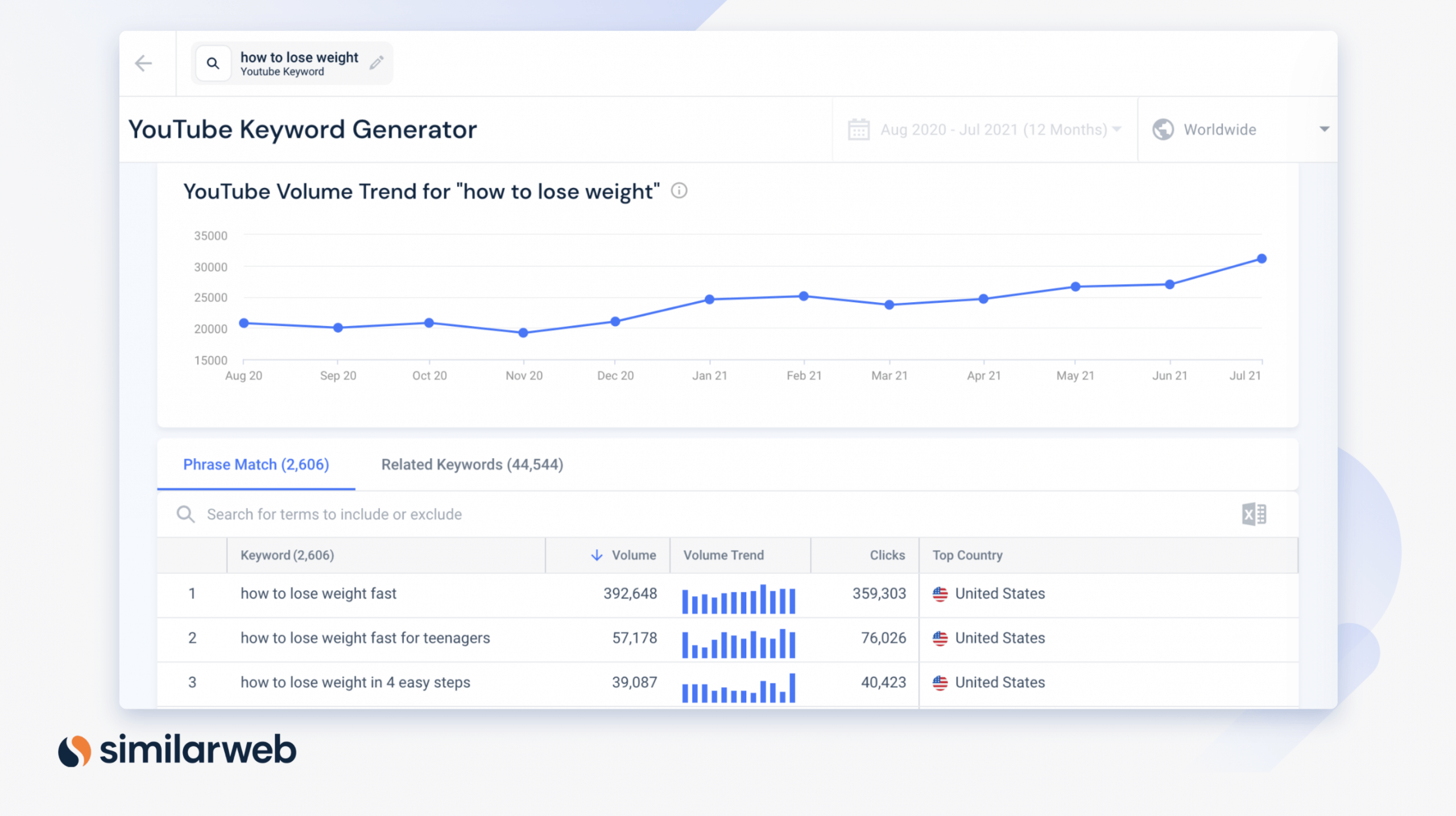 With the YouTube Keyword Generator, you can also check out related keywords and get a general overview of what people are searching for – or narrow it down by adding keywords to include or exclude.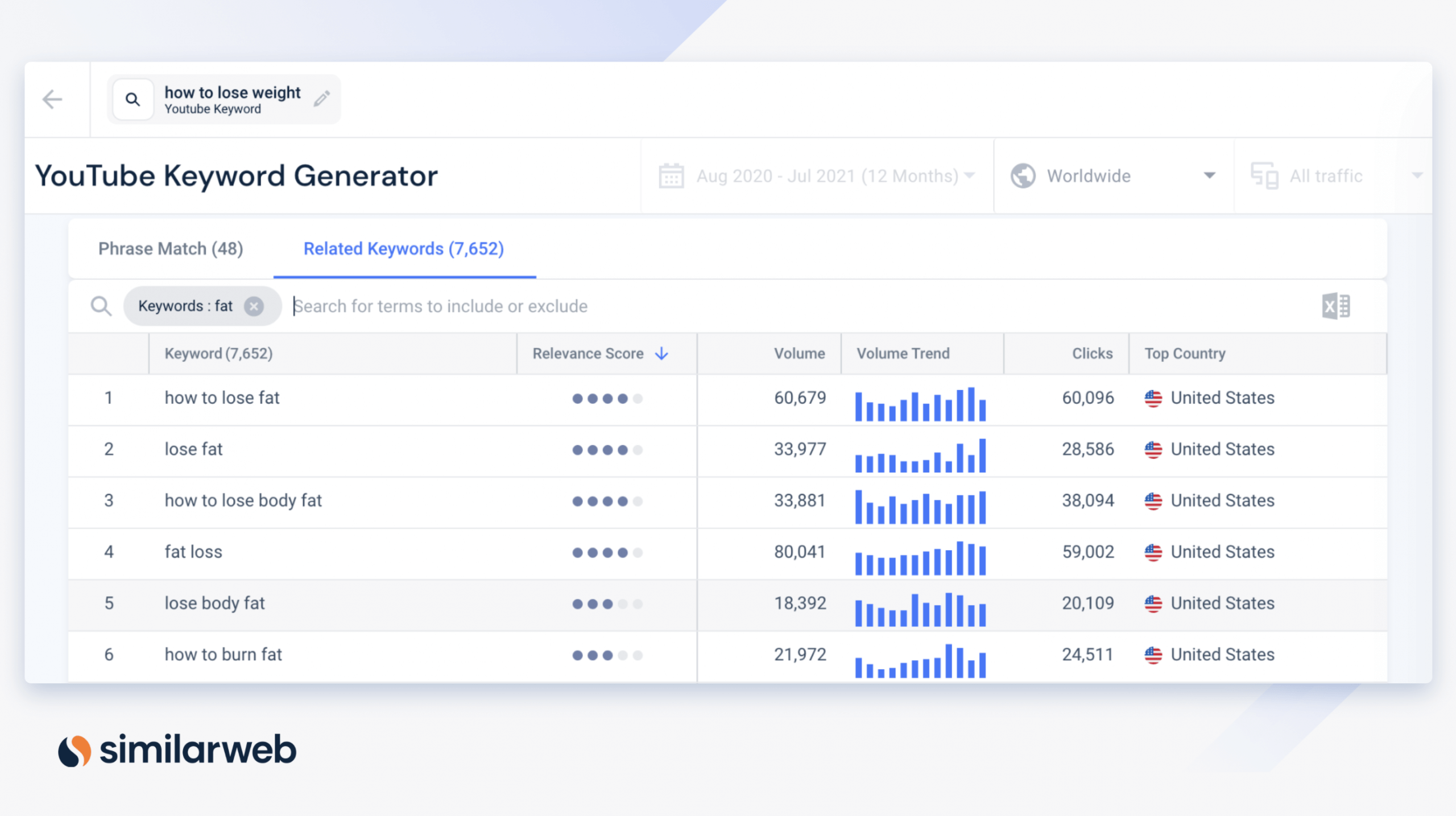 This is a great way to get relevant keyword suggestions for your new videos and to help you reach new target audiences. 
Tagging research
YouTube allows you to include tags to help categorize your videos by keyword, but there's a limit to the number of tags you can include. With this in mind — and just as you would with a blog post or web page — go for long-tail keyword terms that clearly define what your video is about. For example, "how to lose weight and keep it off." ( Below are a few search results.)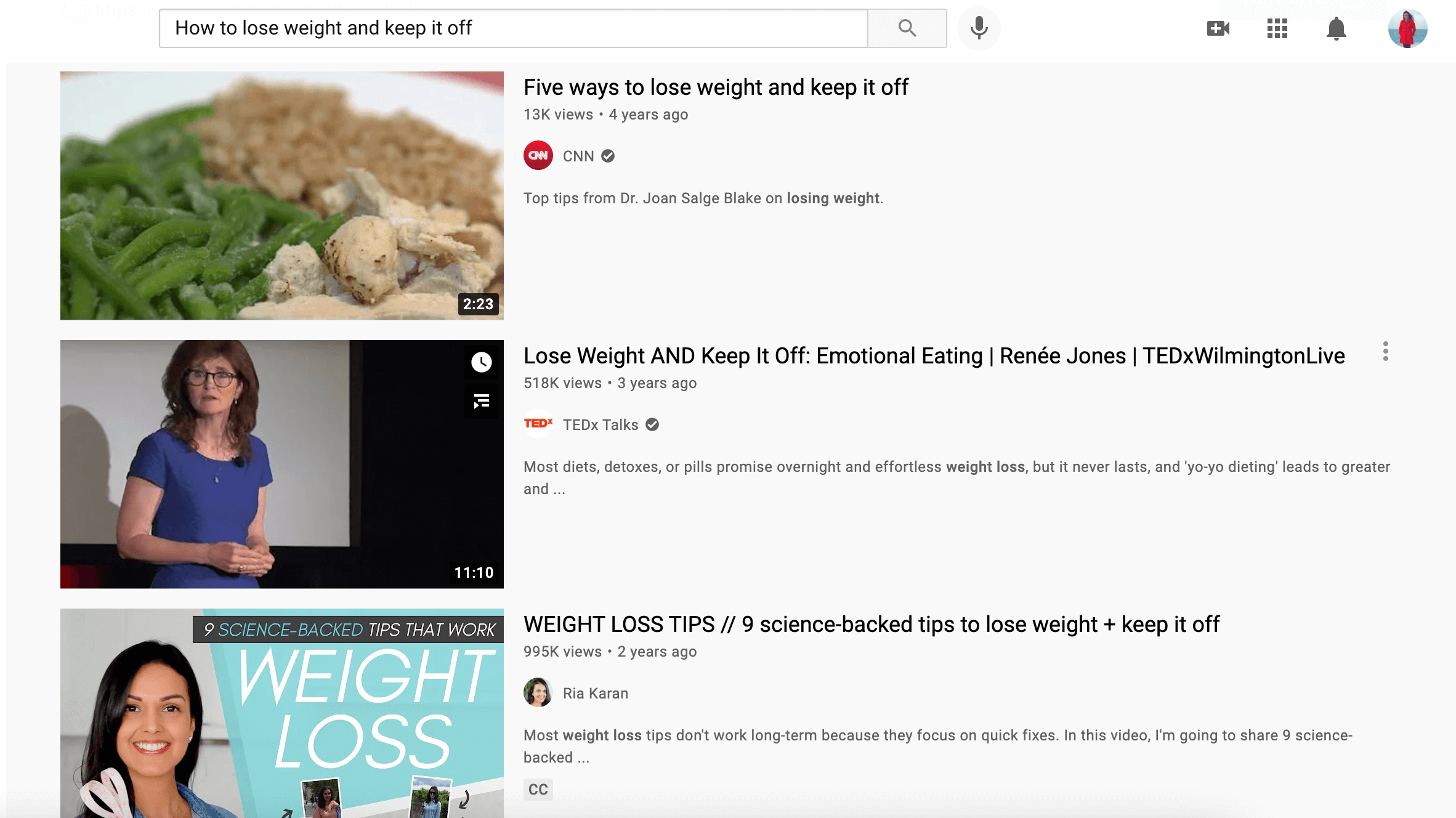 The point of having longer YouTube tags is that they provide clarity (people typing in these terms will be met with videos that serve their exact needs) and they're less competitive. Furthermore, YouTube can understand your tags to decide what content to show. 
You should also think about the nature of your tags. If they include "how to" or "what is," for example, your video content should be informative and educational. You could also include broader tags, such as "weight loss" or "lose weight." These add further pointers to YouTube to help discern what the video is about and who to show it to, based on queries.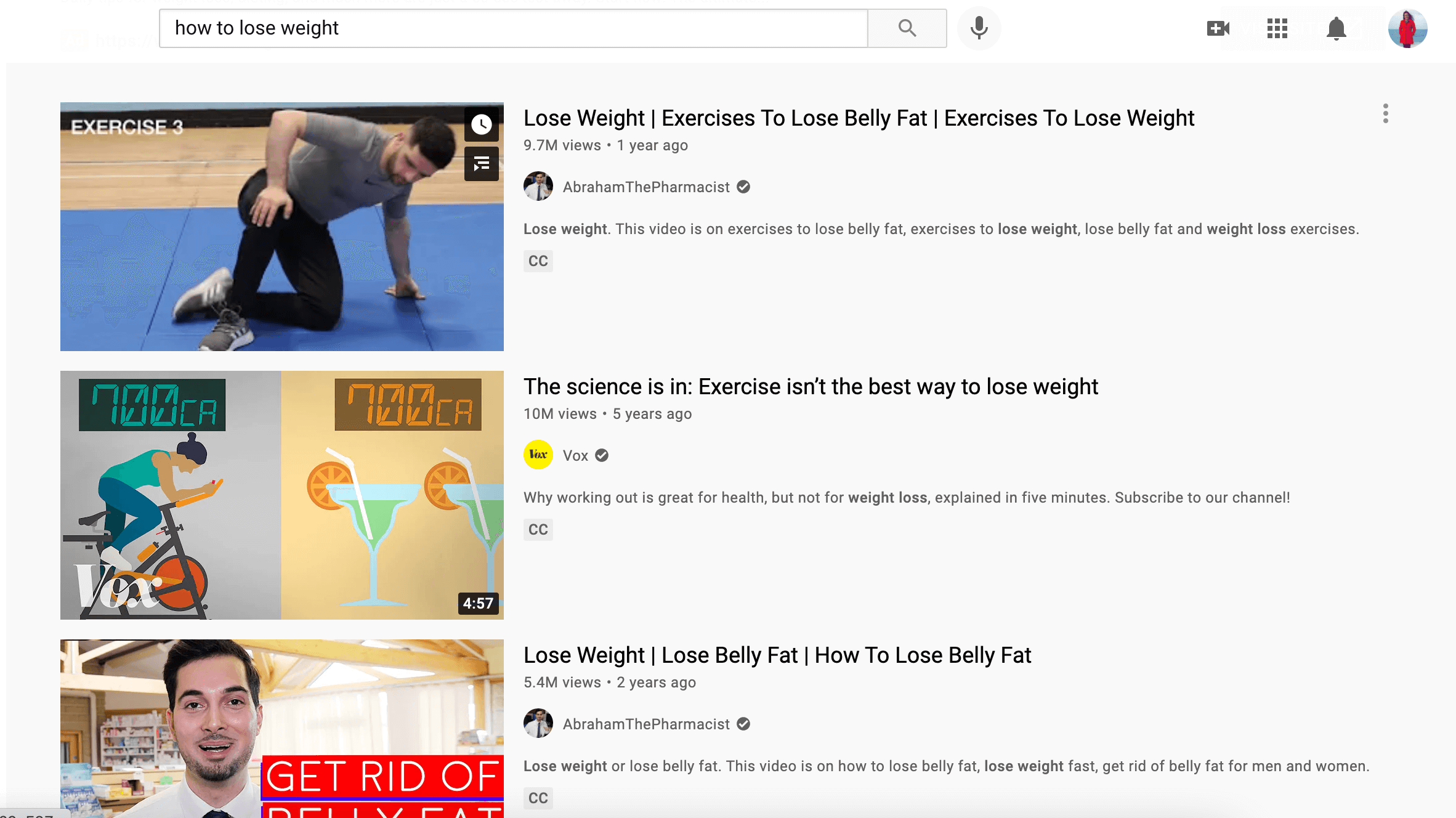 Another good way to get tag ideas is to look at the top-ranking YouTube videos that relate to what your video is about. YouTube hides video tags but you can use tools like TubeRanker (just paste the video URL) to reverse engineer the process. Here's one from a Gordon Ramsay Hell's Kitchen video: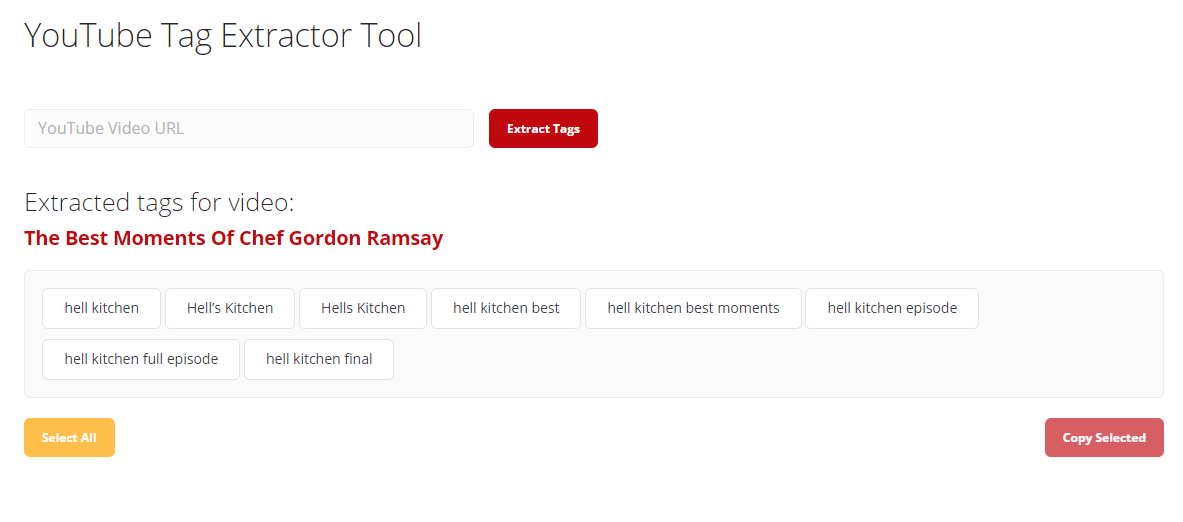 The tool will essentially find YouTube video tags and present them to you, giving you keyword suggestions you can use for your own videos.
Also, you can use YouTube autocomplete functionality (just start typing in what keyword ideas or terms you want to use for your video), to see other keyword terms people use to find videos like yours on YouTube. These are great suggestions to optimize your videos for.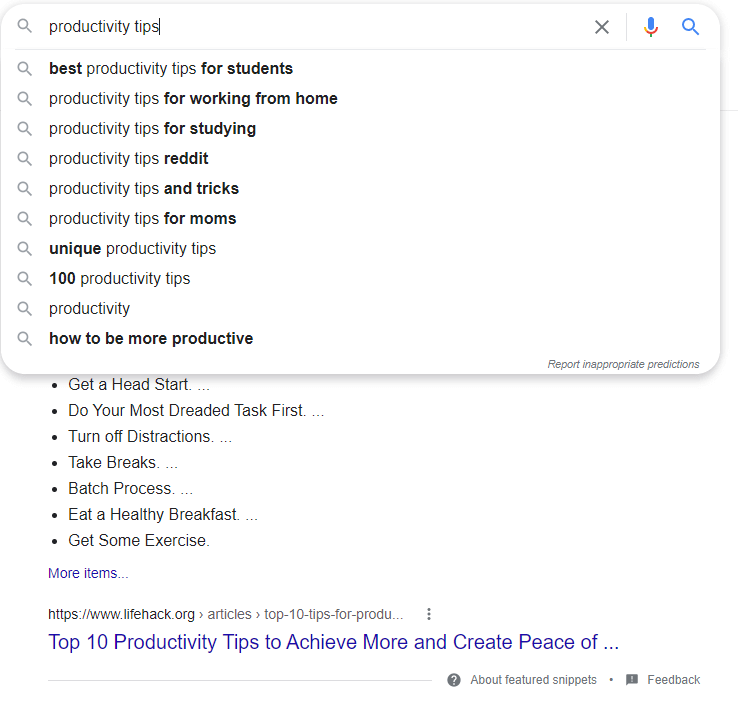 You can then plug these keywords into keyword research tools to find more similar and related keywords that you can optimize your video content for, or potentially use for future videos, helping you to create content repositories for your channel.
Finally, by incorporating your keyword in your video's title and description, not just tags, you can provide searchers with information on what they're about to see. 
YouTube best practices for publishing your videos
Now that you've done your tags, the next step is ensuring your video is optimized for YouTube, and this can all be done through YouTube Studio. 
YouTube Studio is the home for content creators. It's where you can manage your presence, grow your channel, interact with your target audience and monetize your video content. 
Let's get into the best practices.
1. Rename the title of your video
Just as you would incorporate your target keyword in the title of a blog, rename your video files and final titles to do the same. This way, it's super easy for you (your team) and viewers to identify what a particular video is about just by looking at the video title. 
2. Optimize your video's description
The official character limit for YouTube video descriptions is 1,000 characters — but while it's okay to use the space, the viewer didn't come to read an essay.  
Your best approach is to include your target keyword(s), a brief and compelling description of what the video is about, and some links to other relevant videos or pages (e.g. your website, channel page, or blogs on the same topic) where they can find out more information. You should always think about what action you want the viewer to take after watching your video and include clear, prominent CTAs in your description – even adding them to the end of individual videos. 

3. Add a transcript and add subtitles
It also doesn't hurt to add a transcript and subtitles, especially since there is a growing number of viewers watching without sound. The other advantage of doing this is that you can re-use the transcript as a blog post for your website.
As for subtitles, you need to use an .SRT file or directly enter a transcript for your video so that it's synchronized. 
4. Categorize your video
Once you've uploaded a video, you can categorize it under "Advanced settings."
Choosing a category will group your video with similar content on YouTube, ensuring it's featured on the right playlists and helps it to reach your target audiences. 
5. Upload a thumbnail image for your video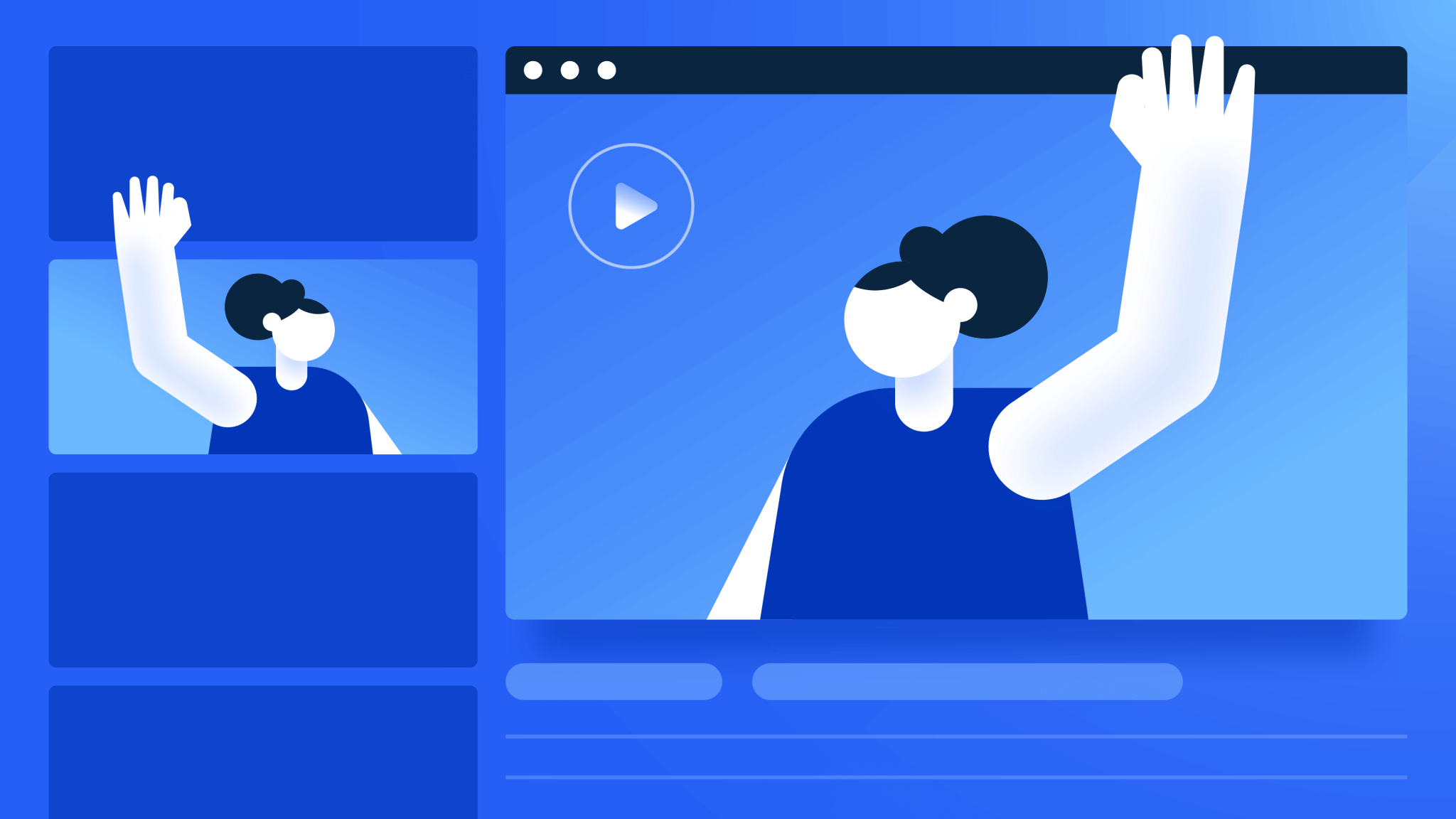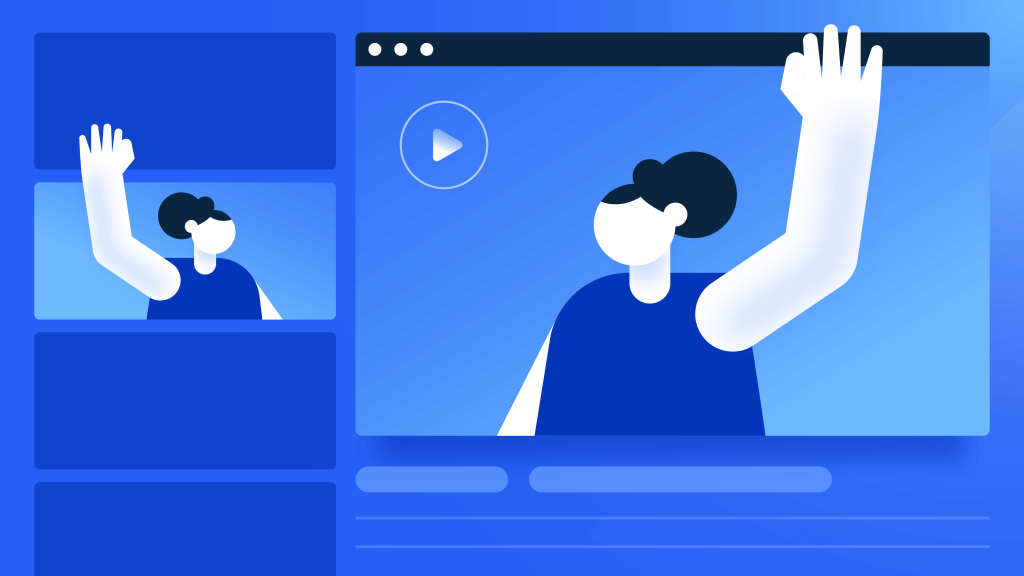 Your video thumbnail is the main image viewers see when scrolling through the YouTube search results. 
By using a custom thumbnail image, your video will stand out and attract more interested parties than one without. It also looks a lot more professional and authentic. 
How Similarweb can help
To get ahead of the competition, you need fresh, real-time data that allows you to spot keywords and trends before anyone else.
With Similarweb, you get just that. 
Our Keyword Research & Analysis Tools — part of our Digital Marketing Intelligence platform — leverage actual user search queries and over one billion keywords to provide you with the most reliable data, unlike other SEO tools that use scraping methods and search rankings to assume traffic data. 
And now it includes YouTube keyword research. On top of the new addition you can also:
Discover top keywords:

Look into what's generating traffic to your competitors' websites, plus find new and

trending

keywords, conduct gap analysis, and prioritize keywords based on specific

metrics

, such as

search volume

, click rates, paid vs. organic clicks, and more. 
You'll also get access to the freshest keyword data, keyword benchmarks by industry, and your overall traffic share per keyword. And if you're in need of inspiration, our keyword generator will help you to come up with thousands of new ideas based on trends, queries, and near-phrase matches. 
To YouTube and beyond
When you realize YouTube is the world's second-largest search engine, its potential for content marketing, syndication, and promotion quickly becomes apparent. 
While creating video content that's optimized for the right terms (and that appeals to your subscribers), you should also leverage YouTube as a platform to build awareness of your business, your products and services, and to reach new audiences as you identify new, relevant keyword terms. 
Following the tips outlined in this article, from keyword research and optimization, to competitive analysis and video descriptions, will ensure you make successful use of the platform, now and in the future.
Similarweb can help you to uncover rich insights and video keywords that can drive traffic and support your YouTube content strategy. Book a live demo to learn how.

This post is subject to Similarweb legal notices and
disclaimers
.
Wondering what Similarweb can do for you?
Here are two ways you can get started with Similarweb today!