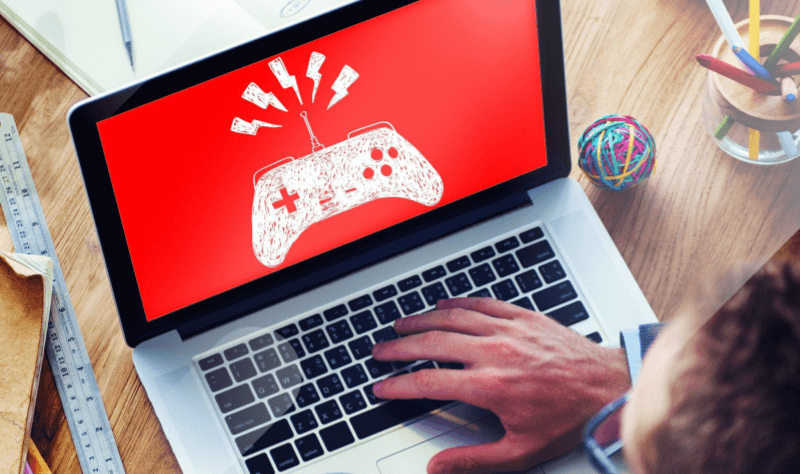 Research Intelligence
Get in the Game: How to Ace Audience Analysis
by Molly Winik
, Senior Digital Research & eCommerce Specialist
6
Min.
November 10, 2021
| Updated June 22, 2022
From kid's puzzles and social simulations to action and adventure, there's an entire universe of gaming categories, each with a distinct audience. 
How do you reach, attract, and keep them? That's where audience analysis comes into play. 
Because the specific audience for each type of game tends to vary tremendously, targeting the wrong group can be game over for many brands. Gamers have no reason to settle for something that's "almost" what they want. They'll keep looking until they find the real deal or someone else develops it. 
Keep reading for a step-by-step guide on how to analyze your online gaming audience for more effective targeting and retention. 
Optimize user experience and grow a loyal audience of gamers
Level one: market segmentation 
Any great audience analysis starts with market segmentation, the process of dividing a broad target audience into smaller, more specific groups. By creating carefully defined subgroups of gamers, you can build hyper-focused marketing materials with a higher chance of conversion. 
Below are the four main types of market segmentation. Start defining your audience based on these parameters. From there, you can see if you need to add in others for more granularity.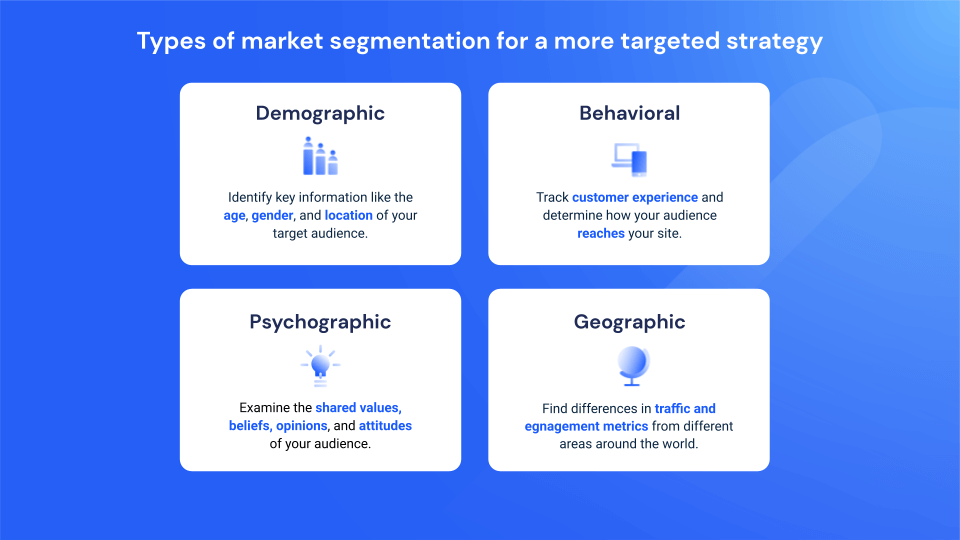 What are these other ways you can segment your market? Glad you asked. Here's a quick breakdown of a few other approaches that are especially useful in the online gaming industry. Mix and match until you find the ones that best suit your needs:
Transactional segmentation – Looks at the spending habits of your gamers, including payment method, purchase value, use of coupons or special offers, etc. This type of segmentation can be particularly useful if you're looking to optimize your subscription services, measure customer retention, or offer competitive pricing packages.
Technographic segmentation – How technologically advanced your gamers are will definitely impact your efforts. An audience well-versed in the latest technology likely won't be impressed with virtual reality anymore – they're already looking for the next big thing. 
Seasonal segmentation – While online gaming might not be an industry that is severely impacted by seasonality, it's important to keep in mind that around the holidays, many of your potential customers could be buying gifts for loved ones. You should adapt your marketing strategy during these times accordingly. 
You can also analyze your target audience by observing your competitors. Pick the sites or apps that offer games intended for the same audience, regardless of the company's size or location. 
Level two: website metrics
Once you've segmented your target audience, take it a step further and add your website metrics into the mix. Understand characteristics, shared interests, and online engagement metrics. Compare the data to your competitors to find gaps, strengths, and weaknesses. We've created a little scorecard for you to make sure you're hitting all the metrics needed to take your audience analysis to the next level.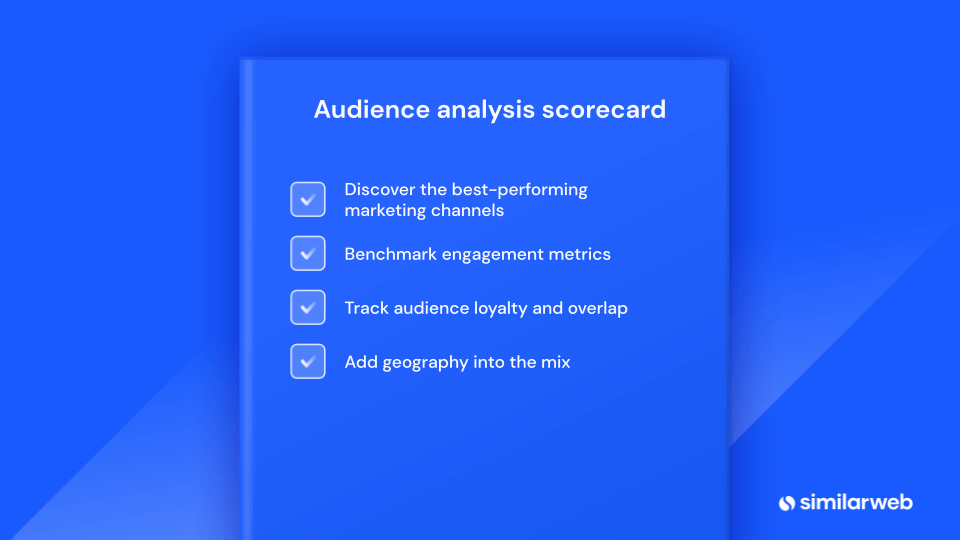 Discover the best-performing marketing channels

– Which channels bring the most gamers to your site? Are paid ads more effective than your referral strategy? Answer these questions by researching for the

most effective marketing channels

, and then start utilizing the channels with the strongest chance of ROI. 

Benchmark engagement metrics

– Investigate how much time players spend on competing sites or the industry as a whole compared to yourself. How many games do they play on average during a visit? Do they access the site via mobile or desktop? Make sure you're optimizing based on your target audience's preferences.  

Track audience loyalty and overlap

–

How loyal are your users?

If they often frequent various other gaming sites, they may be looking for something that you're not offering. Put yourself into your users' shoes and find out. To get a deeper understanding, investigate behavior and engagement per age group and gender separately. 

Add geography into the mix

– Specific games may be more popular in certain geographic regions than others. Collect and correlate the data to segment your

audience by geography

and optimize your marketing efforts.
Your goal is to identify characteristics of your audience that will inform your marketing strategy.  For example, let's say your analysis reveals that a large percentage of players between the ages of 20-25 arrive via Instagram ads. You can then create social campaigns to target that exact range, featuring their favorite games and even special discounts. Or you might find that men and women prefer to play at different times and then adapt your in-game offers to the time of day.
Level three: benchmarking tools
Use a benchmarking tool to compare yourself to the current industry average for online gaming. Data shown was collected using Similarweb's audience analysis tools.
Audience demographics
Currently, males are more likely to visit online gaming websites than females. The distribution to the top 100 gaming websites worldwide has a split of 73% vs. 27%. 
Age distribution skews much younger for online gaming worldwide. This makes sense given these generations are who we expect to actively search and play games online. 67% of visitors are between the ages of 18-34, with 35% being between 18-24. Those over 65 are the least likely to play games online, with only 3% of the traffic share.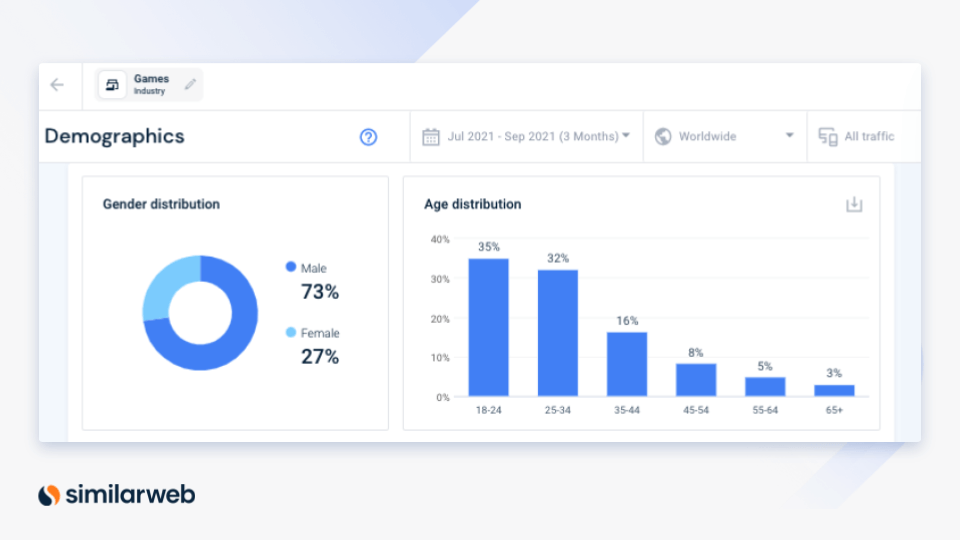 Audience interests
Cross-browsing behavior metrics reveal the percentage of visitors to each website in a competitive set. When looking at three of the top gaming websites, visitors to steamcommunity.com are more likely to also visit the other two websites. Twitch.tv has the biggest reach overall – 7.9% of visitors to roblox.com and 27.7% of visitors to steamcommunity.com also visit the website the same day.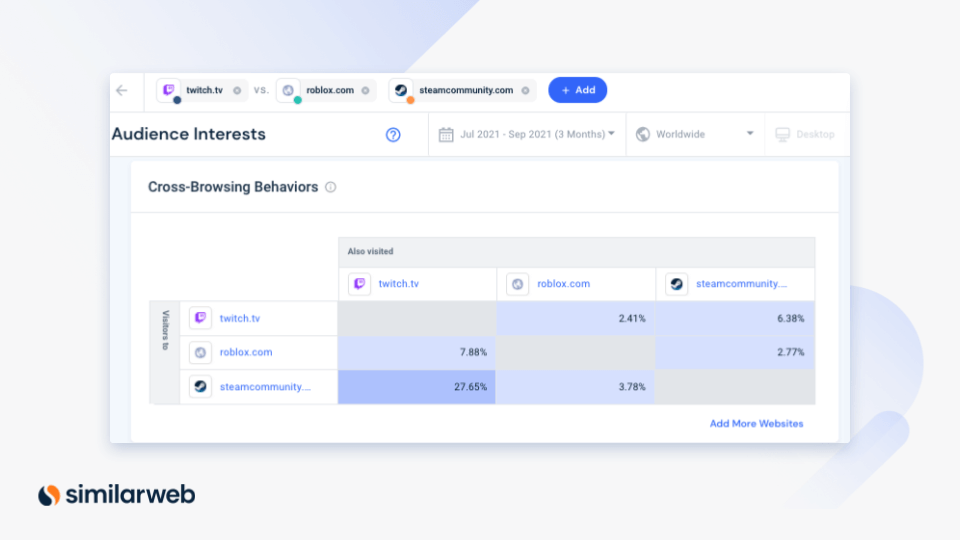 Search trends reveal what is currently top of mind for online gamers and could indicate what games will become the next big trend. In September 2021, some of the most popular terms by traffic share in the U.S. were: run 3 (0.9%), online games (0.7%), ps5 (0.7%), spades (0.7%), and dinosaur game (0.6%). With the exception of spades, all of these terms have seen a significant increase in traffic in the last month.
Engagement metrics 
Below are the engagement metrics for online gaming sites. Use these to compare yourself to competitors and determine if you are meeting industry standards for user experience.   
Top 100 global websites in the category, July-September 2021 
Monthly visits – 6.7 billion

Average visit duration – 8 minutes 32 seconds

Average pages per visit –  7.3

Average bounce rate – 33.9%
Top 100 websites in the category in the U.S.:
Monthly visits – 1.7 billion

Average visit duration – 8 minutes 33 seconds

Average pages per visit – 7.1

Average bounce rate – 35.4% 
Top 100 websites in the category in the U.K.:
Monthly visits – 258.0 million 

Average visit duration – 7 minutes 27 seconds

Average pages per visit – 5.3 

Average bounce rate – 32.2%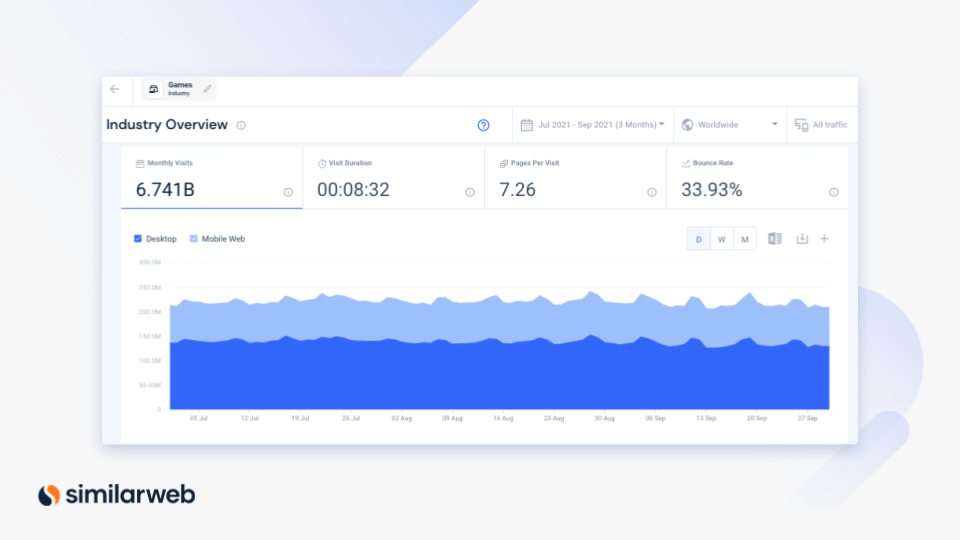 On your market, get set, go! 
You may be surprised at what you'll learn from audience analysis, what you can gain from it, and how your business will benefit. 
In our audience analysis guide for online gaming, we walk you through defining the average gamer today from level one to the final round. You'll also get insight into the metrics that matter, including key benchmarks to track your success. 
Read now and learn how to: 
Identify your target audience with demographic, behavioral, psychographic, and situational analysis 

Measure audience metrics, like overlap, interests, and loyalty

Compare your user engagement and website performance against competitors
Read More: 7 Benchmarks to Win the Digital Gaming Industry, [Infographic] Online Gaming Ranked by Digital Market Share
This post is subject to Similarweb legal notices and
disclaimers
.
Wondering what Similarweb can do for you?
Here are two ways you can get started with Similarweb today!