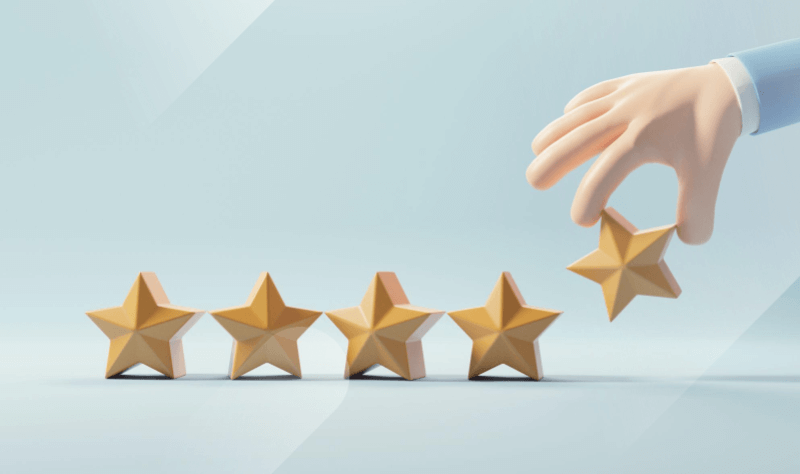 Research Intelligence
Benefits of Benchmarking: Reap the Rewards of Competitive Intelligence
by Molly Winik
, Senior Digital Research & eCommerce Specialist
5
Min.
September 1, 2021
| Updated October 11, 2022
Pablo Picasso famously said: "Good artists copy; great artists steal."
In all areas of life, success is relative but builds on learning from others in your field. It's not enough to try and imitate the best-in-class; you actually need to find out what makes them great and emulate this in your own work. 
In the digital space, relative success goes hand-in-hand with competitive benchmarking.   
With benchmarking tools and digital intelligence you get the data you need to compare your performance accurately against the industry leaders or companies similar to your own. In the end, you'll be able to identify successful elements of their strategy and implement them yourself. 
Let's dive into the benefits of benchmarking and how it can elevate your business from just an average competitor to an industry trailblazer.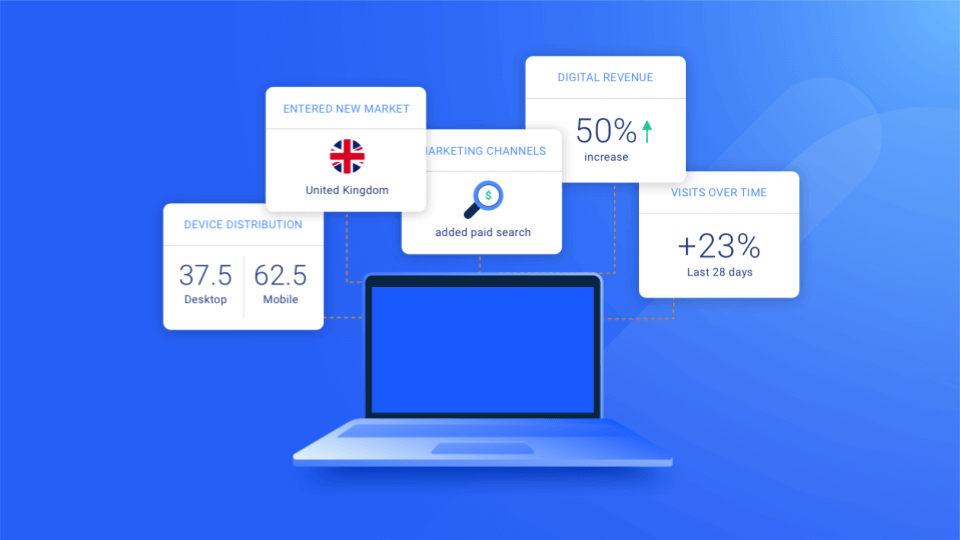 The advantages of benchmarking 
Business benchmarking can help you determine goals, evaluate progress, maximize the effectiveness of your efforts, and save costs. 
Key benefits of benchmarking that apply to any digital business include the ability to:
Identify new trends and opportunities:

Don't get left in the dust as your

competitors

charge ahead. You can use

website analytics and traffic data

to understand the areas you need to focus on based on consumer trends and market changes. 

Understand your growth potential:

Get a bird's eye view of the areas in your market that you can potentially grow in, whether that be expanding into a new area or reaching a different

target audience

. 

Track your market position:

Stay relevant by

calculating your market share

. You can monitor your traffic share regularly to see if your digital activities are successful or if there are any warning signs or threats in your way.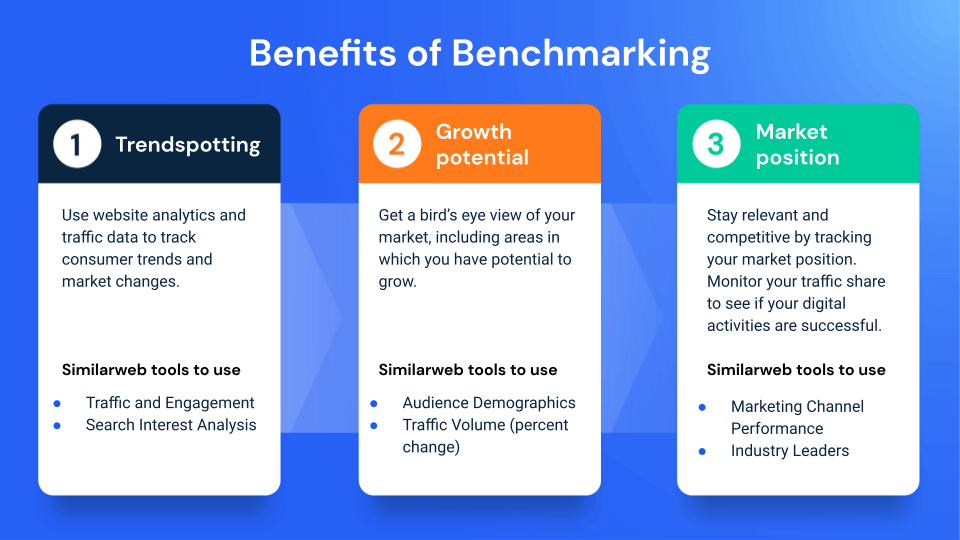 External benchmarking benefits 
The benefits of competitive benchmarking will give you an advantage over others in your market. You'll be able to adapt quickly to new trends, meet changing customer expectations, and become a leader in digital transformation. Here are some of the external benefits of business benchmarking you'll likely notice right away: 
Gain perspective on how you stack up against industry peers.

Identify industry leaders and get an understanding of what best-in-class looks like. 

Drill down into what works for your competition.

Pinpoint

performance gaps

to find areas that need improvement and allocate resources to increase efficiency and reduce human efforts and cost.

Gauge

customer satisfaction

and loyalty in the proper context. Learn from outliers in your landscape. 
Internal benchmarking benefits
Although the process of benchmarking plays an important role in how you track your performance relative to external factors, there are advantages of benchmarking that can give you a ton of information about your own business. Internal benchmarking will help you: 
Set expectations and goals for the company, teams, and individual contributors.

Monitor progress, set milestones, and manage change.

Drive

continuous improvement

of internal operations and processes.

Standardize

metrics

and workflows across departments and teams.
Successful benchmarking helps with more than just evaluating the competition. If you do it right and apply your findings effectively, you can improve your business operations and outperform your market. It's a valuable tool for optimizing business processes, financial planning, setting strategic business goals, and reaching them.
Stay ahead of the competition
Which benchmark is best for you?
You can use different types of benchmarking to hone in on business goals. 
For example, if you want to understand which types of products are most profitable for you, you'll benchmark product lines internally against each other and also against similar lines of successful companies or your competitors' products. The benefit is that you get a clear picture of where you stand in the market both quality-wise and price-wise, and which products you should put more promotional efforts into. 
Another way to assess performance is per marketing channels. Regardless of the product line, specific channels work better with your audience than others. Benchmarking performance indicators from your different acquisition methods can provide important answers, such as which ads your users are likely to engage with or the referral websites with the best ROI.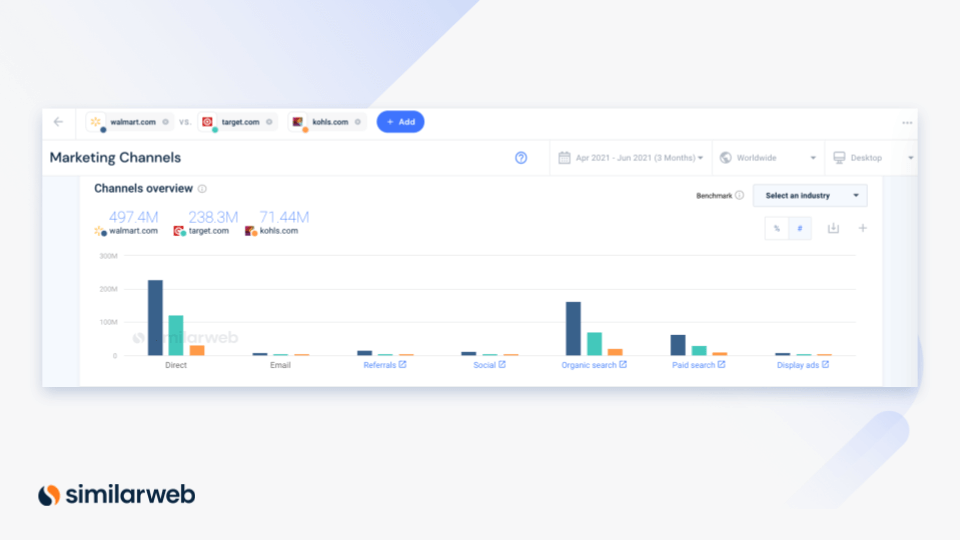 Learn more about the different types of benchmarking and how to do them successfully
The perks of reliable data
What do you need for effective benchmarking? Data, data, and more data.
You need data collection of your business, your market, and your competitors. However, if your numbers are inaccurate, incomplete, or outdated, your efforts go to waste. You can only reap the benefits of benchmarking when it's based on accurate, real-time metrics. 
And on top of that, you need a tool that takes data correlation off your back. There's no justification to spend time analyzing excel sheets with data extracted from your analytics tool.   
Here's where competitive intelligence comes in.
Digital benchmarking made simple
To power growth in the digital world, you need to look beyond your own data. Similarweb's competitive benchmarking tools give you context to identify high-value opportunities, track your performance, and win your market.
You have the option to benchmark and analyze specific data sets across your industry. Alternatively, you can track competitors based on area, industry, or even segment. This "apples to apples" comparison makes sure you don't miss any changes in the competitive landscape and helps you stay ahead of potential threats. 
You can conduct market research to evaluate your share and your position, and then drill down into website metrics to identify weak and strong points. You might even want to conduct a comprehensive SWOT analysis based on the data you collect. Or you may want to benchmark engagement metrics to understand how your audience interacts differently. 
Your goal is to identify the best performing businesses for which you want to do in-depth company research to understand what works for them.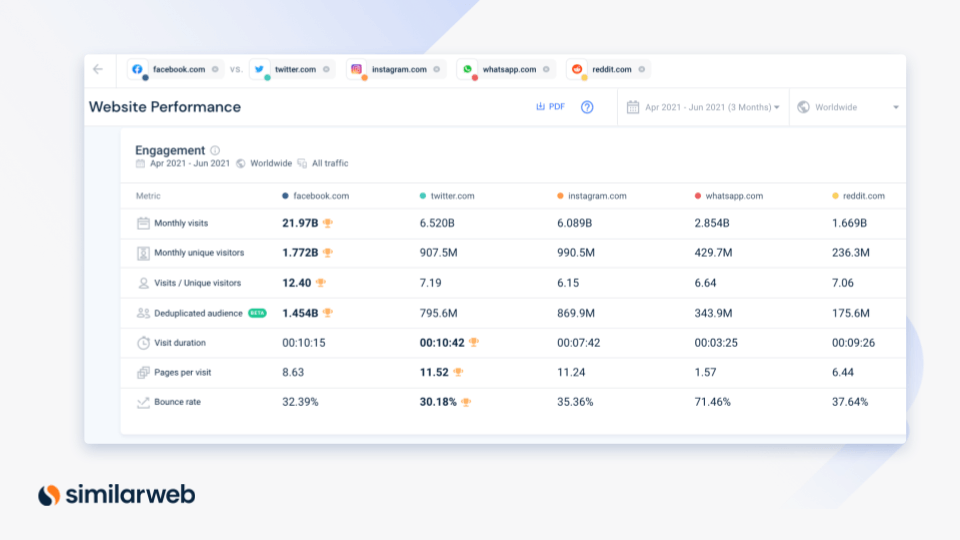 Benchmark your way 
Every industry is different, and every business is unique. But the elements that make them great are often very similar. Benchmarking is a great way to get insights into what is effective and how you can use it to your advantage.
 Try Similarweb Digital Research Intelligence for free and find custom data and insights to benchmark your way to excellent business performance.

This blog post was written by Ruth M. Trucks.
FAQ
What is benchmarking and why is it useful?
Benchmarking gives you an independent perspective on your progress versus other companies, helps you find areas of improvement, and develops a standardized set of processes to continue improving.
How can benchmarking improve performance?
One way benchmarking improves performance is the presence of reliable, real-time data.
This post is subject to Similarweb legal notices and
disclaimers
.
Wondering what Similarweb can do for you?
Here are two ways you can get started with Similarweb today!