Today's business landscape demands a digital strategy from every business, no matter the industry. That fact motivates about 89% of enterprises to implement or plan to implement a digital strategy.

The remaining 11%? The competition will sweep them under the rug. Speaking of competition, how do you weigh your digital strategy against your competitors?
Let's go over the basics of digital benchmarking, why your business needs it, and what key metrics you should be looking at.
What is digital benchmarking?
First things first: a benchmark is just another way to say comparison. In this context, digital benchmarking is a comparison of your entire digital strategy, or parts of it, to a competitor's in the same industry.
Like everything else in life, digital brands fall on a bell curve, and all have different "normals" based on their strategy. Digital benchmarking lets you map out your competitors and industry to see what works, who's winning, and why.
Here are a few examples of digital benchmarks you may use:
Social media engagement and following
News activity
Mobile and web traffic
Bounce and click rates
Your benchmarks should be measurable and comparable so that you can take away valuable insights.
Bottom line? Digital benchmarking reveals information about your and your competitor's strategies, and how they use industry trends to inform those strategies.
This includes highlighting your strengths and pitfalls, allowing you to look to your competitors' behavior as inspiration for improvement.
Digital benchmarks also highlight the positives in your strategy, illuminating what strategies to keep using. After compiling information, you can organize insights into digital scorecards to tackle each metric one by one.
These insights will influence your future strategies, budget, resource allocation, and interactions with industry trends.
You can also use historical trends to deepen your digital benchmarking analysis, examining how your benchmarks change at different times and what factors influence those changes.
Use Similarweb for digital benchmarking
Brand marketers can use Similarweb as a benchmarking tool to measure the strength of their brand and see how they stack up against their competitors in just a few clicks. Make sure you consider both the website and mobile apps. For ease of use, there's a mobile app intelligence section that tells you exactly what metrics matter most and what to watch out for.
Key metrics you should be tracking include:
Traffic and engagement
The Traffic and Engagement tool allows you to compare metrics for up to five sites at a time. You can easily check and compare traffic volume and distribution, gain an overview of a brand's digital market share, and get a clearer understanding of the quality of their traffic.
You should also analyze website rankings to easily see how each brand stacks up against one another in terms of reach and engagement on a global, local, or category level. And of course, see where you stand against the competition. If some brands are outperforming your digital efforts, take a deeper dive to see what the reason could be. It might reveal insights into ways you can improve your digital strategies.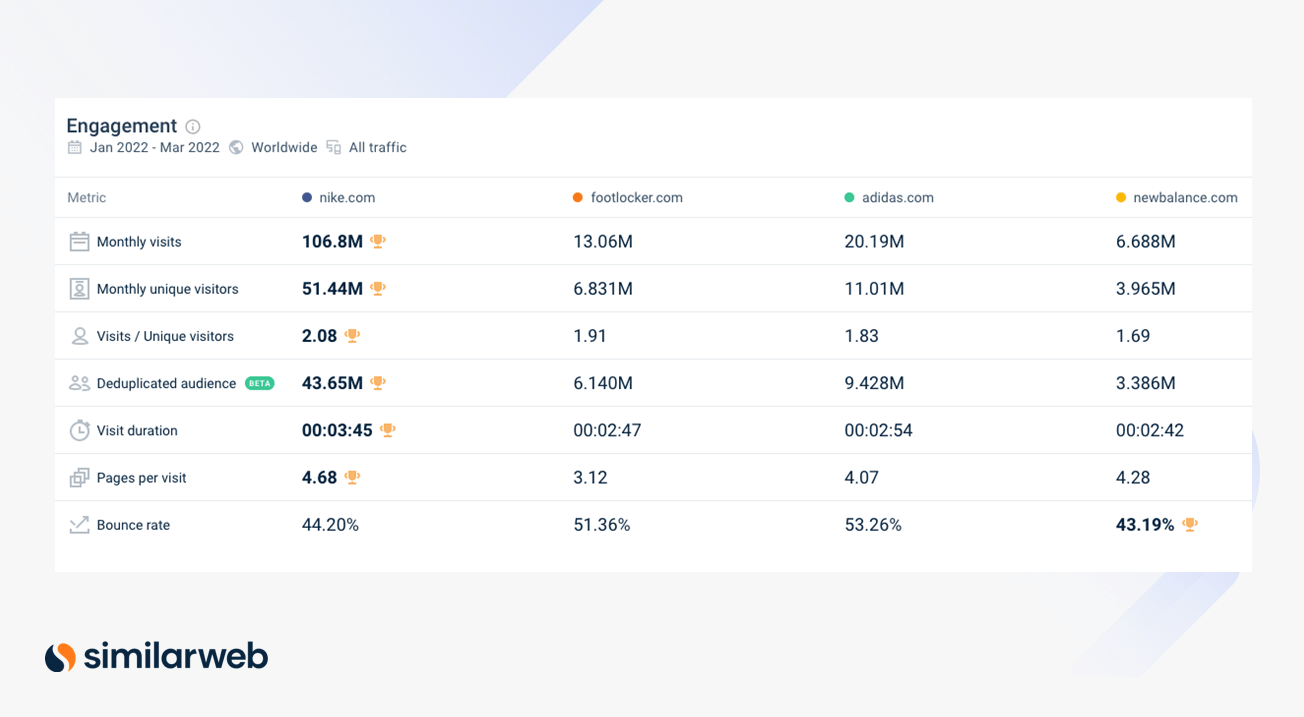 Direct traffic to website
Direct traffic – that is, traffic that comes from users that directly entered a URL into a browser – can be very useful when conducting digital benchmarking research. Visitors that have a website bookmarked and regularly visit it directly are likely to be among the site's most loyal and engaged users. You can use this metric to assess a website's digital brand strength.
Audience overlap and loyalty
The Audience Overlap tool can help determine the total addressable audience and market size, evaluate the shared audience, and pinpoint the total untapped market potential between your site and your competitors' sites.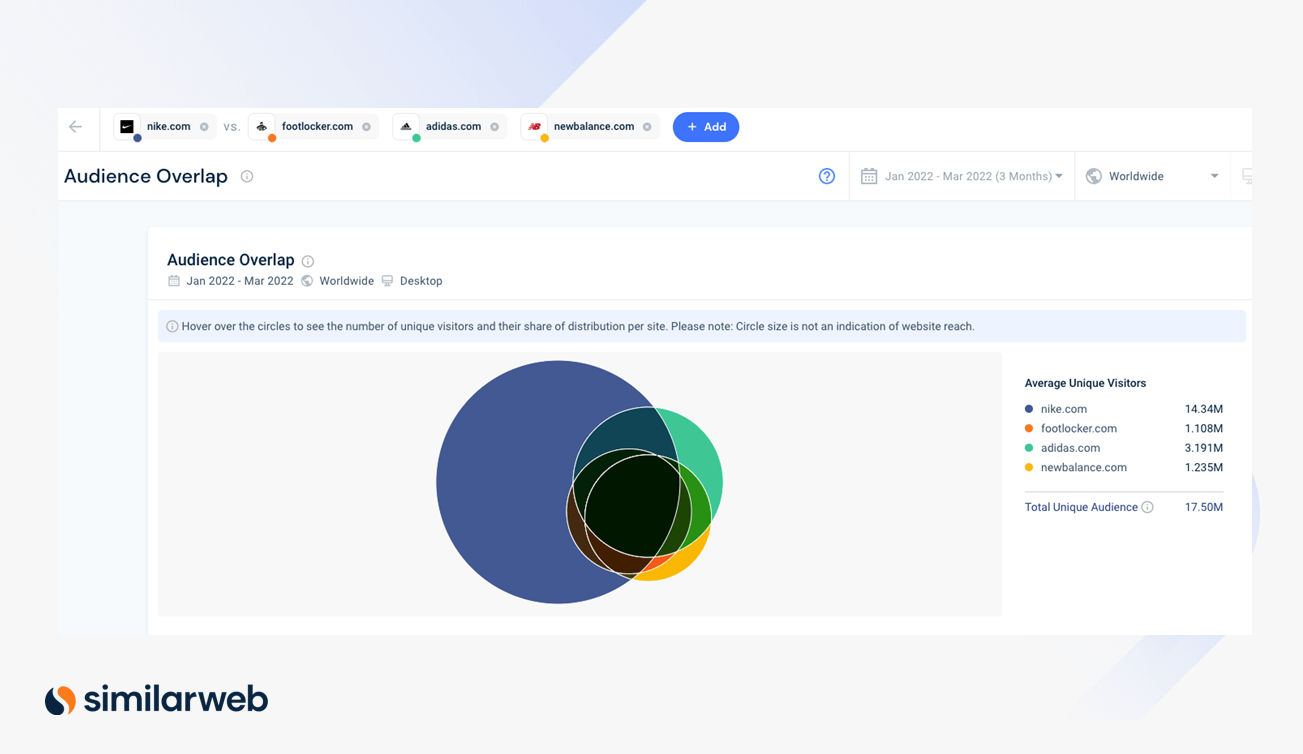 This is important information as it helps businesses size their markets, source potential partnerships, and identify expansion opportunities.
The Audience Loyalty tool provides insights on visitors that exclusively visit the analyzed site versus those who visit two or more sites in one session. You can use the Industry filter to benchmark how each site compares to the industry average.
Comparing audience loyalty can help you see which digital brands in your industry have the most loyal users – which can in turn help your own brand identify winning strategies to improve retention and engagement metrics.
Branded search volumes
Dig into your own branded keywords, as well as your competitors', to see how their search volumes compare.
A branded keyword is a search term that includes a brand or product name. For example, "asus laptop" is a branded keyword, as the user is searching for a defined brand.
Benchmarking where your branded search volumes fall among the competitive landscape is yet another useful metric for getting a better view of how your digital brand is currently performing.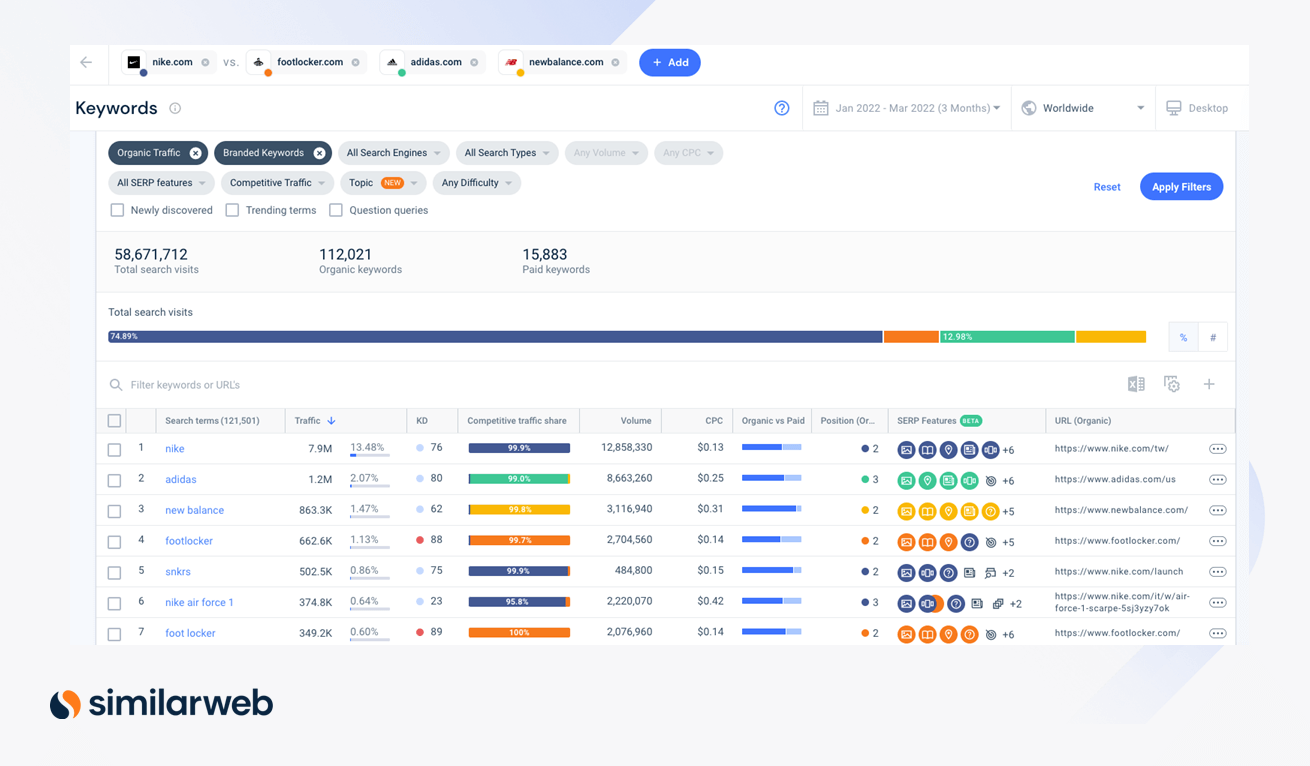 Mobile App Benchmarking 
Mobile-first interactions are on the rise. A trend that's being driven by consumers and enabled by technology. With new players emerging fast, organizations need to adapt, pivot, and stay relevant to remain competitive. 
1. Engagement 
There are three key app engagement metrics to track for digital benchmarking. They show you how active people are, how much time they spend in the app, and how frequently they access it. 
Make sure you track stats for both the total and average of each.
Monthly/daily active users

– shows you how active an audience is on a daily or monthly basis.

Total sessions

– the number of times each active user opened the app.

Total session time

– the total or average time each day a user spends in the app.
2. User retention
This metric shows you how good a company is at driving people to the app after it's been downloaded. If an app has a high install base but low user retention, it could be indicative of issues with things like useability or reliability.
3. Installs
Mostly speaks for itself, but make sure you track total downloads and monthly downloads.
4. Ranking
Whether on iOS or Android, the ranking data for an app is a key digital benchmarking factor. You should look at the overall rank and the relevant category rank.
5. Demographics 
Mobile app demographics are another important digital benchmark. By looking at factors like gender and age distribution, you can see the types of customers your rivals are successfully onboarding and see if it differs from your own and others in your space.
These days, it's important to do digital benchmarking that considers website and app data together. Without a clear view of the entire landscape, key insights and opportunities could be overlooked and opportunities missed. All of the key app engagement metrics to track (and more) can be found within Similarweb App Intelligence Premium.
How does your digital presence stack up?
Through examining all these metrics, you'll be able to gain a macro view of your industry and see where you should celebrate your successes or where you should plan your strategy. Without these digital benchmarking insights, it's impossible to know how your brand compares to key rivals.
That's why it's crucial to regularly perform digital benchmarking. You'll always know your position against competitors, and as a result, be better informed on where to tweak your digital strategies and make improvements.
Try Similarweb today and get the valuable insights you need to ramp up your digital brand and leave your competition in the dust.
Read more about benchmarking:
Why Do Benchmarking in Business?
7 Types of Benchmarking for Better Business Decisions [+ Examples]
How to Do Benchmarking: Your Blueprint for Growth
Benefits of Benchmarking: Reap the Rewards of Competitive Intelligence
5 Benchmarking Best Practices Guaranteed to Help You Succeed [With Examples]
3 Digital Maturity Benchmarks to Achieve Long-Term Growth
This post is subject to Similarweb legal notices and
disclaimers
.
Wondering what Similarweb can do for you?
Here are two ways you can get started with Similarweb today!