 Research Intelligence
6 Benchmarks to Outperform Digital Job and Career Websites
by Molly Winik
, Senior Digital Research & eCommerce Specialist
7
Min.
April 28, 2022
| Updated October 11, 2022
If you're an Olympic athlete, does a personal best mean anything on its own?
Sure, you've outdone yourself, but the truth is, you're only the best in the world if you can compare your score to others. That's what really matters for digital marketers and analysts.
This concept is key when it comes to judging how well your marketing strategy is actually performing. While you may be able to conduct an internal analysis to quantify your performance, this data won't be very useful if you can't correlate it to other companies in your industry.
In the world of online classifieds, marketing benchmarking tools give you the data you need to snag the gold medal and outperform your competitors. This article will dive deep into the job and career website metrics you need to monitor, including industry benchmarks to help you build an effective content marketing strategy.
What is competitive benchmarking?
Competitive benchmarking is the process of comparing your company's digital performance against competitors using a given set of metrics. In other words, it'll help you put all aspects of your business plan in perspective.
With an efficient benchmarking strategy, you can evaluate and analyze your market and your position in it to help identify emerging trends, pinpoint potential threats, and target new opportunities. The process of competitive analysis will also help you understand your overall standing versus industry leaders.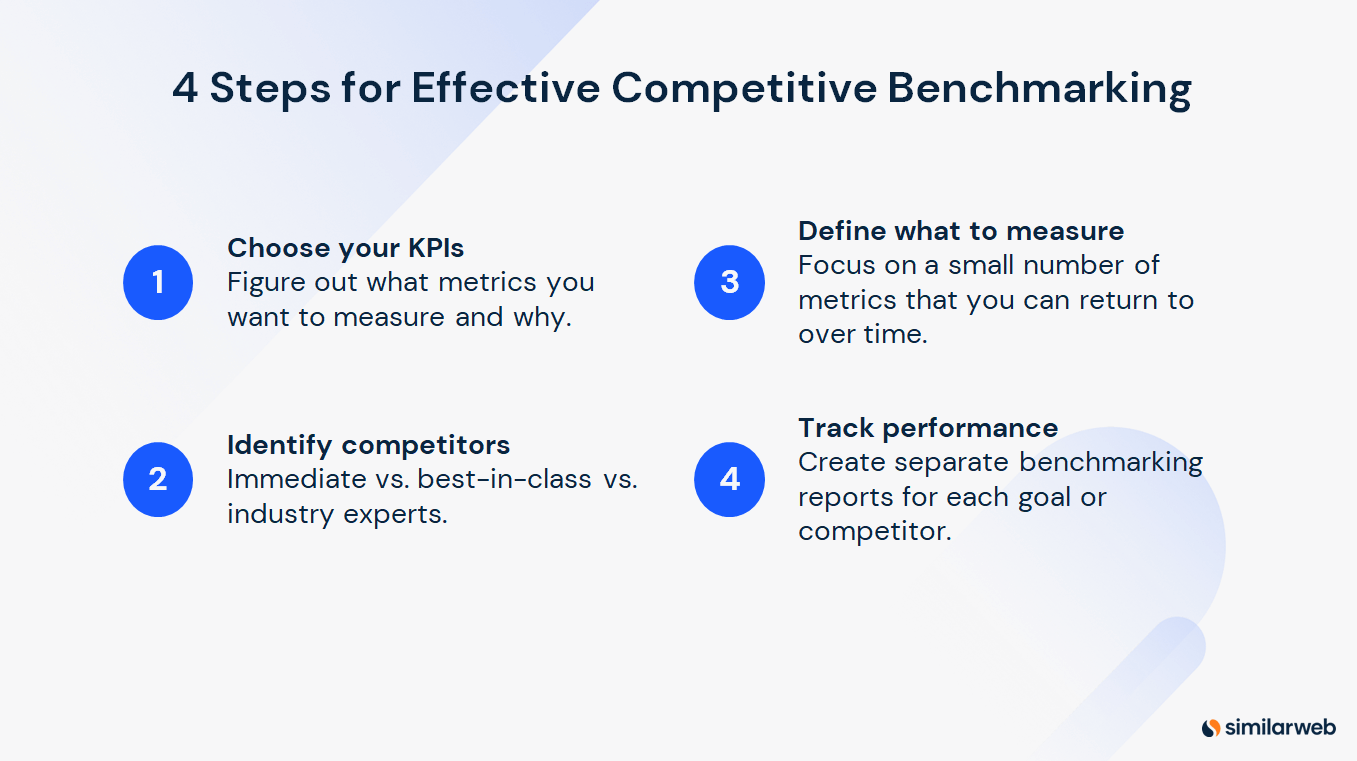 The process of benchmarking typically includes four steps:
Choose KPIs that support business goals. Ask yourself, do I want to improve my SEO performance or conversion rate? Reach new demographics? Increase traffic to my site?
Define the competition based on these KPIs. Analyze the performance of immediate competitors, best-in-class companies, or industry disruptors.
Determine the metrics that support your KPIs. The metrics you measure will vary based on your goals. For example, if you want to improve SEO, you'll need to analyze competitive traffic on specific keywords and keyword ranking.
Track and monitor performance over time and don't forget to keep separate benchmarking reports for each goal and each type of competitor you're tracking.
Benchmarking digital job and career websites
There's been a significant increase in traffic to online job portals, rising from 19.2 billion total visits in 2020 to 22.6 billion in 2021, a 17.7% increase. Digital job searches and Zoom meetings will remain the norm, overwhelmingly replacing traditional print classifieds and face-to-face interviews. This means there's more competition for these classified websites to capture potential applicants and convert them into hired employees.
With competition fierce in the online classifieds market, let's take a look at the six key benchmarking metrics you should be looking to beat in 2022.
1. Total visits
In the last three months (January 2022 – March 2022), the top 100 websites in the job and career category had 6.3 billion total visits globally, 12.6% more than the year before.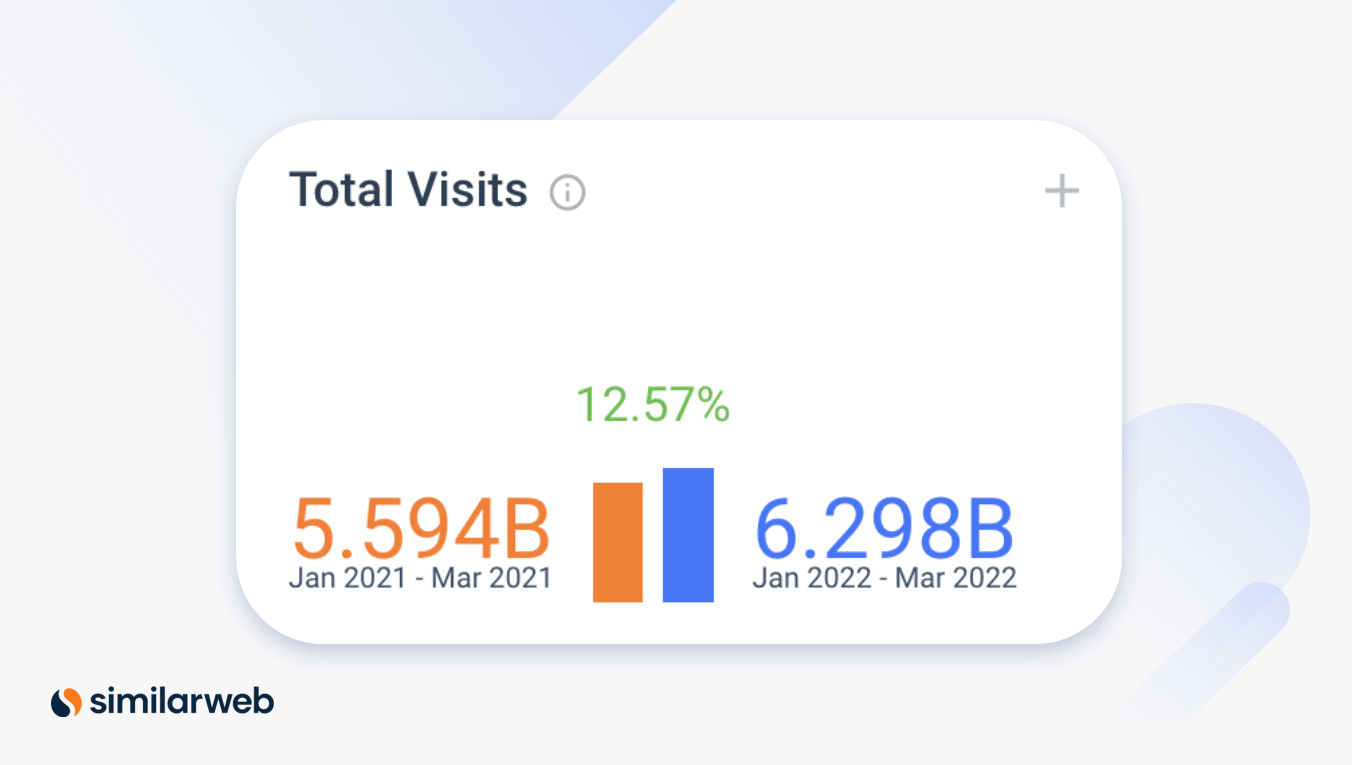 Pro Tip: When building a digital strategy, make sure to take seasonal events and temporal trends into account. In this case, the COVID-19 pandemic had a strong impact on traffic to job and career search websites.
2. The VIPs
Although there are many competitors in the online job and career search industry, one website (indeed.com) wins the traffic share by tenfold.
Whereas indeed.com operates globally, many of the other top classified industries are localized, for example, hh.ru (Russia), and pole-emploi.fr (France), which explains their lower market share.
Not only does indeed.com garner the highest market share for online classifieds, but it also earns 166% more monthly visits than its closest competitor.
Pro Tip: If your classified website is intended for a specific country use case, refine your search of the top websites by region to see how you compare to competitors on a micro-level.
3. Website stickiness
A "sticky" website is one that leaves a lasting impression on the user and causes them to return. In other words, stickiness measures how loyal your customers are and on-site usability.
Because this metric tracks and measures how many days in a given month converted users are active on average, it's a big benefit for classified companies who aim to become job seekers' first choice.
Website stickiness is calculated by dividing the average number of unique visitors by the average total monthly visits.
Top 100 websites in the category:
Unique Visitors (7.3 million) / Total Visits (20.3 million) – 36.0%
Top 25 websites in the category:
Unique Visitors (17.2 million) / Total Visits (51.5 million) – 33.4%
Pro Tip: Benchmarks like these are key to understanding how your readers consume content. A site with a low visit to unique visitors ratio has a less involved audience, whereas a site with a high ratio has a better rate of engaged visitors.
4. Desktop vs. mobile web
Device split will give you an understanding of how your audience is accessing your website so that you know where to focus when it comes to your digital marketing efforts, including content optimization and ad spend.
Data shows that job-seekers are still browsing more frequently from their mobile devices. These metrics highlight the importance of having a user-friendly mobile experience, mimicking the full capabilities your desktop site offers.
Top 100 websites in the category:
Desktop – 39.1% (vs. 39.4% the year prior)
Mobile Web – 60.9% (vs. 60.6% the year prior)
Top 25 websites in the category:
Desktop – 39.2% (vs. 38.7% the year prior)
Mobile Web – 60.8% (vs. 61.3% the year prior)
Pro Tip: Optimize and budget your digital strategy according to device split. For example, put more of an emphasis on push notifications, display ads, or in-app alerts to target mobile users more effectively.
5. Traffic benchmarks
There are a variety of sources that send visitors your way, so it's important to know which digital marketing channels are bringing the most traffic to your website. Benchmarking your performance against that of your competitors will help you identify the channels with the highest traffic share (for example, organic search vs. display advertising) to focus your efforts accordingly.
Direct (44.4%) is the main source of traffic to job and career websites, followed by organic search (32.3%).
When looking at the past three months (January – March 2022), indeed.com, the top-performing website in this category, performs better than the industry benchmark for organic search. However, the website falls below the average in all other marketing channels. This highlights that there is an opportunity for indeed.com's competitors to win back traffic share, especially from referrals and social media.
Pro Tip: Dig into referral traffic to see your top-performing affiliates compared to your competitors. Budget from an affiliate that's underperforming can be reallocated either to another partner or a different marketing channel to maximize ROI.
6. User experience and satisfaction
Your visitors' on-site experience and satisfaction will play a crucial role in determining whether or not they'll come back to your site to search for jobs again. Three key metrics to track your on-site performance include:
Average session duration: A longer session duration indicates more engaged visitors as they spend more time on your site.
Average pages per visit: A higher number means visitors are browsing through the site and finding the content they want.
Average bounce rate: Represents the percentage of visitors who enter a site and then leave after viewing just one page. A lower bounce rate indicates that the content is relevant to visitors.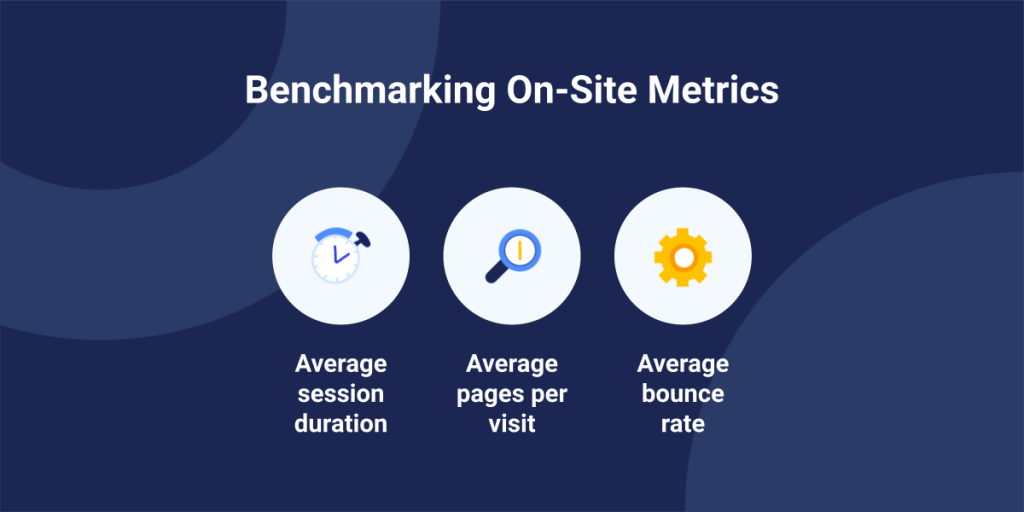 Below are user experience benchmarks for digital classifieds globally, as well as in the U.S. and the U.K. (January – March 2022).
Top 100 websites in the category globally
Average visit duration – 5m 28s
Average pages per visit – 6.1
Average bounce rate – 37.9%
Top 100 websites in the category in the U.S.
Average visit duration – 4m 42s
Average pages per visit – 5.2
Average bounce rate – 42.9%
Top 100 websites in the category in the U.K.
Average visit duration – 4m 36s
Average pages per visit – 5.5
Average bounce rate – 41.0%
Pro Tip: Once you've identified a competitor that has a high visit duration/pages per visit coupled with a low bounce rate, conduct your own research of their website to pinpoint where their content strengths are. Maybe their home page is more intuitive than yours, or their content is more timely. Find their strengths and try to implement these strategies into your own marketing plan.
The million-dollar question
You might be asking yourself, "What about LinkedIn?" Don't worry, we didn't forget about it, but LinkedIn isn't officially classified as a job and career search website. And although it's a social networking platform, it would be a mistake to ignore it when creating your digital classified benchmarking strategy.
LinkedIn is quickly becoming the preferred option for job seekers to find new employment opportunities with its easy apply feature. Take a look at a few key benchmarks from linkedin.com to help you understand where you compare: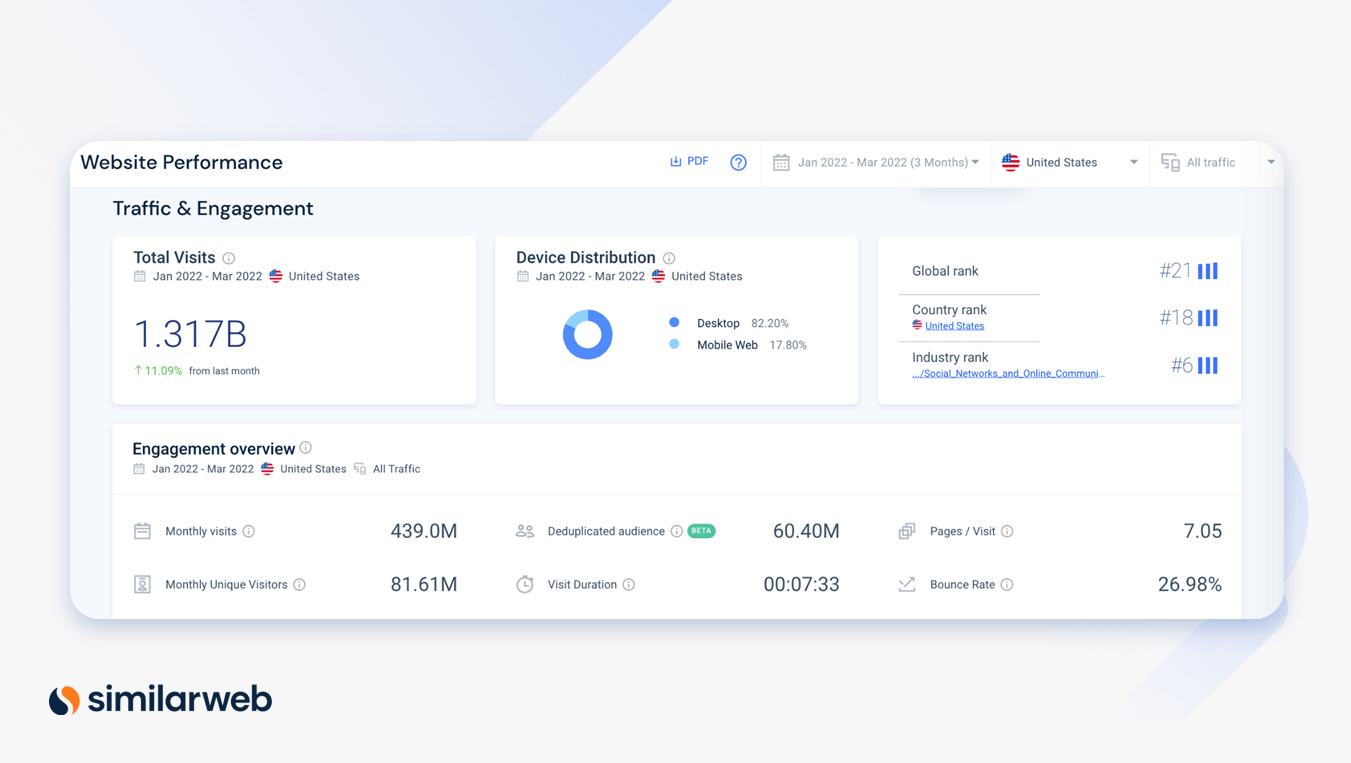 Key takeaways:
LinkedIn.com users are approximately two times as likely to browse via their desktop compared to other job and career websites.
LinkedIn.com has a better user experience than the top 100 websites in the classifieds industry across all categories: visit duration, pages per visit, and bounce rate.
Key takeaways:
When compared to the top 25 digital classified websites, linkedin.com outperforms the category benchmarks for email and organic search.
However, the site receives significantly less traffic on average via direct, referrals, and social.
How we collect our data
Similarweb Market Intelligence is derived from a complex blend of non-intrusive digital signals that include crawling, first-party direct measurement, external partners, and anonymous behavioral data from our contributory network.
By analyzing billions of digital signals each day, we're able to offer the most relevant and reliable data. The platform illustrates what real users are searching for, exposes digital trends, and reveals referral traffic shares.
Our methodology can be broken down into four main steps: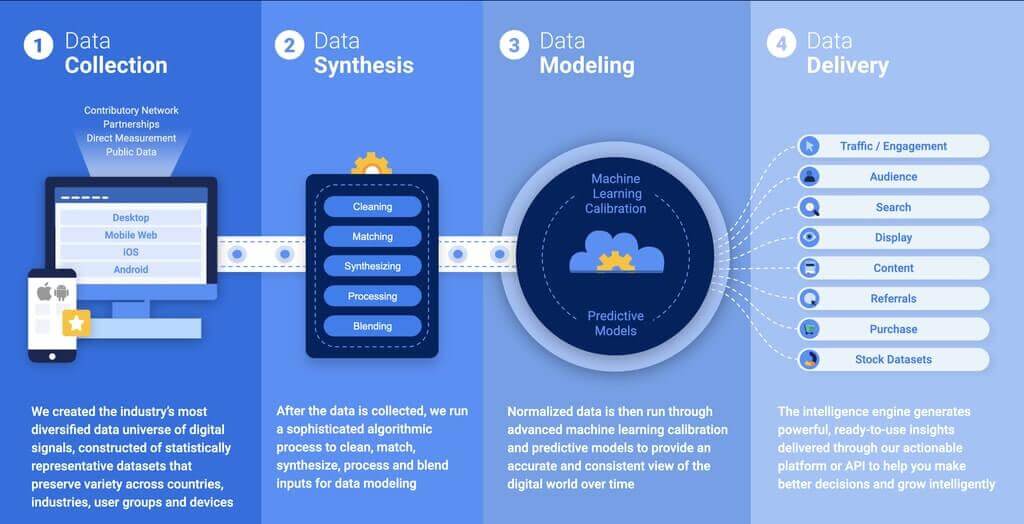 Want to learn more on this topic?
Check out our related content on industry benchmark reports:
This post is subject to Similarweb legal notices and
disclaimers
.
Wondering what Similarweb can do for you?
Here are two ways you can get started with Similarweb today!