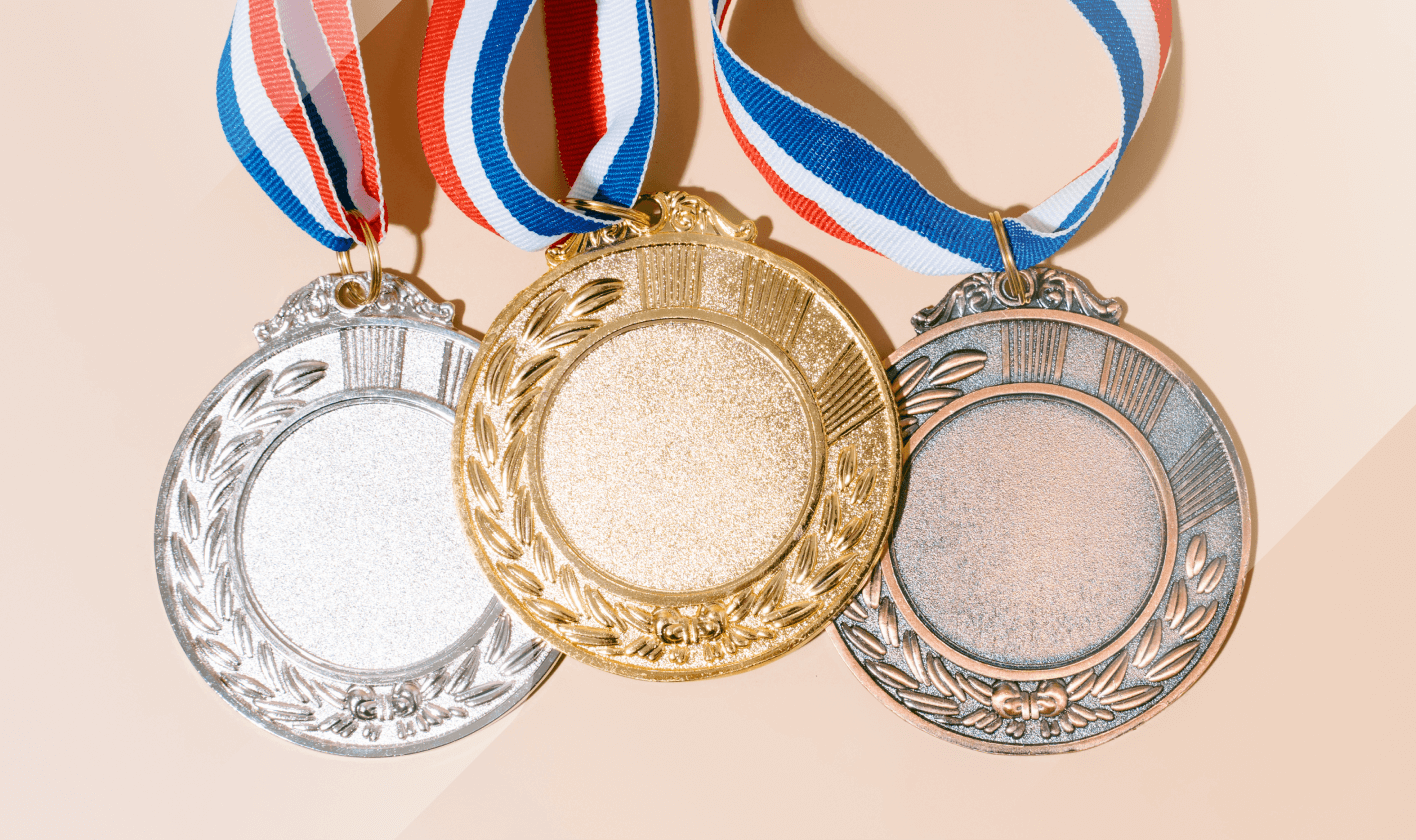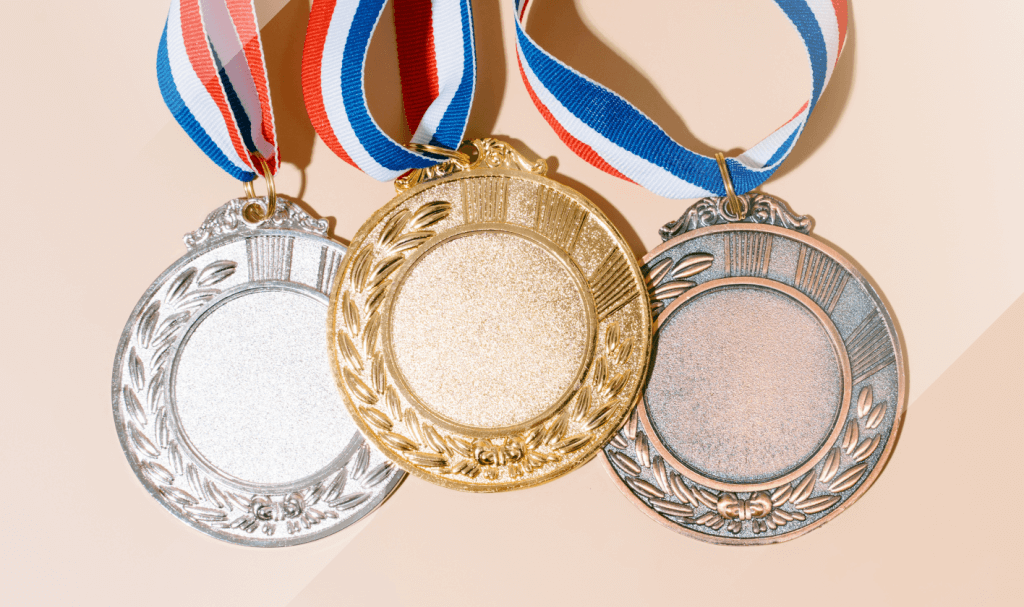 Research Intelligence
This Just In: The Digital Winners From Tokyo
by Molly Winik
, Senior Digital Research & eCommerce Specialist
5
Min.
August 18, 2021
| Updated June 21, 2022
While the Olympics may be over, our results are just in. Welcome to Similarweb's medal ceremony for the best digital performances from Tokyo!
Pent-up anticipation and worldwide fascination with the Summer Games, not to mention the lack of in-person fans, drove millions online to watch their favorite athletes, track trending events, and read recaps of the competitions they couldn't see live.  
Using Similarweb Research Intelligence, we've crunched the numbers and tallied the results on website performance over the last three months. We're holding our own medal ceremony for high-ranking websites, publishers, countries, and keywords from the Summer Olympics. Read on to see who made it onto the podium. 
Top countries Googling the Olympics 
We analyzed search interest and trends for 90+ Olympic-related keywords to see which countries had the most dedicated fans. Our rankings are based on the average number of monthly searches on Google in the last month. 
Some of the keywords measured include: 2020 olympics, 2021 olympics, 2020 summer olympics, olympics live stream, olympics schedule 2021, and more. 
Winning countries 
United States

India

United Kingdom
Runners-up: Australia and Canada
The United States set an Olympic record for its average monthly search volume, clocking in at 4.9 million. Silver-medalist India was responsible for 2.2 million Google searches, and the bronze-medalists United Kingdom put up a score of 886,800.
It's important to note that we used search terms only in English which undoubtedly impacted the results, as non-English speaking countries would rank high for keywords in their native language.
The most searched keywords of the Olympics
Tracking keywords lets you understand user interest, spot consumer trends, and better define your target audience. 
For an event like the Olympics, popular keywords will help you reach new audiences and engage with existing ones, while at the same time informing your marketing strategies and influencing the type of content you produce.
We analyzed over 9,000 searches for the keyword olympics over the last 28 days worldwide. Here's who came out on top. 
Phrase-match keyword winners 
olympic

s

olympics 2021

tokyo olympics 
Runners-up: olympics schedule and tokyo olympics 2021
Related keyword winners 
the olympics 

olypics (

*spelling mistake driving high volumes of traffic)

watch olympics 
Runners-up: olympic medals and olympic games tokyo 2020  
As of August 8, 2021 there were 30.6 million total search visits worldwide for keywords containing olympics. When you add in related keyword research, this number jumps to 47.6 million.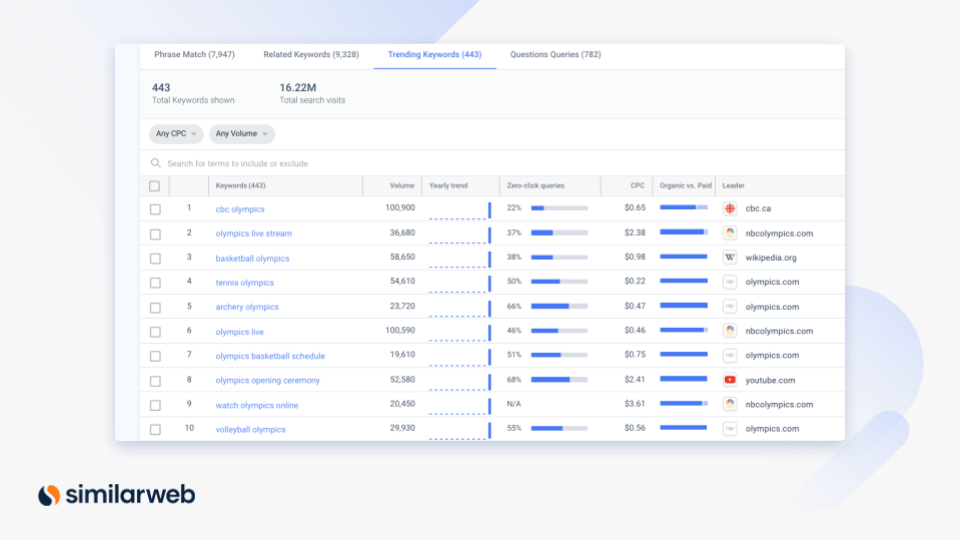 There were 16.2 million search visits for trending keywords worldwide in July 2021. Trending terms will give you a better idea of your audience's search intent and what exactly they are hoping to find out about the Olympics. We can see most of the trending search terms revolve around different sports as more and more people searched for the results of specific competitions. 
The most popular streaming services 
With fans cheering from home this year, streaming services and video content providers fought for viewer attention online. 
Our medals for top streaming websites go to websites that were offered some form of video streaming throughout the Olympics. We looked at the last 28 days worldwide, as of August 8, 2021, and measured daily average visits.  
Worldwide streaming winners
youtube.com

bbc.com

hulu.com
Runners-up: peacocktv.com and zdf.de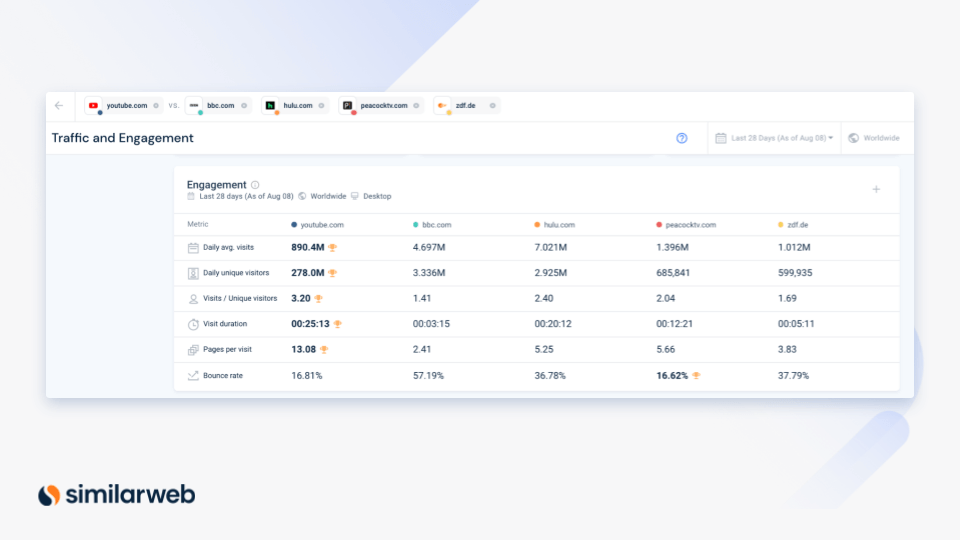 Not only does youtube.com win the gold medal for daily visits, but also sweeps the competition in user engagement. Hulu.com and peacocktv.com follow closely behind. 
Winning sports news and publishers  
As with any trending event or internet sensation, publishers and sports news sites were able to capitalize on Olympic fever. Many saw huge spikes in traffic during the two-week event as fans were eager to read the latest results and track country medal counts.
We analyzed website segments dedicated specifically to the Olympics for five top publishers worldwide to track performance over the last month. See who made it to the top of the leaderboard: 
Traffic winners 
espn.com 

sports.yahoo.com  

bbc.com 
Runners-up: nbcolympics.com and skysports.com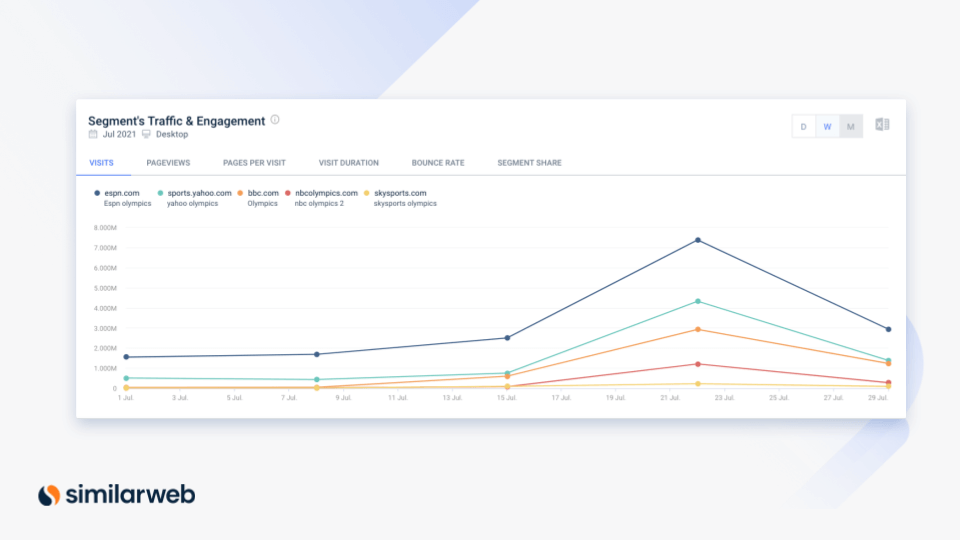 Espn.com's Olympic page outperformed the other publishers, however, this makes sense given that ESPN is dedicated to sports while the others report on all aspects of news. And although nbcolympics.com is exclusively about the Olympics, its main audience reach is in the U.S. 
We can clearly see the obvious spike in traffic these publishers experienced during the Olympics, before a slight dip at the closing of the event.
Sponsors who came out on top 
Events like the Olympics offer unlimited potential for boosting audience engagement, drawing in new customers to your website, and pique the interest of existing ones. 
We looked at the website traffic for the last 28 days to some of the top Olympic sponsors to see who made the most out of the major sponsorship opportunities afforded by such a popular event. 
Sponsor winners
samsung.com 

alibaba.com

airbnb.com 
Runners-up: intel.com and toyota.com 
You can see the upward trend for samsung.com leading up to the Olympics and peaking during the first week of the games as more and more people were exposed to their ads. 
It's important to point out that most traffic to Olympic sponsors in the last 28 days came from mobile web – 80% of the total traffic worldwide came from mobile web, while only 20% came from desktop. Knowing how your audience is accessing your website can help you optimize your content and ad placement, as well as fine-tune user experience. 
Win gold every day of the week 
You can use Similarweb Market Intelligence to track your performance in real-time. With the right tools and real-time data, you'll get the competitive edge you need to win your own gold medal every day of the week. 
The features highlighted in this post showcase the importance of digital intelligence for growth and business development. They include:
Traffic and engagement analysis 

Segment analysis 
Schedule a demo today and we'll walk you through how to pull these insights yourself.
This post is subject to Similarweb legal notices and
disclaimers
.
Wondering what Similarweb can do for you?
Here are two ways you can get started with Similarweb today!