And just like that, we are halfway through 2021. Between Pride Month celebrations, international sporting events, and a resurgence of coronavirus restrictions, it's been another eventful quarter for the online world.
But which trends have made a lasting impact? 
Using market and research intelligence, Similarweb data pros dug deep into the top web trends of Q2 to provide you with a snapshot of data on market behavior and why you should care. 
Read on to discover the most influential trends from last quarter, and how you can use these insights to your advantage as you plan for the remaining year ahead.
1. Old-school cinema vs. Netflix: Who will win?
Going to the cinema has been an age-old tradition since the 1800s. However, consumer trends post COVID-19 have drastically altered the entertainment industry. 
Throughout the pandemic, we saw booming audience engagement and traffic to online streaming services. With trips to the cinema canceled, traffic to streaming websites like netflix.com and disneyplus.com soared. Netflix.com grew 40% percent in 2020, earning 2.8 billion monthly views in May of that year.
However, each time coronavirus restrictions eased, traffic for cinema-related keywords spiked to unprecedented levels.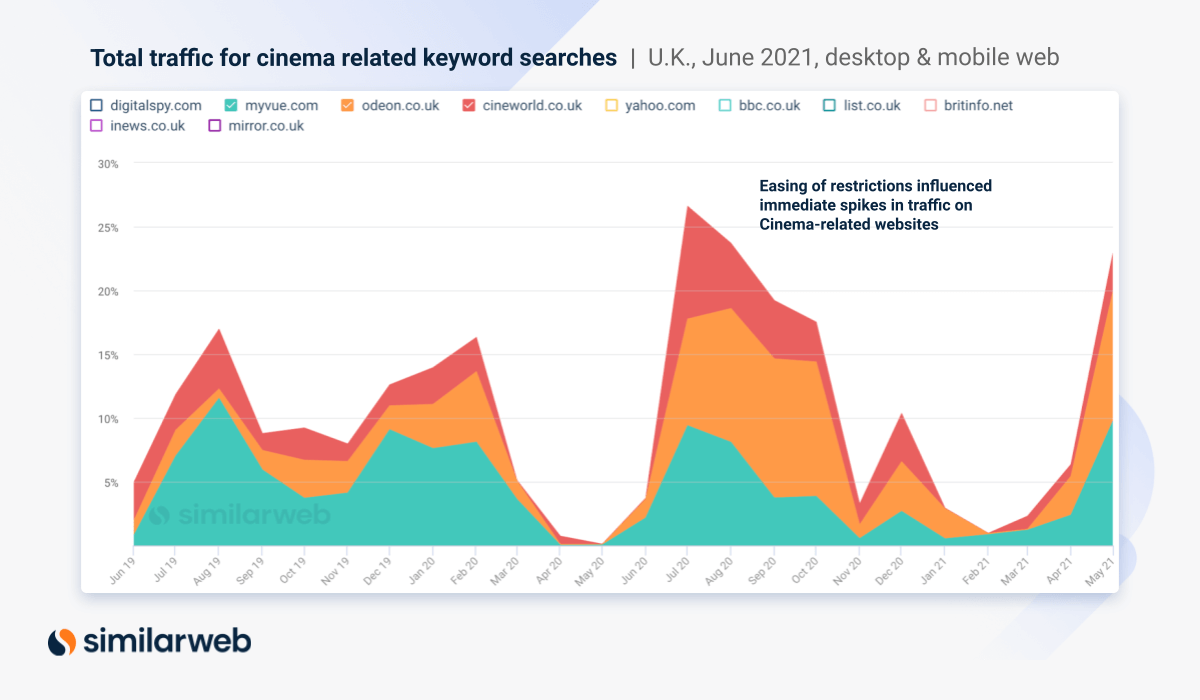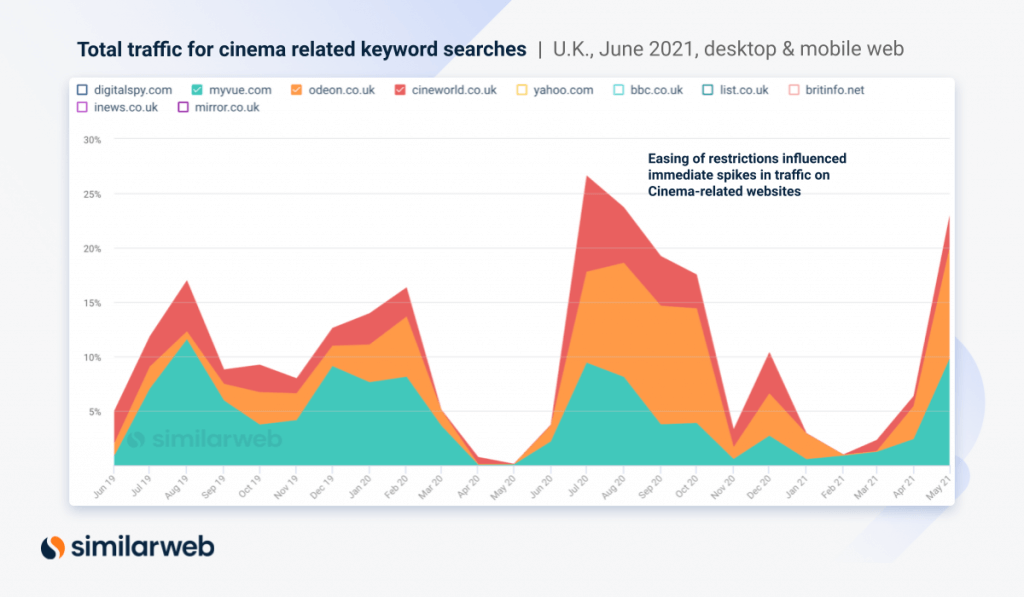 Will the promise of the return to "normal" be enough to rejuvenate the cinema experience, or have people become used to the ease of streaming services? According to our data, the downward trajectory of total traffic for cinemas highlights the latter. It seems that COVID-19 has altered our movie viewing preferences for the long term.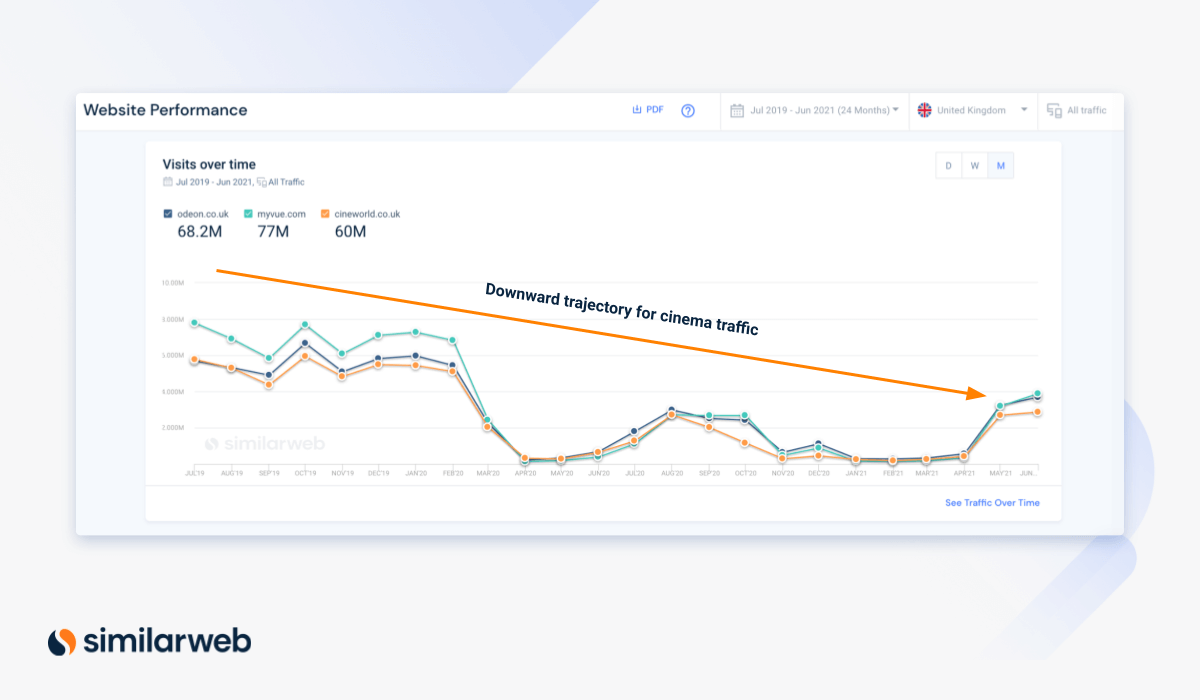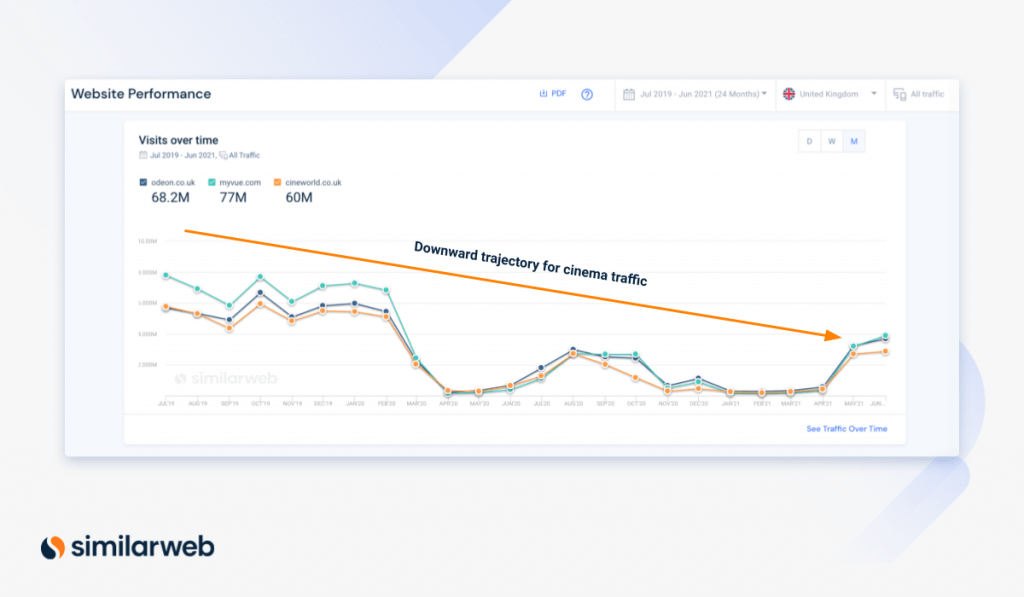 2. Crypto interest keeps climbing
Throughout the pandemic, people took on new hobbies and learned new skills. With the rise of market value, many began investing in cryptocurrency. And unlike some of our fleeting quarantine activities, it doesn't seem like the cryptocurrency surge will fade away once things go back to normal. 
Despite Elon Musk flip flopping over whether or not Tesla will accept cryptocurrency as a payment method, and China banning banks and financial institutions from supporting Bitcoin, the digital currency is still going strong. 
Website performance of top cryptocurrency news sources is booming with 307% year-over-year (YoY) growth as of May 2021. Keywords like ''cryptocurrency'' have doubled in volume in the last 12 months and will continue to trend as we enter Q3. The search trend for related keywords also continues to increase worldwide, showing the customer interest is still very much on the rise.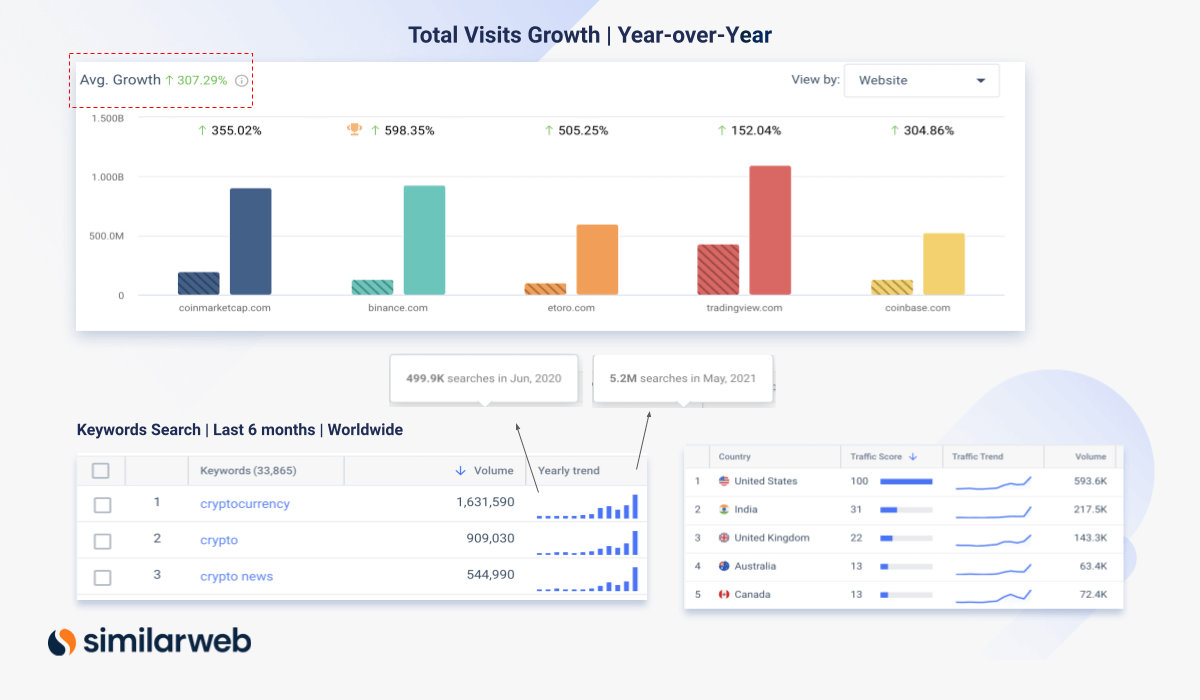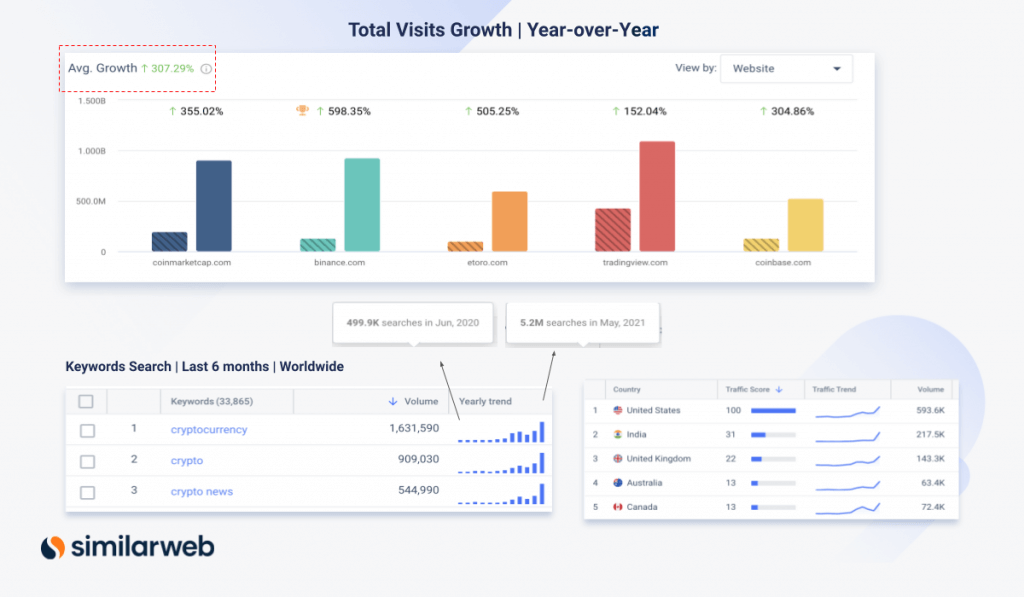 3. Wedding season is back in full swing
2020 was not the year to get married, literally. Countless couples have had to postpone, cancel, or downsize their dream wedding due to COVID restrictions. But in Q2 we saw a noticeable shift back to pre-pandemic online behavior.
"Wedding guest dresses" continues to pop up as one of the highly searched for and clicked on keywords on fashion websites, particularly in April in the U.K.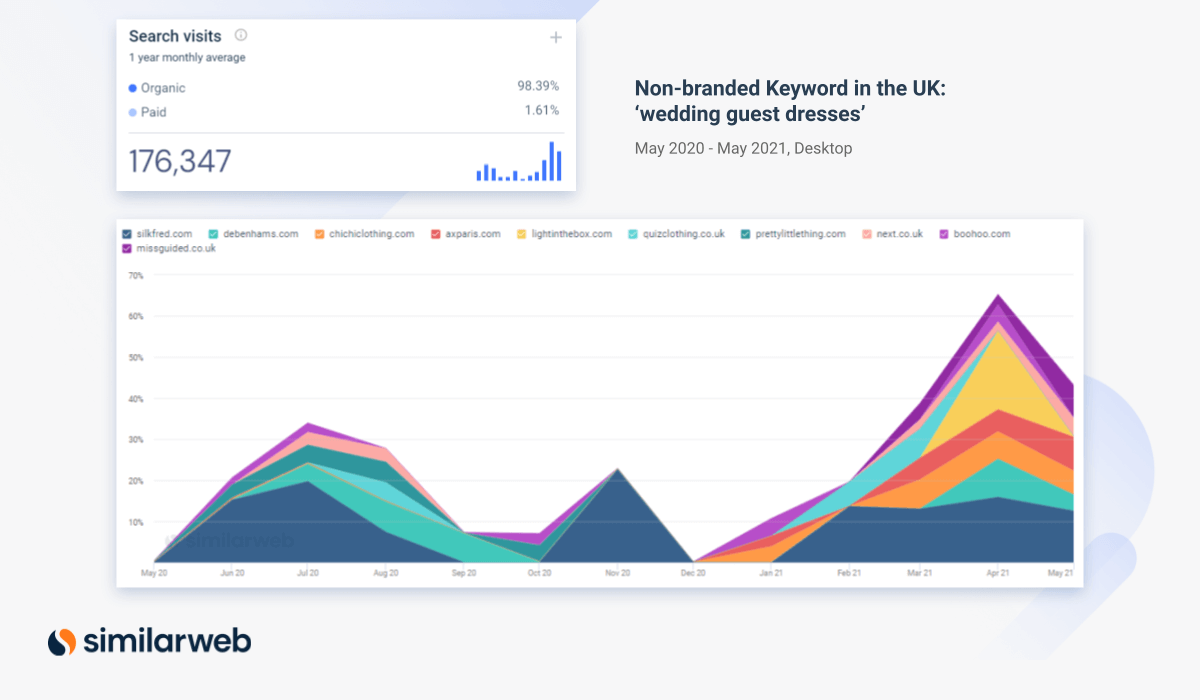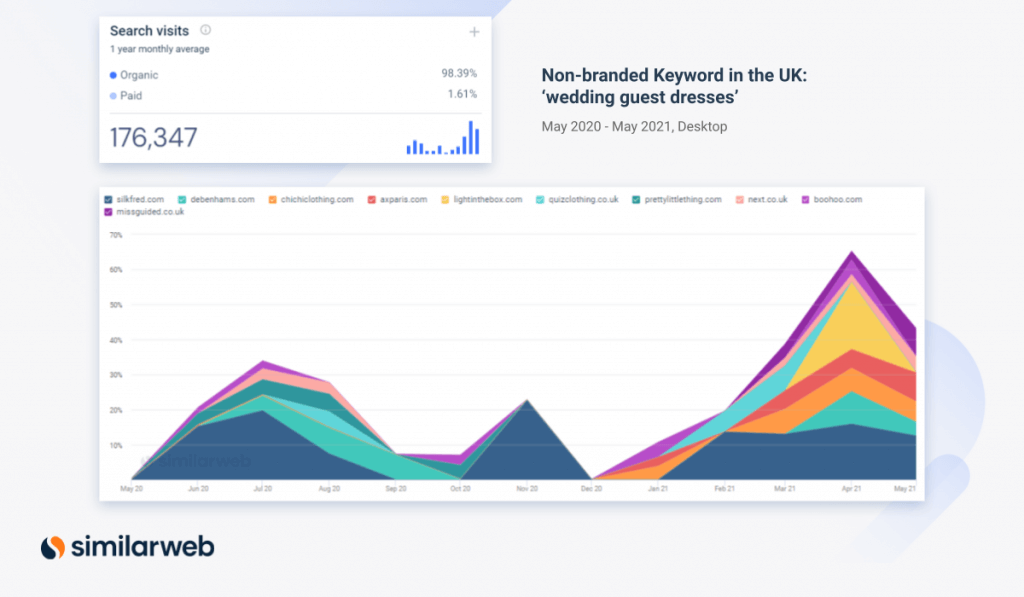 Specifically, there has been a major shift in visits for this organic keyword in the past few months. Whereas this time last year, the trending traffic share was almost non-existent, some leaders in the market are reaping the benefits of the increased traffic for this particular keyword. The backlog of wedding invitations is starting to pile up, and guests have taken to the internet to find their party outfit. 
This is an important insight especially for online eCommerce websites and retailers as it indicates that wedding fashion is back by popular demand and that the market is bouncing back from pre-COVID-19 times. 
4. Crocs are somehow cool again 
The comfort shoe that the internet loves to make fun of seems to be having quite the comeback in 2021. 
The data proves that Crocs are, in fact, back in fashion and more popular than ever. The search term has appeared as a trending keyword in the U.K. over the last six months. An even deeper look into segment analysis tells you just how much this controversial shoe has grown in popularity.
We looked at sportsdirect.com, a top organic retail competitor in the U.K. When comparing Crocs against Airforce (the number one trending keywords in the fashion and apparel industry), Crocs proved to fare much better in the month of May, outperforming the popular Nike sneakers. This could possibly be due to the warmer weather and the potential for foreign travel this summer – comfort is top of mind for customers in the post COVID-19 era.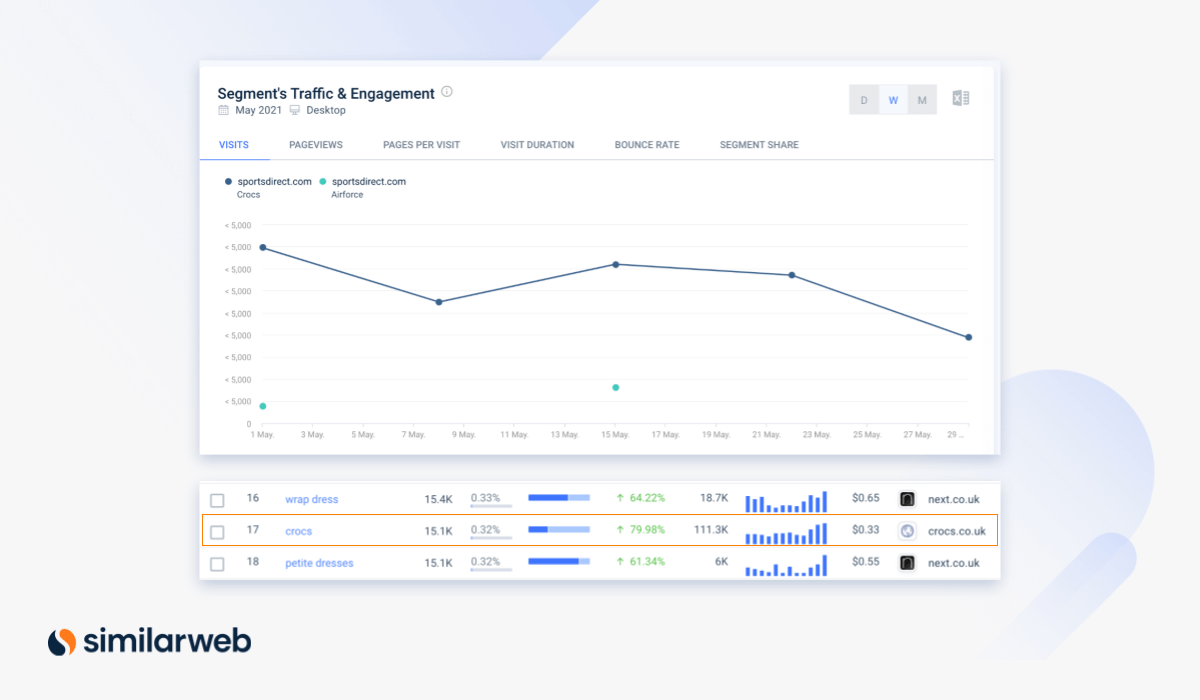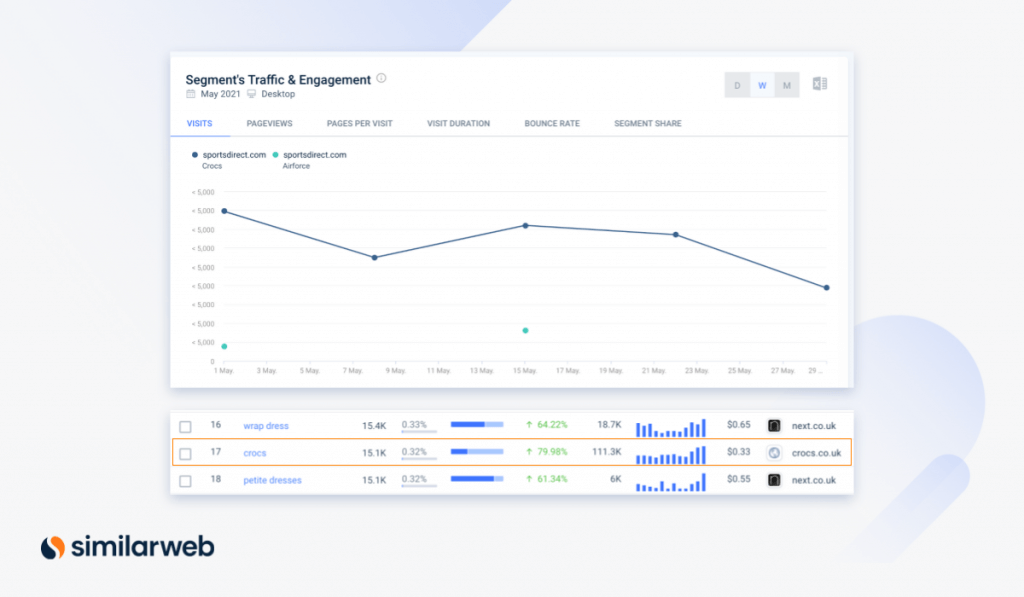 This suggests that when possible, eCommerce websites should capitalize on bidding for Croc-related keywords throughout the summer to ride the popularity out. 
5. Clear the runway! Travelers are returning to the sky 
After over a year without travel, people everywhere can't wait to pack their bags and explore a new destination. 
When looking at some of the biggest travel websites in the U.K., total visits from the last three months reveal a major turning point for the industry. Skyscanner.net, britishairways.com, easyjet.com, ryanair.com, and wizzair.com all saw significant spikes in the amount of total and unbounced visits between April–May 2021.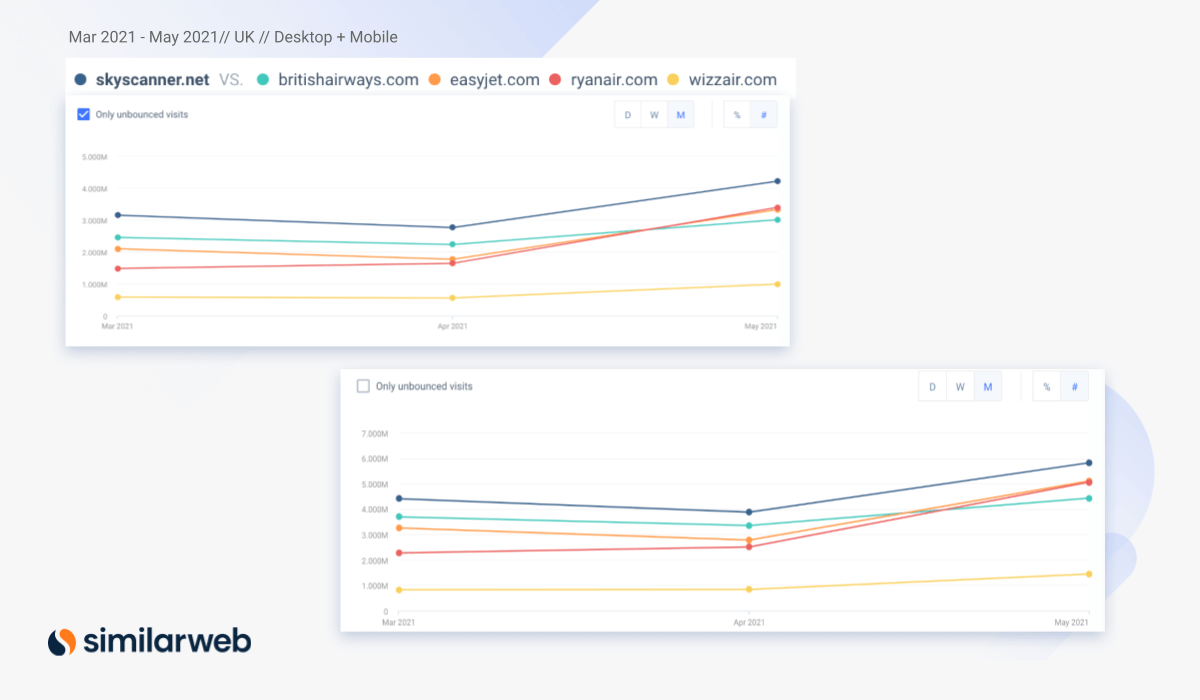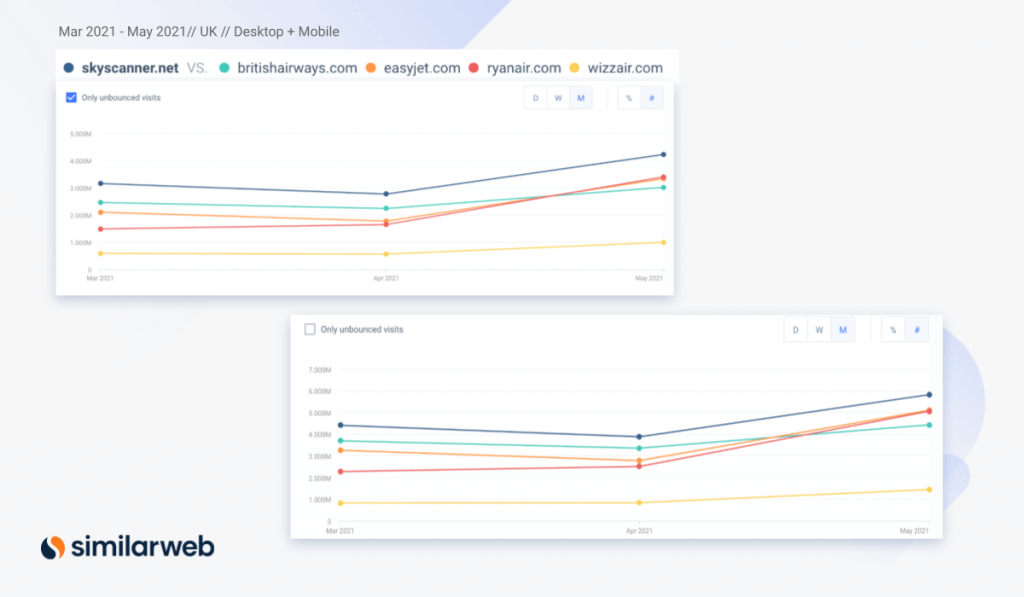 We also found that country-specific restrictions are currently dictating traffic patterns to travel sites. For example, search traffic for the keyword flights to Portugal surged by over 400% in April 2021. 
Much of this traffic can be attributed to the British government's announcement that lifted the ban on flights to Portugal, making for an enticing travel destination. These insights and travel trends post-COVID could be useful for travel companies and airlines when making promotional campaign decisions.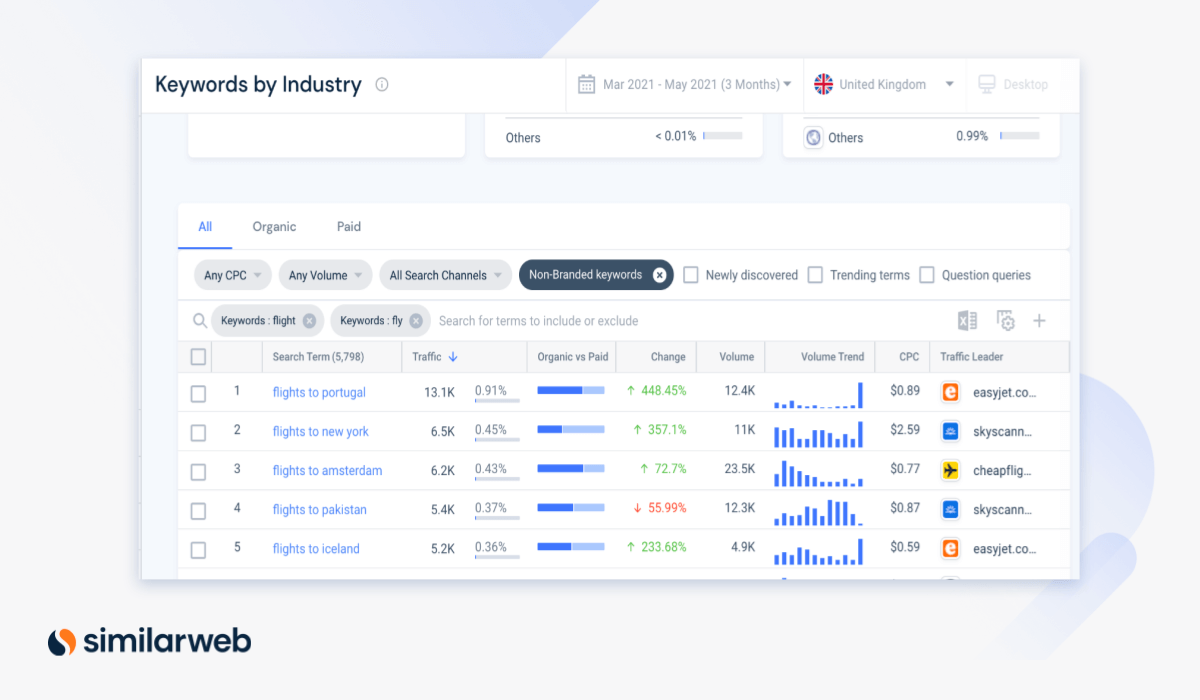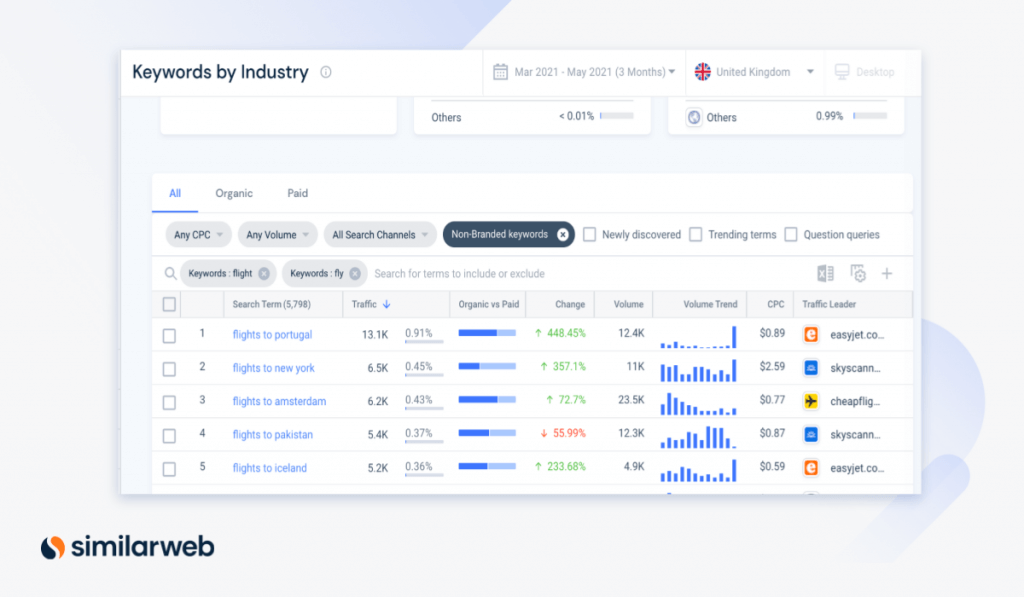 6. Pedaling is out, electric is in 
In the last quarter, there's a clear shift in consumer preference towards electric bikes and away from traditional bicycles. This is reflected in search behavior – both on Amazon on-site search and search engine traffic to leading brands' websites.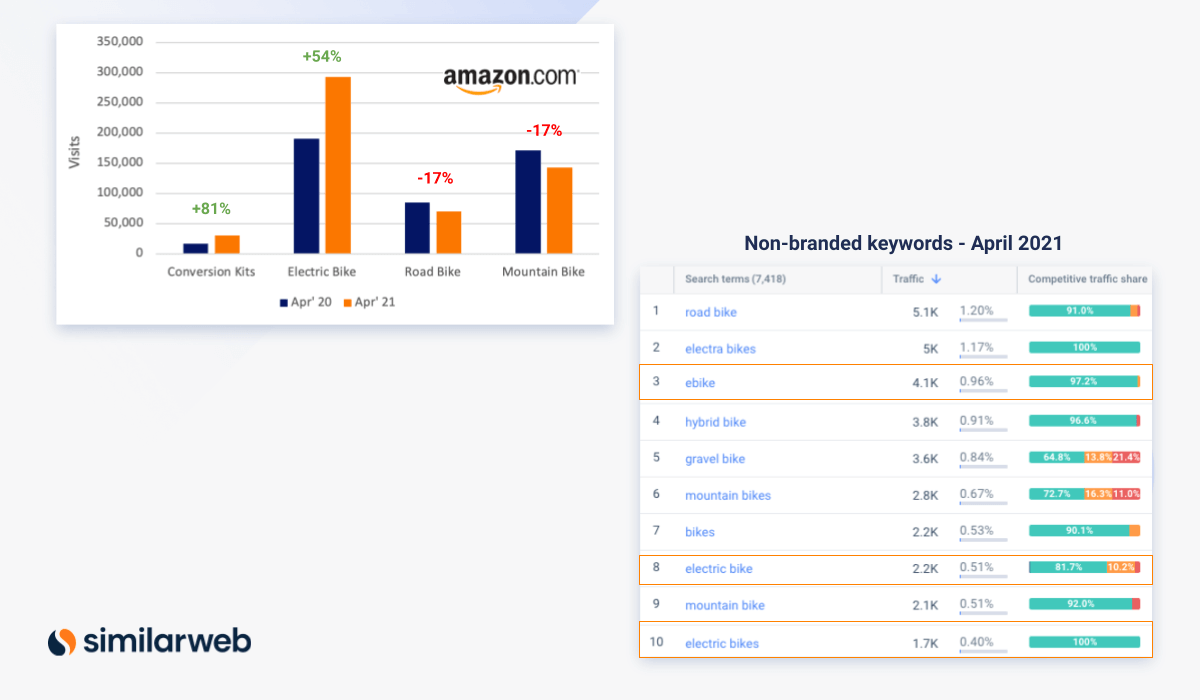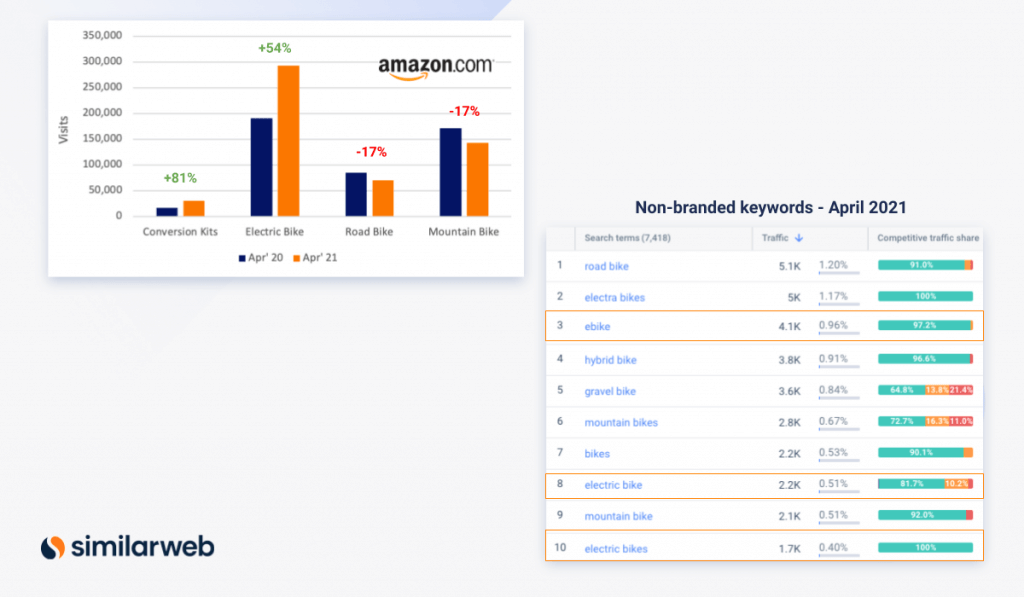 This trend is also highlighted in overall traffic to each brand website, for example, key competitor trekbikes.com has  seen electric bike traffic increase by four times over the last year.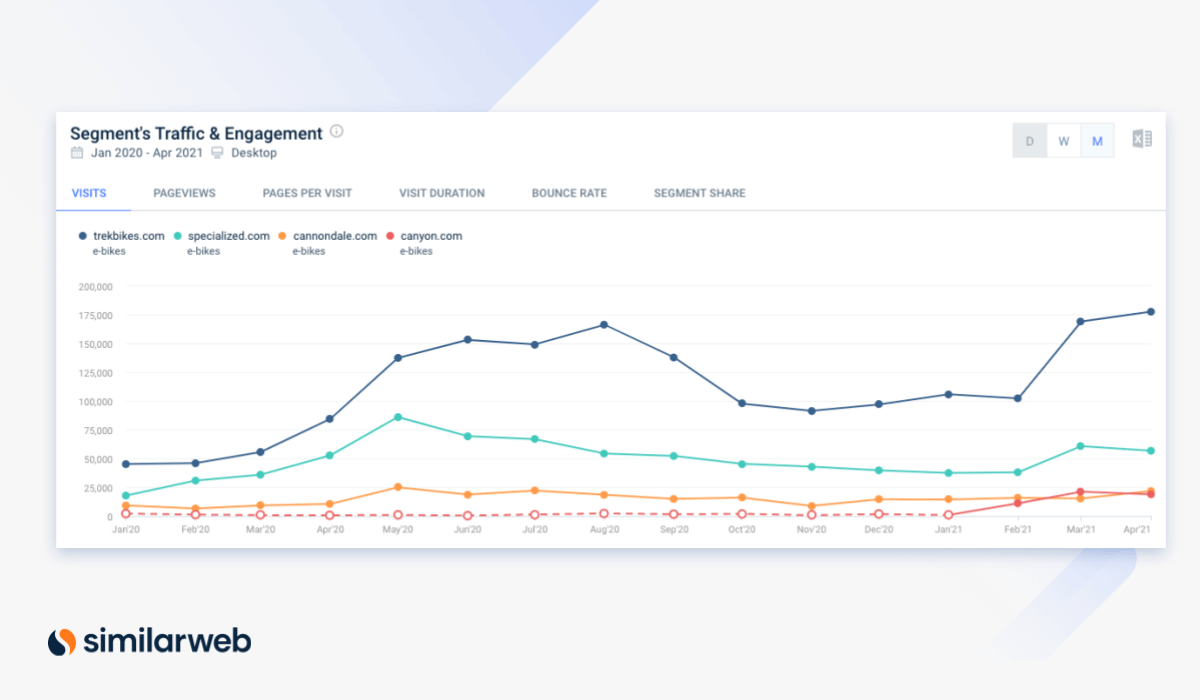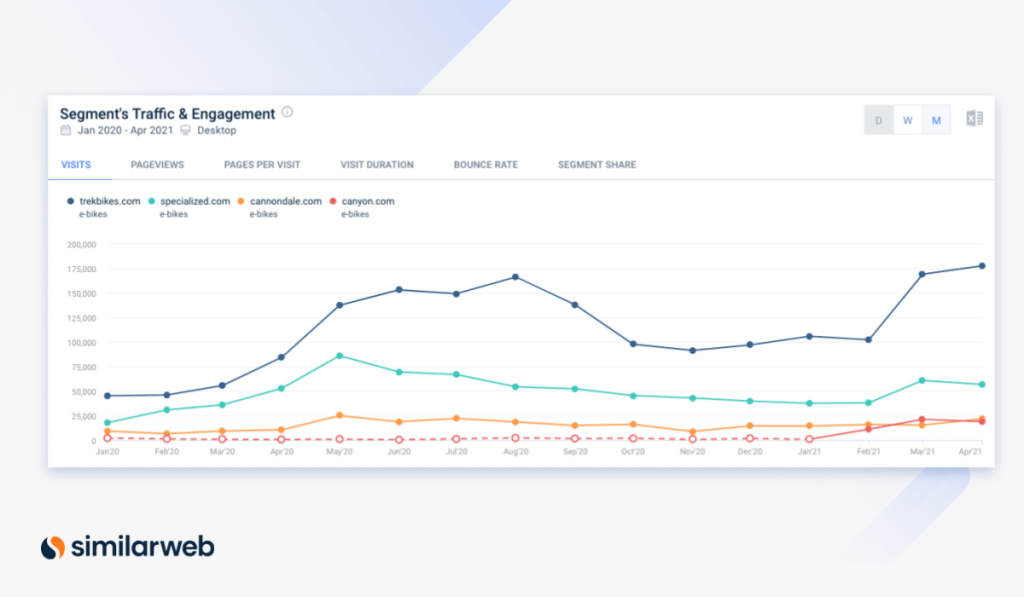 7. Biden gives shared office spaces a boost  
The closer we get to the "old normal," the more policies will be able to affect the resurgence of those business models negatively impacted by COVID-19.
While there was little to no interest in searching for "shared office space" in the last few months, a simple announcement from the Biden Administration about recovery on the horizon (March 25, 2021) has given hope that the tide is about to turn. 
Out of all the main service providers of co-working spaces, only regus.com was able to capture the return of this trend, holding almost 100% of the entire traffic in March 2021.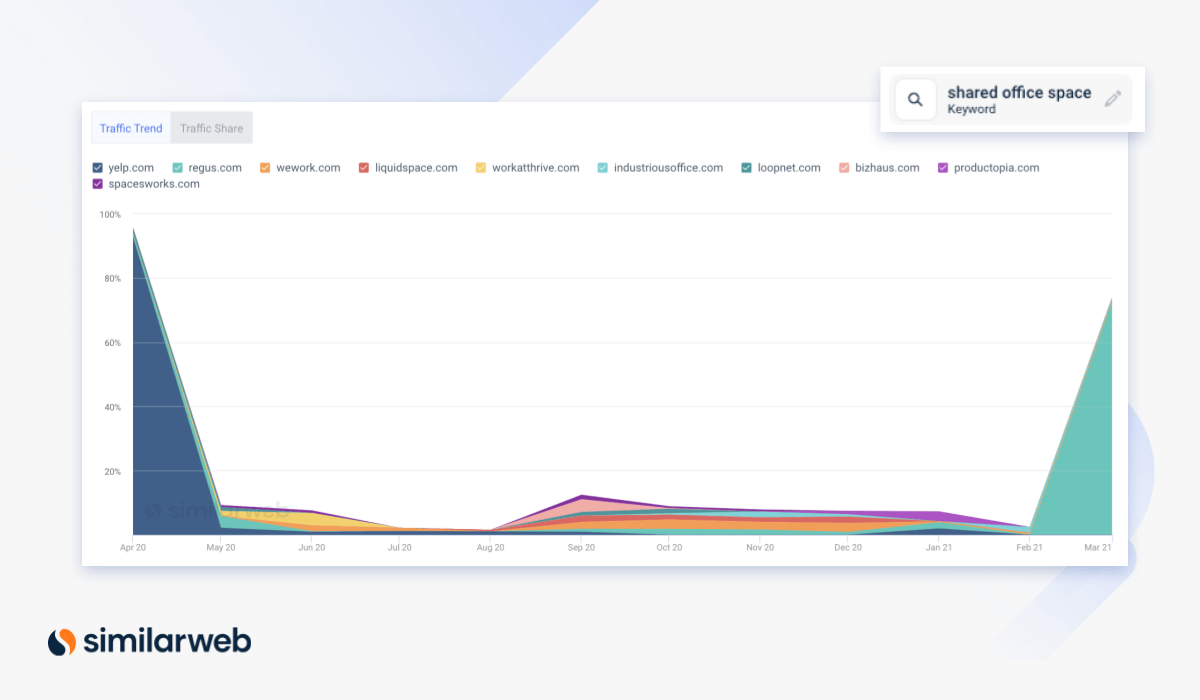 Predict trends for the rest of the year
Between new customer preferences, uncontrollable global events, and technological advancements, navigating the digital arena can lead to some big surprises. 
With Similarweb's market intelligence, you can track trends as they happen, so that you can better prepare for what's coming next. By monitoring what your customers are searching for online today and how your website compares to industry standards, you can stay ahead of the curve and adjust your strategy to meet their needs in real-time.
All insights were pulled in collaboration with Similarweb's Client Services team.
This post is subject to Similarweb legal notices and
disclaimers
.
Wondering what Similarweb can do for you?
Here are two ways you can get started with Similarweb today!