 Research Intelligence
Bounce No More: 10 Easy Ways to Reduce Your Bounce Rate
August 13, 2020
| Updated June 28, 2022
It's easy to solely focus on metrics like sessions and user growth. When week over week or month over month session and user growth is strong, it's reason to celebrate. Ostensibly, more people are using your product and your brand is expanding its footprint. 
However, these can be vanity metrics. What if a user came to your site but immediately left? While that might move up your metrics, it's not impacting your business. It's like the user was never there. 
For that reason, you have to pay attention to bounce rate, or the percentage of people who only visit one page on your site and then leave. Not only is bounce rate an indication of how engaged users are when they come to your site, but Google looks at bounce rate as a measure of relevancy impacting your search rankings. It's a critical metric to look at as part of your digital strategy that directly influences others, like conversion rate.
Fortunately, there are a number of ways to improve bounce rate, which my team and I have learned through trial and error on our solitaire gaming platform. In fact, we were able to reduce it by 41%. If you follow these strategies, you'll find plenty of opportunities to improve bounce rate on your own site. 
1. Get Competitive Benchmarks
You might look at your bounce rate and be shocked at what you see. A 50% bounce rate, where half your users come and go after visiting one page, can be unnerving.
Bounce rate, however, is a relative metric and can vary by industry. Use Similarweb to do competitive research and calculate the average bounce rate in your space. This should be a good competitive benchmark to compare where you stand. You can see here how bounce rate varies considerably by industry: 
A 50% bounce rate, in fact, may be very healthy if you're running a news site, where users often come to read only one article. On the flip side, if you're in the travel and tourism space, where the average bounce rate is 43.6%, you have room to improve.
2. Audience Analysis
Once you have a target bounce rate to work towards, start digging into your analytics to understand how your audience interacts with your website. 
First look at bounce rate by landing page. Is there a specific page where the bounce rate is high? Your lowest hanging fruit comes from the pages with the most traffic and the highest bounce rate.
Then look at bounce rate by browsers. Audiences vary, and they may not be using the same browsers you test your product with. Look at reports to see if there are discrepancies in bounce by browser. For example, you might find that bounce rate is high for Internet Explorer visitors, and if it's a large percentage of your traffic, it suggests there is an opportunity to improve.
Similarly, look at bounce by device. How do mobile, tablet, and desktop bounce rates compare to one another? Perhaps your site is not mobile optimized, which reflects in the bounce rate. 
You can even look at the bounce rate by country. If the bounce rate for Spanish-speaking countries is high, it suggests you need to look at language translation. Think through all the ways you might analyze your audience to uncover opportunities to improve your bounce rate.
3. Match Keyword Intent
If SEO is part of your acquisition strategy, users are finding you through Google. Moreover, they have specific intent. 
It's important to understand why and how organic users are coming to your pages, as it helps you better understand bounce rate. 
First, map out keyword and keyword volume by landing page. Then ask if your landing page matches the intent of the keyword. 
For example, if you have a landing page on "fiberglass pool shapes" but the page gets traffic for "fiberglass pool benefits" it shows that there is a discrepancy between user intent and page content. You might add a benefits section that could reduce bounce rate on the page since it would address what your users are searching for. Make sure to set up Google Search Console to get these insights
4. Reduce Bounce Rate By Improving Page Speed
Have you ever gone to a website and then left after giving it a few seconds to load? Internet users have the expectation to get information immediately, and if your page lags even for a few seconds, they'll split to the next Google search result. 
Page speed is correlated with bounce rate. A study by Pingdom shows that for sites that take 2 seconds to load, bounce rate is on average 9%, while 5 seconds to load can skyrocket bounce rate to 38%. 
It's incredibly important to get users the information they want as fast as possible. 
To lower your bounce rate, first, understand how fast your website loads relative to competitors. You can use Google pagespeed insights to measure this. This will give you a sense of how well you're doing, or how much you can improve. 
Then, start implementing pagespeed best practices, from using CDNs, to optimizing images, to compressing your files. Not only will this help you improve your bounce rate, but it will improve your SEO, as it has become an increasingly important ranking factor for Google.
5. Use Heatmaps
Heatmaps allow you to understand customer behavior, and how much time users are spending on different parts of your site. Tools like CrazyEgg can show you visuals on how users overall scroll through a page, or which buttons or text they are paying most attention to.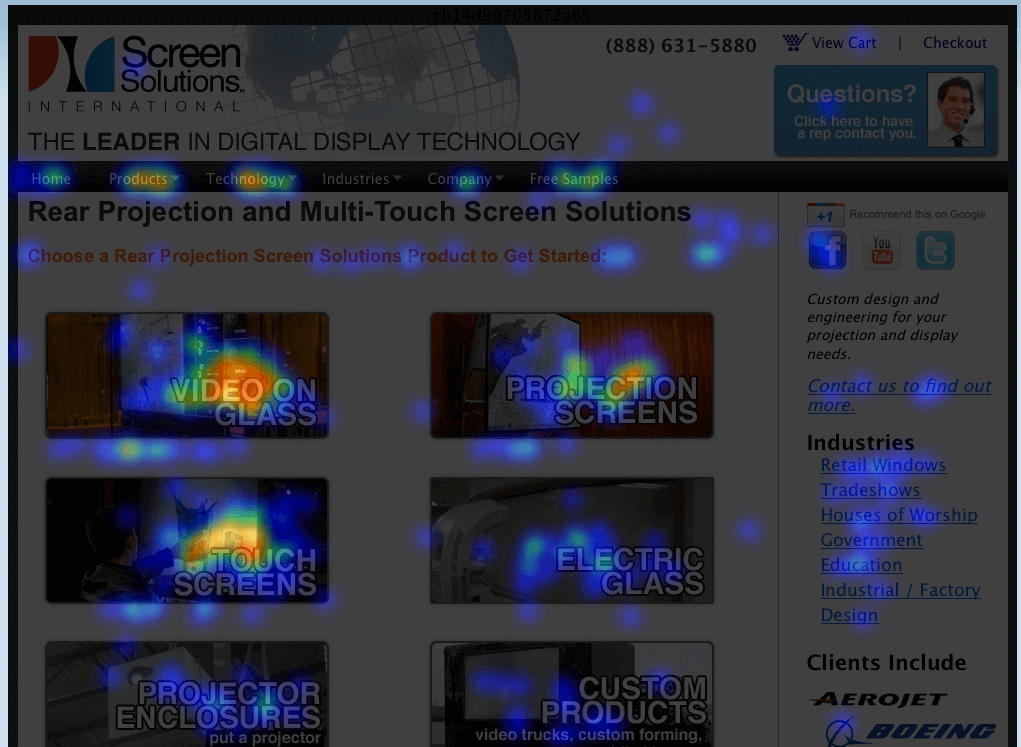 You might find through heatmaps that only 5% of users are scrolling down below the fold to read your product's features and benefits. If users can't learn how your product will help them, they'll bounce. Instead, you'll want to test by bringing this copy above the fold to see if it helps with reducing bounce rate.  
With heatmaps, you'll even see which buttons users think most about clicking. If they are distracted by a different element on your page, like ads, you then have the insights to remove them.
6. Use Screen Recordings
Similar to heatmaps, screen recordings from tools like Hotjar give you insight into how users interact with your website, only in greater detail. For every session, you can see how their cursor moves, where they scroll, and what they click on. It's like getting into the mind of your user. 
This means you can find which users bounce and what their behavior was like leading up to the bounce. You might see that your headline copy doesn't stand out, and users scroll past this, meaning you need to test a new copy. Or you might see user re-read bullets, suggesting that either the bullets are confusing, or you need to expand them and provide more detail. Here's an example of the detailed videos you'll see.
By watching the behavior of those who bounce and identifying patterns, you'll have insightful ideas into what you can change on your website to improve bounce rate.
7. Interview Your Customers
Let's say through user tracking tools you think there is an opportunity to improve copy, which can reduce your bounce rate, move users through your funnel, and improve your conversion rate. How do you figure out what new copy to test?
To do this, you have to understand your customers. Launch on-site surveys that ask why visitors have come, what problems they have, and what they're hoping for in a solution. 
If you can, get on the phone with potential customers or existing ones. Ask similar questions and dig deeper to understand their emotions, desires and situation. All of this will help you understand the best language to emotionally connect with your customers. 
If you're a pool cleaning company, you might learn that customers "hate" the idea of cleaning their pool. You can then use this word in your copy to better connect with visitors and prevent them from bouncing.
8. Capture Users On Exit
With exit-intent technology, you can launch a popup as a visitor is about to leave your page. 
In the popup, you can ask users why they're leaving. While most people will dismiss it, those who don't can be a goldmine of insight. It's possible they're leaving because they didn't understand what your product does, or couldn't find out about a feature you actually had. 
With the knowledge gained from exit-intent surveys and questions, you'll have plenty of ideas to test to keep users on your site.
9. Improve Your Product
When surveying your users, not only will you learn how to better write copy, but you'll get feedback on how else you can serve customer needs. 
Let's say you run a social media scheduling tool, and you learn through user research that customers commonly ask for the ability to repurpose a piece of content across platforms. 
Building out this feature can address the broader needs and problems of those visiting your site. As a result, they'll go further into your sales pages, bouncing less and converting more. A better product experience and superior marketing will improve your metrics across the board.
10. Use Social Proof
First-time visitors have no idea who you are. Not only do you have to educate them about your product offering, but you have to gain their trust. You're a stranger. Why should they trust you to solve their problems or to pay?
Potential customers want to know you have a trustworthy brand. If you've been mentioned in the press, it's a signal that you have a good product. List these mentions on your website to build trust.
Similarly, share the logos of notable customers on your website, or testimonials on how you've helped them. This shows that well-known companies rely on you to solve their problems, and new customers can too. 
Using social proof builds trust and encourages visitors to stick around. 
Start Testing
While these strategies will give you endless ideas on how to improve your conversion rate, they're not a silver bullet. Every website is different, and you'll have to test your ideas to see how they impact bounce rate, incrementally improving the usability of your site. Prioritize what you think will make the biggest difference with the least investment. 
Your bounce rate represents the top of the funnel. Improving it is the tide that lifts all boats.
FAQ
What is bounce rate?
Bounce rate is the percentage of visitors who enter the site and then leave, or "bounce",  rather than continuing to view other pages within the same site.
What should my bounce rate be?
Use Similarweb Competitive Intelligence to find out the average bounce rate based on your industry.
How can I lower my bounce rate?
Test strategies including customer interviews, heatmaps, and audience analysis to see how they impact your bounce rate or improve the usability of your site overall.
This post is subject to Similarweb legal notices and
disclaimers
.
Wondering what Similarweb can do for you?
Here are two ways you can get started with Similarweb today!