Desk research can help you make data-driven decisions, define or adapt strategies, and uncover untapped market potential to drive growth – when it's done right!
Nowadays, we have all the information we need at our fingertips; but knowing where to find the right data quickly, is key.
So, what is desk research? What does it involve, and how can Similarweb Digital Research Intelligence help?
Let's find out.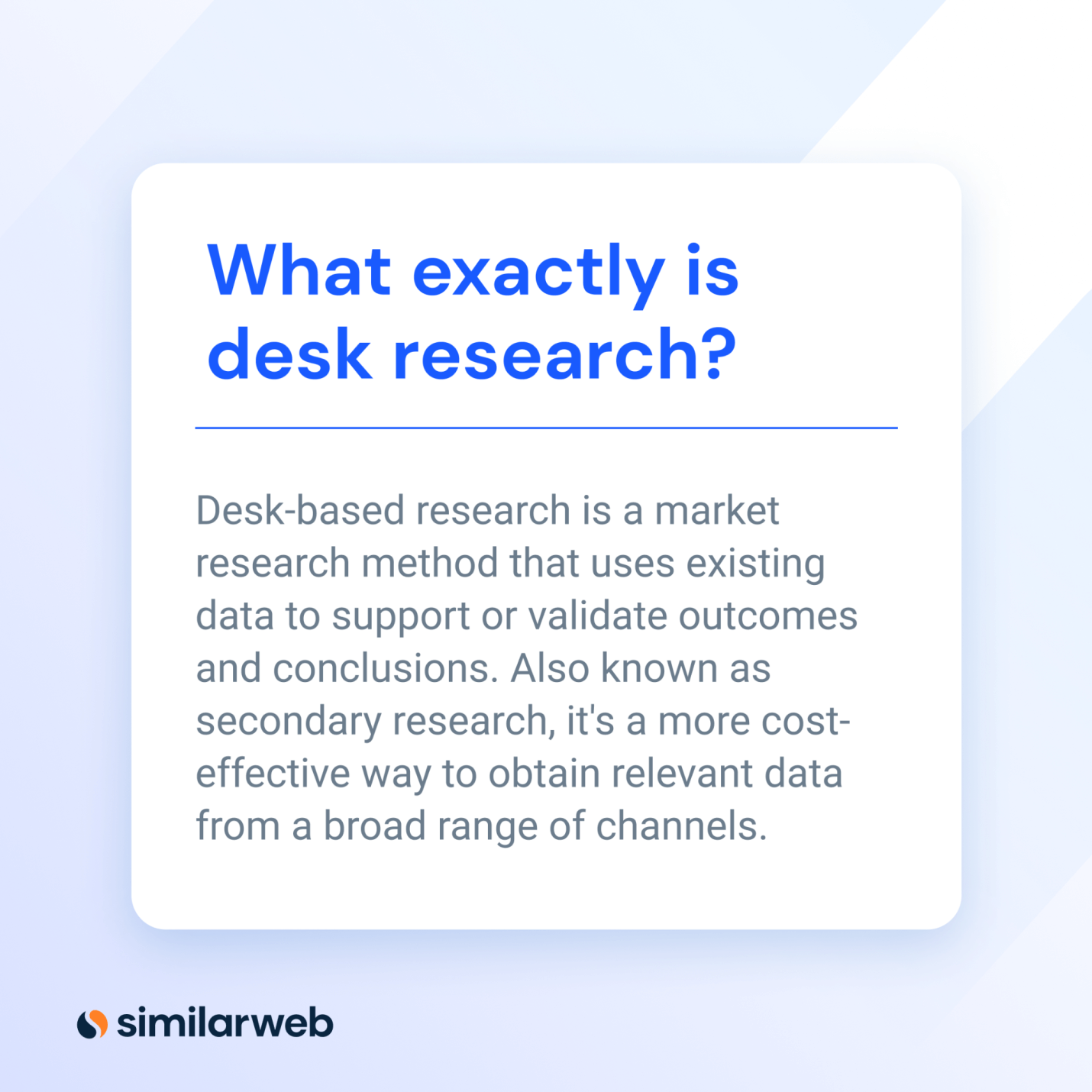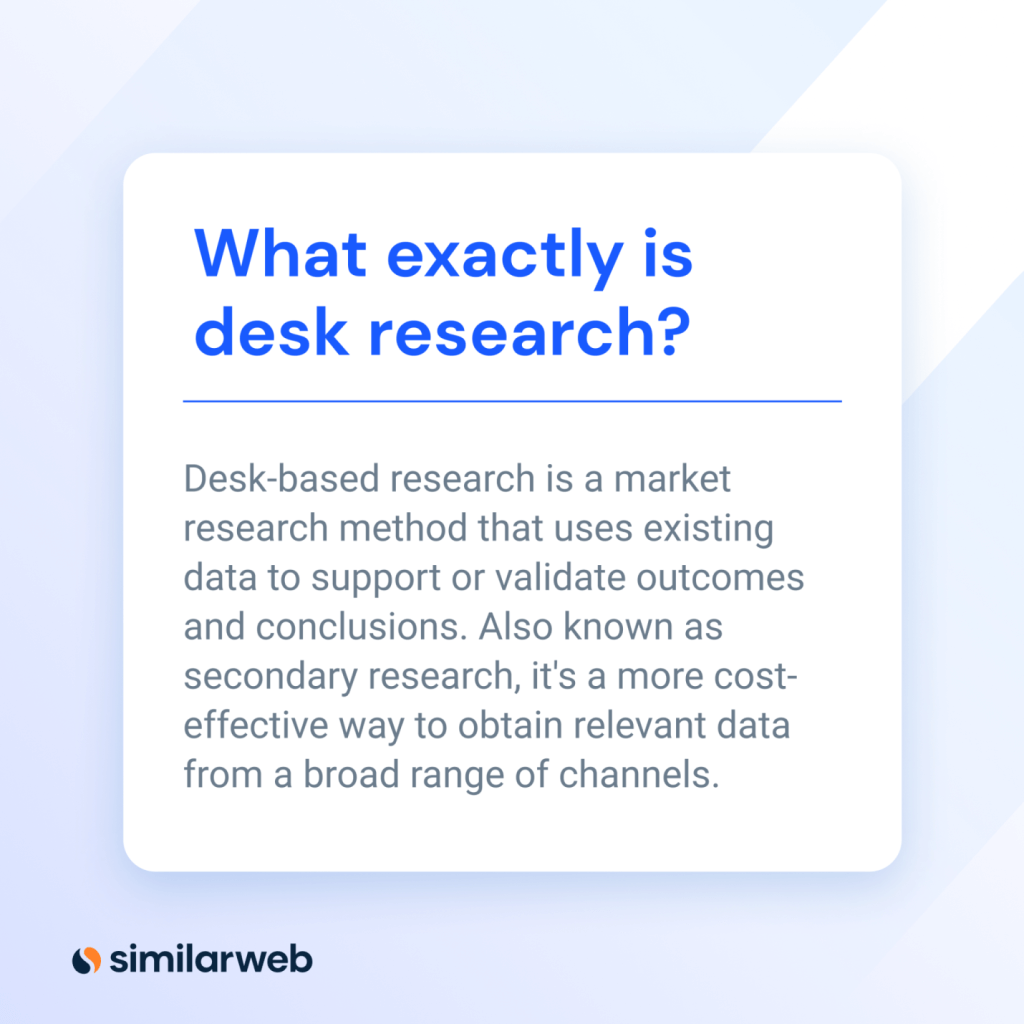 What is desk research?
Desk research is a type of market research that uses existing data to support or validate outcomes and conclusions. Also known as secondary research, it's a cost-effective way to obtain relevant data from a broad range of channels.
How is desk research used?
From small start-ups to established businesses, doing desk research provides you with crucial insights into trends, competitors, and market size. Whatever you do, desk research can help with product positioning and guide data-driven business decisions that help you become the ultimate competitor, and find new ways to grow.
According to the latest data on the Internet of Things, around 130 new devices connect to the web every second. Stats on the state of data show we create and consume data at an exponential rate–data interactions will only continue to rise.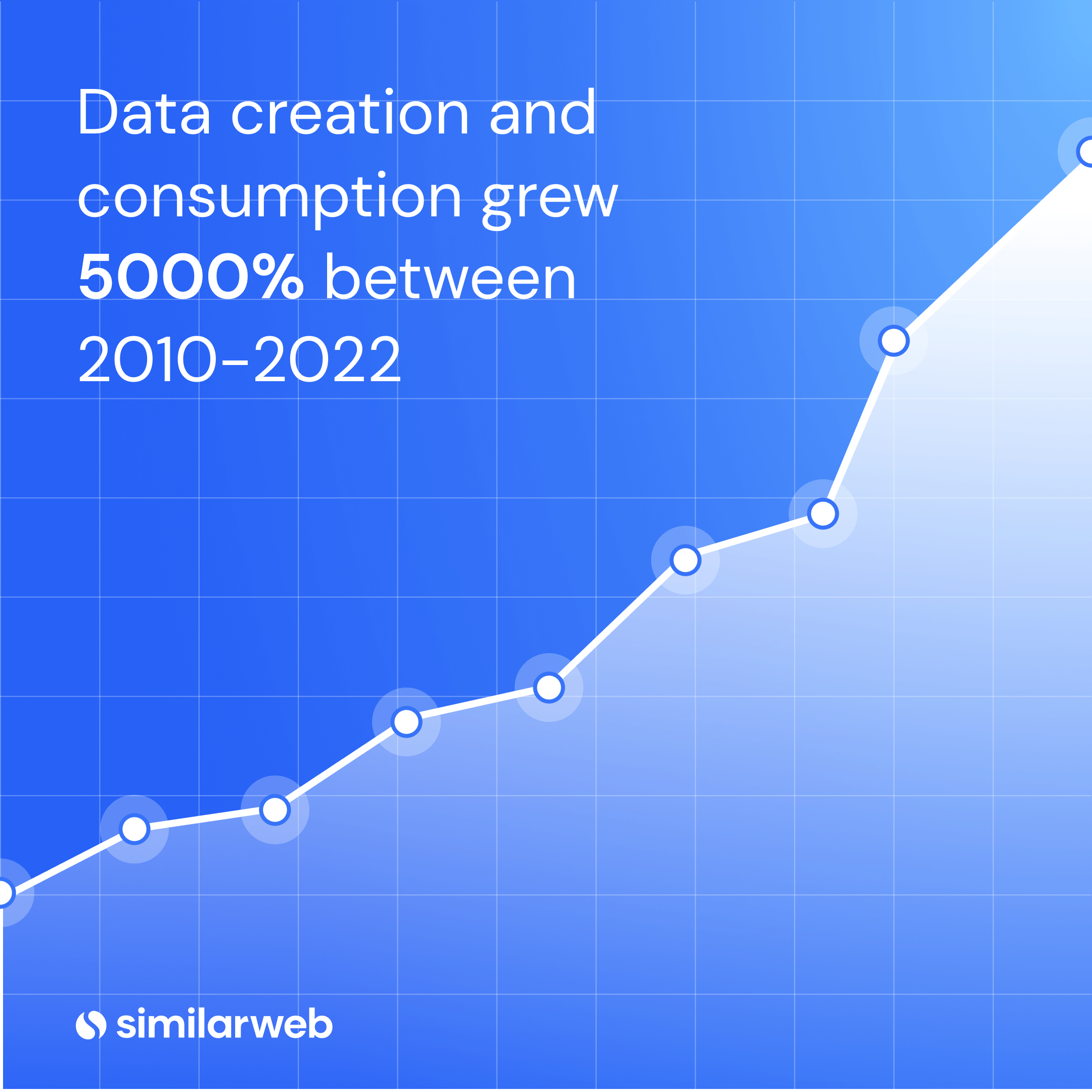 Primary vs. secondary research – what's the difference?
Most market research methods fall into either primary or secondary research. When we talk about desk research, this tends to focus only on secondary methods. However, most primary research can be done remotely – AKA, from a desk.
Primary research is self-conducted research that gathers data to answer a set of questions. It usually involves going directly to a source, such as a customer or a prospect. Compared to secondary research, it takes longer, costs more, and demands more resources. Primary research methods include interviews, market research surveys, questionnaires, competitor reviews, market mapping, focus groups, etc.
Secondary research is the synthesis or summary of existing research using previously gained information from various sources. Most market research starts with secondary research: As it aims to provide a researcher or analyst with a basis of knowledge formed from existing data. Secondary research methods include collecting data from the internet, government databases, reports, and academic journals, to name just a few.
Pros and cons of desk research
As with any type of market research, you need to choose the right method to deliver the best outcome for your research goal. Desk research is advantageous for several reasons, but it won't always suit every market research project. Market research best practice tells us that we should use desk-based research before primary research – as this helps to reduce or refine the scope of the work before the second, more costly phase.
Here's a summary of the pros and cons of desk research.
Advantages of desk-based research
Doing secondary market research is highly beneficial; here's why.
Low cost – most sources of secondary research are low to no cost.
Speed – as the data already exists, data collection is quick.
Clarity – desk research drives & add-value to primary research actions.
Scalability – due to the large datasets used in secondary research.
Availability – pre-collected data is readily available to analyze.
Insightful – get valuable insights and help resolve some initial research questions.
Disadvantages of desk-based research
As any good researcher will attest, it's always good to look at a topic from every angle. Here are a few things to consider before starting any secondary research process.
Out of-date data – consider if the coverage dates of the research are relevant. In a fast-moving market, having access to up-to-date information could be critical.
Lack of perceived control over the data – secondary research is undertaken by a third party; as such, methodology controls need to be reviewed with caution.
No exclusivity – desk research data is widely available and can be used by other researchers.
Verification & interpretation – particularly when working with large data sets, it can take time to analyze and review to ensure the information is suitable for your research.
Different types of desk-based research
Nowadays, you can do most market research from a desk. Here, I'll focus solely on secondary research methods: Where finding and using the right resources is key. The data you use needs to be up-to-date, and should always come from a trusted source.
Desk research methods – internal data resources
Before stepping into external research, look for any relevant internal sources. This data can often prove invaluable, and it's a great place to start gathering insights that only you can see. The information is already yours, so aside from the fact it won't cost a dime, it's data your rivals won't have access to.
Sources of internal information that can help you do desk research include:
Historial campaign and sales analysis: Everything from website traffic and conversions through to sales. Accessible through your own analytics platform(s).
Website and mobile application data: Your own platforms can also tell you where your users are – such as the device split between mobile and desktop, for example.
Existing customer information: audience demographics, product use, efficiency of service.
Previous research conducted by other analysts: Even if the research seems unrelated, there could be indicative information within.
Desk research methods – external data resources
Using external data sources for desk research is an ideal way to get information about market trends, and explore a new topic.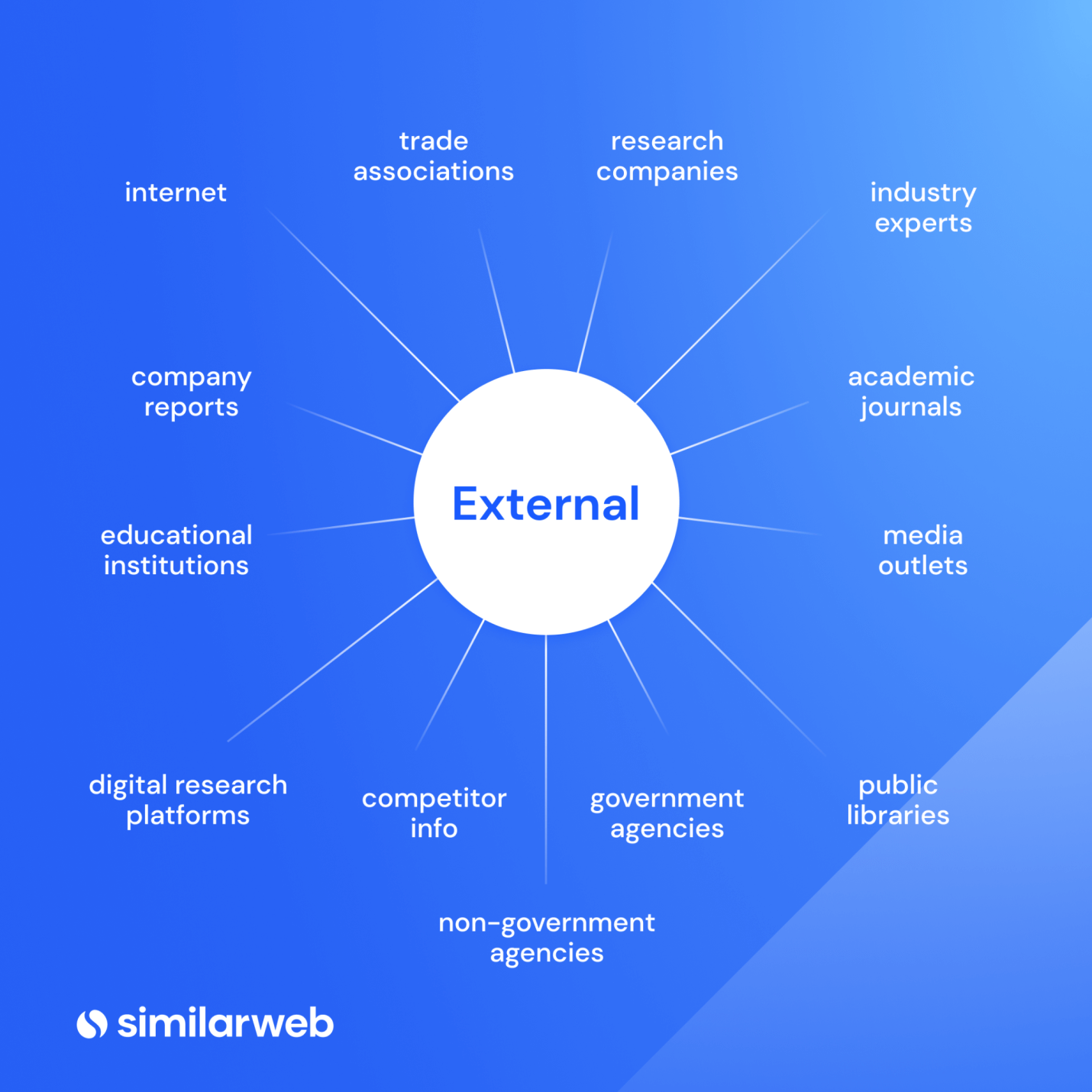 The internet: A virtual aggregator of all secondary research sources – always validate findings with credible sources.
Commercial resources: Research associations and company reports usually cost money, but give you data that's specific to your industry/aim.
Trade association reports: To see if there's a trade association of interest, do a quick search online or use the Encyclopedia of Associations, the Directory of Associations, or the National Trade and Professional Associations Directory
Industry Experts: Expert consultancy is an efficient way of getting information from someone who has 'been there, done that.' Also, consider 'influencers.'
Research associations & journals: Most research associations are independent and offer bespoke, specialized reports.
Media coverage: TV, radio, newspapers, and magazines can often help uncover facts and relevant media stories related to your topic.
Market research intelligence software: Platforms like Similarweb give you actionable insights into industry and competitors' trends. With access to mobile app intelligence, you get a complete picture of the digital landscape.
Government & non-government agencies: In the US, the biggest generator of data is the federal government. US Census Bureau, Congressional Research Service, US Government Publishing Office, US Small Business Administration, and the Department of Education. Most information from these sources is free.
Local government sites: A reliable source to find data on population density or employment trends.
Public library records: Access data via the Digital Public Library of America in the US or the National Archives in the UK.
Competitor information: Sign-up for mailing lists, view comparison reports, and read online reviews.
Educational institutions: Academic research papers and journals are well-researched. If you can find a relevant one, you're likely to get solid data from credible sources.
Choose the best type of desk research
With so many freely-available sources online for desk-based research; it's easy to feel overwhelmed. The best guidance I can offer is to keep a list of key questions you are trying to answer with this research, and consider:
What are you hoping to learn from your research?
Why is this data relevant?
Is there an action you can take from this information?
How up-to-date is the data you are using?
Always keep the questions you're trying to answer front of mind. It'll help you stay focused and keep your desk research on the right track. Time and money will usually determine the right type of desk research to use, but, even then, it's important to stay focussed on where you spend your time vs. the return on that investment.
Inspiration: This article outlines some of the best market research questions to ask.
How to do desk research in five steps
Follow these steps to guide you through doing desktop research:
1. Clearly define your research topic
Identify your topic and its purpose, then list any relevant research attributes.
2. Select appropriate resources
Make a list of sources that'll provide relevant information for your research topic.
3. Look for existing data
Once you've collated your research sources, look for internal and external data relevant to your research topic. Remember to only use data from authentic sources.
4. Collate, compare & assemble
Next, you'll need to collate all the data you've obtained, remove any duplications, and bring it together into a usable format.
5. Data analysis
The final step of doing desk research is to analyze the data. At this point, you should be able to see if your research questions have been answered. If any questions remain unanswered, go back to step 2, and look for alternative resources that will help you get clearer insights.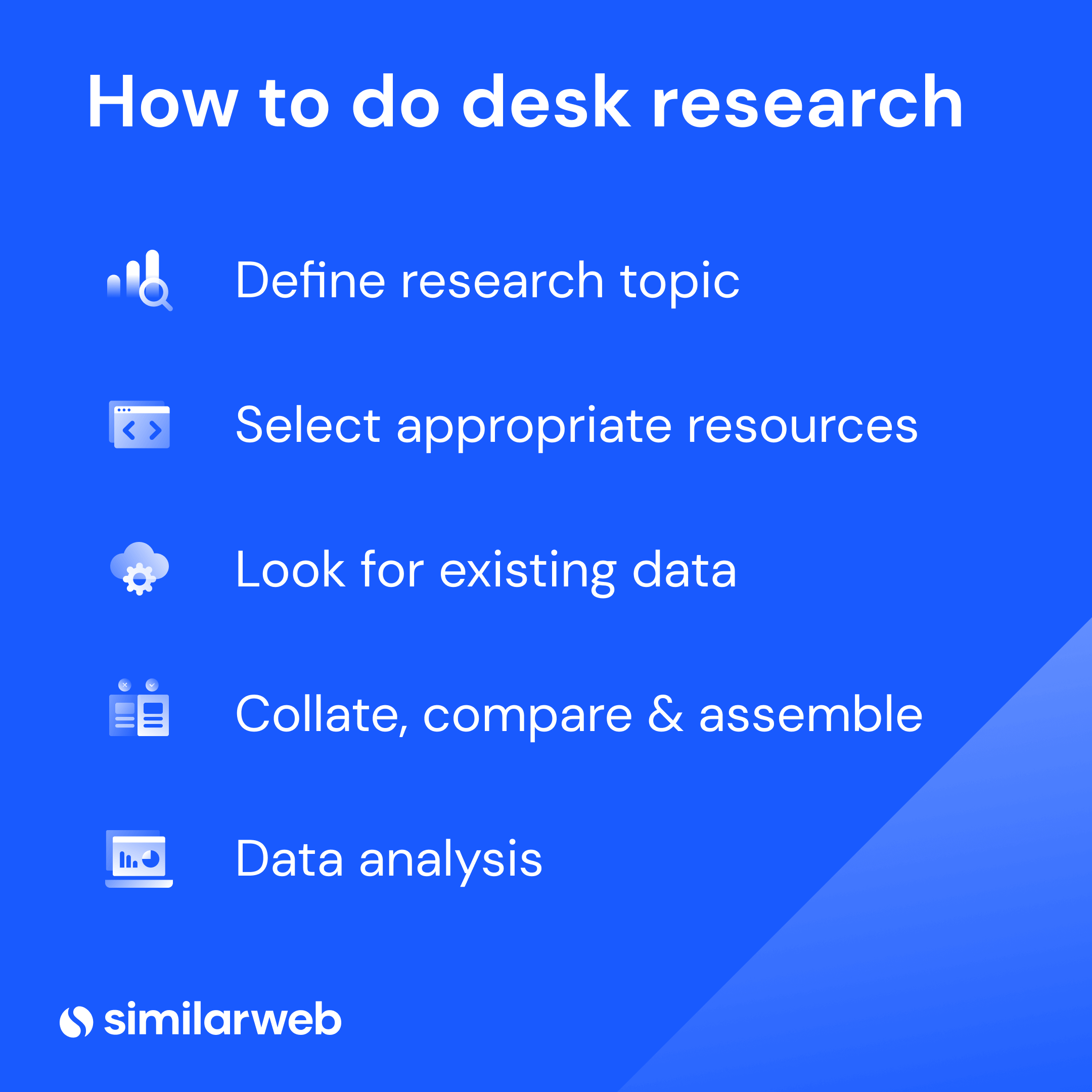 Desk-based research tools
Online resources are by far your most valuable asset for doing secondary research. However, software like Similarweb Digital Research Intelligence, Google Analytics (GA), and Google Search Console (GSC) can save you time and give you a more visually-appealing view of relevant data.
My list of go-to tools for desk research includes:
Google Analytics & Search Console – your own site's performance and visitor stats.
Similarweb Digital Research Intelligence – uncovering market, industry, & competitor trends across web and apps.
Tableau – data visualization for presenting your findings.
Note, that GA and GSC are free to use but limited in terms of what you can see outside of your own site. With Similarweb, you can access virtually limitless industry-wide data.
How Similarweb helps with desk research
Here are just a few examples of how Similarweb Digital Research Intelligence can help you with secondary research.
Using research intelligence tools will save you time and money while removing bias from the data – ultimately giving you clarity and a complete view of the digital world that's relevant to your research topic.
Success Story: See how Airbnb uses Similarweb to reveal growth opportunities in new markets.
Desk research examples with Similarweb
A good example of desk research in action is looking into an industry to uncover market leaders, trends, relevant search trends, and an overview of a complete industry. Using the market analysis module in Similarweb, you can find out exactly what's happening in your market, and make data-driven decisions that'll help you increase market share, and drive faster, more sustainable business growth.
For this particular desk research example, I chose the airline industry.
Let's dive in.
Industry Overview
See a snapshot of industry traffic and engagement metrics. This data is typically based on Similarweb's index of the top 100 websites in a chosen vertical. You can easily create a custom industry, allowing you to do competitive benchmarking against specific companies in your market.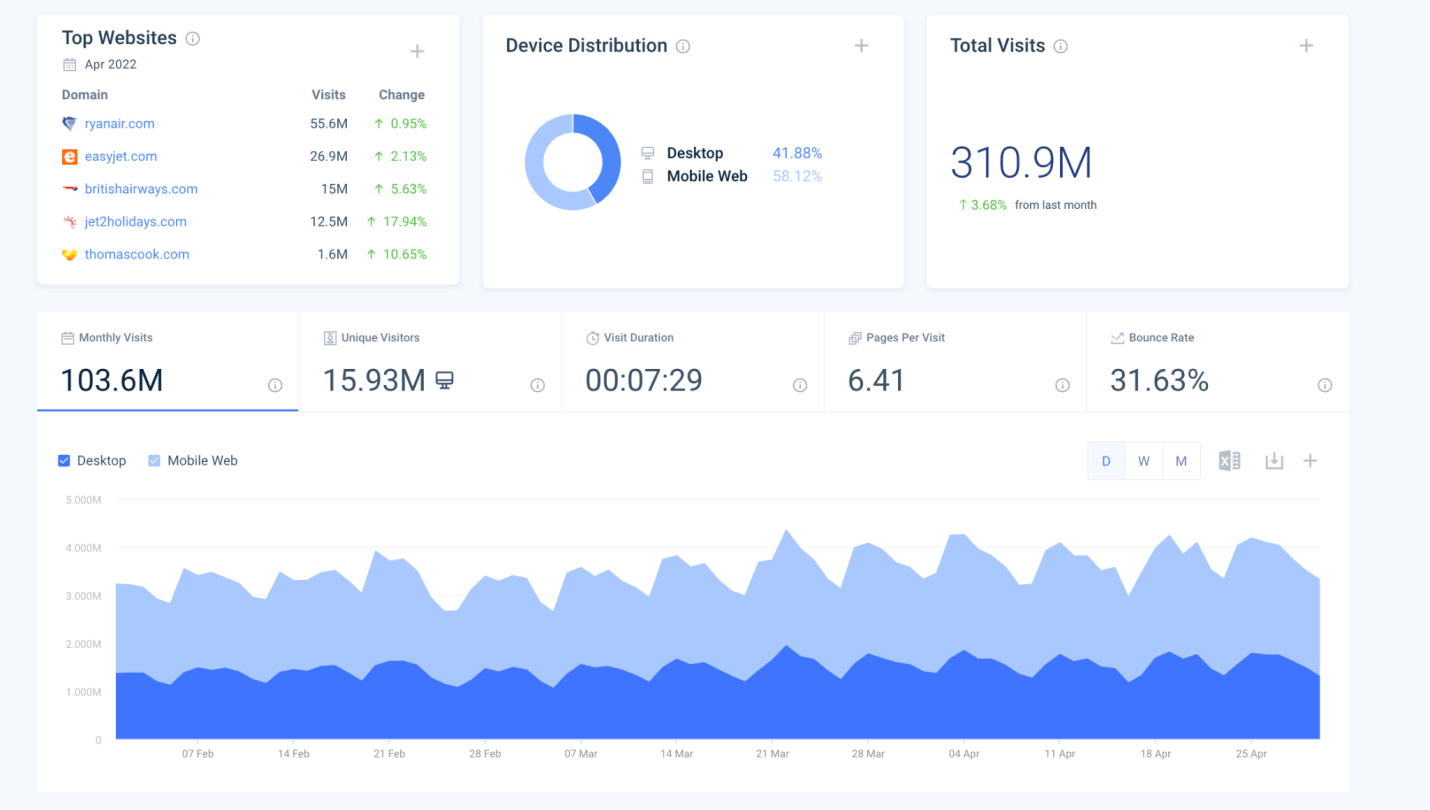 Industry Leaders
Quickly see who is winning in an industry using the Market quadrant analysis graph and industry leaders table. Analyze top-performing websites in your vertical, and dive into their traffic and engagement performance to view bounce rates, visit duration, monthly visits, month-on-month changes, unique visitors, pages/visits, and traffic share.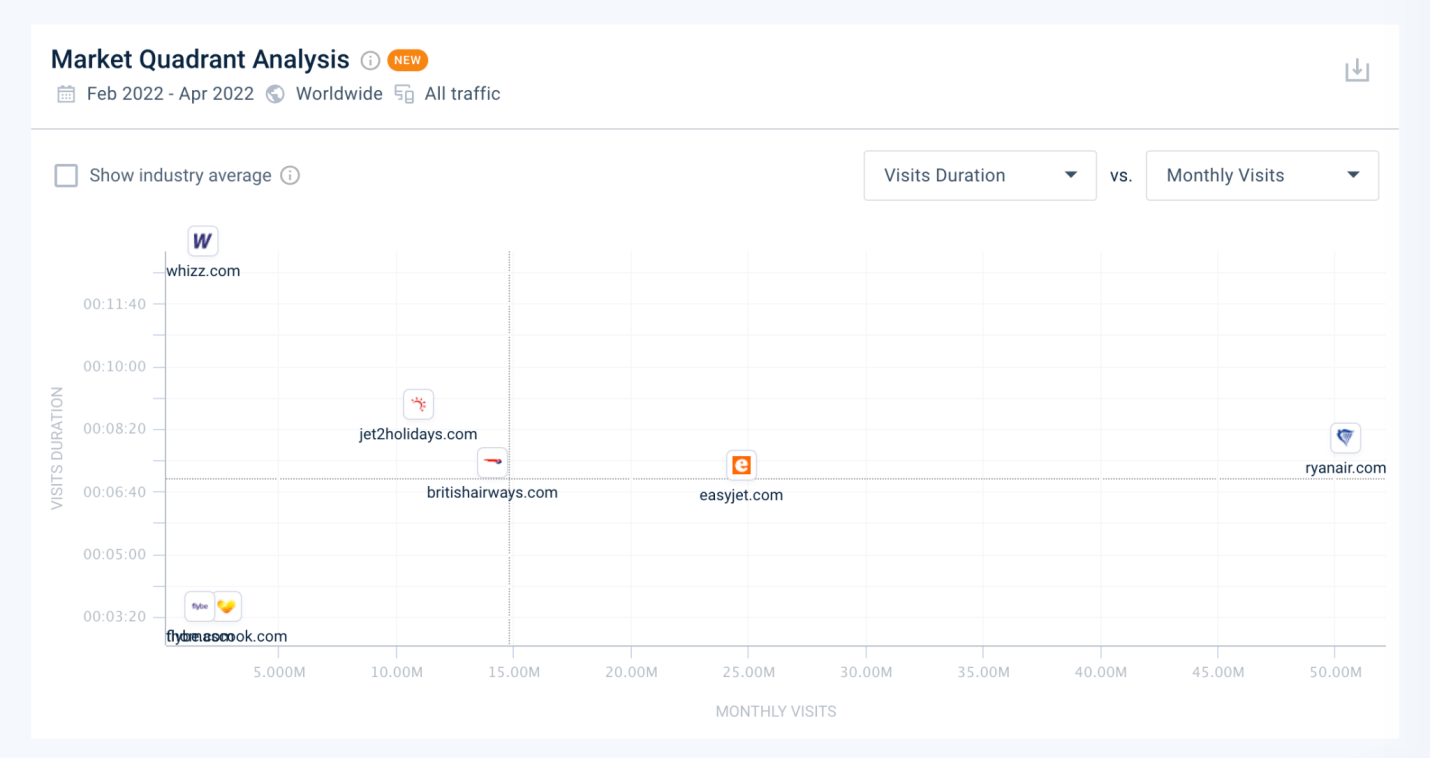 Industry Trends
Analyze trends in near real-time so you can take action when it matters most–not a quarter later. Create a personalized view of your industry for in-depth analysis and make informed decisions that will help you grow your market share.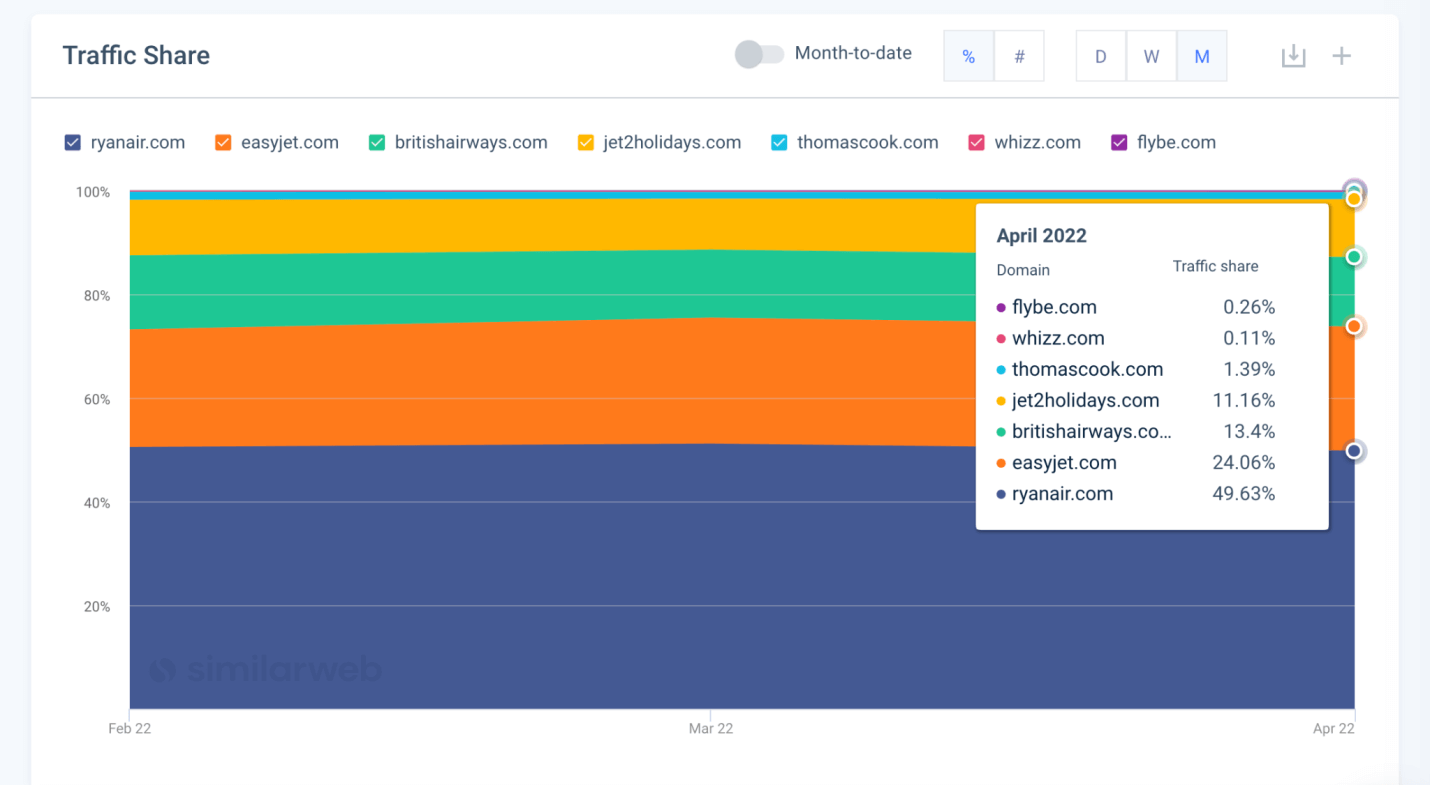 Marketing Channels
Access valuable traffic metrics and insights for each marketing channel. See data for direct, social, display ads, paid search, referrals, emails, and organic traffic channels and evaluate performance for each. Uncover opportunities to grow your own traffic share, evaluate engagement and quality of traffic, and identify trends over time.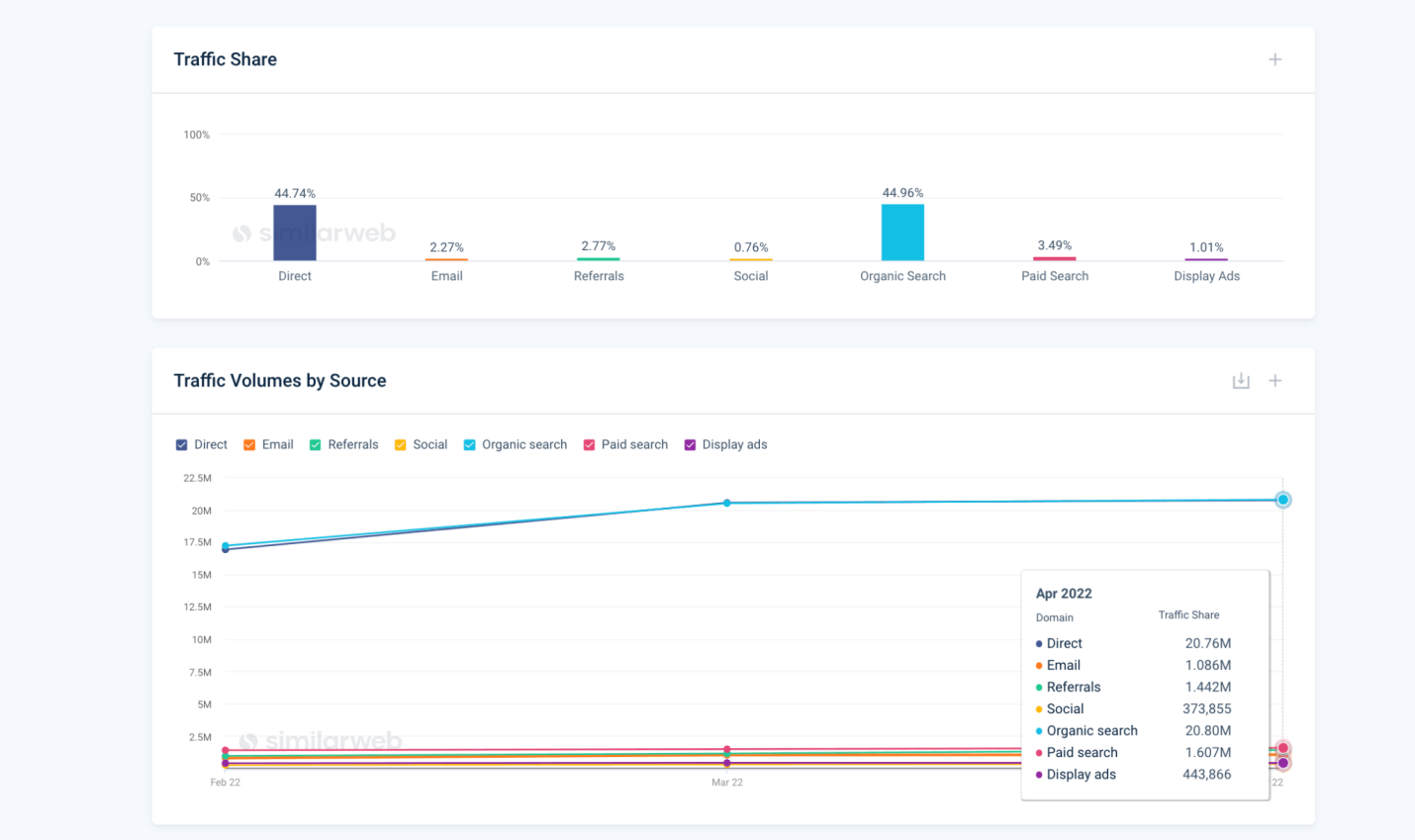 Search Trends (within an industry)
Discover trending topics and emerging search terms in any industry. View what's trending, search volume, % change, volume trend, and traffic leaders for both branded and non-branded search in your sector. Use these insights to get an understanding of market demand, search intent, and audience interests within a specific category, brand, or product.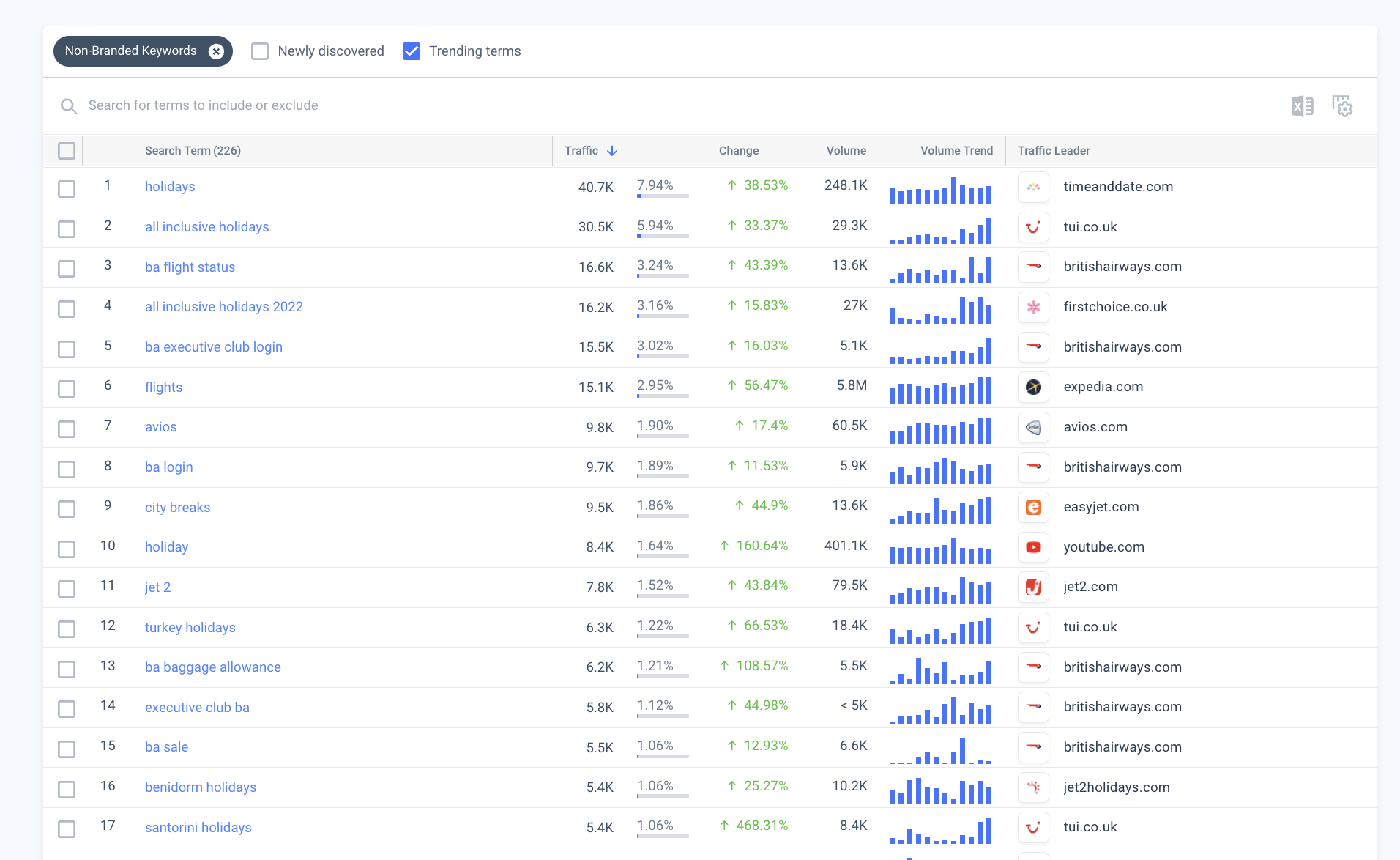 Demographics
Gain crucial insights into the audiences visiting your website, your competitors' websites, and your industry as a whole. See gender and age distribution across web, mobile, or combined traffic channels, and compare your demographics with that of your rivals.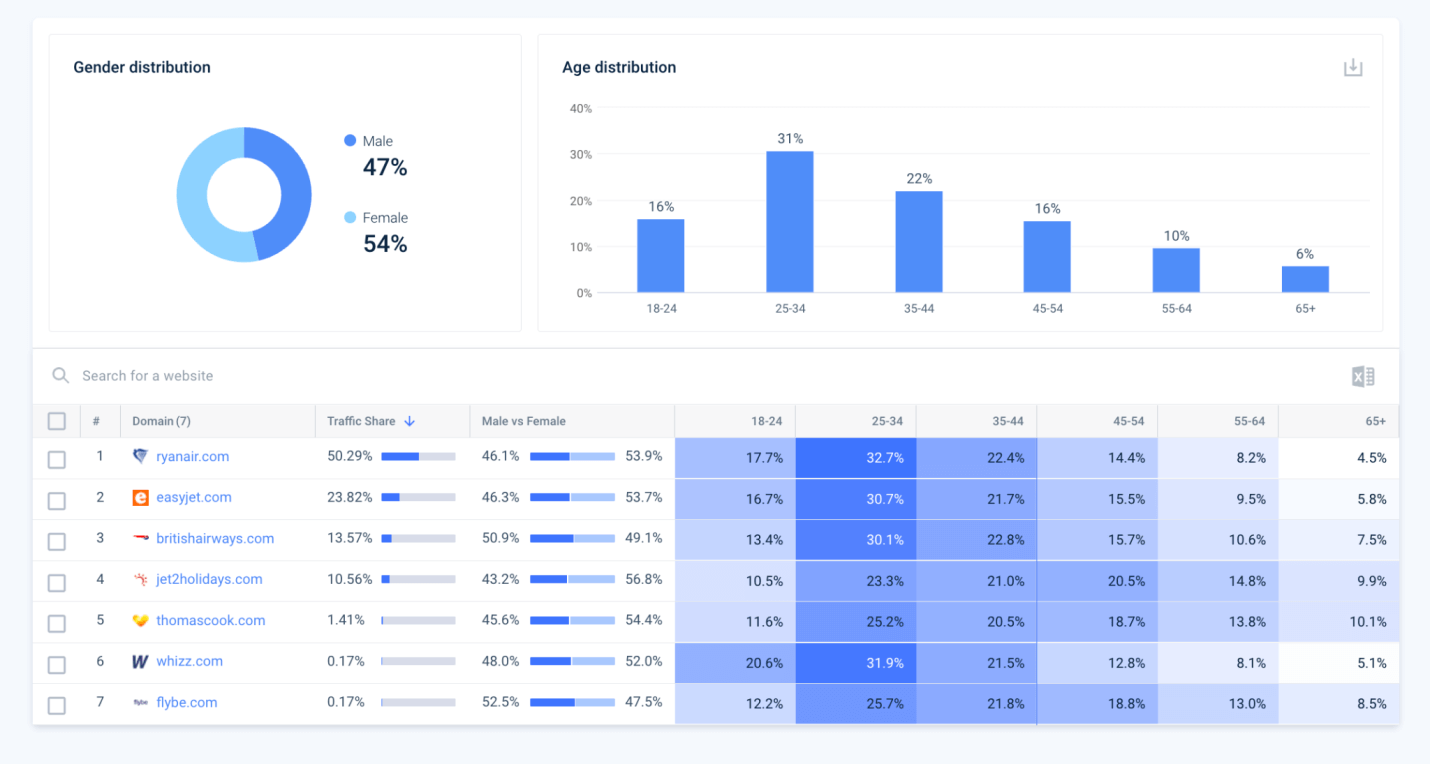 The market analysis element of Similarweb will help you answer some of your most important research questions, such as:
How a specific industry grew over time
Who the top and emerging players are in your industry
Which products or services are trending and/or what are consumers searching for
What demographics are relevant to you, and your competitors
The app intelligence module completes the picture and gives you a broad view of the digital landscape across your market. You can quickly see how apps are impacting your industry, and look at download, engagement, installs, ranking, and more.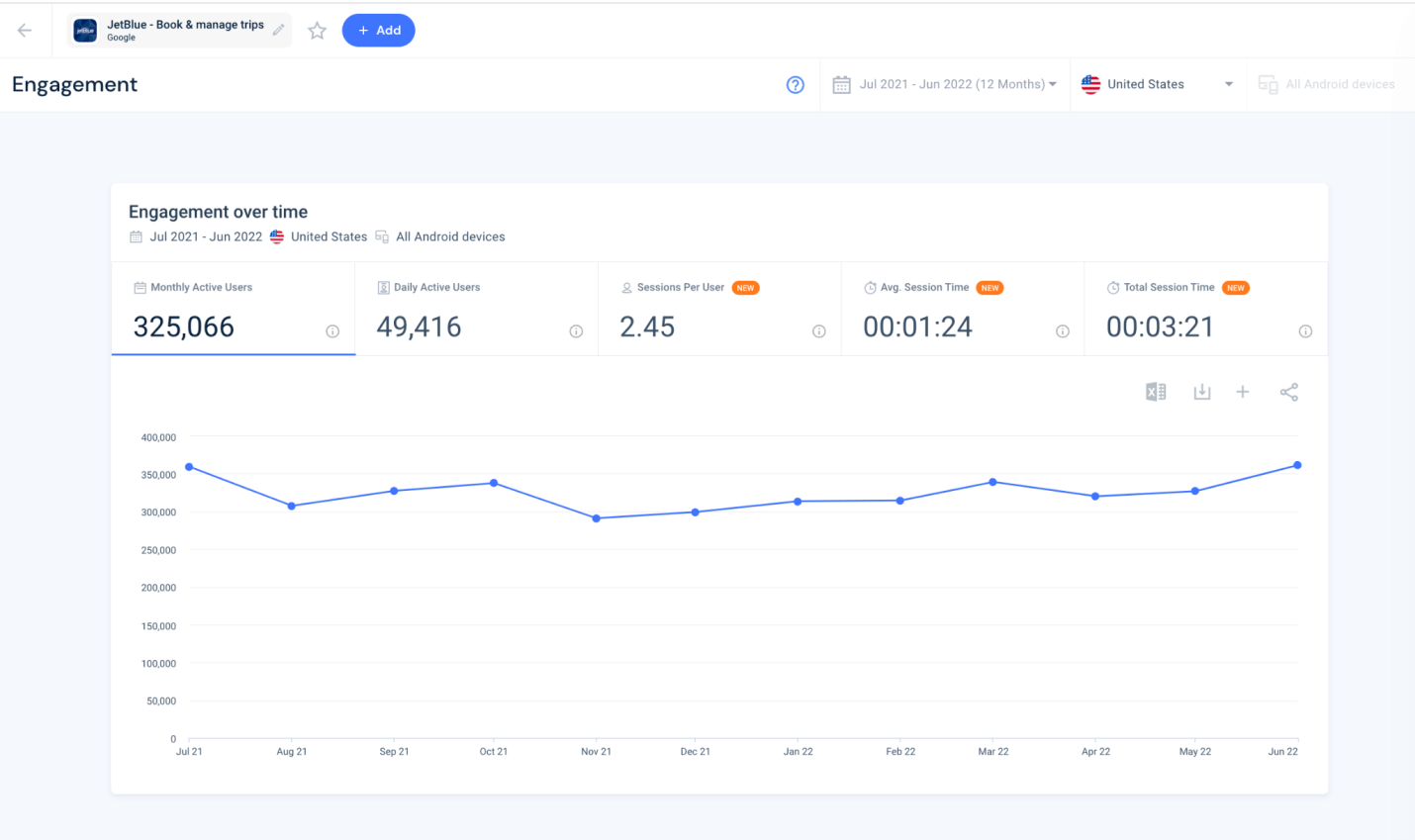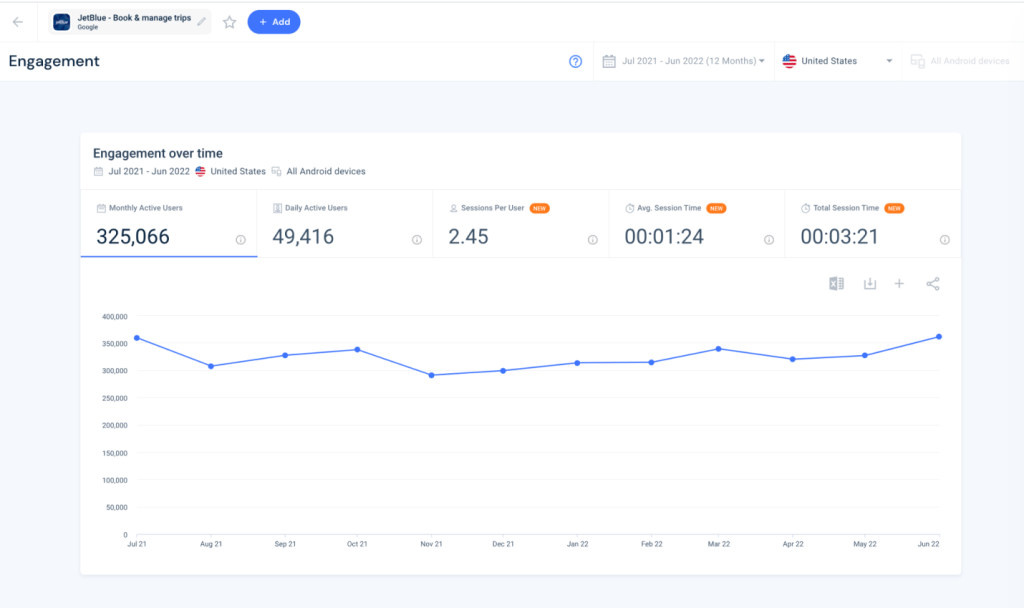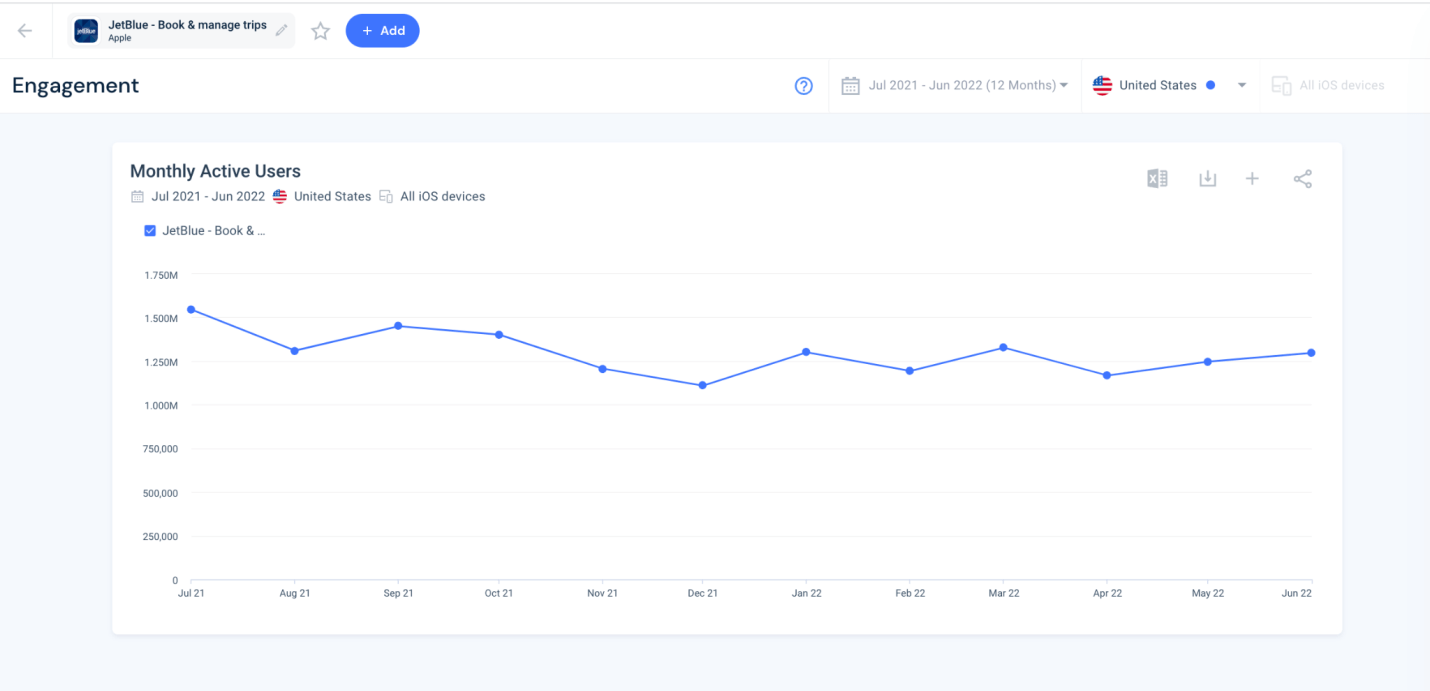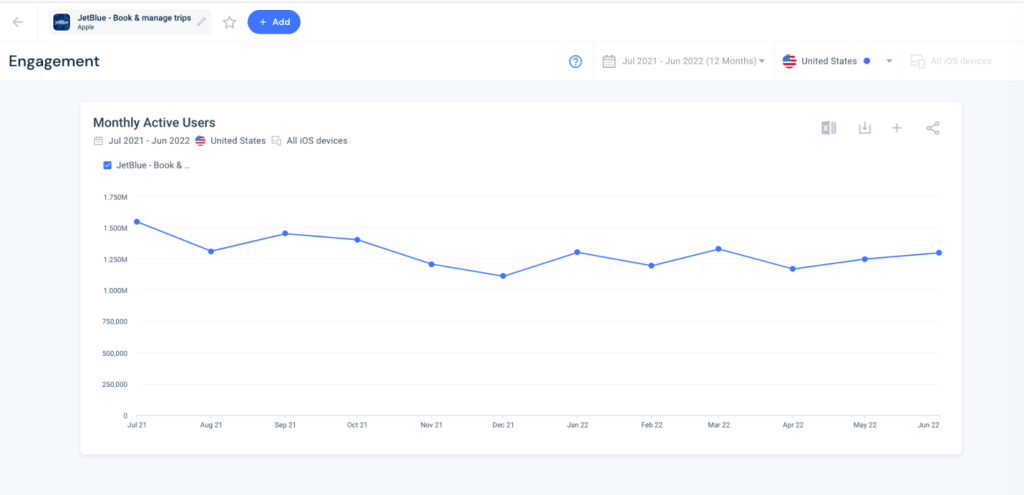 Here, I'm sticking with the airline industry to establish whether or not android or iOS is the best fit for a new app. Immediately, I can see there are between 1-1.5M monthly active users on iOS vs. an equivalent of around 350,000k on Android.
Like what you see? Take a tour of Similarweb for yourself.
Wrapping up
Good desk research helps you quickly uncover key information that can shape and steer successful market research projects. When done right, you'll be able to answer questions and discover crucial data about your industry, competitors, and key trends to consider while building a strategy for growth.
Asking the right research questions from the onset and keeping these at the forefront of your mind throughout will save time and help direct your market analysis in the right direction.
FAQs
Is desk-based research free?
Depending on the method used, desktop research can be done for free. If you require industry or government agency reports, these often carry a charge, but are more likely to be free from bias when compared to commercially produced reports that (sometimes) receive sponsorship. 
Which businesses can utilize secondary desk research?
Desk-based research can uncover crucial insights into market trends, market sizing, and competitors. The information can be used by any business of any size to help guide strategic decision-making and help refine a product's positioning.
Should you do secondary research before primary research?
Absolutely, yes. Secondary research should always come before primary or field research. The formative research phase helps pinpoint where more in-depth primary research is required. Desk research can also verify and support findings from field research, but should not replace primary research–as they are each utilized under different circumstances.
Who does desk-based research?
Desk research can 'technically' be done by anyone, but it's typically performed by a researcher, an analyst, or a marketing professional. Good market research has the solid foundational data to drive critical business decisions. Experienced researchers and analysts are best-placed spot opportunities, trends, and patterns when the stakes are this high.
So, while anybody can access secondary data free of charge, it's essential to invest the necessary resources to do things right to get the most out of the process.
This post is subject to Similarweb legal notices and
disclaimers
.
Wondering what Similarweb can do for you?
Here are two ways you can get started with Similarweb today!