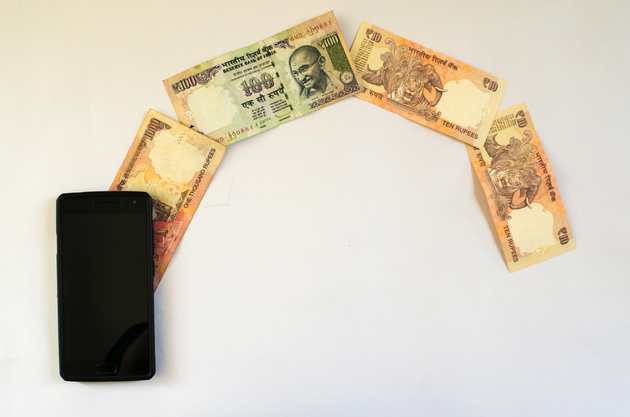 Research Intelligence
Amazon's India Success Story – Online Shopping Trends in India
August 3, 2016
| Updated June 22, 2022
Over the last several years, the Indian e-commerce market has seen a dramatic shift, with local players losing market share to large foreign companies. As of May 2016, Amazon India owned over a third of the industry's quality traffic, beating out local players such as Snapdeal and Flipkart. When their traffic is combined, these three e-commerce superpowers capture nearly 70% of the entire industry!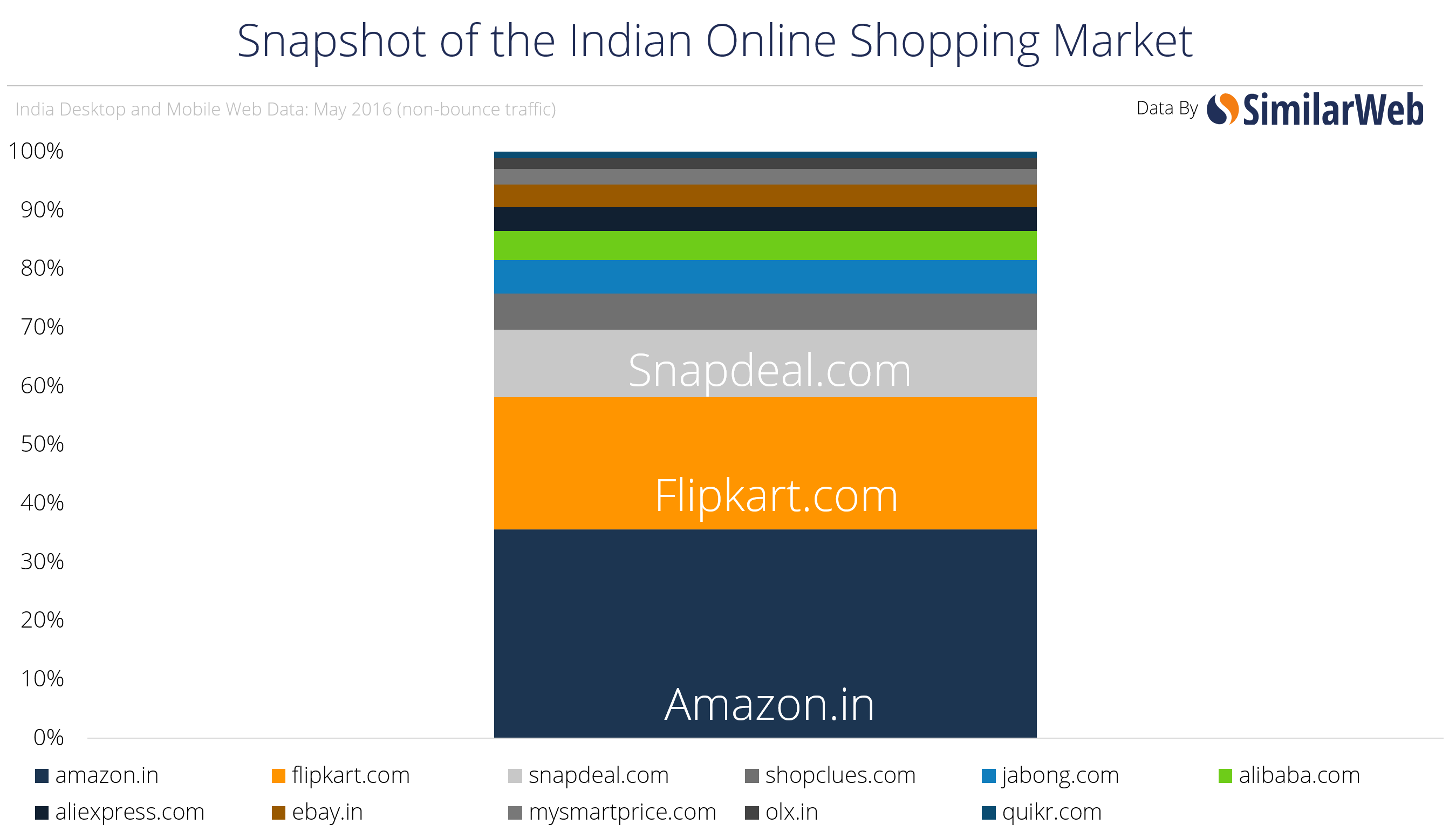 Amazon didn't always have this large of a market share in India and in May 2015, they were only responsible for 23% of the Indian e-commerce market. Since then, their market share has gone up by 13%, while Flipkart and Snapdeal have each lost precious market share.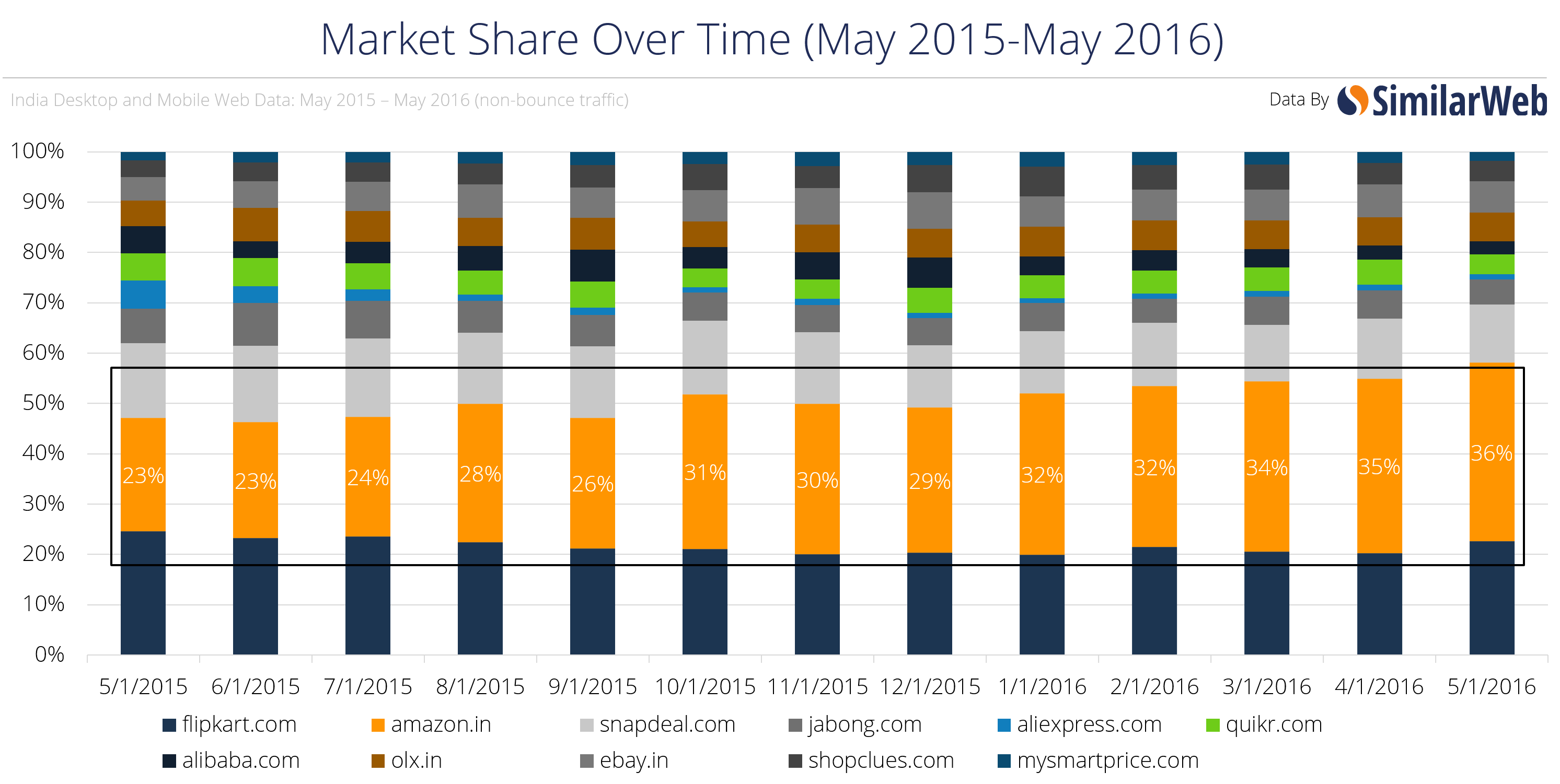 How did Amazon India do it?
Most of Amazon's desktop visits came via direct traffic, and between May 2015 and May 2016, amazon.in's desktop traffic rose 18%. Furthermore, the site significantly ramped up paid search campaigns, which improved paid search traffic by 61% from May to May.
In the Indian online shopping industry, direct traffic was responsible for 36% of desktop traffic over the last year. Slightly behind direct is organic search traffic, which brought 30% of the industry's desktop visits. Clearly, brand awareness and search are crucial to a successful marketing strategy.
To put this in perspective, in the US, 44% of desktop shopping traffic comes from direct, while organic search is only responsible for a quarter of overall shopping traffic. Similarly, in the UK, direct traffic accounts for 40% of the industry, while in Russia it only accounts for 28%.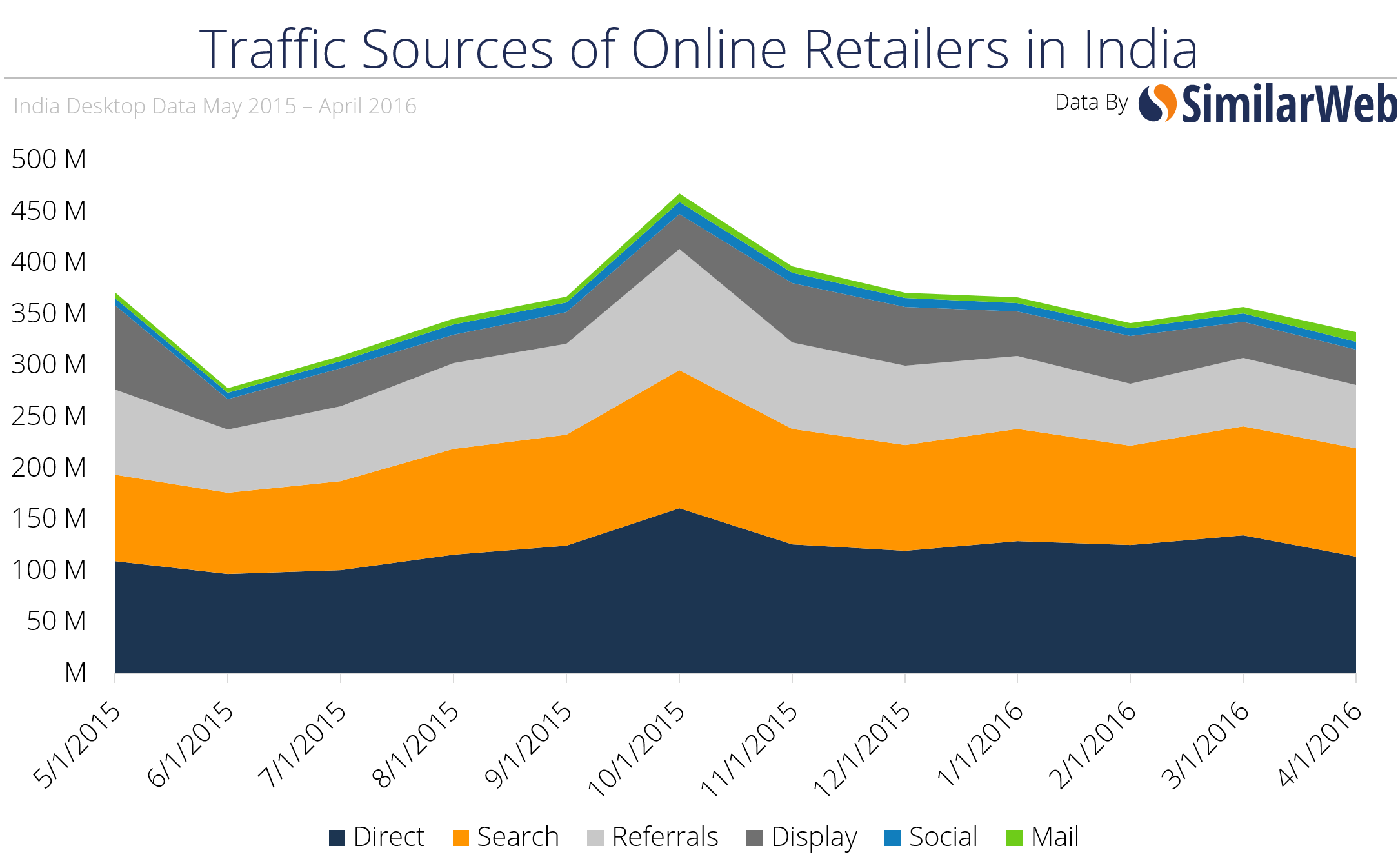 In order to fully understand the online shopping trends in India, it's impossible to ignore mobile apps. As of June 2016, Flipkart remains the dominant app on Android phones in India, with over 1/3 of Android users having the app installed on their phone. This high figure for Flipkart installs is likely due to the fact that up until recently, mobile users were forced to download the app as opposed to visiting the website's domain on the mobile web. That all changed in the fall of 2015 when Flipkart released its mobile web-friendly site, drastically altering its digital strategy.
After Flipkart, Amazon's India app came in second, followed by Snapdeal and Myntra all of which reach over 10% of Indian Android phones. Furthermore, Flipkart owns Myntra, which recently purchased Jabong, giving Flipkart an even larger share of the E-commerce app market.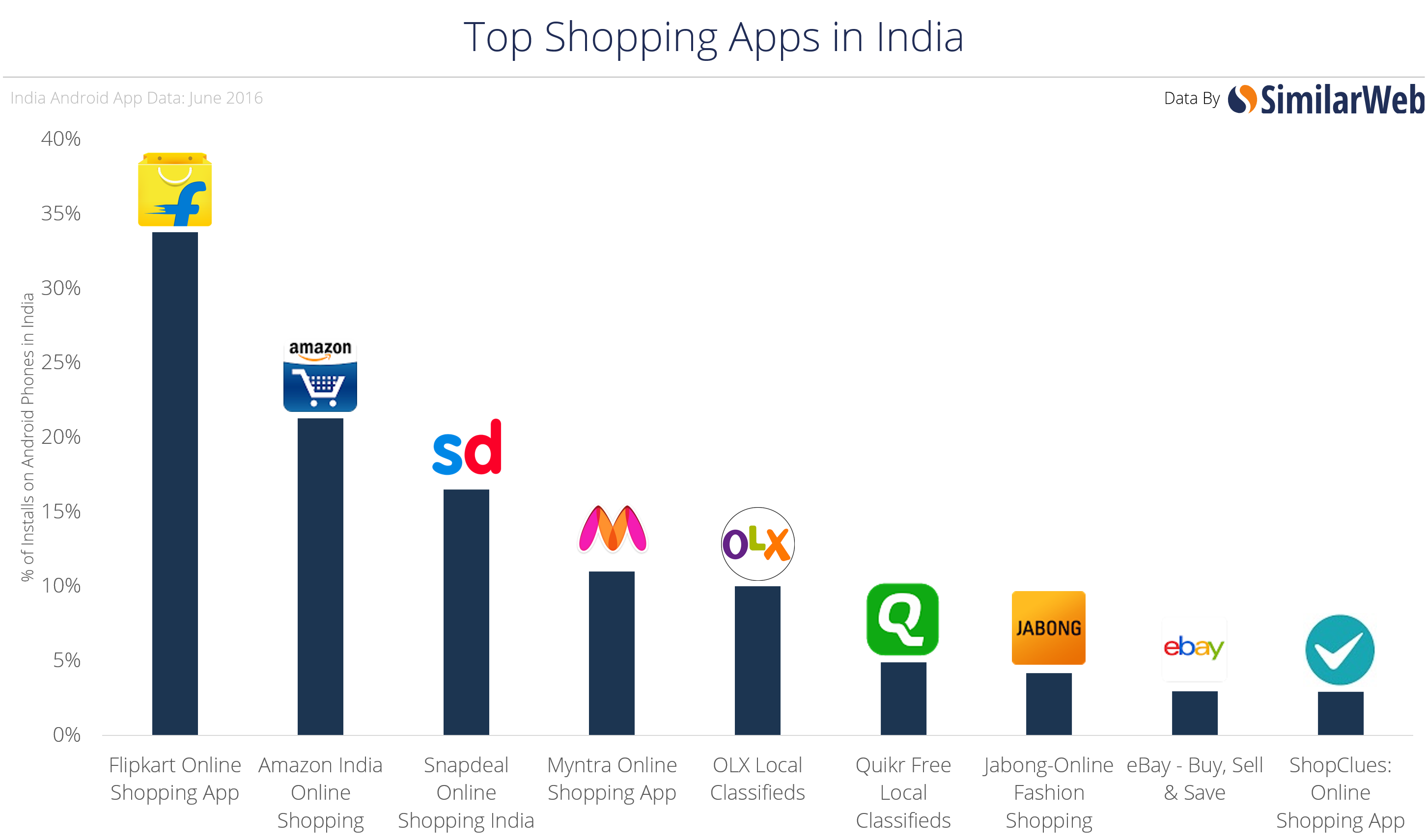 In a similar fashion to websites, the app landscape has changed over time and we see yet again how Amazon was able to leapfrog some of their competitors and significantly change their app's reach year-over-year.
Over the course of one year, Amazon's mobile app in India was able to double its reach and, in the process, pass Snapdeal on Android app installs. Interestingly, this uptick in Amazon installs began in November 2015, the same month that Flipkart switched its mobile strategy to allow users to browse their website on mobile phones. Amazon was able to successfully use this opportunity to fuel its app's growth.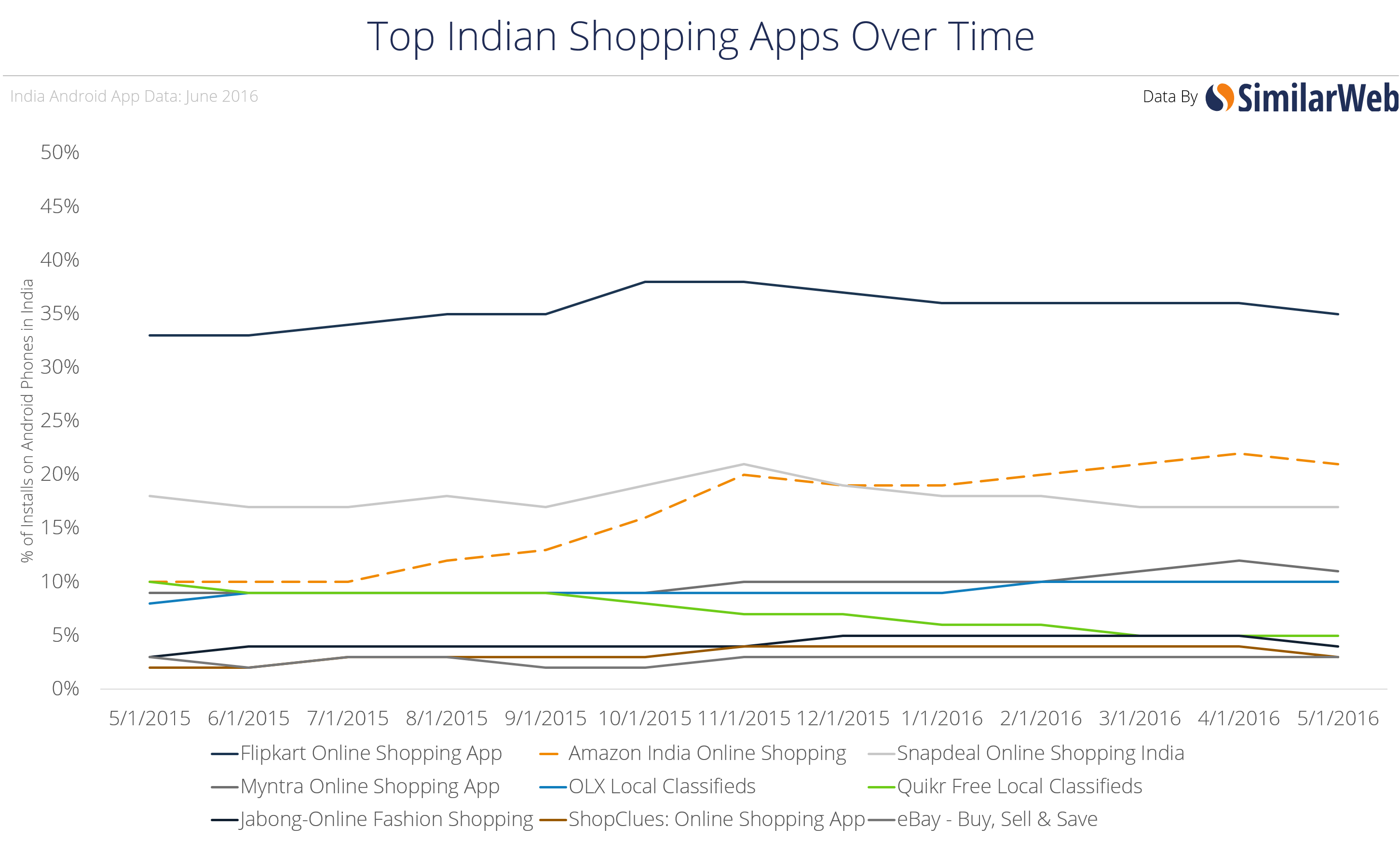 Looking to gain more insights into the online shopping habits of other countries? Check out our reports on the US, Germany, France, and Russia.
This post is subject to Similarweb legal notices and
disclaimers
.
Wondering what Similarweb can do for you?
Here are two ways you can get started with Similarweb today!