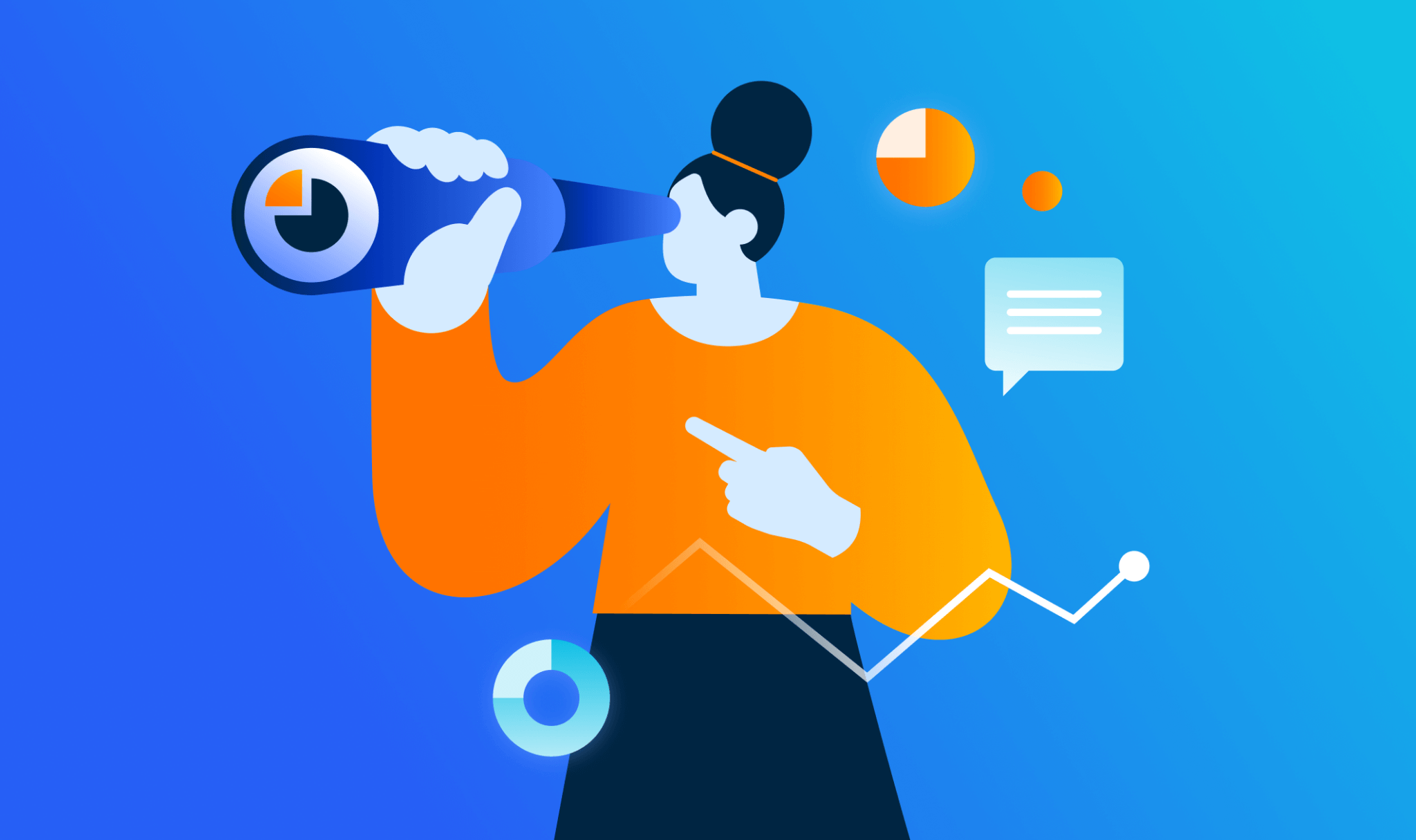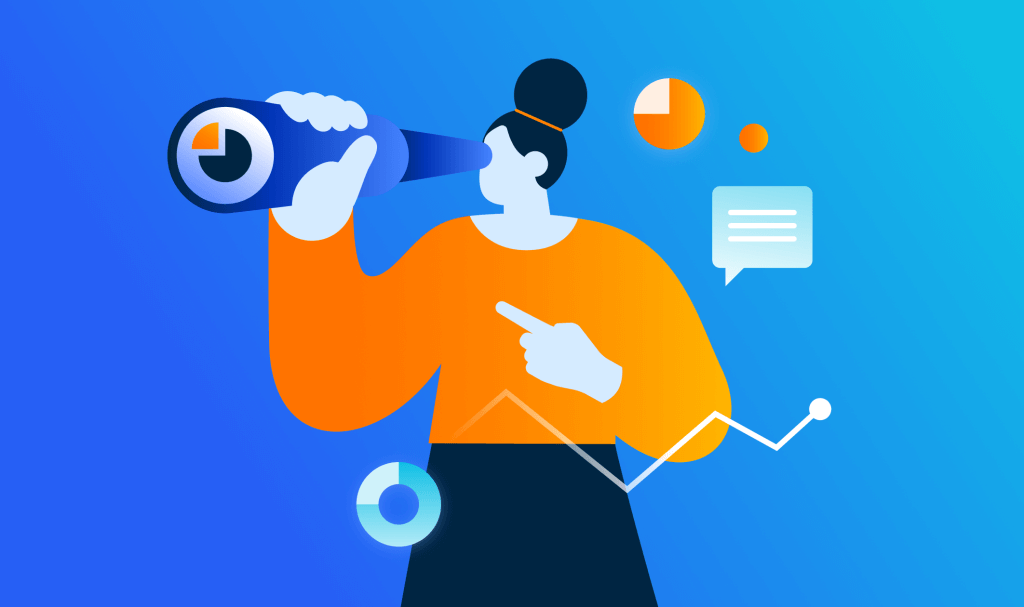 Research Intelligence
What Is Primary Market Research & How to Do It Quick
July 13, 2022
| Updated October 12, 2022
Primary market research gives you access to the direct feedback you need from those who matter to your business most.
By knowing what makes people tick, and what ticks them off – you can tailor the positioning, messaging, and approach accordingly.
Ready to find out more about the what, why, when, and how to do primary market research right? Then let's begin.
What is primary market research?
Primary market research is the direct, first-hand collection of data by an individual or organization. The most popular form of primary research right now is market research surveys.  But, other primary market research methods like focus groups, interviews, and observational research deliver key insights that can shape and determine key strategies for efficient growth.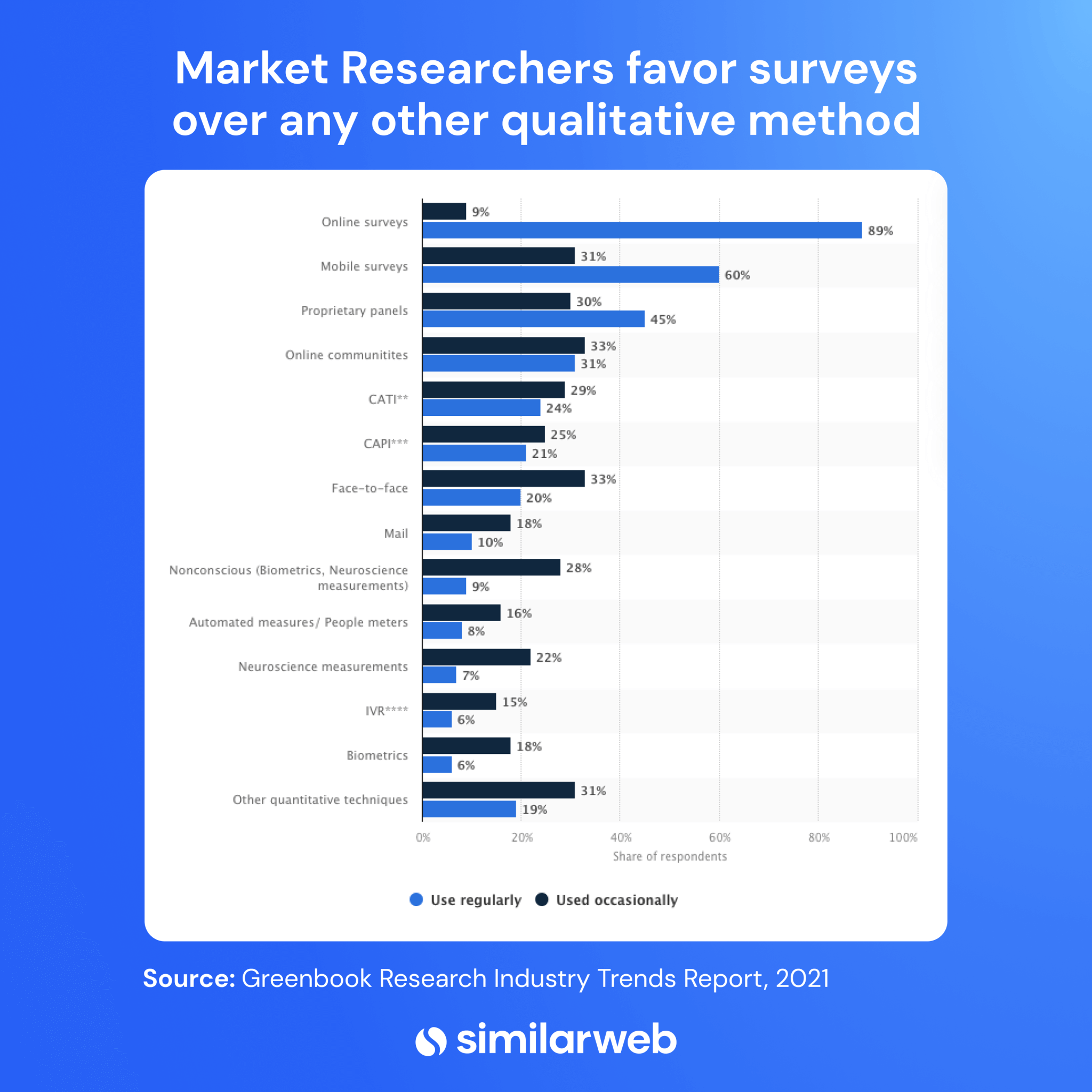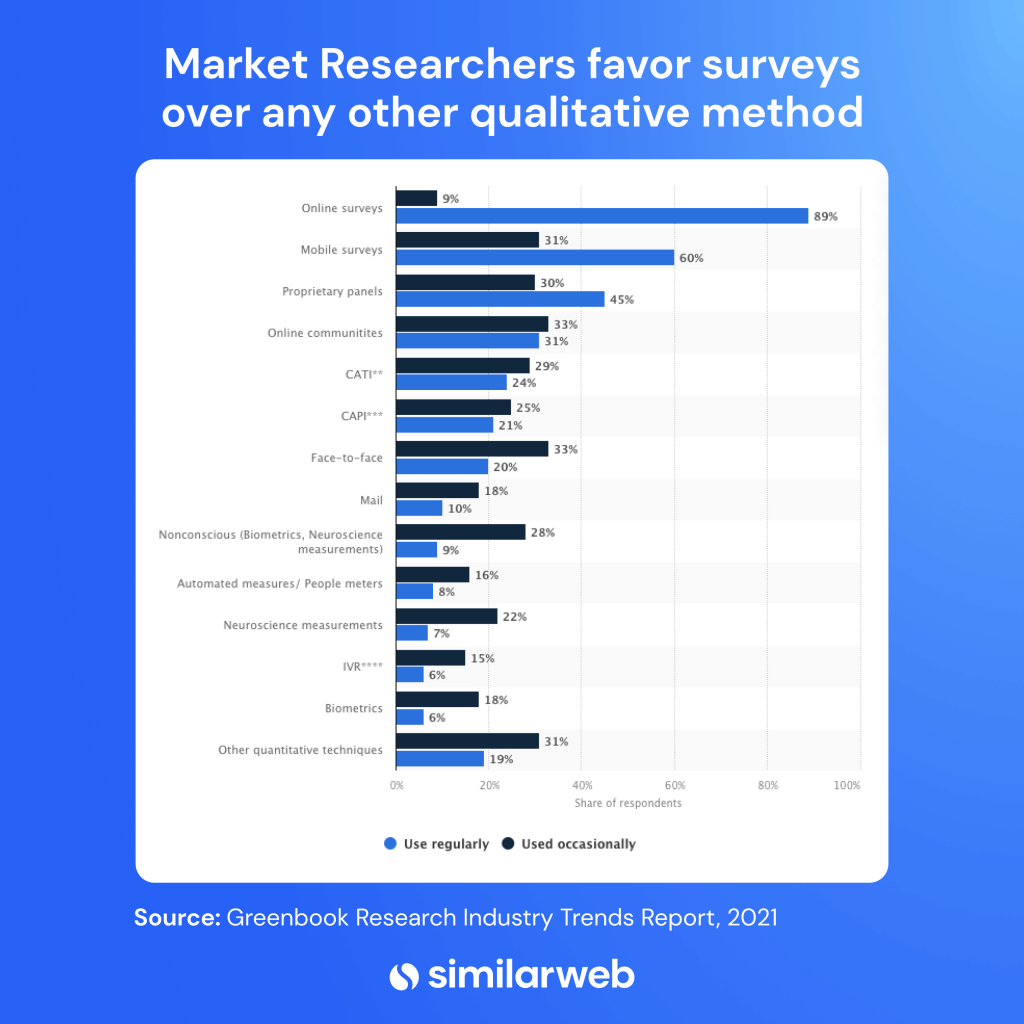 Why is primary market research important?
Primary market research helps organizations to:
Understand industry challenges
Optimize offerings
Create impactful messaging
Answer specific questions that shape strategies, marketing, products, operations, and more.
Pros and cons of primary market research
As with all types of market research, there are pros and cons to consider before choosing which route is best. Let's take a look at them now.
Benefits of primary market research
Control
With primary market research, you control how you collect data and how it will be used.
Relevance
As data is collected first-hand, you can ensure the questions are relevant to your area of interest.
Ownership
The data belongs to you, and it's information your rivals won't be able to access.
Deep insights
By listening to the thoughts and opinions of an audience, you obtain a depth of insight that no other form of research alone can uncover.
Accuracy and timeliness
You have confidence that responses are relevant to the present-day consumer and market conditions.
Disadvantages of primary market research
Primary market research does have some limitations, here are three to consider.
Cost
Most types of primary market research cost more money compared to secondary research methods. With the design and set-up through to collating results ready for analysis; it all comes at a cost.
Time
Primary market research takes longer to plan, do, and review compared to secondary research. If a large sample size is required, this adds to the time needed.
Bias
In some situations, an individual might be biased based on previous experience. Or, they might not fully understand the questions being asked. This can happen a lot with surveys; so consideration needs to be given to inaccuracies.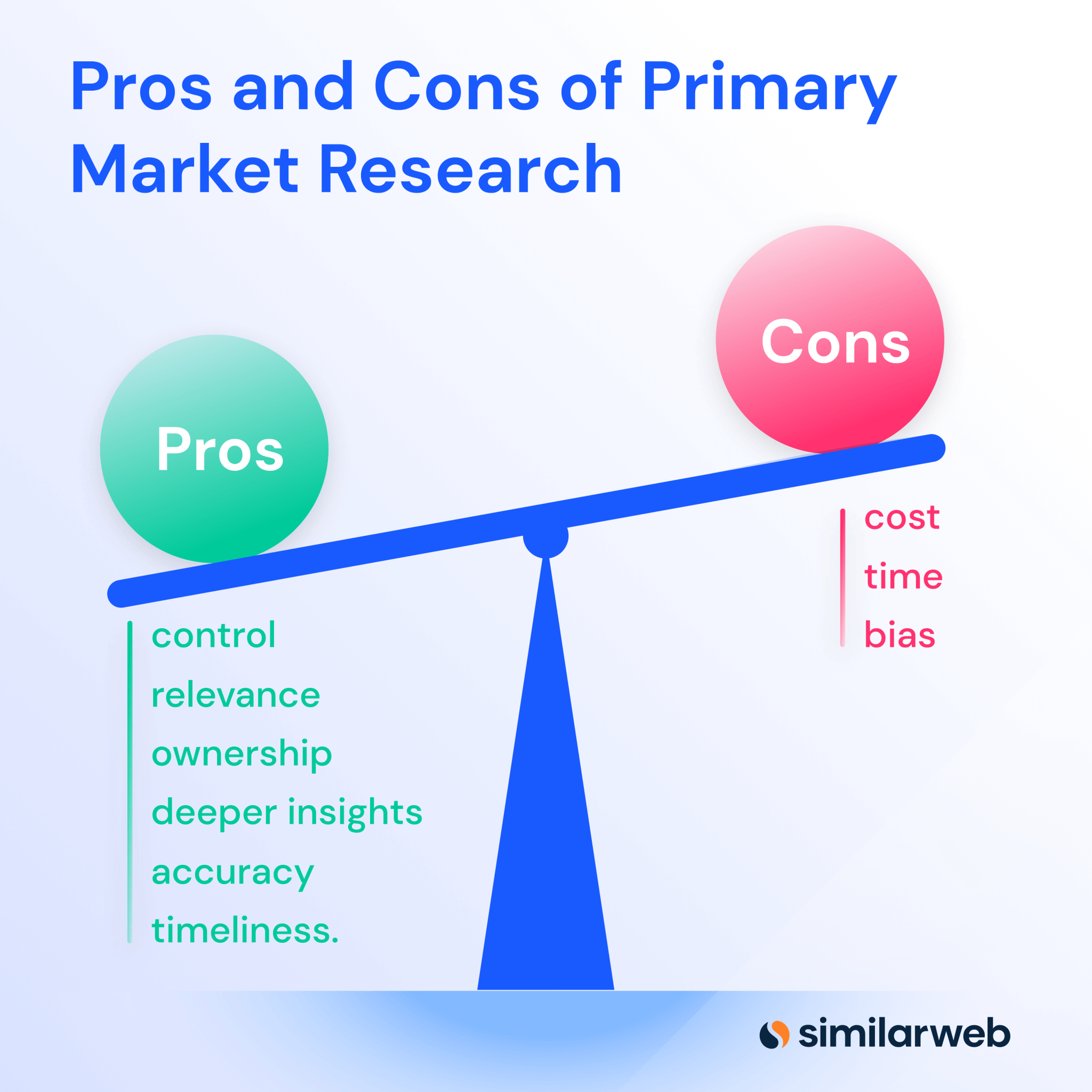 11 Ways to do Primary Research
Knowing which type of primary research is right for you will depend on the problem you're trying to solve and the questions you want to answer.
Here are 11 of the most popular primary market research methods being used today.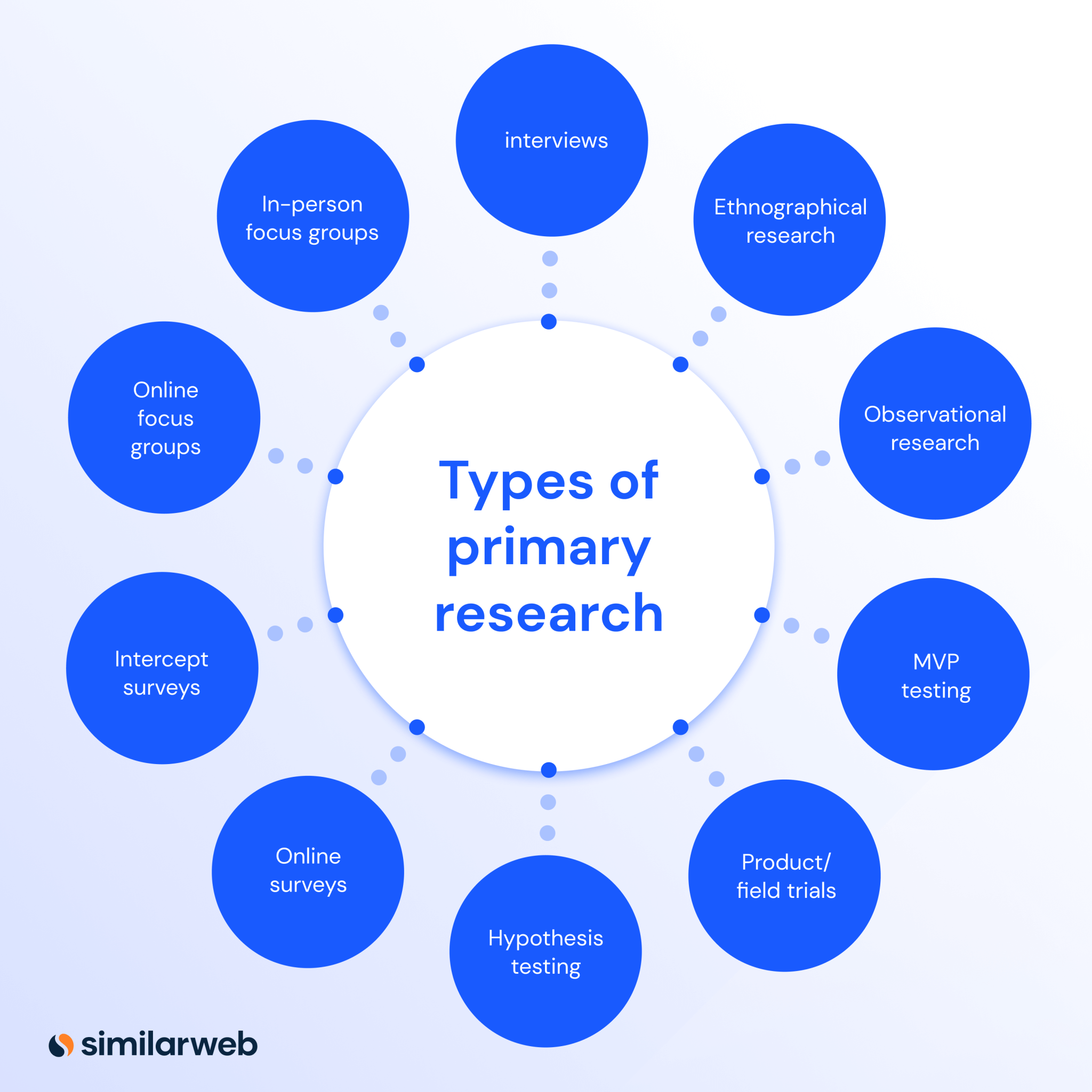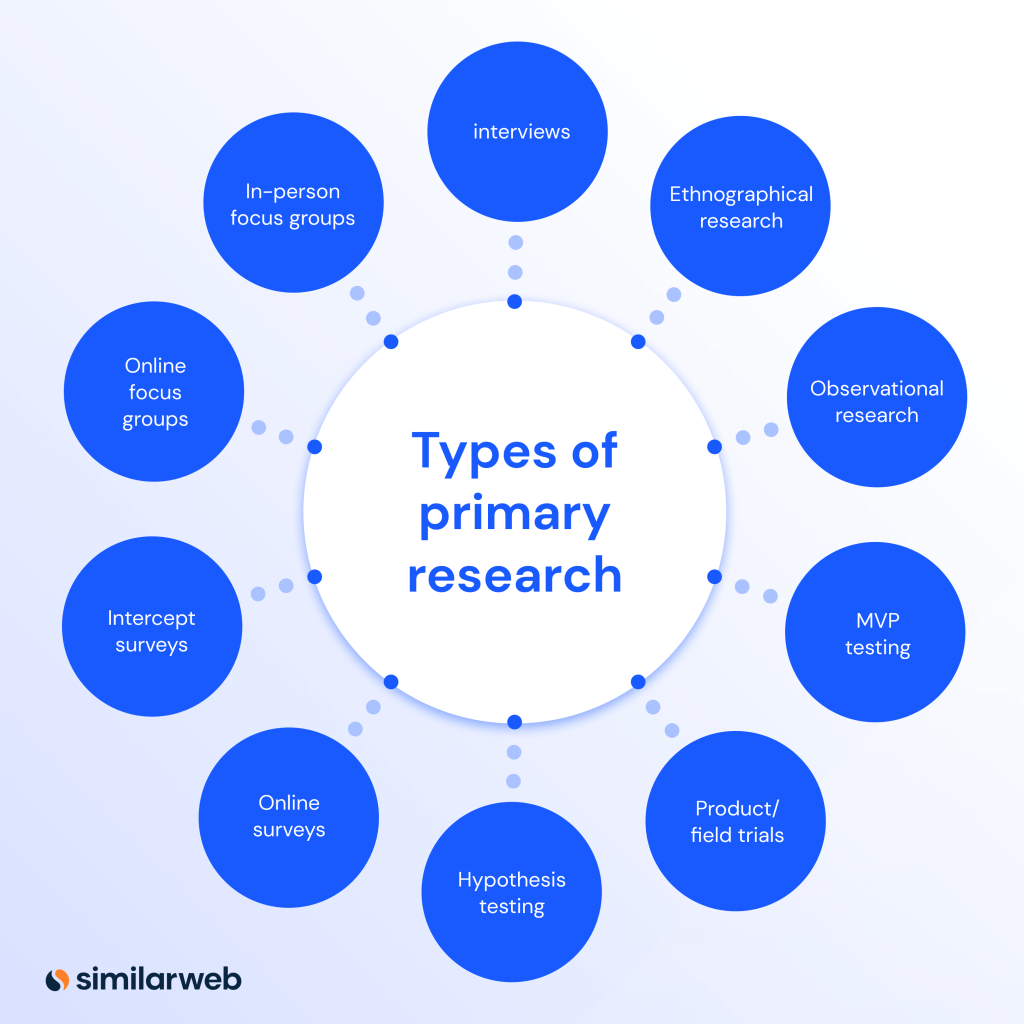 Telephone Interviews
These are useful with customers or prospects, they're also fairly easy to arrange and conduct. When creating interview questions, ask open-ended questions to get unrestricted answers.
In-depth Interviews (IDIs)
These are focused interviews with people considered to be of strategic importance and follow a structured or unstructured format. You can either follow a specific set of questions or conduct a free-flowing interview that allows for greater flexibility. An IDI usually lasts for between 20-30 minutes.
Pro Tip: Beware of bias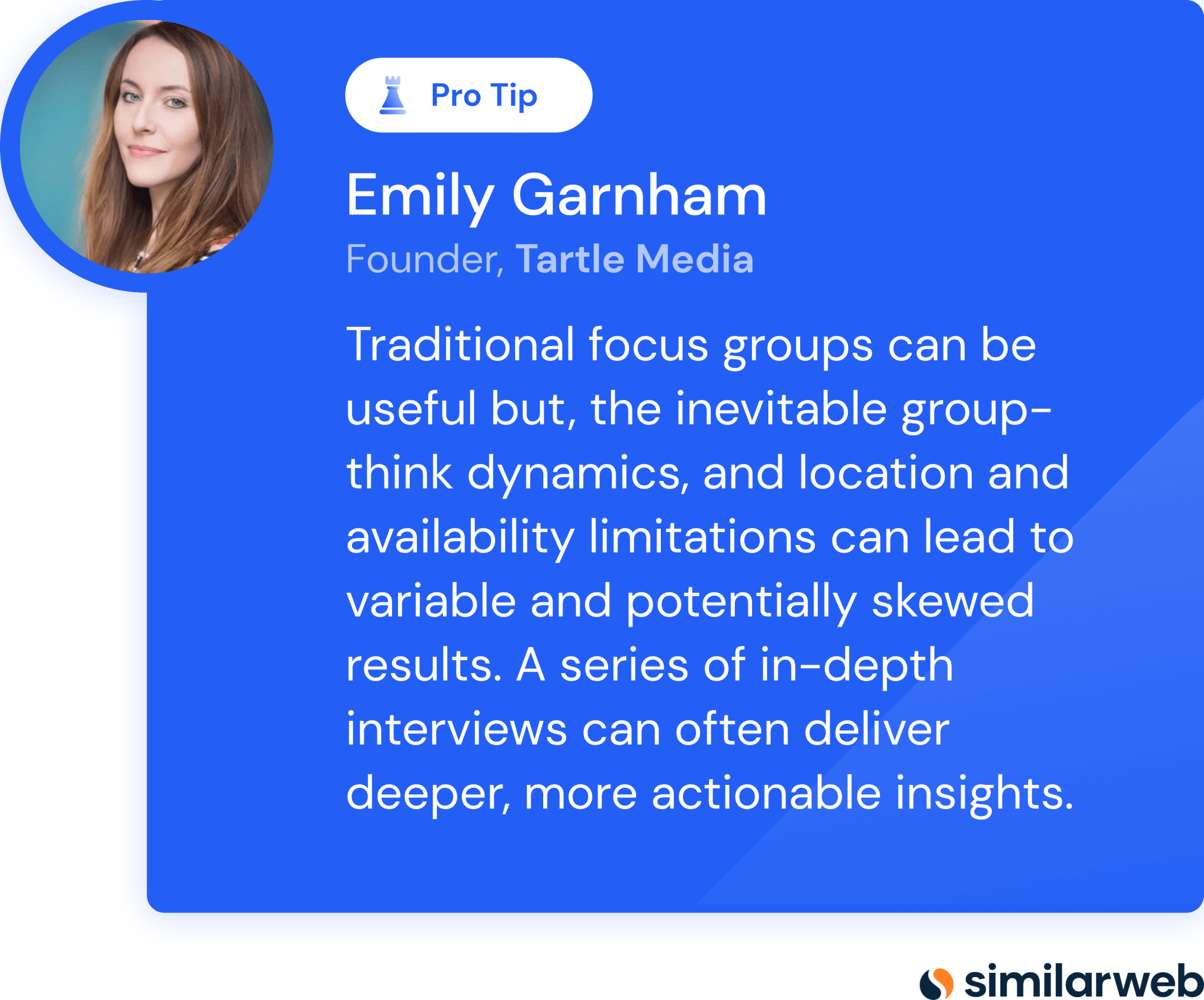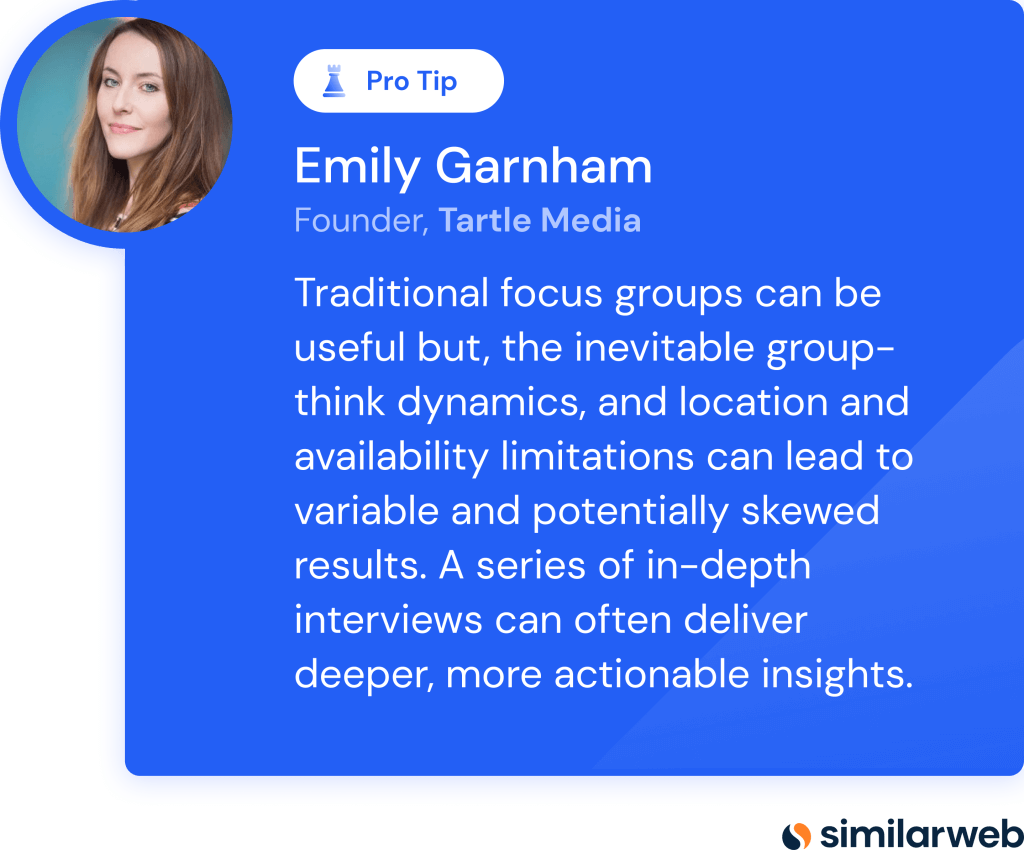 Ethnographic research
This focuses on following individuals, one at a time. A trained observer will immerse themselves in an environment (think a store or home), and observe how people behave and interact with the things around them. Brand marketers, product developers, and designers then benefit from seeing and understanding these interactions It requires more time and money compared to other methods.
Observational research
Observational research is often favored by smaller businesses and startups and monitors numerous people in a single location. Here, one person gathers insights from a large group in a single session or day, making it cost-efficient. The researcher focuses on how people stop outside a store if there are specific things they seem drawn to in a display, and the direction they take when heading inside.
Minimum Viable Testing (MVP) testing
Involves testing a product or new feature before it's taken to market. The goal is to gauge a market's reaction and gain feedback that is used to improve or adapt future features. There are two ways to do this.
Prototyping – where you create numerous variants of a product that a smaller group of people evaluate to determine which would best meet their needs.
Post-product launch – this is designed to measure the general reaction of a target audience and helps organizations know which direction is best to move in.
Product/Field trials
Doing trials is a great way to get feedback about the product or their experiences. This can be particularly useful for product development and marketing. In field trials, variables and hypotheses can be tested in a controlled environment or in the field.
Although lots of companies use free trials as a conversion path, it's also an incredibly valuable way to get feedback from users about the things they like or dislike; as well as potential features they'd like to see in the future.
Hypothesis testing
Used with existing products through either multivariate or A/B testing. This type of research can help with things like pricing evaluation across different audiences or markets. It can also look into web-page specifics, conversion effectivity, and more. By taking an experimental approach, it helps organizations establish optimal strategies for product, pricing, positioning, and core messaging.
Surveys
In a primary market research context, Market research surveys capture numerical data, for a relatively low cost. Online surveys are quick to set up and easily sent to both existing and prospective customers. When used in primary market research, it's important to get the length just right. Go too long, boredom creeps in they'll give up. Too short, and you risk not getting enough viable data for a complete picture.
Pro Tip: If you're targeting an important group of people with a survey, consider an incentive.
Why?
The National Center for Biotechnology Information (NCBI) conducted almost 50 separate studies on the topic; their findings confirmed that monetary incentives doubled the number of completed responses. From charitable donations and gift cards to PayPal credits; people are more likely to complete surveys when there's something in it for them.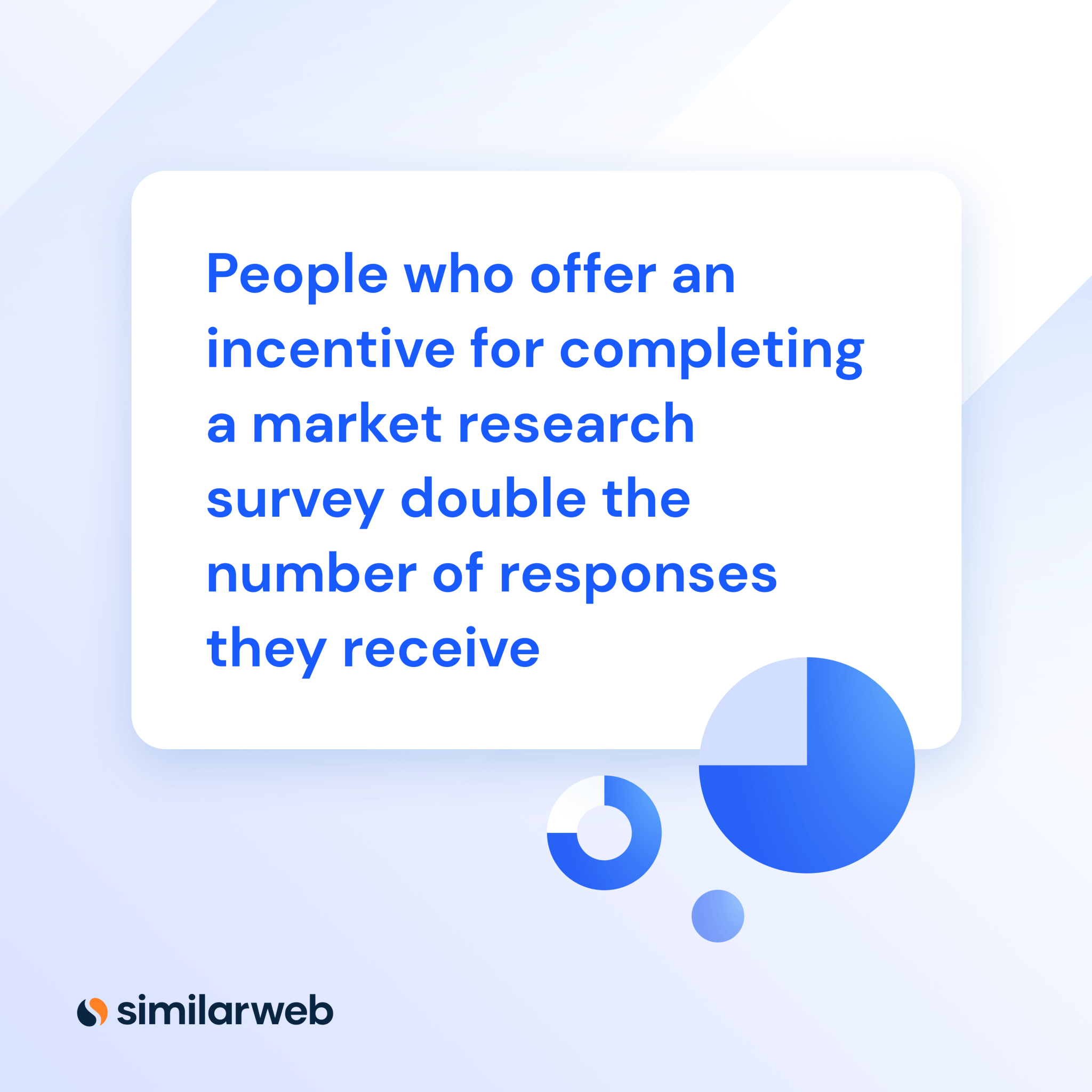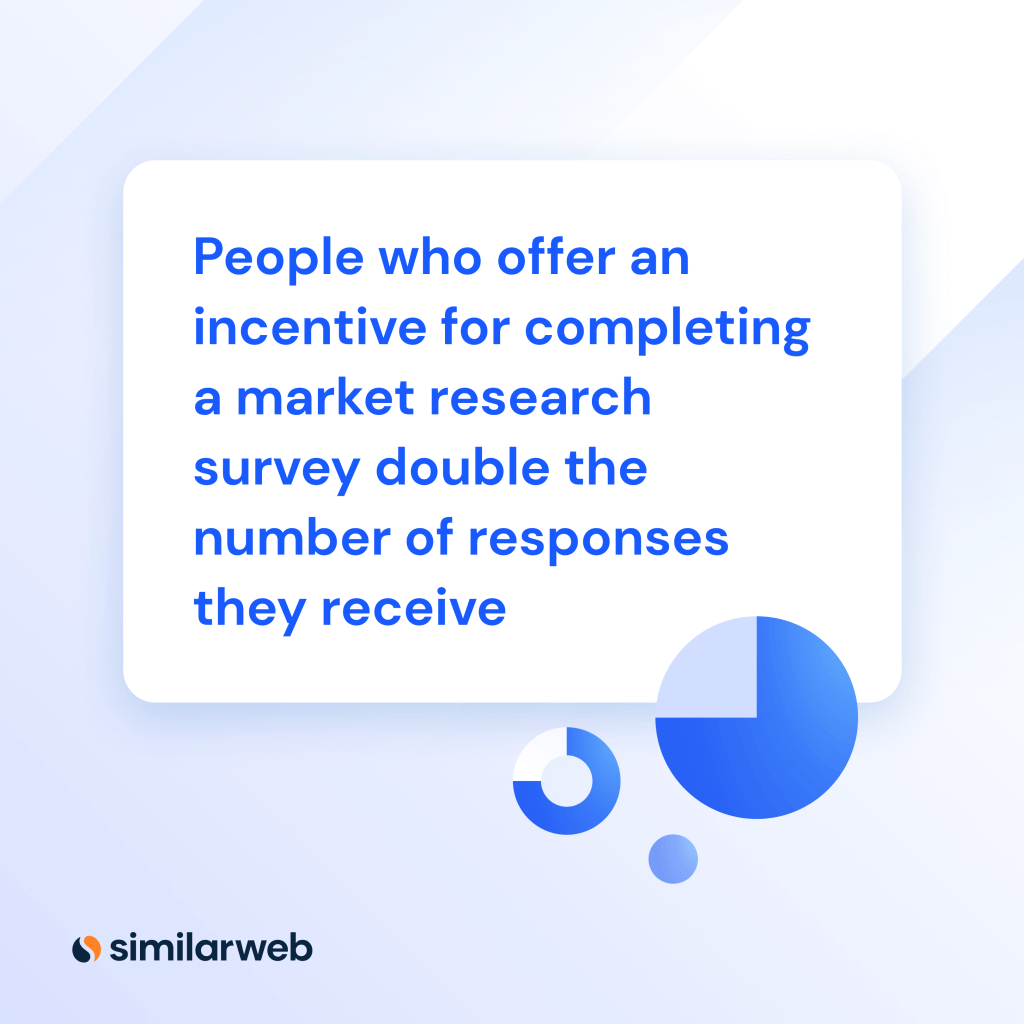 Intercept surveys
If you've ever spotted a tablet asking you to rate the service or experience you had in a store/facility; then you've experienced intercept surveys at work!
One of the biggest advantages of intercept surveys is they target all visitors. Unlike traditional survey formats that require an email address, this style of survey can reach all demographics, and give you instant feedback. What's more, they're easy to organize and analyze.
Online focus groups
These days, most organizations tend to favor online focus groups. Organizing and expensing is far easier as there's no need to factor in travel, venue hire, and sustenance costs. It's also far easier to get people to commit to a quick video focus group compared to in-person set-ups.
In-person focus groups
Physical focus groups are still going strong, and there are many reasons people prefer them. Body language is far easier to interpret when people are in the same location, and there's the added benefit of stronger in-group dynamics too. So, while they cost more, take a little longer to organize, and you have the added burden of knowing whether or not participants will show up, there are still plenty of reasons to use them. Convenience isn't always king.
The difference between primary and secondary research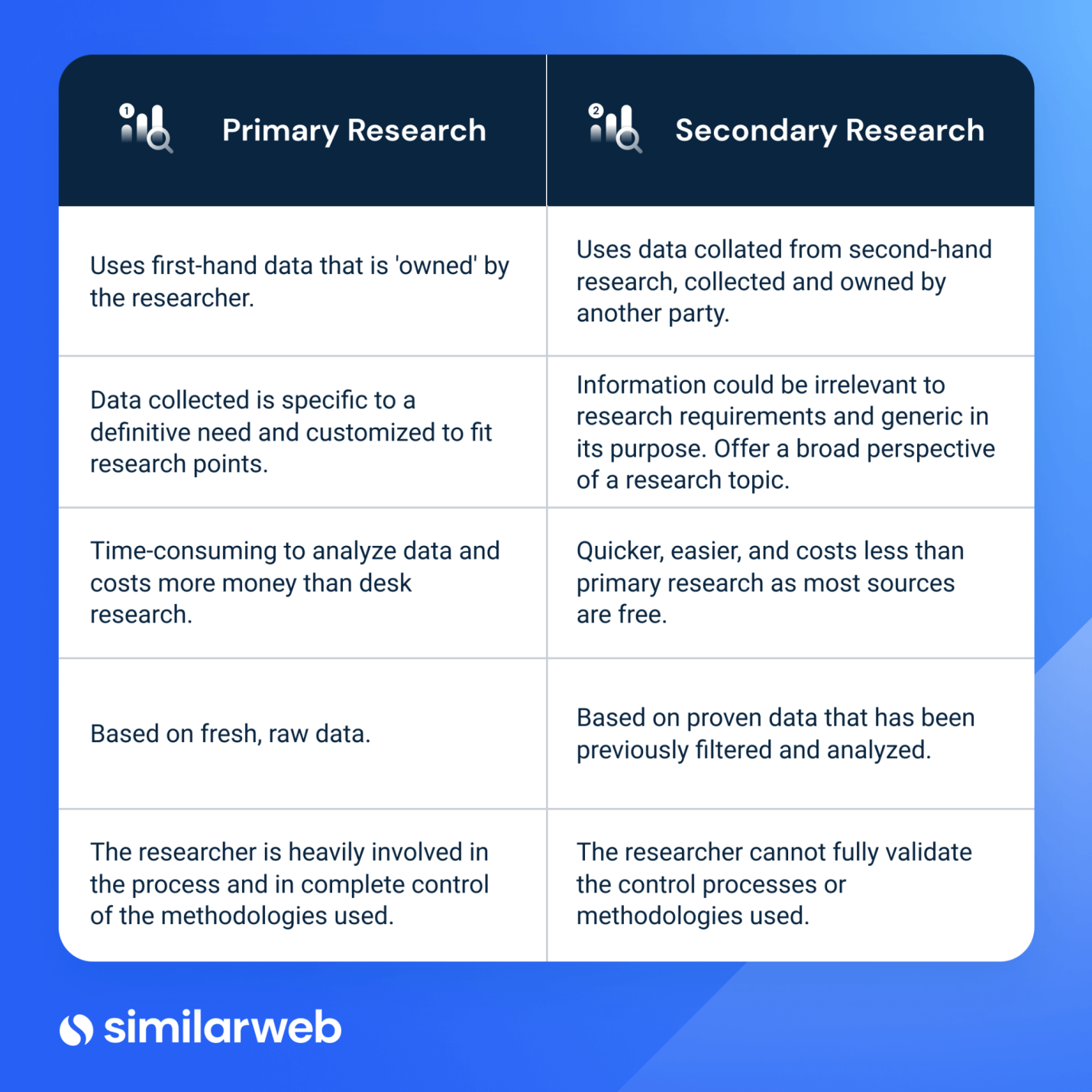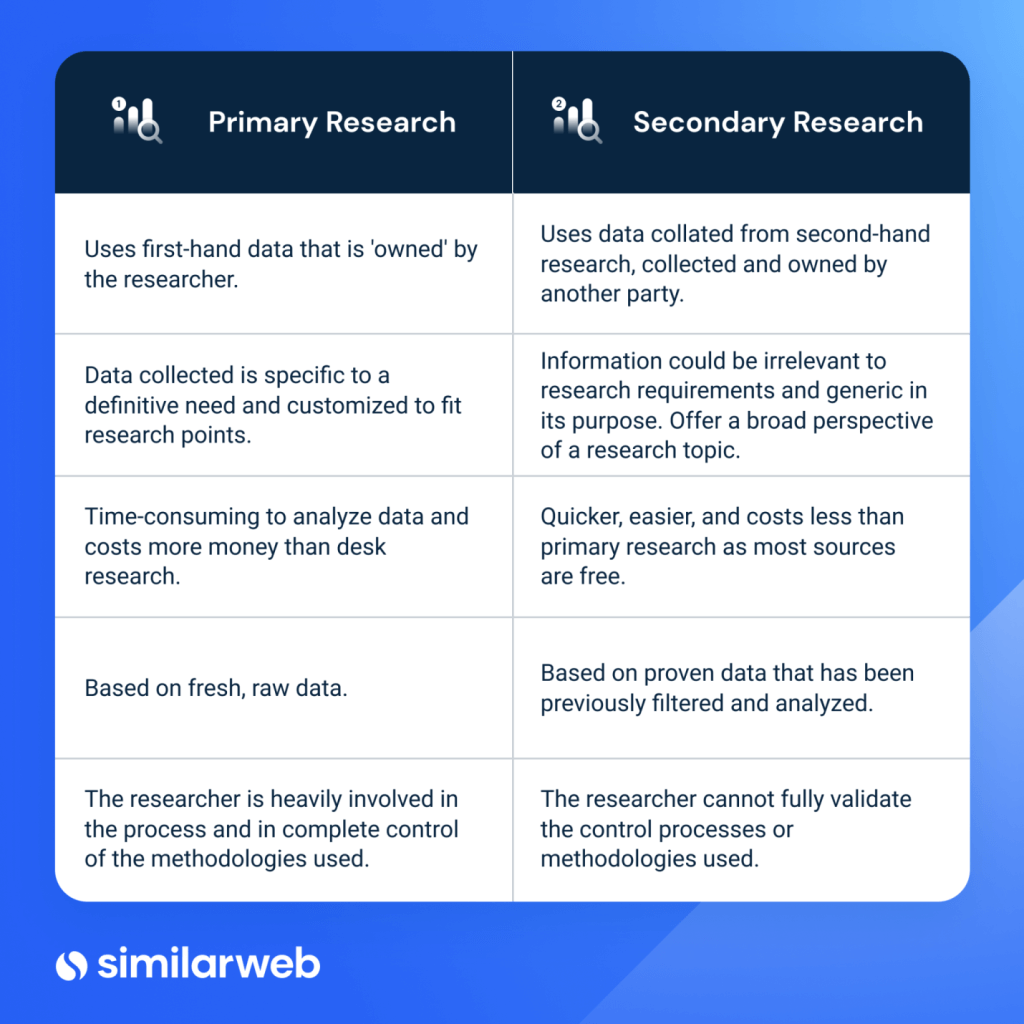 3 primary market research examples
There are many methods of primary market research at a company's disposal. The key to unlocking success is finding the right type for your research goal, budget, and time considerations. Here are three examples of primary market research in action, to give you a touch of inspiration.
1. Ethnographic research
I spoke directly with Umair Syed of Bizitron, he explained how his digital market agency favors ethnographic research for uncovering key consumer insights for big brands.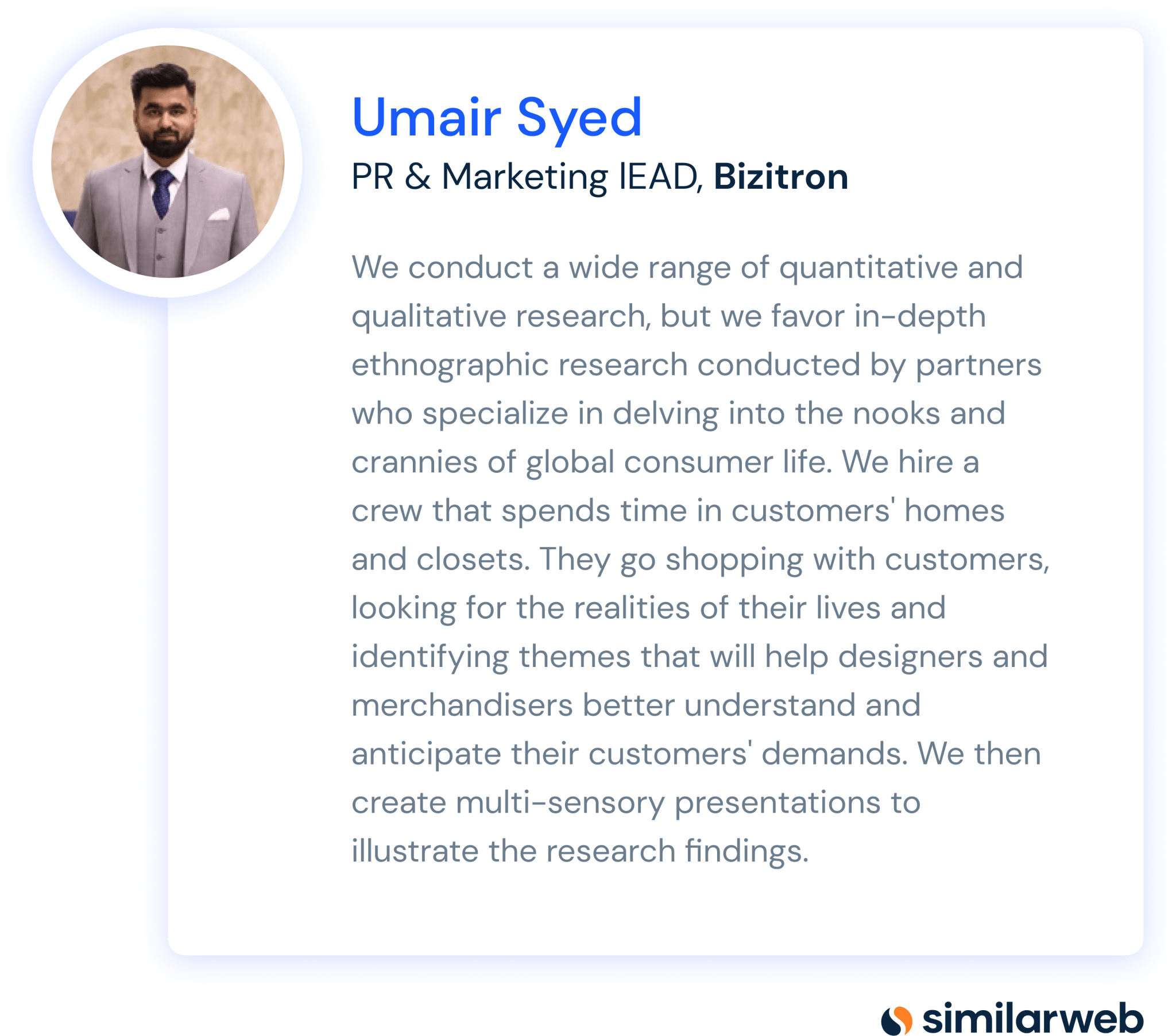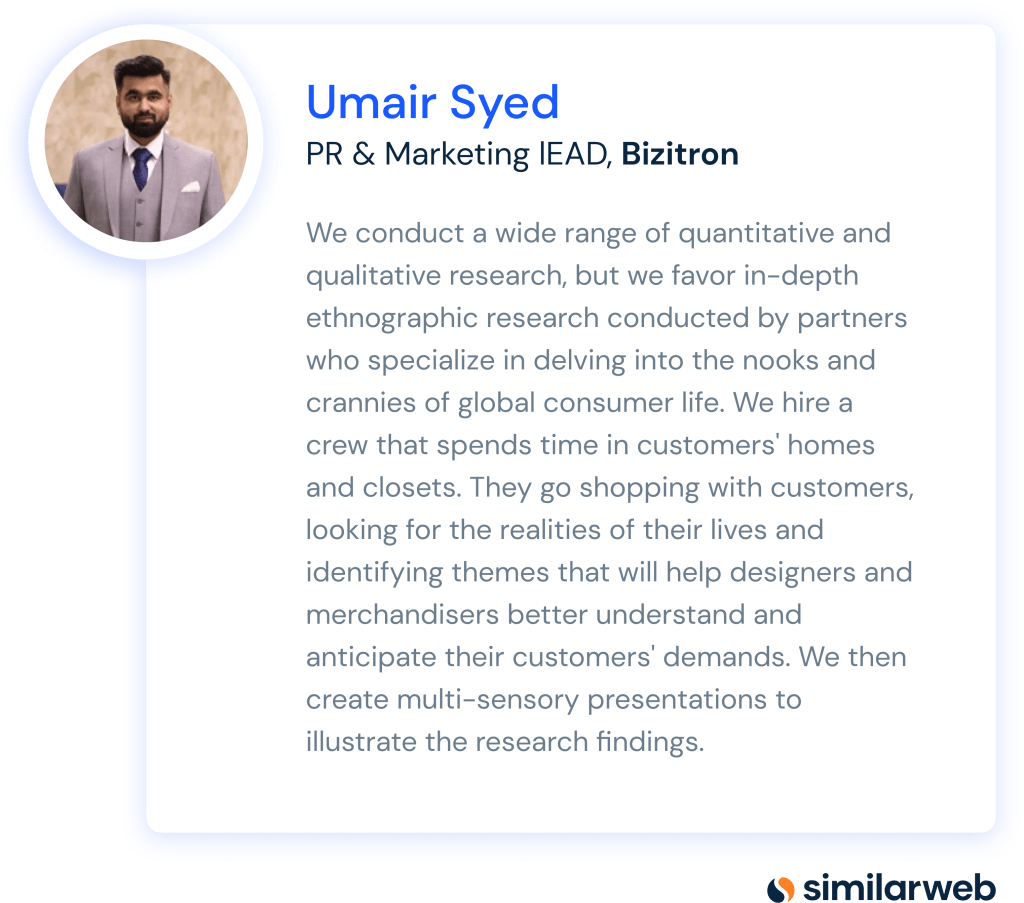 2. Customer satisfaction survey – low-cost example of primary research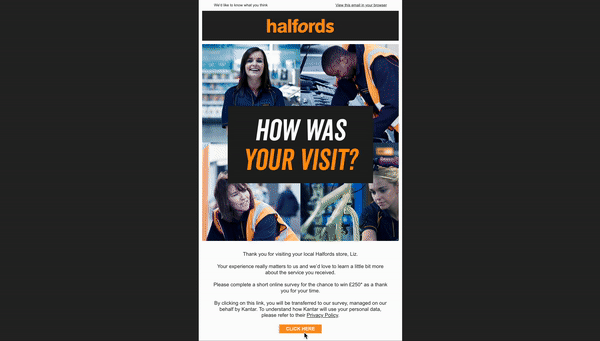 This is a great primary market research example in action using an online survey format. Customers are asked if they'd like a receipt emailed: if they do, they receive a survey after their visit. Key questions provide the organization with clear ratings around their experience. Open-text boxes are also used to gather specifics if a score is particularly good or bad.
3. Focus groups & interviews
Another widely used primary market research method is the interview. Here's a sample of some of the types of focus group questions we use at Similarweb. The biggest advantage of using this format is that any audience can be reached and interviewed remotely. Costs are low, and you can reach a wide and varying audience, with granular feedback.
While it takes time to conduct this type of primary market research, it gives organizations the ability to pick and choose who they want to speak with and opens up the floor to ask them very specific, open-ended questions that have the power to deliver insights you might not be able to get from other primary research methods.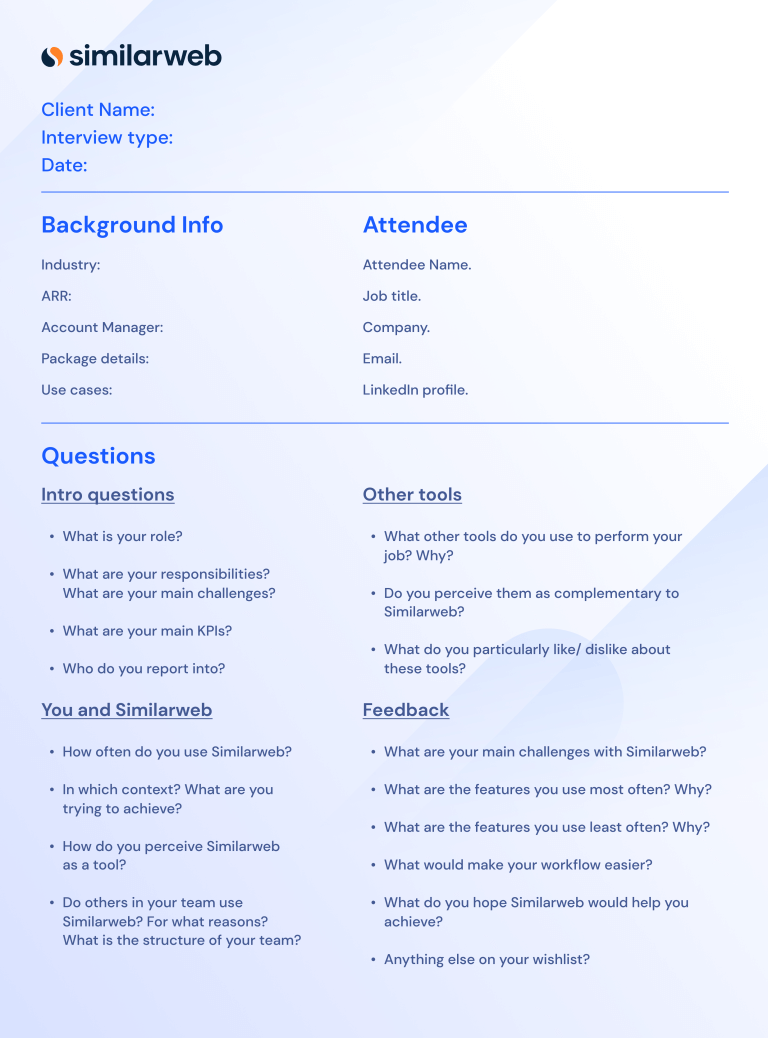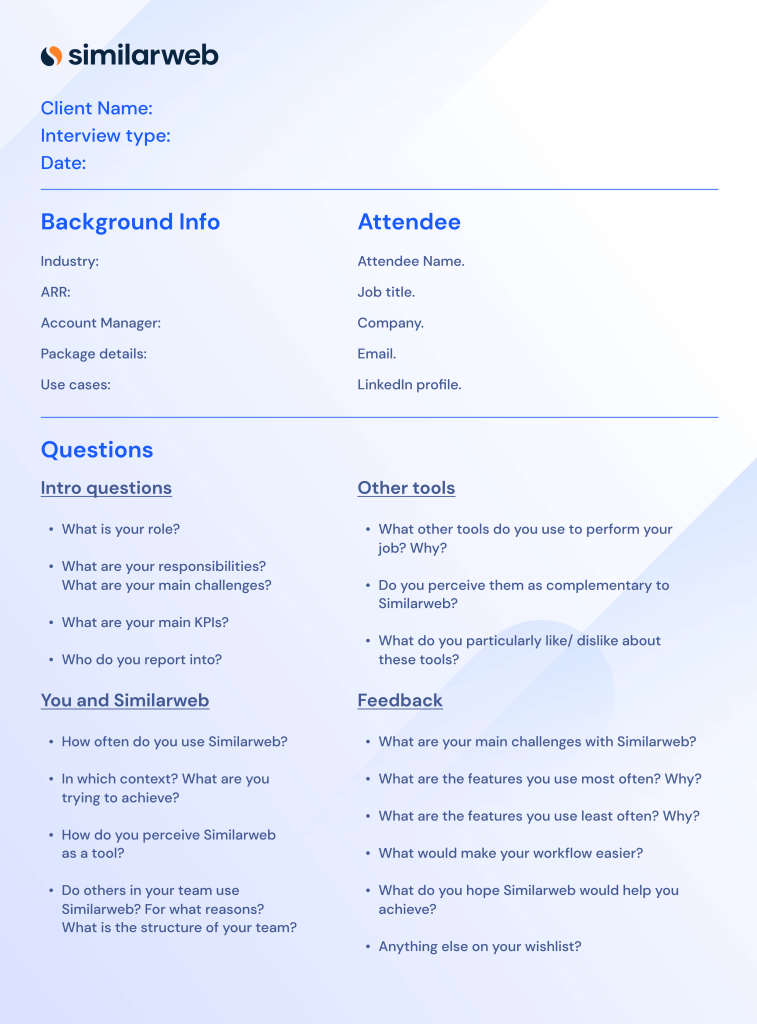 Primary market research questions
If you run a trial or release an MVP, you can use a survey for primary market research questions like these:
What was your most favorite feature of the product?
If you could improve one thing about the product, what would it be and why?
How much money would you pay for this product?
How frequently did you use the product during the trial?
Did you use the product during the morning, afternoon, or evening most?
Would you recommend this product? If yes or no, why?
Did anything occur during the trial that would put you off from using the product in the future?
If you want to conduct an interview, here are some examples of the typical types of primary research questions you might ask.
Can you tell me your role? 

What are your responsibilities? What are your main challenges?

Do you have KPIs? If so, what are they?

Who do you report to?

How often do you use our product?

In which context? What are you trying to achieve?

How do you perceive our product as a tool for market research?

Do others in your team use this product? For what reasons? What is the structure of your team?

What other tools do you use to perform your job? Why?

Can you explain your main challenges with this product?

What are the features you use most often? Why?

Which features do you use least often? Why?

What would make your workflow easier?

Is there anything else on your wishlist?
How to do primary market research
Determine what the subject or aim of the research is.
Use secondary research first to validate the subject.
Set out a clear problem statement or research question to be answered.
Set objectives, and decide what you'd like to achieve.
Outline timeframes and set relevant deadlines.
Pick the right primary market research methods to help you get the information you need.
Decide on your sample size – large or small.
Consider whether you'll use qualitative or quantitative research (a little of both is best practice).
Outline the structure for your plan, then review to validate if it supports your research question. Consider, will it give you the information needed to make decisions about the next steps.
Test to ensure it works and delivers the right type of insights.
Collate and analyze the results.
Discover a better way to get similar results in less time
Similarweb Digital Research Intelligence gives you instant access to data that shows you things like audience insights, search interests, overlap, loyalty, and demographics.
Let's say you're planning to expand into a new category, and want to research the market to capture a new audience or understand consumer demand before you spend time and resources on product development.
For example, launching a new urban e-bike service. You'll want to reach a new audience but the problem is you don't know what are their interests and how to approach them.
You'll want to find out:
Who is your target audience
How your competitors are approaching them
Which channels work best for your audience
When is the right time to engage with them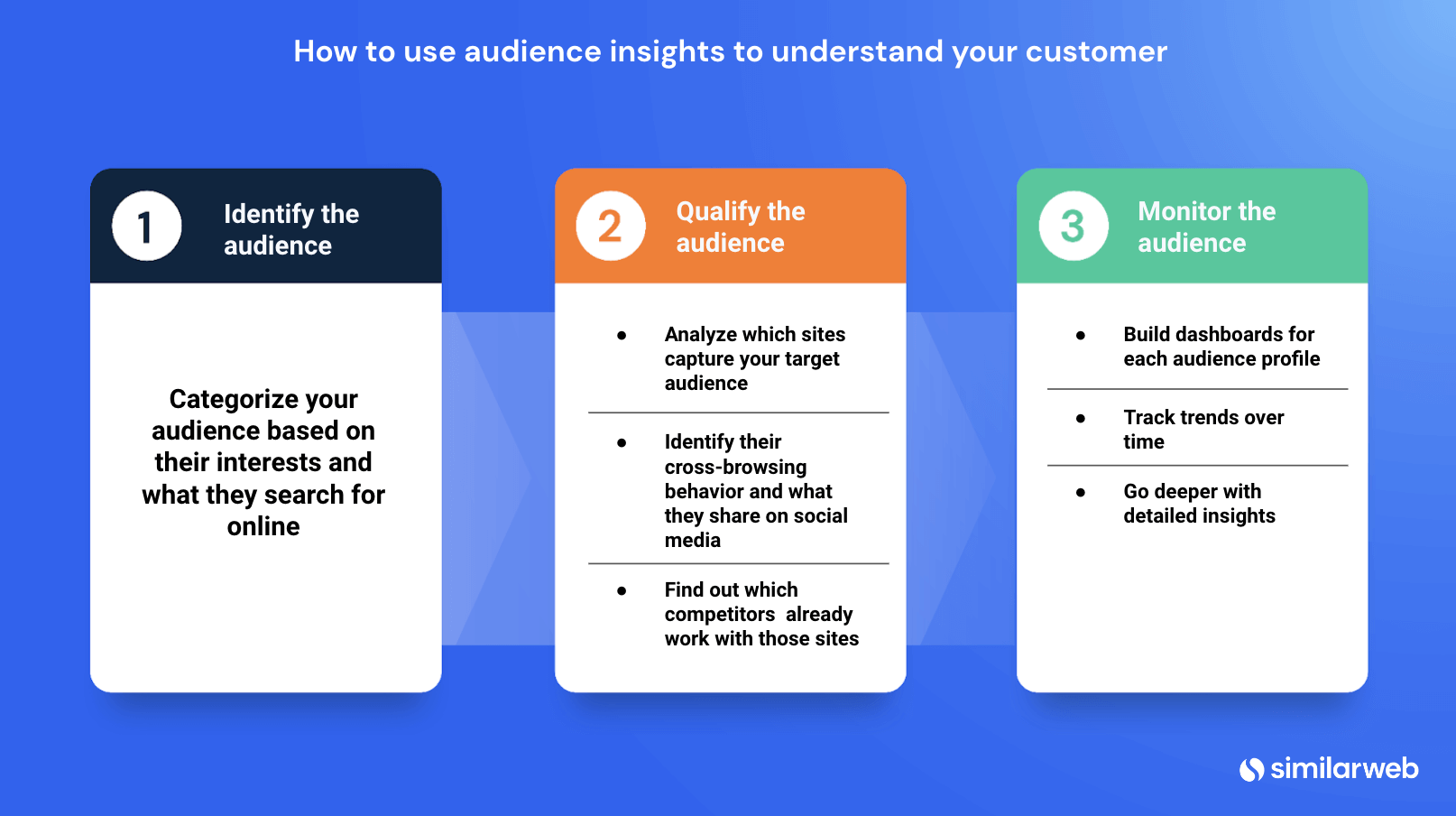 Step 1: Identify the audience Categorize based on search interests
The first step is to identify the ideal customer profile of your target audience that you want to capture, so this could be various attributes. For the e-bike example, you'll want to be engaging with people who are fit to cycle or have a need, for instance, they commute to work by bike or enjoy cycling as a hobby outside of work.
Fit to cycle
Need to cycle (i.e. cycle to work)
Like to cycle (outdoors lovers)
Are interested in a healthy lifestyle (eat well, lose weight, exercise, work-life balance)
Other criteria could be around lifestyle i.e. they want to live a balanced and healthy life. You can identify your audience through different ways such as what they search for online or what they post on social media. For this example, we'll dive into the healthy lifestyle audience cohort and build a profile around the search term "healthy snacks".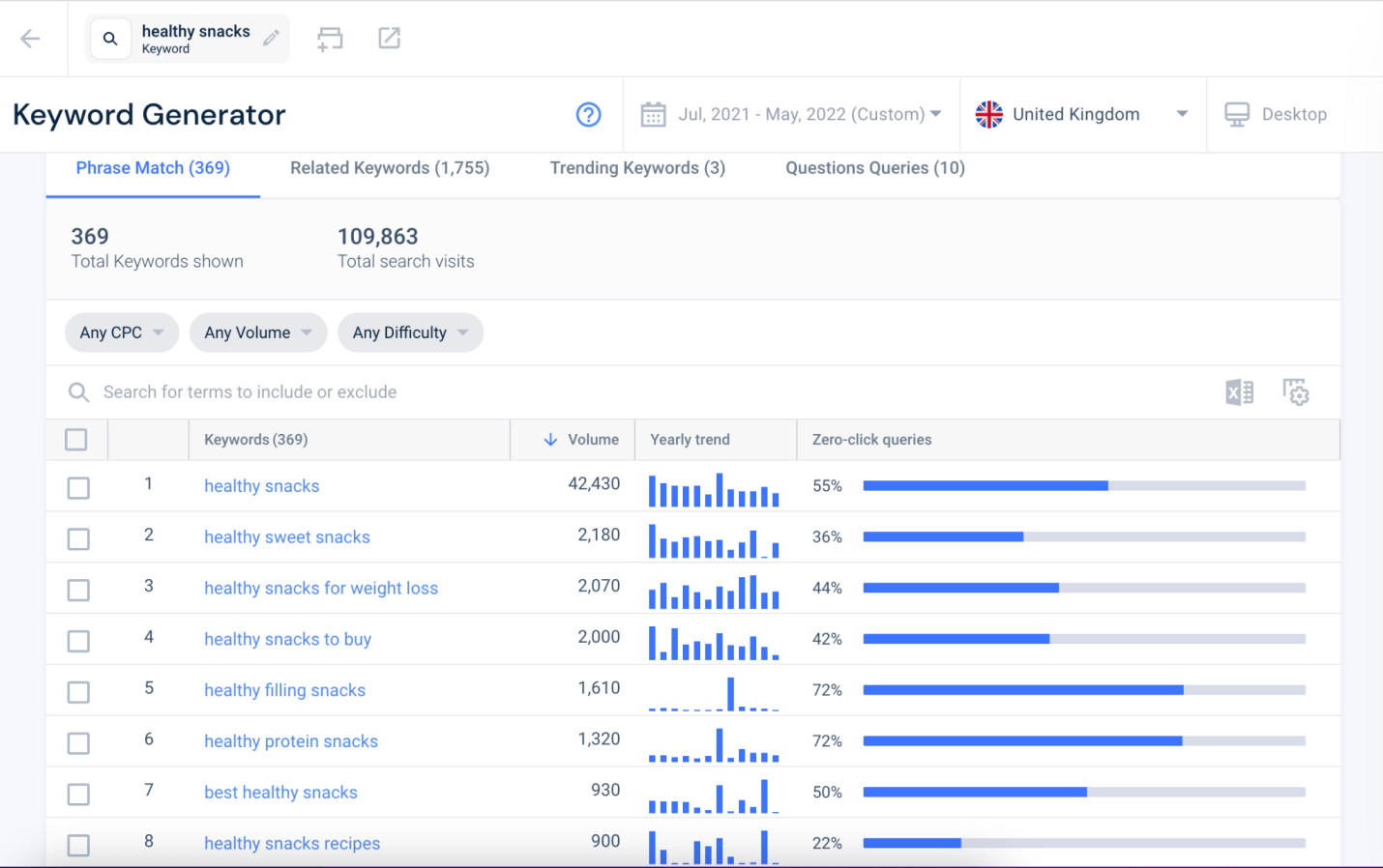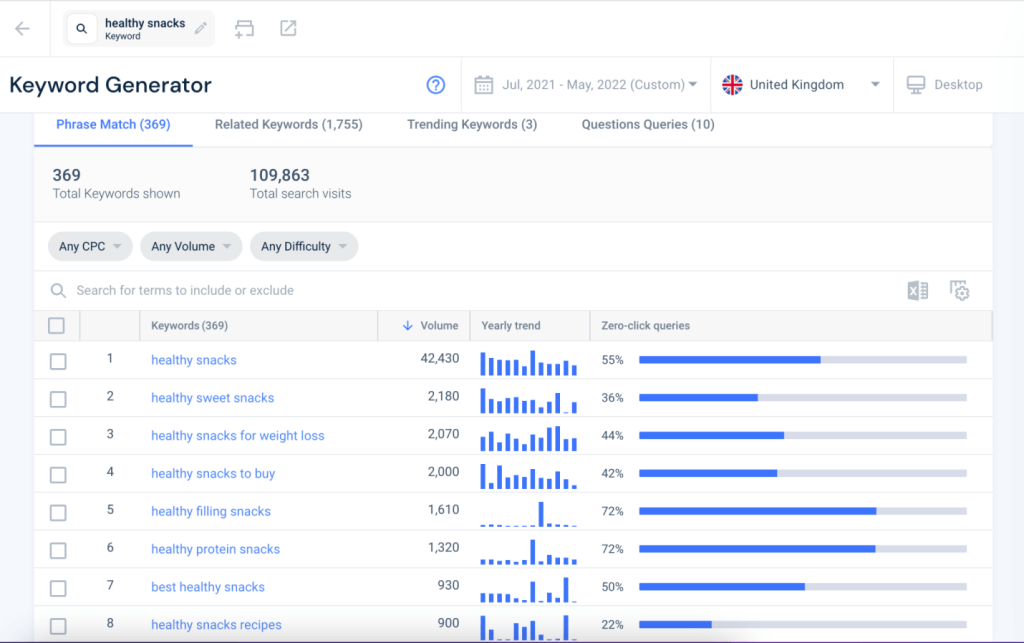 Using search terms such as 'healthy snacks' you can build a list of keywords. And group these keywords to essentially build a profile of your audience.
With this list, you can identify the types of sites that engage with your target audience, and establish the total addressable market based on search volume and trends over time.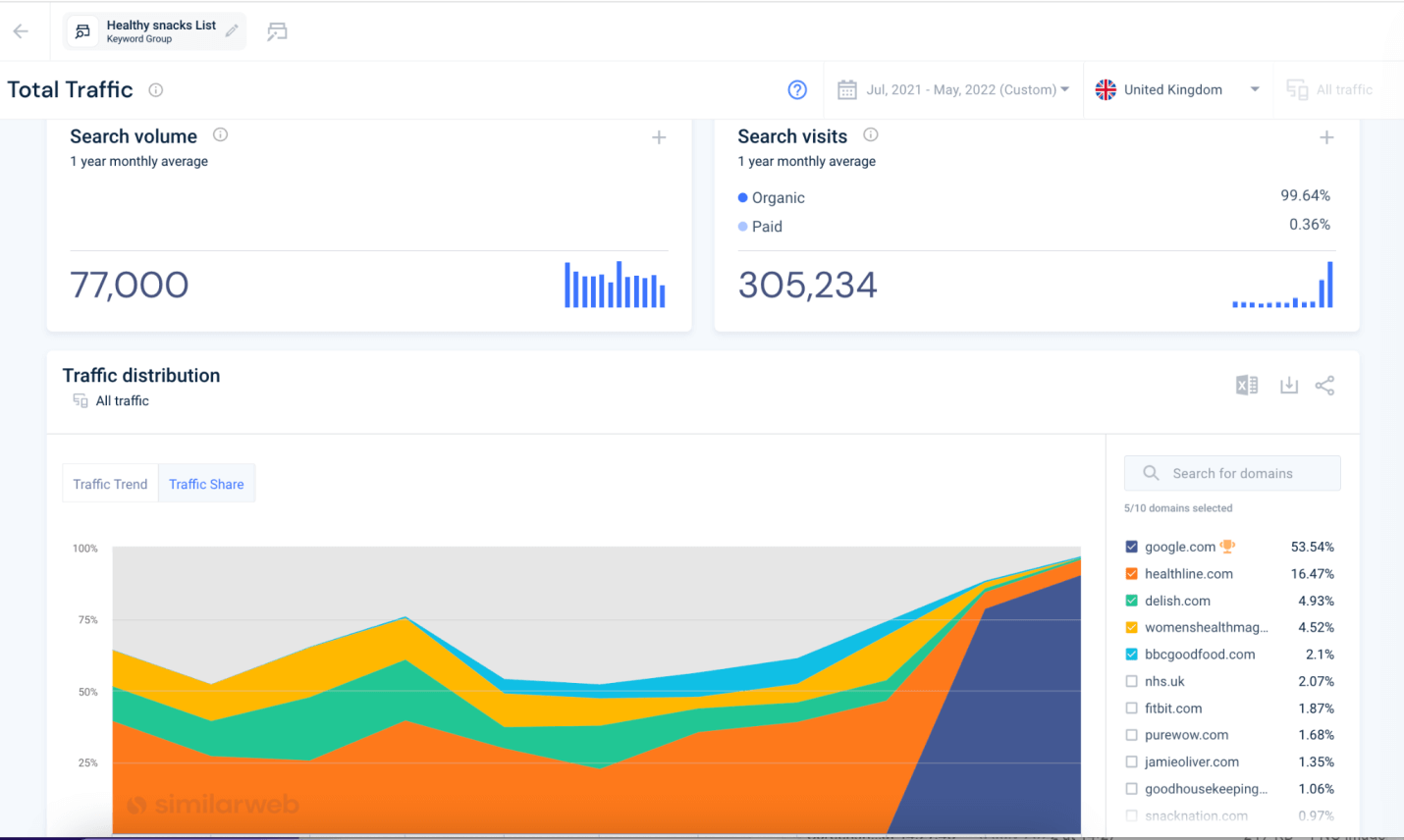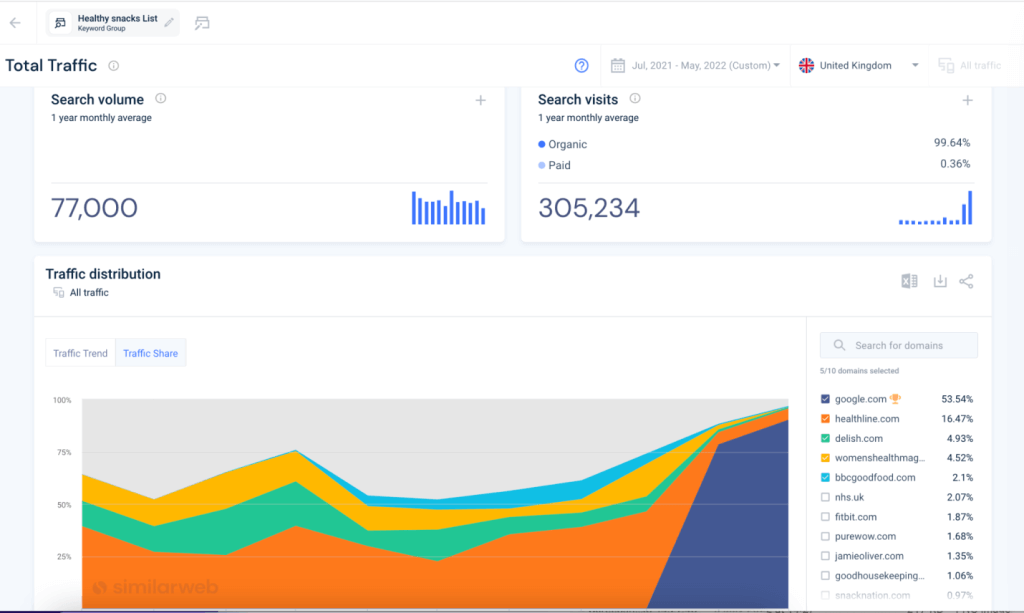 Here we can see the volume of searches for healthy snacks has a monthly average of 77,000 in the UK, along with the key players who capture traffic from this search term.
Step 2: Qualify your audience
The next step is to identify sites and mobile apps targeting your audience i.e. people searching for "healthy snack" and find sites based on relevant criteria such as age, gender, or type of site. Then you can expand your list by identifying other sites visited by the same audience and discover which of your competitors (in this case similar cycle makers) are working with them.
Here you can qualify the audience based on the sites that also target the "healthy snack" consumers, for example, Women's Health, and dive into the demographics of that publication to see the gender split and age distribution.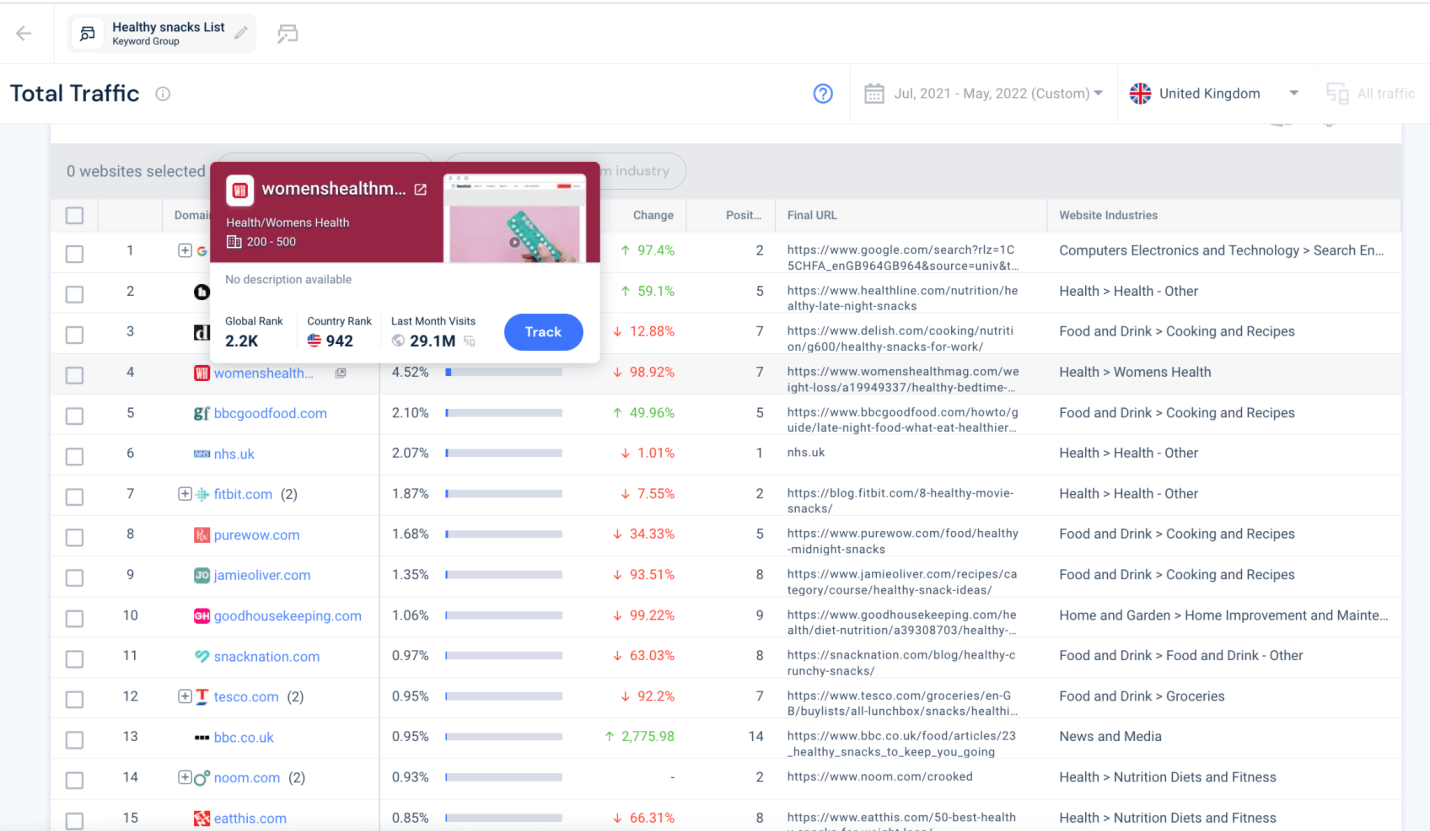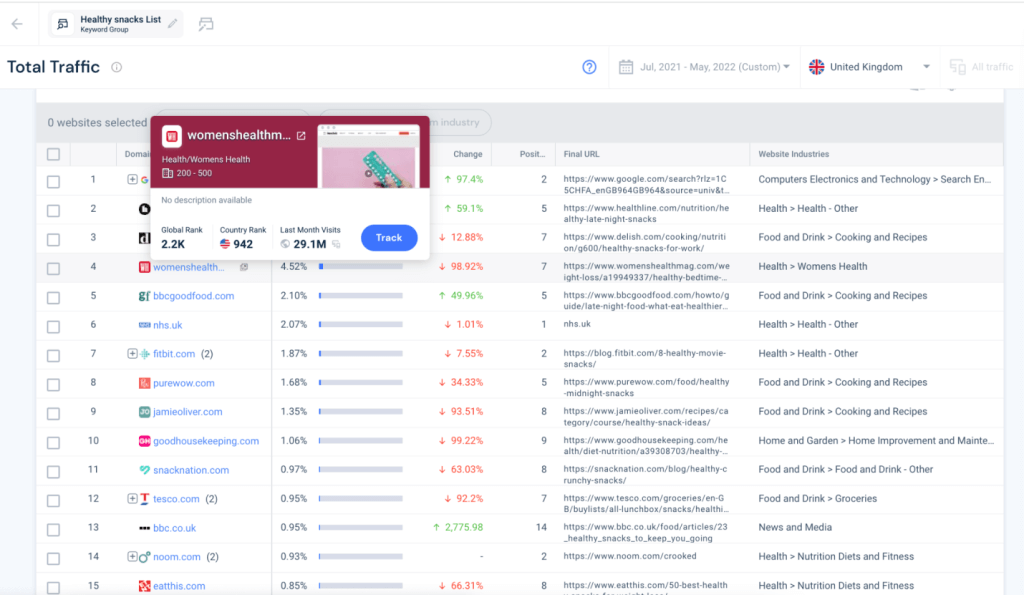 You can also expand this list by looking at Women's Health readers and seeing which similar sites they cross-browse to build a richer view of their online media consumption and habits.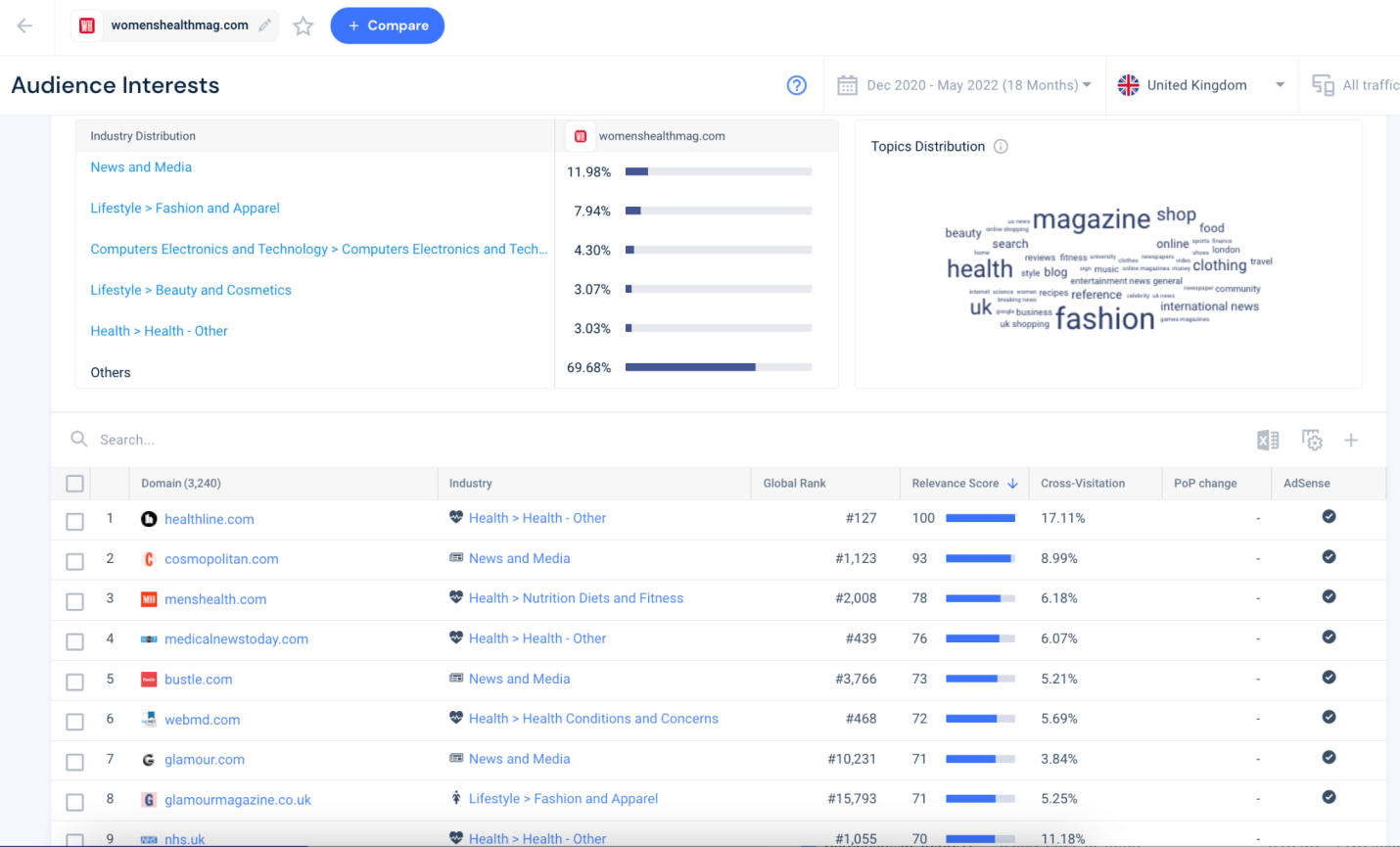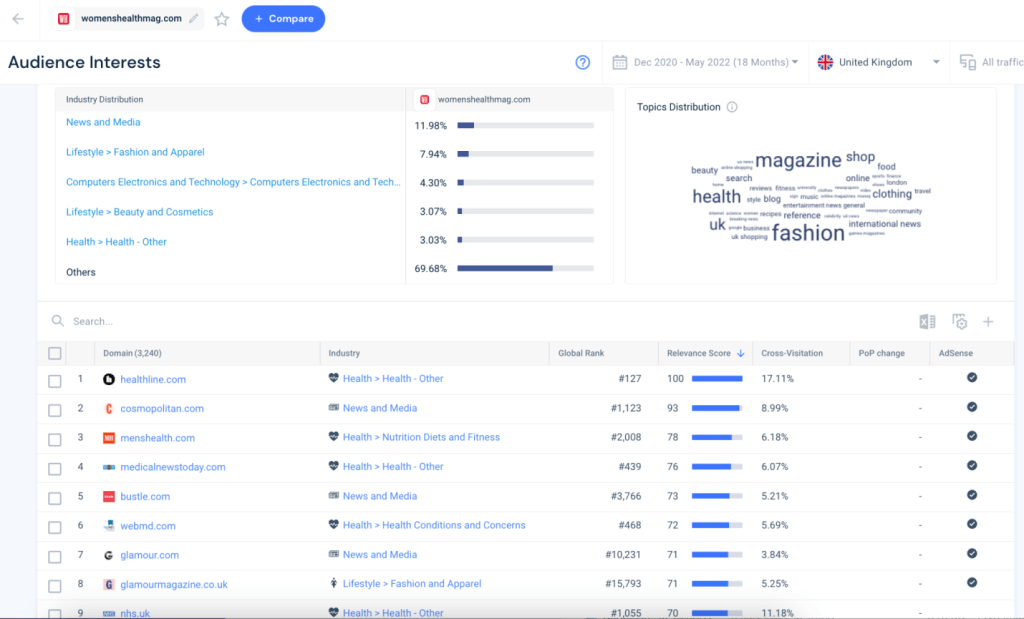 You can also go a step further and deepen your knowledge of each publication that attracts the "healthy snack" audience and see how your competitors, in this case, other cycle makers, work with the publication.
Either by identifying other sports and fitness sites that send traffic to Women's Health or list of advertisers that typically promote their products on the site.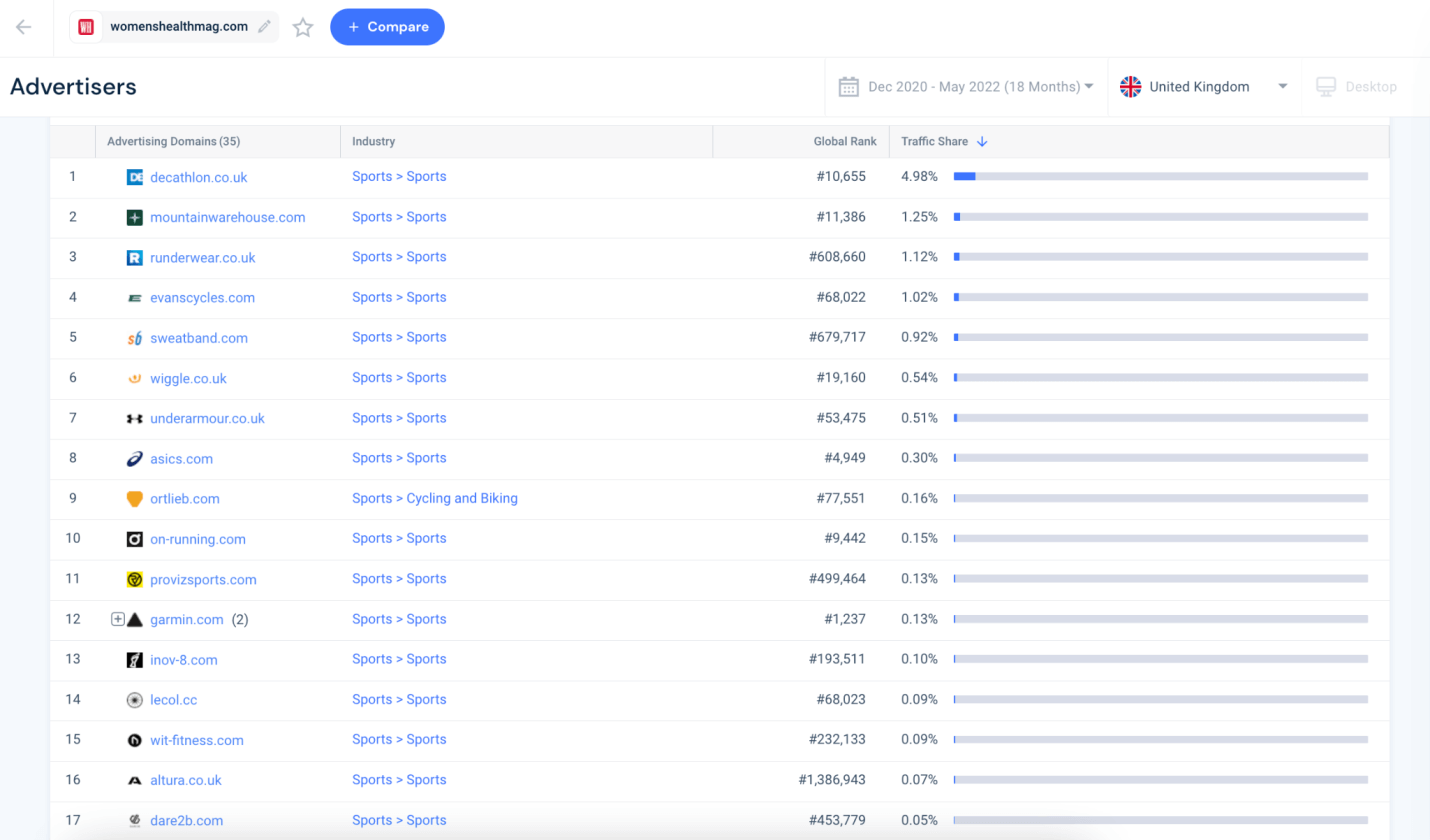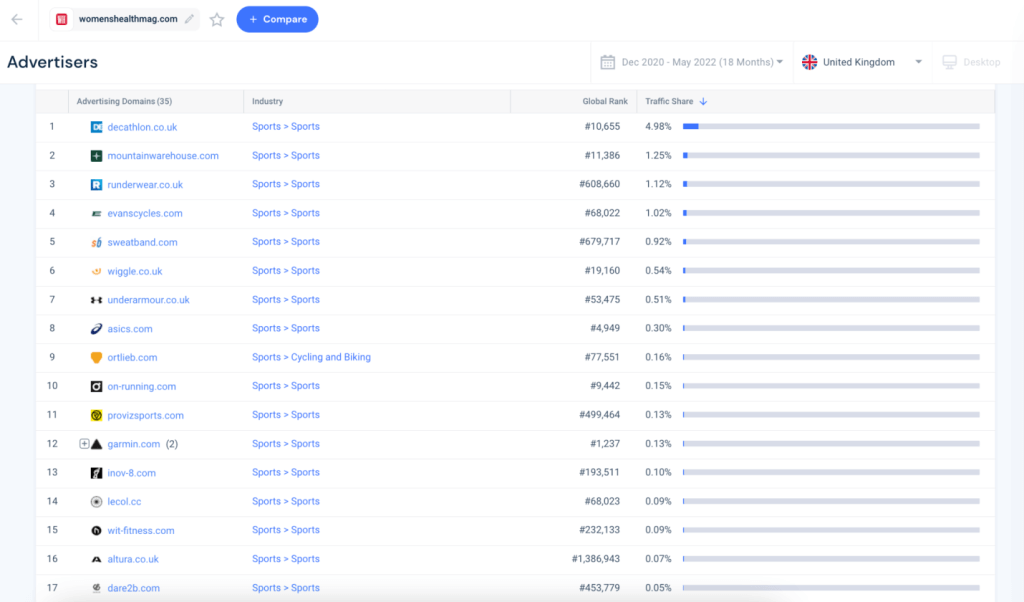 Step 3: Monitor your audience to track ongoing changes
The final step is to build a dashboard with key metrics that include all the main audience profiles such as search interests, demographics, other visited sites partners, and advertisers so you can monitor trends and changes over time.
This can be repeated for each audience cohort that you create, so you can build a holistic overview of audience behavior online and discover consumer demand within minutes, not weeks or months.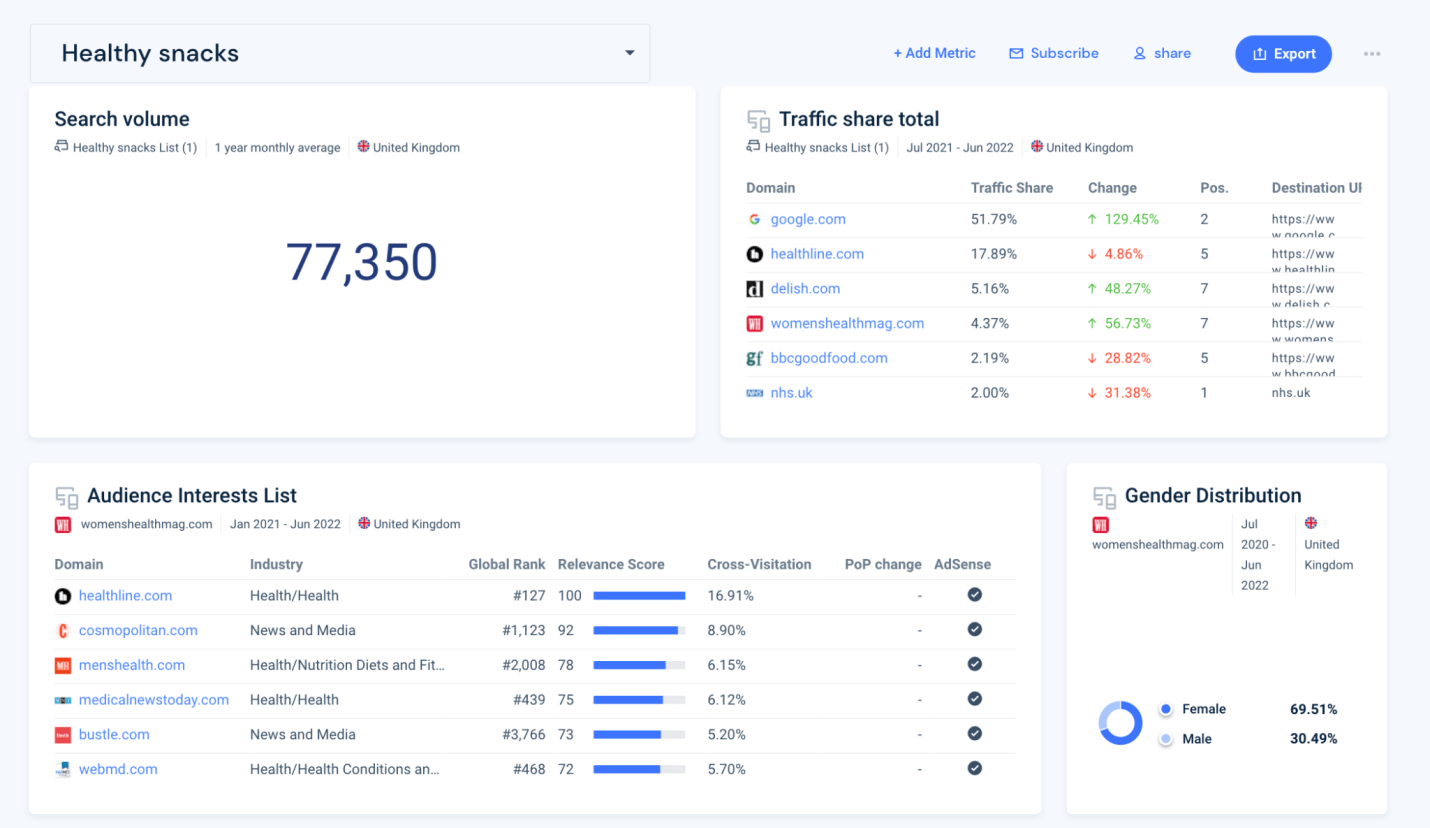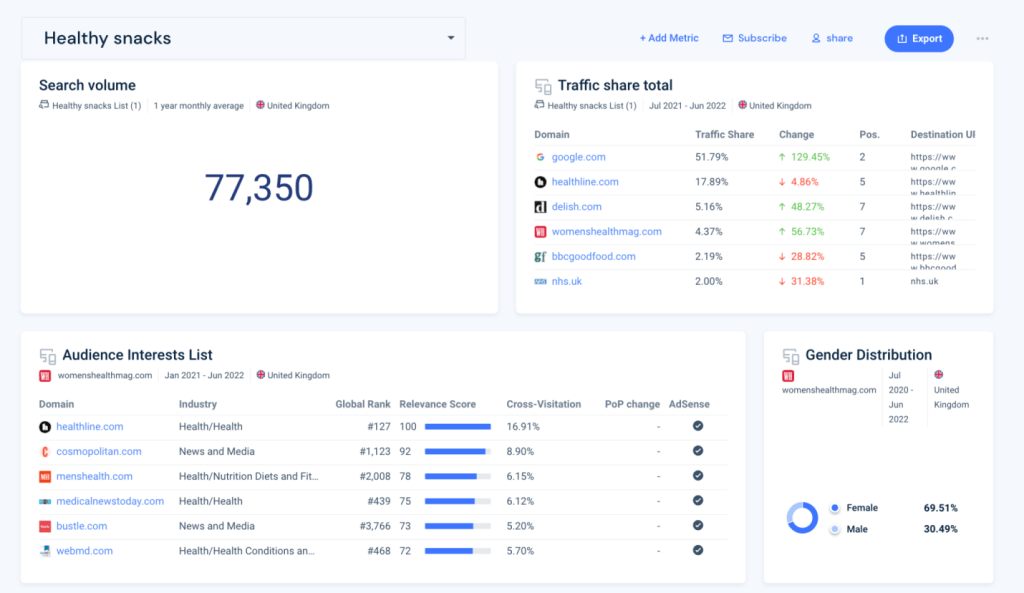 Wrapping up…
Primary market research takes time. Once you've done the initial planning, coordination, and data collection; only then can you start to collate and analyze your findings. In some cases, it's exactly what you need to power up your growth. On the other hand, you may need to work faster than primary market research permits. Whether it be to stay ahead of your rivals, keep up with shifting markets, or a change in consumer behavior.
If you need to quickly see what's happening, Similarweb Digital Research Intelligence is the best tool for the job.
Take it for a trial run (for free) today.
FAQs
What is primary market research used for?
Primary market research helps organizations obtain direct feedback from a market that's relevant, up to date, and usually focused on a specific theme or subject. It's more controlled compared to secondary research and delivers more objective findings.
What is the difference between primary market research and secondary market research?
Primary market research is the first-hand collection of data, that's later analyzed and used to inform strategic decisions. The purpose of secondary research is largely the same, but this type of research takes pre-existing information, which costs less and is usually quicker to obtain.
What are primary market research examples?
The most popular primary market research methods include:
Telephone interviews
In-depth interviews
Ethnographical research
Observational research
MVP testing
Product and field trials
Hypothesis testing
Online surveys
Intercept surveys
Online focus groups
In-person focus groups
This post is subject to Similarweb legal notices and
disclaimers
.
Wondering what Similarweb can do for you?
Here are two ways you can get started with Similarweb today!