 Research Intelligence
Ready to Order? Event-Goers Are Flocking Back to Ticket Websites
May 11, 2021
| Updated June 21, 2022
After coming to a shrieking halt in 2020, the online event ticketing industry is making an awe-inspiring comeback. Demand is surging as lockdowns, and stay-at-home orders ease in many countries around the world.
For a market dominated by a small number of large booking websites focusing on live music events, concerts, and festivals, the transition to virtual was virtually not an option for fans and event-goers. Excluding a few outliers, including stageit.com and eventbrite.com, most ticket providers found it hard to get people to open up their wallets and purchase tickets in 2020 in order to see their favorite artists over Zoom or Facebook Live.
But the post-corona world is now being re-examined. The rise in vaccination rates, the ease of social distancing, and the reopening of more and more countries are increasing the number of tickets ordered online. Below we'll zero in on the latest trends and factors impacting the ticketing industry, as seen on Similarweb's digital market and research intelligence platform.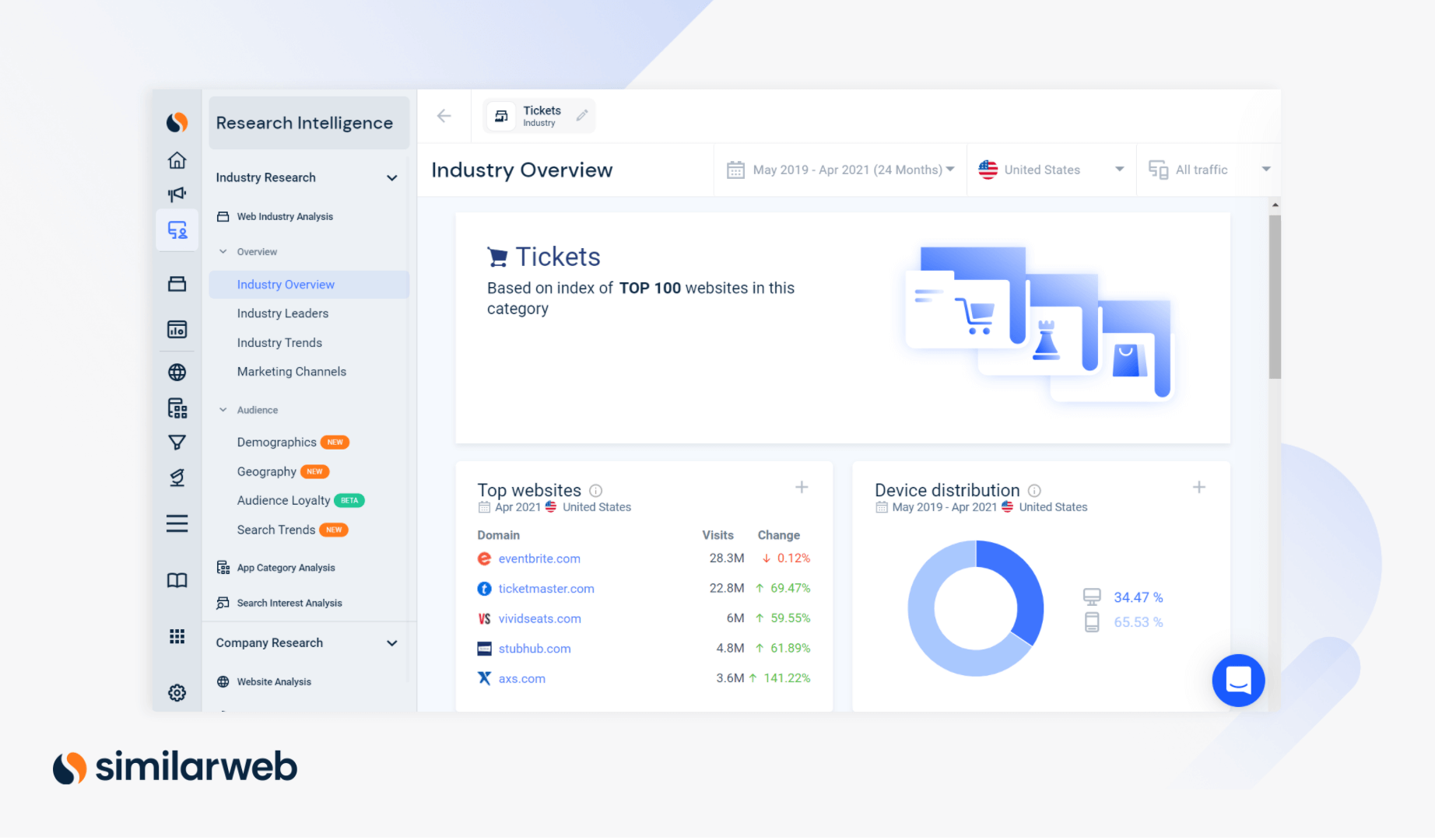 Slow but steady recovery for ticket websites

Looking back at the data over the last 24 months, we see that traffic for the top 100 sites in the tickets category in the United States reached an all-time high in February 2020 of 61 million. The U.S. market contributes 37% of ticketing platforms' global market share and hence provides a strong indicator of what's happening in the industry.
The impact of the pandemic can clearly be seen in the graph below with traffic changing course in March (with 94 million visits), and bottoming out in April 2020 (with 33 million visits). However, it has since shown an upward trend, rising again to another peak in October 2020 (to 50 million), right before the holiday season. Despite a slight drop in November, the trend has remained upward since, reaching a peak of more than 81 million visits in April 2021 – a year-over-year increase of 43%.

It's also interesting to see mobile web remains the primary device, consistently responsible for two-thirds of visits to ticket websites. This occurs even though overall traffic dropped in 2020 compared to 2019 due to people staying at home and using more desktop devices.
Furthermore, new and smaller players have identified and capitalized on the opportunity. StubHub more than doubled its market share from 2.5% in May 2020 (at the height of the pandemic) to 5.8% in April 2021. Similarly, SeatGeek rose from 2.1% (in May 2020) to 4.2% (in April 2021). Eventbrite and Ticketmaster remain the leaders with a combined market share of 61%, but only one of them gained a small percent of traffic. Eventbrite dropped 6 percentage points (ppt) from 42.7% to 34.7% while Ticketmaster gained 2 ppt from 25.3% to 27.9%.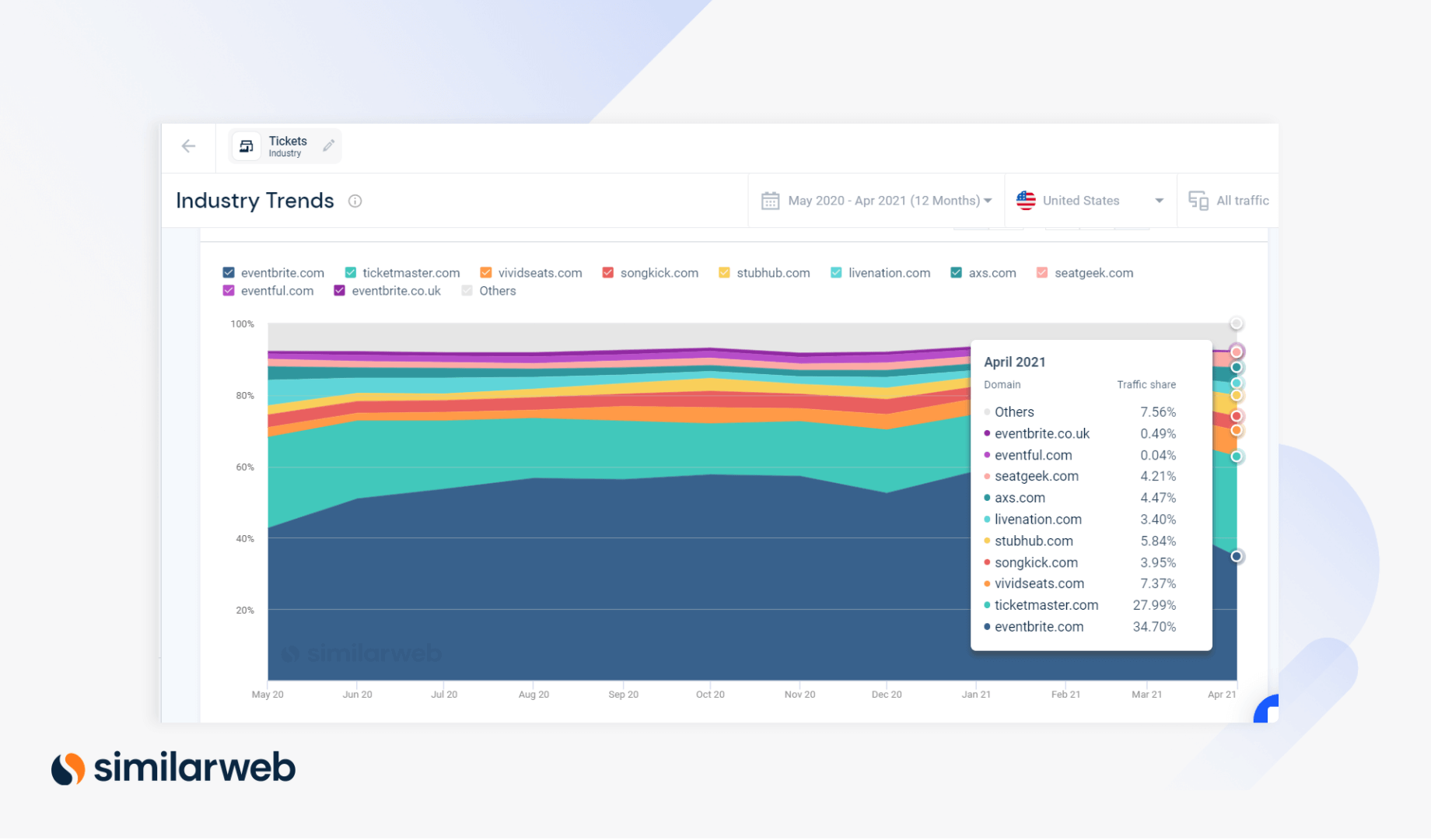 Eventbrite loses the number one spot 
Taking a more granular view highlights even further the remarkable shift in the ticketing industry over the past month. Daily visits to four of the top five online event organizers experiencing upticks in traffic over the month. Eventbrite was the only player to see decreased traffic (down 24%, from 1.1 million daily visits on April 1 to 800,000 on May 7), yet still maintain as much traffic as StubHub, Vivid Seats, and SeatGeek combined. Eventbrite, which up until recently, was one of the biggest virtual events platforms in the U.S., is losing more and more market share as virtual events' popularity decreases.
Moreover, there's now a new number one: Ticketmaster, which recently said its live concert orders for 2022 is up double digits from 2019, has taken the lead with an average of 572,000 daily visits for the first two weeks of April to 943,00 in the last two weeks ending May 7 – an increase of 39%.
Ticketmaster's growth explained 
Much of Ticketmaster's growth can be attributed to its marketing shift from returning users to new users (referred to as unique visitors who did not previously visit the site). As seen below, Ticketmaster saw 60% returning users to its ticketing website in April 2020 and 70% new users in April 2021. This indicates that its successfully optimizing organic and paid acquisition strategies while keeping its content relevant for users. 
So, what else is Ticketmaster doing differently? 
For one, the top event organizer is killing it in search terms. Six of the top 12 non-branded keywords in the tickets industry in April went to Ticketmaster, the overall traffic leader. Meanwhile, its main rivals are absent from the scoreboard.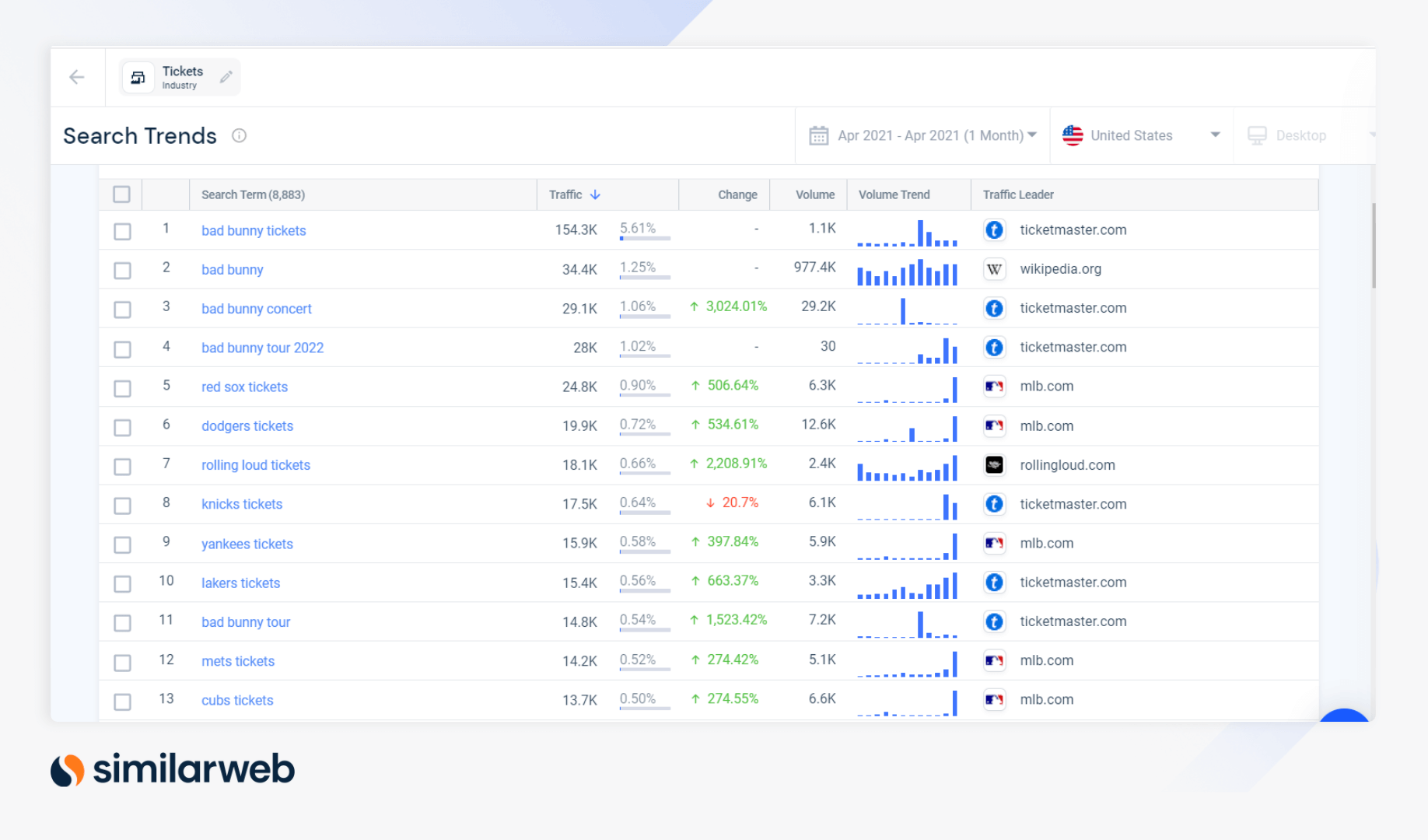 Bad Bunny is the surprising reason responsible for this success. Tickets for the Grammy-winning reggaeton rapper, who became the world's most-streamed artist on Spotify in December 2020, has since held numerous sold-out concerts across North America and made highly-televised wrestling appearances on the WWE, was the main search trend in April. 
Ticketmaster was the traffic leader with queries such as Bad bunny tickets (154,000), bad bunny concert (29,000), and bad bunny tour 2022 (28,000) all going to its Bad Bubby landing page. 
Unsurprisingly the competition for the keyword bad bunny tour 2022 is fierce. Tickets for the event, which is scheduled to take place from February to April next year, are available on seven platforms, drawing in traffic to dedicated event landing pages. Ticketmaster has the largest traffic share (29%), while Vivid Seats and SongKing have also won significant traffic shares – 15% and 11% respectively. Furthermore, Vivid Seats' landing page regularly ranks highest on Google's SERP.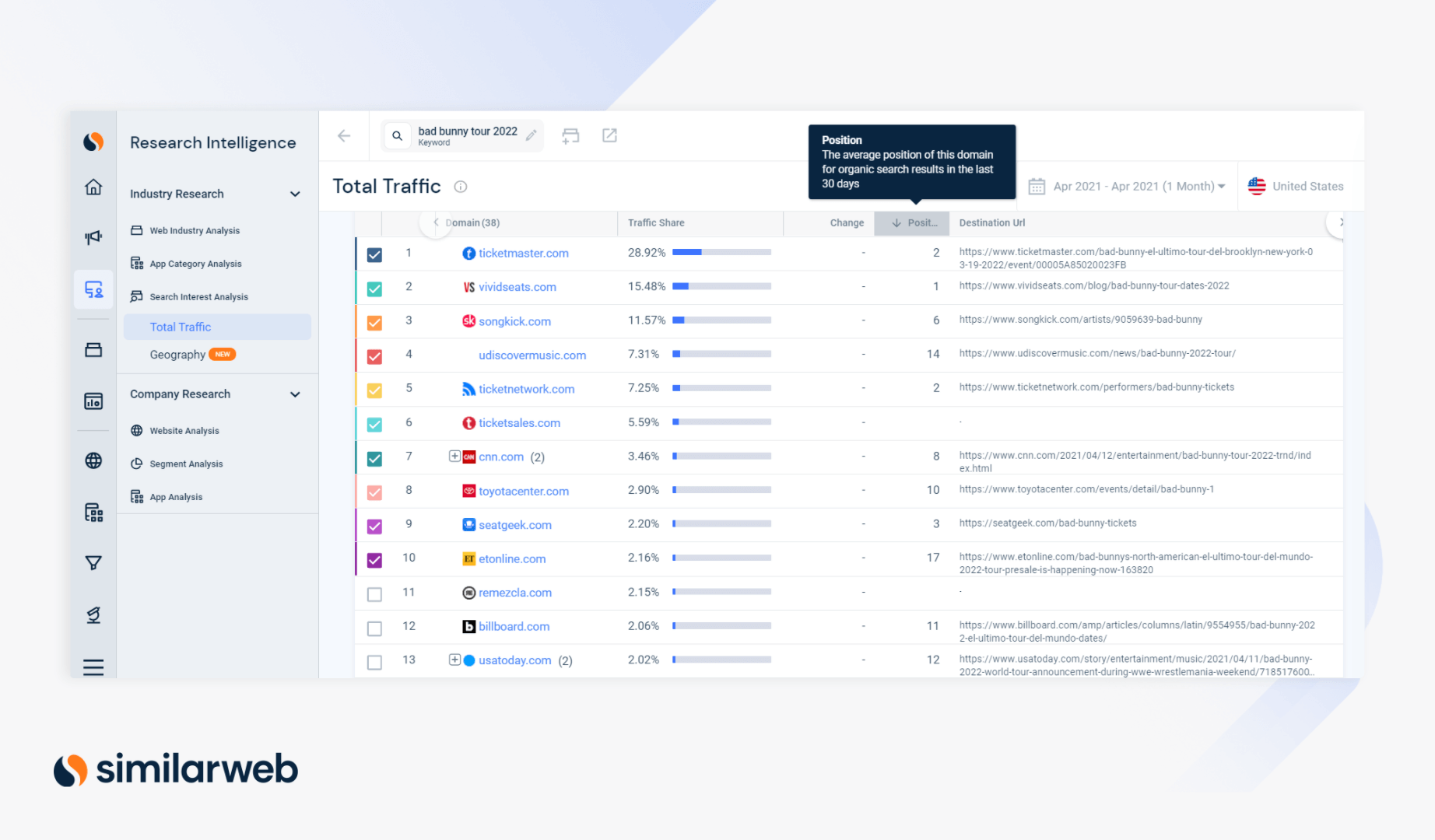 Get your own custom insights  
Ready to pull your own insights? Get an in-depth view of your competitive landscape with Similarweb. Try it now. 

This blog post was written with Yoav Shmaria, VP R&D, SaaS Platform. It is subject to Similarweb legal notices and disclaimers.
This post is subject to Similarweb legal notices and
disclaimers
.
Wondering what Similarweb can do for you?
Here are two ways you can get started with Similarweb today!