Uber is the world's most popular ride-hailing app, claiming 107 countries around the globe.
Using Android app data from 171 countries, digital market intelligence firm Similarweb analyzed the most popular ride-hailing apps across the world, based on both reach (percentage of installs) and active app users. Our methodology declared an app dominant when it was both the most used taxi app and installed on at least 1% of Android devices in that country.
Of the 171 markets which met this threshold of installs, Uber was the world leader, claiming 107 out of 171 countries, or 62% of the available territories.
On its home turf in the US, Uber is the most used ride-hailing app, installed on 21.3% of Android devices in the country. Impressively, this is more than eight times the installs of its major competitor Lyft, who reach 2.6% of all US Android devices.

The California firm made headlines earlier this month after it announced it had withdrawn from China for a 17.7% stake in Chinese competitor, Didi, the top taxi app in China. However, in many other countries, Uber has been successful at disrupting the local market and has replaced many homegrown players.
Despite national protests in almost every new country it enters, Uber, with a valuation of $62.5 billion, now rules the roads in countries such as Mexico, Brazil, France, UK, Morocco, Nigeria, and dozens more. Furthermore, in a potential launch pad to its Asian taxi app rivals, Uber is number one in both New Zealand and Australia. In fact, Australians are one of the biggest Uber adopters outside the US, as the app reaches a massive 12.6% of Android devices Down Under.
Clashes at Victorian taxi protest against @Uber_Australia. https://t.co/V7jjwpDVuZ #Uber #Victoria #7News pic.twitter.com/eBNKRADQnb
— 7 News Sydney (@7NewsSydney) May 10, 2016

Careem and Grab Take Second Place
After Uber, the largest reach of any other ride-hailing app was six countries, a position held by two companies. One is the Dubai-based Careem, the most popular ride-hailing app in countries such as Pakistan, Saudi Arabia, and the UAE. Careem, where drivers are known as "captains", has expanded to 27 cities across the Middle East and North Africa and raised $60 million in November.
Careem, however, faces a major threat from Uber, who in early June raised $3.5 billion from the Saudi Arabian government's investment arm, to help expand into the region. One position of strength for Careem is its local character, shown in recent moves such as providing free transport for those affected by a recent Emirates plane crash in Dubai Airport.
We're glad everyone's safe! For people leaving the airport, we have Captains on stand-by. Use promo code DUBAIAIRPORT for a free ride home

— Careem UAE (@CareemUAE) August 3, 2016
Singapore-based Grab, which is currently in negotiations to complete major funding round at a $2.3 billion valuation, claimed six countries in Southeast Asia: Indonesia, Malaysia, Philippines, Singapore, Thailand and Vietnam.
After Grab and Careem, Brazil-based Easy Taxi claimed five countries: Paraguay, Bolivia, Ecuador, Venezuela, and Argentina. Conspicuously, Easy Taxi was beaten by Uber in its home country of Brazil.
Daum Kakao, the maker of South Korea's most popular messaging app, also dominates South Korea's roads with the Kakao Taxi app. The app is also number one in Laos, though the country's top messaging app is WhatsApp and not Kakao.
Russian search engine Yandex has its own taxi app, Yandex Taxi, with a two-year head start on Uber in the country. In Russia, Yandex reaches 12.7% of Android phones, while Uber's reach is below 2%. The app claims three countries – Russia, Belarus, and Armenia.

Daimler-owned mytaxi, which recently took control of UK-ride sharing app Hailo, claimed both Germany and Spain as the top taxi app. In Germany, the app reaches 2.5% of Android phones, while in Spain, its reach is slightly smaller at 1.3%.
Also picking up two countries was Taxify, the top taxi app in Estonia and Latvia. With the right marketing strategy, the Estonian-based company may soon claim Hungary as well, as Uber was recently booted out of Budapest and Taxify has plans to expand to the Hungarian capital.
Thirty-two separate local taxi hailing apps were independent against Uber and other big players – from BiTaksi in Turkey, Gett in Israel, Uklon in Ukraine, and Taxime in Bulgaria.
Israel-based Gett, which recently received a $300 million investment from Volkswagen, also took second place in the UK, where it offers fixed-price fares for black cabs. The black cab industry has been in fierce conflict with Uber but has lost the battle on installs in the UK. As of July, Gett only reached 0.3% of Android devices while Uber is installed on 6.1% of Android phones in the UK.

Uber Conquers Brazil
Our map reveals the frenetic pace of installs for Uber in major markets such as Brazil where Uber defeated homegrown company, Easy Taxi in April 2016 and enjoys 5% installs on Android devices. Easy Taxi enjoyed a peak of installs of 5.2% in November 2014 but has gradually dropped down as Uber has become the country's dominant taxi player.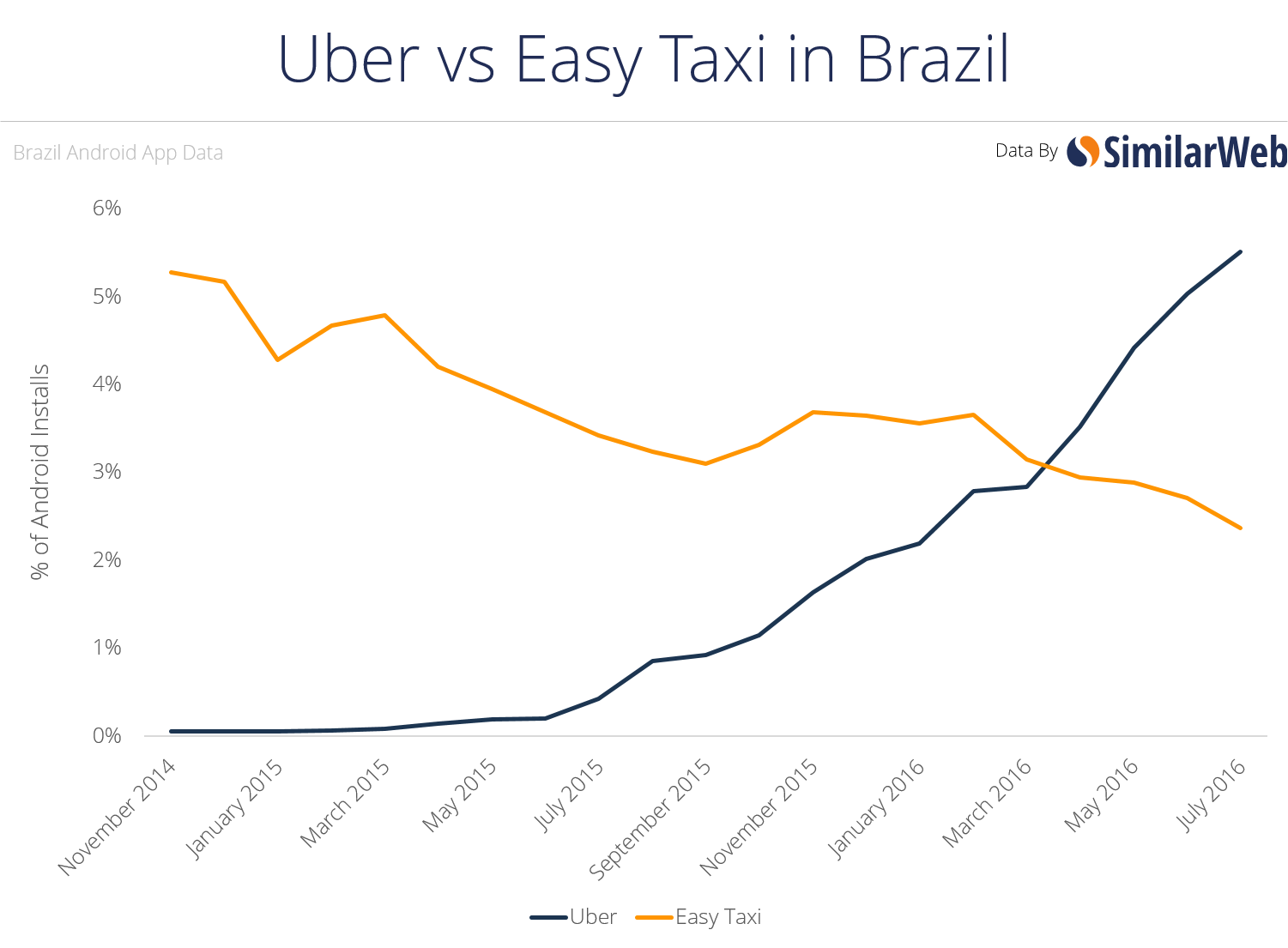 In contrast, Singapore-based Grab maintains the top position at home through a large install base of 23.3% compared to Uber's 15.2%. However, Grab may soon be looking in the rearview mirror in Singapore too, as Uber has seen a 17% rise in installs over the past six months, while Grab witnessed a 1% decline.
An Uber Battle for India?
India's Ola cabs have remained dominant at home with 20.4% installs among Android devices in India, while Uber claims only 9.9%. However, last year, Uber said it would invest US$1 billion in India, mainly to battle Ola, which is valued at $4.2 billion. Commentators have pointed out that India is a natural next step, as, despite a strong local competitor, India is without government-backed rivals. The battle in India has seen app installs growing for both sides over the past 6 months – at a rate of 54% for Ola and 47% for Uber.
In the complete world map below, you can discover country-by-country which taxi app by country or region might be the next major battleground. The map gives you the ability to zoom in and see, for example, the diversity – or uniformity – of each continent.
**update: This post has been updated to reflect BiTaksi as the top ride app in Turkey
This post is subject to Similarweb legal notices and
disclaimers
.
Wondering what Similarweb can do for you?
Here are two ways you can get started with Similarweb today!