If you're in the market for an ABM platform, congratulations. You're about to give your sales and marketing performance a serious boost.
Account-based marketing software is a game changer for businesses, which is exactly why it shouldn't be missed out of any sales strategy – yep, that includes yours. With the power of engaging and personalized content, automated outreach, and aligned sales and marketing efforts, ABM software will speed up the sales cycle, and ultimately get you better results. What's not to love?
In a competitive market, there are plenty — maybe, too many — ABM platforms out there. To choose the right one for your business, you'll probably want to know a bit more about the top platforms in the industry, right? 
You're in luck – check out our list of the best ABM tools to guide your buying process.
What do ABM tools do?
The core functions of account-based marketing tools are:
Creating targeted lists of ideal prospects

Automating the transfer of important account information between contacts and their linked accounts

Communicating account-level details between sales and marketing

Managing marketing funnels and sales pipelines at the account level

Performing account engagement analytics 
While some ABM platforms integrate with sales and/or marketing automation systems, others can operate as a standalone system of record. 
Head over to ABM tactics and ABM examples to find out more about the strategy in action.
8 Best ABM tools in 2022
Here's a detailed list of the best account-based marketing software you can get your hands on this year.
1) Similarweb
Sure, we might be a bit biased, but our software really does hit the ABM sweet spot. Similarweb Sales Intelligence empowers marketing and sales to effortlessly identify prospects that match your ideal customer persona (ICP) and have a clear need for your product or service.
In fact, we're the only solution to provide comprehensive traffic and engagement data on millions of companies. These kinds of insights give you a full understanding of potential new business opportunities – stuff like whether they're growing or declining, how engaged their audience is, what channels they're active on, and so on. In other words, our platform makes sure you've got your eyes set on the right opps. Say goodbye to wasting precious time. 👋 
The Lead Generator tool allows you to customize a ton of parameters (including more than 50 web metrics), to produce a hyper-relevant list of prospects that would bring in high revenue or strategic value to your book of business. It even provides decision-makers' phone numbers and email addresses, saving you a job and making it easy to jumpstart outreach. On top of that, we integrate with Salesforce and HubSpot CRMs, making the process as seamless as possible.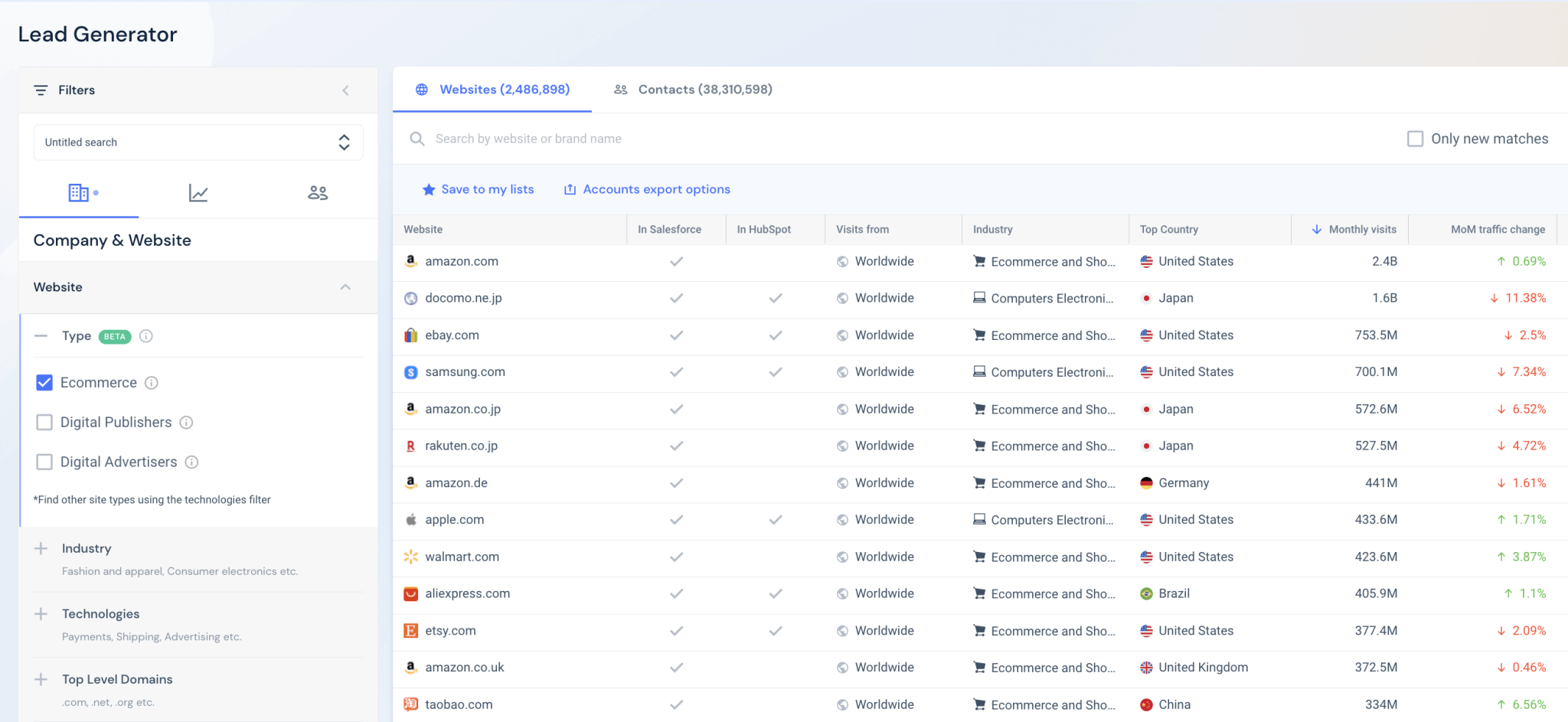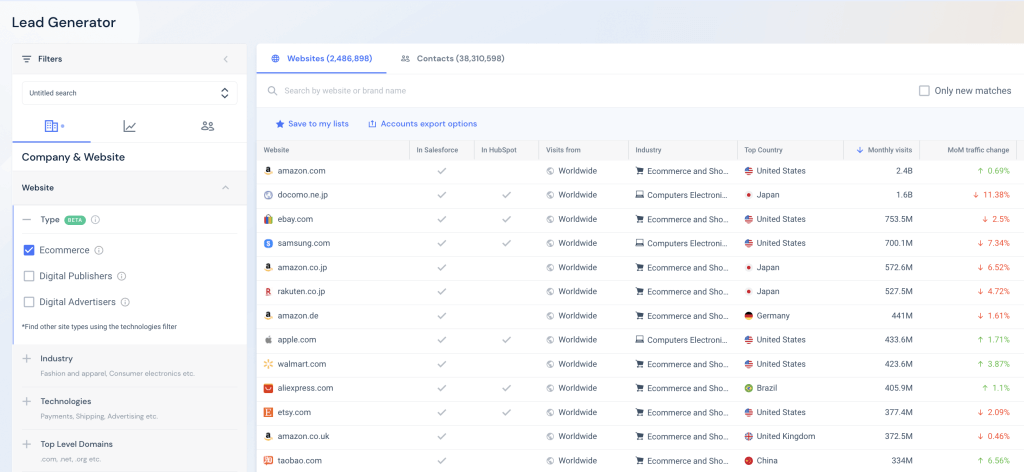 Another advantage of Similarweb Sales Intelligence is the Insights Generator tool. This allows sales reps and marketers to effortlessly uncover prospects' challenges, then create tailored marketing content and outreach messages that your prospects will actually want to know about, grabbing their attention. 
The Insights Generator automatically provisions information, including how the prospect is performing against their own competitors, and potential for the prospect to expand their business into new service sectors or regions. With these insights, marketers and sales reps can create personalized and impactful content and sales pitches that help them stand out. The aim of the game in a competitive world = accomplished.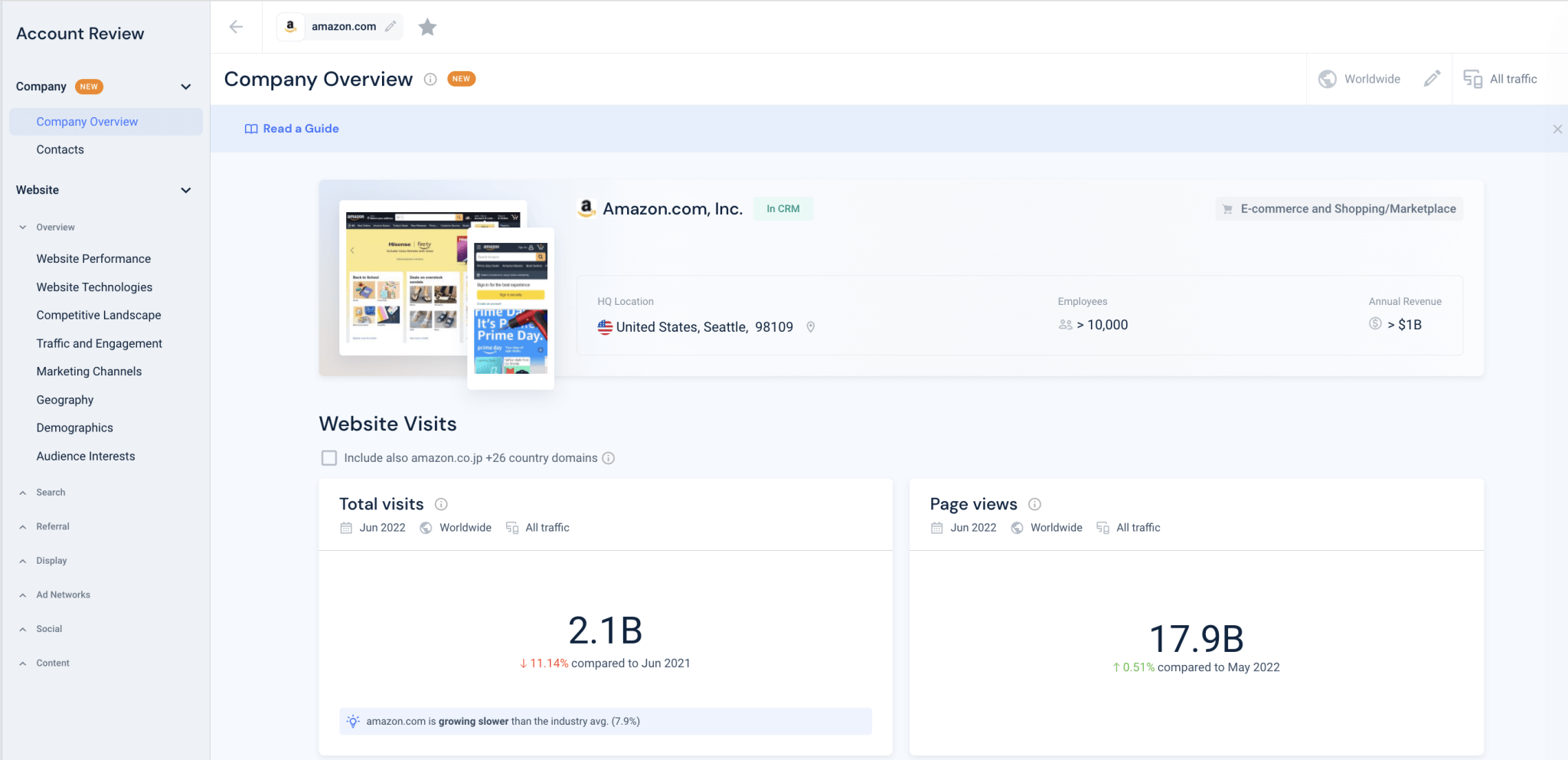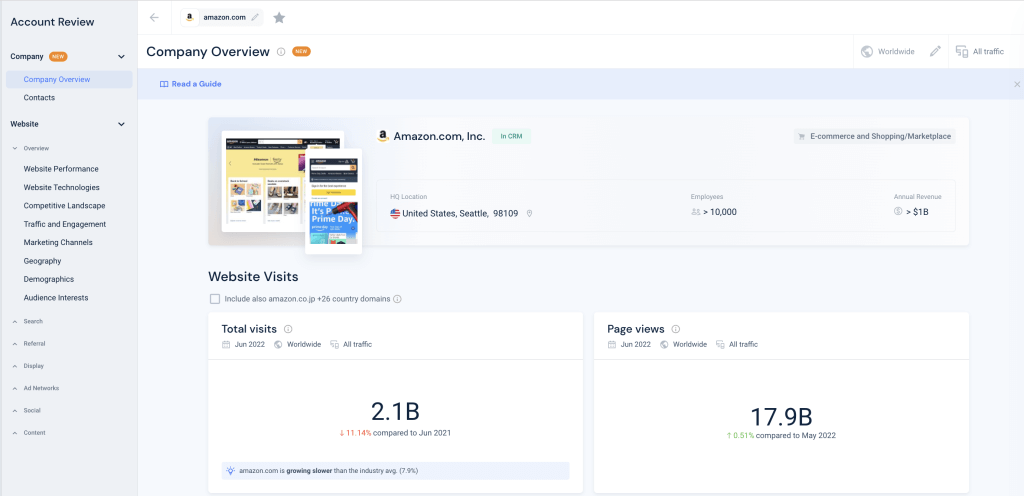 2) HubSpot ABM Software
Next up, we've got HubSpot's equivalent. HubSpot's ABM tool allows marketers and sales reps to execute robust and personalized ABM campaigns. It's not a standalone platform — instead, it's part of HubSpot's Marketing Hub Professional and Sales Hub Professional solutions. It fully integrates with HubSpot's CRM, which means all account information is kept up-to-date. 
After defining your ICP, HubSpot automatically identifies relevant prospects, then scores and prioritizes them based on how well they match your criteria. You can also import any spreadsheets with target accounts you've assembled manually. The HubSpot platform helps you gain valuable insights on prospects that can be worked into your outreach. 
HubSpot users also have access to the Marketing Hub tools, which includes ads, web pages, and social media posts. Plus, you can track and measure key milestones throughout an account's journey to optimize your campaigns.
3) Terminus 
Terminus provides a range of tools to support marketing and sales teams running account-based marketing strategies. It helps you identify the right prospects through firmographic, intent, engagement, and relationship data. 
Multichannel marketing is core to its offering, so you can easily build customized campaigns across display advertising, LinkedIn, email marketing, retargeting, personalized web pages, chat, and the rest. Terminus is pretty smart too – it automatically alerts sales reps when prospects engage with your campaign, centralizes account information, and delivers pipeline prediction to help your teams capture more opportunities. 
4) Marketo
Marketo is a longstanding marketing automation platform. But now, with the addition of ABM functionality like account scoring and custom segmentation, it has the ability to help marketers and sales reps focus on the accounts with the highest conversion potential.
Advanced capabilities like predictive analytics use behavioral data to power email segmentation and identify the accounts with the highest revenue potential. It provides helpful features for email, social media, mobile, and account analytics to help you optimize results across every channel. Nice touch.
5) Madison Logic
Madison Logic is an account-based marketing software that uses data from third-party sources so you can identify high-value accounts based on firmographic, technographic, demographic, and intent information.
After you've identified the highest-potential prospects, Madison Logic helps you prioritize the accounts that are more likely to convert. It gives you the opportunity to: 
Target decision-makers with specific job titles from accounts that are actively seeking a solution like yours

Manage content syndication and campaigns

Automate sales and marketing tasks

And ultimately, speed up the sales cycle. 
6) 6sense
6sense's ABM tool can help your marketers and sales reps gain helpful insights on buyer behavior, identify relevant accounts, and drive the right action at the right time across various channels. 
The platform delivers intent-based data and rich insights to help you develop those all-important personalized ABM campaigns. The 6sense Dark Funnel tool shines the light on anonymous buyer research, so you understand exactly what your prospects want, and engage them in the most impactful way.
6sense helps you deliver consistent marketing experiences that scale and evolve as your prospect moves through the sales funnel.
7) RollWorks
The RollWorks account-based marketing software helps marketers and sales reps identify high-value prospects, find key contacts, engage them through personalized ad campaigns, and then be able to iterate campaigns based on built-in analytics and reporting. 
RollWorks uses predictive analytics based on machine-learning algorithms to score your target account list according to which prospects are most likely to close. It also helps you discover new accounts that are looking to buy and are more likely to convert. 
After building your ABM campaigns, the tool helps you engage your target account and key buyers with paid ads and sales automation. Its in-app analytics allows you to measure the campaign's performance at both account and contact levels.
8) DiscoverOrg
DiscoverOrg is a comprehensive account-based marketing platform. Fueled by extensive third-party data, it drives actionable insights on how to engage with prospects, and when. 
With its vast contact database, it's easy for your teams to identify accounts that match your ICP criteria. It's even got  filters to refine your target account list, so you can prioritize the right accounts and decision-makers.
On top of prospecting, DiscoverOrg gives out real-time alerts of buyer signals and detailed insights on prospect behavior, so you can seize new opportunities as soon as they come out. 
Which ABM platform is right for you?
It's clear that ABM is a must for your lead generation strategy, but identifying the right ABM tool for your company is less obvious. All software purchasing decisions come with a myriad of considerations. When evaluating ABM companies, ask these important questions:
What are our key business drivers for adopting an ABM platform? Does the platform you're looking at support those needs?

What key functionality do we require? Does this tool provide those capabilities?

How much does the tool cost? Do we have the budget for it?

What is the implementation and onboarding period like? Do we have the necessary skills to maximize the software? Does the vendor provide onboarding support?

Does the platform integrate with our existing sales and marketing tech stack?

Will the platform create any technology redundancies?

What is the potential ROI? How long will it take to see this value?
Now, sales teams – have we got your attention with this unmissable strategy? We thought we might, but here are some numbers and percentages to solidify the value of ABM for you. Our Sales Intelligence platform not only covers your account-based marketing needs, but a ton of other stuff too so you can get those precious leads and turn them into conversions. It's like magic – check it out.
FAQs
What is account-based marketing?
ABM is a type of B2B marketing in which marketing and sales work together to target, engage, nurture, and convert high-value accounts. First, you identify prospects with the highest revenue potential, then you target them with marketing campaigns that are personalized to their business needs, goals, and brand. Because, here's the thing: by targeting fewer accounts with greater precision, it's easier to resonate with prospects and drive them to action.
What should I look for in an ABM platform?
An effective account-based marketing tool will be able to identify your ideal prospects, coordinate account information between contacts and their corresponding accounts, streamline communication between sales and marketing, manage marketing funnels and sales pipelines, and perform ABM campaign analytics.
What are the top ABM tools in the market?
The most advantageous ABM platforms available are Similarweb, HubSpot, Terminus, Marketo, Madison Logic, 6sense, RollWorks, and DiscoverOrg.
Who should be involved in the ABM software purchasing decision?
Marketing and sales department VPs are the key stakeholders in an ABM software purchasing decision. In many organizations, a CTO, CIO, or CDO will also be involved, if applicable.
This post is subject to Similarweb legal notices and
disclaimers
.
Wondering what Similarweb can do for you?
Here are two ways you can get started with Similarweb today!