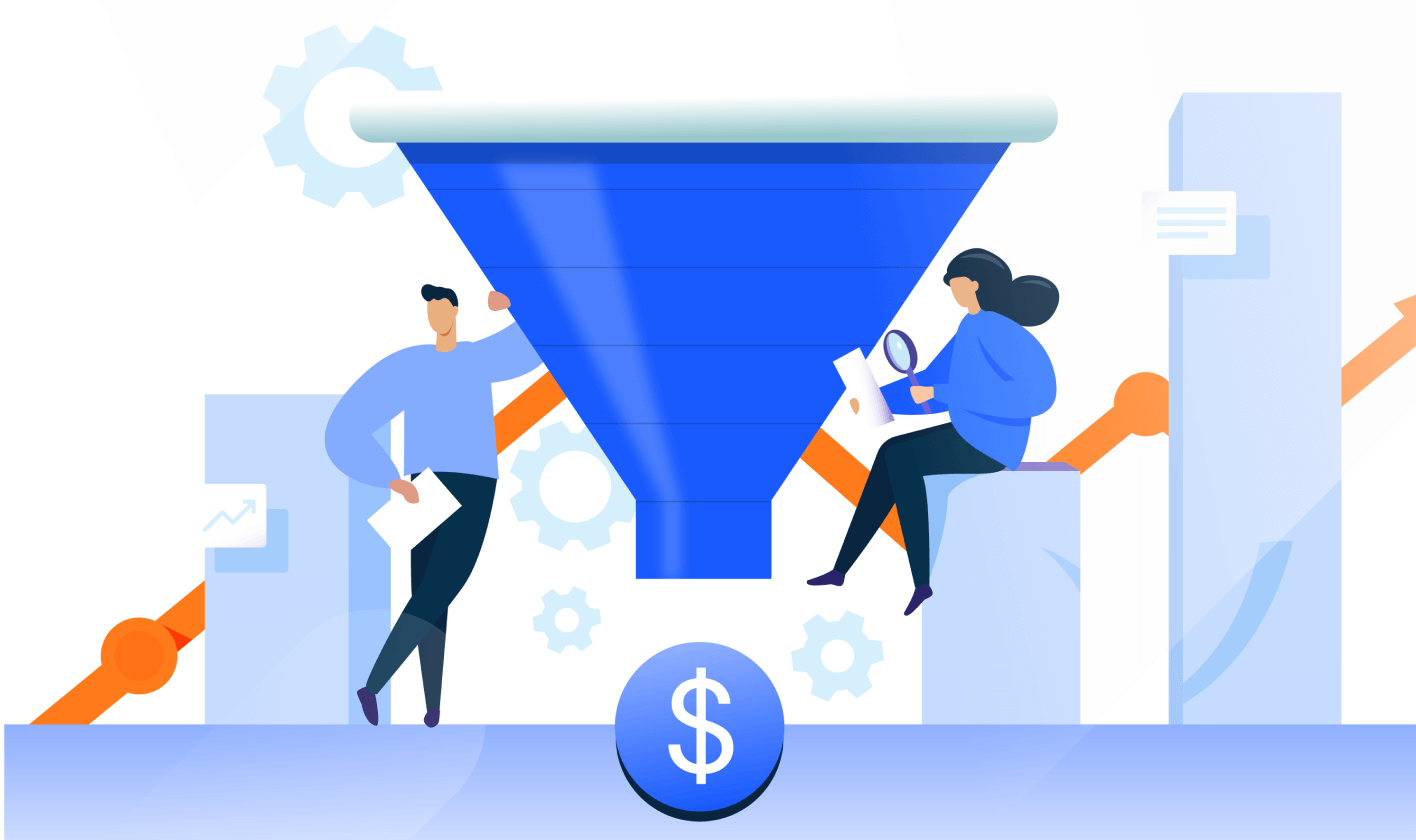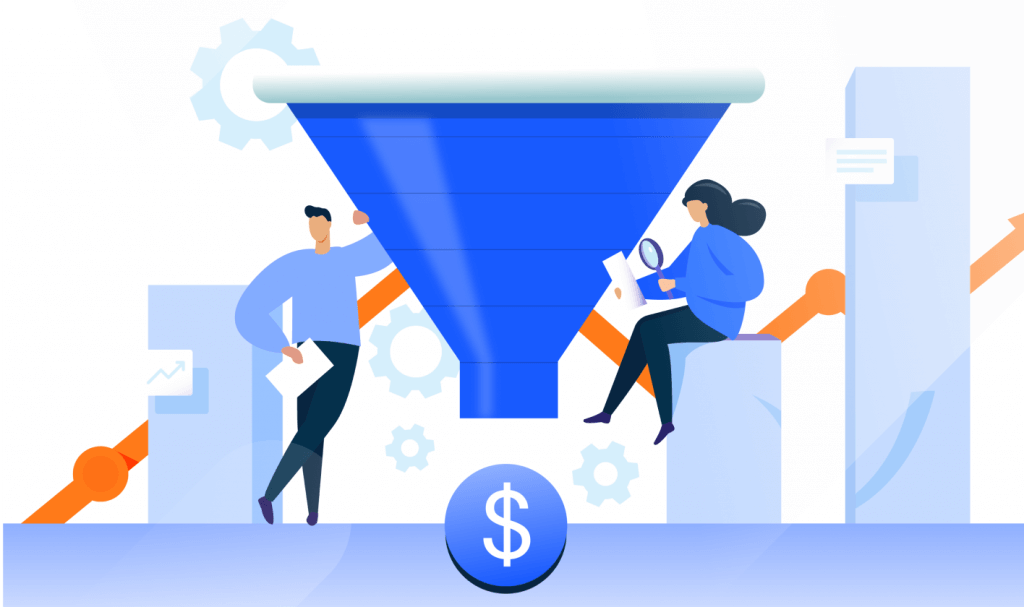 Sales Intelligence
B2B Lead Generation Strategy: 9 Ways to Upgrade Your 2022 Approach
by Josh Rod
, Senior Solution Marketing Manager, Similarweb
8
Min.
January 11, 2022
| Updated July 6, 2022
In a world where seemingly everyone is selling something, how can you convince your target B2B businesses to sign up and hear your sales pitch? A strategic, value-driven B2B lead generation strategy.
Here we'll deep dive into the world of B2B lead generation, what it is, and why it matters.
Plus we'll give you nine fresh ways to re-think your B2B lead generation process in 2022 (along with tools to help). If you're well-versed in the topic, skip ahead.
What is B2B lead generation?
B2B lead generation is the process of attracting new potential customers with the goal of collecting their contact information so your sales team can identify qualified leads and enter them into the sales funnel.
Lead generation introduces your company to potential clients. Its activities are designed to get B2B buyers to volunteer their contact information with the expectation that a salesperson will contact them. Oftentimes this starts with B2B marketers and powerhouse marketing campaigns.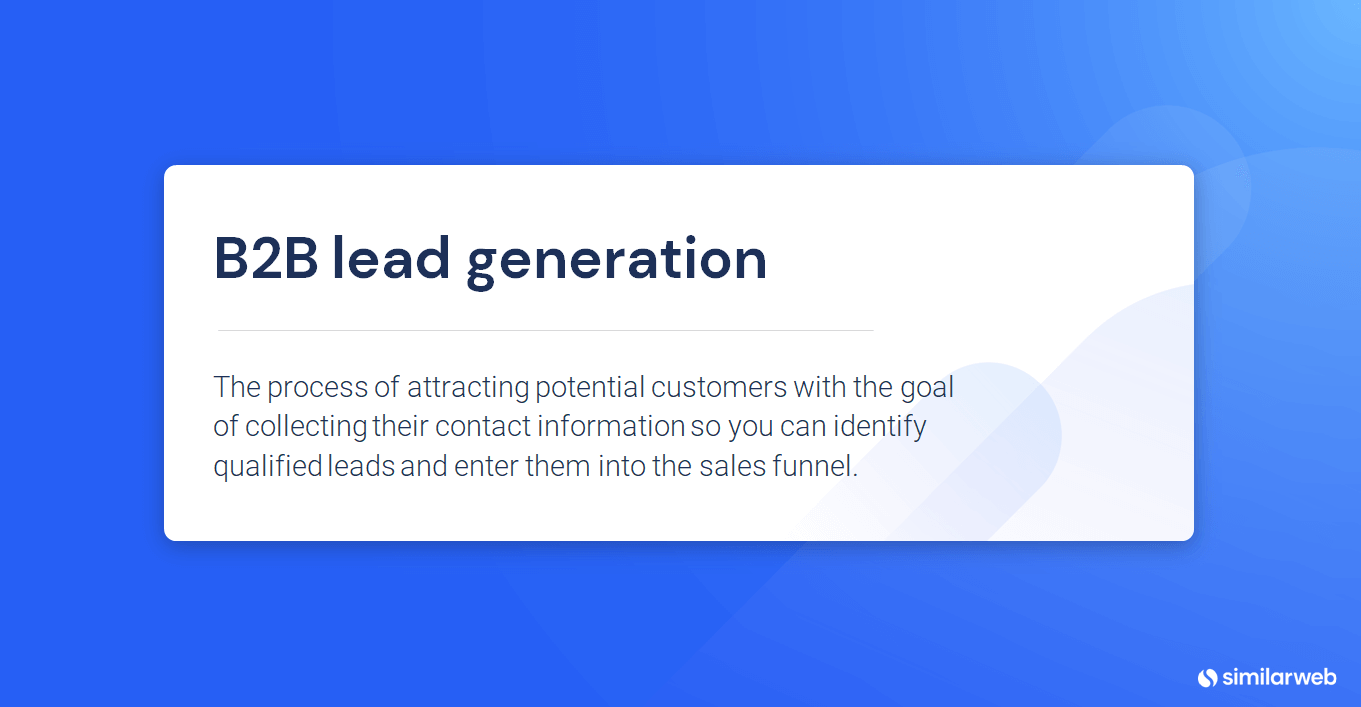 Pro tip: If sales communicate the pain points of paying customers to marketing teams, they will communicate your value more effectively and increase lead gen, which ultimately helps you.
A B2B lead generation example
Imagine you are the Chief Security Officer of your organization.
One day, as you're researching a breach that occurred in your industry, you stumble upon a LinkedIn post sharing a blog about the cyberattack, which catches your attention because of the infographics.
The blog offers an insightful take on the event and explains how the company's cybersecurity solution helps organizations prevent such attacks. You subscribe to the email list and get targeted email marketing content.
As you explore new cybersecurity products for the start of the year, you receive a really valuable email from this company and decide to "Request a demo" and leave your contact details.
The next day, a sales rep calls you to learn more about your needs.
Your experience, from start to finish, was a classic example of a lead generation process in action.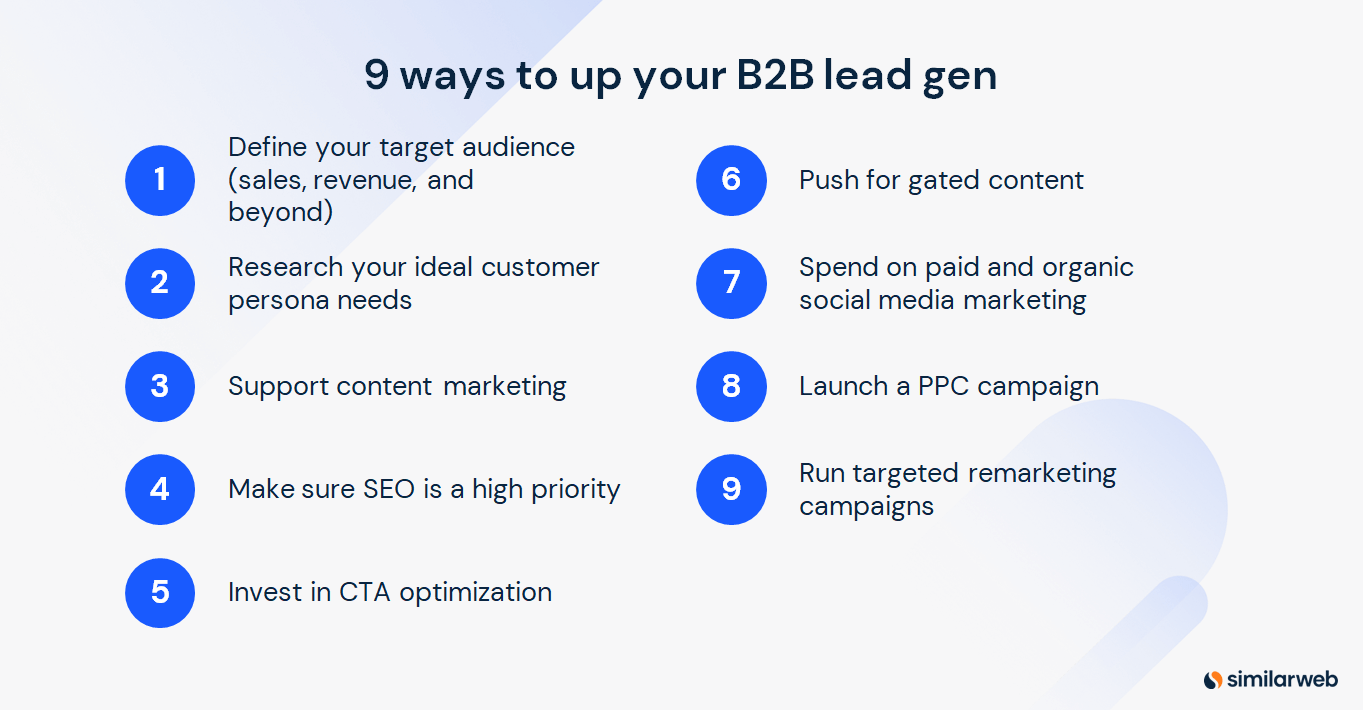 9 ways to up your B2B lead gen strategy
1. Define your target audience (sales, revenue, and beyond)
The process of defining your ideal customer persona (ICP) is a fundamental first step in generating leads. Your ICP will be crucial for sales prospecting and outbound marketing by your marketing teams.
Your ICP encompasses the traits of your company's perfect customer. It should include standard demographic information, such as industry, company size, and region of operation.
With advanced tools, like the Lead Generator feature in Similarweb Sales Intelligence, you can identify even more specific traits, such as:
Current tech stack
Monthly or annual revenue
Web traffic
Online engagement
Volume of sales/shipments
2. Research your ICP's needs
The second crucial step to take before actually launching lead generation campaigns is understanding what your ICP needs to succeed.
What are their main challenges? What obstacles are standing between their company and their business goals? What do they care about? What do they need to gain an advantage over the competition?
Knowing the answers to these questions will steer your lead generation efforts in the right direction, and even produce specific topics to focus content and ad copy on.
You can learn about your ICP's needs by:
Interviewing your best customers
Performing research into the industries you're targeting
Interviewing customer service managers
Speaking with expert consultants
A modern tool like Similarweb Sales Intelligence can prove invaluable here. Similarweb tracks over 100M websites across over 50 digital criteria. It lets you see at a glance the challenges and opportunities that exist across a whole sector, for a group of potential customers, or for a single business.
Best of all, with powerful features like Insight Generator, Similarweb Sales Intelligence can quickly and easily unearth opportunities your potential customers may not even be aware of themselves. Understanding what messaging your ICP will find truly valuable enables consultative selling, where you become a trusted partner – not just another sales pitch.
3. Support content marketing
Thoughtful content marketing is a powerful part of your company's overall lead gen strategy.
Depending on your role, you can do different things to make the content marketing strategy more effective.
Simply sharing quality content by your marketing teams can help. You can be a powerful distribution channel when you tap into your social media platforms like LinkedIn or Quora. Remember to share amongst the most targeted audience for your ICP.
If you find high-value leads are coming from particular content types – for instance, case studies and webinars – you can communicate this with other teams to increase the production of high-impact assets.
Here's an example of some of Zoom's case studies, which also feature videos: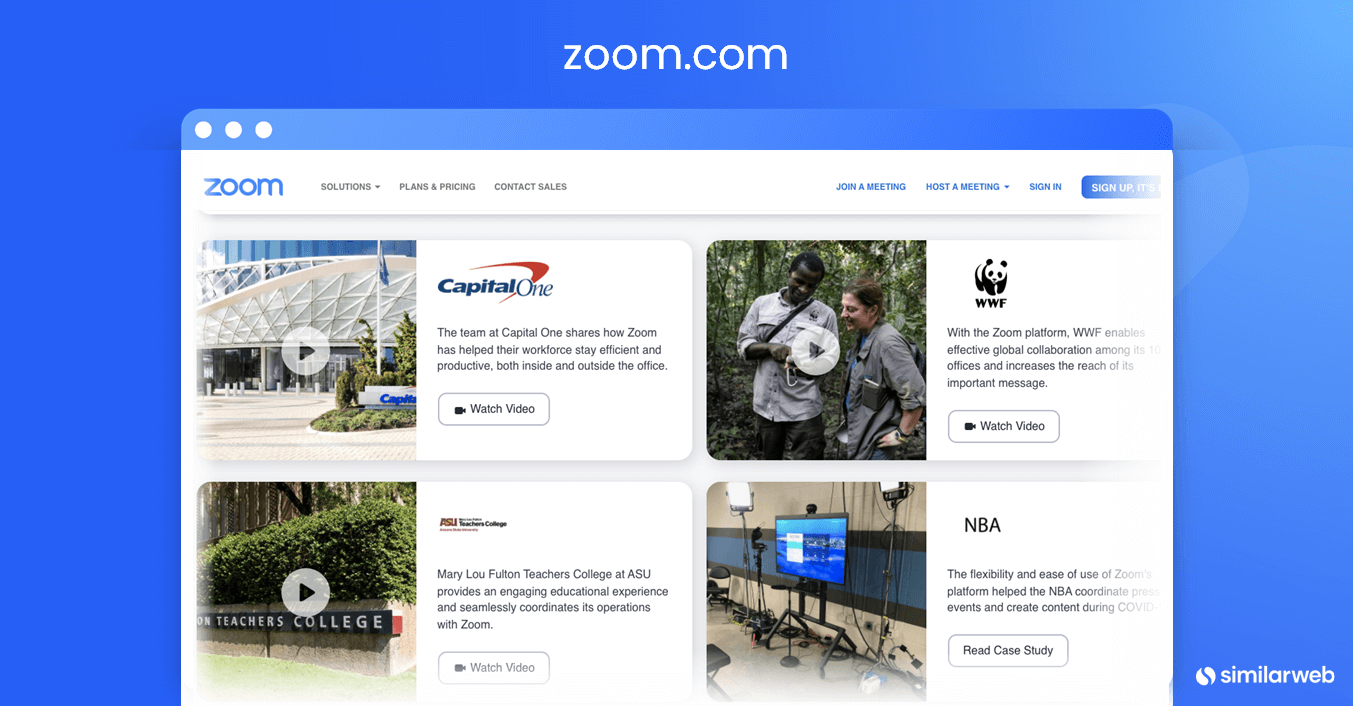 Depending on the size of your company, you might even be able to contribute directly to the content marketing strategy in some way to help improve the lead generation results over time.
4. Make sure SEO is a high priority
Today, SEO is one of the best content marketing practices for reaching relevant leads.
Consider for a moment what the SEO journey looks like.
A person has a question or is in need of some specific information. They open their browser and type in their query: say, "How can I increase my team's productivity?" Your blog post, 4 Tactics to Raise Your Team's Productivity, is one of the first three search results. The person clicks on your post, reads the article, and begins their journey on your site.
Because SEO content focuses on answering specific queries, it's one of the best ways to attract relevant traffic – most of the people who click will be seeking the information you provide.
However, it's important to note that SEO is a long-term strategy. It takes time for Google and other search engines to verify your content, and the competition to rank on high-volume search keywords is fierce. But with well-written content that fulfills its promise, you can attract lots of relevant traffic and convert significantly more leads.
5. Invest in CTA optimization
CTAs (calls to action) allow your company to seize readers' engagement while they are reading your content and get them to provide their contact details.
But simply sprinkling CTAs throughout your blog posts and landing pages won't make a significant impact. You need to place them in the right place, at the right time, and using the right words.
Here are a few best practices:
A/B test your CTAs for colors, text, placement on page, size, and messaging for higher conversion rates using a tool like VWO.
Keep your CTAs short. Under four words is ideal.
Start with a verb to urge the reader to take an action. For example, "discover," "boost," "join," etc.
Use buttons. They work better than linked text or images.
Place them strategically.
Make sure your landing page messaging matches your CTA. Your reader is likely to leave the landing page without interacting (increasing your bounce rate) if it seems unrelated to the CTA they just clicked.
6. Push for gated content
Gated content is a fantastic B2B lead generation strategy because interested readers need to provide their contact information to access it.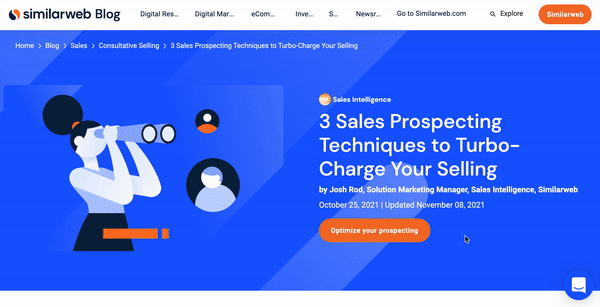 By gating your content, such as eBooks, industry reports, and whitepapers, you imply that what's inside is extremely valuable, and therefore, exclusive to your readers.
However, you can't just slap a lead form onto your regular content. Gated content should:
Be developed with a clear goal in mind
Focus on a specific topic that you know your ideal leads will be interested in
Be thematically connected to the page they're currently browsing from
Provide ample data
Offer an insightful perspective
Leave readers with tips they can actually put into practice
Be authoritative and accurate
7. Invest in paid and organic social media marketing
In a post-cookie world, targeted social media campaigns are getting more expensive and harder to execute effectively. At the same time, the importance of having a strong organic identity online is rising. Excelling at both requires a well-planned strategy.
Paid ads on social media can help you gain exposure among thousands of relevant leads. Meanwhile, organic social media marketing helps you build your brand identity and foster a community of engagement.
Both ads and organic posts should balance sales messages with information and commentary that add value. For example, one day you might share your latest blog post on LinkedIn, alongside an insightful quote by your CEO. The next day, you might post a clear call to action, with a link that leads straight to a landing page.
8. Launch a PPC campaign
Pay per click (PPC) is another effective lead generation strategy. As a concept, PPC means you (the advertiser) pay for the ad real estate based on the number of clicks you get.
To create a Google Ad, the most popular form of PPC ads, you choose keywords that are most relevant to your ideal customer, similar to how you would build an SEO strategy. Then you set your budget (the amount you are willing to pay per click to rank in the top two to four spots in the search engine results page).
While some B2B companies use PPC ads to simply direct traffic to their website homepage, it is much more strategic to lead to a specific landing page that corresponds to the search term you ranked for. There, on that page, you can include helpful information and a lead form to get visitors to provide their contact information on the spot.
9. Run targeted remarketing campaigns
Retargeting involves directing ads toward people who have previously engaged with your content or browsed through your website but didn't convert.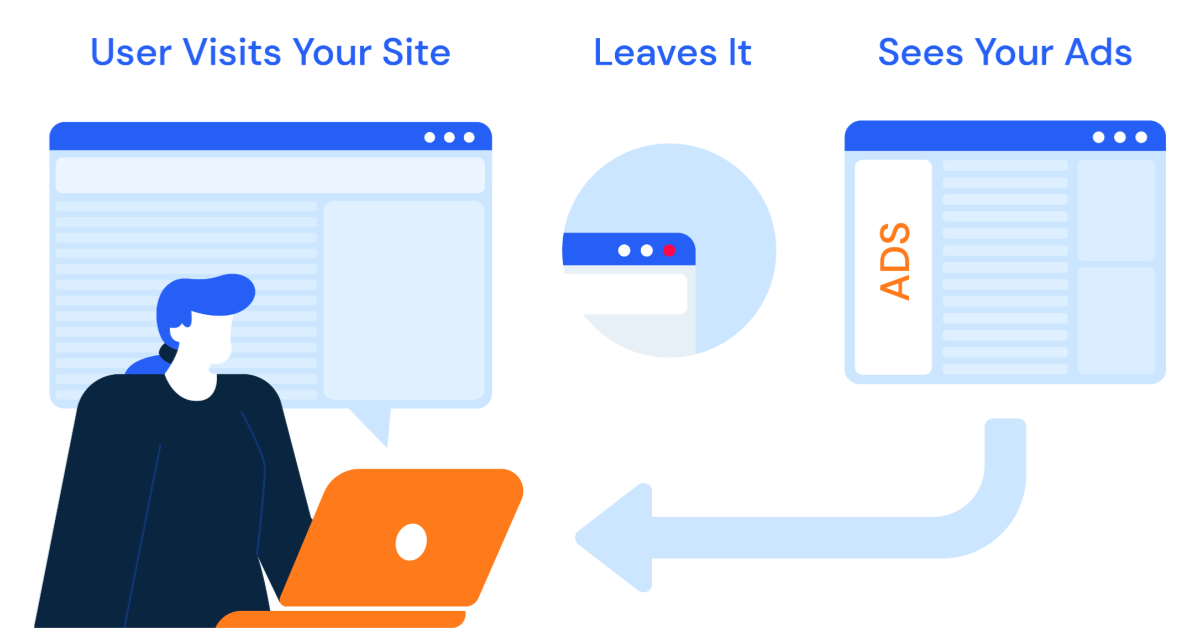 Most leads don't convert on the first visit. In fact, it takes an average of 13 touch points to convert a lead. Getting could-be buyers to keep coming back to your website or blog often requires a little nudging.
When retargeting leads, personalization will increase your impact. Promoting content or solutions pages that are directly connected to a lead's prior browsing history could help remind them of your value and give them the final push they need to sign up.
Cut through the static with your B2B lead generation strategy
B2B lead generation is a tough, competitive feat. Unless you take the time to develop a complete strategy, you risk being just another company bombarding consumers with ads and useless content.
With a carefully planned B2B lead generation strategy, the right tactics, and a powerful tool like Similarweb Sales Intelligence in your armory, you'll have the foundation you need to reach and convert the most relevant leads for your business.
FAQs
What is B2B lead generation?
B2B lead generation is the process of attracting and engaging new potential customers with the goal of collecting their contact information so your sales team can qualify them and enter them into the sales funnel.
What are the benefits of a lead generation process?
There are three main benefits of a well-planned lead generation process:
Produce a larger volume of high-quality leads
Get a ROI on your marketing efforts
Keep up with B2B buyers' shifting priorities
How can I create a B2B lead generation strategy?
Here are nine tactics you can add to your lead generation strategy.
Define your target audience
Research your ICP's needs
Create high-value content
Prioritize SEO
Optimize your CTAs
Create gated content
Run organic and paid social media marketing
Launch a PPC campaign
Run targeted remarketing campaigns
What's the most effective lead generation tool?
Similarweb Sales Intelligence is the leading B2B lead generation tool because it enables you to instantly build a list of ideal prospects based on your unique criteria. Then you can uncover a wide range of valuable data on those prospects, which can be used to:
Expand your understanding of industry trends and your ICP's needs
Produce insightful ideas for marketing content
Improve the accuracy of your targeted campaigns.
This post is subject to Similarweb legal notices and
disclaimers
.
Wondering what Similarweb can do for you?
Here are two ways you can get started with Similarweb today!