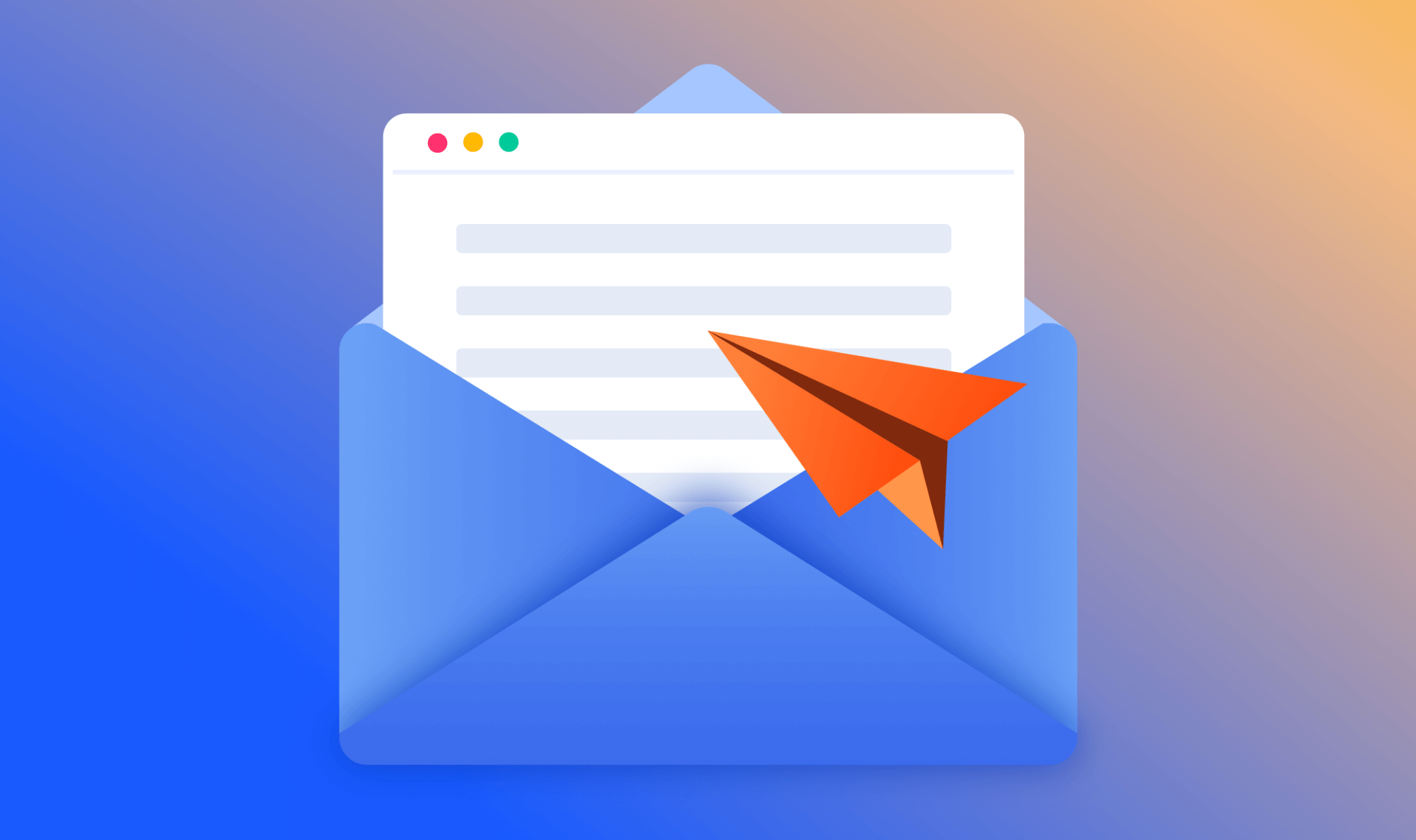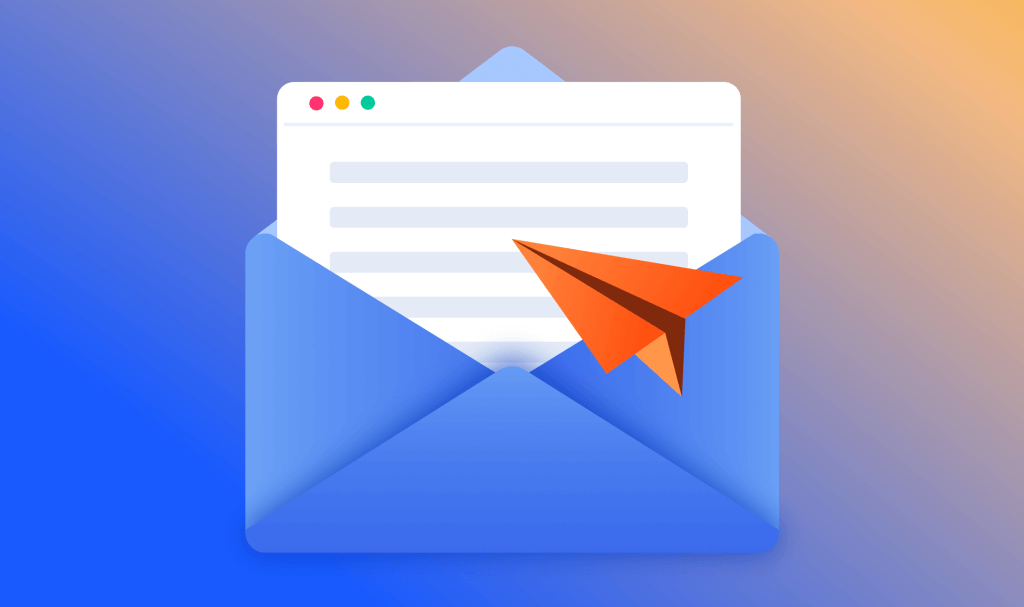 Sales Intelligence
How to Write a Successful Cold Sales Email
August 16, 2022
| Updated September 13, 2022
Ah, the dreaded cold sales email.
Famously hated by salespeople everywhere, the cold email is a universal source of pain for SDRs. 
What is a cold sales email? 
A cold sales email is what a salesperson sends to prospects that they've had no previous communication or relationship with. It's what initiates dialogue with a lot of prospects, and if you nail it, it can lead to a shiny, new deal. ✨
Why are they so hated by salespeople? First, because it's hard to know what to say. Second, because no one likes spending time writing an email when you know there's a high chance you won't get a reply. And third, no one likes feeling spammy.
But here's the thing: the cold email is a necessity in the game of sales. Done right, it provides you and your prospect with a number of benefits, including:
Kicking off

communication

with a new prospect (and hopefully, an eventual customer).

Offering

value

by providing information, resources, new connections and positioning yourself as a trusted advisor or consultant.

Engaging your prospect with a

relevant solution

to them and their business goals.

Setting the

tone

for any future dialogue, as well as what to expect from then on.
So, how do you write a cold sales email that will actually get a response? Check out this guide for an overview of best practices AND some cold sales email templates you can start using today. 
Cold sales emails best practices
Here are nine best practices to plug into your outreach strategy to help you write cold sales emails: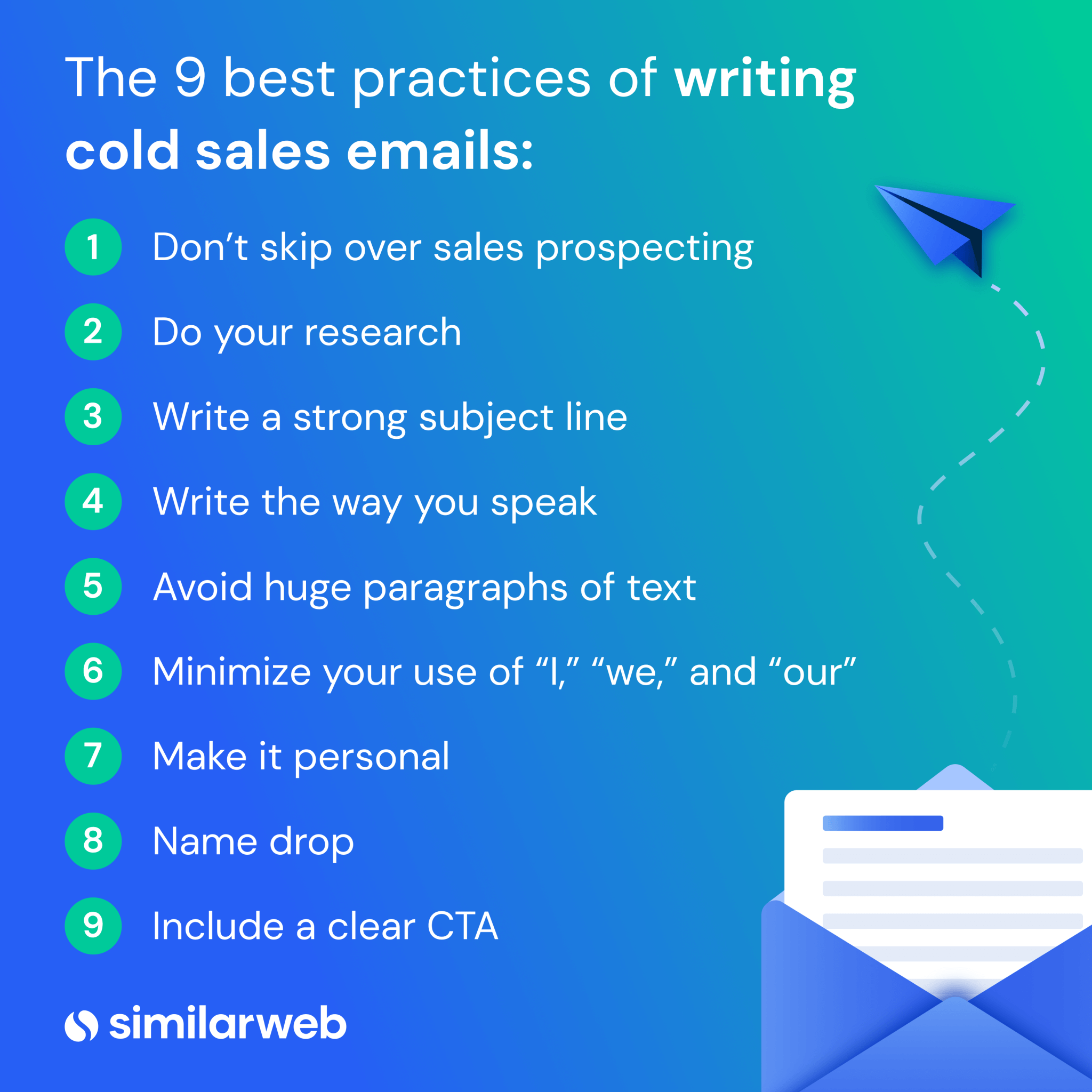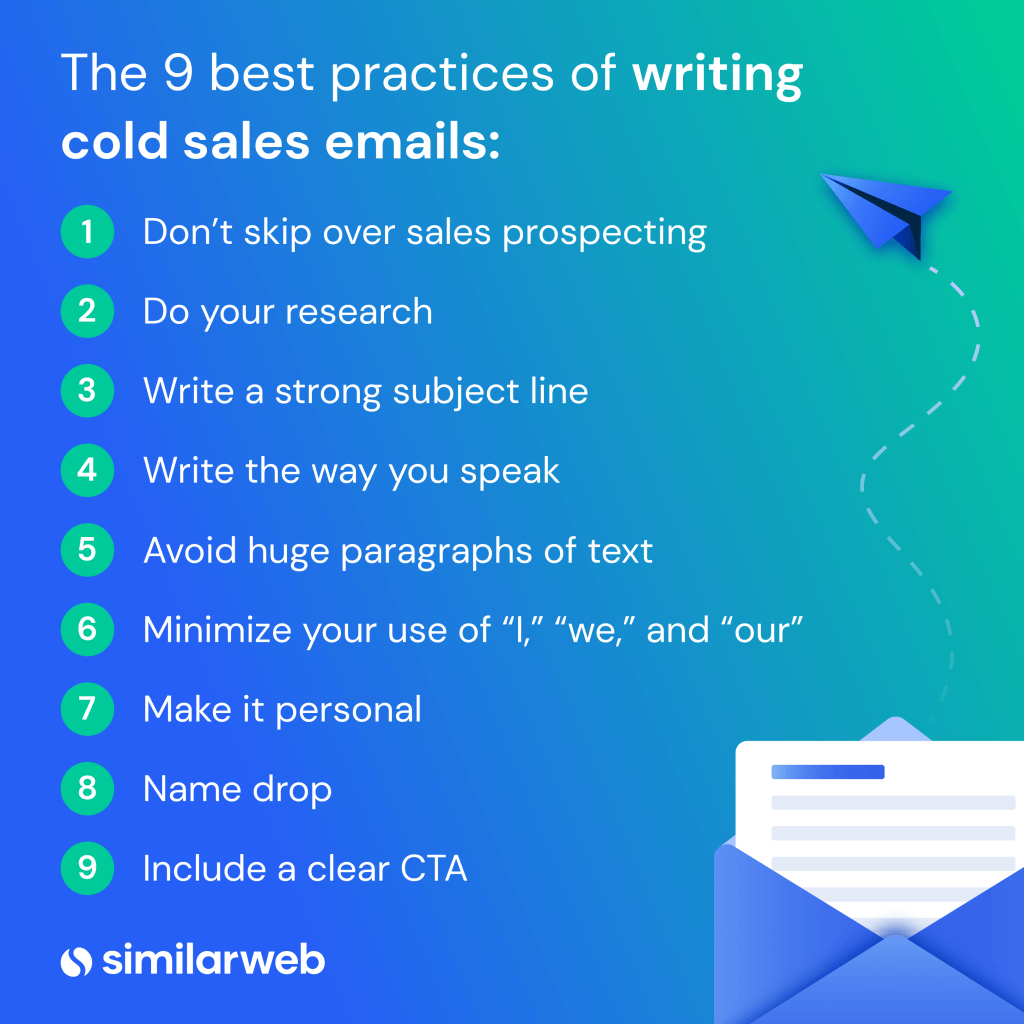 1) Don't skip over sales prospecting
Sales prospecting is essential to writing a successful cold email. We've said it before, and we'll say it again: targeting irrelevant prospects is unlikely to lead to a deal. Instead, you'll just end up wasting time and energy that could have been directed at viable leads. Sales prospecting allows you to create a list of contacts that fit specific criteria as defined by your ideal customer profile (ICP). 
To perform prospecting in the most effective way possible, you need to gain an intimate understanding of your ICP and customer personas. Ask yourself questions like:
What is their company profile? 

What are their pain points, goals, and challenges? 

Where do they see opportunities? 

How do they aim to compete in their market? 
Once you've defined a clear set of parameters, you can start narrowing down a large pool of prospects into a strategic list of highly relevant ones. Similarweb's Sales Intelligence solution empowers SDRs to easily identify their ideal prospects by analyzing its database of more than 100 million websites according to any criteria.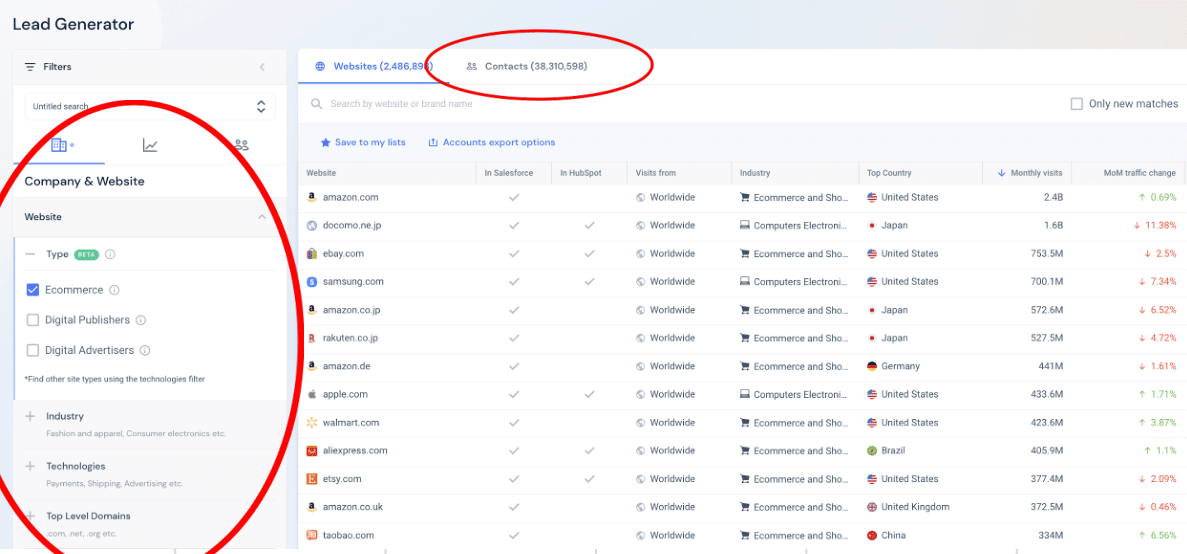 2) Do your research
Once you've completed your sales prospecting and developed a tasty list of prospects, research the individuals you plan to reach out to. 
You should know these basics before drafting your email:
Their full name

Their role in the company

Career history

Recent promotions

Achievements (in current and previous roles)
At the same time, you'll want to understand what triggers the company to buy. In the past, did certain contexts, events, or needs drive the prospect's company to purchase a new solution or service? When you've got these facts in the bag, you'll have a deeper understanding of the conditions required to (hopefully) drive a successful sale. This will help you frame your pitch and intro when you write your cold sales email, too.
Once you've collected all of this information, jot down detailed notes in your CRM so you can refer to them later. 
3) Write a strong subject line
Nail 👏 that 👏 subject 👏 line 👏:
Make it short:

Make sure the entire thing is visible and doesn't get cut off in your prospect's inbox.

Avoid marketing lingo or spammy attention grabbers:

Your subject line should look like you wrote it, not your marketing department's copywriter… and definitely not a bot.

Check for typos:

Spelling errors, poor punctuation, and other mistakes in your subject line might signal to your prospect that your work is sloppy or you don't care enough to edit your emails before you hit send. 

Keep your promises:

A compelling subject line is only a good subject line if your email fulfills its promise. For example, you shouldn't write, "[Name], take advantage of our 20% off discount," and then not mention the discount again in your email.
4) Write the way you speak
Please – we beg – avoid using business jargon or writing in an unnaturally formal voice. People want to get through their emails fast. Your best bet is to keep it simple and clear. Always be professional, but not overly formal. 
5) Avoid huge paragraphs of text
Large chunks of text aren't easy on the eye. They're not "skimmable" and they're likely to drive prospects who open your email away before they even read it.
Your entire email should be in the range of five to seven short sentences (125 words max, with 50-100 words being the ideal length). To ensure fast and easy reading of your message, separate your sentences into short paragraphs.
6) Minimize your use of "I," "we," and "our"
It's not about you. If you want to start an engaging correspondence with a prospect, you need to make it all about them. We get it, this can be difficult when you're trying to pitch your product or explain while you're worth talking to.
The answer? Transform your sentences to be more encompassing of the company you're talking to. Take a look at this:
👎 V1: "We have a brand new feature that I think you'd be interested in"
👍 V2: "As your company continues pursuing [goal], you could definitely benefit from our latest feature"
See what we did there?
7) Make it personal
Look for ways to personalize your cold sales emails as much as possible. You can do this by mentioning achievements, needs, or challenges that are relatable for your prospect. 
With Similarweb's Sales Intelligence Insights Generator, you can gain full visibility into a prospect's digital strategy, performance, and competition. Allowing you to effortlessly identify a variety of business insights, you will not only capture your prospect's attention, but also immediately show you have done your homework and have real value to offer. 
Show them how many more sales they could make if they expanded their service to an untapped region. Or, point out that their competitor has just adopted a similar technology to help them skyrocket, to give new capabilities that your prospect will probably want to match. Similarweb helps you easily produce these findings, so you can plug useful nuggets of information into your sales emails and jumpstart your conversations.
8) Name drop
Name dropping other companies on your customer roster – especially well-known ones – helps you build credibility and trust among your prospects. 
Social proof allows you to demonstrate that other companies trust you enough to continue doing business with you. It shows that your solution or service meets other companies' standards, offers value, and – presumably – provides a ROI.
Hot tip: Case studies and concrete performance numbers will bolster your social proof, making this tactic even more effective. 
9) Include a clear CTA
At the end of your email, it should be obvious what you expect your prospect to do next. Should they respond with certain information? Do you want them to suggest times for a meeting? Do you want them to book a time slot on your Calendly? 
A common mistake SDRs make when writing sales emails is not making this clear. By including one CTA — preferably at the end — you can avoid confusion and improve your chances of getting a reply. Make it as easy as possible for them to take the next steps.
5 cold sales email templates you can start using today
Feeling creatively blocked? Not sure where to start off? Try using these cold email templates to reach out to your prospects today. 
Customize them, make them yours, and hit send with confidence.
1) The intro email template
Hi [Prospect name],
My name is [your name] and I work at [your company]. We work with businesses like [insert two current customers' names] to [help/enable/etc.] them to [short pitch].
Our [product/service/platform] offers companies like [prospect's company] to [include one sentence on a unique benefit of your offering].
Do you have fifteen minutes this week for a call? I would love to learn about your company's current goals and explore if [your company] could be of value.
Best,
[Your name].
2) The referral email template
Hi [Prospect name],
My name is [your name] and I work with [your company name]. We work with organizations like [insert two current customers' names] to help them achieve [goal].
[Insert one sentence pitch about your product or service].
Are you the right person to talk to? If not, could you direct me to the right contact so we can discuss if this is something that could be valuable to your company?
Best,
[Your name]
3) The selling email template
Hi [Prospect name],
I hope this email finds you well. I am reaching out because [brief explanation of how you got their contact information] and [mention a trigger event, such as: you just read an article about the company, they just made an announcement, there's a change of leadership, etc.].
At [name of your company], our [platform/service/new feature] is designed to help [teams/businesses] like [prospect's company name]. [One sentence description of product or service]. We do this by:
Benefit/feature 3 (optional)
Are you available for a quick call [time and date] to chat about how [your company name] can provide value?
Best,
[Your name]
4) The trigger event email template
Hi [Prospect name],
I'm [your name] from [your company]. Just saw the news about [trigger event]. Congrats!
[Briefly elaborate on the trigger event and a relevant effect], so you might be focusing on [business goal] now. I thought you might be interested in hearing about how we helped [name of a similar company] achieve [one or two benefits].
Are you available for a quick call to discuss on [date and time]? If not, let me know when it would be a good time. 
Best,
[Your name]
5) The value-driven email template
Hi [Prospect name],
I'm [your name] from [your company], and I'm reaching out because [short description of how your companies relate]. We help organizations like [name two current customers] [achieve/boost/increase] [key benefit].
Did you know that [insight on business opportunity related to your product or service] you could [describe benefit]? According to my analysis, you could [increase/boost/achieve] [benefit] by [quantifiable metric] by [describe the action (using your product, expanding service region, etc)].
If this sounds interesting to you, I'd love to set up a time to talk in more detail. Does [date and time] work for you?
Similarweb makes the cold email a little less cold
If the cold sales email felt like the bane of your existence before, hopefully this guide has helped you warm up to this important task on your to-do list. 
With the right combination of insights, tools, and templates, you can dramatically simplify the prospecting and writing process and achieve a better outcome. 🏆
Similarweb's Sales Solution is the ultimate cold email sales tool. With the ability to generate unique and compelling insights at the click of a button, you will have instant access to the information and data you need to write emails that not only capture your prospects' attention, but also offer them value. 
This post is subject to Similarweb legal notices and
disclaimers
.
Wondering what Similarweb can do for you?
Here are two ways you can get started with Similarweb today!