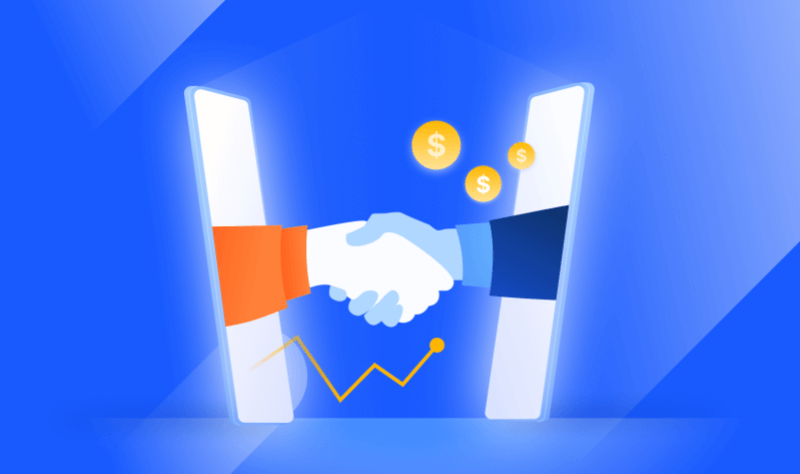 Sales Intelligence
How To Find Someone's Email Address: The Non-Creepy Edition
July 22, 2022
| Updated August 2, 2022
Finding a prospect's email address can be a time-consuming process. In an ideal world, you'd find the lead's contact info quickly – but alas, it's not always that simple, and sometimes it can even get a bit creepy. So, what's the best way to do it? 
Here are the eight most successful ways of finding company contacts and emails. Hint: we saved the best (and quickest) until last.
1) Google them with this formula…
We've all heard it, and we've all said it: "Google it". And it counts for the process of finding a prospect's email address too. Whether you have their name already, or just a role or position that you'd like to target for a more direct sales pitch, type that – plus the company name – in your search engine. 
You might luck out, with Google pulling up a bunch of links to the company site or your prospect's social media pages on page 1, or you might find yourself trawling up to page 10 with no success. 
If you really want to filter down your search and only get content from the company website, you can use this shortcut: type in the site:whatever-the-site-is.com, followed by the name "X"


2) Use LinkedIn
Next up is professional networking social media site: LinkedIn – you know, that site that's absolute gold for sales teams all over the world? Yeah, that one. 
It's as simple as searching for the name you're after, or scrolling through the company page to find the people that work there. And voila, you've got a profile that you can get in touch with directly via LinkedIn message (that's basically email, right?), or a profile that might include their business email address somewhere. 
If you're not already on the LinkedIn Premium – or even better for you, the Sales Navigator – hype, what are you waiting for? Among other benefits, you can InMail people you aren't connected to, making your lives that little bit easier. It's a sales prospecting tool you shouldn't be missing out on.
Go on then, have a snoop. 👀
3) Use a different social media channel
If LinkedIn doesn't come through for you, it's okay – there are other social media platforms out there. We vote Twitter as our next choice. 
Here you can find business accounts and business profiles with a DM option available. If that doesn't exist, or if you want to avoid a chatbot or a gatekeeper of the social variety, Twitter also offers an advanced search option. This is something we fully recommend sales teams use. It can help you really narrow down your search to find past tweets and correspondence from your prospects, that may very well include an email address. 
Go to the advanced search, and type in words and phrases that you think will get you the goods. Some examples include "email", "contact", "reach me", or even something like "@companyname.com". Let's see what you get.
4) Subscribe to your prospect's email list
If this tactic was an Uno card, it would be Reverse. Where there's an opportunity to sign up to a prospect's email list, do it. That way you get their contact details straight through to your inbox, then it's as easy as hitting reply, (plus, an attention grabbing email – obviously).
The downside? This way of finding email addresses is not one for the impatient, or for those looking to get the contact and outbound email done on the same day. It's a game of potluck as to when their next email will be sent – however, when it is, it's another chance for you to take in information and use it in your personalized message. 
5) Search their website's 'Contact Us' or 'About' page
Let's go back to basics. On most company websites, you'll find one or both of the following pages: Contact Us or About. Here is one obvious place for companies to include their contact details, including email addresses. 
Sometimes, you'll find more general contact details – these ones tend to lack some originality by being as simple as general@businessnamehere.com or contact@yourtargetcompany.com, and probably won't get your email directly to the person you need. But sometimes, if you're lucky, they refer to key departments or even employees, so you can get straight in front of the eyes that matter.
6) View their author page
Some company websites go one step further, and include author pages with their blogs, news articles, or newsletters. A lot of brands will have blogs written by – or ghost-written for – key stakeholders that you may just be interested in getting in touch with… 
Ideally, these author bios will include contact information, but even if they don't, soak up the rest of it anyway. The more you know about their role, their company and its pain points – even their hobbies, and what they get up to on the weekend – provides you more information to embellish that outbound email of yours. And that, folks, is just one step of creating a killer sales pitch. ✨
7) Guess and test
You've got the website, you've got their name or job title, you've got some standard company email formats. You know – first name, dot, last name; first name, dash, last name; just the first name; a couple of initials. 
Have a play around, and we wish you as little Delivery Failure messages in your inbox as possible. 
8) Use Similarweb Sales Intelligence
Like we said, we saved the best until last: Similarweb Sales Intelligence. We could be biased, but saving time, effort, and general hassle seems like a big plus when you've got targets to meet… Our lead generation tool does all the hard work for you, presenting you with the key email addresses you need as swiftly as one click of your mouse. 
Make the most of our database of over 450 million contacts to find the companies you're interested in, then go one step further by filtering the contacts by their role, department, seniority level, or even specific keywords to get to the specific people you're interested in. One more click of that mouse, and you can easily export your new contacts to an Excel spreadsheet, or directly into Salesforce or HubSpot.
And the cherry on top? As a hub of valuable website data, Similarweb can help you personalize your outbound emails to really lure them in. Spot industry trends that your prospective client is missing out on, or let them know where (and how) they can improve their online presence, user experience, and revenue. 
If that sounds like a handy tool, and us vouching for it doesn't quite convince you, then why not check it out for yourself? Good luck out there, and remember: less lurkin', more efficient searchin'.
This post is subject to Similarweb legal notices and
disclaimers
.
Wondering what Similarweb can do for you?
Here are two ways you can get started with Similarweb today!