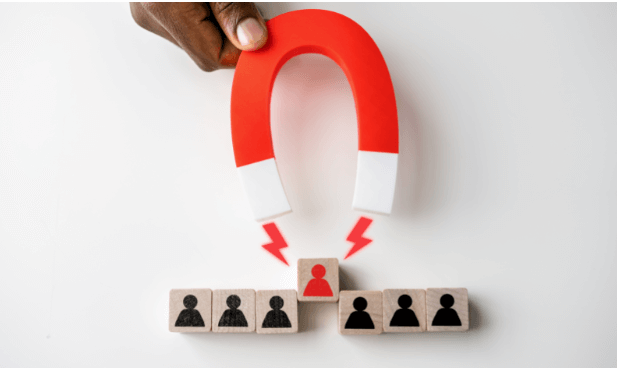 Sales Intelligence
How to Generate B2B Leads: 11 Tactics That Get Results
April 27, 2022
| Updated September 13, 2022
In sales, it isn't the thought that counts. Closing deals, hitting your targets, and making a real impact within your company takes action – and it all starts with lead generation.
Understanding how to generate B2B leads is fundamental to sales success. It'll also allow you to work more productively with marketing, and together, maximize results.
If you're ready to learn about how to generate B2B leads, or simply refresh your memory, keep reading.
What is B2B lead generation?
B2B lead generation is the process of attracting new potential customers, or leads, through content marketing, ad campaigns, partnerships, direct outreach and more.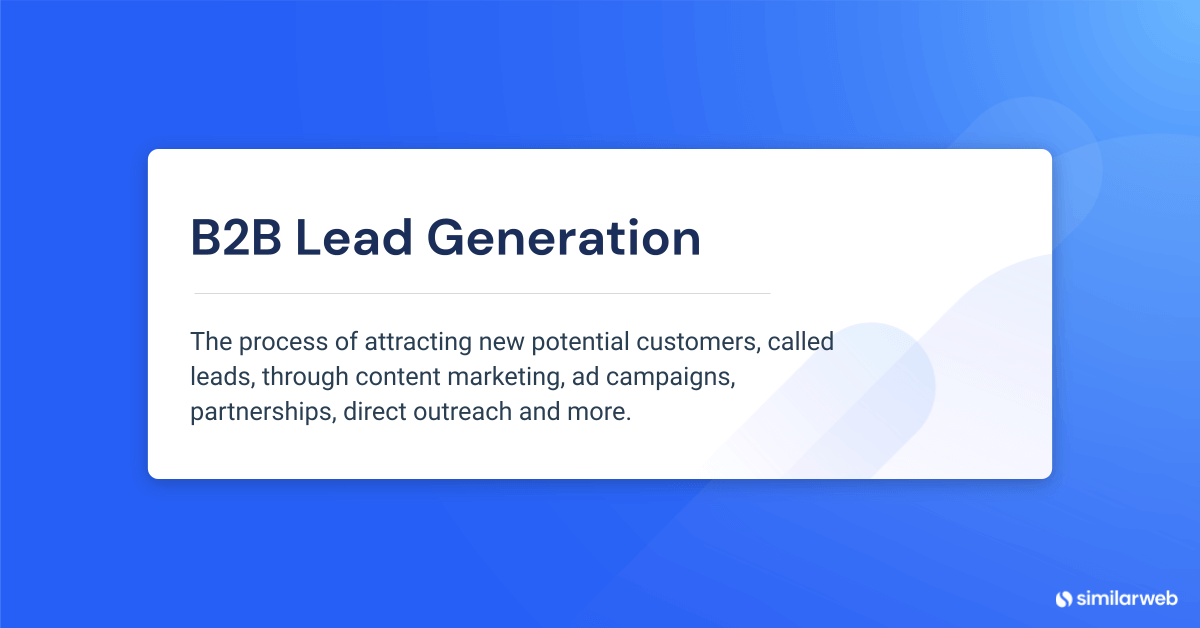 The goal of generating leads is to collect their contact information so your sales team can qualify and enter them into the sales funnel.
Once you've built a robust list of qualified leads, sales reps begin the process of lead nurturing, so that they'll eventually be ready to sign a contract and become a paying customer.
How do you generate B2B leads?
There are two main methods for generating B2B leads: inbound and outbound.
In this section, we'll cover some of the most effective lead generation activities in each.
Inbound marketing
Inbound marketing activities aim to attract relevant leads and drive them to your website (or landing page), where they have the opportunity to fill out a lead form.
The goal here is to attract, inform, and engage your desired audience so they'll willingly offer their contact information, which will then be added to your CRM.
Here are four examples of effective inbound marketing techniques for generating B2B leads.
1. Content marketing
B2B content marketing commonly includes blog posts, eBooks, and whitepapers. Each piece of content should be carefully thought out, and speak directly to the correct target audience and B2B buyer persona.
The most impactful types of content focus on topics that strike a nerve with your target reader – their pain points, challenges, and threats.
The key is to address these topics from an informed, consultative perspective. You not only want to demonstrate that you understand your target audiences' concerns or frustrations, but you should also make it clear that your company possesses the knowledge, data, and tools required to overcome them. This is the key to providing real value and becoming a trusted resource for potential customers.
But how do you know which topics to focus on?
A leading sales tool like Similarweb Sales Intelligence offers an Insights Generator, which automatically produces customized insights for any prospect or customer in seconds. Insights can focus on a variety of factors, such as the competitive landscape, emerging disruptive trends, or innovative new processes that resolve everyday pain points.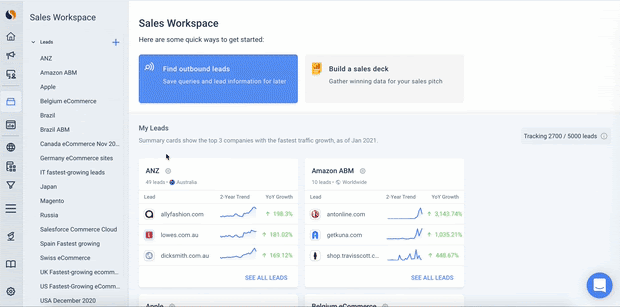 Once you've developed informative and value-adding content, the next step is thinking about how you'll push it out to your desired audience.
How do you get potential B2B leads to read it?
There are many possible approaches you can take. In fact, effective content marketing requires all of them. Here's a short run-through of possibilities:
Post them on LinkedIn, Twitter, and Facebook
Feature them in your email newsletters
Share them with sales reps, who can include them in their email outreach
Ask relevant domain experts within your organization to share them with their networks
Finally, you'll want to include a clear CTA (call-to-action) within your content. This CTA will ultimately drive readers to a lead form, where they'll leave their contact information and await a sales email or call.
Relevant content marketing CTAs for generating B2B leads include:
Request a demo
Learn more
Talk to sales
Try it for free
Sometimes, you may choose to "gate" a piece of content marketing, such as an eBook or whitepaper, which requires a reader to fill out a lead form in order to access it. Gated content is great because it instills the feeling in the lead that they're getting exclusive access to particularly valuable knowledge, while you gain the benefit of collecting their contact information.
2. SEO
SEO, or search engine optimization, is an organic marketing practice that aims to drive leads to your website, blog, or landing pages via common search engine queries.
For example, if you search on Google for, "how to make crème brûlée" (good luck with that), all of the top results you'll see will start with similar terminology: How to make Crème Brûlée, Vanilla Crème Brûlée, Easy Crème Brûlée.
When you click on one of those articles, you'll be directed to the websites that published them.
The magic of SEO is you get people to voluntarily go to your website or blog, simply by answering their questions.
Applying SEO to content marketing is a great way to generate leads to your B2B business. Moreover, you can assume that those leads have a relevant use case for your product or service, since they're searching for information that you provide.
Another way to improve your visibility in search engines is creating paid ads. These are the textual ads that appear at the top of your search results, which make them more likely to be clicked.
Pro Tip: Ensure your SEO strategy is targeting the right keywords with Similarweb Keyword Research Tool.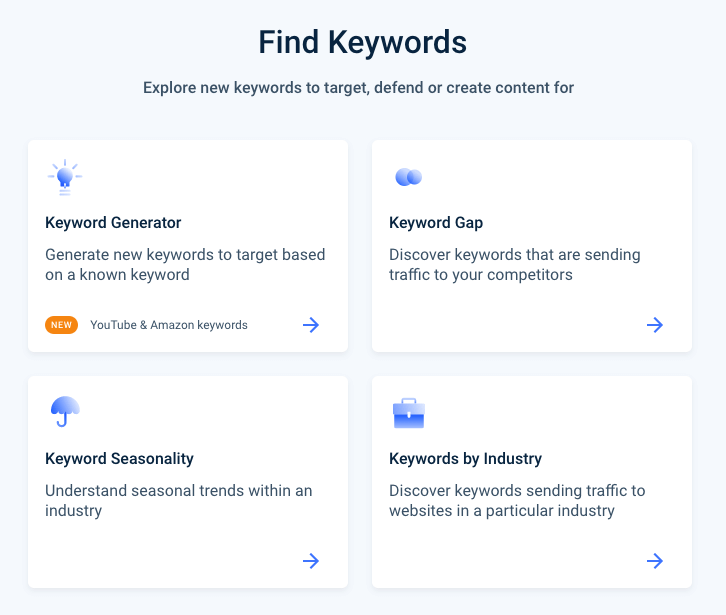 3. Email marketing
Email marketing is another great way to generate leads in B2B sales. There are many types of email campaigns you can create. While different emails serve different purposes, they all contribute to the overall goals of introducing leads to your company, nurturing them so they're "well-baked," and nudging them to engage.
For example, you can have an email newsletter that aggregates your top blog content, eBooks, and whitepapers. You could also create emails dedicated to exciting company announcements, product updates and features, user onboarding, and of course, lead nurturing.
In all of these different types of emails, you'll want to account for the following three factors.
Segment emails to ensure maximum personalization. You can create tailored emails according to use case, product, sector, and customer persona.
Use short, compelling text that drives action. This is crucial for both your subject lines and your email body text. People won't open or read emails that seem spammy or don't show appreciation for their time.
Include a clear CTA. Should the recipient click on a link to your blog? Download an eBook? Request a demo? Whatever you want your lead to do, make sure it's obvious.
4. Webinars
Hosting webinars is a great inbound marketing tactic that can help you generate numerous B2B sales leads at the same time.
Webinars are informative online events in which an expert delivers a presentation, or a panel discusses specific topics that would be relevant to your target audience.
They're usually 40 minutes to an hour long and include some kind of visual, as well as a question and answer period at the end.
To register, every attendee must fill out a registration form, which includes all of the contact details your sales team needs. But to get people to register, you need to prove the webinar will offer them valuable information.
The best way to determine the subject matter for your webinars is to first understand what your ideal prospects care about.
What are their pain points, challenges, and concerns?
What aspects of their day-to-day life at work could your company help them improve?
What market trends or innovative new technologies do they care about?
Similarweb Sales Intelligence makes deriving this intel effortless. You can easily uncover a variety of useful information, trends, and insights on the competitive landscape that would be invaluable to your prospects – and may even make them eager to begin the sales process.
Outbound marketing and sales
While marketing teams typically take responsibility for inbound marketing activities, both marketing and sales manage outbound operations.
Outbound marketing is when you actively push your company message out to prospects you've deemed would make a good customer, regardless of whether or not they previously indicated an interest in your product.
When you want to generate leads in B2B sales, outbound activities are a must. Here are seven strategies that are sure to give you a leg up.
1. Create a list of ideal prospects
Before you can reach out to prospects, you must determine who to reach out to. Unlike inbound marketing, in which your efforts will attract both relevant and irrelevant leads, outbound marketing and sales involve selecting specific prospects to contact, based on a specific set of criteria.
Fortunately, you can avoid the time- and energy-intensive work of manually building this list with sophisticated sales prospecting tools, such as Similarweb Lead Generator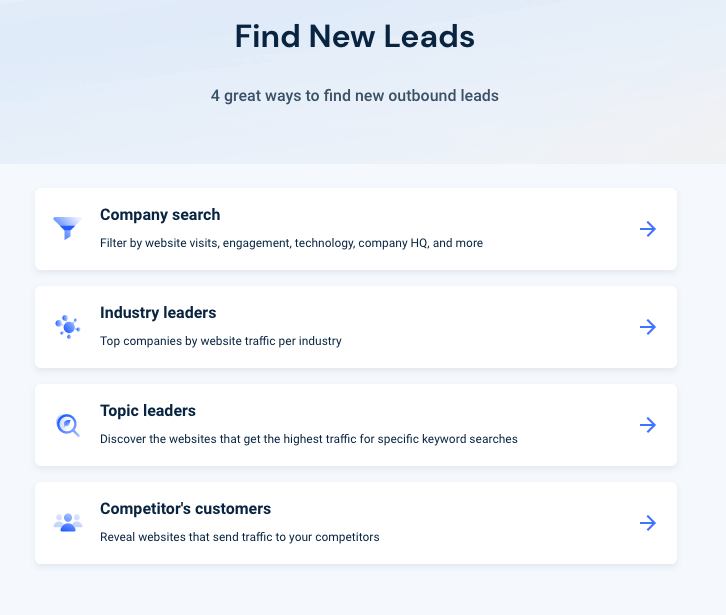 After defining the core parameters of your ICP (ideal customer persona), you can simply plug them into the Lead Generator to effortlessly receive a complete list of hyper-relevant leads.
With digital insights for more than 100 million websites, the Lead Generator enables sales teams to identify ideal prospects who are ready to buy. It also has a robust Contacts tool, which provides direct contact information for key decision-makers in each prospect company.
When using Sales Intelligence to generate B2B leads, you also have the ability to segment leads – such as by industry, secretary, customer persona, and sales triggers – to create personalized and compelling outreach materials.
2. Send cold emails
The cold email is both an art form and a science. When determining how to generate leads to your B2B business, cold emails are vital. They're often the first step in establishing a correspondence with a prospect – that is, if they decide to answer your email.
Indeed, the biggest challenge related to cold emails is proving you can provide the recipient value. After all, why should they take the time out of their busy workday to read an email from a stranger who's trying to sell them something?
Here are a few strategies for writing an effective cold sales email:
Write a compelling subject line. Be clear and pique your prospect's attention without overpromising.
Introduce yourself. People want to know who's talking to them. Briefly introduce yourself and explain why you're reaching out.
Ask a question. A great way to engage a prospect and get them to respond is by asking a question, especially about their challenges or pain points.
Provide valuable information. Drop in an insightful nugget of information to prove you have something to offer, like mentioning a competitor who recently invested in new technology, or how much more revenue the company stands to make if it expands to more service areas. The Similarweb Insights Generator can easily produce relevant insights for you.
End with one clear CTA. What do you want the prospect to do? For example, if you want to set up a call, provide them with a link to your calendar, or suggest some meeting times. Don't end your email on a vague note.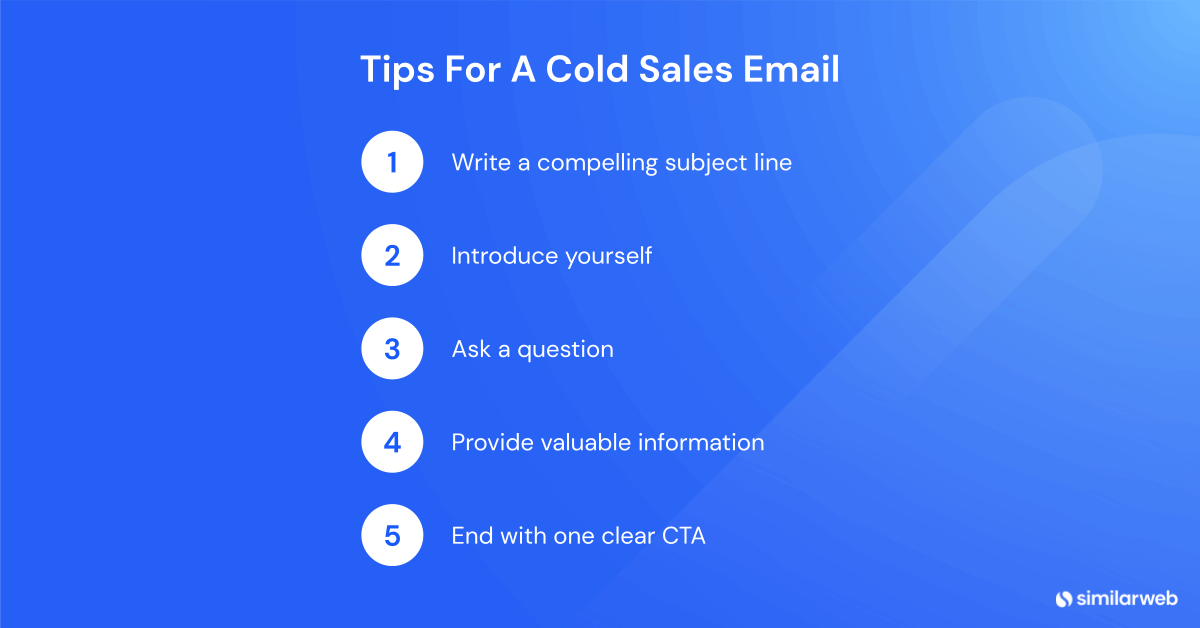 3. Roll out paid advertising
Increasingly stringent data privacy laws, the elimination of third-party cookies, and rising advertising costs on major tech platforms each make paid advertising tough to pull off. However, it remains an integral part of the B2B lead generation strategy for many companies. And, when done right, it can drive valuable new business to your company.
The key to effective paid advertising is a multi-platform strategy. That means you'll want to divide your ad budget across paid search channels (like Google and Bing), social media channels (LinkedIn, Facebook, Twitter, and TikTok), and others, such as billboards and ads in industry trade publications.
It's important to determine the right channels for your target audience.
What publications do your buyer personas read?
What social media platforms do they spend the most time on?
Where are they most likely to engage?
By taking the time to answer a few basic questions, you'll be in a far better position to create compelling ads that drive clicks and, ultimately, generate B2B leads.
4. Retarget
Retargeting is a great way to engage prospects and generate leads in B2B sales. It involves displaying ads to individuals who previously interacted with your website, such as by browsing your solutions pages, reading blog posts, or clicking on other ads.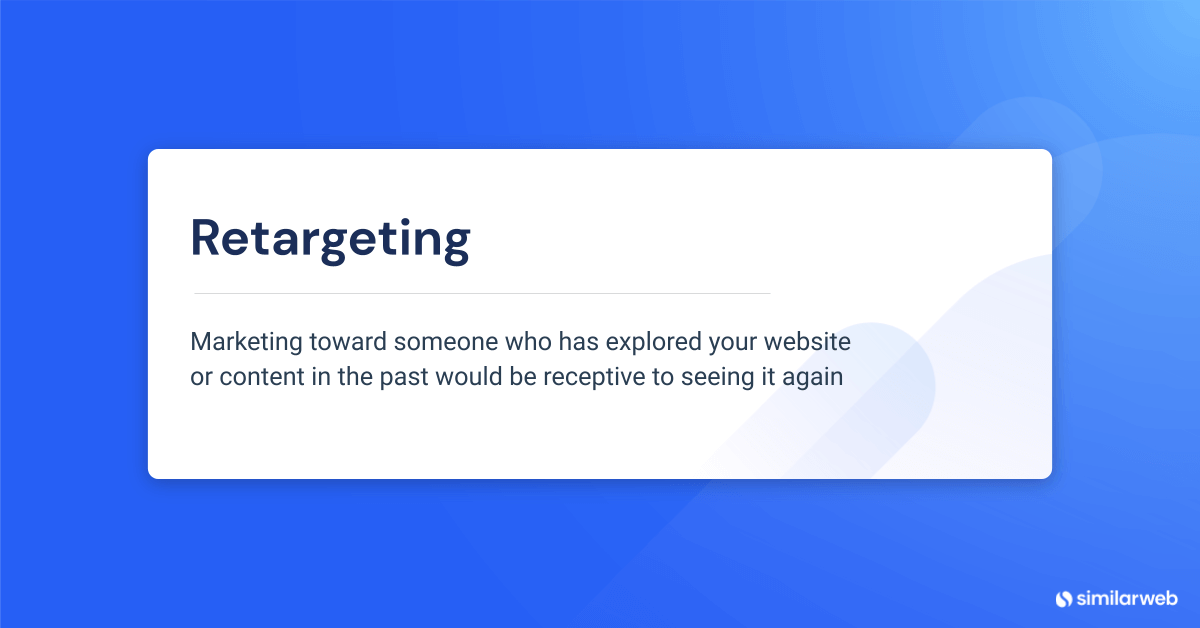 Retargeting works under the assumption that someone who has explored your website or content in the past would be receptive to seeing it again. Perhaps this person is in the market for a solution like yours, or they're already comparing options.
By presenting these viewers with relevant ads, you can help nudge them to take the next step and fill out a lead form, so someone from your sales team can contact them.
The key to maximizing retargeting success is relevance. Don't just spam prospects with generic ads. Instead, segment them according to which pages they interacted with, and create specific ads that will develop their interest further.
5. Industry events
If you want to know how to generate B2B leads, you must know this outbound sales tactic. Attending, speaking, or hosting a booth at an industry event are all great opportunities to meet relevant prospects face-to-face and make an engaging introduction.
Most in-person events require attendees to wear badges that include a barcode or a QR code. When you scan this code – usually when attendees enter a presentation or exhibition booth – you automatically receive their contact information.
This is a great way to quickly fill out lead lists on your CRM with folks who work in the industry and have an interest in learning about your offering.
6. Interact with leads via social media
Social media can be a great place to build rapport with high-value prospects and generate B2B leads.
There are many ways to interact with prospects on social media. For example, on LinkedIn, where many company decision-makers like to hang out, you can see which groups your prospects are part of, and join them as well. Participate in group discussions, pose questions and polls, share interesting articles, and respond to others' posts to promote engagement.
If you see that your prospect shares a post or article, leave a comment asking a question. This is a great way to interact with them directly and start a conversation.
7. Ask current customers for referrals
When you have a good relationship with a customer and they've experienced positive results from your product or service, they'll be more likely to refer your company to their network.
An introduction from a current customer is a highly effective way to generate B2B leads, because you gain the benefits of social proof while taking advantage of their relevant connections.
And, if you're lucky, your customer will help you make your case by telling their colleagues all about the ways your offering has helped them achieve their goals and boost ROI.
Generate leads in B2B sales without reinventing the wheel
When you need to improve a core sales metric – such as generating B2B leads – it can feel overwhelming. The stakes are high, the pressure is on, and we all know attracting leads' attention can be difficult.
Fortunately, there are many tried and true methods for generating leads in B2B sales, so you don't have to start from scratch. Simply try out the proven lead generation tools and tactics we covered above, and you'll be on the right path.
And, when you enhance your sales strategy with robust sales intelligence, you'll maximize results while minimizing energy and resource outposts. What's better than that?
This post is subject to Similarweb legal notices and
disclaimers
.
Wondering what Similarweb can do for you?
Here are two ways you can get started with Similarweb today!