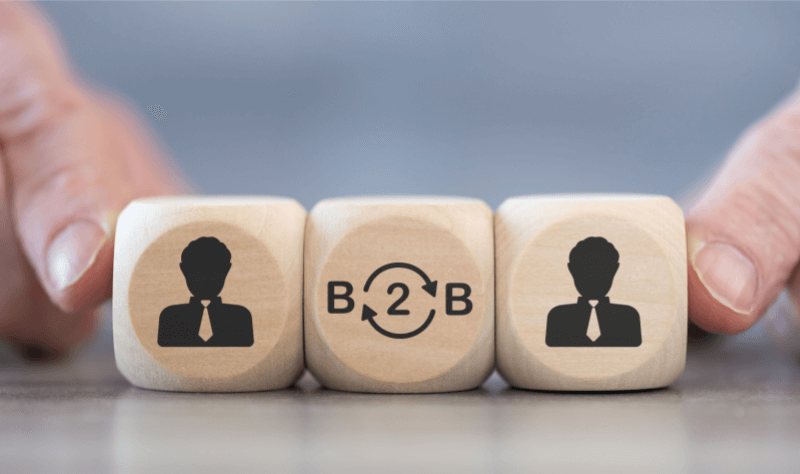 Sales Intelligence
How to Increase B2B Sales: Your 8-Step Playbook
April 27, 2022
| Updated August 4, 2022
How do you increase B2B sales?
Today, sales teams have an abundance of sales tools at their disposal, which can help them boost efficiency and identify more relevant leads faster. However, it also means there's higher competition for prospects' time and attention.
The key to increasing B2B sales is figuring out how to reap the benefits of modern sales techniques and overcome the obstacles inherent in a crowded digital space.
In this article, we'll cover eight best practices and tools you can implement to shift your sales team performance into high gear, increase B2B sales, and add high-value accounts to your book of business.
How to increase B2B sales
Check out these eight strategies for increasing B2B sales.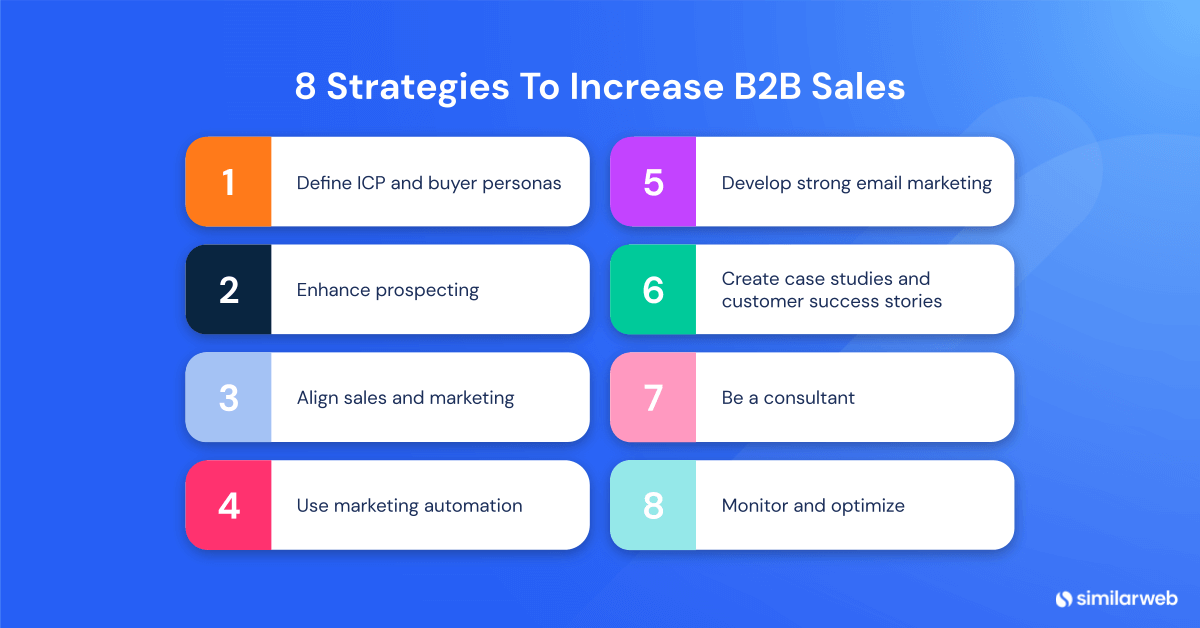 1. Define your ICP and buyer personas
When you want to give your sales performance a boost, sometimes you need to re-examine everything. Let's go back to square one.
Who is your target audience? What kinds of companies would make the best customers? Who are the people you need to reach with your marketing and sales campaigns?
To answer those questions, you need to define your ICP (ideal customer profile) and B2B buyer personas.
ICP
When you define what your ICP looks like, you'll be positioned to create more precise, targeted marketing and sales material that attracts the right leads.
To determine your ICP, start by consulting company executives, marketing team leaders, R&D, and customer success specialists. Most companies start with demographic information, such as:
Industry
Company size
Region
Revenue (if it's publicly available)
Although understanding what kinds of companies would make a good customer in general, such a broad list of traits will still produce a large list of prospects, many of which wouldn't be truly relevant or "ideal."
With the help of Sales Intelligence solutions like Similarweb, you can include far more granular digital performance metrics to define your ICP. This ultimately allows you to focus on the highest potential and most valuable prospects.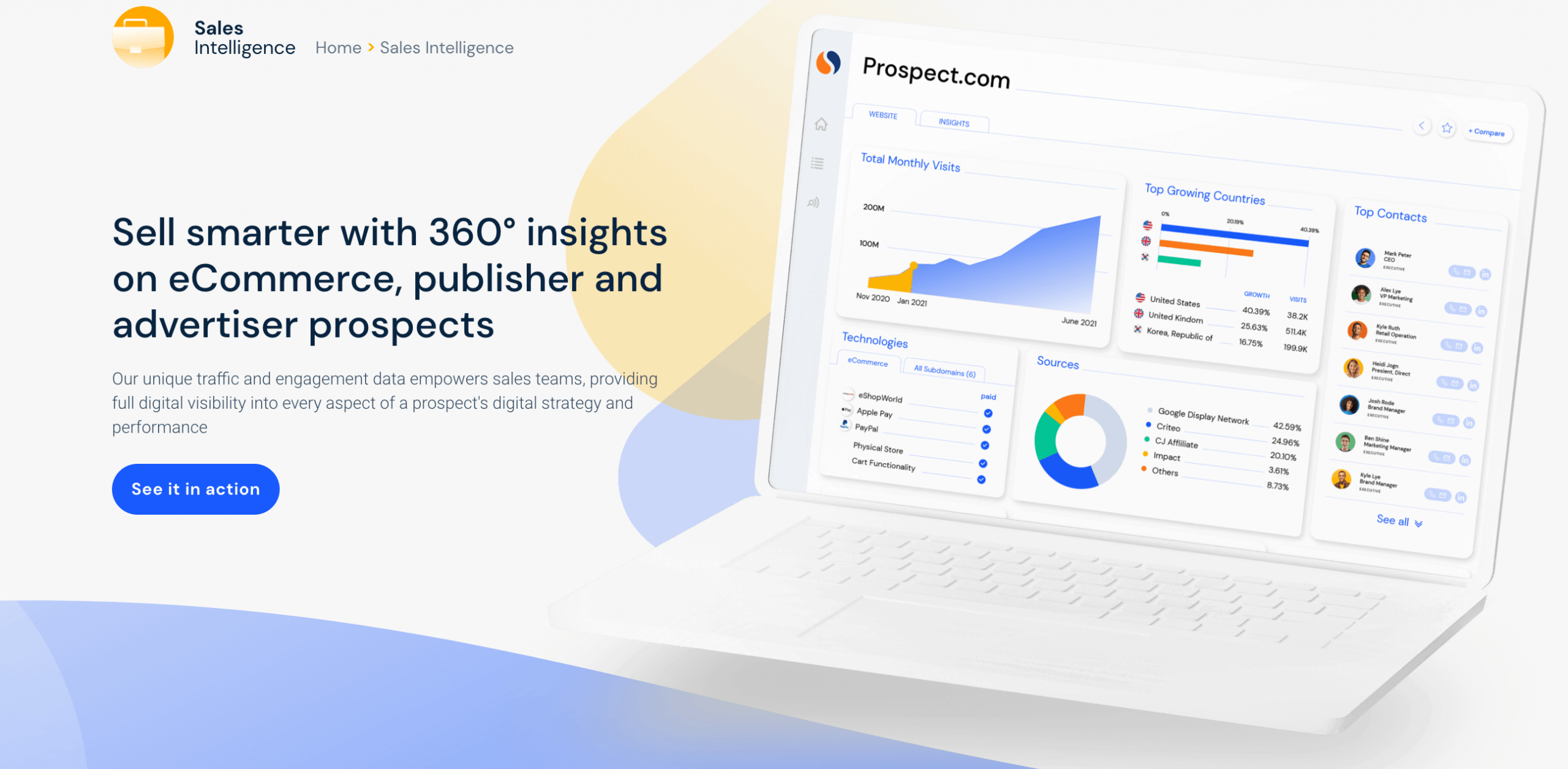 Such metrics can include:
Volume of sales per region
Monthly/annual revenue
Current tech stack
Current partnerships
Competition
When it comes to defining your ICP, the more specific you are, the better.
Buyer persona
After you determine which kinds of companies would make the right customers, you need to figure out who to speak to within those companies.
That's where buyer personas come into play.
A buyer persona is a fictional representation of a decision-maker or influencer that you want your sales and marketing campaigns to speak to.
Most companies have multiple buyer personas to represent all the possible stakeholders they should target. Here are the main criteria to consider when determining the traits of your B2B buyer personas:
Title and seniority: Who do you want to speak to within the company? What is their role and rank?
Decision-making authority: Do they have the ability to make purchasing decisions? Will you need to speak with additional stakeholders to close the deal?
Personal goals: How is the prospect's performance evaluated at work? What are their current goals?
User: Will the prospect be the one to use your offering?
Taking the time to define (or redefine) your ICP and buyer personas enables you to build highly effective and conversion-oriented marketing campaigns, increase sales efficiency, and weed out irrelevant leads earlier.
Gaining a deep understanding of who your users and buyers are can also help guide the development of your product or service so your offering better fulfills customer needs.
2. Enhance prospecting
An effective way to increase B2B sales is to improve speed and efficiency while building out your prospect list.
Manually searching for prospects and adding them to your CRM is an extremely time-consuming and monotonous process. Not to mention, it requires energy and resources that could otherwise be directed at more complex tasks. Fortunately, there are effective sales prospecting tools and techniques that make this easy.
The Similarweb Lead Generation Tool allows you to instantly identify relevant prospects that meet all your unique ICP criteria – pretty powerful, right? With unique traffic and engagement data on more than 100 million websites, Similarweb empowers sales teams with full digital visibility into every part of a prospect's digital strategy and performance, as well as direct phone numbers and email addresses of company decision-makers.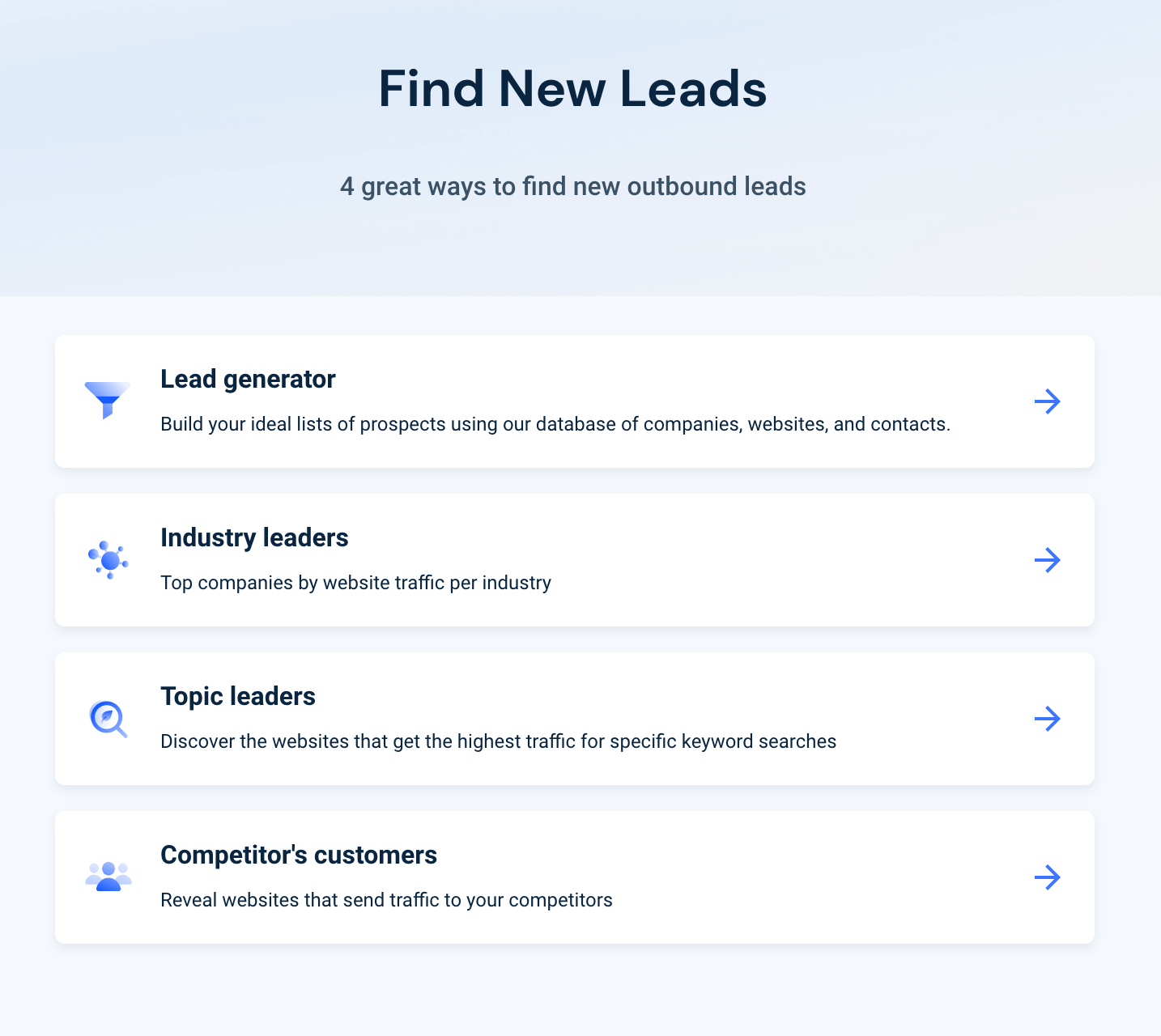 The Lead Generator allows you to effortlessly identify hundreds or thousands of prospects with a clear need for your product or service who are ready to buy. Plus, you can automatically refresh your prospect list with up-to-date information so you never have to waste time manually prospecting again.
3. Align sales and marketing
When sales and marketing are aligned, it's way easier to increase B2B sales. Although these departments are commonly siloed, working together to coordinate goals, campaigns, and tactics is one of the easiest ways to increase B2B sales.
To succeed, marketing and sales need to:
Align on ICP and buyer profiles. This information sets the foundation for all marketing campaigns and collateral, plus sales outreach. If there's a disconnect, marketing could end up bringing in tons of leads that won't help sales, wasting time and budget while putting sales at a disadvantage.
Agree on key brand messaging, positioning, and the lead nurturing experience. Marketing and sales should strive to use the same language, key stats, and company narrative to position their product within the market. This is essential for creating a coordinated and consistent experience throughout the sales funnel.
Understand each other's goals and targets. Since marketing is responsible for bringing in many of the leads that sales will then nurture, it helps to understand sales' goals and quotas. Knowing how much revenue sales needs to bring in can be a powerful motivator to work together, and even influence what kinds of campaigns you'll run.
Share collateral. Marketing teams often include content writers and designers, who daily produce valuable and informative content for prospects. Sales reps can share blog posts, eBooks, podcasts, and more with prospects to help them learn about your offering and prove your company's value.
4. Use marketing automation
One of the best B2B marketing strategies to increase B2B sales is marketing automation.
Marketing automation refers to software that automates repetitive or monotonous marketing tasks, such as email marketing, social media posting, and ad campaign scheduling.
Not only does marketing automation boost efficiency, it also helps marketers provide a more personalized and intuitive experience for customers and prospects. In turn, that leads to more effective nurturing, which makes it easier for sales to convert leads and upsell existing customers.
Here are just a few ways marketing automation helps you figure out how to increase B2B sales.
Deliver personalized content at the right moment. With a marketing automation tool, you can operationalize real-time data, such as the web page a lead is currently browsing, to deliver relevant content suggestions at the right time via email or on-screen prompts. This helps you nurture leads and build on intent by keeping leads engaged and fulfilling their needs for the right information.
Create streamlined processes. Marketing automation tools help you streamline processes across different functional teams within the organization (such as sales, marketing, and customer success), to create a unified customer experience throughout the entire customer journey. Effective marketing automation eliminates the need for complicated hand-off processes or cross-platform workflows. Instead, all the necessary data and collateral is stored within one centralized location, making it easier to share progress and prioritize tasks.
Integrate data analytics. Marketing automation software enables businesses to monitor, analyze, and act on lead data. It makes it possible to assess leads' needs across channels and at scale, so you can deliver the right content at the right moment.
5. Develop a strong email marketing strategy
Email is one of the most important strategies to increase B2B sales. There are many ways to use email to nurture, engage, and convince leads of your product's value.
Email newsletters are a great way to share nurturing content and maintain engagement among leads and customers. Usually, newsletters are sent at a specific cadence (such as once a week) and could share your latest blog content, provide helpful external resources, or even a few words from your CEO.
Product update emails tend to be more technical and "sales-y," so it's best to send them at a slower cadence, such as once a month. Product update emails generally cover new features and capabilities, tips for maximizing product value, and other useful information about the product itself.
Gated content – such as eBooks and whitepapers – is an important component of B2B content marketing because it helps you collect the email addresses of highly relevant, high-intent leads. But this content could also be valuable to your existing leads and customers, and help you push them further down the funnel. When you have a "special" piece of content you want to send to specific leads, sharing it via email is a great way to get it in front of the right eyes.
Event invitations, for when you're planning a webinar or to speak at an in-person event. You'll definitely want to make sure your high-value accounts will be in attendance. By creating a detailed and compelling invitation, you can attract your leads' interest and get them excited to learn more at the event. Plus, you can include links to other relevant content, such as blog posts or eBooks, within the email, creating more opportunities for nurturing.
6. Produce case studies and success stories
Case studies and customer success stories are great ways to increase B2B sales because they provide concrete examples of the ways your company's product or service provides value to customers.
On top of evidencing your offering's value, case studies and success stories lend you the benefit of social proof – especially when the story you're showcasing involves a reputable company.
When a prospect or lead sees first-hand the ways in which you boost business performance for similar companies, it'll be much easier to prove you can do the same for them.
The key is to share case studies and customer success stories that are relevant to a given lead.
If your product or service has multiple use cases, first identify which use case is most relevant for your lead. Then, choose the case studies and customer success stories that correspond to that use case.
For example, for a blog about B2B sales, a case study about how DHL uses Similarweb to increase sales rep productivity would be a better fit than a case study about how Airbnb uses Similarweb to break into new markets.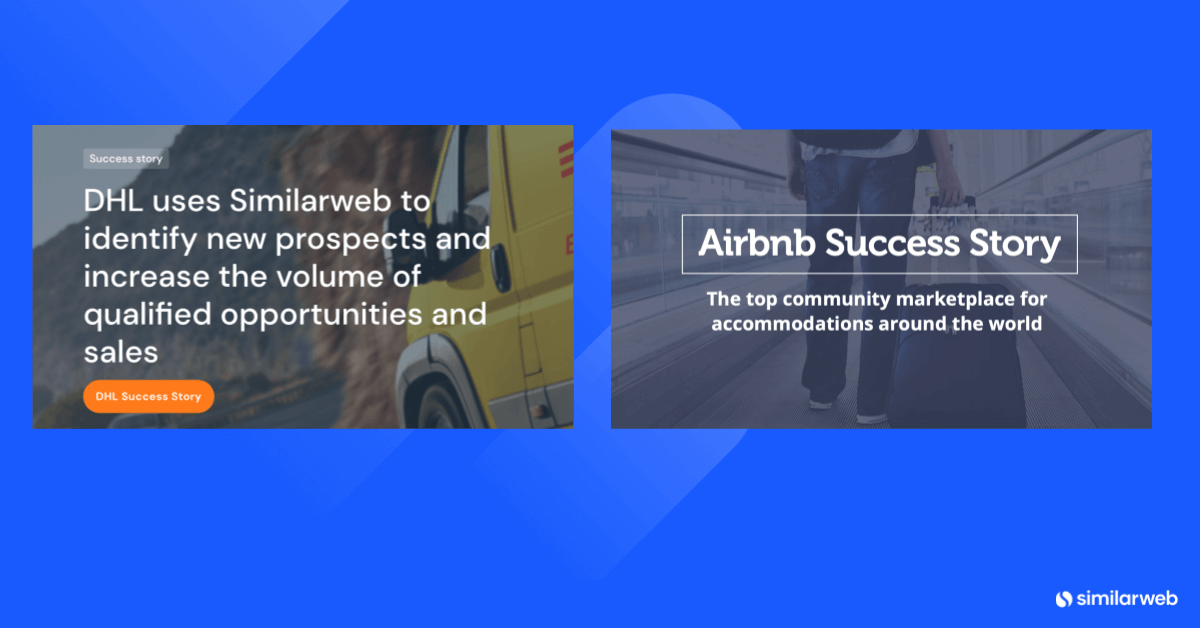 If you don't have many case studies or customer success stories, the first step to developing them is to talk to your CSMs about which customers would make the best examples to showcase.
Which customers achieved the highest ROI? Who are your product's "super users"? From which customers did you get the best feedback?
After you identify the best candidates interview stakeholders who were involved in the purchasing decision, and users, you can learn how your product or service helped improve their business.
7. Be a consultant, not just a salesperson
If you want to learn how to increase B2B sales, remember this tip: serve your prospects as a consultant.
Of course, your overall goal is to convert prospects and leads into paying customers. But the best – and quickest – road to get them ready to do so is to consistently be a source of valuable information, not use pushy sales tactics.
Consultative selling positions you to help prospects:
Simplify their work or make their life easier
Improve business performance or exceed their goals
Better understand the competition and gain an edge
Improve their product or service for their customers
Boost their reputation, credibility, or standing in their market
Foster trust and confidence in an official customer relationship with your company
Consultative selling is not a quick process. It's a long game approach. The goal is to consistently provide your prospects with meaningful information they can put into action, while demonstrating you understand their goals, pain points, and needs.
The key to using consultative selling to increase B2B sales is having the right information at the right time. After all, if you don't truly understand your prospect's market, product, their customer's needs, or their goals, how can you help them?
Similarweb Insights Generator is a powerful tool that allows you to quickly identify robust, up-to-date information on a broad range of metrics pertaining to your prospects, such as:
How much more revenue they can earn if they expand to new service areas
Technologies their competitors currently use
Bounce rate and possible causes
Main drivers of traffic to your prospect's website, and their competitors
Market interest in an emerging trend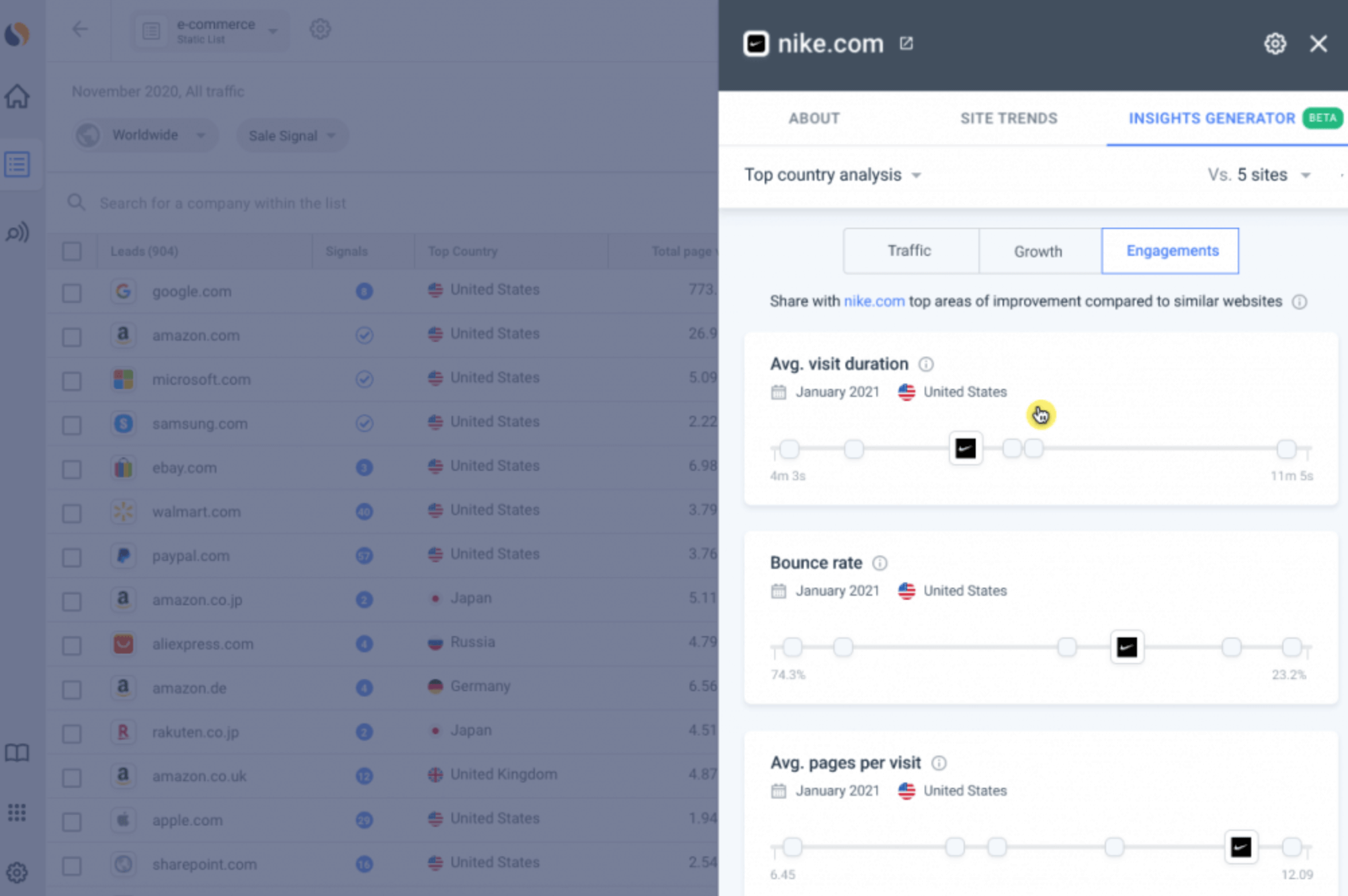 With these insightful nuggets of information, you can dramatically enhance your email outreach and sales calls to foster more trusting relationships with leads, and ultimately, close deals faster.
8. Monitor performance and optimize
Monitoring the effectiveness of your efforts against a set of predefined KPIs and optimizing your efforts accordingly are crucial strategies to increase B2B sales.
Unless you define quantitative goals and KPIs, you can't know how successful your marketing and sales efforts are. In turn, it's impossible to know, with any degree of certainty, what to change or improve.
For example, if you don't set a goal for the number of leads you wish to generate from a certain campaign, you have no way of knowing if the campaign is "working." After all, success is relative to your desired outcome. In turn, you won't know where to increase budget and where to decrease it.
Measuring performance is such an important sales strategy for increasing B2B sales because it provides answers and gives you a direction when initiating optimization efforts.
Increase B2B sales today
Sales teams face many challenges today. An ever-expanding market of sales tools, a dizzying array of communication channels, and a saturated digital space all make the prospect of reaching the right leads – and getting them to listen to you – a major challenge.
Fortunately, there are also many ways to increase B2B sales.
Sales intelligence technology that allows you to effortlessly identify hyper-relevant leads and generate helpful insights about them are a game-changer for both lead generation and sales success.
That, combined with the eight best practices listed above, provide a solid foundation of sustainable sales success.
This post is subject to Similarweb legal notices and
disclaimers
.
Wondering what Similarweb can do for you?
Here are two ways you can get started with Similarweb today!