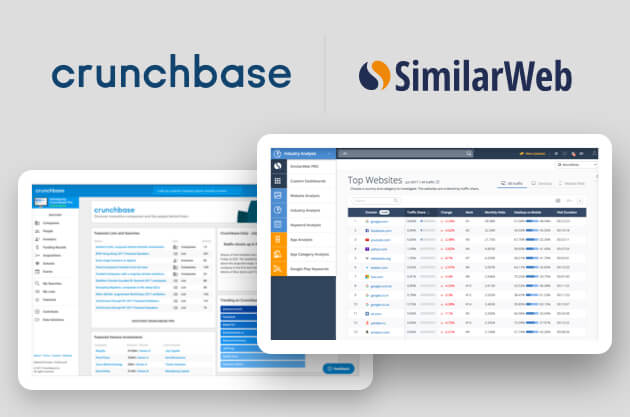 Updates
Similarweb Partners With Crunchbase
December 4, 2017
| Updated August 2, 2022
To succeed in the digital world, you first need to understand it. Whether you're in marketing, business development, sales, investing or any other position touching the rapidly expanding digital ecosystem, resources that bring visibility and enable deeper analysis are those that empower better decision making.
At Similarweb, this realization has driven our mission to empower professionals with Market Intelligence insights so they can improve the way they grow and operate their businesses. Yet, being on a mission means looking for every way possible to help our customers and users improve their decision-making, and that means thinking about all of the ways we can help power better decisions.
Enter Crunchbase.
As the master record of the most innovative companies, Crunchbase is built on the belief that your decisions deserve the best data, and we couldn't agree more. So this week we launched a new partnership to complement their incredible product with Similarweb's Market Intelligence Insights.
Today you'll be able to infuse your Crunchbase journey with Similarweb digital traffic insights, enabling a deeper and more comprehensive look at the top startups in the world. We'll also be the first company to launch alongside Crunchbase in this format, a testament to the power of our solution and the impact it is making.
"We are excited to provide best-in-class web traffic data from Similarweb on Crunchbase profiles and in Crunchbase Pro search. Users can now use Similarweb data on our site to benchmark against competitors, discover new opportunities, and identify emerging trends," said Jager McConnell, CEO of Crunchbase.
The most exciting part? Using these two products together in this format, provides just a glimpse of what is possible when bringing these two resources together.
"Market Intelligence is changing the business world and our partnership with Crunchbase is a major validation of our solution's ability to reach across industries and personas and power better decisions," said Or Offer, CEO of Similarweb.
Similarweb's premium enterprise  solution, used by companies like Airbnb, HSBC, eBay, Walmart and thousands of other paying customers worldwide, brings full visibility to the entire digital world, analyzing every website and app in every market in the world. How are people engaging with a website or app? Where is the traffic coming from and going to? Which digital strategies are driving growth? How are different companies performing compared to each other? These are just some of questions being answered by our customers on a daily basis.
For Crunchbase, it brings a new layer of depth to a company that is already the undisputed leader for understanding the innovation ecosystem. Crunchbase provides a depth and breadth of knowledge that ensures its data is recognized as the primary source of business information by over 31 million users globally.
This post is subject to Similarweb legal notices and
disclaimers
.
Wondering what Similarweb can do for you?
Here are two ways you can get started with Similarweb today!