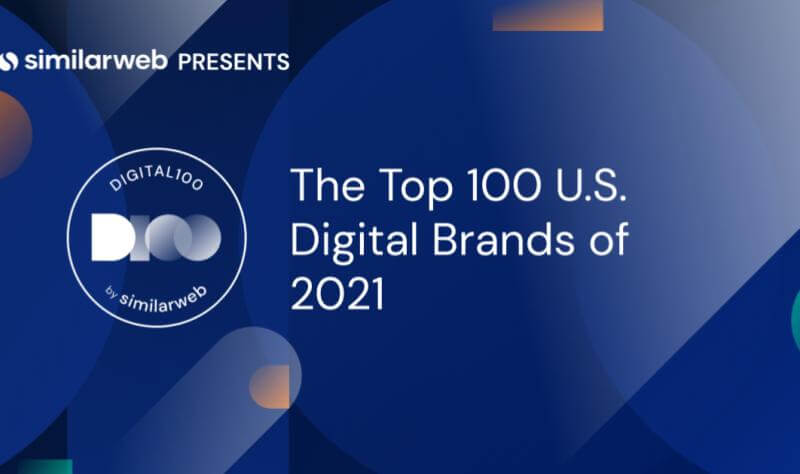 Updates
Similarweb Presents the Top 100 U.S. Digital Brands of 2021
February 9, 2022
| Updated August 2, 2022
2021 was a year like no other: global supply chains faltered, the U.S. welcomed a new president, Scotland hosted a world-changing climate conference, and Omicron came, saw and conquered.
The online world changed too. Facebook became Meta, TikTok took over, and a particularly bright spot: hundreds of digital businesses were born or blossomed beyond expectation.
Today, at Similarweb, we honor the fastest-growing digital companies of 2021 with our annual and anticipated Digital 100 Ranking.
Digital 100: The Winners
Composed of the top ten fastest-growing brands across ten sectors (totaling 100), the D100 winners are businesses that embraced digital strategies to outpace their competitors. So, who took the crown this year? See the winners below:
| | | | |
| --- | --- | --- | --- |
| Company | Category | 2021 Traffic | YoY traffic growth |
| llflooring.com | Home Furnishings | 22.5m | 11,393% |
| opensea.io | Financial Services | 58.0m | 8,492% |
| shopcider.com | Apparel | 8.0m | 6,068% |
| microperfumes.com | Beauty | 6.7m | 5,903% |
| mrbeastburger.com | Food & Drink | 9.3m | 5,004% |
| hellhades.com | Gaming | 10.1m | 4,609% |
| aah.org | Health & Fitness | 23.0m | 3,787% |
| onehome.com | Real Estate | 80.2m | 3,577% |
| rakwireless.com | Consumer Electronics | 2.0m | 1,294% |
| reservationdesk.com | Travel | 23.0m | 232% |
2021 Digital Trends
Once consumers began receiving coronavirus vaccinations in 2021, we saw a marked shift in spending toward experiences, including travel and dining. Consumers also traveled to the ends of the virtual metaverse and significantly increased visits to online gaming, cryptocurrency trading, and NFT marketplaces. Here are some of the other, most notable trends:
1. Beauty trends transform consumer routines
As face masks became the norm du jour during COVID-19, consumers shifted beauty spending to fragrances, which sniffed out the top three fastest-growing brands in the category, including microperfume.com (+5,903%) and seintofficial.com (+2,513%). Clean beauty stole the spotlight as well, with six of the top web traffic-growth brands in beauty featuring "clean" products, such as nakedandthriving.com (+525%).
2. Home sector sees a shift
Supply chain issues and a particularly strong sales cycle in 2020 pressured home furnishings sites, pushing them to invest in paid search to drive traffic. Shoppers pivoted to D2C furniture brands, pulling back their visits to larger sites, such as Wayfair.
3. Real estate goes digital
As low interest rates, the rise in remote work, and limited supply drove the housing market up, mortgage lenders saw a traffic uptick, while sites such as zerodown.com (+3,456%) allowed buyers to secure home loans without down payments. Digitalization of real estate also allowed buyers and renters to cut out the middleman via direct listings; winners included ah4r.com (523%) and tripointehomes.com (+364%).
Congratulations to our winners!
Pointing to the seismic shift that brands have undergone over the past year – as the mass adoption of new technologies such as blockchain, at-home-entertainment, and the metaverse have ushered in entirely new markets – Similarweb's CEO and Founder, Or Offer, explains: "2021 was quite a ride, especially for those brands who were able to execute on their digital marketing strategies. At Similarweb, we're all about empowering brands with the intelligence they need to compete in their respective markets and accelerate growth. Congratulations to all the winners!"
This post is subject to Similarweb legal notices and
disclaimers
.
Wondering what Similarweb can do for you?
Here are two ways you can get started with Similarweb today!