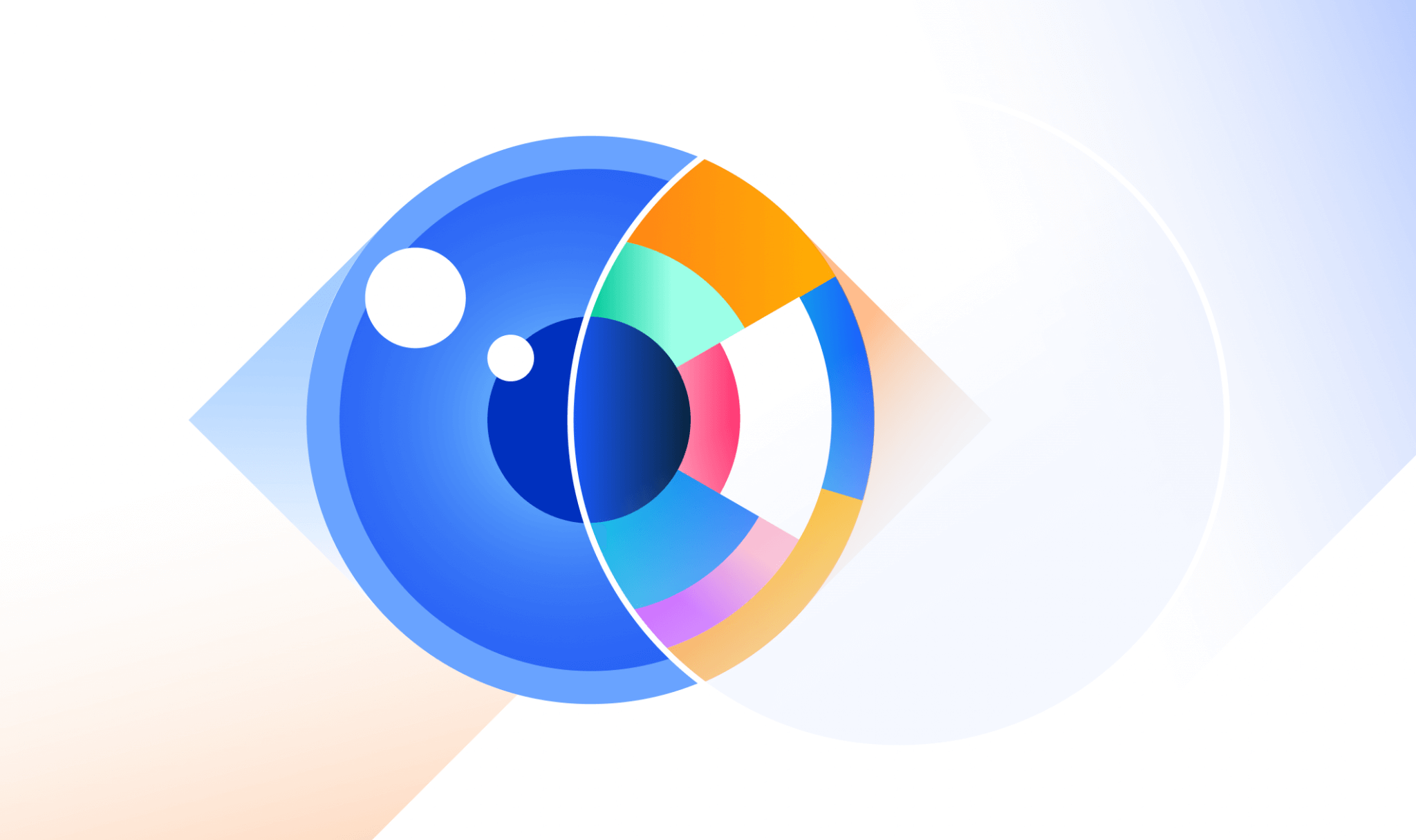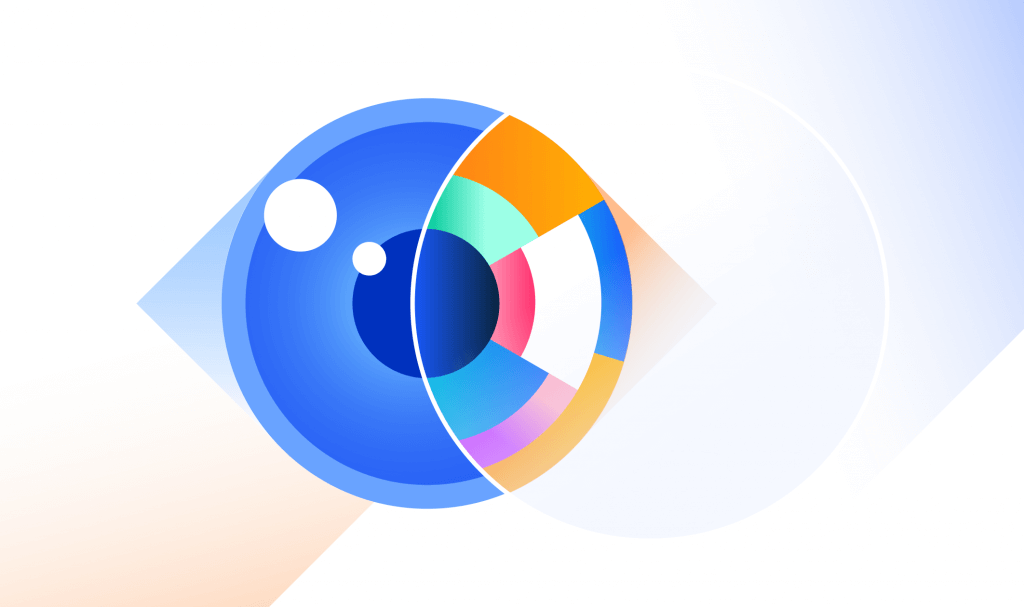 Updates
Save the Data – Our Can't-Miss Virtual Event is Coming
June 1, 2022
| Updated October 11, 2022
Let's face it, whether you're in marketing, research, sales, or even eCommerce, in the digital world we could all do with something extra. A bit of an edge. Because these days, competitive data is easily available. Sure, having these insights at your fingertips is important. Knowing how to use them, though? That's crucial.
So save the date for June 14th – because Similarweb Digital Edge is coming.
Now in its fourth year, our biggest virtual conference will show you how to understand actual customer behaviors and expectations and respond to changes in real-time.
Sharpen your edge
Digital Edge is the leading destination for business leaders, marketers, researchers, and analysts to learn about where our online future is heading next. Every year, we bring together global brands from a range of industries, to shed light on the biggest competitive intelligence challenges and opportunities. Here's a glimpse into this year's headliners.  
Our CEO, Or Offer, will discuss how the growth game's changed and our CPO, Benjamin Seror, will reveal the products in our roadmap that'll help you stay ahead of that change. You'll be able to network with the business's best and brightest and tune into exclusive sessions designed to give you that competitive edge. And you can find out how digital intelligence is helping Google, Mondelēz International, eToro, and others win their market. 
All you need to join is a stable internet connection. Get your free ticket today, and tune in on Hopin (the video conferencing platform). 
What you'll learn
Digital Edge isn't your average online conference. Over a half-day of sessions and open discussions, we'll focus on the what, why, and how of digital intelligence. You'll learn actionable tactics and best practices you can apply to your own digital world, and the fundamentals of creating a bulletproof digital marketing strategy. 
What's on the agenda?
Guest speakers, industry leaders, and winning brand-builders will share insider tips and tricks and give you a 360-degree view of the competition.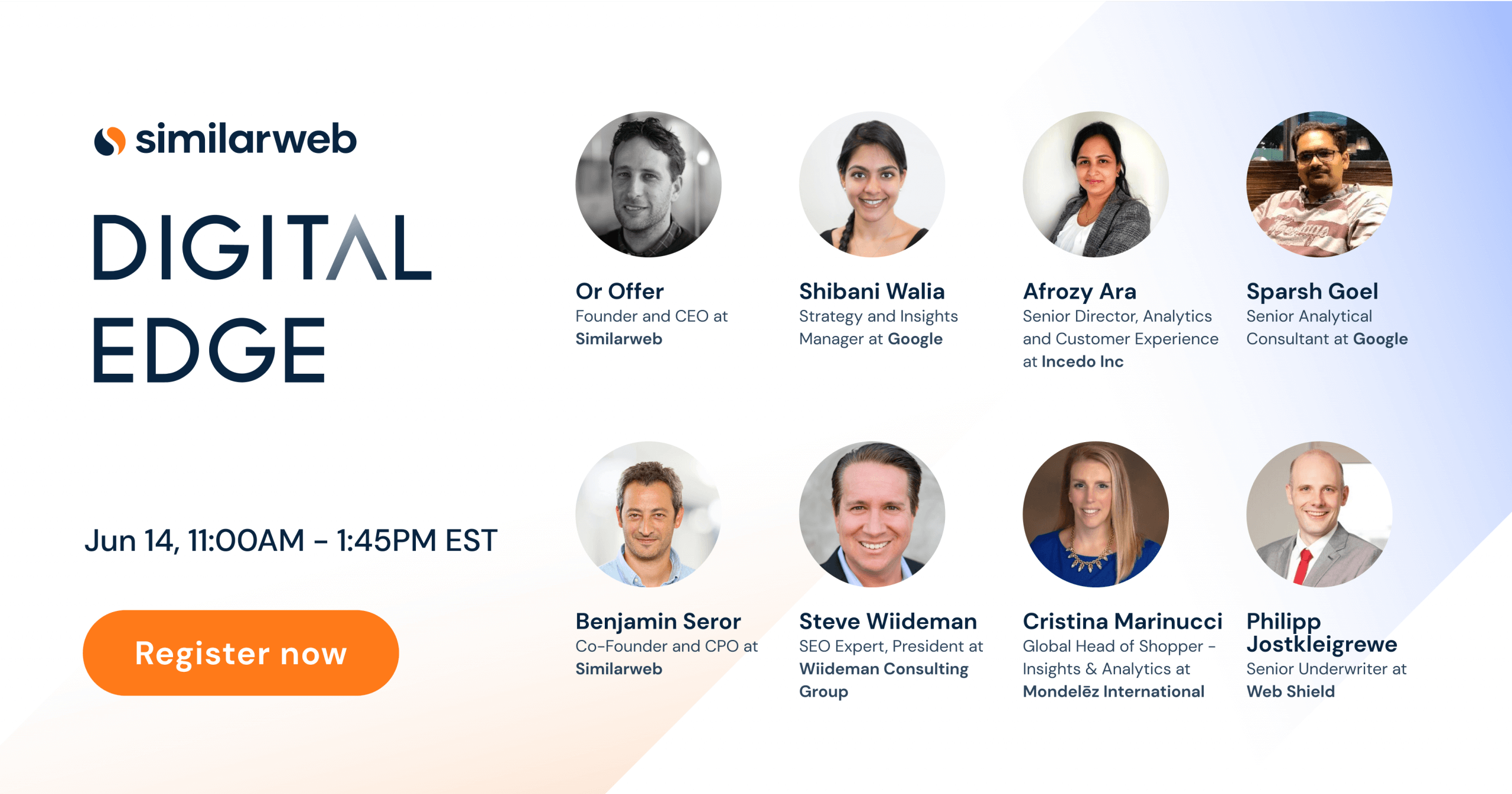 Our keynote speakers 
#1 – The Growth Game Has Changed 
Or Offer, Founder & CEO, Similarweb
Digital Intelligence is the single most important growth engine for every organization, in every industry. Given the challenges of the past few years, companies have had to adapt to a digital-first world, and they've had to do it fast in order to continue growing. Faced with the task of quickly implementing new business models, companies and brands need immediate insights to become growth gurus and maintain success over time. 
#2 – Surviving & Thriving Post-Covid: Digital Trends Emerging in a Post-Pandemic World
Mackenzie Cahill, Senior Director, Solutions at Similarweb
Alex Nisenzon, Director, Business Development & Data Partnerships at Similarweb
As we all experienced, Covid upended the world in ways previously thought unimaginable. With the Pandemic, new digital trends emerged as consumers were forced to stay at home and face a new reality. This session will take you through how some of those Covid trends have evolved as the pandemic fades – and what that means for companies wanting to win in the digital post-Covid world.
Connect with Mackenzie on LinkedIn
#3 – Similarweb's Product Vision & Roadmap
Benjamin Seror, Co-founder & CPO, Similarweb 
Our Chief Product Officer, Benjamin Seror, gives an inside look at how Similarweb's agile approach allows it to rapidly evolve, and ultimately help solve emerging challenges faced by researchers, analysts, marketers, and sales professionals in today's digital world. Benjamin will showcase the value of Similarweb's comprehensive digital intelligence solutions, and share what to expect from the company's product roadmap in 2022 and beyond. 
Connect with Benjamin on LinkedIn
#4 – Talking to the Gurus
Carrie Lazorchak, CRO at Similarweb
Shibani Walia, Strategy and Insights Manager at Google
Cristina Marinucci, Global Head of Shopper – Insights & Analytics at Mondelēz International
Carrie Lazorchak, Similarweb's Chief Revenue Officer, teams up with Shibani and Cristina, two highly successful growth gurus from Google and Mondelēz International. Together, they shed light on the strategies, relationships, and powerful insights behind their monumental growth — and the role Similarweb played in the process. 
Connect with Carrie on LinkedIn
Connect with Shibani on LinkedIn
Connect with Cristina on LinkedIn
Even more highlights
For
marketing
professionals 
Win Across All Channels with Digital Marketing Intelligence
Anat Sneh, Director, Digital Marketing Intelligence Solution at Similarweb
Join this session for a special walkthrough of Similarweb Marketing Intelligence and a deep dive into the digital channel strategies of two market leaders, Gymshark vs. Lululemon. You'll walk away with new ideas and a list of tools to grow your website's traffic and make your own digital campaigns fly.
For digital
researchers
Reframing Market Research with Similarweb
James McCarthy, Director, Product Marketing at Similarweb
Learn how Digital Research Intelligence is changing the shape of traditional market research and digital analysis in the fast-moving digital world.


For
sales
teams  
How to Win More Deals with Sales Intelligence
Robin Morley, Senior Content Marketing Manager, Creative at Similarweb
Pedram Yasharel, Director, Product Marketing at Similarweb
Unlock the secret to winning more deals with Similarweb Sales Intelligence, a market-leading tool that brings you 360° digital insights on prospects across industries including eCommerce, publishing, and advertising.
For
eCommerce
specialists 
8 Tricks to Grow Your eCommerce Sales with Shopper Intelligence
Anat Avshalom, Team Manager, Product Marketing at Similarweb
Discover how to grow your eCommerce business using Similarweb Shopper Intelligence. You'll learn how to spot fast-growing categories and products, optimize pricing, master retail SEO, and more.
For
app data
analysts 
Tracking the Impact of Mobile Apps on Your Market
Sean Mizrahi, Product Marketing Manager at Similarweb
Bring mobile app intelligence into your web-based analysis, to get the full picture of what's happening in your market, all in one place. With Similarweb App Intelligence Premium. you can gain a holistic view of what your audience is doing online, encompassing desktop, mobile web, and apps.  
You can find the full schedule here. 
I'm lucky enough to be hosting the event, and I'll be monitoring comments (along with our social media team), and chatting with you all day long. See you online. 
Can't wait? Join the conversation on social media:
This post is subject to Similarweb legal notices and
disclaimers
.
Wondering what Similarweb can do for you?
Here are two ways you can get started with Similarweb today!