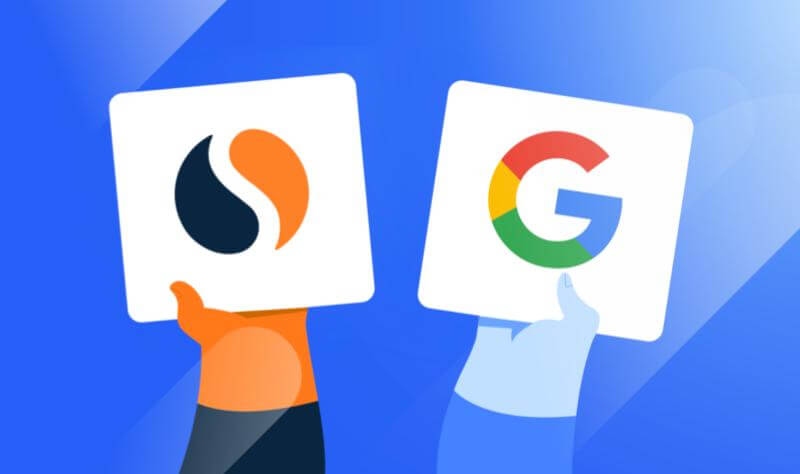 Updates
Google Partners With Similarweb to Drive SMB Growth
September 30, 2021
| Updated August 3, 2022
Here at Similarweb, we have always been driven by a mission: democratize digital data to help businesses grow. Over the years, we've helped countless companies win their markets, and today, we're celebrating ourselves.
We are really excited to announce that Google has chosen Similarweb to power its Market Finder tool, which is part of the 'Think with Google' suite. 
Backed by Similarweb's data, Market Finder gauges a company's 'export readiness,' AKA, whether or not it is ready for international expansion – a true game-changer in the digital world.
Hey Google, how 'export ready' is my business?
It's not a normal question on the average Google Home, but it's a powerful question for SMBs. Scaling internationally is one of the biggest growth drivers available to online businesses, and with over 19% of all retail sales happening online in 2021 (projected: statista), now is the time to harness it.
"There's never been a better time for businesses to go global, but small- and medium-sized businesses often face trouble knowing where to start," says Marco Giorgini, Marketing Platforms Lead at Google. 
"Market Finder was designed to help SMBs harness the digital insights they need to grow confidently. We chose to work with Similarweb for this important initiative because of the unique accuracy of its digital data and insight."
Digital Intelligence unlocks global opportunities
Market Finder analyzes a series of digital signals to deliver an automated score along with personalized and actionable recommendations to kick-start an international expansion plan through export opportunities. 

Market Finder gives you a clear score and advice on if, when, and how to start the
globalization of your business
The process is based on user inputs across four main areas – general assessment, competitive position, global operations, and marketing readiness. The score is calculated based on an analysis of Similarweb insights, including:
Share of domestic vs. international traffic

Top site competitors

Top countries sending traffic to both site and its top competitors' sites

Share of organic vs paid media, for both site and its top competitors' sites
"In today's borderless world, digital-first companies have unprecedented opportunities for growth," says Benjamin Seror, Chief Product Officer at Similarweb. 
"Google's Market Finder is an essential tool for any business looking to expand into new markets in a data-driven way. We are excited to collaborate with Google's International Growth team to help bring this new service to market."
Using Similarweb data, Market Finder clearly displays the domestic vs. international
traffic split a website receives.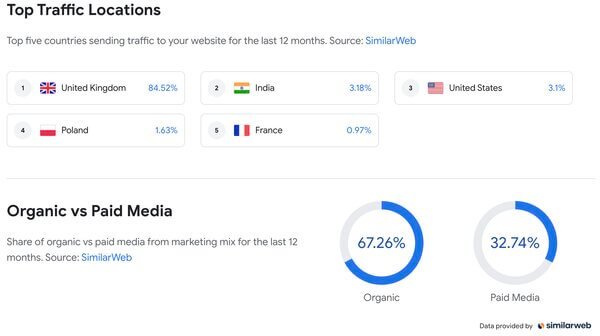 Users get further insights into traffic locations and traffic split between organic and
paid – all powered by Similarweb data.
How to use Market Finder
Firstly, it's important to mention that this is a free tool. You just need to enter your website URL, along with a few details about your business, and Market Finder will do the rest. 
You'll get an on-screen assessment plus handy tips within seconds. A full report is then emailed to you in approximately an hour or two. The report gives you scores and advice in a general assessment and then more in-depth analysis on your operational abilities and marketing performance.

Using Similarweb data, Market Finder reviews your current marketing efforts and identifies
opportunities that will be most impactful when internationalizing.
Is Digital Intelligence the missing piece of the puzzle for SMBs?
While Market Finder is able to assess and advise on export readiness, there are numerous other growth opportunities for SMBs, for which digital intelligence is key. Here are three core areas where digital intelligence and world-class data can unlock growth:
1. SEO: plug the gaps
Organic traffic is free, and therefore should be a big focus area for SMBs, but it isn't always. Why? It's not quick and it's not easy. However, there are tools out there that demystify this complex discipline and help create meaningful strategies. Similarweb's Digital Intelligence platform allows businesses to view their performance, alongside the performance of competitors. From this, Similarweb can identify gaps and key organic opportunities, all within a few clicks. Content cannot be King without a robust SEO strategy.
2. Industry analysis: jump on market trends
Online businesses need to be adaptable and ready to jump on trends. But how do you spot a coming trend? How do you know when a trend has ended? While enterprise companies have entire departments dedicated to this, that just isn't feasible for smaller companies. But there is data out there. Similarweb's digital market research data breaks down industries and industry trends over time, and this can go really granular – by topic, keyword, or even marketing channel.  
3. Know your competition
There are currently 1.88 billion websites out there, so even the nichest of niche websites has competition. Digital intelligence tools can now tell you what keywords your competitors rank for, which is their most successful channel, which partnerships/affiliate schemes they're leveraging, and so much more. Data is the foundation of seriously good competitor analysis.
Similarweb's global data is best in class
"It is a capital mistake to theorize before one has data." While this is an old Sherlock Holmes quote, it has never been truer than in today's ultra-competitive digital world.
Good, meaningful data is hard to come by. This new partnership with industry-giant Google shows how powerful Similarweb's data is. We take measure of the digital world every second of every day, and are delighted to aid the growth of SMBs with our insight. 
Similarweb and our data integration capabilities can and do help an array of companies, from Google to MarketMuse, by enriching their offerings to achieve world class marketing products.
Partner with us
We provide accurate, broad, and clear data that is unique and reliable. If you are interested in partnering with us and integrating Similarweb data into your product, get in touch here.
This post is subject to Similarweb legal notices and
disclaimers
.
Wondering what Similarweb can do for you?
Here are two ways you can get started with Similarweb today!