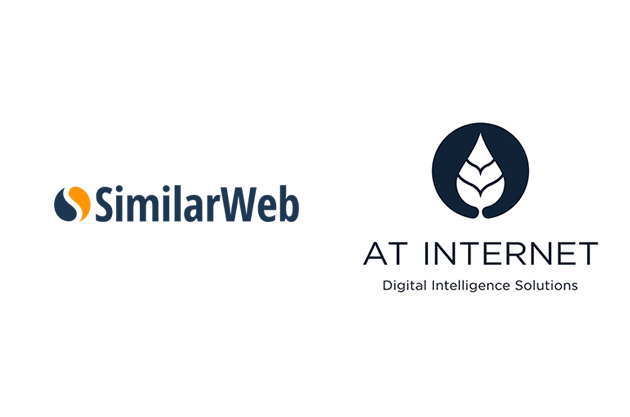 Updates
Similarweb and AT Internet Partner to Empower Customers with Unparalleled Digital Insights
June 22, 2017
| Updated August 2, 2022
Offering to boost customers' digital strategy by putting rich website analytics data in context with a 360-degree view of the market and competition
Similarweb, the leading digital market intelligence company, and AT Internet, a global player in digital analytics, today announced their strategic partnership allowing customers to combine data from their own website with market-based information. Together, the two solutions provide a deep view of user behavior placed in the wider context of real-time market insights. The end result is a first-of-its-kind dashboard for strategic intelligence, enabling clients to understand their digital audience and quickly pivot strategies, based on not only their own site traffic, but on insights from the competitive landscape as well.
Starting today, AT Internet and Similarweb's customers can use the dashboard to inform their strategy based on a 360-degree understanding of their site visitors and the market. "Our alliance with AT Internet introduces a new layer of intelligence that offers invaluable perspective and context from global site or app activity so that clients can make the best possible decision with robust data insights," said Carlton Osborne, VP Global Alliances at Similarweb.
Jonathan Strauss-Kahn, Partnership Manager at AT Internet, added, "The integration of our rich, accurate analytics data with Similarweb's extensive competitive intelligence gives our customers a complete and authentic view of their website and mobile performance – the keystone of an optimized digital strategy."
How companies can benefit
Through the combination of website and mobile analytics data from AT Internet, and external market data provided by Similarweb, digital campaigns and trends can be evaluated for their overall business impact and understood within the context of the competitive market. Businesses can use the multi-layered data in several ways to generate value, including but not limited to:
Pairing a deep "site-centric" view with a wider "market-centric" view of performance in an all-in-one dashboard
Comparing site performance to competitors' sites, and adjusting and optimizing marketing investments accordingly
Evaluating their presence on social networks with their competitors, and analyzing the social traffic generated from it
Measuring the effectiveness and contributions of different acquisition channels
Understanding which other sites and pages their website is being abandoned for (i.e., customers leave your Product X page to go to your direct competitor's Product Y page), and adapting product offerings accordingly.
About Similarweb
Similarweb is the standard for understanding the digital world. With the largest international online panel consisting of hundreds of millions of devices, Similarweb provides granular insights about any website or app across industries. Global brands such as Google, HSBC, eBay, L'Oréal, and Adidas rely on Similarweb to understand, track and grow their digital market share. The company has raised $65M to date, and has 350 employees across eight global offices. Similarweb has been named one of JMP Securities Hot 100 Best Privately Held Software Companies and one of Business Insider's 50 Enterprise Startups to bet your career on.
Learn more at www.similarweb.com.
About AT Internet
One of the world's major players in digital intelligence since 1996, AT Internet helps companies measure their audience and optimize their digital performance across all channels. AT Internet's expertise extends from collecting raw data to processing it in real time and delivering it for analysis and the sharing of insights. Applications in AT Internet's Analytics Suite provide reliable, contextualised and actionable information. Scalable and completely modular, AT Internet's offering adapts to businesses in all industries: e-commerce, media, finance/banking, corporate and institutions. Easy-to-use and accessible to all individuals within a company, these solutions help address the challenges facing both novices and experts in digital analytics and data mining. The power of AT Internet's Analytics Suite and the quality of its services (consulting, training and support) are recognised worldwide. AT Internet's analytics solution is used on more than 20,000 sites and applications around the world, across all industries. With more than 200 employees, the group is present globally via its customers, subsidiaries and partners.
Learn more: www.atinternet.com
For the complete Similarweb US Retail Trends & Insights 2017 report, follow this link or click below: US Retail Trends & Insights 2017.

This post is subject to Similarweb legal notices and
disclaimers
.
Wondering what Similarweb can do for you?
Here are two ways you can get started with Similarweb today!