Updates
Get Excited – Similarweb's New Last 7 Days Keyword Filter is Here!
June 17, 2020
| Updated August 2, 2022
Despite all the craziness in the world right now, and how rapidly the Covid-19 virus is changing the way people worldwide are conducting daily life, some things never change: June is the unofficial start of the summer season. We used Similarweb's Last 7 Days Keyword Filter, to see the latest, freshest data about consumer trends, and we were not disappointed. Summer keywords have taken off!
Although we used this new filter to discover the latest trends, you will be able to analyze any one-week period. For example, if you aren't interested in which summer keywords are most popular you could analyze any 7-day period such as the week leading up to Christmas or New Years.
Here's a peak at the insights that you could have at your fingertips with this new filter. Enjoy!
Walmart's Keyword Traffic: America's One-Stop-Shop
We began by taking a look at which keywords Walmart is using to win traffic organically and via paid campaigns. We quickly saw that consumers are preparing for hot summer weather which led to keywords like portable air conditioners, swimming pools, and patio furniture to skyrocket during the 7 days analyzed. Traffic from these popular terms grew by 79%, 76%, and 20% respectively.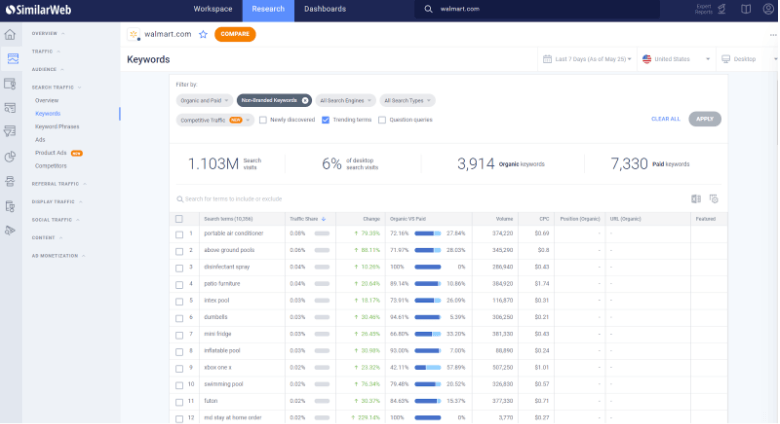 Interestingly, the increased demand for pool products is rising so quickly that Walmart doubled down on paid pool-related keywords, resulting in more than 200% growth in paid traffic from these keywords alone. Traffic from the keyword above ground pool increased by approximately 227%, closely followed by Intex pool with a 184% increase. However, there is one keyword blowing all others out of the water, so to speak. Traffic from the keyword, pools, has exploded, leading to a 363% increase over the 7-day period.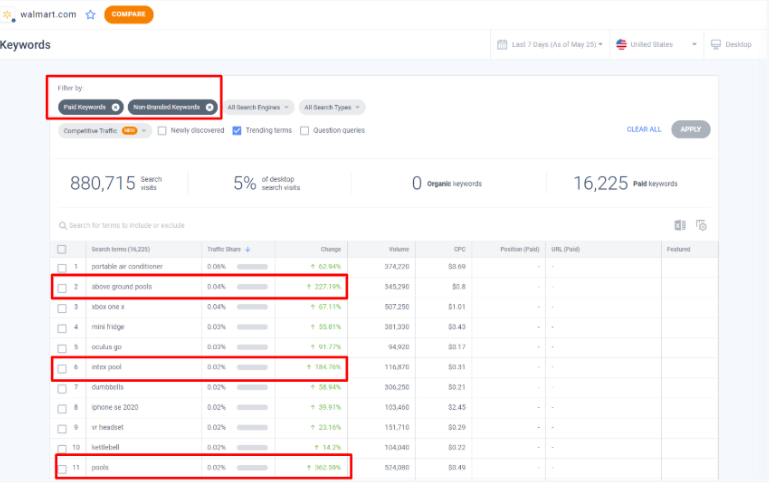 Optimism and Alcohol
When looking at larger trends in the retail category, one of the first things we noticed is that consumers are hopeful that stores will begin reopening soon. TJX customers are a perfect example of this trend. These optimistic searchers are eager to return to shopping at their beloved TJ Maxx. Traffic to tjx.com from the keyword phrase, TJ Maxx Stores Reopening, increased by an impressive 133% organically over the 7 days analyzed. During the same time frame, traffic from the phrase, Is TJ Maxx Open, grew organically by approximately 206%!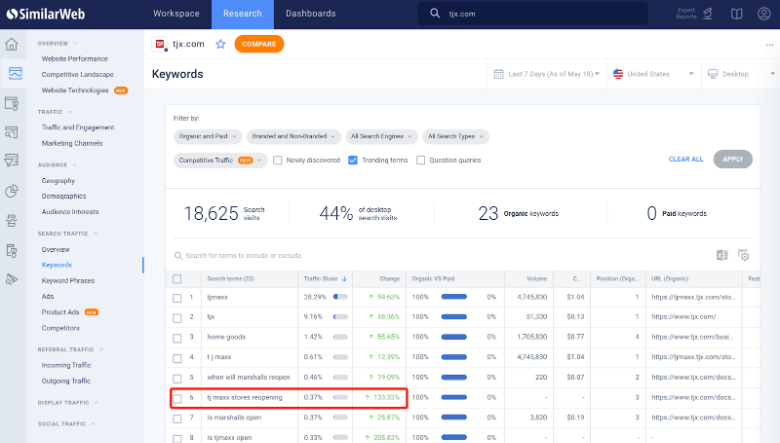 Meanwhile, Drizly, an online liquor store, has seen a growing demand from the keyword, high noon drink, and other keywords related to alcohol delivery. Traffic from High noon drink increased by almost 390% in the 7-day period alone, while traffic from alcohol delivery Baltimore grew by an astounding 546% for the same period. This trend suggests that consumers are optimistically preparing for summer parties in hopes of social distancing rules relaxing.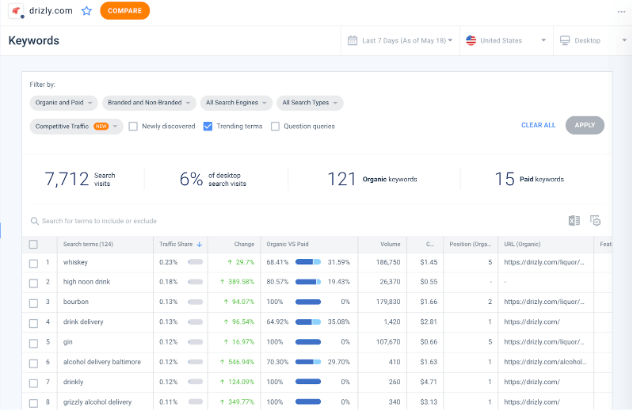 Which Keywords Are Trending In Your Industry?
Keywords are rapidly changing with the seasons, so summer needs to be in your marketing plan as much as it is in the air. Similarweb's Last 7 Days Keyword Filter can help you stay ahead of the competition by giving you real-time keyword insights, allowing you to constantly tweak & improve your keyword research.
To get the most out of this new filter and improve your SEO strategy, download our keyword research template, and ensure you have the right keywords in place to drive success. 
This blog was written in collaboration with Tomas Seliokas, Digital Marketing Consultant at Similarweb.

This post is subject to Similarweb legal notices and
disclaimers
.
Wondering what Similarweb can do for you?
Here are two ways you can get started with Similarweb today!