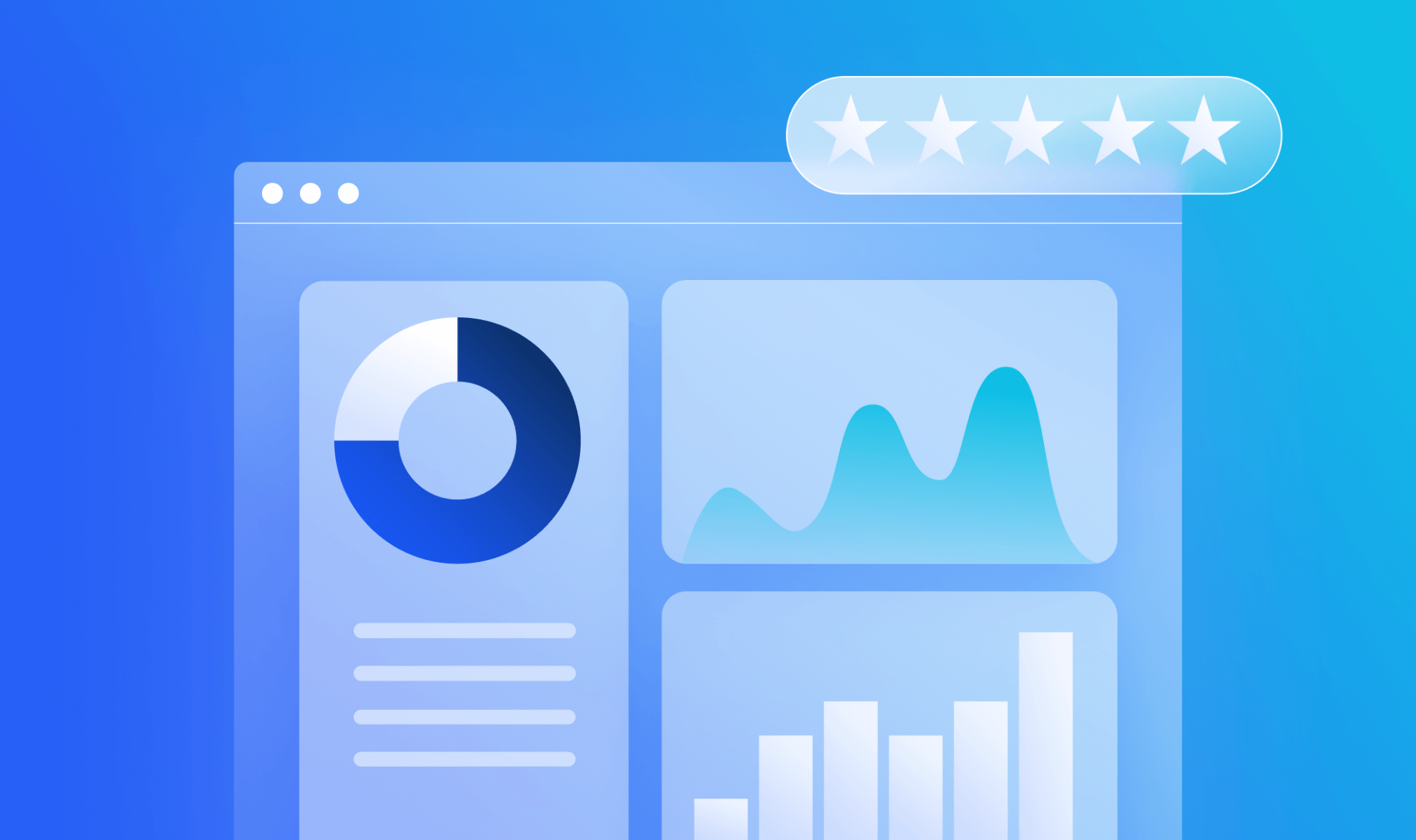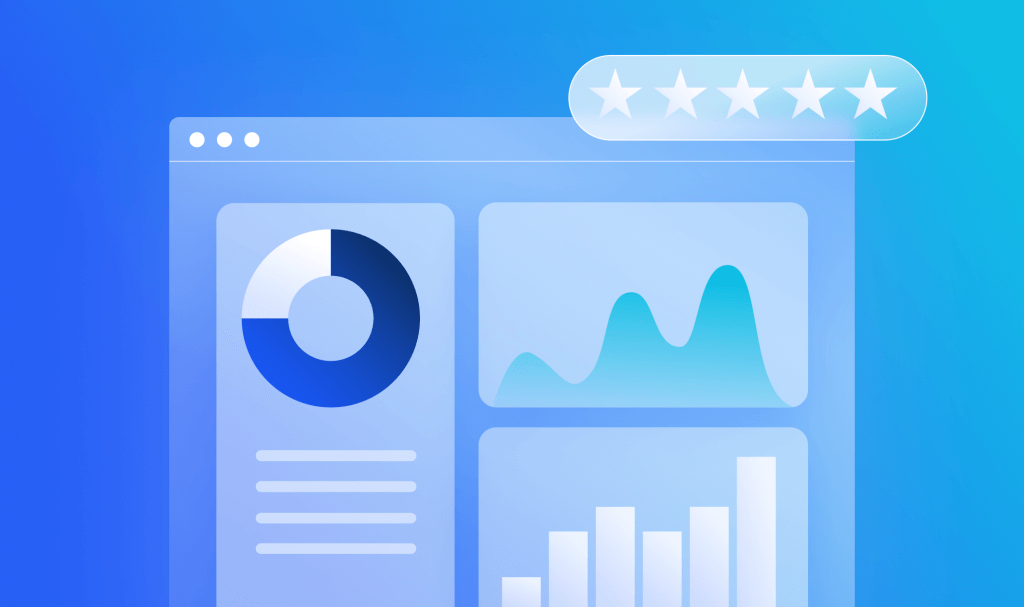 Updates
Popular Pages: A New Way to Unlock High-Value Page-Level Insights
August 16, 2022
| Updated September 13, 2022
Today, we're delighted to announce the launch of Popular Pages. A way to view key page-level metrics at a glance, and see the successes of those in your market with x-ray vision into rivals' campaign performance and trending content.
7 ways to leverage Popular Pages
Popular Pages is the quickest way to discover the highest-hitting content and most viewed pages for the sites that matter to you. Here are a few ways to use the add-on, and start leveraging its intel for your competitive gain.
1. Deeper website analysis
When doing a competitive website analysis, a domain-level perspective is good, but page-level analytics can be golden. So, rather than viewing broad metrics that cover an entire site, you get to see exactly what pages drive engagement vs. those that don't. 
This intel allows you to quickly hone in on high-impact pages and teardown the elements that make them appealing to your target audience. 
2. Analyze on-site search 
Discover how an audience uses site search (based on URL parameters) to find and browse content or products.
3. Discover new, trending, and declining pages
With filters that make it quick to view high growth and declining traffic to a specific page, it's easy to see what pages garner the most attention on any site. This data can help you spot new opportunities for campaigns, products, brands, or other content that is trending or performing well. Uncover vital insights into their strategies, such as:
Emerging promotions

New products or services

Pricing changes

New messaging or marketing tactics
4. View and track rival's top products, services, and content
Popular Pages makes it easy to view the busiest pages on rival sites, determine what content, products, or topics are most engaging, and how interest shifts over time. Measure the appetitive for specific brands or products on partner, affiliate, or competitor sites. View the busiest pages and see how interest evolves.
5. Measure the success of campaigns
For specific intel about ongoing campaign take-up, view metrics that show periodic changes in interest and performance. See how successfully your rival's campaigns drive traffic to their site. 
6. Determine the most valuable markets or countries
Refine specific URLs to track, unpack, and evaluate a rival's impact in a country. Use a relevant URL that contains a country code, and view results that include monthly growth changes and overall share of site traffic. 
7. Improve segment analysis
Go even further with a Similarweb website segment analysis with granular insights from Popular Pages. Update your segment definitions based on content fluctuations and discover new activities to inform and improve your comparisons. 
While having a domain-level view of a website is helpful, the ability to see what's under the hood can revolutionize your segment analysis. With this detail, you can unpack and track metrics that'll help you compete and beat your competitors.
Popular Pages feature snapshot
This latest feature drop means you can go even deeper with website analysis and unlock page-level insights that pinpoint the most popular content, products, brands, and campaigns on any site. Here's everything you need to know about how it works.
– Spot micro-trends faster 
Quick-click filters show you the pages that receive the most significant increase in page views, the most page views, and the total share of website traffic.
There are five filters: All, New, Trending, Best Performing, and Campaign (UTM).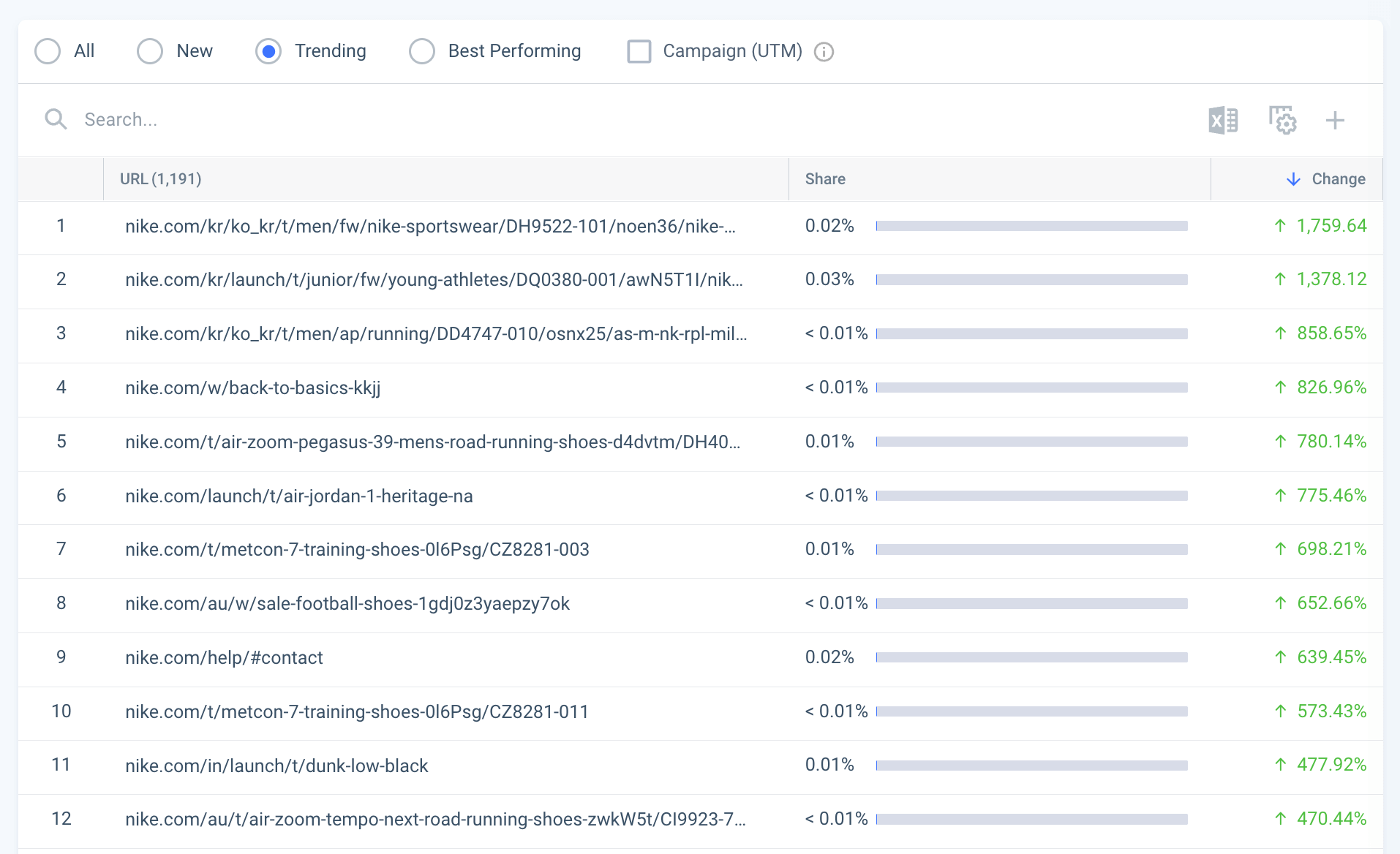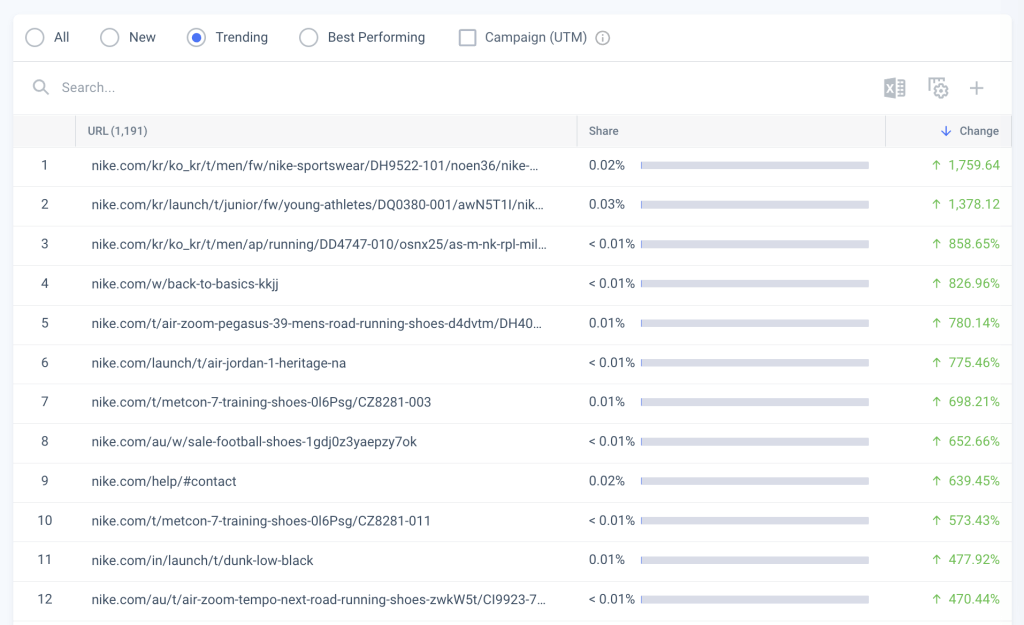 – Track competitor's campaign success
Identify and track any rival campaign with URL-specific filters. See increases and declines on pages as they happen.
– Analyze large sites – smarter
Enhance analysis of high-volume sites with Popular Pages data via the API.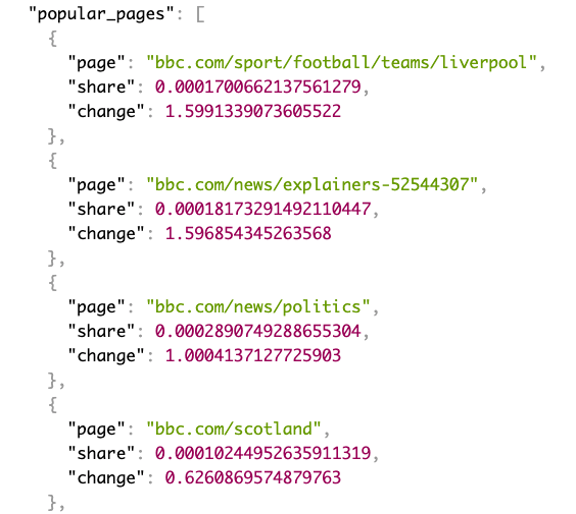 – Improve segment analysis 
Discover activity on a site through new or trending content, and make segment adjustments faster as you discover more pages to include in website segment analysis.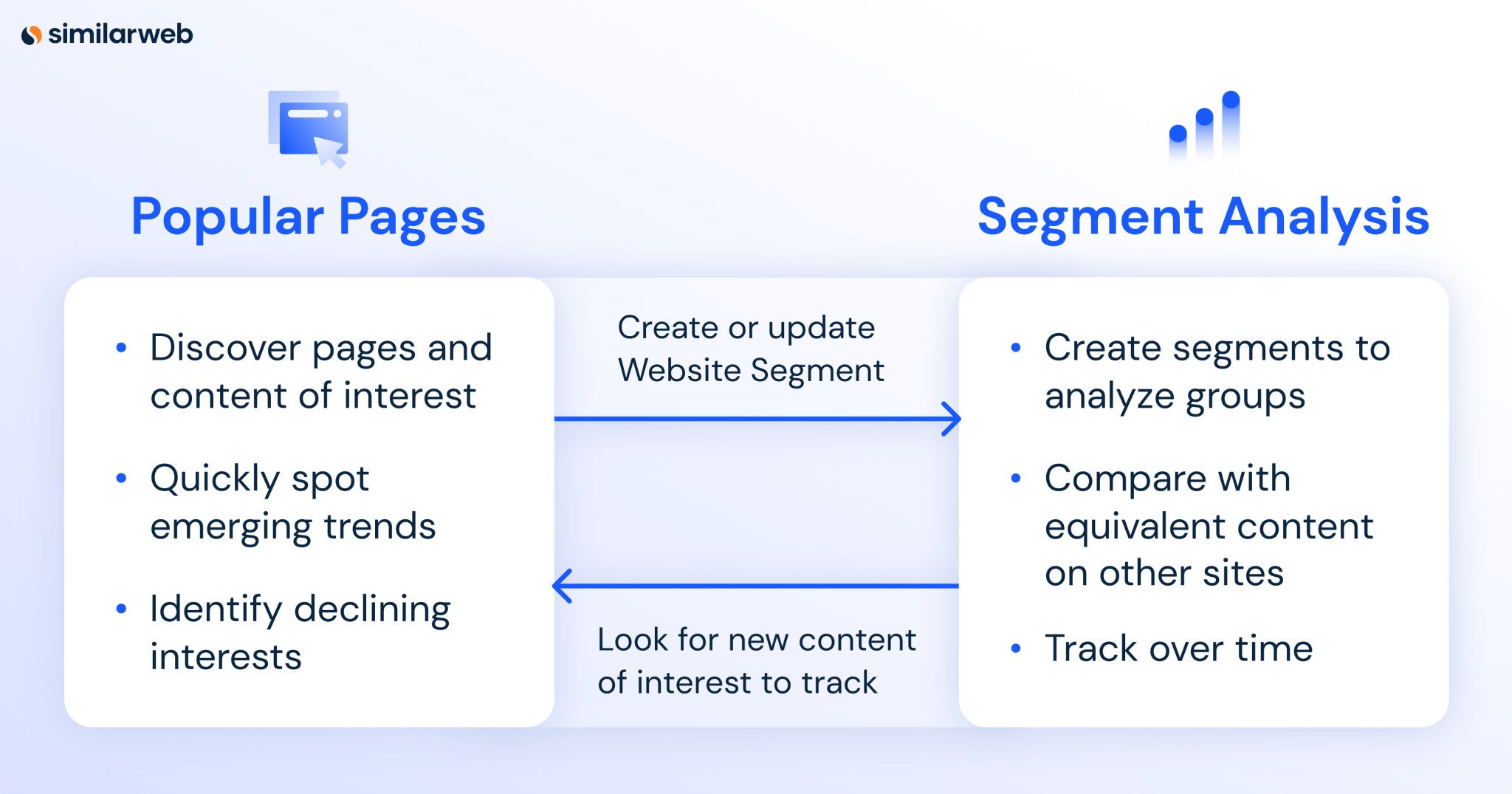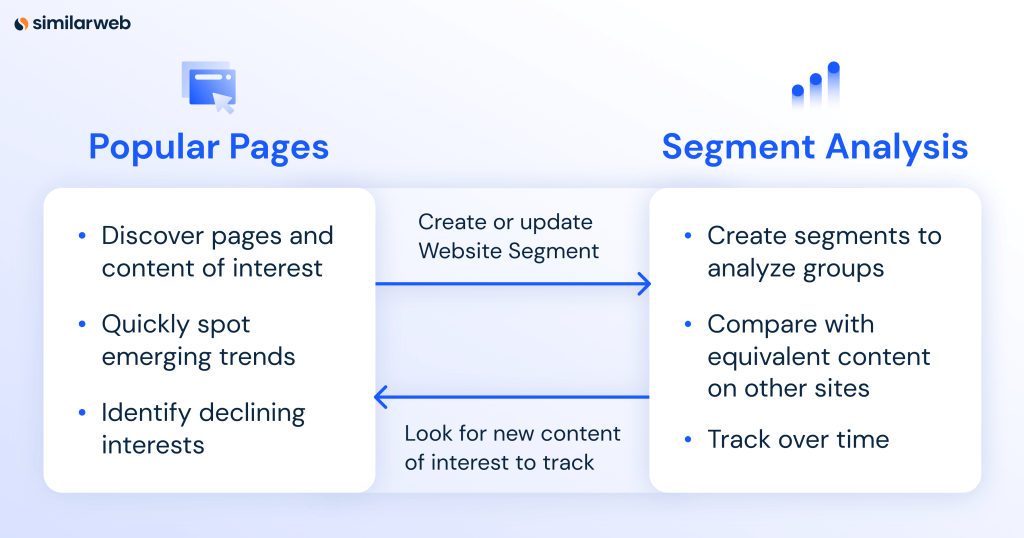 Ready to give it a try?
Reach out to your account manager or contact us for more details.
---
Popular Pages FAQs
How can I access Popular Pages?
The quickest way to upgrade is by speaking directly with your account manager.
Is Popular Pages available to all Similarweb customers?
Popular Pages is a premium add-on for Similarweb Digital Research Intelligence Advanced and Ultimate packages or equivalent packages in the Digital Suite or Intelligence Suite.
How many pages on a website can you view within Popular Pages?
You can analyze up to 10,000 pages per website with this feature.
Can you export Popular Pages data?
Yes, you have the option to export the data into a workable .xls file.
Can I get a free trial of the Popular Pages add-on?
If this is something you're interested in, please reach out to your account manager to discuss.
---
Have a question or feedback to share? 
Get in touch with the team or your account manager; we'd love to know your thoughts.
This post is subject to Similarweb legal notices and
disclaimers
.
Wondering what Similarweb can do for you?
Here are two ways you can get started with Similarweb today!