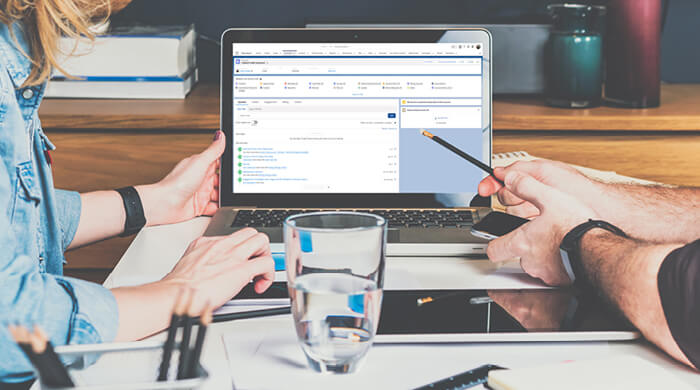 Updates
Introducing the Similarweb Salesforce Connector
August 13, 2019
| Updated October 11, 2022
Lead Enrichment couldn't be easier! The Similarweb Sales Solution is proud to announce the addition of the Similarweb Salesforce Connector!
Our core mission here at Similarweb's Sales Solution is to empower your sales team with the insights they need, which is why this addition is such an exciting inclusion to our platform. Automatically enrich your CRM with 17 key metrics, including Company category, Employee size, Website traffic, HQ location, engagement metrics, and more.
Below we outline how this feature can help your business. But in the meantime, contact us here for more information.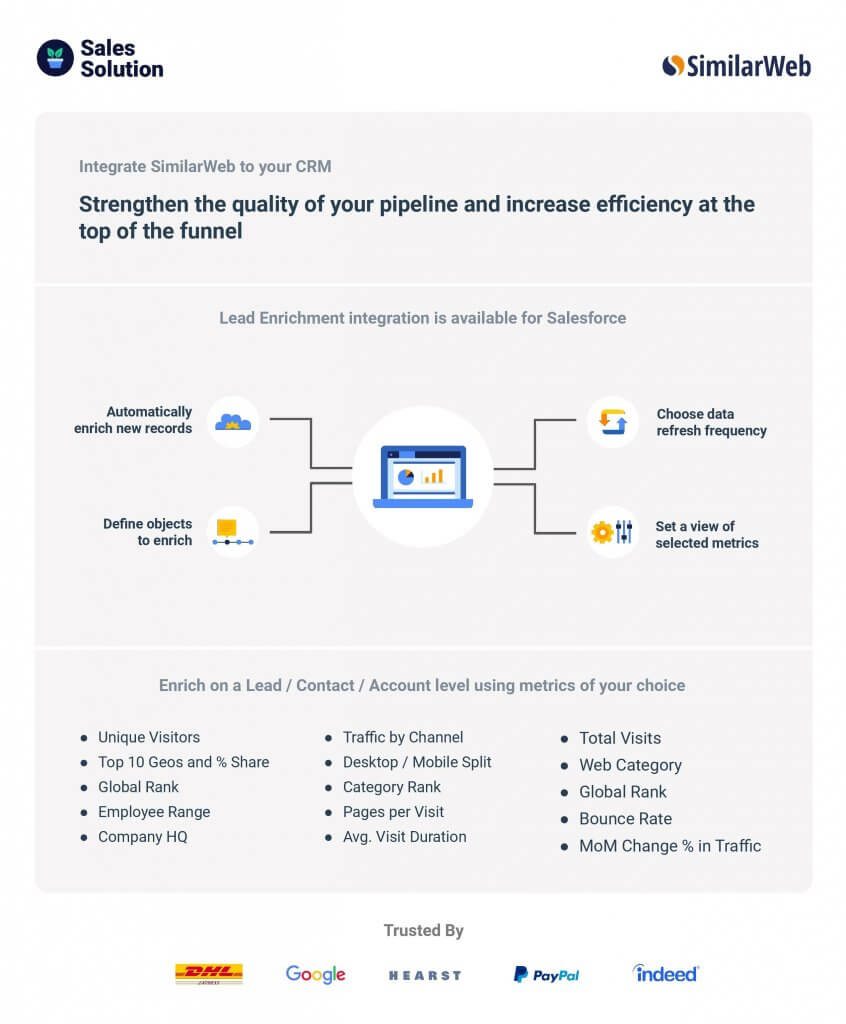 A common pain point for sales teams arises from incomplete Salesforce data making it difficult to identify the best leads to go after, and the tedious (and time-consuming) task of manually inputting missing information to better qualify prospects. The Similarweb Salesforce Connector aims to help in this respect and has the ability to automatically enrich your CRM with more than 20 key metrics: Including traffic, web category, HQ location, engagement metrics, and many more.
With it, you'll be able to provide valuable context to your leads, accounts, and contacts while helping your reps better focus on high-potential leads to close more business – faster.

Market intelligence data, such as unique monthly visitors, can be used as a strong signal of prospect potential. For example:
If your ideal customer profile is eCommerce/Travel websites, monthly unique visitors can indicate the number of customers a website has. In addition, monthly unique visitors is highly correlated with the number of monthly transactions that are conducted on the website. This is an important lead qualification criteria when your solution and revenue potential from a customer is dependent on the number of transactions made on the site (e.g. parcel shipping, or payment technology).
If your target customers are publishers, page views, bounce rate, and average visit duration 

can indicate the size of the publisher, as well the quality of its content. This is extremely relevant if your solution offers publishers better monetization of their website or increased engagement of their website.

If your target customers are multi-geo websites, i.e. companies that receive traffic from multiple countries, then

top countries

is a very strong indicator. Whether you're selling translation service, parcel shipping service, etc – knowing from which countries your prospect is getting traffic allows your sales team to qualify whether they are a good fit for your solution and to tailor their pitch accordingly.
Enrich Existing Database
Enriching your CRM is an activity that entails adding additional datapoint from information from a third party's in order to better understand your customers and prospects. This allows for better decision-making, and routing processes. 
The Similarweb Salesforce Connector makes it easy to automatically enrich your database with the latest market intelligence data, giving you confidence that commercial teams are able to focus their attention on the prospects with the highest probability to convert.
Enrich Newly Created Leads
When creating new leads, the Similarweb Salesforce Connector gives the option to automatically enrich leads, contacts, and accounts upon creation. This enables you to fully understand new leads even if your initial lead acquisition does not capture all information – we will fill in the gaps.
For inbound focused sales teams, this ensures that leads can automatically be segmented, scored, and routed to the correct team.
For outbound focused sales teams, this means reps will automatically have all relevant information when they create a new account to outbound in your CRM.
Regularly Refresh Database
As we have seen Market Intelligence is a powerful signal of prospect and customer potential. Market Intelligence data however regularly changes: prospects who did not qualify previously may change to become more relevant over time.  Regularly refreshing this data ensures teams are always working with the most up-to-date information, meaning your decisions will be made with complete and recent data. 
Similarly, market intelligence can act as a good signal of a change at a customer. If an eCommerce customer suddenly has a decline in traffic, could this be a signal that they will make fewer transactions? This could be critical if your revenue from that customer relies on the number of transactions they make on their site. Allowing an account manager to see this up to date information, could allow them to reach out and offer practical assistance to help prevent further declines in traffic, thus protecting revenue and strengthening the customer relationship.
Contact us today to find out how to enrich your leads, contacts, and accounts with Similarweb.
---
Did you read our latest Sales Guide?

This post is subject to Similarweb legal notices and
disclaimers
.
Wondering what Similarweb can do for you?
Here are two ways you can get started with Similarweb today!