Updates
Fresh Updates: Analyze Entire Companies With Company Analysis
March 24, 2022
| Updated August 3, 2022
Top features and enhancements for digital researchers
Company Analysis
Unique Visitors for Industry Analysis
Audience Overlap Over Time
Sharing Custom Industries
In the digital world, markets move faster than ever. Nowadays, a market researcher's job is never done. But that doesn't mean your hard work has to be, well, hard. We've come up with new ways that can help you work smarter, play harder, and outmaneuver your competition.
Take a look at our latest updates and feature enhancements below👇
1. Build an in-depth view of any company's digital footprint
Analyze companies with Company Analysis
Ever needed to understand your competitive landscape through a company-level lens rather than a website-level view?
To understand how your company compares to your closest rivals, you need a holistic view of your digital performances – not a snapshot of individual websites. But compiling a detailed analysis of a company and all its entities (including websites, subdomains, and website segments) takes hours. At best.
Company Analysis speeds up that process and delivers answers quickly by defining any company based on the multiple websites or domains it owns, to reveal its aggregated digital reach and performance. You can then compare the reach and performance of other companies defined in the same way. Smart, right?
It provides business strategists and analysts a comprehensive view of any company's digital footprint to explore its total audience reach and break down each entity for further analysis.
This premium feature empowers strategy teams and marketing leaders to analyze global brands with international operations, spread across multiple domains, subdomains, and regions.
Company Analysis helps you:
Build your analysis and reporting at an entity level, including every subdomain
Discover market opportunities by analyzing your competitors' aggregated digital performance
Reveal a company's total audience or the number of unique visitors across all its assets
Get an inside view into a company's traffic and engagement over time, including key metrics like visits, page views, bounce rate, and more
Add a filter to view a specific country, or see aggregated data worldwide
Check out this how-to article to learn more.
2. Size your market opportunity (TAM) and calculate the number of people within your industry
Measure unique visitors for Industry Analysis
When sizing market potential, calculating the actual number of people in a market based on the sum of Total Monthly Visits can be challenging.
To make things easier, we released the Unique Visitors metric for Industry Analysis. It even works for your Custom Industries, so you can measure Unique Visitors and the total addressable market based on your personalized industry view.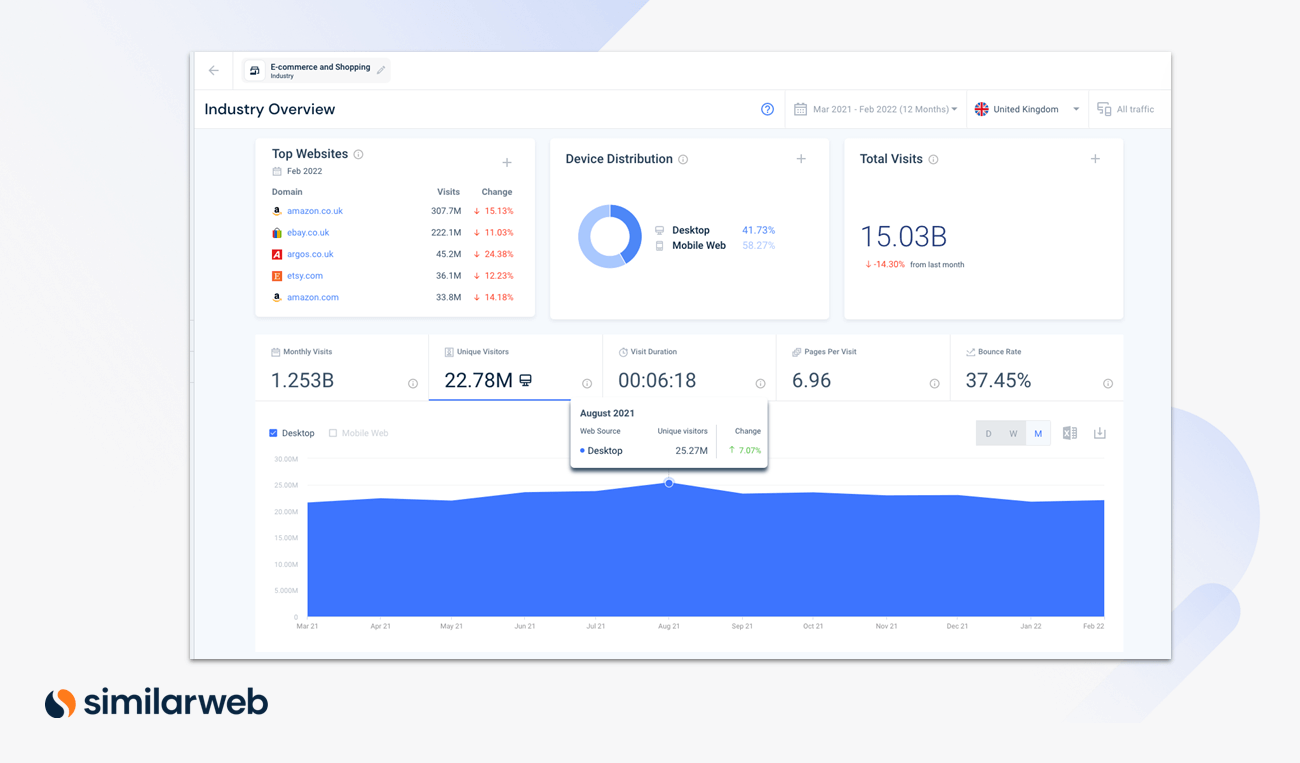 3. Trend out Audience Overlap over time to understand shifts in audience behavior
New graph shows Audience Overlap over time
Audience Overlap enables you to analyze shared audiences across multiple websites to determine the size of an audience, benchmark your performance, and identify untapped audience growth opportunities.
To improve speed-to-insight, we've included a new graph 'Shared unique audience over time' so you can easily analyze the trend of the shared audience with other key players.
We've also enhanced the feature with a table view, exposing new metrics which will help you answer key strategic questions such as:
How loyal is my audience compared to others in the comparison?
What is the potential audience I have not reached?
Do I have an untapped opportunity to expand my audience by getting some of my competitor's visitors?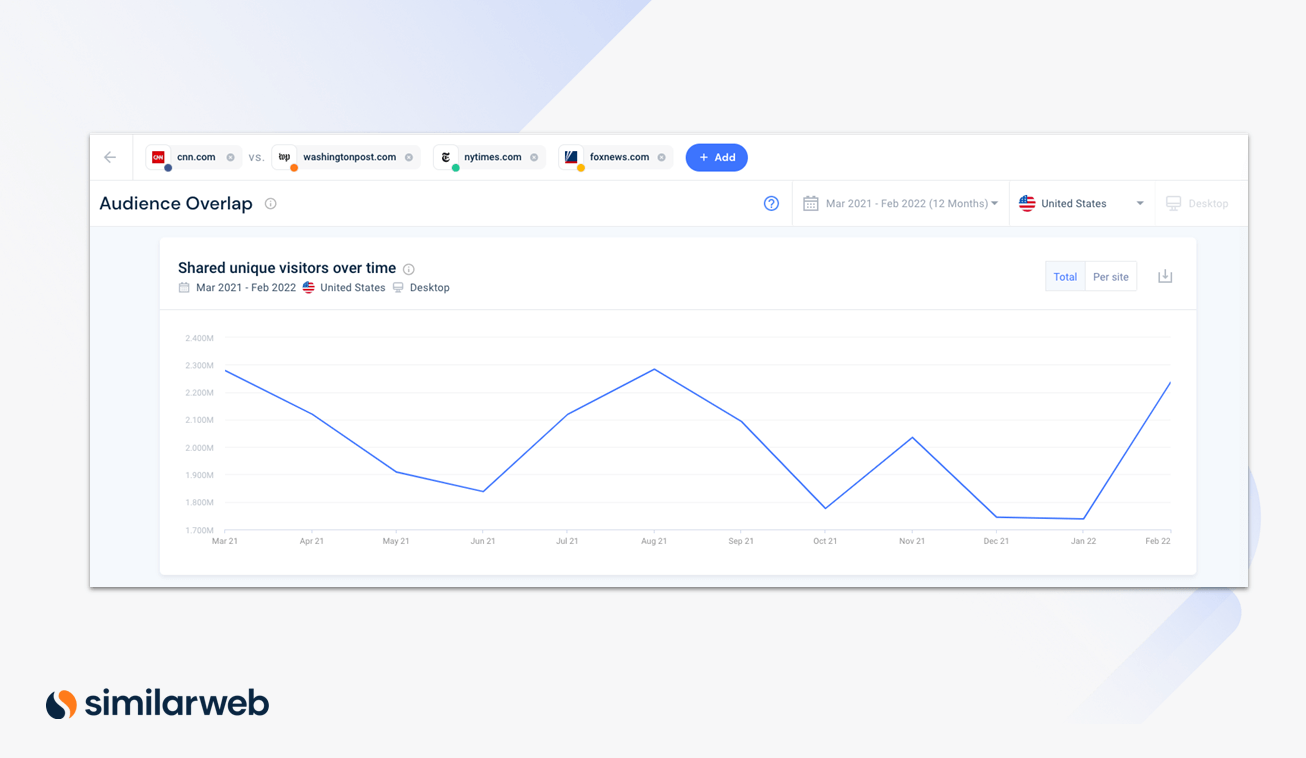 4. Save time building Custom Industries and improve team collaboration
Shared Custom Industries
With Shared Custom Industries within Industry Analysis, you can start analyzing your market – without spending time recreating a Custom Industry.
For example, if your colleague has already built a Custom Industry, you can easily search and select it from the Industry Analysis homepage without having to create your own. It's so simple, anyone can use it!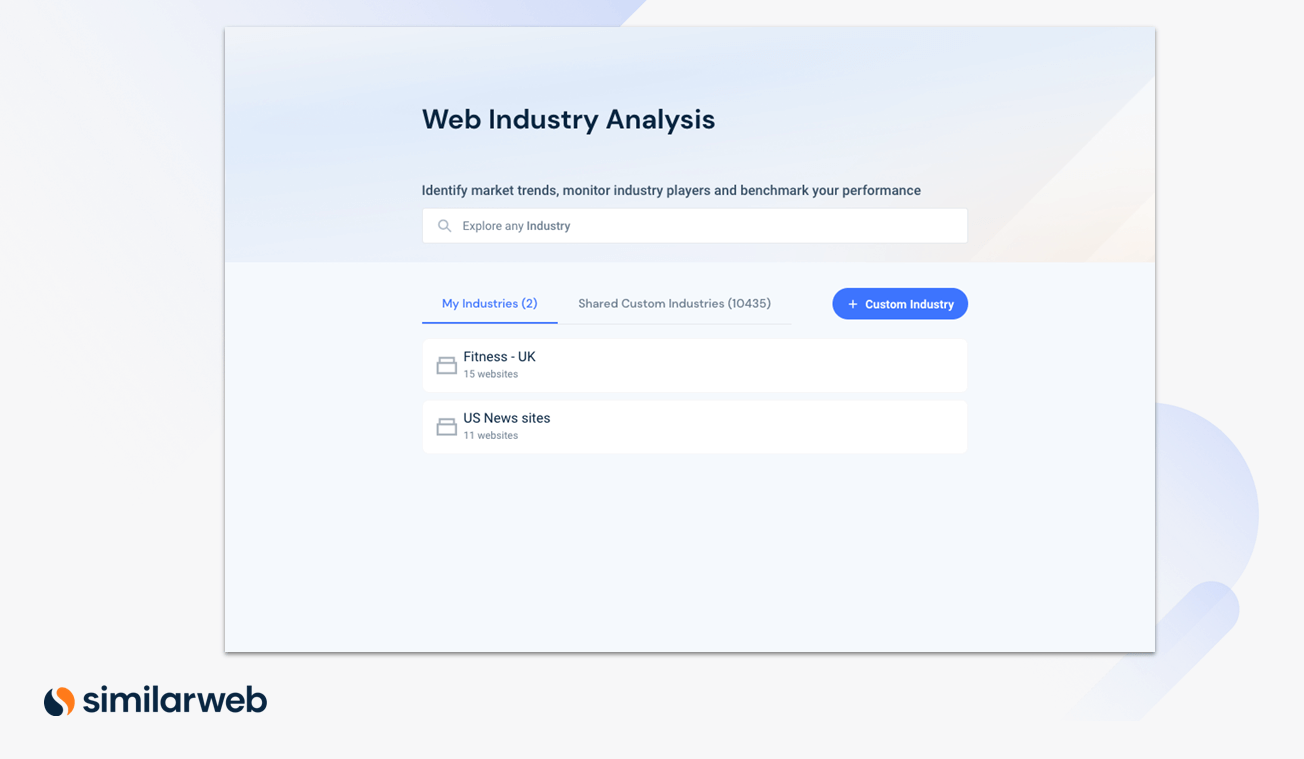 Want to try it out for yourself?
Check out our new features by logging into your Similarweb account or get in touch for a demo.
Have any feedback to share? We love hearing your ideas. Get in touch with the team to share or with your account manager.
This post is subject to Similarweb legal notices and
disclaimers
.
Wondering what Similarweb can do for you?
Here are two ways you can get started with Similarweb today!