Similarweb Launches Digital Insights, Arming Brands with Industry-Leading Visibility into the Global Digital Market
New Offering Aims to Solve the Biggest Challenges in Digital Commerce By Providing Customized Insights into Audience Behavior, Conversions, Marketing Effectiveness, and More
New York, NY – March 15, 2017 – Similarweb, the leading digital market intelligence company, today announced the release of Similarweb Digital Insights, a highly customized solution that disrupts the way online businesses address their most critical challenges. Similarweb Digital Insights complement Similarweb PRO, the company's flagship SaaS platform, and further leverage the company's massive volume of data covering hundreds of millions of devices across more than 190 countries. With this new product, Similarweb provides an exclusive, granular view into key market signals, including: purchase intent, brand share, channel conversion, and product category performance.
"Similarweb enables us to uncover our competitors' online strategy, benchmark ourselves, and grow our digital market share. From unparalleled on-site search, to accurate conversion metrics, Similarweb's new insights into consumer intent take us way beyond our current bandwidth and scope," said Nicolette Harper, Worldwide Director of Retail Marketing at Microsoft. "These insights are a crucial part in enhancing both our retailer strategy and our brand strategy. Simply put, Similarweb Digital Insights is a game changer." Other brands that have been using Similarweb Digital Insights in beta include Reckitt Benckiser, and Galeries Lafayette.
To showcase the new product's capabilities, Similarweb analyzed the overall performance and marketing channel effectiveness for men and women's apparel on Amazon during the 2016 holiday season. For the first time, the market has visibility of consumer behavior down to a brand and product category level. Similarweb Digital Insights revealed that buyers not only shop more for men's jeans on Amazon – with 75% more product views, but that men's jeans also convert at a significantly higher rate than women's on the site. Additionally, Similarweb revealed that during the holiday season the conversion rate from referral traffic to women's jeans doubled from 8% to 16%, quantifying the effectiveness of affiliate marketing. With these new insights, brands and retailers can make data-driven decisions about product strategy, marketing spend, and brand messaging. To learn more about consumer behavior and how buyers shop, search, and purchase products on Amazon, download the full sample report here.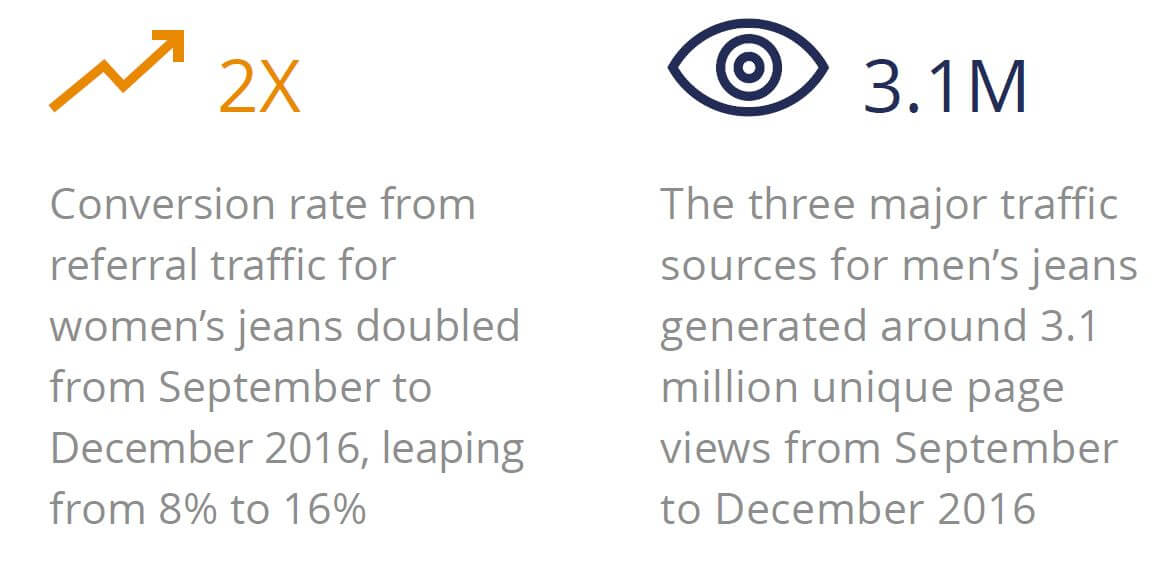 "Given the breadth and depth of our digital data, as well as the feedback from thousands of global customers, Similarweb is poised to truly disrupt the way businesses leverage market intelligence to tackle the most critical challenges of digital commerce," said Carla Bourque, CCO of Similarweb.
Similarweb's new product enables businesses to better attract, convert, and retain customers:
Benchmark conversion metrics and identify the forces that influence them

Spot the highest-performing channels across the competition, down to the conversion rate by search term or affiliate
Reveal online consumer behavior, such as the conversion overlap between two sites
"Similarweb provides unparalleled visibility into our competitors' online strategies. Our strategic teams utilize Similarweb Digital Insights in order to benchmark conversion trends and identify the forces that influence them. These insights then power our marketing team's efforts to optimize our online acquisition strategies and grow our market share in France," said Silvia Gamboa, Head of Online Traffic at Galeries Lafayette. "By understanding how our business performs in the context of our competition, we are able to make strategic decisions and decide which competitors and online channels to focus on. Similarweb's market intelligence insights play a vital part in our day-to-day work."
This post is subject to Similarweb legal notices and
disclaimers
.
Wondering what Similarweb can do for you?
Here are two ways you can get started with Similarweb today!