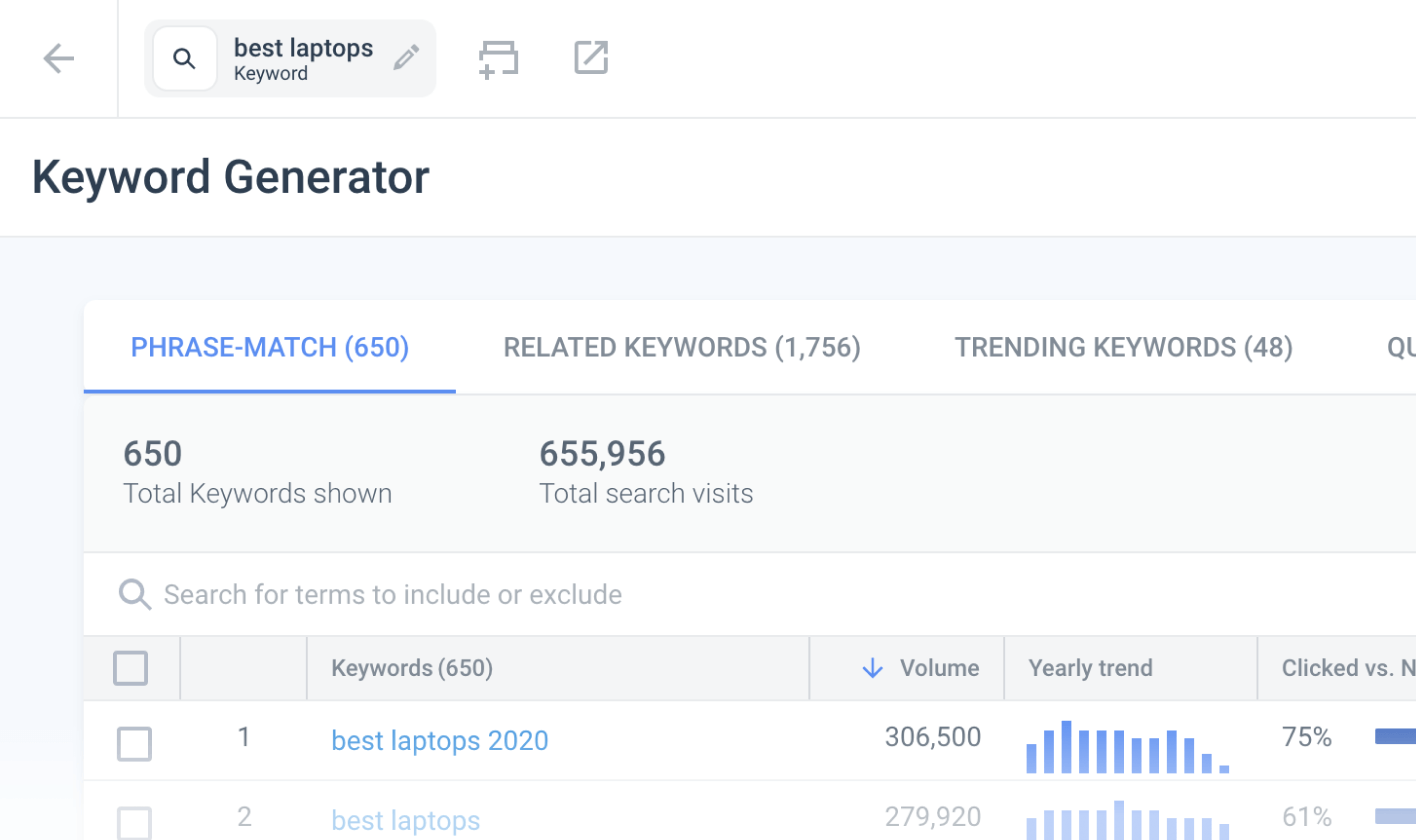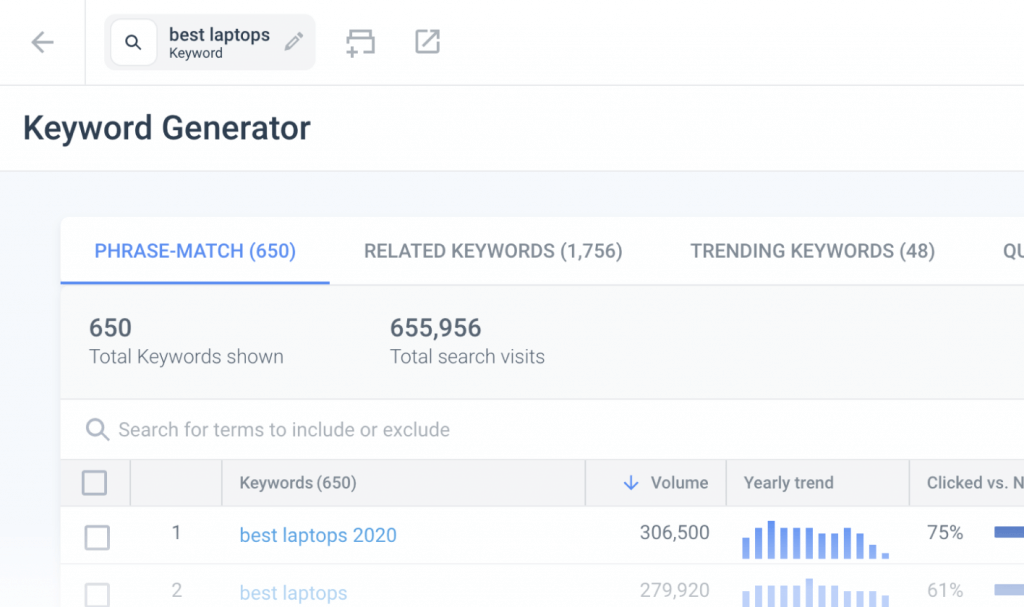 Updates
Supercharge Your Keyword Strategy: 6 New Features You Need Now
by Owen Badham
, Senior Product Marketing Manager at Similarweb
6
Min.
February 8, 2021
| Updated August 3, 2022
Ready to power your keyword strategy? We have good news. 
We've been busy building and releasing a whole host of amazing new keyword research tools and features over the last few months – thanks to our customer feedback. As a result, we increased the keyword research capabilities even further. 
With the most comprehensive SEO tool on the market, we deliver insights on keyword research that can't be found anywhere else, so you can build a winning content marketing strategy now and continuously sharpen it going forward. 
Similarweb provides the most accurate traffic data available, helping affiliate marketers, PPC, content, and SEO professionals identify the catchwords and search queries that their competitors are using and their target audiences are searching on Google and other search engines. 
Here's a rundown of our top keyword feature enhancements, the value they offer, and how they can take your digital marketing strategy up a notch:
1. Keyword Overview: 360-degree view
At the start of August, we released our all-new Keyword Overview page, offering a comprehensive and competitive snapshot of any search term.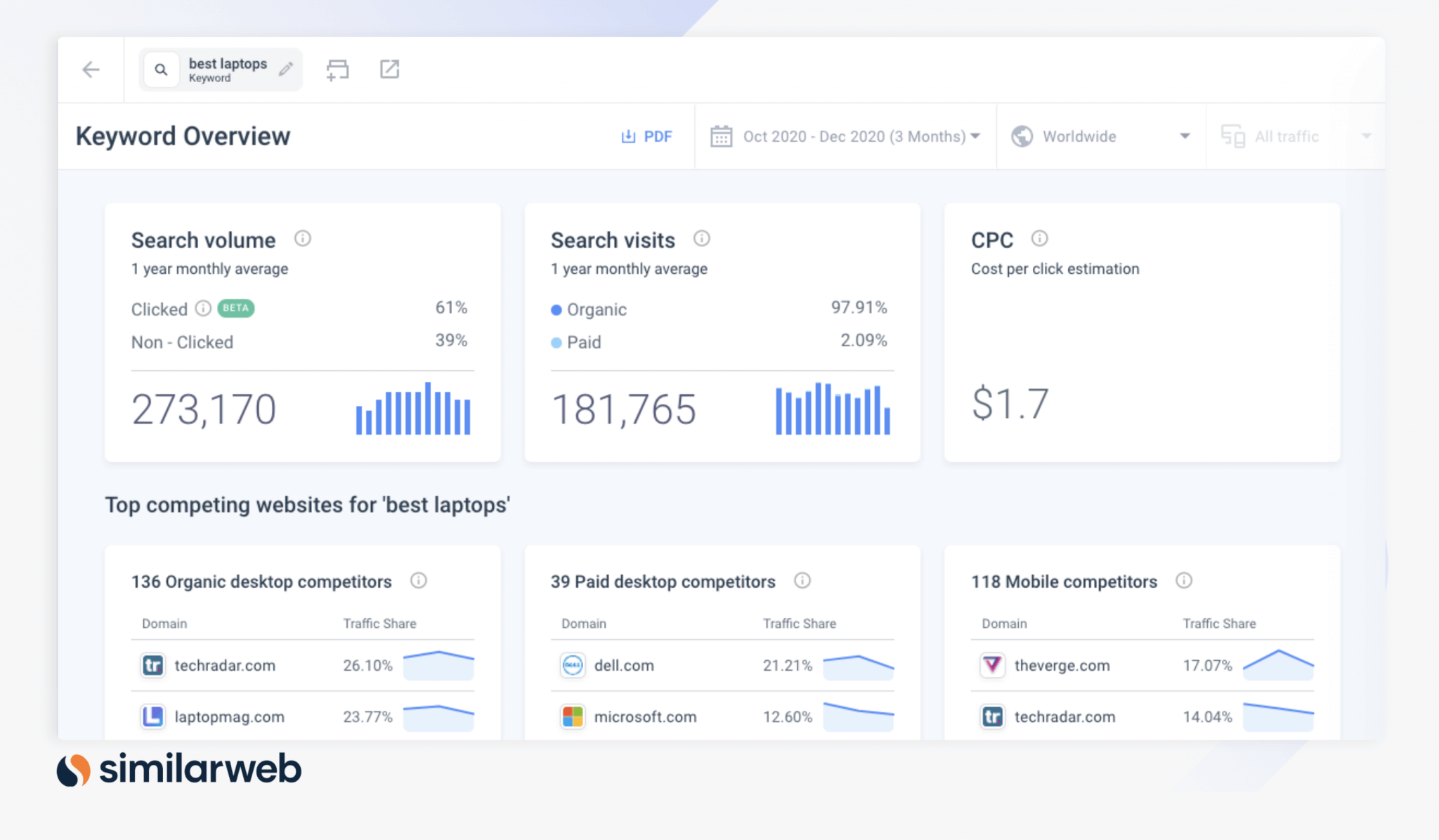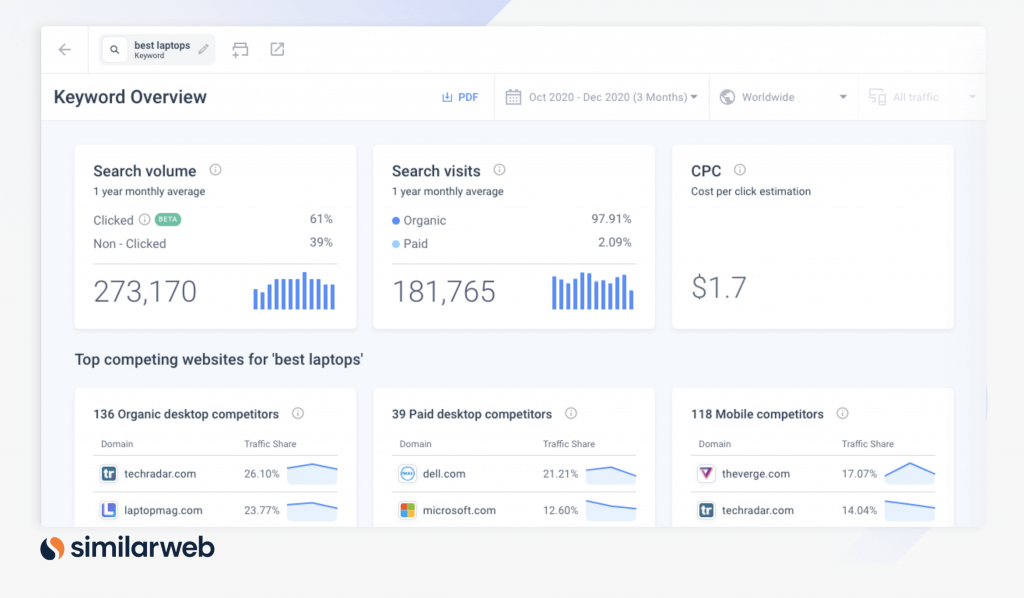 This high-level summary page quickly points customers to search metrics such as volume, visits, CPC, organic vs. paid competing website data, further keyword ideas, and much more, providing a 360-degree overview of which websites are winning traffic for specific keywords and keyword groups.
2. Keyword Geography: Which countries love your keywords? 
A long-awaited update, also released in August, was our Keyword Geography page, which reveals the best global markets to target based on their search interests and local Google trends. 
Want to understand potential acquisition strategies in new markets? The Keyword Geography page breaks down your selected keyword or keyword group by country to help you focus your efforts.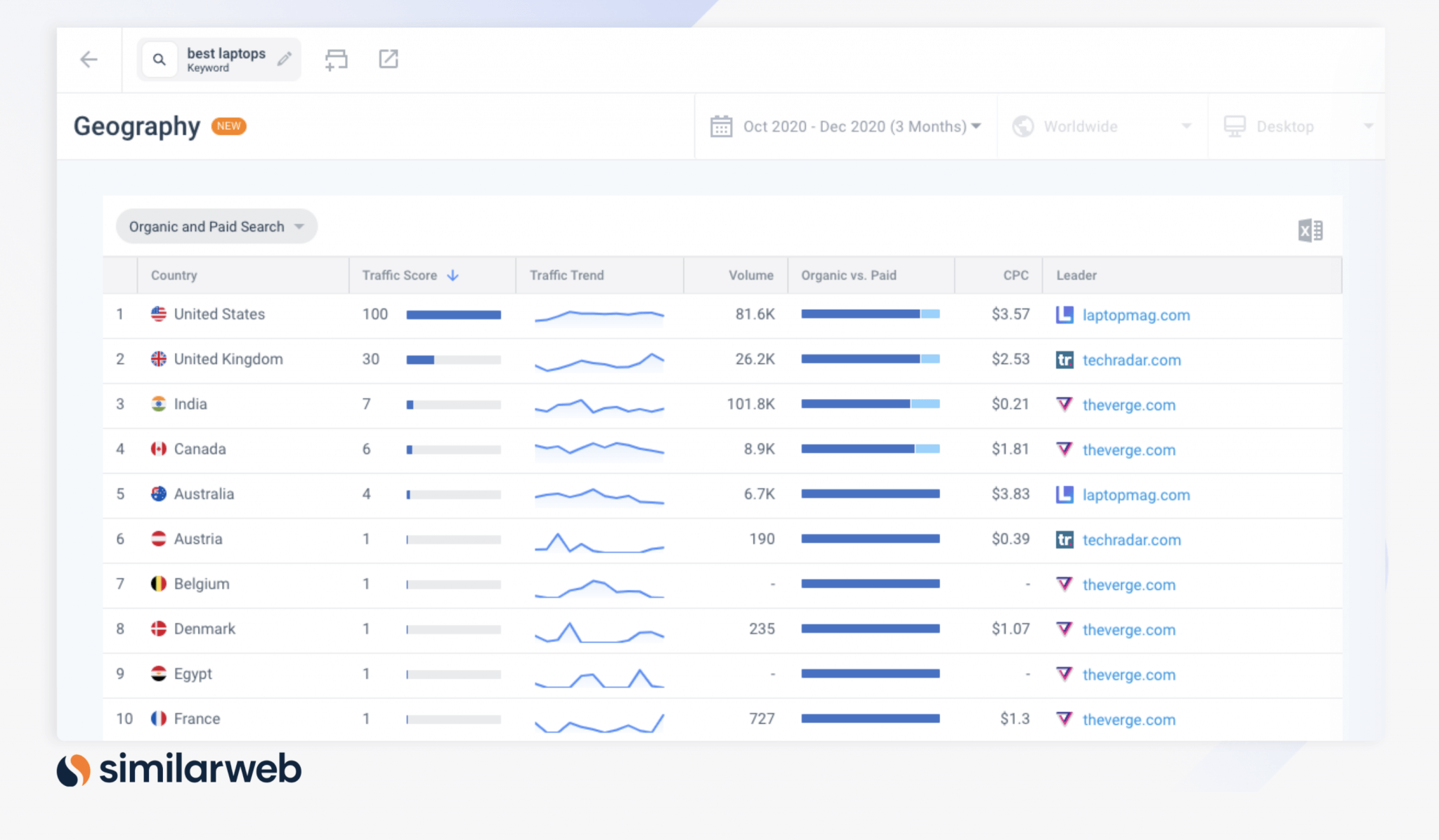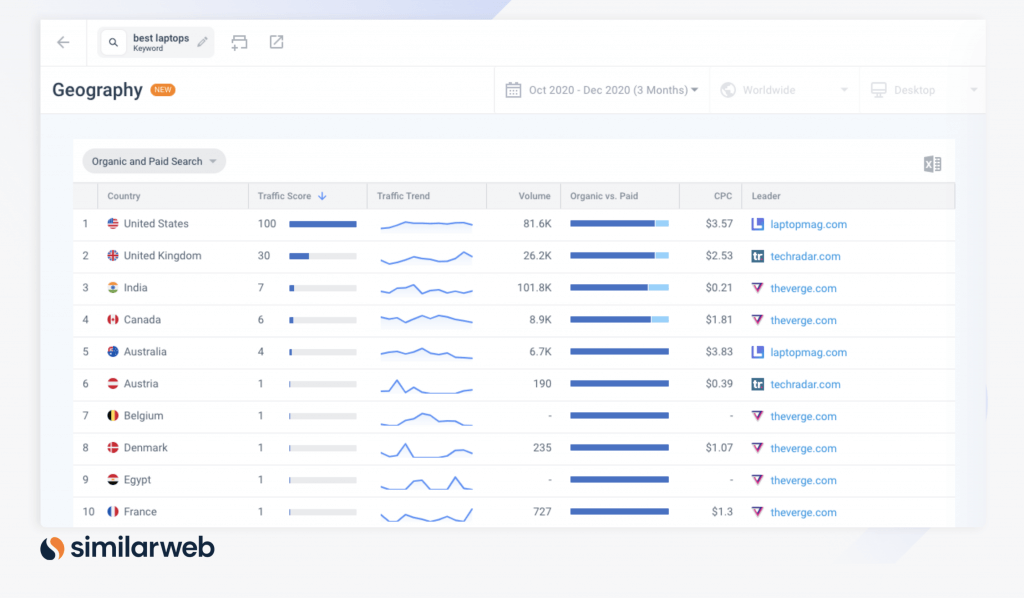 This page gives a clear view of the top countries receiving traffic for a keyword search.
The Keyword Geography page ranks countries with the highest traffic share for selected keywords, helping you to strategically focus your efforts in countries trending upwards. That's not all. The page also delivers metrics such as:
Distribution of Organic vs. Paid

so you can gauge how saturated a market already is. 

Organic vs. Paid filters

to focus on your SEO or Paid strategies. 

Keyword CPC

to drill down ROI metrics for the selected keyword.

Leading website domain

to easily see who your biggest competitor is in each country.
Read more about the value of this feature in a recent guest blog.
3. Weekly Keyword: Real-time campaign optimization
With the recent release of our Weekly Keyword feature, you can now view keyword data for a specific week or the past 7 days. 
This level of granularity means you can see how your share of keyword traffic is changing almost in real-time. 
Having the most recent keyword data at your fingertips means you can optimize your PPC campaigns quickly and stay a step ahead of your competition. Many other keyword research tools struggle to provide such rapid updates. When you have the most recent keyword trends on hand, you can keep your list of keywords fresh, relevant, and impactful and optimize your content and SEO strategy.
4. Search Volume: Identify zero-click keywords  
More recently, there has been an increasing behavioral trend in search activity where keywords are resulting in fewer and fewer completed search visits.
Zero-click Searches refers to a search engine results page (SERP) which answers the query right at the top, usually with a featured snippet. The result: the user doesn't need any further clicks to complete the search. A zero-click search essentially satisfies the search intent at the top of the SERP.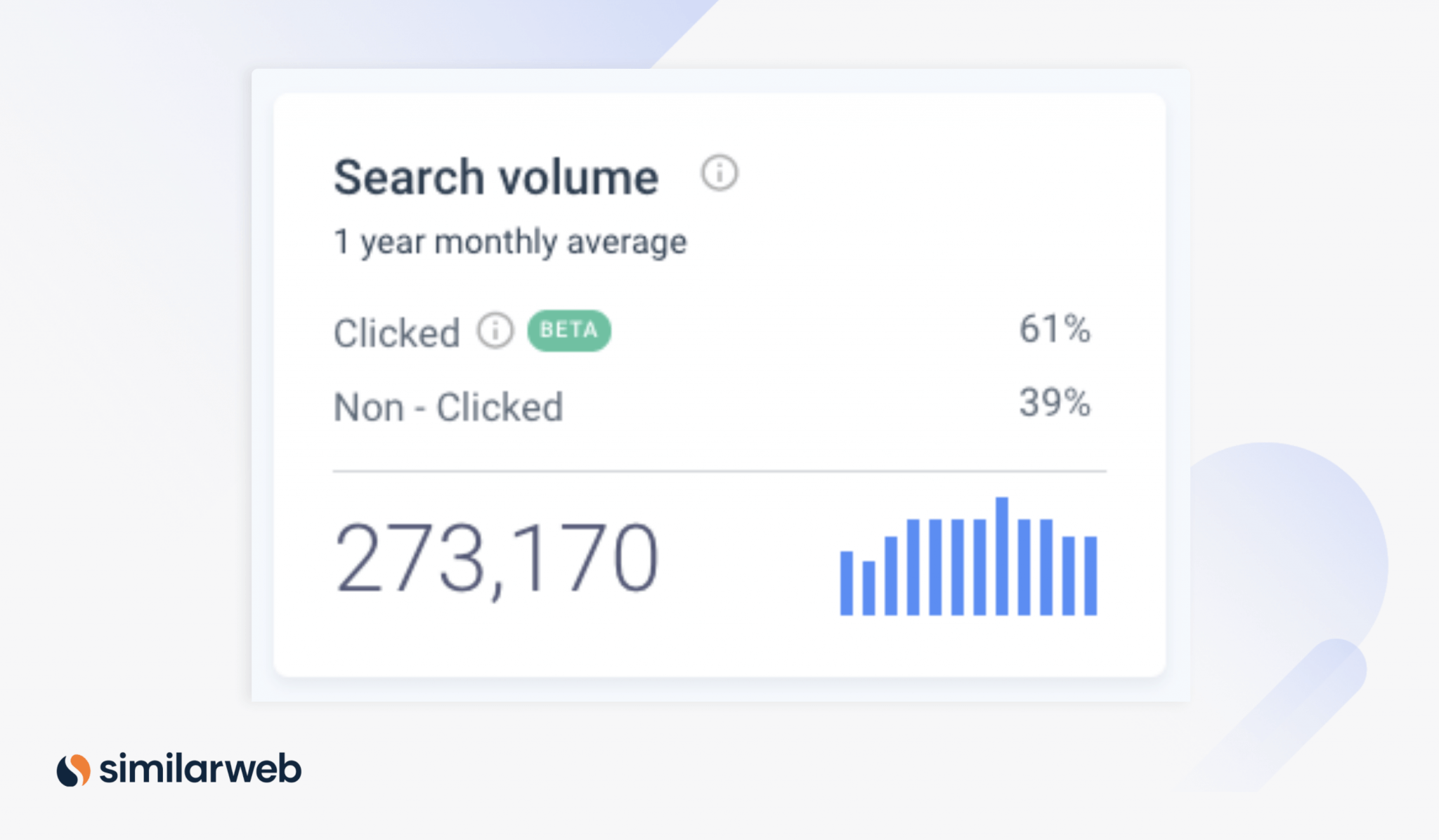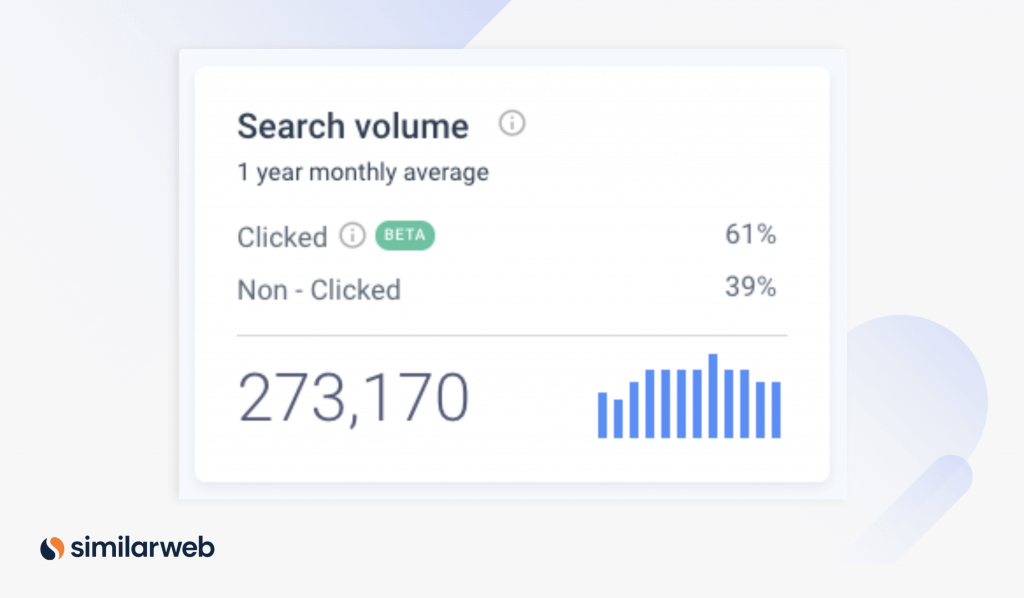 With Similarweb's Zero-Click metric you can optimize your PPC and SEO strategy for keywords that drive site visits and engagement. Assuming traffic is your primary objective, you want to prioritize target keywords that not only have high volumes of traffic, but that also have high click-through rates (CTR) and increase your organic traffic conversion rate.
Learn more about how zero-clicks impact SEO strategy.
5. Total Traffic: Total search traffic for market analysis 
The size of a market and its players is based on the total organic and paid search for desktop traffic. 
Similarweb's Total Traffic page helps our customers to identify downstream traffic related to keywords, so they can track the monthly search volumes and trends around a specific topic, product, or brand area, as well as size demand and markets using keywords as the indicator. 
For example, by searching for the keyword "Best laptops" a user can quickly see the total search volume, number of search visits, the top domains that are visited as a result of that search, what type of content ranks on the first page of Google for this query, and how this trends over time. 
Track the organic search volumes and trends around specific products or brand names and general keywords to evaluate the existing market demand.
Discover new keyword ideas in an instant.
Ensure you use keywords that are up-to-date with the most relevant new additions through Similarweb's Keyword Generator Tool, which was updated with some fantastic new filters:
Question Queries

generates a selection of long-tail keyword phrases in the form of a question. For example, for the keyword "NBA," the questions that we track include: "what does NBA mean" or "when are the NBA playoffs."

Trending Keywords

includes all keyword suggestions that closely match the seed keyword, but displays them in order of those with a significant rise in traffic since the prior month.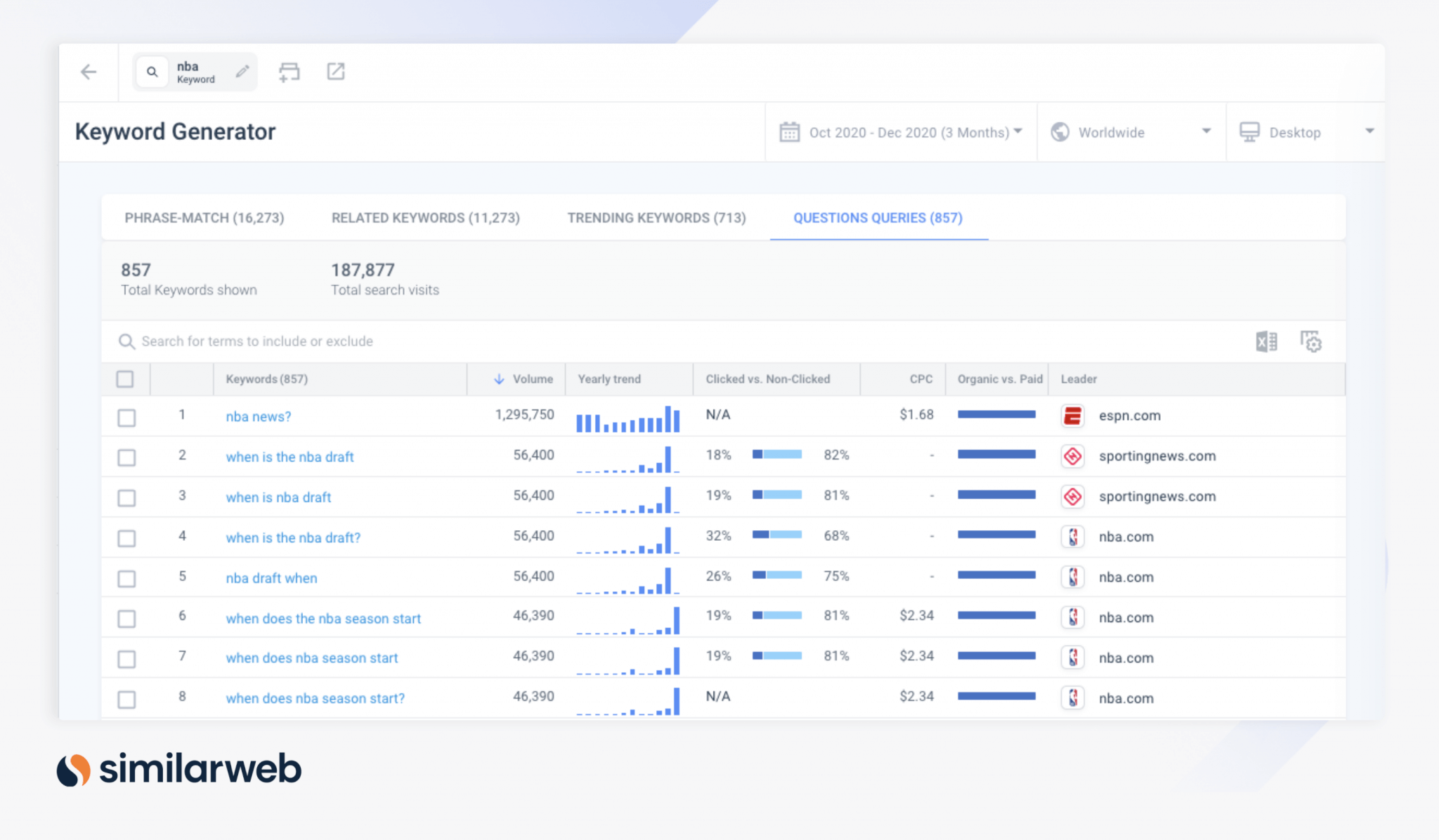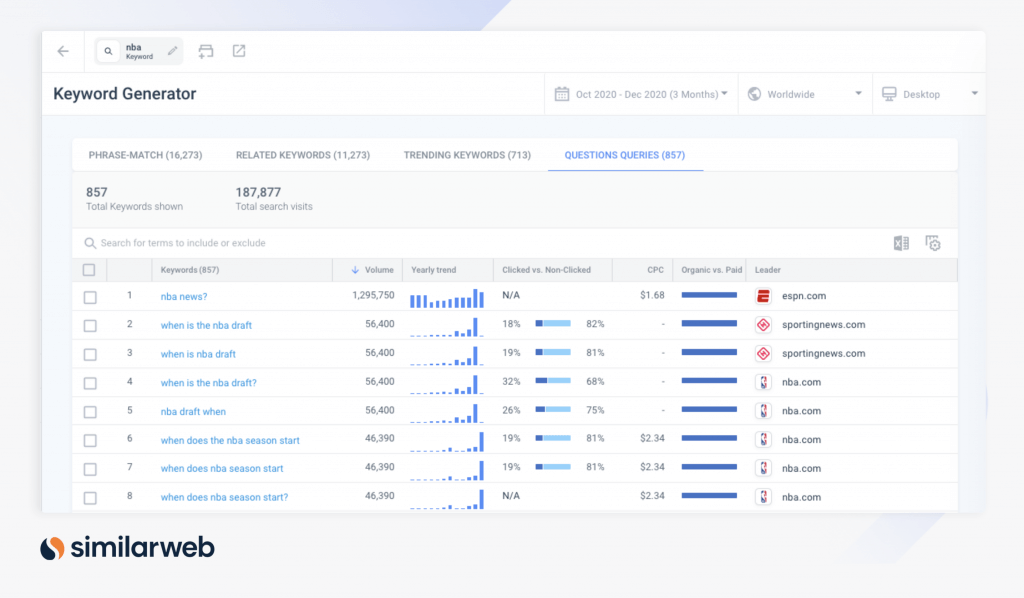 These additions, alongside the existing Phrase Match and Related Keywords filters, ensure that our customers are always keeping their SEO, PPC, and content strategies dynamic, fresh, and on point. 
Finding relevant long format keywords is crucial as customers are becoming far more adept at using long-tail searches to find what they are looking for. These filters allow you to develop a greater understanding of the intent of your target audiences.  You can also learn how close searchers are to making a purchase decision or completing an online action. That's not all. You can also find out what your audiences' expectations are and what they are searching for more generally. 
Question queries point to a clearer understanding of the intent of the potential customer and trending keywords give great insight into exactly what is most popular – both providing powerful insight to help plan your keyword and search engine optimization strategy.
6. Seasonal Keywords: The right keyword for the season
The Seasonal Keywords feature generates a list of seasonal keywords for any predefined category or custom category, highlighting the months throughout the year in which they gained the most traffic. It enables you to view the entire year or filter for specific month(s) to see what is trending in a given category during those time periods. 
These insights offer a competitive advantage. You can incorporate seasonal insights into your SEO strategy and get foresight to become the first mover in a variety of critical areas for SEO optimization. Understand what time of year is best to plan and launch campaigns and adapt your strategies accordingly by seeing what's trending and in which months. You can also get a better understanding of what keywords will work and what won't for your upcoming campaigns.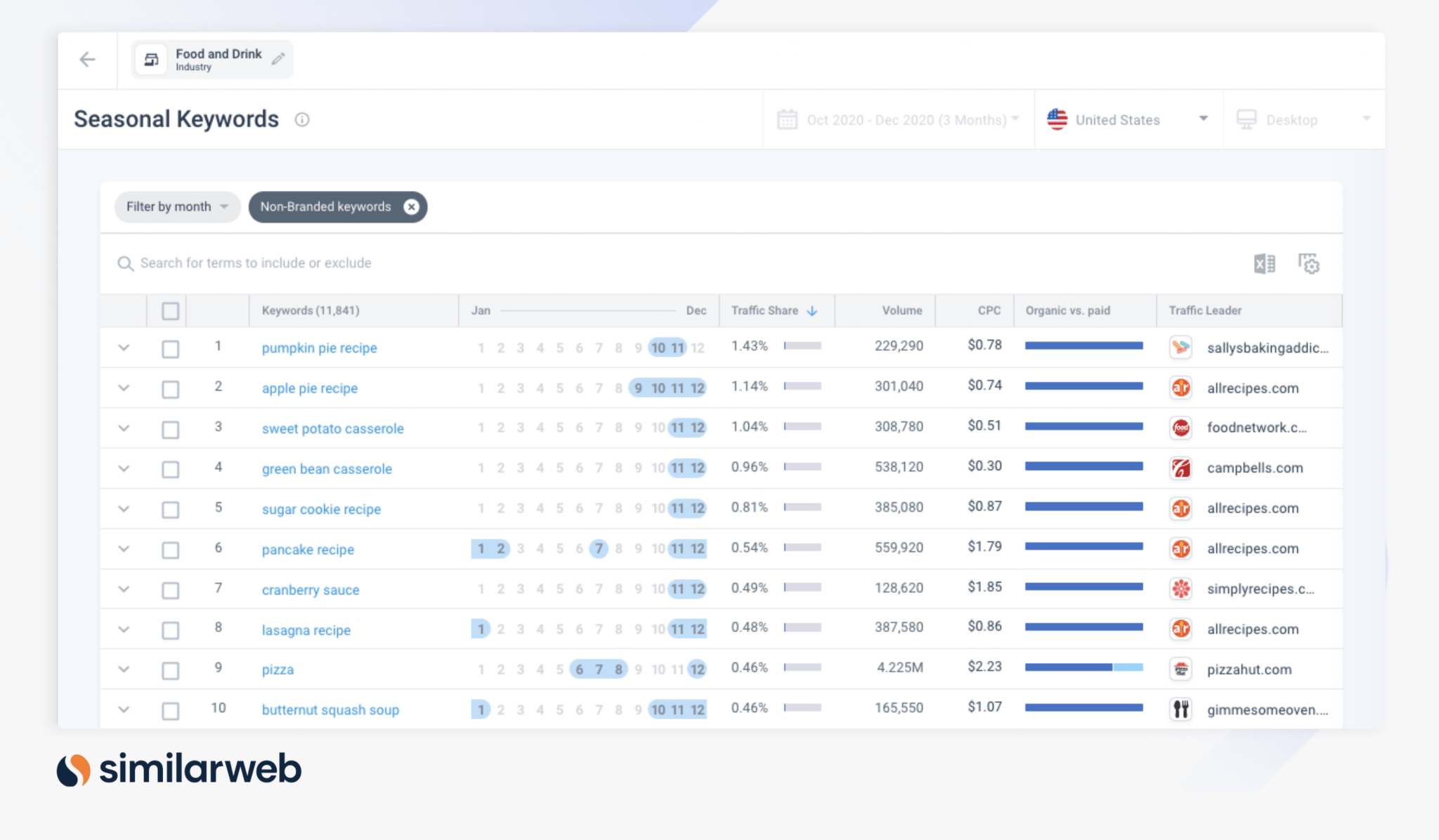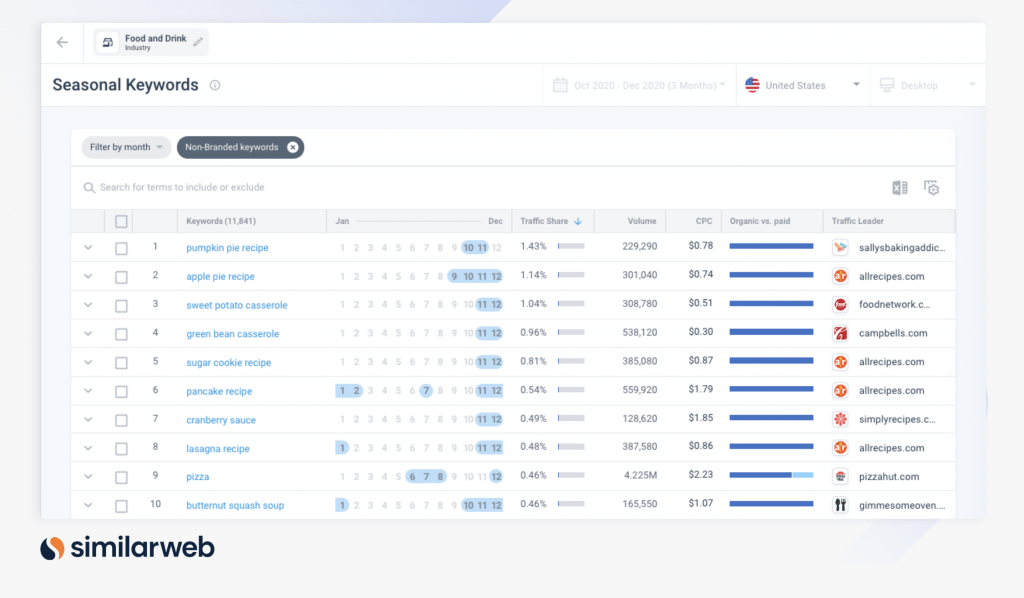 Seasonal Keywords allows you to spot any white space to take advantage of or find a popular, but maybe unexpected, keyword to include in your campaigns.
Similarweb's 12-month view for seasonal keywords will allow SEO, content, and PPC managers to plan their editorial calendar ahead of time and discover additional topics in their industry where they can gain traffic – AND because editorial content is evergreen, or continually relevant, from year to year, users can start planning early to anticipate traffic spikes for the coming years. See our Get Seasonal with your Keyword Strategy for more insights.
With all of these enhancements to Similarweb's keyword research functionality, our customers are now able to confidently gain an in-depth understanding of their keyword ecosystem – whether it's geographic ranking, keyword leaders, understanding keyword trends, or developing their long-tail keyword lists – Similarweb offers an unrivaled keyword research experience.

Want to learn more about creating a data-driven keyword strategy?
This is just the tip of the iceberg for what Similarweb's cutting-edge data can provide you in order to ensure you stay three steps ahead of the competition. 
This post is subject to Similarweb legal notices and disclaimers
This post is subject to Similarweb legal notices and
disclaimers
.
Wondering what Similarweb can do for you?
Here are two ways you can get started with Similarweb today!