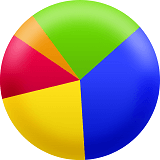 Updates
The importance of segmenting your competition with Similarweb Platform
April 9, 2014
| Updated November 16, 2022
It's difficult to tell who's targeting your customers and competing in the same niche. One way to combat this is by segmenting your competition. Analyzing them in this way allows you to update your marketing campaigns and gain fresh insights into the marketplace. In order to demonstrate how you can use Similarweb Platform to segment your competitors, we'll run a website analysis on Proflowers and their competition in the USA.
Proflowers
Proflowers have a steady stream of around 130,000 views per day, although as you can see, business explodes in February around the lucrative Valentine's Day market. The most important thing to note here is that Proflowers hold the number one ranking in their category – Shopping > Flowers. This means that, although they've reached the top, they need to concentrate on keeping their competition at bay.
Similar Sites
To concentrate on competitors with similar websites to Proflowers, I used Similarweb's 'Similar Sites' feature. Sorting these results by 'affinity' (how similar these websites are to Proflowers) – in this example, it's FTD and Teleflora. By discovering who these competitors are, you can then analyze what's driving customers to their site by investigating their popular keywords. You're also in a position to look at their promotional campaigns to see what may work for you and tap into customer's needs. And, don't forget, you can download the entire list of similar sites into a handy .csv spreadsheet.
Search Proflowers competitors
As well as 'similar sites', Similarweb Platform has another section to discover who your search competitors are. Search competitors are those websites that are competing with you on the same keywords in organic and paid PPC results. By identifying your main rivals, you're then in a position to investigate their campaigns further with Similarweb PRO. For example, Fromyouflowers are Proflowers main competitors in the PPC world, so investigating their keywords would identify the most important keywords to be bidding on.
Audience Interests – Insights
Another useful section of Similarweb Platform is the 'audience interests' feature which shows where else your visitors have been in the same browsing session. I decided to investigate what else their visitors had been shopping for to see if this could be incorporated into Proflowers' marketing. Filtering the sites, visited outside of Proflowers, by the 'shopping' category brought up the usual suspects such as FTD and Fromyouflowers, but a couple of other sites caught my interest. Red Envelope and PersonalizationMail were popular with Proflowers' customers. These two sites offer unique gifts for sale which would make the perfect accompaniment to a bouquet of flowers. It would be sensible for Proflowers to investigate launching a similar service to tie in with their main product.
Audience Interests – Competitors Segmentation
The topics distribution infographic allows you to identify topics that people are looking for on other websites. This allows you to cross-reference against your own topics and see which areas need more promotion as per their value to your customers. Again, 'gifts' is prominently displayed as a popular topic and would suggest that this is an area Proflowers really need to consider.
Another way to analyze this data, for segmenting direct and indirect competition, is by analyzing the categories of the websites in the list of 'Audience Interests'. Follow these steps:
Download the list to CSV using the download button located on the top right side of the table
Open the csv file and copy the categories column to another sheet or document
Remove duplicates – this will give you the list of all the categories of websites that are visited in the same browsing sessions together with your own website.
Now you can take this list and, by manually going over it, start understanding all types of competitors. Here are some interesting categories we found in Proflowers' list:
Shopping/Weddings
Shopping/Jewelry
People_and_Society/Relationships_and_Dating
Internet_and_Telecom/Chats_and_Forums
Each one of these holds a potential of growth in the form of partnerships and/or additional services that Proflowers can offer their customers. Once you segment your market, direct and indirect, you're opening up a whole new world of business opportunities.
Segmented!
With Similarweb Platform you can segment your competitors and find out a great deal about their movements in the marketplace. Finding out about similar sites allows you to investigate keywords you may have never thought about bidding on which could bring in new streams of traffic. Investigating your main competitors also allows you to tweak marketing campaigns by dissecting their online marketing campaigns. Finally, by looking outside the box, you can see what else your audience is interested in and capitalize on this to keep people on your site for longer.
This post is subject to Similarweb legal notices and
disclaimers
.
Wondering what Similarweb can do for you?
Here are two ways you can get started with Similarweb today!